-

15

mins read
Your inner self or someone you know who is already selling nudes for money just told you to learn how to sell nudes online. Deep down, you also think selling nude pics could be a good side hustle to make money.
You're not the first person to think of selling nudes for money. Explicit content has become very common on the internet now and a lot of content creators are nude models who sell naked pictures on high-paying webcam sites and content creator platforms for a monthly fee. And the best part, they earn good money selling nudes online.
Now that you've already taken the first step (which is wanting to know how to sell nudes online), all that's left is for you to know the process of how to make money selling nudes.
In this in-depth how to sell nudes online guide, we've discussed the steps to successfully sell naked pictures, the best places to sell nudes and other critical information like how much to sell nudes for, a couple of PRO tips to sell nude pics and more.
That said, let's get started on your "sell sexy pics journey," shall we?
Is it Illegal to Sell Nudes?
No, it is not illegal to sell nudes online. In fact, there are dedicated websites to sell adult content like OnlyFans, Fansly, Extra Lunch Money and more.
You have to be 18+ years old while selling naked pictures. And, of course, check with your local laws because, in certain countries and jurisdictions, adult content is banned.
Otherwise, it is not illegal to sell and get paid for nudes. A lot of nude models, since they are new to this kind of business model, have this question within them.
Now that it's clear, let's move to the next part of our sell nude pics guide.
How to Start Selling Nudes Online?
The first step to sell your nude picture online is to have the nude images ready. And these naked pictures of yours should be really good! Because you're not the only one trying to make money selling nudes.
Here, we've discussed the basics of how to sell nudes online.
1. Having the Right Equipment
When you're trying to sell nudes for money, you need to get your equipment in place. Investing in equipment can help your nude pictures look professional and can give you an edge over other models who are trying to get paid selling naked pictures.
So, here are the equipments you need to sell naked pictures.
a. Camera/Mobile
Today, all modern smartphones have very good cameras. But if you can use a DSLR and have high-resolution nude pics to sell, it can make all the difference in the world for you.
Good quality naked pictures are always a treat to your fans – you can make more money and the audience will always come back wanting more!
Here's an example where an adult model is trying to sell nude boob pics online.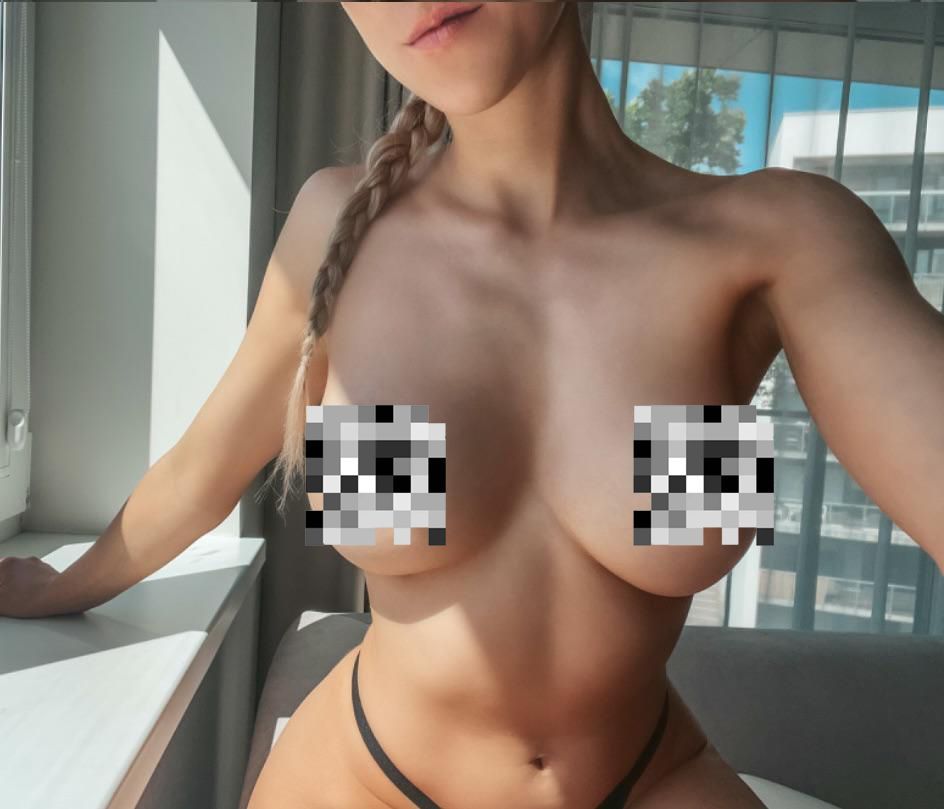 Though the picture is not ultra HD, it's good. But your nudes have got to be even better and that's possible with a good camera.
b. Tripod
Next on our list to sell nudes online is a tripod. The same kind of selfie isn't going to work out after some time because it'll look monotonous.
You need to work on different angles and add some seductive touch – lie on your bed, spread your 🍑 cheeks, hold your 🍒 together, or whatever you think that's creative.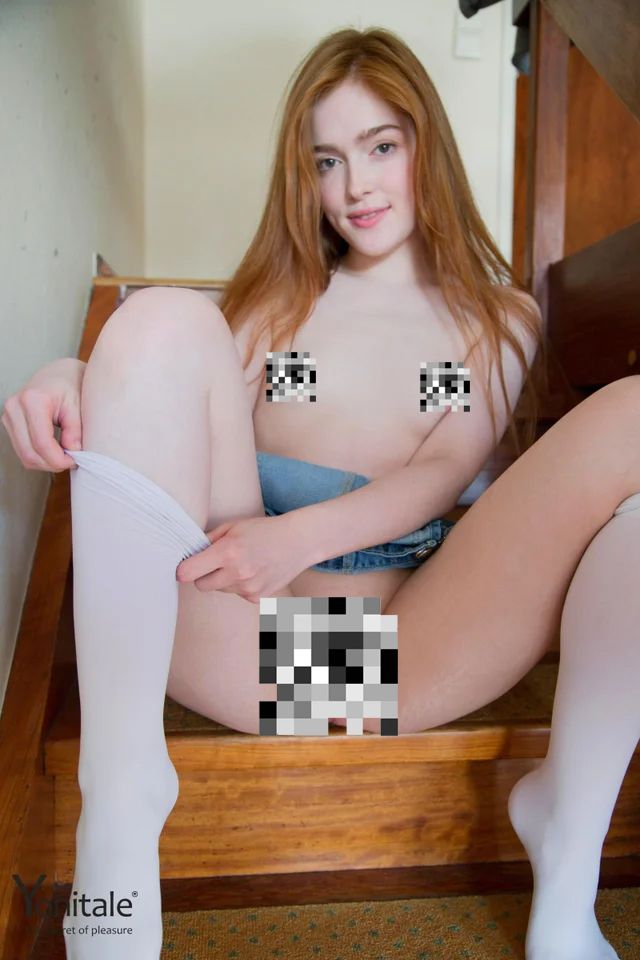 The kind of NSFW content you're looking at above needs a tripod to be clicked (or a photographer). You can easily purchase tripods for about $20 to $50 on Amazon.
That discussed, let's look at the last equipment you need to sell nudes for money.
c. Lightings
What good is a naked picture when it has no proper lighting, or it's in the dark?
Here's an example of a naked picture with adequate lighting.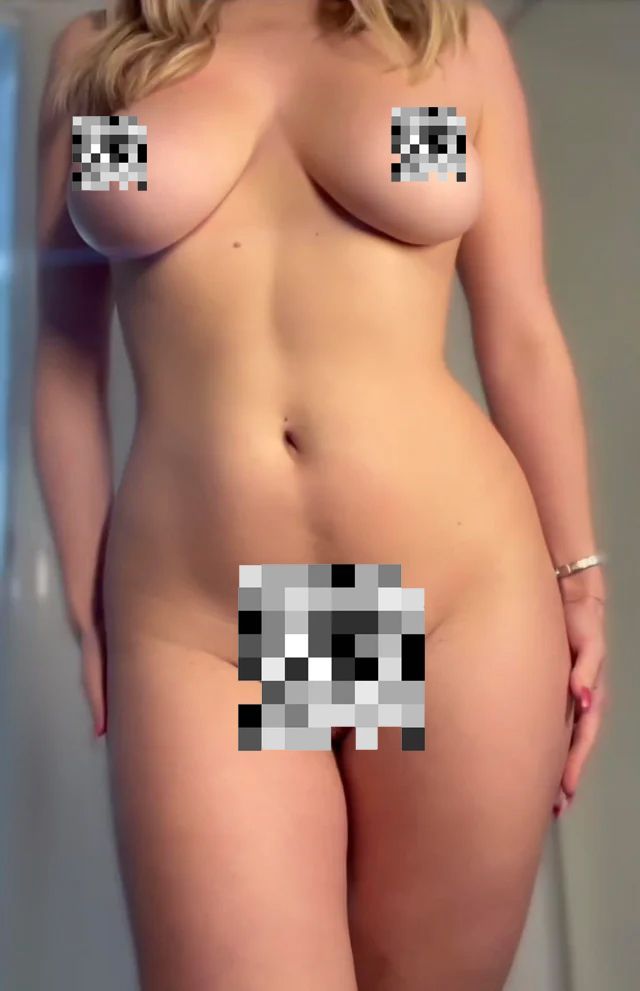 You don't need to invest a lot in lighting or go for a studio setup. Regular ring lights should do the job and you can get them on Amazon for around $30.
So, those are the equipments you need to sell naked pictures.
2. How to Take a Sexy Nude Photo
Selling nude pics is an art and knowing how to take a sexy nude photo is a huge part of selling nude photos. Here are a couple of tips that'll help you take great naked pictures and get paid for sending nudes.
1. Learn from Other Nude Models
When trying to sell nudes online, remember that you're new to selling adult content on websites and making money.
You do not know what kind of naked pictures people crave. The best approach here would be to look at the nude photos of other models and find out what's performing best.
Make a list of,
Physical assets that are received well –

dick pics

, tushy, pussy, boobs, etc.

Popular cosplay ideas

Best-received poses and angles by the audience
Finding out these are important because it'll help you get ahead of other models trying to sell naked pictures online.
2. Hire a Professional Photographer
Leave the job to people who know how to do it. You'll have a great collection of nude images to sell.
Plan it out this way if you think it will cost you a lot. Hire a photographer for a couple of hours, have different themed outfits and try out a variety of poses & angles. That'll do a solid month for you!
3. Practice Until You Perfect It
In the beginning, you'll feel uncomfortable appearing before the camera and revealing yourself. But you've got to get over it and perfect your pose—the curves and the seducing look, that's what drives people crazy.
Make sure to include all these factors in your nude pics and practice the poses until you look like a professional porn star.
By following the tips mentioned above, you can take great sexy nude pictures. Now that you know how to sell nudes online and how to take great nude pics, it's time you know how much to sell nudes for.
3. Offering Your Nude Pics for the Right Price
To know how much to charge for your naked pictures, check out the best places to sell nudes (we'll be covering this part shortly) and see how much other nude models are charging for their pics.
When you're selling nudes for money, it is very important that you know how much to sell your nude pictures for. Charging just the right price for your naked pictures will for sure only drive you more sales.
Head to multiple platforms, do extensive research and fix a price. While doing so, remember
You're new to selling nudes online, which means you don't have a large fan base. Starting with a low price for your naked pictures is a good idea.

There are a lot of other models trying to make money selling nudes. So, price your naked pictures accordingly.

Once you have a good fan following, you can slowly increase the price of your nude pics.

Not to aim for money. Aim for a good fanbase and the revenue will automatically flow in.
Have these tips while you decide how much to sell nudes for. Here's a quick price chart for selling your naked pictures.
| | |
| --- | --- |
| Type of Sale | How Much to Charge |
| 1. Single nude pic | $5 – $10 |
| 2. Nude pic collection – 5 to 10 pics, single edition | $20 – $35 |
| 3. Custom requests from fans | $50 and above |
So, that's how much you should charge when you sell nudes online. That said, let's look at where to sell nudes online.
10 Best Places to Sell Nudes Online
You can find a lot of sites to sell nudes. But only the best websites can help you make money selling nudes. And that's what the following sections are about! We've handpicked the best websites to sell nudes online for you here.
1. Fansly
Fansly is basically a subscription-based fan site platform that allows creators to sell their content to fans for a monthly fee. The platform allows explicit content and is in fact, popular among creators for the same.
Built-in multiple monetization options like subscription tiers, locked content, referrals, etc, allow creators to make money on Fansly easily. When it comes to selling nudes on Fansly, you have to upload your pictures and your users should opt for a subscription to view the nudes.
You can also upload naked pictures and lock them so that your free subscribers can pay a one-time fee and view the content.
Pros
Multiple subscription membership tiers and content flexibility

Free subscription option to entice the audience and then convert them to pay

One of the best

alternatives to OnlyFans

Good referral program
Cons
No secure checkout process to verify accounts

A bit difficult to get used to the platform initially
Fansly Commission Percentage – 20% 
2. OnlyFans
OnlyFans, just like Fansly, is a subscription membership marketplace that's widely popular for its explicit content, making it an ideal website to make money selling nudes.
Also, OnlyFans is so diverse that you can find all sorts of creators here – from models trying to sell used panties on OnlyFans to artists selling their paintings, it's all here!
Some of the monetization options on OnlyFans are subscriptions, private messages, paid content and more. You can get paid for sending nudes to fans via private chat. Apart from displaying nude pics for membership subscriptions, you can also follow the one-time payment approach.
Though OnlyFans is itself a popular site, you need to promote your OnlyFans content on other sites to drive sales because of the high competition.
If you're feeling a bit uncomfortable in the beginning selling nudes, you can also promote your OnlyFans secretly. Just hide your identity (face, birthmarks, tattoos) and keep a sexy name for your OF and social media accounts.
Pros
Massive audience base, which means

high earning potential on OnlyFans

.

Multiple monetization options and good customer support.

Reputed name, especially for the adult niche.
Cons
High volume of creators resulting in massive competition.

OF is not a dedicated adult industry platform.

Star celebrities swoop in and get all the attention.
OnlyFans Commission Percentage – 20%
3. Chaturbate
If you ask what is Chaturbate, then you've seriously got to spend more time within the adult industry. Anyways, Chaturbate is a webcam site where you can engage with the audience in real-time. With Chaturbate, you can do live cam shows, talk to the audience in group/private chats and sell naked pictures and video clips.
Pros
High traffic flow – more than 17 million a month.

Very easy to use and engage with the audience.

One of the best cam websites around.
Cons
Thousands of models. Having Chaturbate as your main source of income is not advisable.

If you want to stay anonymous, Chaturbate is not for you.
Chaturbate Commission Percentage – 30% to 60% based on the type of earnings
That said, let's look at other sites like Chaturbate.
4. BentBox
A simple publishing platform that allows you to upload your naked pictures and sell them online. There's no cap on how many photos you can upload. The best part is commissions are charged by BentBox over the price you set for your nude pics.
Pros
Create boxes with an expiry time.

Publish boxes by scheduling them.

Promotion options for boxes like promo codes and geo-blocking feature.
Cons
If you're looking to try new monetization options, you have to switch platforms.

Considering the mentions around, BentBox isn't that popular.
BentBox Commission Percentage – Models get 100% of their earnings
5. ExtraLunchMoney
An exclusive 18+ content marketplace that allows only creators to sell their content (no third-party sellers). Selling homemade porn and premade content like nude pics and is a walk in the park on ExtraLunchMoney – users can directly purchase listed content by paying the price.
Pros
Audience can text creators and interact with them –

make money by sexting

.

Custom requests can be placed on the platform and random creators can accept it.

Acts as a Chaturbate affiliate to promote cam shows.
Cons
A no-nonsense platform where you cannot expect much.

The platform has been the same for some time now – not a lot of developments.
ExtraLunchMoney Commission Percentage – 40%
6. ManyVids
Another great website to sell nudes online! ManyVids is a content creator platform that allows adult creators to sell naked pictures and videos. Models can sell nude pics both individually and via subscriptions.
Pros
High website traffic and a quite popular name in the industry.

ManyVids University to help you learn more about the platform and make money.
Cons
If you're planning to sell only naked pictures and not videos, then ManyVids is not for you.

Consistency is very important. If you're not able to be consistent, it's going to be hard.
ManyVids Commission Percentage – 20% – 40%
7. Fanvue
Fanvue allows all types of creators but is dominated by adult creators. So, selling nudes is not going to be a problem here. Unlike OnlyFans, the platform has some cool features like channel promo videos and buying content as porn NFTs.
Pros
Though new to the industry, Fanvue is super easy to use for creators.

Advanced analytics dashboard that lets you know what content works with the audience.

Fanvue's discoverability engine is similar to that of Instagram.
Cons
Since it's a very new website, the exposure is minimal.

Audience would double to think to opting for subscriptions from such a website.
8. ModelHub
Like ManyVids, ModelHub is an adult video clips centric platform, but yes, models can also get paid for nudes. Being a division of PornHub, ModelHub offers excellent support and monetization options like ad-revenue sharing, fan subscriptions, monthly contests and more.
Pros
Traffic is not a concern since the website is a part of Pornhub.

Great customer support, site usability, marketing tools and referral program.
Cons
The site is bombarded by

cam girls

, porn stars and amateurs, making it difficult to compete.

If you're planning only to sell nude pics, then you can choose other options we've mentioned.
ModelHub Commission Percentage – 20% to 35%
9. FanCentro
FanCentro, a website like OnlyFans, is another great option for you to sell nudes online. The platform is exclusive for adult content and lets you earn money via options like pay-to-view feed, DMs, live streaming, referral program and more.
Pros
Quite a popular website and is in the leagues of OnlyFans and Fansly.

Multiple monetization options, easy-to-use interface and option to migrate all your OnlyFans content in just one click.

Dedicated university to help models get started.
Cons
FanCentro Commission Percentage – 20%
10. PornHub
The world's best tube site, can also be used to sell nudes online. Adult models make money on PornHub but let this site be your last resort. You can simply create a profile on PornHub and start selling your nude pics.
Pros
PornHub's traffic is greater than the traffic of Twitter and Netflix combined.

Options to earn money from ad revenue.

The verified symbol can be obtained for free via the Verified Amateur Program.
Cons 
Since PornHub is mainly a tube site, it's difficult to get noticed amidst the huge traffic and other models.

If you're only looking for sites to sell nudes and you won't be switching to videos, PornHub should the last option for you.
PornHub Commission Percentage – $0.69 for every 1000 views.
So, there you go – the 10 best places to sell nudes. But that's not all! How cool would it sound if you could sell your nude pictures online for free?😎
Where to Sell Nudes Online for Free?
All the above-mentioned sites to sell nudes have a set commission percentage. But here are some places where you can sell nudes online for free.
1. How to Sell Nudes on Reddit
Reddit needs no introduction and the platform is known for explicit content in its own way. The social forum platform is the house of a number of Adult SubReddits and there are dedicated SubReddits to sell naked pictures.
All you have to do to sell nudes on Reddit is
Step 1: Choose a username for your Reddit profile
Step 2: Connect all your social profiles to your Reddit
Step 3: Create your own SubReddit and start posting content
Step 4: Promote your content by joining other relevant SubReddits
You can build a loyal fan following with some flash nudes and tease content. You can ask them to pay for all the premium stuff by having conversations on threads or private messages.
It's easy and FREE!
2. How to Sell Nudes on Snapchat
Like Reddit, you can also sell nudes on Snapchat for free!
As of December 2022, the platform had 363 million daily users making it one of the best places to sell nudes.
So, here's how you do it.
Step 1: Create a Snapchat Premium account with a good username.
Step 2: Build connections and leverage the disappearing messages to tease them.
Step 3: Push them for paid subscriptions and be consistent with your Premium Snapchat – selfies, photoshoots, cosplays, etc.
Step 4: Promote your Premium Snapchat account on social platforms and adult forums to drive traffic.
While selling nudes on Snapchat, remember that you have to link a payment wallet (but make sure it's not an adult wallet). Also, your users should not mention terms related to adult content anywhere on the transaction notes.
3. How to Sell Nudes on Twitter
The bird platform allows very explicit content to be posted and since it's one of the largest social platforms, you can leverage it to sell nudes online.
Here, Twitter can only be used as a platform to advertise that you're selling nudes. All the purchasing will be done on an adult content creator platform (you can choose one from this article).
You can use Twitter to tease your audience and the full package, you can deliver it to them on creator platforms. That's what Natasha Nice and many other porn models do!
Make sure to add relevant hashtags like #sellingnudes #sellingadultcontent to increase visibility.
4. How to Sell nudes on Kik
Kik is a popular messaging platform that allows users to live stream, share media in groups and privately and sell physical and digital goods.
A lot of models make money on Kik by selling used panties, selling feet pics and nude pictures.
Though the platform does not allow nudity, selling nude pictures via private messages is not going to be a problem.
If you're using Kik as your main place to sell nudes, make sure to promote it on other social platforms and be consistent. Engage the audience with live streaming and increase your fan following.
Mentioned above are some of the best places to sell nudes online for free. They are best because it's FREE and they have a lot of users! But what's better than selling nudes for money from a website you own?
How to Sell Nudes Online on Your Own Website?
All this time, we were seeing options to sell nudes online on different places and platforms. But here, we'll see how you can get paid to sell nudes from a website you own.
For this, you need to create a fully sophisticated membership website for fans. If you think it's going to cost you a lot of time and money, yes, it is. But there's a better alternative – using adult membership site scripts to build your website like xModel.
What Is xModel?
xModel is an adult membership website script that lets you create your own fan membership site like OnlyFans and Fansly. Since you own the website, you get 100% control and 100% of your earnings!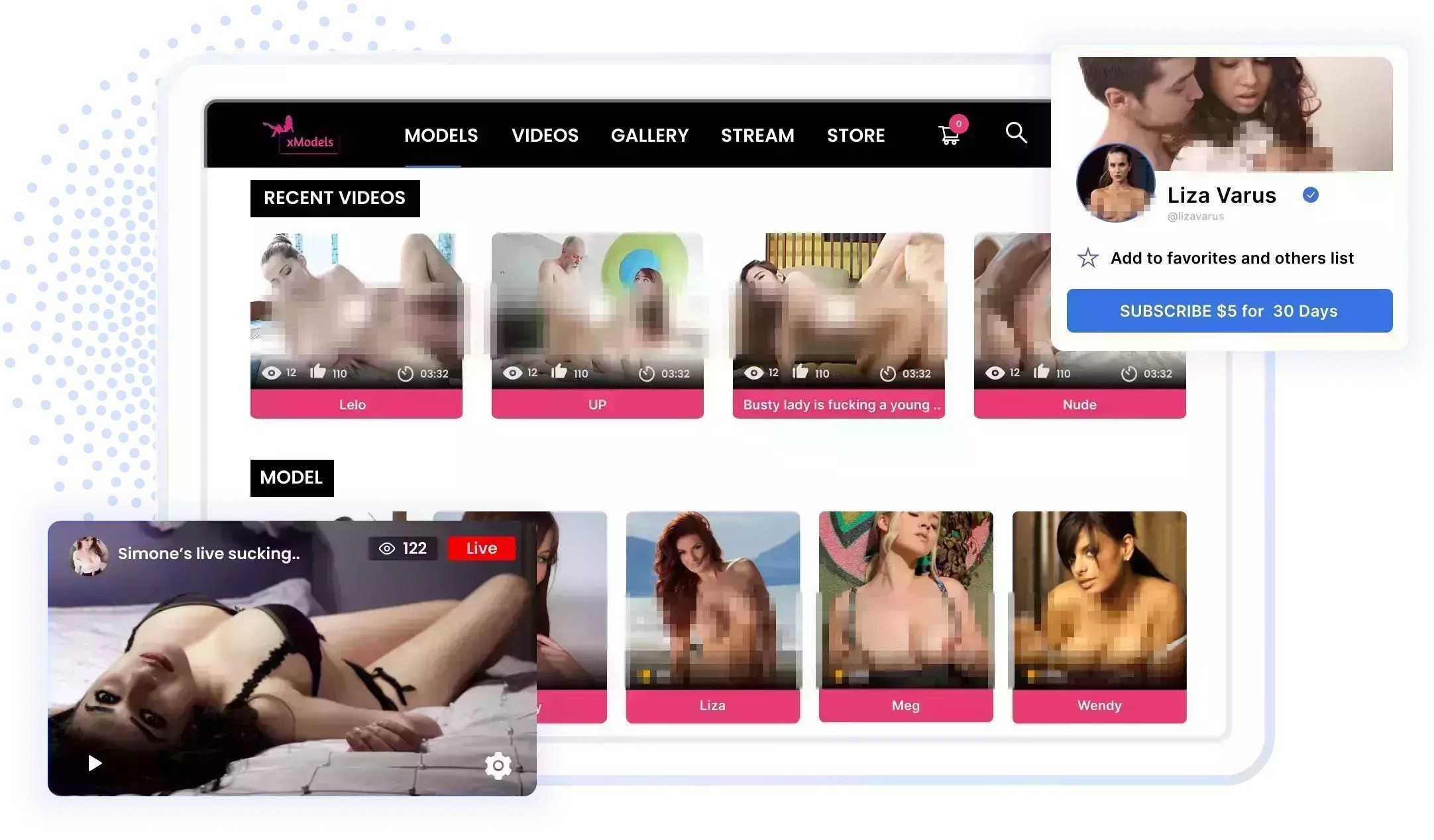 Once you purchase xModel, you get the complete source code – it's a one-time payment. After purchasing, you can customize and install the script if you know coding else, Adent's support team will help you out on this!
xModel costs only $699 and comes with abundant features. Along with help from Adent's support team, it won't take more than $5000 and a month to create your own membership subscription site.
Some of the features of xModel are, 
Multiple monetization methods like

subscriptions, paid live streams, premium content, affiliate ads

and more.

Built-in eCommerce store setup

to sell digital and physical goods.

100% mobile responsive

and

SEO optimized

script.

Comes with built-in adult payment processor –

CCBill

Option to create

dedicated tokens

for your website.
By using xModel to sell nude pictures, you can easily make $2000 – $5000 per month (with no commission charges).
Try xModel yourself or book a quick demo to know how you can leverage xModel to make money selling nudes online.
So, that's that! If you think we are done with our suggestions, not yet! Here's some more!
Best Websites & Apps to Sell Nudes Online
Apart from the above-mentioned, here's a brief table with some more sites to sell nudes.
Sites to Sell Nudes

Commission Percentage

1.

Redgifs.com

Free social GIF site. Can promote to sell nude content.

2.

Sex.com

20%

3.

Sofia Gray

0%. All earnings goes to models

4.

LiveJasmin

20% – 70%

5.

IsMyGirl

0%. Only the processing fee will be in effect

6. Clips4Sale

40%

7. IWantClips

20% – 40%

8. ModelCentro

25%

9. Chatabox

20%

10. Erotifix

15%

11. AP Clips

25%

12. JustForFans

20%

13. AVN Stars

20%

14. BongaCams

10% – 40%

15. Etsy

6.5% commission fee

16. Admireme.vip

20%

17. LoyalFans

20%

18. Unlockd

15%

19. Mygirlfund

10% – 35%

20. CamSoda

45%

21. Jerkmate

65%

22. Flirt4Free

Couldn't be exact but it's somewhere above 60%

23. MyFreeCams

40%

24. Stripchat

Give or take 40% – 50%

25. Cams.com

30% – 68%

26. ImLive

30%
So, those are some of the sites to sell nudes online and make money. Well, that makes it to 40 websites to sell nudes online! Pretty extensive, we believe!
Now, let's cover other important sections of selling sexy pics.
How Much Can You Make on Selling Nudes?
By selling nudes online, you can easily make between $1000 and $5000 per month. 
Some of the factors that influence how much money you can make selling nudes are, 
The platform you choose to sell

The quality of your nude pics and how they are received

Pricing of your nude pics

The places you promote your nude pics

How consistent you are at your efforts
But on average, you can make what we mentioned above with ease,
How to Make Money Selling Nudes Online – Inspirational Stories from Successful Models
If your thoughts are swinging whether you can make money selling nudes online or not, here are top three motivational stories you shouldn't miss out on!
Ava Grace –

From being a homeless girl, Ava Grace now has purchased a home of £250,000. 

Kaya Cobridge –

Earlier, a Mcdonald's waiter. Now, a famous model who has earned £ 2.1 million by selling nudes and videos on OnlyFans. So far, Kayla has traveled to over 30+ countries and wants to continue doing so.

Ruby Rose –

Would you believe if we say one can make more than £50,000 in a single month? Ruby did! And like we said, she did it in a month by selling nudes on Fanvue. Earlier, she was working at Tesco.
That's not all! There are more inspirational stories of models who make money selling nudes online.
How to Get Paid On Nudes?
It's important that you have a solid payment gateway to get paid for your nudes. Here are some of the best payment processors for you to receive money after selling nudes online.
1. CCBill
CCBill is one of the best adult payment gateways out there and it's commonly found on adult content creator platforms. xModel also comes with built-in CCBill payment gateway processor.
No worries regarding adult transactions.
2. PayPal
Though PayPal is a common cash transaction app, the app itself is against adult content. But some people still do it despite the risk of being banned.
If you still want to go ahead with PayPal, it is recommended you share information about PayPal account details and ask buyers not to mention anything about adult content on transaction notes.
3. Verotel
Like CCBill, Verotel supports adult payment transactions. The platform has been enabling 50,000+ high-risk webmasters to manage transactions and build their online businesses.
4. CashApp
When compared to PayPal, CashApp is a better choice to get paid for nudes because it does not impose any restrictions on adult content.
The mobile app is seamless and any funds you receive can easily be transferred to your bank using CashApp's own debit card or direct deposit.
5. Amazon Wishlist/ Gift Cards
If you wish to stay anonymous all the way, then Amazon Wish Lists or Giftcards is the best option. In fact, a lot of porn stars use this method to get paid.
Simply create an Amazon wishlist and share it with your audience so that you can get paid selling nudes.
6. Cryptocurrency
If you're into cryptos, then it's a great option!
Make sure what cryptos work for you and share your wallet address with the individual who wants to purchase your nude pics. Once your wallet has been deposited with crypto, you can send the nude pic to the individual. 
As simple as that! With that, we are coming to the end of our sell nudes online guide.
Final Thoughts on How to Sell Nudes Online
If you've reached this far, then it's pretty sure you now know how to make money online selling nudes. We have been elaborate on all the parts – right from how to take sexy nude pictures to the best websites to sell nudes so that you get off on the right foot!
Now that you're aware of how to sell nude photos online, all that's left is for you to start selling nude pics online. You're just __________ this far from getting paid for your first nude pic!
FAQs Related to Selling Nudes Online
1. Is it illegal to sell pictures of yourself online?
No, it is not illegal to sell nude pictures of yourself online. There are a lot of adult creator platforms like OnlyFans and ExtraLunchMoney that allow you to make money selling nudes.
2. Can you sell nudes online?
Yes. You can sell nudes online and make money out of them. Make use of popular adult content creator platforms or cam sites to start selling nudes online.
3. How much should I sell my nudes for?
If you're just beginning to sell nudes online for money, it is recommended to sell your nude pic for $5 to $10. However, if you have been in the industry for some time or you're popular, you can sell your nudes for more than $30 and even above $50.