-

10

mins read
There are very high chances that you would have heard or read the news about people making big money on a website called OnlyFans. Such news has been so frequent that it makes one wonder how much can you make on OnlyFans. Well, the scope is limitless, but everything depends on how you go about it.
Seeing such big money being made on OnlyFans, many people doubted if it was a scam and the legitimacy of OnlyFans. Let me clear the air for you, OnlyFans is a perfectly legit content platform where creators from around the world sell content and make money. This article will help you figure out answers to questions like
How much money can I make on OnlyFans?

How much can you make on OnlyFans in a week? 

How much does the average person make on OnlyFans?

What content sells best on OnlyFans?
Stay tuned as we take you through the money machine, i.e., OnlyFans.
What is OnlyFans?
OnlyFans is one of the largest content sharing platforms on which creators from every corner of the world come to sell their content. If you have any talent, you can sell it on OnlyFans, which has a vast, diverse audience looking to consume content. There are many alternative sites like OnlyFans for adult creators, but OnlyFans is still the most popular among all. OnlyFans is home to creators of different kinds, ranging from chefs, trainers, and dancers to vloggers, models, and adult models.
There is no doubt that the majority of the creators on OnlyFans are adult models selling adult content, but there also are a great number of creators from other fields on OnlyFans, making it a money-minting machine for creators. OnlyFans hosts more than 2 million creators and is said to have paid out $3.86 billion in 2021 to creators on its platform.
How can you make money on OnlyFans?
OnlyFans provides many ways in which creators can make money on it. Any creator on OnlyFans can make use of the below mentioned 5 ways to make money on OnlyFans. Other than these 5 primary methods, creators can still make some more passive income through affiliate marketing.
1. Make money on Subscriptions
The primary mode of making money on OnlyFans is subscriptions, where users pay a monthly fee to get access to a creator's profile to consume their content. The subscription fee can be set by the creator, and it should be between $4.99 to $50 per month.

2. Make money through Tips
Tips is another major mode of making money on OnlyFans. Creators have a tip button under their profile and under each post, too, where users can give them tips if they like the content. Creators need to encourage users to give tips by sharing good content that the users will like.
3. Sell Premium content to make money
Creators on OnlyFans can sell premium locked content on their profile, and users have to pay a one-time fee to access the content. This is different from the regular content creators share on their subscription profiles. Creators can promote their PPV content, like selling nudes, and entice users to buy it.
4. Sell Paid messaging services
Paid messaging is another great way of making money on OnlyFans for creators. Creators can send locked content through messages to all their followers and whoever pays the fee behind the locked content gets to access the content. Creators can broadcast the locked content to all their fans, making it a great way to make money.
5. Do Live streaming to make money
OnlyFans provides creators with the option of "Go Live," where creators can do live shows for their fans. This live show can be behind a paywall where users pay a fee to enter the live stream, or the webcam model can keep the show free and set tip goals to make money.
Can you really make money on OnlyFans?
Yes, making money on OnlyFans is very much possible and real. But you have to remember that not everyone makes it big on OnlyFans. Only those creators who are serious about their profile, post content regularly, and invest time and effort to promote and market their content are the ones who find success on content sites like OnlyFans. You can even sell adult content on OnlyFans without showing your face to protect your privacy.
How much do beginners make on OnlyFans?
OnlyFans is a great platform for creators to make money, but the money will come only after you put in the time and effort needed. When you're a beginner on OnlyFans, then your efforts should be focused on making more content, promoting it, and trying to gain as many fans as possible on your profile, as advised below by a verified OnlyFans creator on Reddit.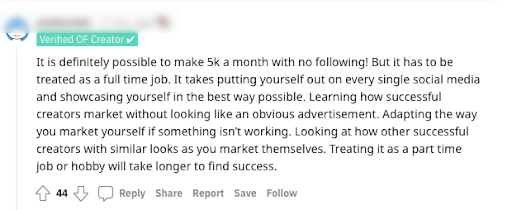 Beginners on OnlyFans are advised to create a free profile initially so that more and more people can see their content. More visibility of your content would mean more chances of turning viewers into subscribers. Once you have enough traffic coming to your content, then you can switch to paid subscription and make money from it.
For example, if you have a good following on social media platforms with 10000 or more followers, then you can expect 1% to 5% of your followers to convert into subscribers on OnlyFans if your content is good. Taking these numbers into consideration, a beginner on OnlyFans with a subscription rate of $9.99 per month can expect to make $999 to $4995 in a month. Please note that this calculation is based on an ideal scenario and doesn't include the earnings made from tips, PPV, and other sales on OnlyFans.
You can get an idea of how much can you make on OnlyFans on their calculator. The below table shows an approximate calculation of earning potential of beginners on OnlyFans in an ideal scenario.
| | | | |
| --- | --- | --- | --- |
| No. of followers on Social Media | Converted subscribers on OnlyFans(1%) | Subscription rate | Earning/month |
| 5000 | 50 | $9.99 | $499.5 |
| 10000 | 100 | $9.99 | $999 |
| 20000 | 200 | $9.99 | $1998 |
| 50000 | 500 | $9.99 | $4995 |
| 100000 | 1000 | $9.99 | $9990 |
How much does the average person make on OnlyFans in a month?
With over 2 million creators on OnlyFans, the earnings of top creators and other creators on OnlyFans differ drastically. The popular creators on OnlyFans have a huge number of subscribers that helps them earn big money, but the average number of subscribers a creator on OnlyFans has is 21. If we add up the average subscription rate of $7.20 per month, then the average person on OnlyFans makes $151.2 in a month. Don't be discouraged seeing this number, as it's an average calculation, which doesn't decide how much can you make on OnlyFans.
Most popular OnlyFans content ideas
If you want to know what content sells best on OnlyFans, then we are here to help you with the most popular content ideas on OnlyFans. Although you can sell any type of content, like sell used panties on OnlyFans, there are a few types of content that have a huge audience following. Below is the list of ideas of content that sells best on OnlyFans.
Adult content creators

Gamers

Influencers

Vloggers

Fitness trainers

Cosplay creators

Beauticians

DIY bloggers

Fashion models

Adventure seekers
Check the image below on how OnlyFans creators try out new content ideas to make their content fresh and interesting.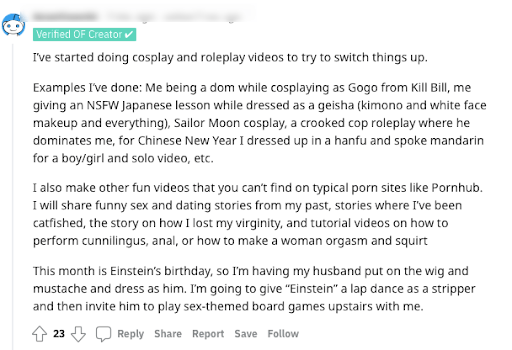 How much money can you make on OnlyFans with feet?
Selling feet pictures on OnlyFans is a very popular monetization method for many adult creators in the world. The reason is that feet fetish is one of the most common fetishes that people around the world have, making selling feet pictures a lucrative option. Selling feet pics can be a deciding factor in how much can you make on OnlyFans.
Creators can make anywhere between $100 to $5000 by selling feet pics on OnlyFans, depending on their popularity and following. If a creator has a good following and subscribers, then they can make good money through their subscription profile, where they share their feet pics. Another way is to keep your profile free and sell individual feet pics as PPV. Creators charge feet pics on OnlyFans for $5 to even $100, depending on their popularity. As a beginner, it's advised that you charge $5, and once your content is popular, you can increase your prices.
How do I get paid on OnlyFans?
Creators on OnlyFans first need to add their bank account to their profile. The bank account should be in the creator's name and should be from the same country as the country that issued the verification photo ID of the creator. Creators can also add a verified e-wallet as an alternate payout method to get paid for fetishes on OnlyFans.
Any earnings made by creators on OnlyFans are held for 7 days, after which creators can submit a request for withdrawal. For smaller countries where the reverse transactions are higher, the holding period is for 21 days for the first 4 months, after which it switches to the regular 7-day period.
Creators can choose manual withdrawal by clicking the "request withdrawal" button on the payout request page. OnlyFans also provides an option of automatic recurring payments where creators can set up automatic withdrawals on a weekly, monthly, or daily basis. For automatic withdrawal to happen, creators should have more than the minimum payout amount, which is $20 for most payment methods in the US. Creators from other countries can see their minimum payout amount for their preferred payout method on their banking page.
The accepted payout methods on OnlyFans for users and creators are as below:
MasterCard/Visa

Maestro/ Debit cards

Discover

Some prepaid Visa cards
The below image gives a brief on how much creators can charge for their content on OnlyFans.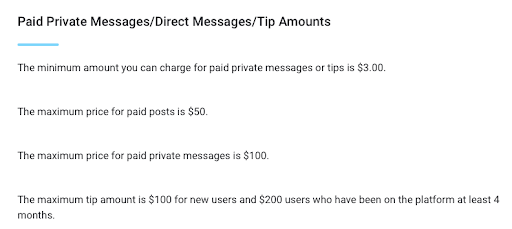 Do men make money on OnlyFans?
The straightforward answer to this question is Yes. Men also make good money on OnlyFans, but they don't have a huge audience as compared to women creators. To find their audience who will buy their content, men have to put in extra effort to curate, publish, and market their content.
Fetishes like becoming a male stripper or selling used mens underwear are quite common nowadays. Yes, it is true that it's easier for women to make money on OnlyFans, but that doesn't mean men can't make money on OnlyFans. With the right approach and hard work, men can make good money on OnlyFans.
Top earners on OnlyFans and how much do they make
Now let's take a look at some of the top models on OnlyFans who are the top earners on OnlyFans. By showing you this list of top earners, we want you to get inspired and not intimidated in your journey of becoming an OnlyFans creator.
1. Blac Chyna
Born in 1988, Blac Chyna is a popular American model and socialite. Her real name is Angela Renée White, and she has her own TV reality shows. Her monthly earnings on OnlyFans is a whopping $20 million, where she charges a subscription rate of $19.99. Blac Chyna's massive Instagram following of 16.5m is what makes her so successful on OnlyFans.
2. Bella Thorne
Annabella Avery Thorne, or Bella Thorne as people know her, is an American actress, model, singer, and writer born in 1997. She joined OnlyFans in 2020 and was the first person to earn $1 million within 24 hours of joining the platform. Bella has 25.3M followers on Instagram, and she gives a free subscription on OnlyFans, with all of her monthly earnings of $11 million coming from tips and PPV content.
3. Cardi B
Belcalis Marlenis Almánzar or better known as Cardi B, is a popular American rapper and songwriter. She has a massive following on Instagram with 141M followers making her really popular on OnlyFans. Although she has posted just 6 times since she joined OnlyFans in 2020, her popularity earns her $9.43 million every month through subscriptions.
4. Tyga
An American rapper going by the name of Tyga is a popular celebrity who deleted his OnlyFans account after they announced a ban on adult content on its platform. His real name is Michael Ray Nguyen-Stevenson, and before he quit OnlyFans, he had a massive 21.6 million subscribers paying a $19.99 fee to access his content. His monthly earnings were a whopping $7.69 million.
5. Mia Khalifa
Mia Khalifa is a Lebanese-American pornstar who became one of the most searched models in porn history. She has 27.7M followers on Instagram and charges a subscription fee of $10.80 on offer currently. She makes around $6.42 million per month on OnlyFans through her adult content.
Tips from OnlyFans top earners
Now that we have seen how much money the top earners on OnlyFans make, we will share some pro tips given by top earners on OnlyFans on how to boost your income on OnlyFans. There is no doubt that OnlyFans has a huge potential to make you rich, but that'll only come with time and will depend on the efforts you put into your profile.
1. Subscription pricing strategy
OnlyFans gives the option to creators to set their own subscription rates for their profile. It ranges from $4.99 to $50 per month, and you're free to choose any price between these numbers. The right way to approach this is to gauge your audience and set a subscription price accordingly.
When you're starting on OnlyFans, it makes sense to keep your subscription prices lower in the range of $5 to $10. You can also sell subscription bundles and give discounts on 3-month or 6-month subscription bundles. All this will help you to gain a good following and increase your follower base.
2. Create 2 profiles
If you're not a popular celebrity with millions of social media followers and start your OnlyFans journey with a locked profile with a high subscription fee, then mostly, you won't be getting any followers simply because people don't know you.
It is advisable to create 2 profiles, where one is a free profile where you share snippets of your subscription profile. Once people see and know about you, then they can risk subscribing to your profile. You can sell boob pictures on your subscription profile while sharing sexy pictures of yourself in lingerie on your free profile to entice users.
The below image can help you figure out the difference between a paid account and a free account.
3. Make use of multiple social media platforms
It is very important to have a big social media presence for you to be successful on OnlyFans. Share some content on your social media channels like Instagram, TikTok, etc., and try to increase your follower base. You can give your OnlyFans link in your social profiles to guide people to see your exclusive content on OnlyFans. Being active on social media channels can also help you sell butt pics on OnlyFans.
4. Interact with fans
Another important thing that many creators don't follow is to interact with their fans. When a fan sends you a message, make some time to reply to them. Fans love it when creators interact with them on a personal level. Make sure to take some time out every day and reply to all your messages.
5. Give your best
Success on OnlyFans doesn't come overnight. In fact, it takes time for your profile to become popular, provided you publish and promote your content regularly. Don't lose hope if you don't see your subscriber count increasing, with consistent efforts and dedication, you can surely make it big on OnlyFans.
Conclusion
Hope we were able to answer your question about how much can you make on OnlyFans. OnlyFans is a great platform to make money, but it takes some time and effort to build and promote your profile. With patience and hard work, you can surely start making money on OnlyFans. But remember, OnlyFans charges a 20% commission on the earnings made by creators on its platform, so your income will be 20% less than what you actually earn.
If you're someone who wants to earn and keep 100% of their income, then xModel is a great solution for you. xModel is a readymade script that helps you build your own membership platform in a matter of a few hours. It is fast, easy to use, and provides a plethora of monetization options to maximize your income.
xModel is the perfect solution for porn stars, cam girls, and internet models to start their own paid membership platform and be in 100% control of their earnings. With monetization methods like subscriptions, live streaming, tips, an eCommerce store, and much more, xModel is a great option to build your brand and scale your career. Check out the xModel demo today!
1. Is it hard to make money on OnlyFans?
Yes, it is hard to make money on OnlyFans as it has huge competition from creators, but with hard work, dedication, and the right strategies, you can easily make good money on OnlyFans.
2. How much do OnlyFans girls make?
The average income of girls on OnlyFans is around $140 to $180 per month. But if you're posting regularly and can build a good following with your content, then girls can make much more money on OnlyFans.
3. How much money can I make on OnlyFans with PPV?
Creators can sell PPV-locked content for $5 to a maximum of $50 per post. So if you can sell 10 locked content to 50 people at $5 a piece, then your income from PPV content will be $2500 in a month.
Here's an interesting video from Lauren Alexis, where she speaks of the intricacies of OnlyFans and bust the myths of how much models are earning on OnlyFans. Check it out!