-

7

mins read
The adult creator economy has really picked up in recent years and has become one of the highest-earning businesses in the world. With multiple content platforms felicitating the sale of adult content, adult content creators have a lot of options to choose from.
One such option is Extra Lunch Money which is a digital marketplace for buyers to interact directly with adult content creators. Today in this article, we will take a look at the Extra Lunch Money review in detail and see how this platform fares among the plethora of content platforms around, like What is OnlyFans.
What is Extra Lunch Money?
Extra Lunch Money is an exclusive adult content marketplace where buyers from all around the world interact with adult content creators and buy their content. It was launched in 2011 and has since developed many features to help creators and also enhance the overall positive user experience.
What makes Extra Lunch Money stand apart from other adult marketplaces is that they allow only people who create and star in the content to sell their content on its platform. This means that no 3rd party sellers or resellers of content are allowed to sell content on Extra Lunch Money. It is a great platform for sellers to get paid for fetish content too.
Adult creators on Extra Lunch Money can sell their content on the platform easily. They can sell pre-made content that users can buy instantly, like selling nudes or selling homemade porn. Another way is through custom requests, where a creator can publish what they can do, and users then ask the creators for a custom job that the creator fulfills to get paid.
One can consider Extra Lunch Money as a freelance service provider that connects adult content creators with buyers from everywhere, where buyers can also create job requests. Extra Lunch Money reviews have been mostly positive, which makes it a very popular platform among adult content creators to sell their content.
Is Extra Lunch Money a legit site?
Yes, Extra Lunch Money is a legit and safe site for adult content creators to make money. It's been in business for the last 11 years and is a popular site among adult creators who want to sell adult content, like selling butt pictures online.
How to get started on Extra Lunch Money?
The process to get registered as a seller or buyer is very easy and straightforward on Extra Lunch Money. As with most websites, you need to be at least 18 years or above in age to sell or buy content on Extra Lunch Money. You just have to enter a few details like username, password, and email id, as shown in the image below.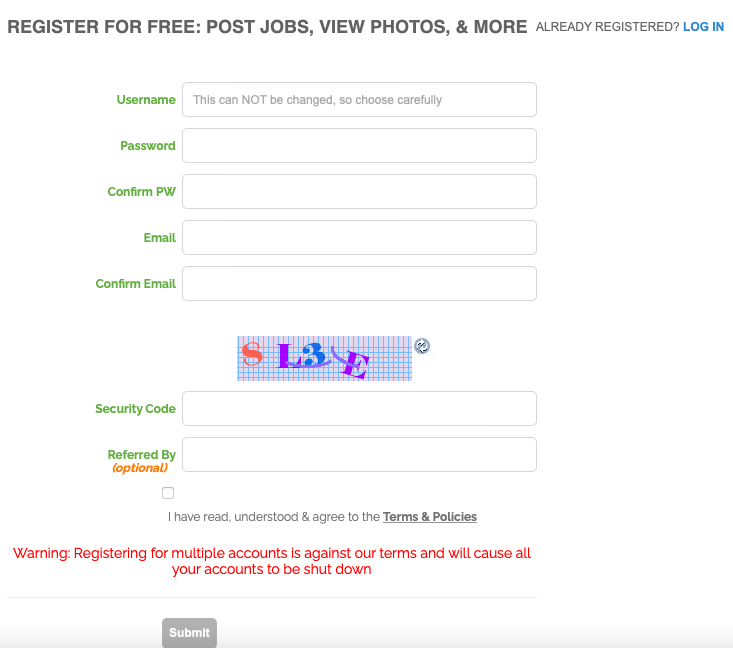 Next, you need to check your email and verify your email ID. Once your email is authenticated, then you'll be taken to the Extra Lunch Money page for your profile setup. Here you have to enter general details like your date of birth, gender, profile type, and Twitter name, which helps in getting more sales. There will also be a bio section where you can mention things about yourself, like if you sell boob pictures or anything else, as shown in the image below. There is also a section to enter your cell phone number for sexting services on Extra Lunch Money. Remember not to give your personal number for such services.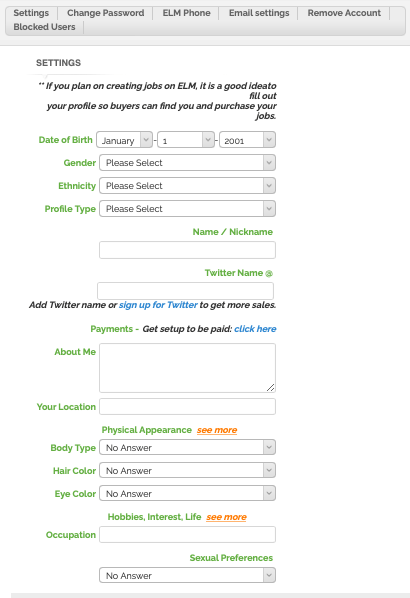 Now to start selling on Extra Lunch money, models need to follow a few more steps to validate their account. Until and unless the seller profile is verified, models cannot make any sales on the platform. To get your profile verified, you need to fulfill the following:
A 100% clear picture of yourself with your face and a handwritten sign with your username on it.

A government-issued ID with your birthday on it.

Your profile on Extra Lunch Money should be complete with a profile picture and all details filled in by you.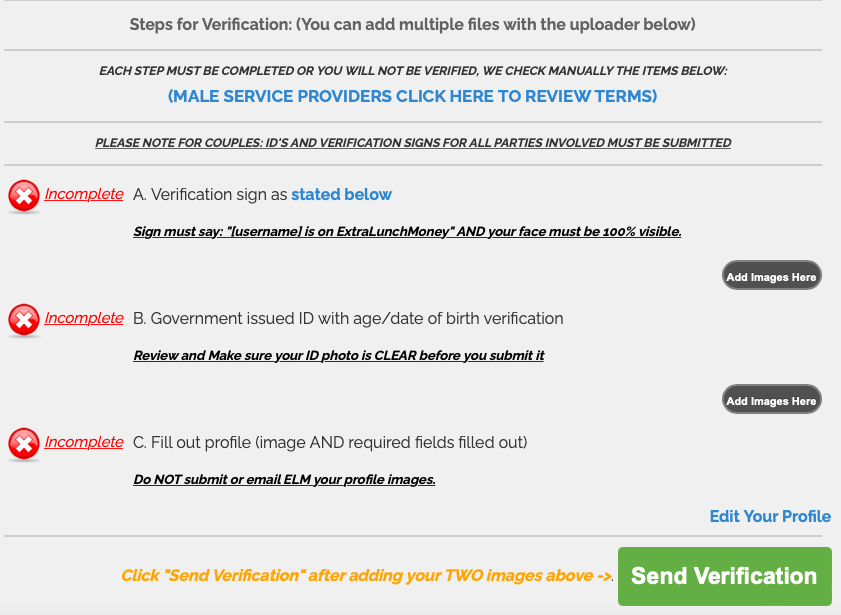 It usually takes a maximum of 24 hours to get your profile verified. Once all details are complete, and all verification documents are validated, then you'll become a verified seller or buyer on Extra Lunch Money, and you can start selling or buying different products on the platform.
Ways of making money on Extra Lunch Money
Now we come to the most interesting part of our Extra Lunch Money review, i.e., ways of making money on the platform. As we mentioned earlier in the article, there are 3 categories of featured content on Extra Lunch Money.
Download Now

Custom Jobs

Escrow Payments
Download Now – In this category, sellers make pre-made content like making homemade porn or a video in any particular niche and put it up for sale. Buyers can directly buy this content by paying the price associated with it without having to interact with the sellers.
Custom Jobs – For custom jobs, sellers mention the different kinds of content that they can deliver in their bios. Buyers also can publish posts about their content requirements and then choose from all the models who apply for it. Then the seller works directly with the buyer to deliver the custom content they need.
Escrow Payments – Escrow payments are a direct deal through messages on Extra Lunch Money between a seller and a buyer. Buyers get in touch with sellers through messages and requests for content of their liking. A buyer adds credits to the escrow account which the seller approves to start working on the job. Once the seller delivers the work, like doing a live cam show or selling a physical product, like selling used panties, then the buyer marks the deal closed, and the seller gets the payment in their account.
Now that you know the content categories, let's take a look at the ways in which creators can make money on Extra Lunch Money, as also shown in the image below.

Sell images/videos
Selling pictures and videos is the most common way to make money on Extra Lunch Money. Creators can sell images in bundles or individually to buyers on the platform. Similarly, videos can be sold depending on the duration and content of the video. This can be sold through the Download Now category, where sellers keep their content ready to buy.
Creators can also take custom requests from buyers to sell pictures and videos. Buyers can request custom fetish content from fetish models, and if they're comfortable, then they'll work on it and provide the content to the buyer. Creators can set their own prices for the images and videos that they sell. The price should be a balance between giving a good deal to the buyer and also the creator making a profit on the sale.
Tips
Tips are another good way to make money on the platform. Buyers and sellers can both give tip credits to each other at their own discretion. You can send tips through messages where you can find an additional text field to enter the tip amount. Each profile on Extra Lunch Money also features a tip button where you can receive tips from anyone on the platform. The thing to remember here is that once a tip is sent, there is no way you can claim a refund for it.
Sexting services
Sexting is another very popular way for models to make money on Extra Lunch Money. Buyers and sellers exchange messages on the internal chat platform of Extra Lunch Money. Buyers can choose to pay 3 credits to establish a connection with any seller for 1 month. On top of this, the seller can set the price of each text message where the minimum price is 0.1 credit for each text message.
The best part about Extra Lunch Money's chat services is that they provide a safe environment for chatting without exposing anyone's privacy. When a buyer sends a connection request to a seller, the platform generates unique phone numbers for both buyer and seller to safeguard their privacy.
Live camming promotion
Although Extra Lunch Money doesn't facilitate live camming on its own, they give the liberty for models to link and promote their Chaturbate profile on its platform. Chaturbate being one of the most popular camming sites around helps creators who want to make money by camming.
Models on ExtraLunchMoney can also promote their MyFreeCams profile which is another popular camming site. Each model gets a separate link to their MyFreeCams profile which is displayed under the Live Camming section on Extra Lunch Money.
Extra Lunch Money also provides models the opportunity to advertise their private live cam shows on platforms like Skype, Yahoo Messenger, etc. This way, models can also sell their private live sex shows to interested buyers and easily make money as webcam models.
Sales page
Models on Extra Lunch Money can put out offers and discounts on their Download Now products to lure more buyers. Such offers and discounts are published under the Sales page, which gives the models more eyes on their content. Creators can set the exact price, quantity of the product, and expiration date of the offer easily through their profiles.
Referral Program
Like most of the other content platforms, Extra Lunch Money also provides a profitable referral program for all users on its platform. Anyone who is a verified user on Extra Lunch Money can refer creators or buyers to the platform and earn a commission.
Every user on Extra Lunch Money has a unique referral link that they can share with others to refer them to the platform. There are three distinct ways of earning commission on Extra Lunch Money by referring other users to the platform.
An existing user can

earn 20% of the number of credits purchased

by the referred user for the first time.

A user gets

10 credits for every referred user

who becomes a verified seller and posts an approved job. The maximum a user can earn through this is 50 credits which means referring the first 5 sellers to the platform.

When a referred user makes their first sale(only Download Now category), you get a commission of

20% of the sale amount.
The more referrals a user makes, the more chances of them making money on Extra Lunch Money. Referral credits can usually take up to 3 weeks to process and get credited to your account.
Fundraisers
Creators of Extra Lunch Money can create fund goals to make more money too. Be it anything like buying a new laptop or getting a pedicure, creators can set up fundraisers for other users to tip and achieve the goal.
Payout on Extra Lunch Money
Extra Lunch Money makes use of credits on its platform for all transactions done. Credits are basically virtual currencies that can be bought by buyers on the platform. Credits are sold on the site in bundles of 10, 25, 50, 100, and 150. Large bundles are the best, as a buyer gets some bonus credits along with the package credits.
When buyers purchase credits, it usually costs them approximately $1 for 1 credit. For sellers, the payout percentage is usually 60%, which means that for 1 credit earned, new sellers get $0.60. Depending on the reputation points of sellers, payouts can vary. For example, sellers who have more than 30 reputation points are classified as Seller Plus, and they get 65% of the sales they make.
Payouts on Extra Lunch Money are done on a weekly basis. The minimum number of credits required changes according to the payout method chosen by the seller. Extra Lunch Money provides 3 types of payout methods, as shown in the table below.
Payout Method
Minimum Credit
Processing Time
Location
Transaction Fee

Paxum

40

Immediate

All countries

Free

(Paxum fee separate)

Check Payment

105

10-12+ days

US only

2 Credits

Bank Transfer

105

2-5 days

US only

2 Credits
Conclusion
Extra Lunch Money is a no-nonsense platform for adult creators to easily sell their content and make money through various monetization methods available on the platform. The platform maintains privacy for both buyers and sellers making it a safe site to work on. Hope we have cleared your doubts and answered your questions with our detailed Extra Lunch Money review.
If you're an adult model who aspires to earn more rather than giving a part of your earnings as commission to content platforms, then we have the perfect solution for you, xModel by adent.io. xModel is a readymade adult script using which you can start your own paid membership site and sell content. It is easy to use, affordable to the pocket and helps in building a brand for yourself.
Using xModel, creators can sell any type of content under their brand and be their own boss. No need to share your earnings with anyone, with xModel, you have 100% control over the platform and your earnings. With monetization methods like subscriptions, live streaming, premium locked content, eCommerce store, affiliate marketing, and more, xModel is the best solution for internet models, porn stars, and cam girls to capitalize on their fan base via their own website. Check out the xModel demo today!