-

10

mins read
You'd have a lot of questions. What is ManyVids? Is ManyVids safe? How can you make money on the platform? And a lot more!
Well, we'd say it's only fair that you get such questions before signing up for any creator platform. Whether it be ManyVids or OnlyFans or any other platform, it's essential that you do your research before you commit yourself.
Sure ManyVids has a reputed name, and a huge audience and creator base. But should you consider ManyVids for your creator venture? The answer to this question is what we're going to look at in this article.
We've discussed in-depth about what is ManyVids, its monetization ways, customer support, payment methods and more. By the end of the article, you'll get to know more about ManyVids as a platform and come to a conclusion about whether you should use ManyVids or not.
That being the gist of the article, let's get started!
What Is ManyVids?
ManyVids, founded in the year 2014 is a platform that allows creators to showcase and monetize their skills to fans via various media assets like photos and videos. Since ManyVids was found way before OnlyFans, it is considered one of the veterans in the space. Also, ManyVids is from Montreal, Canada the same place where Pornhub was founded!
ManyVids supports all kinds of niches – food, music, fitness, etc but it's especially known for the adult niche.
Whether you want to sell boob pics or sell homemade porn, you can always turn up to ManyVids.
Here are a couple of statistics that help you understand how big ManyVids is,
As of 2020, the

estimated revenue of ManyVids

was more than $3 million.

ManyVids had more than 3 million users and 70,000 creators in 2019. This was before the pandemic. Now, the figures would have soared high.

When we were drafting this article, the Alexa Global Ranking of ManyVids was 1718.
So, that's ManyVids in a nutshell for you! Now, let's see how it works.
How Does ManyVids Work?
It's no different here. Like many other creator platforms, ManyVids provides a place where creators can sell their content to potential fans and make money out of it. And ManyVids takes a sizable cut out of every sale made. The commission percentage differs based on certain categories which we'll be discussing later.
Creators can make use of multiple monetization methods available on ManyVids and strategize their earnings. Also, ManyVids has a lot of advanced features that make creators stand out from the crowd and increase their earnings.
On the other hand, platform users get advanced search options that give them exactly what they are looking for. Users can choose from the variety of creator content and purchase their favorites using tokens that can be bought using bitcoins, credit cards and altcoins.
One other interesting thing about ManyVids is, it allows creators to post even extreme content (but nothing illegal) and the same will be a unique niche on the platform. Even if these videos are flagged by platform users ManyVids will not remove them but give user discretion and will not autoplay these niche videos.
So, if you're creation includes extreme stuff that's being flagged across, you might want to consider ManyVids.
That's basically how ManyVids works. We'll now dive in-depth.
How to Get Started With ManyVids?
ManyVids provides a unified interface login for both users and creators. In this section, we'll take you on a quick walkthrough of how you should get started with ManyVids
Step 1: Sign up for Manyvids
When you visit the platform for the first time, this is how it's going to look (at least for now).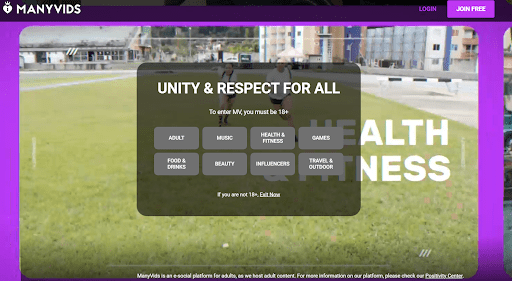 You can choose any of the categories in case you want to browse. Or, you can click the "Join Free" button on the top right corner to sign up for ManyVids.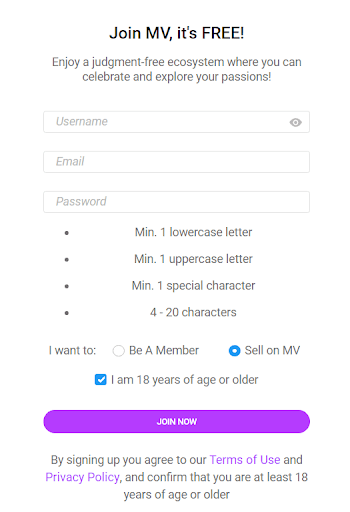 Fill in all the details asked for and do not forget to check the two important radio boxes – "Sell on MV" and "I am 18 years of age or older".
When done, click the "Join Now" button.
Step 2: Complete Email Verification
You'll be shown an account creation confirmation message and an email will be sent to the account you used to sign up for verification.

Step 3: Fill in Profile Details and Upload ID
After clicking the link on your email, you will be redirected to this page.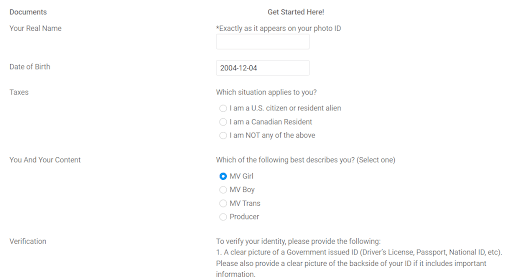 Once you have filled in all details and submitted ID proof, the ManyVids team will verify your details. After that, you are all set to use ManyVids as a creator.
Step 4: Set up the Basics
The next part is where you'll have to set up the basics.
Fill in all the details on your bio to make your profile look more authentic. Some of the basic details that'll be asked are,
Display Name

Profession

Date of Birth

Location and

Description
There's also an "About Me" where you can write more about yourself. Use this space to the maximum – helps draw attention.
Apart from this, you have to set up your
Display Picture

Payment Methods

Store with content
Here's what a fully functioning (and engaging) ManyVids profile would look like.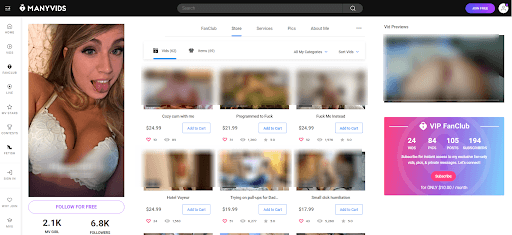 These are pretty much the steps you need to do to get started with ManyVids. Next, is the most important part of the article.
How to Make Money on ManyVids?
Before choosing any creator platform, it's important that you know what are its monetization methods. Because choosing a platform that isn't strong in this area is going to do you no good. But instead, you'll be throwing away your time and effort.
But when it comes to ManyVids, the platform exceeds our expectations. Perhaps, that's what you get when you choose to go with a veteran platform. ManyVids offers its creators multiple ways to make money.
Here, we've mentioned the top ways to make money on ManyVids.
1. Selling Videos on ManyVids
Whether it's OnlyFans or ManyVids, selling videos is the top earning method when it comes to creator platforms.
As a creator, you can
Upload videos on the platform and sell them for a fixed one-time fee.

Upload free videos for user engagement.
It's important that you do both because paid videos are what's going to keep the money rolling for you. And free videos will help the audience know more about you as a creator.
It would be more appropriate if we say that the free videos are the first engagement factor between you and the potential audience, driving them in for the paid assets.
Here's an example where Dani Daniels has listed both paid and free videos on her ManyVids profile.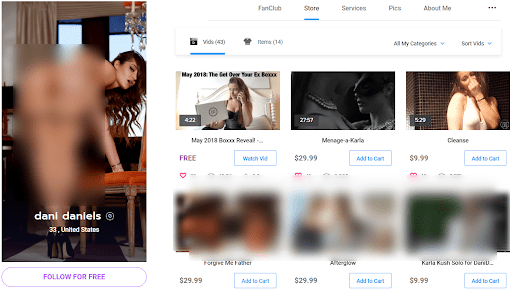 You can price your videos even up to $999 but since you're starting fresh on the platform, keep it on the lower side at least until you gain a significant following base. Look into a couple of niche profiles and see how much they charge for videos.
ManyVids also allows you to sell nude pictures on the platform!
2. Membership Subscriptions
This, you definitely don't need an introduction. You can create subscription memberships and ask your audience to subscribe to them.
A subscription would give them access to all videos you are posting on the platform including the paid ones.
So, the difference here is, instead of purchasing videos at a one-time price, paying for membership will give them access to pretty much everything. Subscriptions are the best way to make money on ManyVids as they are a steady flow of revenue every month.
That's that. Let's look at the next way to make money on ManyVids.
3. VIP FanClub
Now, this is an exclusive feature that's hard to find on other platforms.
Before we proceed, you should understand that membership subscriptions and VIP FanClub are two different methods to make money on ManyVids.
With VIP FanClub, you can post very exclusive content that you generally don't post it anywhere else. This exclusivity can drive you more revenue.
So, make sure to leverage this feature and post only really exclusive stuff for your VIP FanClub. Because if it's ordinary, the hype would soon settle down.
4. Custom Video Requests
This is another way to make money on ManyVids and the place where the real money is.
Custom video requests are nothing but your fans reaching out to you with a personalized video request. And here, you can charge them as you like. A desperate fan, who is crazy over you will definitely purchase it no matter what (but again, don't charge them very high as they might forever ditch you)!
When a user is requesting a custom video, they have to fill in the following information.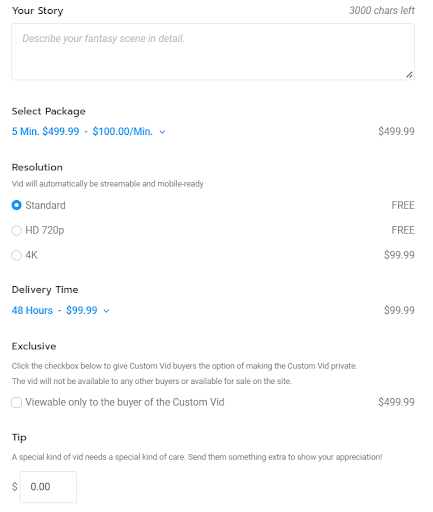 You'll be in control of the pricing here. This level of flexibility makes custom videos one of the best ways to make money on ManyVids.
5. Customer Tips
What's better than being rewarded for just being charming or adorable? Make sure to engage with your fans constantly and they'll show their love in the form of tips.
ManyVids allows creators to accept tips from fans. The platform calls it "Make It Rain".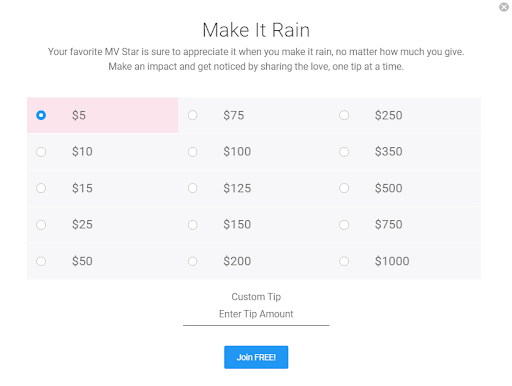 Your fans can tip you as much as they want. They can either choose from the predefined choices or enter a custom tip amount.
That's not it. You have more ways to make money on ManyVids.
6. Fundraising
Multiple monetization methods are what makes ManyVids one of the best creator platforms out there and Fundraising stands as proof of that.
Creators can set a goal and start raising funds for a cause on the platform. Interested fans will automatically pitch in their share.
Here's a vague fundraising goal from Mia Malkova.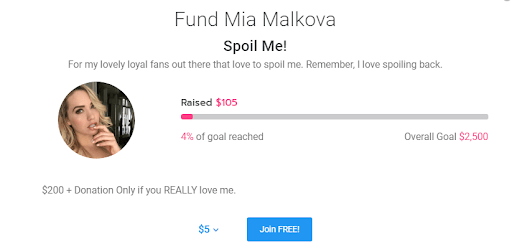 You can reward fans with videos when they pitch in or simply make a verbal promise like Mia!
7. Contests
Next we are going to look at contests. Everybody loves a contest and ManyVids gives creators just the perfect tool to engage their fans.
Creators can conduct contests and reward participants with customer videos or physical gifts. The participants should pay a participation fee which is generally low. Contests can put you in the limelight and can easily grow your following base.
8. Text and Video Chat
ManyVids also allows you to sext and have live 1-1 video chat with your fans for a set price.
You can charge users based on a per-minute basis and the total amount is billed at the beginning itself.
Here's the video chat service provided by Natasha Nice.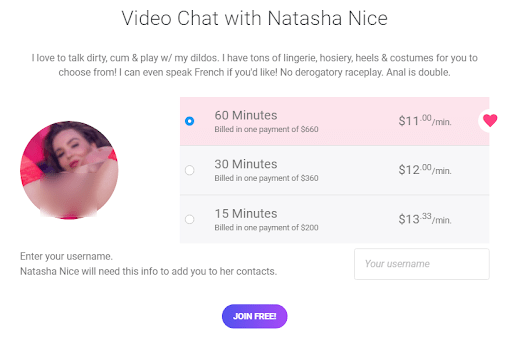 Again, take a look at what other creators charge. Set the price accordingly.
9. Live Shows
This feature is more like a cam site. Users can engage with you on live chat by using tokens asking you to do specific actions.
The best part is, ManyVids is built in with Lovesense interactivity. Using a toy can help your users engage with you more personally.
So, that's the answer to the question of how to make money on ManyVids. We do know that there are a lot of options. So, here's a summary via image.
You can choose what works for
 you and go ahead with it. Now that you know how to make money on ManyVids, let's look at a couple of tips that help you make money.
Other Features to Make More Money on ManyVids
Apart from different ways to make money on ManyVids, there are also a couple of other features that help you boost your chances of making money. Let's look at what they are.
1. Animated Profile Icons
A static, sexy display photo is good. But what about a quick video clip? Sounds more intriguing, right?
Yes. ManyVids allows you to keep short video clips as your profile picture. This helps you grab quick attention and stand out from the crowd.
2. Built-in Store Setup
Apart from selling digital content, you can also sell stuff like used panties in the store. Leveraging this can help build a deeper connection with your fans.
Do a bit of research and know how to set up the perfect store to sell physical goods.
3. Offer Discounts for Content
Everyone loves discounts and ManyVids knows that! And that's exactly why the platform offers you a feature where you can offer discounts for your content. This offers short-term hype over your content and can increase sales.
There are also other features like your own unique ManyVids link and more.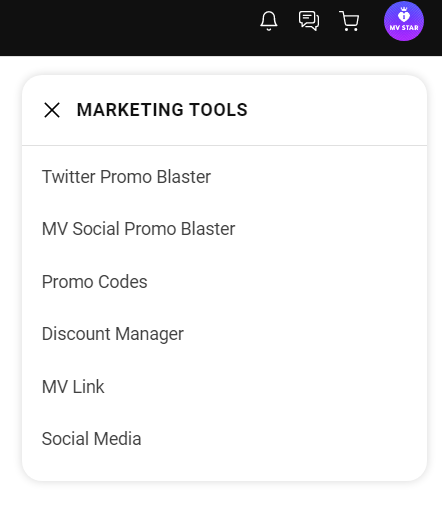 You can access all these features by clicking the profile icon in the top right corner.
So far, we've seen what is ManyVids, how to get started and how to make money on ManyVids. Now, we'll see the other aspects – the earning potential, ManyVids support, ManyVids payment methods and more.
ManyVids Earnings: How Much Can Models Make on ManyVids and More
The answer to how much can models make on ManyVids depends on the models themselves.
OnlyFans, Patreon, ManyVids, The platform doesn't matter – the efforts put in by the model is what really matters. The more consistent you are, the more you can earn on ManyVids or any other platform for that matter of fact.
But to put out approximate figures, with the potential that ManyVids has, one can easily earn somewhere between $1000 – $3000 per month, even if it's a beginner. Keep in mind that there should be consistent effort along with other promotional strategies.
Is ManyVids.com Safe to Use?
To start with, ManyVids has HTTPS encryption which means your data cannot be stolen.
Apart from this,
ManyVids is a registered company in Montreal, Canada.

All photos you send for ID verification are secure and accessible only by the members of MV's Trust and Safety team.

ManyVids has been featured on top websites like Wired, Daily Mail, Forbes, Newswire and more.

Top models on ManyVids earn somewhere between $17k to $20k per month.

ManyVids has also won three XBIZ awards and

"Clip Site of the Year"

and

"Global Web Brand of the Year"

awards.
The platform is more than five years old, has three million active users and has more than 80,000 creators.
All this brings us to only one conclusion – ManyVids.com is a safe platform to use. You can read the ManyVids privacy policy here and know more about their tech and privacy.
ManyVids Payout: How Much Does ManyVids Take? 
Here's another important matter that has to be discussed – ManyVids commission percentage.
When it comes to creator platforms, 20% is the industry standard. But ManyVids is slightly different here.
For most of its monetization methods, ManyVids takes a 20% commission but for Membership Subscriptions and Contests, the commission percentage is 40%
ManyVids Payment Methods
The platform offers a diverse range of payout methods to creators. You can get your payments via Direct Deposit, Bitsafe, Cosmopayment and Paxum once the threshold is reached.
This image here can help you understand more.

The minimum threshold is $50 and there's a transfer fee for almost all payout methods. Also, as for ManyVids refund, you need to contact the support team manually to initiate a refund request.
Refunds mostly occur when you have received a payment from a fan but later changed your mind due to some reasons.
ManyVids Support
One word, excellent! Yes, the support team of ManyVids is excellent and they are reachable when you want them the most.
Okay, here's a Trustpilot review for you.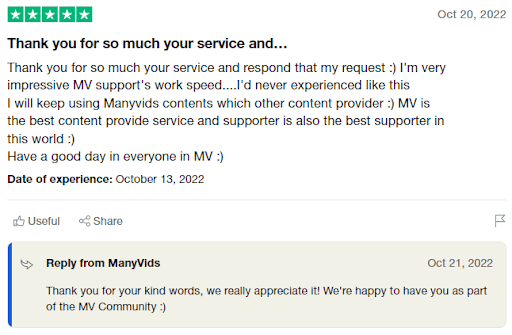 Their support is the gold standard. You can raise a ticket to get in touch with them. But the platform has a wide range of FAQs and self-help articles that should solve your problem.
In fact, there's a dedicated knowledge base called MV University that tells you how to get started with ManyVids.
So, that's everything you need to know about ManyVids. We'll head to the verdict.
ManyVids Review – Final Few Words
Should you use ManyVids or not? Well, if you'd ask us, you should definitely give it a try. OnlyFans has become so popular that its somewhat better alternatives are not being considered anymore.
In fact, we have come up with a separate article that's a showdown between ManyVids vs OnlyFans. You should read that to know what we are talking about!
MV offers way lot of monetization methods and features when compared to other sites like ManyVids.
So, in a phrase, you should definitely try out ManyVids! If you're looking for a better option, here's one – create your own OnlyFans like website using white-label scripts.
xModel is one such white-label script that lets you create your own fans site like ManyVids and OnlyFans like creator platform. The script is 100% customizable and comes with most of the features you get on OnlyFans and ManyVids.
Now that you've had our ManyVids review, all that's left is for you to get started and make some money!
Cheers!
FAQs About ManyVids Website
1. Does ManyVids support PayPal?
ManyVids Paypal – No MV doesn't support PayPal transactions as of now.
2. Is ManyVids.com Safe?
Yes. ManyVids is a safe platform to use for adult creators. The platform offers excellent support and has been around for more than 8 years.
3. How much money can you realistically make on ManyVids using either amateur or professional models?
How much you can make on ManyVids depends on how consistent you are and how your promotional strategies are. But on average, a beginner with the right efforts can easily make $1000 per month on ManyVids.