-

10

mins read
Let's face it! OnlyFans, the most popular adult subscription platform has new creators signing up as you read this. This only means that the competition is getting fierce. And to gain followers on OnlyFans and make money as a creator, you need to step up your game.
We figure that's exactly why you're here – you want to know the best places to promote OnlyFans because at the end of the day, what matters is the number of followers you have and how much money you make as a creator.
So, in this article, we'll be talking about where to promote OnlyFans, a couple of OnlyFans promotion tips and how to gain followers on OnlyFans. 
But before that, let's quickly talk about the basics. Because only when you straighten out the basics will any of these "best places to promote OnlyFans" matter.
Note: This article is suitable for OnlyFans creators across all niches. Beginners, advanced creators, suits all. 
OnlyFans Basics – How to Start Right With OnlyFans
No matter how hard you find ways to promote OnlyFans, it's going to work out only if you get the basics right. Here's how you do it. 
1. Knowing and Playing By Your Strengths
Like we earlier said, the competition is fierce and you need to be at the top of your game. This means knowing what your strengths are and playing by them. You first need to figure out what you're comfortable doing.
Say, if you want to be an adult creator, you need to ask yourself if you're comfortable revealing your identity. If you're okay to go nude and show the intimate parts. 
If not this, find what else is your strength. The moment you think about becoming an OnlyFans creator, what did you think you can be monetizing the audience with? That is your strength.
In fact, you can also make money OnlyFans without showing your face. So, you can always stay in your comfort zone and still make money. 
2. Find a Niche that Suits You
With your strength figured out, it's time to look into the niche. A niche, simply put, is a specific part of a larger subject.
Here's more explanation. The adult industry is a lot of things. But when you start breaking down them into niches, there's fetish, gay, lesbian, foot, etc. Likewise, every industry has its niches and every niche has its own set of audiences.
So, you have to choose a niche based on what you're good at.
This is crucial because you can target a specific group of people who is interested in the content you provide. This way, you can gain followers on OnlyFans because you create content that resonates with them. It's like showing targeted ads to interested prospects. 
PRO TIP: Start researching the search volume for specific niches. Look for competition and engagement. If it is all a match, then BINGO! 
3. Investing in Yourself and the Right Equipment
Investment helps you put up with the competition, for real!
Doesn't matter what kind of creator you are, invest in yourself so that you can excel at it. Right from the costumes or the inventories, make sure that you invest money to become a better creator.
Equipment like cameras, video recorders, lighting studio kits, and stable internet bandwidth are all important to grow as a creator. So, make sure that you invest in the early times to keep revenue flowing in. PRODUCTION QUALITY MATTERS. 
PRO TIP: If buying camcorders and other related inventories are too much of an investment, you can try renting them out. Or, going for pre-owned could be a great idea. You can find great deals on eBay.  
4. Create an OnlyFans Profile that Stands Out
It's all about the first appearances ain't it? When you put your best places to promote OnlyFans plan into action, the first thing people are going to notice is your profile. And you need to make sure it's stunning. 
Profile Name
People are definitely going to notice and remember your profile name. Make sure your profile name is easy to remember and DO NOT make it complex by adding punctuation or jargons. 
Here's how an OnlyFans profile name should be,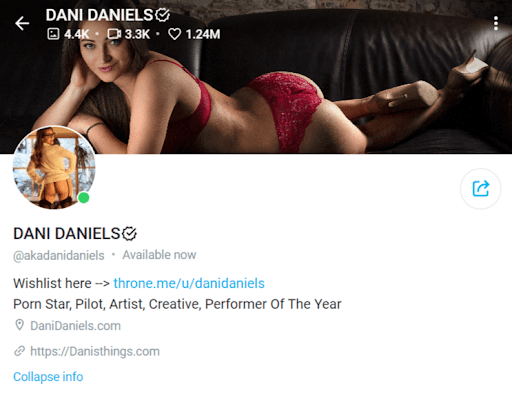 The profile name is clean, easy to remember and has no punctuation. 
Profile Bio
Your profile bio should tell everything you are! Add about what kind of content you offer, exclusive deals and catchy phrases. This helps garner more attention and gain followers on OnlyFans.
Profile Picture
Next to your profile name, comes your profile picture. Seize the opportunity and show a profile picture that captivates your audience.
Social Links
Your OnlyFans bio is one of the best places to promote your social profiles. Make sure to add all your social links to your bio.
Following all the above can help you create a good OnlyFans profile. 
5. Create Content Consistently
Start churning out content regularly even if you have a very low audience base. You need to show yourself as a regular on the platform. Only then, you'll gain followers. Plus creating content consistently is the only way you can promote them on different social platforms.
Now that the basics are sorted, let's look at the best places to promote OnlyFans. If you need to know more about OnlyFans, check this read out – What Is OnlyFans? 
Where to Promote OnlyFans – The Best Places to Promote Your OnlyFans
In this section, we'll be seeing the best places to promote OnlyFans. 
1. Use Reddit to the Maximum Extent
Reddit is definitely one of the best places to promote OnlyFans. The popular social media platform, by the year 2020, had more than 430 million active users.
One of the reasons why we say Reddit is one the best platforms to promote OnlyFans is because of its equal opportunity policy. Whether you're a newbie to the platform or you have a certain number of followers, Reddit treats you the same. You post something good, you'll be rewarded with views and likes.
The best thing about Reddit is, it has subreddits (which is more of a community for specific topics). Subreddits are great places to promote your OnlyFans content as they are highly targeted communities. All you have to do is, find relevant subreddits and start promoting your OnlyFans. 
Let's take this subreddit – The MILF Reddit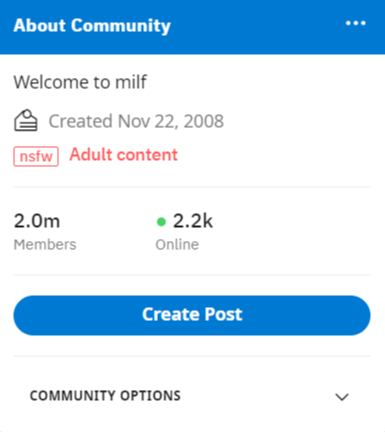 The subreddit has more than 2 million members and 2k members online. And all the members are people who love MILFs. Promoting your OnlyFans on such highly valued subreddits can increase your followers with ease. 
Here are a couple of ideal subreddits for you to promote OnlyFans (adult subreddits)
Those two links have all the subreddits you need to promote your OnlyFans. Find what's suitable for you and start promoting. 
When you constantly start promoting niche-based content on Reddit and link it back to your OnlyFans, your subscriber base will slowly start growing on OF. 
So, we're clear about why Reddit is one of the best places to promote OnlyFans. Now, let's move to the next set of best places to promote OnlyFans. 
Pro Tip: You can post the same image or video to multiple subreddits as long as they are relevant. This saves time and attracts significant eyeballs with less effort. 
2. Use Pornhub Website to Promote OnlyFans
If you're an adult creator, think no more than twice. Because this is also one of the best places to promote OnlyFans. 
Pornhub is the world's largest and most popular adult video platform and receives more than 3 billion traffic per month. The platform allows individual creators to upload their videos and earn from the platform's ad revenue share. 
This can be a good way for you to upload your sample OnlyFans video and promote it. The audience, once they start liking your content, they'll head to your OnlyFans and you'll gain followers. 
Also, since Pornhub has various monetization methods of its own, you can easily make money by uploading videos on Pornhub. It's a win-win for you. 
Start posting your OnlyFans photos & videos on Pornhub consistently (tease them with it). You'll slowly start receiving traffic and followers then. 
Pro Tip: Leverage Pornhub's community to the maximum extent. Growing your Pornhub profile is equally beneficial as growing your OnlyFans profile. 
3. Best Adult Cam Websites to Promote OnlyFans
Cam sites are here to answer the question of where to promote OnlyFans! Like Reddit and Pornhub, cam sites are full of potential and are one of the best places to promote OnlyFans. 
This works only if you are an adult creator and you have some time to dedicate every day. Unlike Pornhub, on cam sites, you need to go live and engage with your audience constantly. You can tease them, have dirty talks and for all the exclusives, you can promote your OnlyFans. 
While you'll be able to make money on cam sites, OnlyFans has the leverage here as you can create a source of recurring revenue with the monthly subscription option. 
Popular cam websites to work and promote OnlyFans are Chaturbate, CamSoda, LiveJasmin, etc. 
Pro Tip: Create profiles on multiple cam websites and promote your OnlyFans. Being available on different platforms increases visibility and drives traffic from various sources. 
4. Do Not Miss Out on Other Social Media Platforms
This depends on whether you're an adult creator or not. Platforms like Facebook, Instagram and TikTok don't encourage adult content promotion. Chances are, you might even get banned.
But you can promote your OnlyFans in a very subtle manner on these platforms so that there are no reports or violations against you. An image that grabs attention along with a link to your OnlyFans should do the job. And yes. You can also use TikTok to promote your OnlyFans but being subtle is the key here. 
On the other hand, platforms like Twitter and Snapchat are some of the best social media platforms to promote OnlyFans. 
You can either list out all your social media channels on your OnlyFans bio or use tools like Linktree or Ohh.me to list them all in one place.
Here's an example.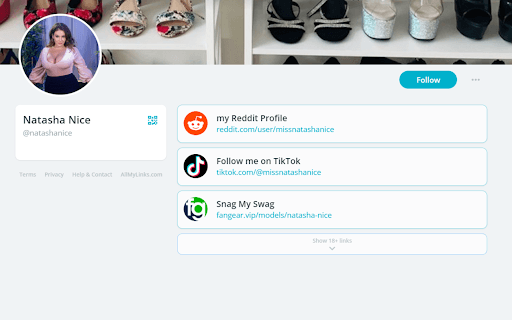 You can also create something like this and display all your links in one place – quite handy.
Pro Tip: Make sure you read about the platform guidelines if you are an adult creator. You do not want to get reported/banned, do you? 
5. Build a Brand for Yourself – New Website, Merchandise & Identity
While brand building comes only after becoming popular, you can still have a website that tells about you and includes all your social links and merchandise information. 
You can simply drive the traffic to your OnlyFans and start monetizing them there. Having a website of yours is one of the best ways to promote OnlyFans because it simply builds credibility and acts as the perfect pathway to drive traffic to your OnlyFans. 
Down the lane, you can create your own OnlyFans-like subscription membership website using white-label scripts like xModel, an adult membership script with live streaming. 
So, those are some of the best places to promote OnlyFans. Now that we're done with the places, let's look at some of the best ways to promote your OnlyFans.
The Best Ways to Promote Your OnlyFans – OnlyFans Promotion Tips
Here, we'll be looking at how to promote your OnlyFans with a couple of OnlyFans promotion tips and some on how to gain followers on OnlyFans.
These tips can help even guys make money on OnlyFans. Works well for all kinds of creators. That said, let's get started here! 
1. Collaborate With Other Creators
We'd easily say that this is one of the best OnlyFans promotion tips. We'd even rate it a 10 on 10. 
You're not the only creator on OnlyFans looking to promote your account. Some similar other people want to drive eyeballs. It's with these creators you have got to collaborate. 
Now, by collaboration, we mean anything from a simple mention on one of their post to creating a video where you both are together. 
It's a great deal because you'll be driving eyeballs from an entirely new audience base. And it's the same for the other creator. Look out for similar niche creators on OnlyFans and start collaborating with them. IT WORKS! 
2. Go for Promotions – Freebies, Paid Shoutouts, etc
Getting the word out is another best way to promote OnlyFans. Consider this more like an OnlyFans advertisement. 
Okay, here is an example to help you understand better. 
When person X promotes your content on their social platform in exchange for a set price or for free, it is called a shout-out. 
Sometimes, people do shoutouts on their own because they would have liked what you offer and want to help you grow. But most of the time, you should be reaching out to people who have a significant audience base. 
You can offer them money or shout out their profile in return or even offer them a couple of freebies (adult creator can choose to give away used panties, nude pics, and exclusives of what you create for free). 
This is one of the best ways to promote your OnlyFans because you can easily grow your OnlyFans followers from different sources. Imagine popping up on a social handle that has say 100k followers. Sounds cool, right? 
Pro Tip: Ask reach outs only to profiles that have a significant post engagement. 
3. Make Your OnlyFans Free or Lower Subscription Fees
This isn't exactly an OnlyFans promotion tip but the action will speak for itself. The easiest way to promote your OnlyFans is by lowering the subscription fees or even making it free. 
This can be the quick solution to the question, "how to gain followers on OnlyFans." You can also consider going for subscription deal packages – offer discounts when fans choose a higher subscription package.
You can also promote these deals on your social media handles, ask for a shout-out and gain OnlyFans followers.
4. Start Following New People on OnlyFans
This is one of the most underrated ways when it comes to how to gain followers on OnlyFans. So, here's how this trick works. 
Find a couple of OnlyFans users who follow a significant number of creators. Give them a follow request and wait for the trick to work. 
When the individual sees a follow request from a creator they become happy and start following back. And after some time (maybe a month or so), you can unfollow them. Chances are very less that they notice you unfollowed. 
When you do the same with a huge number of users on OnlyFans, your follower count would have significantly increased. At the end of the day, the number of followers you have is going to play a major role when you promote your OnlyFans. 
Pro Tip: If you think you have to manually follow users on OnlyFans and it's going to be hard, NO. You can use ofautofollower, an auto-follow bot for OnlyFans. The app allows you to automatically subscribe to users and even send mass DMs to your followers. 
With that, we're coming to the end of OnlyFans promotion tips (and the end of the article as well). Wait. There's one more thing – since we were talking about OnlyFans promotions, did you know that you can also promote your OnlyFans secretly? Read this article to know more! 
Final Few Words
So, by now, you would have known where to promote OnlyFans, how to get followers on OnlyFans and a couple of OnlyFans promotions tips. Though OnlyFans was introduced in 2016, and there are a lot of OnlyFans alternatives out there, it's yet to reach its peak growth only in the upcoming days.
If you're just starting out as a creator on OnlyFans and haven't achieved big yet, don't fret because you have all the time. And now that you know what you were looking for, it's time to go all in! Just make sure to combine all the above-mentioned tips and come out with a solid plan. 
Start following the best ways to promote your OnlyFans now! 
FAQs about Promoting Your OnlyFans
1. Do you have to promote your OnlyFans to get followers?
Yes. To gain followers on OnlyFans and make revenue, you need to promote your OnlyFans profile. Some of the best ways to promote OnlyFans are collaborating with other creators, reaching out for shoutouts, the follow & unfollow method, etc. 
2. Can I pay someone to promote my OnlyFans?
Yes. You can reach out to niche creators or audiences and pay them asking for a shoutout. You can also follow the shoutout for shoutout method with mutual consent. 
3. Where is the best place to promote OnlyFans?
There are a lot of best places to promote OnlyFans like Reddit, Twitter, Pornhub, cam websites and more.