-

9

mins read
We assume you're here to know how to sell hand pictures and make money. You should have pretty hands and many people might have complimented the same. And at one point, you thought, "Why not make some extra money by selling hand pics? Is that even possible?"
Well, the good news is, you can make money by selling hand pictures, thanks to people and businesses who crave pretty hand pics. But it's not like you click a hand pic, upload it somewhere and immediately the sale happens. It requires a lot of other things to be done because you're not the only one trying to sell hand pics for money.
Worry not because we've come up with a very comprehensive article on how to sell hand pictures and make money. We've included vital information like,
The best websites to sell hand pictures

Tips for taking the best-selling hand pics

PRO tips for selling hand pics and more
Now that you have a clear picture of what you'll learn from this article, let's begin!
Is It Legal to Sell Hand Pics?
Yes. It is legal to sell hand pics for money in almost all countries. Since hand pics are not nude or adultery content, there aren't a lot of restrictions on selling them online. Only that you have to be aged above 18 years.

Here's a dedicated community on Reddit where various people post their hand pics to become more popular and make money.
Similarly, many people on different platforms sell hand pics for money; as we already said, it's completely legal.
How to Take the Best Selling Hand Pictures?
Taking best-selling hand pictures is no rocket science. But you must exhibit extreme focus, consistency, creativity, and attention to detail.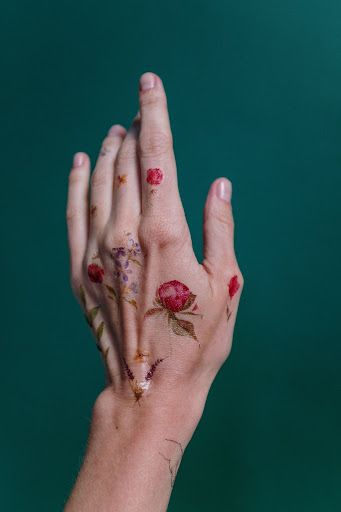 Here are a couple of things you need to have on your mind while taking hand pics,
Have a good quality camera for clicking your hand pics

(mobile phones like iPhone, Pixel and other top models will also work).

If you're taking indoor photos, use ring lights for a studio setup.

If you opt for outdoor photos, remember that your hands are the center of attraction and focus. Everything else comes next.

Once the photos are clicked, make sure that you edit them for better visual enhancements. Use Photoshop if you're an expert, or use PicsArt or Canva.

Always remember to keep your hands clean and groomed for better picture output.

Make sure to be creative. The image above shows beautiful hand art with amazing photography skills. Remember, creativity sells!
We'll tell you how to keep your hands groomed and a couple of tips around the same in the later sections of the article. So, those are the things you need to remember when taking hand pics to make money.
While you know how to take the best pics, knowing which pics sell the best is also crucial. To help you with that, we've compiled a list of the best poses for selling hand pics.
Hand pics with money

Hand art pics

Hand pictures with jewelry

Hands holding beautiful flowers

Manicured hand pics

Hand pictures with nail art

Tattooed hand pictures

Couple holding hand pictures

Hand pictures holding tech devices 
Those are the major hand poses that sell best. Other poses include praying hands, pictures of hands indulging in everyday activities like cooking, gardening, cleaning, adults holding a child's hands and more.
Now that you know how to take the best selling hand pics and poses, let's look at the best places for selling hand pictures.
10 Best Places to Sell Hand Pics for Money
In this section, we will tell you the best websites to sell hand pictures and the apps to sell hand pics.
Even if your hand pictures are spectacularly amazing, it all comes down to which website/app you sell them on. Factors like commission percentage, the platform working model, audience traffic and more come into play.
That said, let's look at the best websites to sell hand pics for money.
1. OnlyFans
OnlyFans, without a doubt, is one of the best websites to sell hand pictures and make money. The platform is very popular, boasting more than three million content creators from all categories.
Since it's a subscription service platform, OnlyFans works best if you already have a good fan following on Instagram. You can simply promote your exclusive hand pics and make money on OnlyFans.
The platform is quite sophisticated, with features like merchandise selling, customer tips, selling via DMs and more.
OnlyFans charges a flat 20% commission on all your earnings.
2. SmugMug
SmugMug is a dedicated website for photographers to sell their clicks, making it one of the best websites to sell hand pics.
The platform is quite easy to get started with and you can start selling your hand pics in less than an hour. You can sell both digital prints and physical photos on the platform. If you're going for the latter option, SmugMug handles the billing and shipping process.
They charge you a 15% commission on your earnings. SmugMug is your choice if you're looking for a very minimalistic, hassle-free platform.
3. Foap
One of the popular stock photo websites and apps, the website is an ideal place to sell hand pics, thanks to its popularity and large community.
It works pretty much like SmugMug – you upload your photos, find a buyer and make the sale. But there's also another way you can sell hand pics on Foap.
Businesses submit their requirements on the website and as a seller, you can submit what you offer. Once the business accepts what you offer, you get paid what was offered. Remember that there are other hand pics sellers like you on the mission, so make sure to give your best.
Foap's commission percentage is quite on the expensive side – when you make a sale, you get only 50% off the original price.
4. Etsy
Etsy needs no introduction. The website is an ideal place to sell handmade creatives, paintings and art, which includes photos too.
Like SmugMug, you can sell both digital and physical prints here. The best part about selling hand pics on Etsy is you can set up your own store and charge photos as per your wish.
Etsy charges a 6.5% transaction fee for every sale you make and $0.20 for each listing. And that's quite a good bargain when compared to other platforms.
5. Shutterstock
One of the premium stock photography websites known for the best quality pictures, videos and illustrations.
You can create an account on Shutterstock and start uploading your pictures. For every download on your image, you earn a commission between 15-40%.
Interestingly, there's also an affiliate link with which you can make up to $200 in referrals.
6. FeetFinder
This is not one of your regular stock photo sites. FeetFinder is a social subscription platform like OnlyFans that allows you to sell your exclusive content for a monthly subscription fee.
The website was founded only in the year 2019 and has garnered very good attraction lately.
Though the platform talks about selling feet pics, you can also sell hand pics and make money. As for the commission percentage, FeetFinder, like OnlyFans, takes a flat 20%.
7. BigStock
We saw Shutterstock, right? BigStock is a part of Shutterstock. The platform is a microstock photography website.
In order to sell hand pics on BigStock, you need to sign up for an account and start uploading videos and images.
As for how much you can make on BigStock, you can earn up to $0.38 per download. The more images you upload and the better downloads you get, your earnings will be better.
That's pretty much it about BigStock. Let's look at other websites to sell hand pics. The last two recommendations are best suited if money is not your concern and you just want to build some credibility to your profile and increase your followers.
8. Pexels
This is a free stock photography website and has some amazing pictures across most of the categories. And hand pics are one of them. In fact, the green background hand art picture in our blog above, we took it from Pexels.
Pexels has no monetization method, but you can still make money from donations and contributions. It totally depends on the person who downloads your photo.
9. Instagram
Surprising, right? While Instagram is actually not an eCommerce or a selling platform on its own, you can sell hand pics for money on Instagram.
The process is quite simple. You need to upload your hand pics on Instagram constantly. Once you are popular enough, you'll start getting requests on your DM. Just negotiate the price, get the payment and sell your hand pic.
So, those are the best websites and apps to sell hand pics. But wait. We are not done yet! There's another best way to sell hand pics online – selling hand pics on your own website.
How to Sell Hand Pictures on Your Own Website?
If you think creating your own website to sell hand pics is going to take time, you're wrong. Well, it does take time if you're going down the traditional route of building a website from scratch. But we've got a better option – white-label membership scripts.
It's nothing but a readymade script that allows you to build your own website to sell hand pics. xModel by Adent.io is one such script best suited for models, porn stars, cam girls and more who look forward to sell their exclusive content and make money.
xModel comes with features like membership subscriptions, eCommerce store setup, built-in payment gateways and pretty much everything you need to build a website in no time and sell your hand pics online.
As for the development process, you need to get a domain name, hosting service, install the xModel script on your server, set up the payment gateways and you're good to go. If you're not strong in coding and need assistance for script installation, Adent's support team will help you out!
Once done, you can start uploading your hand pics and videos to sell.
How Much Money Can Make Selling Hand Pics Online?
We believe you were thinking about when this would pop up. Well, here we are.
To be realistic, you can easily make a few hundred to a thousand by selling hand pics initially when you start. But down the lane, it all comes down to how creative and consistent you are.
You can start selling your hand pics for $5 each and if it's an album, you can price it somewhere between $30-$50. If it's a video, charge at least $30 for it and if you've become popular, you can charge more without a doubt.
Top hand models in the US make over $60,000 (according to Glassdoor). You can be hired by an agency or simply strike a deal with a business for your hand pictures. But it all happens down the lane. In the beginning, you'd have to start from scratch.
To help you make more money, we've come up with a couple of tips in the next section.
Pro Tips to Sell Hand Pictures and Make Money
Just knowing the best poses and the best websites to sell hand pictures alone isn't going to be enough. In order to cut through the noise, you need more than that. And that's what this section is all about – the best tips to sell hand pics and make money.
1. Keep Your Hands Groomed, Always
You need to take very good care of your hands if you want to stay in the business. And here's something you can do to make them look amazing always.
Groom your hand by trimming your nails, cleaning your cuticle and moisturizing them.

Wear accessories to make your hands look attractive – bracelets, rings, nail polish, beads, etc.

If you're gardening, cooking, or doing some heavy lifting, wear gloves to prevent damage.
Do what's necessary to keep your hands picture perfect always.
2. Promote Your Hands Pics on Social Media
If you're not getting your hand pictures in front of the audience, then you're not selling them! Use popular platforms like Twitter, Reddit, Snapchat and Instagram to promote your hand pics.
These are, in fact, free platforms that can help you gain massive traction for your hand pictures. Not leveraging them is a terrible mistake you're making for your "sell hand pics" venture.
Have it like a mantra – whenever you take a hand picture, make sure it goes out on all platforms with relevant hashtags.
3. Understand Who Might Want  to Buy Your Pictures
Finding out the target audience is all that matters! Yes, there are regular people who buy hand pics, but if you want to enter the big leagues, you need to go out for the hunt.
To make things easy for you, here are a couple of businesses that are always on the lookout for the best hands.
Modeling Agencies

Nail Salons & Spa

Online Boutique

Accessory Manufacturers

Jewelry Shops and more
When you manage to drive attention to your hand pics from these people, it's good money!
4. How to Sell Hand Pics Without Getting Scammed?
While selling hand pics is legal, there are ways you can get scammed and lose money. And here are a couple of ways and things you need to remember while you sell hand pics.
During transactions, always use built-in payment gateways via the app or website. 

Make sure to receive payments in advance if it's a manual transaction.

Do not use original names on profiles to keep your identity a secret.

While taking hand pictures, be mindful of your surroundings to not reveal any personal data.
Keeping in mind these things can help you avoid being scammed or pursued. And those are the tips we had for you to sell hand pics online and make more money.
With that said, we're winding up our article!
Final Thoughts on How to Sell Hand Pics
Selling hand pics is a lucrative way to earn money if done right. It all starts from how creative you are in taking hand pics to choosing the right platforms and ends with how consistent you are.
Now that you have all the resources to sell hand pics for money, everything left is for you to take the first step to selling hand pics online!
Go sell hand pictures, make money!👍🏻
FAQs on Selling Hand Pics
1. Can I sell hand pics for money?
Yes. You can sell hand pics for money online and it's completely legal. There are popular websites like OnlyFans, FeetFinder, Shutterstock and more to sell hand pics for money.
2. Can you sell hand pics on OnlyFans?
Yes. OnyFans allows you to sell hand pics for money, and there are many other creators selling hand pictures on OnlyFans.
3. What are the best websites to sell hand pictures?
There are many websites around to sell hand pictures. Some of the best ones are OnlyFans, SmugMug, Etsy and more. But the best way to sell hand pics is to build your own website using white-label membership scripts like xModel.