-

10

mins read
To become an adult content creator, you need the willingness to go the extra mile for your audience. Currently, most adult content creators make six figures a year because of their creative ways of attracting users. And websites like OnlyFans capitalized on this market and created banking career opportunities for adult content creators. 
If you decide to enter the adult entertainment industry, you must first choose your path. To become an adult content creator, you can select different niches and specializations that cater to your look and personality. Don't sweat if you think you're not hot enough to become an adult creator! Because there's a lot more to the adult creator profession than being really sexy and attractive. 
If you've always dreamed of being an adult content creator, use this guide to help start your career on the right foot.
What is an Adult Content Creator?
By definition, adult content creators are simply someone passionate about creating adult digital content. Many of them start as a hobby and later become their profession. But getting started as an adult content creator is a challenging feat.
Becoming successful in the industry takes time, dedication, creative planning, active online engagements, and, most importantly, thick skin. When they show their face and body online, they should prepare themselves for criticism. Or even worse, only bullying. 
You'll be judged on how you look by the mean audience and even by your competitors. So always maintain your calm. You can't move forward if you go off because of one or two comments. Your friends and even parents may even oppose your decision. But as an adult content creator, you should stand firm on your dream. 
Things to Know Before Becoming an Adult Content Creator 
Before we start telling you how to become an adult content creator, you should know a few things beforehand. The adult industry is now full of competition, and you can't gain fame overnight. Your foundation must be proper, and your chosen path must suit you. 
Here are a few tips to help you lay the foundation right. 
1. Choose What You Love
The adult entertainment industry is massive, with lots of niches and specifications. For example, squirting is a niche, but yoga pants squirting is a specification inside the niche or micro niche.  
You have to choose a niche and conduct in-and-out research about it. Most famous adult content creators often focus on micro niches that don't have much competition. By using this way, they can create their own market. 
So, find a micro niche with lesser competition. Whatever you choose, it should be what you love. 
Note: You must be over the age of 18 to become an adult content creator. There's no exception to this rule. So make sure you're of legal age to create adult content.
2. Determine What You Can Offer to Your Customers
Adult content creation is not about what you do but what you can offer. So once you decide on your niche, you must outline your service. But stay moderate with your services. You must be meticulous in selecting your services. It should suit your liking and take a little time. 
Here are some services you can consider offering your customers:
1-on-1 private messaging

Custom pic & videos

Dirty audio messages

Skype webcam shows
Also, make sure that you can do it on time. If you think you'd be busy with other work, then just focus on pics and videos. 
3. Design Your Content Planner
Content planning is more than scheduling your posts ahead of time. Creating a content planner allows you to stay organized and align your activities on adult platforms with your marketing goals. Your content planning should revolve around the big picture – your marketing goals.
The first step in creating a content planner is to find your content theme. For example, posing as a cute Santa Claus with sexy outfits during Christmas break is a famous theme of December. The next step is to brainstorm creative ideas. To make your audience buy, you need creativity, not just a bikini pic.
The final step is to mix your content. Don't post pics or videos of the same theme and background. Instead, curate your content regularly and make it into a pattern.  
4. Upgrade Your Filming Gadget
Today's audience expects everything in 4K. But you can't shoot a video in 4K with an old camera. You have to upgrade all your hardware if you want to keep up the race. 
Start from the big fish: The Camera. The camera is your lifeline; you should not be stingy about its price. Though, if you have one that meets the requirement, you don't need to go for a new one. Please don't use your phone as your primary camera. Close-up videos or pictures can only be done right with a professional camera. 
The audio setup comes next. Your customers are eager to hear you moan, so spend some money to buy an excellent portable mic. In addition to recording directly to an SD card, ensure it can output audio to your camera. Finally, purchase a quality ring light and smart light bulbs. 
5. Set the Right Price for Your Content 
As a newbie adult content creator, your success factor also depends on the prices you set for the explicit content. So you have to be competitive when it comes to pricing your content. So don't give unnecessary discounts and offers. 
Don't make your content cheap, either. Your content is worth the money. With the help of a vast market, you can drive your sales. So don't plan to undercharge.
Change your pricing for custom content. Also, you can raise the raise if a pic or video is going well.
Avoid getting into the trap of price competition between your rivals. Lowering the price every time your competitor lowers won't increase your sales. 
You can still set the price higher than your competitor and drive sales because the customer might consider your content exclusive and decide to buy it from you. 
7 Steps on How to Become an Adult Content Creator 
Your form, figure, and face are not the only deciding factor in becoming an adult content creator. You can see many successful creators aged past 50 earning six figures per year. The secret is how you execute your skill before the camera. Also, if you know the process of how to become an adult content creator, you can easily become one. So keep reading!
1. Make Your Presence Online
Creating value and being customer-centric on social platforms should be the first step. For starters, find out your target customer's current needs and wants. Brainstorm and find an answer for their needs and post it on your social media.
This not only educates your customers but also adds value to your profile. Instead of using standard platforms like Twitter and Reddit, utilize new adult forums with less audience. The forums you choose must be relevant to your niche. For example, if your niche is Femdom, then choose Femdom relevant forums, like Femdomforum and Kinktalk. 
As these websites are free to use, you'd have high engagement rates. The more value you give your audience, your brand will likely encapsulate them. You can upscale your fame, reputation, and wealth by transforming yourself into a brand. 
2. Build Your Portfolio 
Once you start working on your online presence, it's time to build your portfolio. Hire a skillful photographer or videographer, and communicate with them to understand the process and how they shoot. To become a professional adult content creator, you need more than a few hot selfie pics that are shot on your iPhone.
You'll need to build an adult creator portfolio website. The standard for portfolio websites has evolved over the years, so ensure your portfolio is professional and exquisite. 
Let's take Kati's portfolio's website. She's been an adult content creator since 2014. She has achieved notable achievements and received accolades from Chaturbate and XBIZ. Her portfolio website is a complete walkthrough of her career. You'd get to know more about her from a personal and professional point of view. 
The website should feature your best 8-10 images that reflect your content theme. So build your portfolio and add every achievement and experience of yours. Social handles like Twitter, Instagram, and Youtube are also considered portfolios. So customize it to give a good user experience.
3. Stay Healthy & Work on Your Physique 
As people love to see you beautiful and fit, you should not be lenient with your diet and training. Having a healthy habit is more appealing to the audience, even if your niche is centered around something other than your physique.
Focus on your mental health. The life of a creator is often tiring with repetitive shoots and promotions. If you don't give yourself some time, it may cause some serious kickbacks. Below are some tips for mental well-being for your consideration:
Connect with people and share your positive

Talk to your friend, partner, or anyone you're comfortable with if you need emotional support.

Take some time from your shootout and spend it with your family.

Try taking new responsibility in the filming set. It helps you to learn new things and build a sense of purpose. 
When you become mentally fit, you can start focusing on building your physique. For example, let's take the most famous adult content creator as an example, Bella Thorne. Her regular workouts earned her a $12 million net worth and tens of millions of fans. 
According to this article, she does circuit training, weightlifting, yoga, TRS workouts, and pilates and takes an occasional spin class. A large part of her influence in the industry can also be attributed to her athletic physique. You can also follow the same. 
So start with a simple fitness program in your nearby gym right away. Keep your diet healthy and eat lots of fruits and veggies. 
4. Go Out & Find Your Opportunity
By now, you would have already posted your first picture and video on OnlyFans or Fansly. Instead of waiting for someone to subscribe, get out of your house and find an opportunity that helps you accelerate your growth. 
To find an opportunity, what does an adult content creator do? First, connect with other adult creators on social platforms or online forums and ask about job opportunities. You can also contact adult magazine companies, like AVN & Playboy, and pitch your services.
In addition, search for the creator job opening in those companies and apply for them. You can also search on websites like SexyJobs, where you can find adult job opportunities for creators. 
Remember to promote your service on your social platform. Your content may attract the attention of companies themselves. So mention that you're open for a job.
Make yourself known inside the industry by attending adult events. Many conferences are being held every year; join them and show your capability. You may not succeed at your first attempt, but don't give up. 
Try; that's all that matters.
5. Talk with Your Audience
Don't use social media just to post sexy pics and videos. Instead, talk with your audience and get to know them. They are the ones who give you honest feedback about your work. If you're running out of ideas, post a poll or conduct an "Ask Me Anything" session with your followers. It helps you to understand their expectations. 
Share a personal experience you've had recently. Follow up on your follower's tweets or comments. If your followers post valid criticism of your content, show them appreciation. You can also express your views on your personal account. Be bold if it is about politics or a social movement. It also attracts people to notice you.  
6. Hire an Agent
If you want to be a professional adult content creator, you'll want to have someone on your side who can help guide your career. Here's where agents come in. They can help you enhance your portfolio, set up visits, and help you navigate your career in the adult industry. 
Adult production agencies cast a much wider net to find capable models via social media. Recruiters can view thousands of potential adult models through hashtags added to Instagram & Twitter posts. So ask your followers to give free shootouts. 
You can also directly approach adult agencies without an intermediary. First, do thorough research and find agencies in your area. Track down the agencies that align with your desired career path. Email them your portfolio website and a quick striking cover letter. 
Caution: If an adult agency demands hundreds or thousands of dollars upfront, keep looking. That's not the agency for you.
7. Create Your Own Website 
Despite using Twitter to find customers and maintain fan bases, many models also have their own websites. In addition to promoting the image of a model, it also controls communication. Through this process, the community is built, and fans are retained, resulting in long-term revenue growth. 
By combining these objectives in one place, xModel by Adenti.io offers a simple, fast, and efficient way to accomplish them. xModel is a turnkey software for adult creators to start their own paid membership website to capitalize on their fan base. 
Using xModel, you can create your fan membership site in a couple of days. It comes with multiple revenue channels, such as subscriptions, premium content e-commerce, affiliate Marketing, etc. 
Creating your fansite can be the best choice if you want to pursue the career of an adult content creator for a long time. 
How to Make Money as an Adult Content Creator?
Once you've mastered the basics of becoming an adult creator, you need to learn the important stuff – how to make money. Earning extra cash while carving a successful adult creator career is essential for aspiring hopefuls. Certainly, to begin with, individuals will not be able to survive on the income received from adult creator contracts and, therefore, will have to turn to other jobs to earn extra money.
1. Utilize Porn Tube Sites
You can start by utilizing porn tube sites by becoming an amateur adult creator. Just like Youtube and Twitch performers, you have to perform before a camera or upload videos on porn tube sites like YouPorn, Pornhub, and many more. 
Let's take Pornhub as an example. You don't need any requirements to join, though; you have to be 18 years or older. 
Register an account and sign up for the amateur program. Create a sexy/creative, and easy-to-spell username.
The sign-up process requires you to upload your real image and government ID for verification. Once you're done, start uploading your adult pics and videos. You can earn revenue according to the rating and views you get.
For example, in pornhub, for every 1000 views, you'll get $0.69. Also, you'll be able to make extra cash by setting a price for all downloadable content and selling sex tapes. 
2. Camming When You're Free
One of the most-used methods of adult creators to earn money is camming. You can use webcam sites like Chaturbate, LiveJasmine, CamSoda, Stripchat, etc., to do live streaming. You can perform anything while camming, but users like several popular acts: playing video games, pole dancing, mukbangs, reactions, and many more. 
Making money via webcamming is very profitable. For instance, most webcam models earn between $1500 to $8000 per month. You can do webcamming in your free hours. Schedule it in your webcam profile and tell your audience when you'll be online. Also, keep reminding your fans via social platforms a day before your live streaming. 
You can be of any age (but strictly 18 and above) to do webcamming. There are millions of users with different preferences and fetishes. Find out where your talent lies and start webcamming as a side hustle. 
3. Adult Fansites
One of the professional ways to earn recurring income as an adult content creator is to sell your exclusive content on fan sites like Fansly, OnlyFans, LoyalFans, and many more. 
Go to the creator page of the fansite and sign up for the program. Fill out the details and submit your government ID for verification. The completion process only takes an hour or two, so you can start uploading your content when it's done. 
Set a subscription tier using the creator dashboard. For example, in Fansly, the minimum subscription price starts from $5, and you can set it up to $499.99 per month. If you're beginning without followers, set a minimum price range. You can increase the price gradually as your followers and customer base grow over time. 
4. Selling Physical Products
You can make money by selling used panties. Not only panties, but you can also sell many physical products. As many people have weird fetishes, the market for used products from models has become larger. At present, you can sell your used products like bras, pants, stockings, vibrators, socks, and many more. Selling it through your website is recommended, as it retains your customers. 
If you can grow your customer base, you can also opt to sell sex toys and merchandise. It's one of the most profitable revenue generators for adult creators. Also, you can sell your sex tapes on DVDs if there's a demand. 
5. Amazon Wish List
If you can create some diehard fans willing to spend and buy you anything, then we suggest you make an amazon wish list.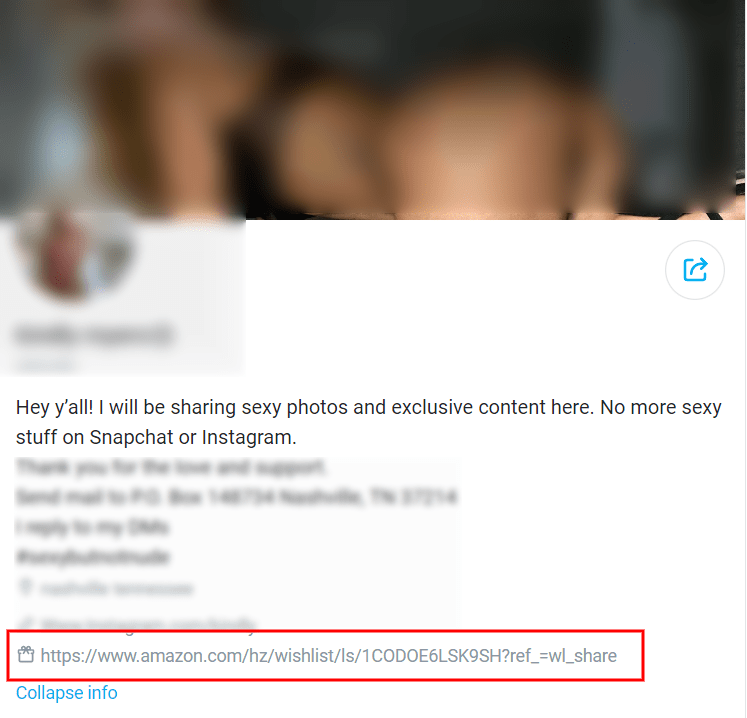 Your Amazon wish list link can be shared on your social media and website once you've created your wishlist. With access to the wish list link, your fans can see what items interest you, making their decision easier when buying your gifts. The gifts can be ordered online and shipped directly to you once they decide which ones to give you.
So make use of this opportunity and get more gifts from your fans.
In a Nutshell
Adult content creators have something for everyone. The adult industry thrives like never before, and talented adult creators earn seven figures a year. All it takes is your determination to face the criticism in the starting phase and an attitude of 'moving forward' to become a successful adult content creator. 
Also, remember to create your own brand if you take this career seriously. Create your own fansite using xModel by Adent.io, even if you're a porn star or a cam model, and start to sell your exclusive adult content. In addition, the revenue generated by your hard work will all be yours. So make your best choice! 
Thanks for reading our article on how to become an adult content creator, and if the article is interesting, please leave a comment below!