-

4

mins read
There's a popular saying among internet dwellers, "Why look for porn when you have Reddit's NSFW platform." Reddit is an all-in-one platform where you can find information about anything in the world. It is like Wikipedia, but on Reddit, it's the users like us who provide information on the multiple subreddits. If you have been pondering over selling nudes on Reddit, then think no more.
Reddit is a great platform to sell nudes and make money from it. It is adult-friendly, has a huge user base, and gets crazy traffic on it. If there is one website that encourages free nature and self-expression from anyone, then it has to be Reddit. As a content creator, you can sell everything from nudes to used panties on Reddit.
How Much Money Can You Make on Reddit by Selling Nudes?
According to Cece, better known as Braless Wonder on Reddit, there are many ways to earn money on Reddit. Cece used to charge $1 per minute for sexting, $10 for private Snapchat access, $15 for her used panties, and $20 for her nudes a few years back. Considering the money-making opportunities on Reddit, if you make a name for yourself, then you can easily make $1000 to $5000 in a month by selling nudes on Reddit.
How's the traffic on Reddit?
Reddit being one of the most popular forums gets a lot of traffic everyday. And it's not only adult traffic, Reddit is the hub for discussions of any type and kind. With a global rank of 22 as per SimilarWeb, Reddit gets an average of 1.6B visits every month.
Almost 50% of the traffic comes from the US while UK, Canada, Australia, and Germany also share around 20% of the traffic coming to Reddit. If we take a look at the gender distribution then 70% of visitors on Reddit are males and the rest 30% are females. This means there is good scope for females to sell nudes on Reddit, while men also can take their chances.
Reddit is more inclined towards the younger generation with 60% of the visitors on Reddit falling under the age of 18 years to 34 years of age. The major categories that people visit on Reddit are Video games console and accessories, Programming and developer software, and the Adult category.
How to Sell Nudes on Reddit?
The income you make on Reddit will also depend on how good your profile is. There may be thousands of girls selling nudes on Reddit, but to make your content stand out, your profile needs to be catchy.
Choose relevant username
The username you choose should tell about your content. Something like SexyLittleNudist instantly tells the user what to expect from your content. If you're into selling boob pictures, then a name like BoobyLover or BoobsGalore will be apt for your profile.
Link social media profiles
Reddit cannot be the only platform to sell nudes online. You need to build a fan following on various social platforms like OnlyFans, BongaCams, Instagram, Snapchat, etc., and share the links to them on your Reddit profile.
Create your own SubReddit
With hundreds of models posting on various nude subreddits, it is easy for your content to get lost in the crowd. So it's advisable to create your own subreddit and post your content on that. This gives you the freedom to post anything including your fetish content and advertise your content better.
Advertise everywhere
You have to make sure that as many people as possible see your content. So just sticking to your subreddit won't help. Instead post your nudes on all relevant subreddits to maximize your reach. As they say, any publicity is good publicity.
Best SubReddits to Promote Your Nudes on Reddit
If you ask, then the best part about Reddit is the various subreddits you find on it. Not only for porn but you can find a subreddit for any category of your interest on Reddit with loads of information on them. Even the NSFW subreddits are not directly hardcore porn but contains a variety of topics like fetishes, homemade porn, kinks, etc. Here we list out the best subreddits on which you can sell nude content.
r/gonewild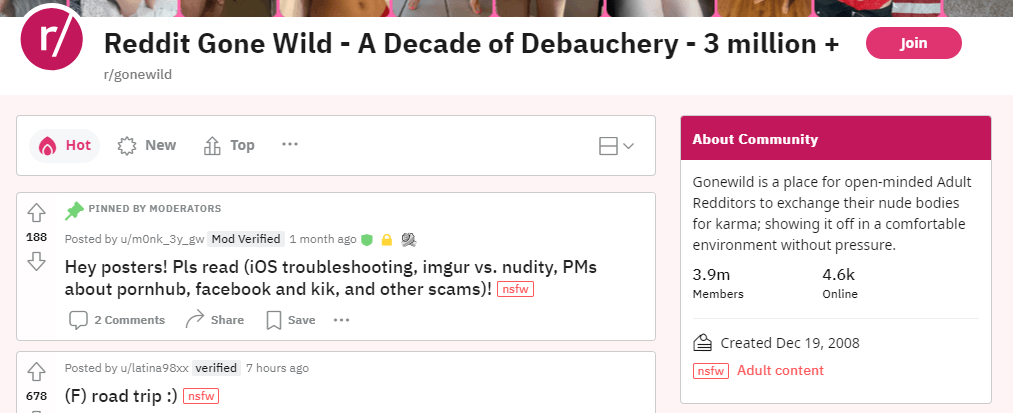 Gone Wild is one of the most popular subreddits with over 3.9M members. Your profile needs to be verified first before you can post your content on this subreddit. You cannot directly sell on Gone Wild but this subreddit is great for getting publicity for your nudes.
r/NSFW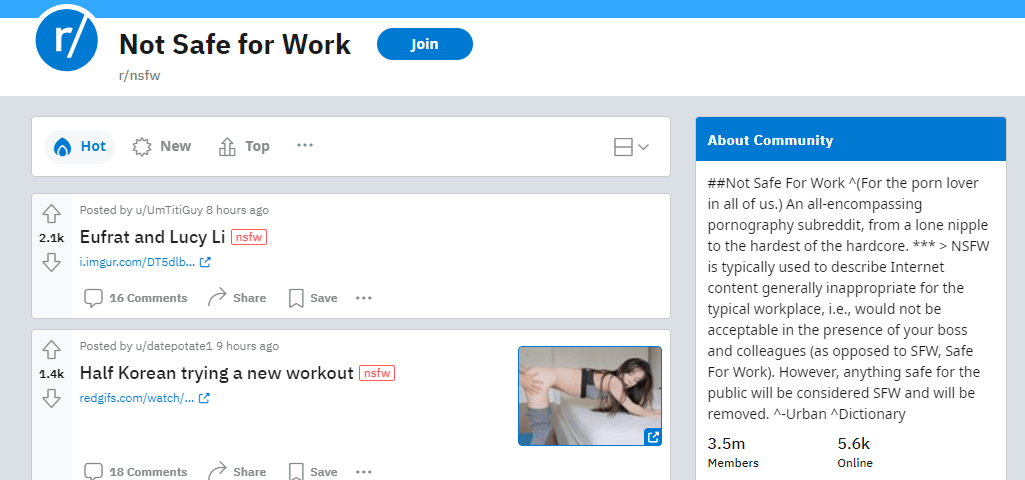 Another very popular adult subreddit, NSFW as the name suggests, is not safe for work content. You can find everything from hardcore porn to picture of tits on this subreddit. It has over 3.5M members and is a great subreddit to promote your nudes.
r/beachgirls
Beach girls is a great subreddit to get the audience to want your nude pictures. Mostly on this subreddit you will find pictures of girls in skimpy bikinis but you can also share nude pictures here. Beach girls has about 242K members and is a great place to promote your content.
Some other very popular subreddits are
Which is Better: Reddit or Own Website to Sell Nudes Online?
If you feel that your pictures might get lost in the sea of Reddit, then you can always opt to create your own website to sell nudes online. Don't worry, creating your own website isn't difficult nowadays with some awesome readymade scripts like xModel. xModel is a turnkey solution for models, pornstars, and cam girls to start their own paid membership website.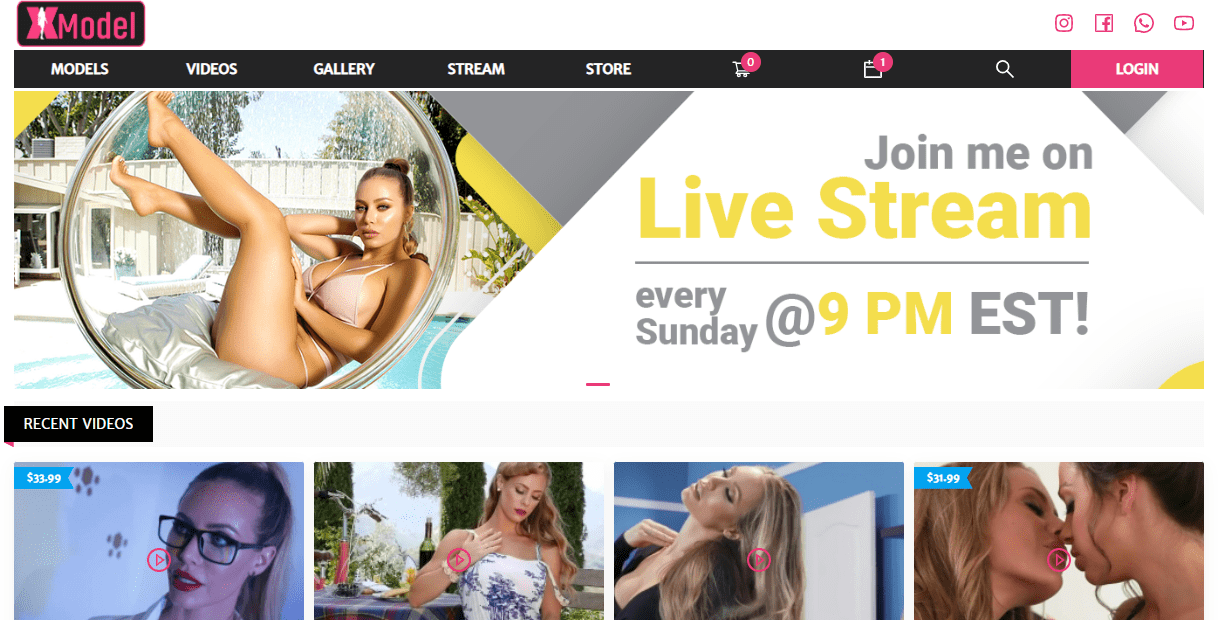 If you want complete freedom to express yourself and sell your content as and when you want, then xModel is the best solution for you. It provides monetization features like subscriptions, live streaming, integrated eCommerce store, premium content, and affiliate marketing, that will help you maximize your income and earn to your potential.
The best part about xModel is that it comes integrated with adult-friendly payment gateways like CCbill.
"While on Reddit you cannot make direct payments, xModel gives you the freedom to do transactions and sell nudes from your own website."
xModel is easy to install and requires no technical knowledge allowing you to get full control of your website.
Conclusion
Selling nudes on Reddit is easy as the platform provides clear instruction and various subreddits to publish your content and get popular. Once you build a fanbase on Reddit, then it becomes very easy to make money by selling nudes on Reddit. You can also opt to sell your nudes directly by creating your own website using readymade scripts like xModel. The choice is yours but one thing that's sure is you can make good money by selling nudes online.