-

11

mins read
Since camming became a popular career option, we have been hearing a lot of questions and buzz around it. Questions like how to make money as a webcam model, how much do cam models make, what is the average cam girl salary, how much can webcam models make in a day, are very common nowadays. As there is limited information available about questions like these, we thought of penning down a detailed article to give an insight into the cam girl career and how much do cam girls make. Without any further ado, let's jump right in.
Factors that affect how much do cam models make
The camming industry is filled with opportunities for cam models to explore and make good money from it. There are models who struggle to make $500 in a week by camming, while there are others who make $2000 to $3000 in a week from camming. You must be wondering why there is a stark difference in earnings. To decode that, let's take a look at some of the factors that affect how much do cam models make.
Looks and Personality
Let's be honest, models who are attractive and portray positive personalities are more popular and earn more than the rest. But that doesn't mean it's only looks that matter in how much do webcam models make. The audience for camming is very diverse, and different people find different looks attractive. If you can find the right audience for yourself, then anyone can make good money by camming.
However, the thing to remember is that models need to be active and send out positive vibes to their audience to stand a chance to succeed in webcamming. If you're dull and boring on camera, then no matter how attractive and good looking you are, you'll find it hard to find an audience for yourself.
Experience
The experience of models plays a big role in deciding how much do webcam girls make. Be it any field, experience in that field helps you understand what works and what doesn't, and then you can restrategize and work harder to make it work for you.
An experienced cam girl would know how to entice users, which technique of camming works better, and which revenue channels will give better results for them.
Time Invested
The time a model invests in their camming career directly reflects on how much can you make as a webcam model. The more time you invest, the better the results are. By putting in more hours at camming, models can know which time is the best for peak traffic and what are the trends and patterns of the audience.
Another thing that comes with time is the understanding of what type of shows work better for different countries and regions. And all this comes with experience by spending more time in camming and understanding what works and what doesn't.
Efforts Put
The efforts put by models into their camming career are directly proportional to how much do webcam girls make. The quality of the webcam show matters a lot in deciding which model gets successful and which model struggles to please its audience. If a model has a crappy internet connection or a shabby webcam, then the audience won't pay you to watch a blurry interrupted webcam show.
Being a cam model, you have to make sure that you invest in good equipment and costumes and put up an interesting show for the audience every time you come online. The competition for cam girls is high, and the audience has a lot of options to choose from, so you need to make sure to give your best each time you come to perform.
Camming Platform
The platform a model chooses to perform affects the earnings of the model. When you choose a platform, there are many things that need to be weighed to decide how much can you make as a webcam model. The platform that gives you the highest payout rates and a huge audience base to capitalize on will definitely work in your favor in earning more than a platform that has more competition and less payout rates.
The cam site you choose decides how much you'll get in tips which is a major contributor to how much do cam workers make. More monetization methods on your chosen platform could mean more chances for you to earn more money. Always remember not to put all your eggs in the same basket. A model should perform in 3,4 different cam sites and then evaluate which platform works the best for them.
What are the expenses for cam models?
Any business or career that you start needs investment from you in the beginning. Starting your webcam business is also no exce ption to this. There are a few things that you need to set up to become a successful cam girl. Let's take a look at the expenses that cam models have.
High quality webcam
A high quality webcam is a basic and most important investment for a cam model. If you're serious about your camming career, then you should research and find out the best webcam that fits your budget. A good quality webcam is available from the $50 to $100 range. If your budget permits, you can invest in higher quality webcams with noise cancellation, and image correction features too.
High speed internet
If you want to provide a kickass streaming experience to your fans, then you should consider getting a high speed internet connection for seamless streaming. If your streaming is buffered and pixelates the video, then your fans will be disappointed and leave your live stream. You can get a high speed internet connection for $40 to $100.
Costumes, makeup, sex toys
To become a successful cam model, you'll need to entertain your audience on a daily basis. To do that, you need to invest in buying various costumes and makeup materials to look your best for the audience. Performing live on an adult webcam means you'll be using sex toys and accessories like vibrators, handcuffs, etc., which adds up to your initial investment in your camming career.
Transaction fees
Be it any platform that you perform on when you request payment through the integrated payment gateway, then there is a fee attached to it. You'll need to take this fee into consideration when you're calculating the expenses as a cam model.
Tax
Camming being a legal business, attracts taxes just like any other business. Most cam sites consider cam girls as self employed, which means the cam site won't withhold taxes from your earnings. Models themselves have to file their taxes to the authorities. It is advised to set aside 20% to 30% of your actual earnings throughout the year.
How much do cam girls make in a month?
As discussed above, there are many factors that decide how much do cam girls make. Most important of them is the experience of the cam model and how many hours do they spend camming every day.
According to reports, there are models who easily make $2000 to $3000 from a week of camming, while there are others who make just $500 in a week. These stark differences are due to the competition in camming nowadays and are also because of the factors discussed earlier.
The rule of camming is simple. The more hours you put into camming, the more you can earn. Models who put just 2 to 3 hours in a week are destined to fail in their career as camming. While other models who treat camming as a full-time job and spend 30 to 40 hours a week have much better chances of earning money by camming.
Here is a table of comparison which shows how the average cam girl salary differs according to the number of hours spent on it. These calculations are approximate average calculations.
| | | | | |
| --- | --- | --- | --- | --- |
| Time spent camming in a week → | 10 Hours | 20 Hours | 30 Hours | 40 Hours |
| Earnings per week | $750 | $1250 | $1600 | $2500 |
| Earnings per month | $3000 | $5000 | $6400 | $10000 |
| Earnings per year | $36000 | $60000 | $76800 | $120000 |
So as you can see, as the number of working hours in a week increases, the earnings of a cam model also increase. On average, a cam girl earns $3000 to $6000 in a month, depending on the hours spent camming.
The hourly earnings of webcam models vary from $25 to $105 for beginners, while the same for top models can reach up to $250 to $500 in an hour. As you can see, with time and experience, cam girl earnings increase. Similarly, beginner models who work for more than 20 hours a week can expect to make $500 to $1000 in a week, whereas top models earn $2500 to $5000 on average a week.
If we calculate how much do webcam models make in a month, then the average monthly earnings of beginner or less experienced models can be anywhere between $2000 to $3000, while the same for established cam girls can be $10000 to $25000. We hope now it is very clear that how much money do cam girls make from camming depends on their experience and the time they spend on camming.
Average cam girl salary
The biggest factor that decides how much do cam models make on average is their experience in this field. Models who have more than 5 years of experience will definitely be making more money than a model who has been in the industry for 1 year.
The average cam girl salary for a week is $52 per hour. For a cam girl who has been around in the camming industry for less than a year, the average hourly salary can range from $5 to $15, whereas for experienced models, the hourly earnings can reach up to $300.
The weekly average earnings of a cam model can be around $900 to $1000, with experienced models earning as much as $5000 to $6000 in a week. For beginner cam girls working just 5 to 10 hours a week, their weekly earnings can range from $80 to $150.
Similarly, established models can earn a monthly income of $18000 to $25000 while their yearly income can be anything between $216000 to $300000. The average cam girl salary for a month is usually around $9000 to $12000, and the per year average cam girl salary is around $90000 to $140000.
Steps to find the best paying cam site
Thanks to the surge in adult businesses due to the pandemic, today we have numerous cam sites available on the internet. While many cam sites have been there for a long time, many others have sprung up recently with more features and ideas. With so many options of cam sites available today, new models wonder which one to choose. Here are a few factors to consider before choosing the best paying cam site for webcam girls.
1. Traffic on the cam site
You should do thorough research on how much traffic it gets before choosing a cam site to perform on. The higher the traffic, the more chances of you finding an audience for your live stream.
2. Commission on the cam site
It is also important to check the commission the cam site takes on the earnings made by cam models on its site. If you feel the commission is too high compared to what you'll be earning, then it's better to look at other options.
3. Monetization methods
With so many options of cam sites available, it is smart to check which site will provide you with more ways to make money.
4. Audience geography
Check if the cam site you are considering caters to a local audience, like a state or country, or if it caters to a global audience. Depending on the audience type, you can choose what fits your bill.
5. Payout frequency
Different cam sites send out payments at different durations. You should choose the one that fits your requirement and provides you the flexibility in payouts.
6. Privacy settings
The internet can be a scary place, and there are many scam sites doing rounds. Be careful while choosing a cam site and read the privacy agreement and see what privacy features you'll get.
Which cam sites pay webcam models the most?
Now that you have an understanding of how much can you make as a webcam model and how you should choose the best paying cam site for yourself, we will now see which cam sites pay the best. This list is prepared by checking the average cam girl salary, monetization ways, and many such factors. Let's take a look.
1. xModel by adent.io
Till now, we have told you that all cam sites take a commission cut from your earnings on its platform. What if you can skip the commission part and keep 100% of your earnings for yourself? Isn't that great? Yes, xModel is a readymade solution for models, cam girls, and porn stars to start their own membership platform.
xModel powers you with multiple monetization methods like subscriptions, live streaming, tips, premium content, an eCommerce store where you can sell anything you want, and much more to give you every chance to maximize your earnings. You can also choose to use the best webcam affiliate programs on your cam site to make more passive income. You have 100% control over your website and customize it the way you want. The earning opportunities for cam models are limitless on xModel, as we'll show you in the calculation below.
Let's say you have 150 subscribers, and you charge a $10 fee for each subscription for your content. Above this, you are able to sell 50 products in a month at $30 a piece. Products can be anything like selling used panties or selling sex toys. On top of this, you're selling 35 premium videos of yourself at $10 for each video. And finally, you earn by doing 30 live webcamming sessions in a month and make $50 in each session. If we add all of this up, a webcam model can easily make $4850 in a month on xModel.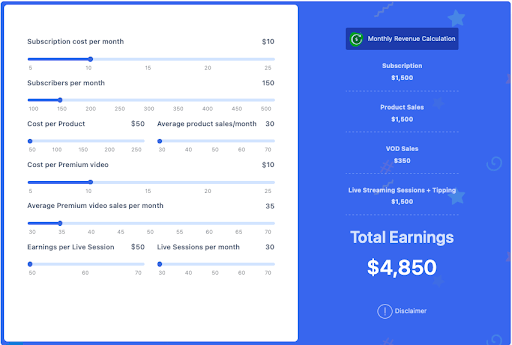 2. Chaturbate
Chaturbate is one of the most popular cam sites that has been around since 2011. The cam platform received 464M visits in the last month, making it a sought-after platform for webcam models. The average cam girl earnings on Chaturbate is around $7000 to $8000. Chaturbate pays around 60% of the earnings made by the cam girl to them, making it one of the best cam sites for webcam models. Cam girls can also sell dick ratings through their Chaturbate profile.
3. BongaCams
BongaCams is another top cam site platform where models earn a lot of money. With multiple monetization ways, BongaCams is a profitable platform for aspiring models. The platform gets an average monthly traffic of above 100M, and models, on average, earn around $4000 to $5000 a month on BongaCams. Models can also sell digital products like sell boob pictures on BongaCams.
4. LiveJasmin
LiveJasmin is a veteran in the adult webcamming space that was launched in 2001. The platform introduced a level dependent payment system where cam girls are paid out according to their level of earnings. The range of earnings is between 30% to 80% for the highest level. LiveJasmin gets around 200M traffic each month, making it one of the best platforms for cam models to make money. Models on LiveJasmin also make money by selling used panties through their profiles.
5. Stripchat
Stripchat was launched in 2016 and is a comparatively newer cam site than others in this list. Nonetheless, Stripchat is an excellent platform for webcam girls to make money as it gets over 600M visitors in a month on average. Cam girls on Stripchat can earn in the range of $8000 to $10000, making it one of the most profitable options for cam girls. Cam girls can also sell nudes through their Stripchat profile.
Tips to become a top earning webcam model
Becoming a top earning webcam model isn't easy and requires you to put in the effort. Other than buying high quality equipment and setting up your studio, there are a few other things that can help you soar in your cam girl career and boost your cam girl salary. Let's take a look.
Do shows on multiple platforms
Putting all your efforts and investment into one cam site does help you do good on that cam site, but then you miss out on the potential of other sites. To become a top earning cam model, you should do live cam shows on at least 2 or more platforms.
Be professional on cam shows
Always remember to keep it professional when you go live with your fans. Being casual and not paying attention to the intricacies of camming will lead to a negative impact on your fan base. Be consistent on your shows and be a reliable cam girl by always coming online at the promised time.
Keep an eye on trends
It is always a good idea to keep checking on your competitors and see what new trends are making waves in the market. If you keep up with the needs of the audience, then you can surely become a successful cam girl.
Keep your originality
You will have to make a name for yourself, and that won't come by only doing things that others are doing. Always strive to create your own identity and build your own space. Your fans will remember that originality of yours helping you succeed as a cam girl.
Average cam model salary based on type of broadcaster
The camming industry is an open and welcoming industry that welcomes every gender, sexual orientation, and body type. It is not only women who become cam models in this industry. Let's take a look at the average webcam model salary of different types of broadcasters.
Male webcam model earnings
On average, male cam models make around $30 to $35 per hour from camming.
Transgender webcam model earnings
Earnings of transgender webcam models can be $40 to $45 per hour on average.
Couple webcam model earnings
Webcam couples, on average, can earn about $50 to $55 per hour as webcam models.
Women webcam model earnings
The most popular in camming, women webcam models can earn anything between $60 to $80 on average in an hour.
Conclusion
So that's all about how much do cam girls make. Hope your questions, like how much is the average cam model salary and how much can you make as a webcam model, have been answered in this article. Camming is a lucrative market, and with experience and the right guidance, anyone can become a successful webcam model.
1. Can I make $10,000 as a cam girl?
Yes, you can make $10,000 as a cam girl easily by choosing the best paying cam site and putting in the hours in camming. Make sure to build a fan base for yourself by being yourself and making a name for yourself.
2. How much do cam girls make per week?
The earnings of cam models in a week depend on many factors like experience and the cam site. Experienced models can easily make $5000 to $6000 in a week. The average cam girl salary for a week usually ranges from $900 to $1000.
3. How much should I expect to make from camming?
Depending on your experience, cam girls can expect to make anything from $750 to $5000 in a week from camming.
4. How can I earn $1000 a day as a webcam model?
The best cam models easily make $1000 in a day. You can also make $1000 as a webcam model by investing time into camming and building a fan following. Once you have a fan base, then it becomes very easy to earn money as a webcam girl.
5. Do male webcam models make any money?
Yes, male webcam models also make money through camming. Although their earnings are not as high as female cam models, they do have a specific audience that pays them well.