-

28

mins read

How would you react when you get to know that Tyler & Berkley, a young couple easily made $300 in 30 minutes by selling homemade porn (and this was back in 2011)?
Shocking, right?
The porn industry has grown to become a massive $35 billion industry per year and some sources even say that the industry is worth $97 billion per year.
The industry has grown to such an extent that even amateur porn models have started to make significant money by selling homemade porn. But again, how to sell homemade porn has been a question that's constantly asked around.
So, in this in-depth guide, we will teach you how to sell homemade porn and make money like a PRO. We'll also be covering the best sites to sell homemade porn and a couple of other FAQs related to the same.
That said, we'll first get started by learning what you need to sell amateur porn.
Selling Amateur Porn – What Will You Be Needing
Amateur porn is nothing but pornography created by people who are not professional porn actors but people who do it out of their own interest. In this section, we'll be taking you through everything you need and should do to sell amateur porn (in other words, homemade porn). Because getting the basics right is half success.
1. Age Verification
When it comes to selling homemade porn, this is the first step you have to go through no matter which cam site or porn site you try to sell.
You should be at least
years of age to sell porn. And you should be able to provide details like name, DOB and identity proof.
Make sure to provide original details. Submitting duplicate records can be a problem when you want to withdraw the money you have earned.
"Note: Involving in any sort of porn activity while you're under 18 can land you in legal trouble."
2. Start Your Own Brand
The power of branding is so underrated in the amateur porn circle.
When porn lovers start recognizing you by your name or something that you do unique, you start becoming more popular. You will become your own BRAND and this can help you sell homemade porn videos with ease.
And when the word gets out, how to sell your homemade porn isn't going to be the focus subject anymore. It'll be about how much you will make by selling homemade porn.
Here are a couple of things that will help you create your own brand, 
A Striking Name:

It all starts with the name. Come up with a name that's catchy, easy to remember and most importantly, easy to spell (

and sexy

). 

Target Specific Niche & Audience:

Starbucks is known for COFFEE. Similarly, what will you be known for? Think about it, know what you are good at and choose a specific niche and target audience.

Sneak Peek Into Your Competitor Profile:

Remember you're not the only model out there to sell homemade porn. Check out the similar profiles of models and see what they do unique and understand how they are projecting themselves as a brand.

Define Your Persona:

How do you want your audience to perceive you? Sexy? Hot? Choose a persona and try embedding the same into every aspect of your porn career – name, profile bio, the way you present yourself and more.

Create a Logo that Stands Out: Pictures speak more than words. A stunning logo can be super helpful when it comes to branding. It could be the letters of your name or even a photo of yourself with a cartoon filter.
Get Your Name & Logo Out:

Eventually, you'll reach a point where you think about selling merchandise. Make sure to use this opportunity to make your name & logo popular. Start branding everything – tees, water bottles, posters, etc. 
Creating your own brand is like creating an identity for yourself. And since you're considering venturing into the porn industry and selling homemade porn, branding is crucial!
With branding, you can also make money without showing your face! Good content and your name + logo can do the job!
3. Exploring and Understanding the Market
The porn industry is a vast place. And homemade/amateur porn is just one part of it. In order to sell homemade porn, you need to explore and understand the market first.
Here are a couple of things you need to find out before you start to sell amateur porn,
What are the best sites to sell homemade porn
How much can you earn by selling homemade porn
What categories are the audience interested in (top category searches in 2021 were ebony, lesbian, MILF)
What similar amateur porn stars are selling
Finding out the basic stuff mentioned above can give you a strong headstart. You can plan accordingly and start creating homemade porn.
4. Knowing How Much to Sell Your Homemade Porn For
Let's be honest here! If you fantasize about keeping a huge price for your homemade porn initially, you're not going to see any revenue.
Remember that you're an amateur who is trying to sell homemade porn for the first time. And there are other models that are already making good revenue by doing this. Check out how much other amateur porn models are selling their homemade porn for.
Set your price slightly lower than them and provide quality content at the same time. You'll witness sales numbers slowly rising up and you can consider increasing the prices then.
Down the lane, you can
Sell photos
Offer subscription membership plans
Lock content and sell it exclusively
Sell your own merchandise
Conduct private shows, spy shows and live sessions
Create your own adult membership website using an adult membership site script
You should also remember that cam sites charge a commission percentage (ranging from 20% to 60%).
"Statistic Fact: You can easily sell homemade porn videos for $1 per minute. However, you can charge more for custom content when you become popular."
5. Marketing & Promoting Content
Marketing and promotion are something you should never fail to do when it comes to selling homemade porn.
Spreading the word out can help drive more traffic to your amateur porn videos. You can use all your social media accounts to promote your homemade porn (make sure you follow the platform guidelines).
Teasing your audience by exposing some of your body or showing some of the clips can help gain more traction for your videos, resulting in increased sales.
Platforms like Reddit and Snapchat are ideal places to maintain your presence and promote your homemade porn on the go.
And again, check how your competitors are promoting their content, optimize them better and create your own strategy to promote and sell your homemade porn videos.
"Pro Tip:Instead of offering generic porn content, picking a specific niche can work out well. Your audiences will remember you for what you offer and become your followers. Choose from roleplays, foot fetish, BDSM & femdom, cosplay and more."
6. Use High-Quality Equipment
While it is agreed that almost anyone can make porn videos with just a camera, making it look professional and sellable needs few more equipments.
High 1080p Recording Camera: Using a high-resolution camera can make all the difference for your homemade porn video. The better the clarity is, the better the chances of selling homemade porn.
Softbox Lighting: Dark and gloomy isn't going to do the job. Use a softbox lighting kit to create a studio-like setup. Flaunt your body and crazy moves in bright light!
You can find it on Amazon for a few ten dollars.
Tripod Stand: You need a tripod stand to set your camera in a proper place. This ensures that the porn video comes out great, steady and industry level.
Apart from this, you need to have high-speed internet (for live sessions and uploads), a good PC, or a laptop to handle all the long-duration uploads and live streaming sessions.
7. Interactive Sex Toys & Sexy Cover-Ups
Interactive sex toys and sexy costumes are the game changers today. A lot of porn viewers are totally into watching models getting teased and spicing things up before the final act.
Make sure you invest in interactive sex toys
, spank kits and sexy costumes.
Speaking of interactive sex toys, there are advanced sex toys that sync with camming sites allowing users to tease the models by tipping them.
Lovense Lush 3 and OhMiBod Esca 2 are some toys that target the G-spot. These toys could be a worthy investment if you are into camming – helps increase engagement and revenue.
8. Become a Broadcaster to Sell Homemade Porn
This is an unsaid but inevitable truth. We just waited to let it out to you. In order to sell homemade porn and make it into the adult industry, you need to become a broadcaster. Consider this as a stepping stone to selling homemade porn.
Cam sites are places where millions of porn lovers come to gain some pleasure. And appearing in front of them and offering them what you can is the first step to becoming known in the space.
Creating a profile on popular webcam sites can help you become popular. You can conduct free shows, live shows, private 1-1 shows, spy shows, etc and earn money from audience tipping and custom requests.
Here are some of the best webcam model sites to work for,
Chaturbate
Stripchat
LiveJasmin
Camsoda
BongaCams and more.
You can find more by heading to the interlinked article above.
By becoming a broadcaster, you not only become popular which helps you sell homemade porn but also make good revenue. Doing it right, you can even make $10,000 per month as a cam girl.
Even popular porn stars like Dani Daniels and Tori Black broadcast on cam sites like CamSoda. So, why not you? It helps you enter and sustain in the porn industry.
9. Quick Tips for Broadcasting
Since we were talking about broadcasting, we thought why not help you with a few tips so that you can master it!
Bring Out Your Best Looks: This doesn't have to be explained. You need to look your best when you are appearing in front of the cam, especially when you are looking forward to making your breakthrough in front of a huge porn-loving audience.
Make sure you groom yourself, use the best apparel, paint your nails if you're a girl, trim your beard if you're a guy, etc. It's just the normal stuff you do when you head out to dates or parties!
Good Lighting: We've discussed this already. Make sure whatever you do is visible to your audience with the help of good lighting.
Use Quality Microphones for Better Sounds: Webcams do have built-in microphones but to make your pleasurable moans sound clear and arouse your audience, you need to use quality microphones.
Enjoy While Performing: A grumpy face with fake performances is the last thing your audiences want to see. Make sure you enjoy your performance and do not fake it. Put up a smiley face ALWAYS!
Wave at Your Audience: What we mean here is to address the room. If you fail to do so, it creates a sense of detachment between you and your audience. Make sure to blow kisses, address them by their name, do what they request (helps with tipping), and respond to their comments.
Engaging with your audience can help take them to your private chat room – results in better revenue.
Display Your Persona: Remember talking about creating a persona for yourself? This is where you display it. If people want to see some raw action, they could just look at porn videos. But the reason why they head to cam sites is that they want character and connection.
Announce Your Upcoming Availability: Letting your audience know when you'll be available next can actually help gain some traction. Popular cam sites allow you to do this. Here's an example where Dani Daniels has posted about her next live session on CamSoda.
Couple Camming: Couples often make more than individual performers. Remember Tyler & Berkley? Look out for collaborations and start camming as a couple whenever possible.
Following the above steps can help you broadcast like a PRO on websites.
How Much Money Can I Make If I Sell My Homemade Porn Online? – Selling Amateur Porn
Since you're all the way here, we wanted to let you in on something you've been waiting for – the earning prospects of how much you can make by selling homemade porn.
"Models, on average, can earn from $1 – $5 by selling their nude photos. As for videos, models can make somewhere from $10 to even $500 based on the popularity and the demand of the model."
When it comes to selling homemade porn and earning money, as we initially discussed, being generic doesn't work out. You need to be more specific and select your niche, build a loyal audience by broadcasting on different cam sites, engaging the audience, marketing, promoting your content, etc. And most importantly, you have to be consistent in doing this.
Eventually, you can sell amateur porn and start making around a couple of grand every month. With the right skills and right promotion, you can easily make a full-time earning by selling home porn.
Creating your own membership website can also help you continuously engage your loyal audience and build your fanbase on the go.
"Pro Tip: Roleplays and parodies are also great ideas for your homemade porn."
8 Best Sites to Sell Homemade Porn Videos
So far, we have covered everything you need to make homemade porn and how to sell your homemade porn. In this section, we'll be looking at where to sell homemade porn.
We've come up with a quick overview of the sites and the benefits it offers. Here's a quick table of comparison for you,
Platform Name
Revenue Percentage
Key Features
xModel
Models get to keep 100% of their earnings.

Sell photos and videos
Live streaming option
Integrated eCommerce
Customer tokens
Multiple revenue streams

Chaturbate
60%

Private messaging
Anonymous tipping
Sell photos and videos
Chat room

OnlyFans
80%

Sell photos and videos. Make them exclusive content for a fixed price.
Membership subscription
Engagement features like polls, stories and more

ManyVids
60% – 80%

Sell photos and videos
Contests to compete and earn money

BongaCams
60% – 90%

Private, spy and group shows
Sell photos & videos

Extra Lunch Money
60%

Live camming & cam shows
Sell photos & videos

Fansly
80%

Sell private content – videos & photos
Live stream
Subscription packages

Bentbox
65%

Sell photos & videos
Market on the platform
Built-in community
Almost all platforms mentioned above allow you to sell homemade porn – both photos & videos.
Now, let's have a brief overview of the platforms.
1. xModel – Sell Homemade Porn From Your Own Site (Most Recommended)
Before we take a look at other sites to sell amateur porn, let's quickly talk about creating your own website and selling homemade porn.
xModel is an adult membership site script that lets you create your own paid membership website where you can sell homemade porn (both photos & videos) with ease.
The platform comes with features like live streaming, multiple revenue methods and a built-in eCommerce store which you can use to sell merchandise.
The platform is 100% white label allowing you to customize it according to your brand style. There is no commission percentage and models get to keep 100% of their revenue.
You can get a free xModel Demo here.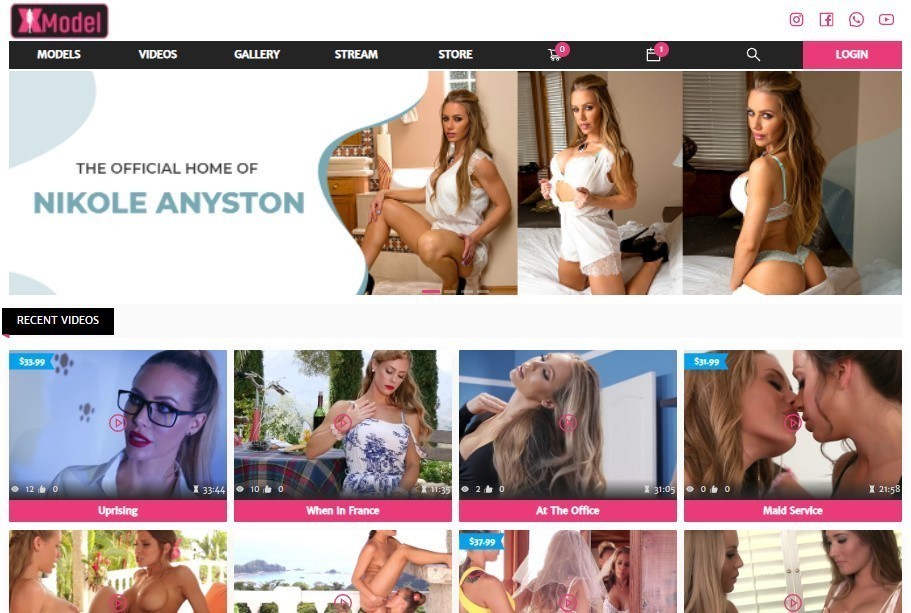 Having your own membership website to sell homemade porn means you can set your own rules, and work hours and earn without having to pay and commission percentage. Put in a word (or two), COMPLETE CONTROL.
2. Chaturbate – Popular Cam Site for Selling Amateur Porn
Chaturbate is one of the most popular cam sites around. With more than 3,000,000 monthly traffic, it is an ideal place to sell amateur porn.
You can sell both photos and videos on the platform and make use of other features like private 1-1 shows, spy shows and more. The platform allows you to keep 60% of your earnings and with the high traffic, you can easily broadcast, build a loyal audience base and start to sell homemade porn.
Models on Chaturbate earn around $7000 per month. You can know how to make money on Chaturbate here.
3. OnlyFans – Best Fan Site to Sell Homemade Videos & Pics
OnlyFans has been the buzz around the porn industry for some time now. With the platform having more than 1.5 million creators and 150 million users, OnlyFans is easily one of the best fan sites to sell homemade videos and pics.
The platform allows you to sell videos & pics, lock them as exclusive content, create multiple membership subscription tiers and more.
The platform has a fixed 20% commission percentage across all your earnings. However, there are other OnlyFans alternatives which we'll be looking at below.
4. ManyVids –  Best Video Site to Sell Homemade Porn
Like the title says, ManyVids is one of the best video sites to sell homemade porn as the platform has thousands of customers who are ready to invest money and buy porn videos.
Like other platforms, you can take custom requests from the audience and the platform lets you keep somewhere around 60% – 80% of your earnings.
5. Bongacams – Most Versatile Webcam Site to Sell Your Homemade Porn
Like Chaturbate, BongaCams is another webcam site to sell your homemade porn that receives huge traffic.
The platform is one of the highest paying cam sites where models get to keep around 60% – 90% of what they earn. The platform allows you to sell homemade porn videos and photos with ease. With the huge traffic the platform receives, you can easily make revenue on the platform.
6. Extra Lunch Money – Recommended Site to Sell Homemade Videos & Photos
Extra Lunch Money is a recommended site to sell homemade videos & photos.
The platform allows you to sell photos & videos and take up requests raised by the platform audience. The platform lets you keep around 60% – 65% of their earnings and the rest goes as commission. The setup process, like all other platforms, is simple and straightforward.
7. Fansly – Best Onlyfans Alternative to Sell Amateur Porn
Fansly is a new platform that is currently on the rise and is one of the best alternatives to sell amateur porn.
The platform allows models to create different subscription tiers and sell homemade porn online. Fansly is easy to use for both models & fans and the platform has multiple payment options for fans. The audience can even directly message the creators once when they have subscribed which is of course a great feature.
Like OnlyFans, the platform takes 20% of any revenue generated by the creator.
8. BentBox – Popular Marketplace to Sell Homemade Video Clips & Photos
The last one on our list is Bentbox. The website comes with the tagline "best place to sell photos and videos." Bentbox is more like an eCommerce platform where models can sell their photos and videos in the form of boxes. The platform audience should pay in order to view the contents of the box.
Models can also create custom communities within the platform and you can use your personal page as an online digital shop. What's great about Bentbox is that you get 100% of the asking price. The platform charges a commission from the audience allowing you to earn more money.
So, those are the eight best sites to sell homemade porn videos and the answer to the question – where to sell amateur porn. 
Since we were talking so much about selling homemade porn, we thought the following issue should be addressed as well.
How to Protect My Adult Content from Theft?
Piracy has been the latest issue in the adult camming industry, making it hard for creators to earn money. Though piracy cannot be completely stopped, there are a couple of ways to control this.
You can start watermarking your content making it hard to pirate the videos. You can remove it as the owner of the content using a DMCA takedown. The cam website you register can do it for you or you can file your own complaint.
Following the above steps can make it hard for people who try to steal your content.
How to Make Homemade Porn and Make Money? – Tips on Selling Amateur Porn
We're down to the last part of our article. Here, we'll be looking at a couple of tips that will help you sell amateur porn.
Sell On Almost Platforms: When it comes to the adult industry, it is important that you maintain your presence on almost all platforms. Create a profile and start broadcasting & selling homemade porn on all possible platforms (go with platforms recommended in this article).
Have a Good Profile: It is important that you have a good bio when you are creating profiles on platforms like OnlyFans and Fansly. Make sure it's attractive, hot & sexy at the same time. Check out a couple of other creator profiles and see how they have done it. Make sure the profile picture is great and you have filled in all the necessary details.
Optimize Your Videos: Optimization is using the right keywords and hashtags for your videos & photos. This helps in increasing discoverability within the platform.
Market & Promote Your Content: Find suitable forums, subreddits and niche places where you can promote your content. Try driving as much as traffic from external resources.
Connect All Your Profiles: Instead of keeping your links scattered and making it hard for your audience to find, you should consider interconnecting all your profiles and mentioning them in your bio. This helps drive cross-platform traffic. You should also consider using platforms like Linktree to keep all your links in one place.
Following the above-mentioned tips and every other mentioned steps in this article can help you start selling homemade porn and make consistent revenue down the lane. Just remember that CONSISTENCY is the key!
The Bottom Line
Anything and everything is possible in the adult industry – whether it be selling homemade porn or featuring as a top porn star in studio production, everything is possible. It all comes down to the process, your passion and how consistent you are.
In this article, we have explained to you,
How to make the best homemade porn
How to make money making homemade porn
Where to sell homemade porn and
An option to create your own adult membership website
Now that you know how to sell homemade porn (probably everything), all that's left for you to do is get started. Reach out to us in the comments section if you have any questions!
Cheers!
FAQs on Selling Homemade Porn
1. Can you sell homemade porn?
Yes. With the advancement in technology and multiple adult webcam sites, almost anyone can make and sell homemade porn today.
2. How much money can I make by doing homemade porn?
It all depends on how consistent you are and on what sites you are present on. On average, camgirls who work for 10 hours make around $700 per week. And those who spend 40 hours camming make more than $2000 per week. They can sell their nude photos anywhere from $1 – $5 and sell their homemade porn from $10 to even $500.
3. Is it possible to make money in amateur porn without showing your face?
Yes. It is possible to make money in amateur porn without showing your face. Most porn lovers care for physical assets rather than faces. Selecting a specific niche and making amateur porn can help you make money without showing your face.
4. What are the best networks/websites for selling adult porn video clips/pic etc?
Some of the best networks and websites to sell adult porn video clips are OnlyFans, Chaturbate, BongaCams, CamSoda, Extra Lunch Money and more.