-

14

mins read
If you're looking for answers on how to start a webcam business, then this article is everything you need.
So, you've got this awesome webcam business idea, and you're totally pumped to let everyone know about it. That's amazing! But hold up, starting a webcam business is no joke, and it's not something you want to rush into. 
If you want your own webcam business to be successful, you need enough passion, an understanding of the target market, startup capital and innovative technologies.
In this article, we've covered top-to-bottom information on how to start a webcam business successfully. Whether you need help developing a webcam business plan or creating marketing strategies, you'll find all the answers here.
What you need to start a webcam business:
Choose a niche for your webcam business.

Conduct market research (through interviews, surveys and product testing)

Develop a webcam business plan

Choose a business name and structure

Register your business and get licenses

Get your finances in order

Build your webcam site

Launch your marketing strategy 
Reasons You Should Start a Webcam Business 
Starting a webcam business has several advantages that can turn your investment into profit – if things are done right. 
Here are some key reasons why you should start a webcam business in the first place:
1. Starting is relatively inexpensive.
Starting a webcam business can seem daunting, especially when you think about all the money you need to get it going. But here's the good news: with the right approach to developing the website, things are a lot easier.
You know the website is the core of your webcam business. This is where you run your business and make money. So, if you can reduce the cost of building a webcam site, the starting phase becomes inexpensive.
How to do it? Using ready-made webcam software like xCams by Adent.io.
You may think hiring a tech team to build a webcam site is the right choice. But this choice of yours will eat up $30,000 – $40,000 and several months of your time. 
That's why we recommend using highly profitable and advanced webcam solutions like xCams to build your webcam site. This only takes up to $700, and you'll have a platform within a few days.
In simple words, starting a webcam business with $1,000 as capital is possible! No need to risk your life savings to make it as a webcam entrepreneur.
2. Major potential and growth.
As the webcam business carries an online business model, you can sell your services to anyone, anywhere! And with more and more people getting attracted to live webcams, your potential customer pool keeps getting bigger. 
Did you know that the estimated size of the global webcam market was USD 7.26 billion in 2021 and is projected to grow at a CAGR of over 7.3% from 2022 to 2030? And the number of internet users around the world is growing too – it's supposed to hit 7.6 billion by then! 
So, with all those people online, your webcam brand could get way more exposure. And if you're planning to branch out beyond your own country, the sky's the limit!
3. Your business experiences no downtime.
One of the key benefits of starting a webcam site is the ability to operate around the clock, regardless of external factors such as lockdowns or other disruptions. 
Once your website is live, you become accessible to potential customers at all hours of the day and night. This means that you can make money from your webcam business even while you sleep. 
This can give you more flexibility in managing your webcam business and allow you to focus on other important tasks. 
With an understanding of why webcam businesses are so successful and why you should be a part of it too, let's move on to how to start a webcam business. 
How to Start a Webcam Business in 8 Steps?
Here, we are going to walk you through the steps on how to start a webcam business. We will give you real-time examples and explain to you in detail for your better understanding.
1. Choose a Niche
If you are serious about how to start a webcam business, it's important to take a methodical approach and choose a niche that's likely to do well. 
Picking a niche helps you build a strong reputation with a particular audience and become a leader in that market. Plus, it can help you create loyal customers, reduce competition, save money on marketing, and increase your profits.
You can find the right niches for your webcam business from your passions, hobbies and skills. Once you've identified a few potential niches, try asking yourself some more specific questions to narrow things down. 
Do you have any experience in this particular niche? 

Do you have any existing networks in this niche?

Is the niche too broad or too competitive? 

Can you realistically see yourself building a successful webcam business around this niche? 
Of course, it's also important to make sure that the niche has a big enough market for your webcam business to succeed. There's no point in targeting a tiny group of people who won't be able to sustain your business over time.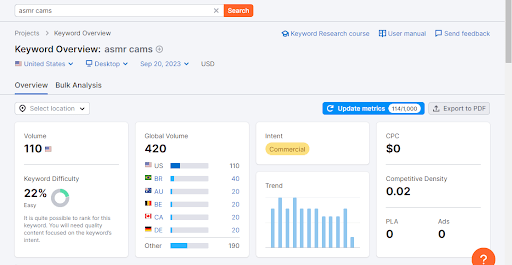 For example, if you look at Semrush, you can see that "ASMR cams" have lower keyword difficulty (22%) with a 420 global search volume. 
This means you have a higher chance of ranking on search engine results on a bigger audience if you target this niche. This could be a good niche to explore if you're just starting out.
2. Do Market Research
If you're starting a webcam business, it's crucial to get to know your potential customers. That's where market research comes in. 
It's basically the process of finding out more about your target audience. You can learn things like:
Who are they?

What are their buying habits?

How many of them are out there in the current market?
Why is this so important? Well, if you don't understand your customers, you won't be able to figure out how to help them. You won't know how to market your webcam business in a way that resonates with them. 
Here are some steps to conduct market research for your webcam business:
Define your buyer personas: Find out the ideal characteristics of your target market, including demographics, pain points and interests.
Prepare questions to ask: Create a list of questions to ask your potential target audience to gather valuable information on their preferences, behavior needs and wants.
Answer key questions: Collect information on your target market's demographics, such as the income range of your customers and determine the demand for your webcam site. 
You can carry out market research with different methods, such as interviews, surveys, focus groups and product tests, either online or offline. 
3. Create a Webcam Business Plan
A webcam business plan is basically a roadmap for your business's goals and finances over the next few years and how you will achieve them. 
You can show it to investors, business partners or lenders to help them understand your webcam business.
To start, you'll want to write an executive summary. Think of it as your quick pitch to someone in an elevator. Include what your webcam business is all about, what services you offer, and your financial growth plans.
Next, give a little background on your company. Where are you located? Who are the key people in your webcam business? What unique skills or expertise do your team members bring to the table?
Then, get into your business goals and describe what you offer. When talking about your service, make sure to explain how it works, how much it costs, who your typical customers are, how you fulfill orders and your sales and distribution strategies.
4. Choose Your Business Name and Structure
When you're done with your webcam business plan, you can set off to register your business and make it legal.
The first thing you gotta do is come up with an amazing business name. But here's the catch – your name has to be available for business registration in your state and on the Internet. 
So you gotta check if it's available as a business name, domain name, and social media username. 
After that, you need to decide on your business structure. Don't worry; it's not as complicated as it sounds. There are basically four types: sole proprietorship, partnership, LLC, and corporation. 
A sole proprietorship

is the easiest but doesn't offer limited liability. 

Partnership

is good if you're starting with a friend, but your liability is still unlimited. 

Limited Liability Corporation (LLC)

is a popular choice because it offers limited liability without the headache of incorporation. 

The corporation

is more complex and hard to maintain, but it could be worth it in certain situations. 
We recommend that you start your webcam business as an LLC (Limited Liability Corporation). It offers greater flexibility on taxes and also safeguards your personal assets. 
But honestly, it's always a good idea to talk to a lawyer to figure out what structure is best for you. Plus, you might want to chat with a tax professional, too, since different structures have different tax requirements.
5. Register Your Business and Get Licenses 
To ensure that your new webcam business is legally sound, it's essential to file all the necessary business information documents and paperwork. This involves:
Registering your webcam business

with the relevant state and local government authorities

Obtaining all the required

licenses and permits

Meeting all state and federal tax obligations, such as applying for

state and federal tax ID numbers.
The requirements for each of these aspects can differ depending on your business's location and nature. Therefore, it's crucial to conduct thorough research to ensure that you comply with all applicable regulations. 
It's also advisable to seek the guidance of an attorney with expertise in webcam business startups to ensure that you're on the right path.
6. Finance Your Webcam Business
It's always a thrilling and exciting endeavor to start a webcam business. But there are some things that must be addressed, such as funding your business.
As we already mentioned, if you want to convince someone to invest in your webcam business, you gotta have a solid plan in place. That's step one. With an effective webcam business plan, you can gather your finances via different sources.
1. Self-funding
If you can keep your projected expenses under control, it's possible to fund the webcam business yourself. That could mean dipping into your personal savings, using credit cards, or even asking friends and family for donations.
2. Take Business Loans
Another option is to apply for a business loan for your webcam startup. But before you do, make sure you've got a business plan, expense report, and financial projections for the next five years ready to go. 
Banks and credit unions will want to see some combination of those documents before they consider your application.
3. Finance Capital through Investors
Lastly, you could raise venture capital from investors. This can take some time, though. You might want to start by asking someone you know to introduce you to some investors. 
And even after you've secured funding, they may want to see how you run your webcam company before they invest more. So, if you're looking for quick and easy money, venture capital might not be the way to go.
7. Build Your Website
A webcam site serves as the foundation of your webcam business. However, it is important to exercise caution when building a webcam site, as it has the potential to deplete your budget and leave you with insufficient funds.
When looking at how to start a webcam site, we suggest you use ready-made turnkey software like xCams by Adent.io.
xCams is a live webcam site script that helps you build an innovative, futuristic and profitable webcam site, just like those of giants in the industry.  
The software boasts a convenient integrated payment gateway, CCBill, that enables swift and secure transactions directly on the website. 
Its advanced technology, utilizing innovative MERN tech stacks and robust REST API, ensures that the software is search engine optimized and mobile-friendly, providing a seamless user experience across all devices.
To start a webcam site using xCams, all you need to do is:
Get a domain name: Choose a .com domain name that matches your niche. You can also add your niche keywords in your domain name to help increase the ranking of your website. Also, ensure that your domain name is short, easy to spell, unique and brandable.
Obtain web hosting: Once you have your domain name, choose a web hosting provider that specializes in the webcam industry. For example, you can consider M3Server, Hostinger and Hostgator. They provide secure, speedy and affordable hosting for your webcam site
Install xCams: After obtaining your domain and hosting, head to the xCams product page and purchase the script. The Adent's support team will help you through the entire installation process for free, so you don't have to worry about it.
Customize your website: xCams offers a white-label solution that allows you to customize the script to match your brand easily. You can quickly add your logo, font, color scheme, and text to make it your own. Additionally, you have the flexibility to create important pages such as home, categories, live, tags, and more.
Add your payment details: One important component of a webcam site is the payment gateway, which xCams includes as a built-in feature. To utilize this feature, simply open a webcam merchant account with the payment gateway and provide your bank information on the admin panel.
With that done, you can do one last check to see whether there are broken links or delays in website loading speed. When it's done, you can launch your webcam site.
8. Implement Your Marketing Plan
Now that you have a webcam site, it's time to focus on attracting visitors to your website. How do you do it? By implementing an effective marketing strategy.
Here are some marketing strategies you can use for your webcam site:
Search Engine Optimization
There are numerous tactics available for promoting your webcam site, which can sometimes be overwhelming. However, our recommendation is to begin with search engine optimization or SEO for webcam sites. 
This involves making changes to your website to improve its ranking in search engine results pages (SERPs).
Optimize your website structure, including your page titles, meta descriptions, and header tags, to make it easy for search engines to crawl and index your website. 
Build high-quality backlinks from reputable websites to improve your website's authority and ranking. 
Using short and concise URLs is an excellent strategy for optimizing your website's SEO. This approach makes it easier for both search engines and users to comprehend the page's content. We suggest utilizing hyphens to separate words in your URL to enhance readability.
Use Online Advertising Networks 
There are online advertising networks like Google Ads and Microsoft Ads that you can use to showcase your ads on different websites and reach your desired audience at the appropriate time and location. 
By registering with these platforms, you can benefit from their vast network of partner websites where your ads can be displayed. Here are some tips to make use of these online advertising networks:
Create eye-catching display ad creative

Set your ad budget

Target your audience wisely 

Monitor and optimize your ads regularly
Social Media Marketing
When it comes to finding your desired audience, social media platforms and online communities, such as Twitter, Reddit and TikTok, can be your go-to spots.
Start by becoming a member of the group, community or subreddit and make sure to carefully read the rules and take some time to observe how the other members interact with each other. 
It's also important to engage with others by commenting on their posts in a thoughtful and helpful manner. Avoid being a spammer and, instead, aim to contribute valuable insights to the conversation.
As you establish yourself within the community, you can start referencing your own webcam site. However, it's important to do so only after investing time in giving back to the community and building relationships with other members. 
When promoting your website, especially during Twitter marketing and Reddit promotion, avoid sounding too promotional. Instead, try to position it as a resource that can help others or ask for their opinions on it.
Influencer Marketing
One of the quickest ways to make your webcam site popular among the community is to leverage influencer marketing. 
Influencer marketing is basically when brands team up with social media influencers who have a big following and are seen as experts in their niche. 
These influencers endorse and mention the brand's products, which helps build trust with their followers. And when potential customers see this, it's like a stamp of approval or social proof that the brand is worth checking out. 
There are four types of influencers you can reach out to:
Mega influencers (more than 1M followers)

Macro influencers (between 100K – 1m Followers)

Micro influencers (between 10K – 100K followers)

Nano influencers (between 1K – 10K followers)
You can choose your influencers to collaborate with according to the marketing budget and resources. In case you're targeting a broader audience, then go for mega influencers. But if you're only focusing on smaller groups, choose either macro or micro-influencers. 
With these marketing strategies in place, you can easily drive substantial traffic to your webcam site. However, in the long run, you need to improvise your promotional tactics according to the trends and behavior of your target audience.
That's all about how to start a webcam business. By following the steps mentioned above, you can start your webcam business from scratch at a very low capital investment.
Let's move to the next section and see what are the key features you need to include in your webcam site. 
What Features Should the Webcam Site Have? 
Just having a pretty webcam website isn't gonna cut it these days. People want webcam sites that are easy to use, look pleasing, and provide safe and secure transactions. 
If they can't find what they need, they might bounce and find someone else who can offer what they expect. 
Here are some essential features to create a webcam site that enhances the experience of your audience.
1. Admin Features
Content Management: This feature allows admins to monitor and control all the live streams and posts on the website. It enables them to remove inappropriate content if it's reported. 
Commission Management: Allows admins to have absolute control over the performer commission on the platform. They can change the commission percentage as they see fit.
Multiple payment gateways: The webcam site should be able to integrate multiple payment gateways to provide users with a wide range of payment options to ensure hassle-free transactions.
Analytical tool: Admins can gain valuable insights into user behavior and track conversions on the webcam site, enhancing user experience.
Social media integration: It helps admins increase brand awareness and offer different ways for website visitors to interact with the platform. 
2. User Features
User login: It enables users to register and authenticate on the platform using their email address and password, as well as by integrating accounts from multiple social media sites.
User-friendly interface: Users can find what they are looking for in an instance. This increases user experience and gives the platform an edge over the competition.
Customizable profiles: Ability to add and modify various elements on user's profiles, such as profile image, username, bio, etc.
Advanced search: It helps users by offering more precise and relevant search results on your webcam site. This is one of the time-saving features users expect from a webcam site.
Multi-language support: Users of your webcam site can buy from any part of the world. So, offering multi-language support enables them to engage with the platform easily. 
3. Performer Features
Monetization options: Having multiple monetization methods on your webcam site is a must in order to attract live performers. You can add revenue streams like tipping, private shows, pay-per-view content, e-commerce and more.
Geo-blocking: Allows performers to block weird and inappropriate users from their live streams instantly. They can also block their content from certain countries and regions.
Scheduled livestreams: This feature allows broadcasters to schedule their live streams. When they want to go live for their fans and which country or zone they want to go to.
Flexible payout: It enables performers to request a preferred payout to admins swiftly. In addition, they can specify direct transfer, PayPal, or check for seamless payout.
Earning report: Performers can see their daily and monthly earnings, as well as who is spending the most on their live streams and how often they do. 
Projected Income of a Webcam Business
Based on the trend of webcam sites, it appears that numerous users regard live webcams as a form of entertainment. This is due to the fact that it adds an extra layer of excitement to watching performers they love online. 
Additionally, we've discovered that approximately 15% of all users love to spend money on webcam sites for their favorite performers. 
With this in mind, webcam sites can enhance their growth by enticing users through high-quality content and making them spend more on their platforms.
In general, webcam sites typically earn between 40% and 60% of the overall profits. It's important to note that the higher the performer's commission percentage and the more appealing the software interface, the greater the likelihood that performers will utilize your platform. 
Given these figures, with 50 active broadcasters daily, 10,000 users per day and 40% admin commission, your monthly revenue will be:
For public streaming:

$90,000

For private or group streaming:

$360,000

For product sales:

$60,000

Total earnings:

$510,000

Admin commission:

$204,000
So, for those who're wondering how much money you can make in the webcam business, we can say you can make more than $200,000 per month – if you can produce high-quality content and run an aggressive marketing campaign.
Starting a Webcam Business: Summary
Embarking on the journey of starting your own webcam business can seem overwhelming at first. However, it is possible to simplify the process by breaking it down into manageable steps. 
From conducting thorough research and development to launching your website with the help of xCams,  there are various complexities involved. 
But with the aid of insightful analytics and the guidance presented in this helpful article, you can create a thriving webcam business that is up and running in no time.
If you have any questions regarding how to start a webcam business and how to build your webcam site using xCams, please mention them in the comments section. We are always glad to answer your queries.
1. Is webcam business profitable?
Yes, the webcam business is highly profitable, and we suggest you start your own today. On average, a webcam site can make between $50,000 to $100,000 a month. But in order to make your webcam business profitable, you need to focus on producing quality content, marketing campaigns and increasing user experience. 
2. How much does it cost to start a webcam business?
The cost of starting a webcam site depends on the approach you take. Building a webcam site only costs you anywhere from $700 to $1000 if you use a ready-made webcam script like xCams. So, make sure to use xCams to build your webcam site. 
3. How can I make money from a webcam business?
If you want to make money from your webcam business, you need to incorporate multiple revenue streams on your website. Here are some key revenue streams you can use: 1-on-1 private shows, selling pay-per-view content, fanclub subscription, tipping, private chats, e-commerce, affiliate marketing, and displaying ads.
4. What essential equipment, tools and software do I need to start a webcam business?
If you're starting a webcam site without a physical studio, you only need a PC and high-speed ethernet cable. But if you're planning to have a physical studio, then you need a rental space, PC, professional camera, microphone, props, costumes, lighting, video editing software and, of course, you need to hire your own live performers. 
5. What legal aspects should I keep in mind?
Starting a webcam business is completely legal in many countries like the U.S., UK and Canada. But we still recommend you check your local laws before you start. In addition, you need to register your webcam business and obtain both state and federal licenses, tax IDs and employment IDs (if you hire employees).
Resource Deck
Software to build your webcam site:

xCams

Performance tracking tools:

Google Analytics Tool

,

Clicky

,

Adobe Analytics

, Built-in Integrated xCams Dashboards

Places to hire live performers:

Social media, online forums, 

Adent Model Database

Equipment needed for setup:

Camcorder, Lighting Kits, Costumes, Props, Rental Space, Video Editing Software, Laptop with Internet.

Hosting platform

:

M3Server

Design tools:

Canva

,

Visme

,

VistaCreate

,

Venngage

Email tools:

Mailchimp

,

Sendinblue

,

Moosend

,

ConvertKit