-

11

mins read
The adult industry gives plenty of opportunities to models and performers to make money in the industry. Out of all the options in the adult industry, one of the most fruitful ways is to make money by sexting. Sex chat is an adult service that models can do as a side hustle to make some extra cash.
Sexting isn't taboo, and many couples rely on sexting to keep the fire lit in their relationships. What's even better is when you can get paid for sexts, that too without having to reveal your identity. It is a popular and great way for models to make money by giving some time to this business.
Sexting is the exchange of hot and sexy messages between two consensual adults, which is sexual in nature. It isn't as uncommon as you might think, as the demand to find a companion for sexting is high, making it a highly profitable profession for many.
You might be having a lot of doubts right now, like can you really get paid for sexting, how to make money by sexting and how much to charge for sexting. Well, this article will answer and clear all your doubts and help you understand the sex chat business in detail. So let's begin.
Get Paid to Flirting Online: Can You Really Make Money by Sexting?
People nowadays are too busy in their personal and work life, which makes it natural for humans to desire emotional and physical intimacy in any form. On the one hand, there are people who make & sell homemade porn for money, while there are many who can't even form a relationship for many reasons. So everyone starts looking for an easy form of intimacy with a no-strings attached relationship.
Sexting fits the bill perfectly for many people out there who just want to get intimate pleasure without dealing with the pressure of a partner. All these reasons make sexting a very profitable business with so many customers out there waiting for a few moments of pleasure and intimacy.
These intimacies don't come for free, and many people out there are ready to pay good amounts to avail of a sexting partner. Any model who can flirt well with the opposite sex is a great fit to get paid for sexting. So to answer the question, yes, you can do sex chat and earn money as there is a demand for such services.
Make Money Sexting: Who Will Pay to Sext?
There are many people out there looking for intimacy. Especially since the pandemic hit the world, the need for intimacy and pleasure has increased manifolds. The pressure of being confined at home, along with the need to make connections, has led many people to look for online connections. It's not only sex chat for money but other options like selling nudes, selling boob pictures for money, etc., are also very common nowadays. Here are a few categories of people who actively look for a sexting companion.
Lonely people who can't find companionship in their life.

Shy people who are not comfortable with face-to-face interactions.

Bored people who are looking for some fun and spice in their lives.

Working professionals who can't invest much time to find to connect with the opposite sex.

People who are interested in various kinks and fantasies but aren't able to do it in real life.

Partners in unsatisfactory sexual relationships looking for an outlet for their sexual frustration without cheating on their partners.
So as you see, there is no dearth of people looking for some sexting for money or various other reasons. And to strengthen this point, there already are many models who are earning quite good by sexting with their customers.
Tips for Safe Sexting & Get Paid to Talk Dirty
Sexting is a business in which models can be anonymous and still get paid to sext. But staying anonymous doesn't guarantee the complete safety of the models. There are many things that can still go wrong, unknowingly landing the models in trouble. Here are a few tips that can be followed by the models for safe sexting.
Never use your real name on any platform for sexting. Don't even reveal your real name to customers while sexting.

Keep your personal details under wraps like your address, social media accounts, phone number, etc.

Always use third party texting apps like Whatsapp, Line,

Snapchat

, etc., or a platform recommended by your company.

Don't be pressured to send pictures and videos to your customers even if they offer more money or get emotional with you.

Do not accept any other payment methods other than the ones recommended by the sexting company.

Look for secure sexting companies that have a secure website so that your information is safe and secure.

Beware of fraud sexting websites or companies that ask you to pay upfront as a fee or anything else. Most likely, such companies are frauds.
Everything You Need to Know Before Sexting: 
Whether you're an experienced fetish model or a newbie in the industry, sexting is easy, but there are a few things that you need to be aware of before you get paid for sexting. These might be general things that you should know nonetheless.
A model needs to be above 18 years of age to be able to provide sexting services.

Check in your area of operation if sexting is legal or not to save yourself from legal hassles.

Do thorough research before you join any sexting platform. Make sure it's not a scam company and check for how much commission they'll take from your earnings.

Find out if the sexting company provides training for better sexting after you join them. Training before you start sexting work will help you to deal with customers in a better way.

Make sure you don't do anything for free and anything more than what you're paid for. Politely say no to customers who ask for your personal details like your phone number or even photos and videos.
How Much Money Can I Make on Sexting?
Sexting, as we discussed, is a very profitable option for models to make some extra money, just like selling feet pictures online. Although it is difficult to pinpoint a number to the question of how much money you can make by texting, we can try to give a ballpark figure to help you understand better.
There are multiple ways to get paid by sexting. You can join a sexting website and work on their payroll, or you can sell your sexting services on various subscription sites like OnlyFans, Fanvue, and Fansly. The advantage of joining a sexting company is that you'll get paid by the hour, even if you have clients or not. While the disadvantage of such sexting websites is that you don't have much scope to earn more.
Whereas in membership sites, you can set your own rates for sexting services and charge customers accordingly for it. You can offer various packages like 15 minutes or 30 minutes of only texts for $20 and $35, respectively. You can add images and videos to your package and sell at $50 to $60 for 15 minutes.
The average market rate for sexting is around $2 to $3 per minute of plain texting. If you add images and videos to it, then you can easily make around $100 dollars for an hour of sexting. As per the market trend, models who do sexting can make anything ranging from $2000 to $8000 per month on average.
15 Best Sexting Apps & Websites
Now that you have an understanding of how fruitful sexting is and that you can get paid for sexting, it's time to look at the various websites and apps that offer sexting services. Thanks to technology, we now have websites and apps to sell anything, including selling used panties online. In this section, we will see the 15 best legit sexting apps and websites and discuss the money you can make on these platforms. So let's begin.
1. Arousr – Best site for sexting
Arousr is a chat and phone service for adults. It is not like regular subscription websites. Instead it is purely a website where users spend money to purchase credits to spend on sexting with models. Arousr has a vast model base that is mostly adult women who want to make money by sexting.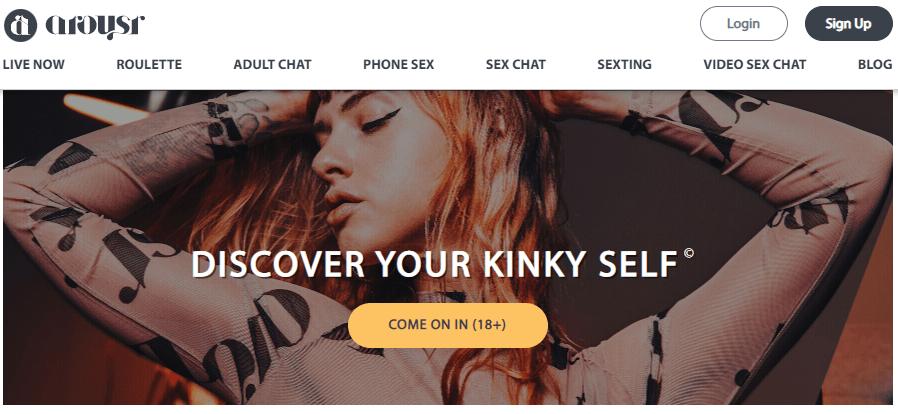 A model gets many opportunities to make money on Arousr like sexting, video calls, voice calls, tips, affiliate programs, etc. Models get $0.15 per message they send in the premium mode, $0.70 per minute for voice calls, 60% of credits for video calls and content shared, and 40% of credits from tips.
There is also a promotional game on Arousr called 'Roulette Hours' where members get 1 minute of chat free. Models get $0.50 for the first free minute of chat, and if the chat continues, they get $1.60 per minute during Roulette Hours and $2.40 per minute outside Roulette hours. The top 5 performing models also get a weekly bonus starting from $150 to $50.
2. ChatRecruit – Most profitable website for sexting
ChatRecruit is a UK based adult platform that provides services like sexting, phone calls, webcam chat, Psychic chat, UK babe TV, and even a content subscription service through their partner platform. Models get a $10 bonus in the first month of joining that is paid along with the payout.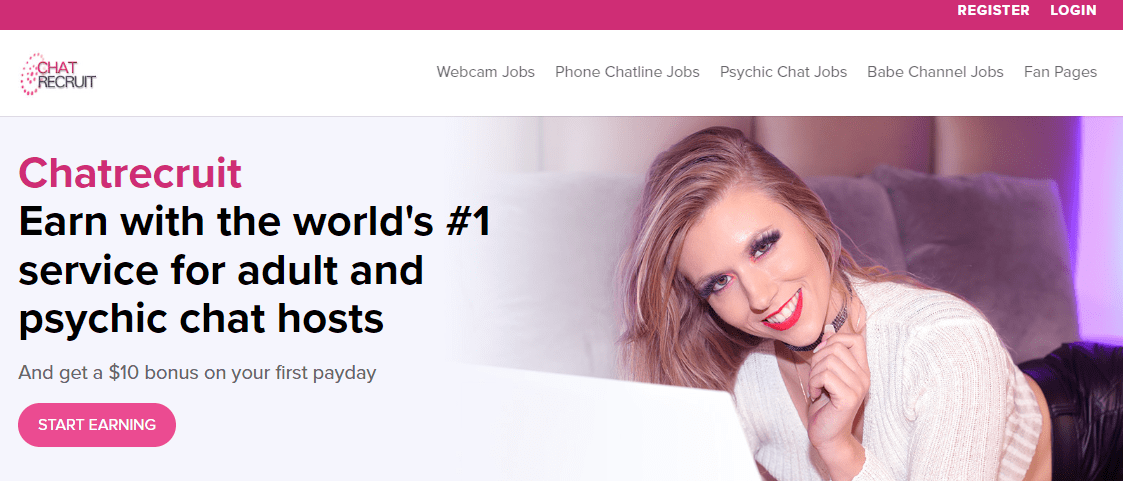 Models on ChatRecruit are paid on a bi-monthly or monthly basis, and if you're a UK based model, then you can request a weekly payment option too. ChatRecruits pays close to $2 for every minute of chatting, which means models can easily sell sex to earn $600 for 5 hours of sexting in a day.
3. Phrendly – Most user-friendly app for sexting
Phrendly is a free platform that doesn't charge any signup fees. It is like a dating site where you can choose your partner and chat with them. Anyone who joins Phrendly gets a $5 credit as a welcome gift. It offers chatting, video, and phone services for its users and is a great site for models to get paid for sexting.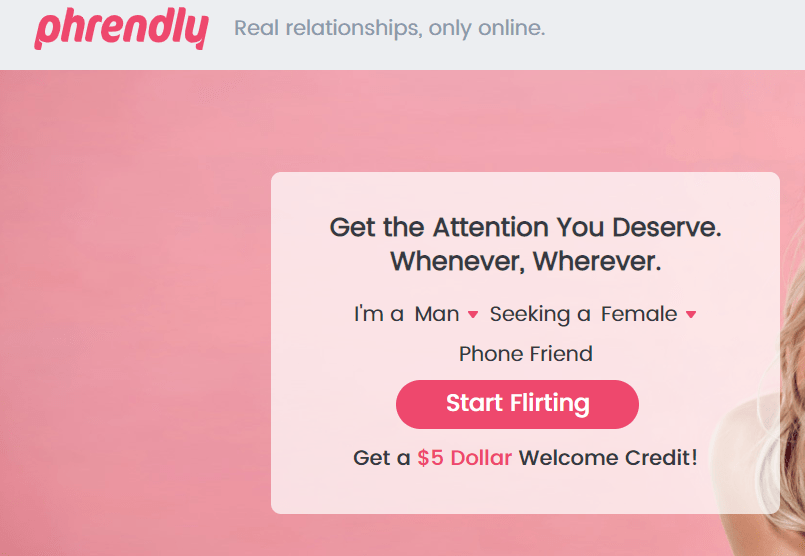 Users on Phrendly can send messages to others and "share drinks" with them that are of monetary value. If you receive drinks, then you can encash that for money. Models need to have $10 at least in earnings before they can request a payout on Phrendly. The platform pays $0.35 for every volley of chat, 70% of the earnings from phone and video calls(after the $0.20/minute connection fee), and 90% of the gift earnings of the models. 
4. MyGirlFund – Most dirty website for sexting
MyGirlFund is an adult website that hosts both women and men on its platform and provides sexting and chatting services. The platform hosts over 20,000 women from all around the world with whom you can chat. They have strict rules against the exchange of personal information on their platform to safeguard the privacy of models.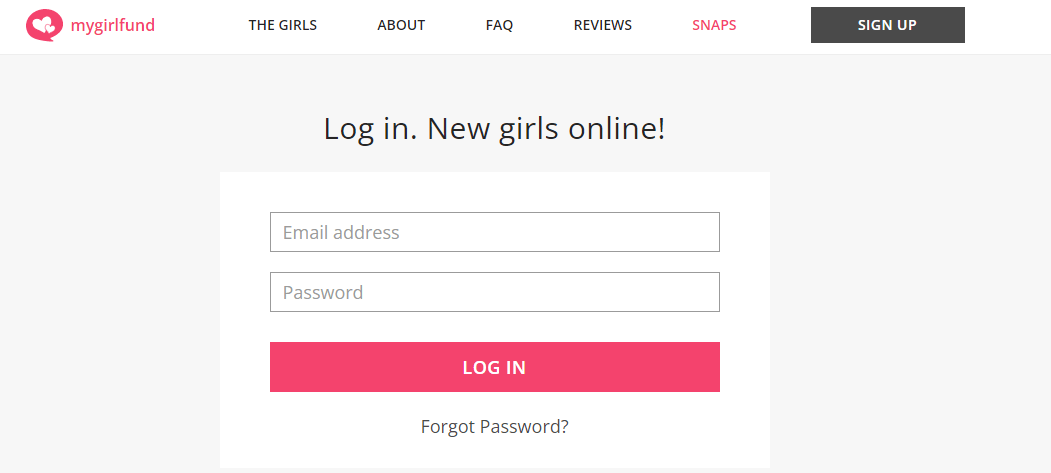 MyGirlFund works on a credit system where users buy credit packages and use those credits to chat with models. Models are paid 1 credit for every minute they spend on sexting. Each credit is worth $1, and the more credits you collect by chatting with people, the more money you make on MyGirlFund. Models can also set their own rates for chats depending on their popularity.
5. SextPanther – Best sexting site for money
One of the leading platforms for sexting, SextPanther offers a variety of services like sexting, voice calls, webcam chats, content sharing, voice notes, etc. It is mandatory that you should be a citizen of the US or Canada to join SextPanther as a model and get paid for sexting.

Models can connect their cellphones to the SextPanther number and take calls and reply to texts from their phone itself. No need to worry, as your cell phone number will never be visible to the users. As SextPanther provides no marketing for the models, the models either need to have a strong following on social media or have a fan following on established cam platforms. Models can make up to $5000 every week on SextPanther.
6. FlirtBucks – Get paid for sexting and earn profit
FlirtBucks offers sexting as well as video call services for its users. If you're 18 years or above and have good flirting skills, then FlirtBucks is a great platform for you. There is no nudity or performance required of you on this platform; all you've to do is flirt with the customers through chats.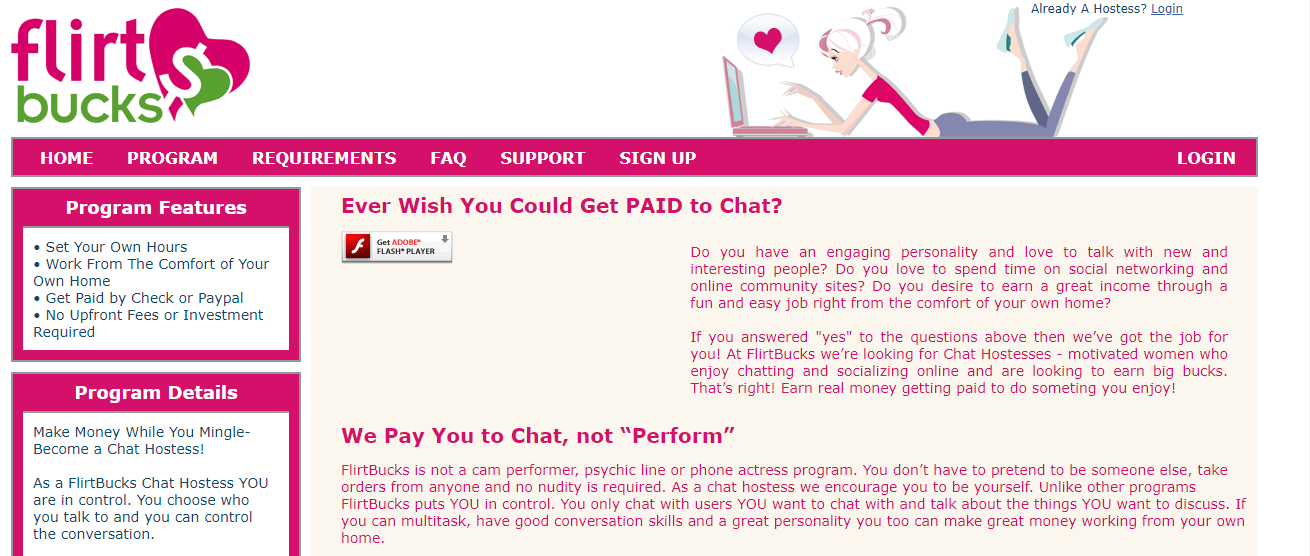 They run a program called Chat hostess program, where depending on the duration of models on the platform, their earnings increase. For the first 3 months, FlirtBucks pays models at the rate of $0.10 per minute for sexting and $0.40 for video chats. As the model spends more time on the platform, these earnings increase, and after 6 months, it becomes $0.15 for sexting and $0.50 for video chats. Payout is done twice a month on FlirtBucks.
7. NiteFlirt – Best app to make money by sexting
NiteFlirt is another sexting and phone sex platform that is exclusive for US and Canada models. Users come to this platform and choose the model they want to speak with and then pay on a per-minute basis to flirt with them for as long as they wish.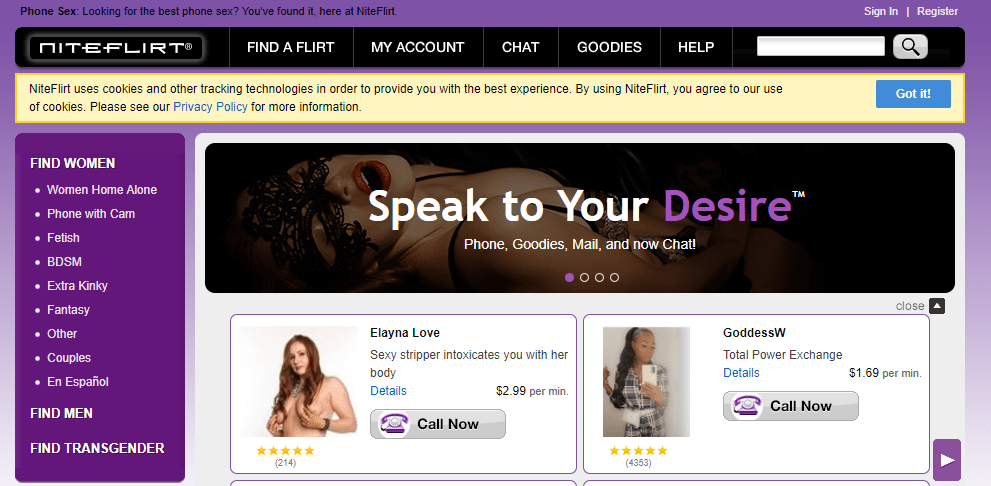 To lure more users, NiteFlirt offers the first 3 minutes of call or texting free. NiteFlirt charges a 30% commission on the earnings of models from live calls, goodies, mails, and tributes. They also take a 33% commission from the earnings from live chats. If models can manage to keep users engaged for longer durations, then they can easily earn $1000 and above in a week through sexting.
8. TexKings – Top website to make money by sexting
TexKings is one of the most versatile sexting and calling platforms that offers its services in 11 different languages. Models need to have a minimum of 25wpm speed in typing to qualify for TexKings. The minimum age limit for a model on TexKings is 18 years.

Models on TexKings are paid based on projects, and the usual range for sexting varies from $0.06 to $0.12 per message, and users purchase these services in bundles of messages. Top operators can get a bonus of $25.5 to $127, depending on performance. Phone sex operators are paid in a range of $15 to $24 per hour, and payouts are issued on a weekly or monthly basis on TexKings.
9. OnlyFans – Top adult website for sexting
OnlyFans is one of the largest subscription websites where thousands of creators sell their content. It offers monetization methods like subscription, PPV, paid messaging, tips, etc., and is very popular among the audience. Users buy a subscription package to models to be able to view their content and chat with them.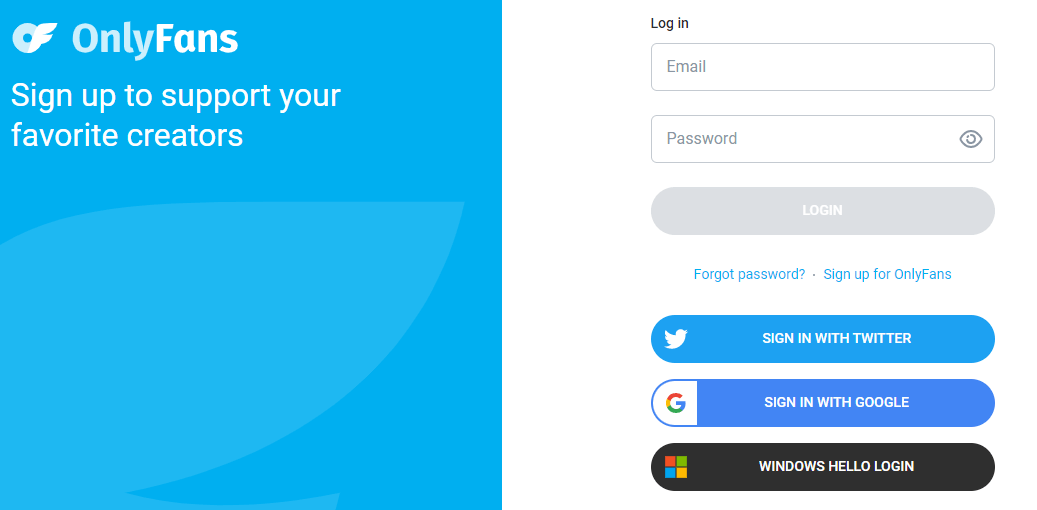 OnlyFans take a 20% cut from the earnings of models on their platform. Payouts are fairly regular and are usually done weekly, depending on your country. Models can set their own prices for subscriptions and make good money on this platform. Remember to promote your OnlyFans profile and mention your sexting services to get audiences looking for the same.
10. Fancentro – Most loved adult website for sexting
Fancentro is another popular subscription platform that provides a wide range of adult services like subscriptions, tips, paid messaging, live streaming, and more. Users buy subscriptions to their favorite models and get access to their content like nudes, butt pics, boob pics, etc., and also slide into their DMs.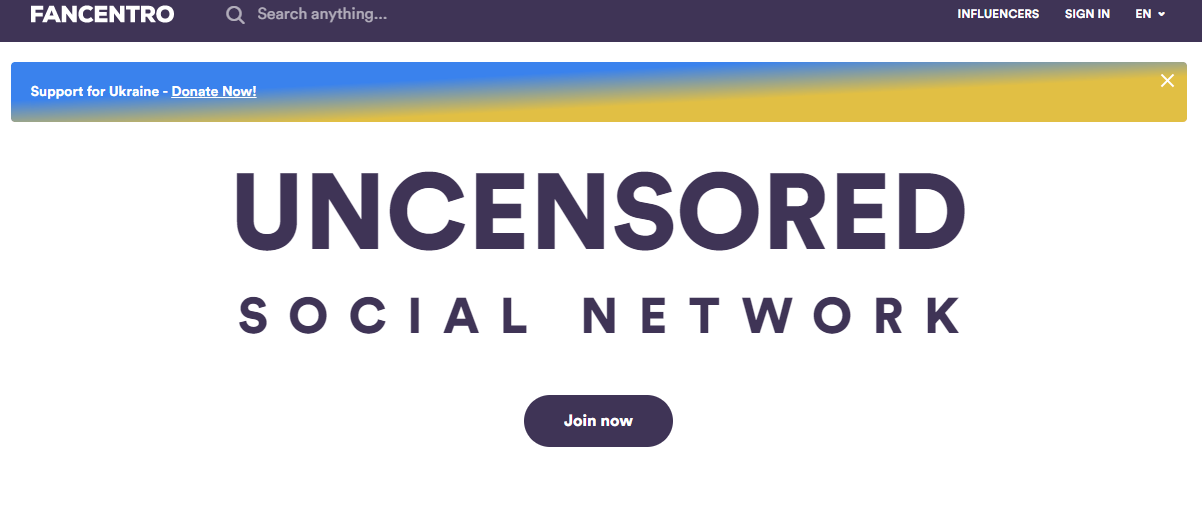 Fancentro charges a 20% commission on all the earnings made on its platform, and payouts are done on a weekly basis. Creators set their own subscription prices, and users pay it to access their content. If you're only here for sexting, then you will need to promote your Fancentro profile for the same to reach the audiences looking for sexting services.
11. xModel by Adent.io- Most recommended all-in-one platform
The odd one out in this list but definitely one of the best solutions present in the adult industry, xModel is what every model desires. xModel is a readymade adult script that can help you build your own subscription platforms like OnlyFans and Fancentro. With xModel, not only can you get paid food sexting but also various other monetization ways that will shoot your adult career to the top.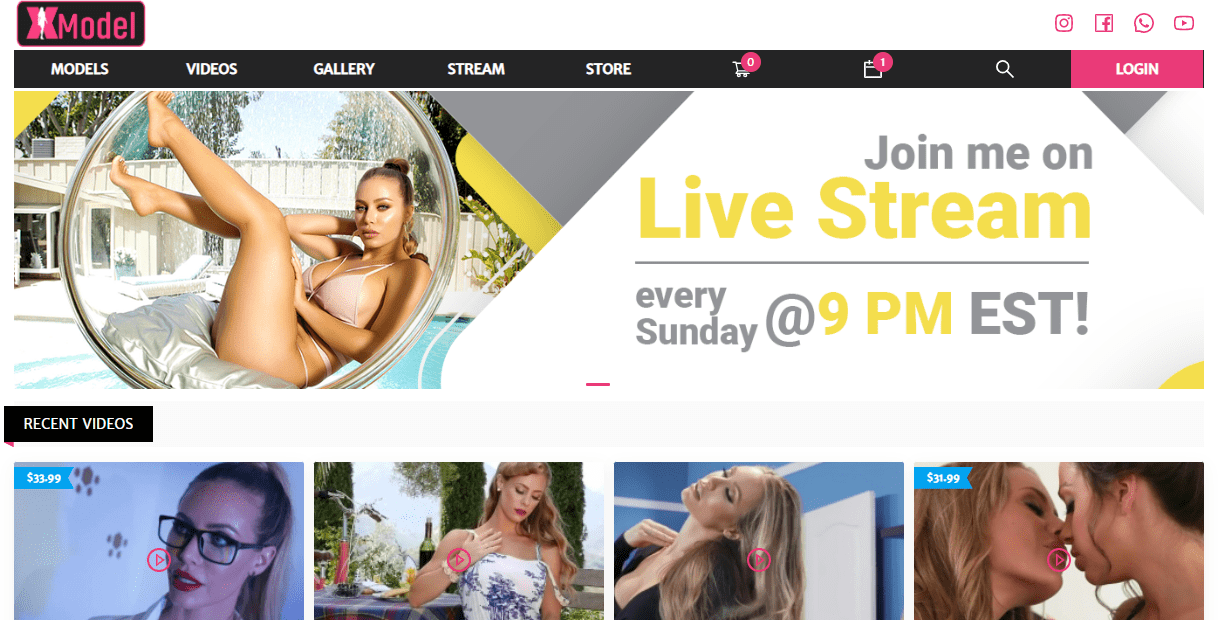 With monetization features like subscriptions, live streaming, an integrated eCommerce store to sell content, PPV content, affiliate marketing, etc., xModel is a wholesome platform to give a push to any model's earnings. Models can look beyond the earnings made through only sexting and look forward to earning much more by selling nudes, too, with the help of xModel.
12. Text121Chat – Best sexting website for adults
Text121Chat is one of the biggest sexting and phone operator companies in the world, providing services for adult phone services, text chats, moderation, and consultancy services. This website is not a freelance sexting website but an agency where models need to meet the minimum requirements to keep working on Text121Chat.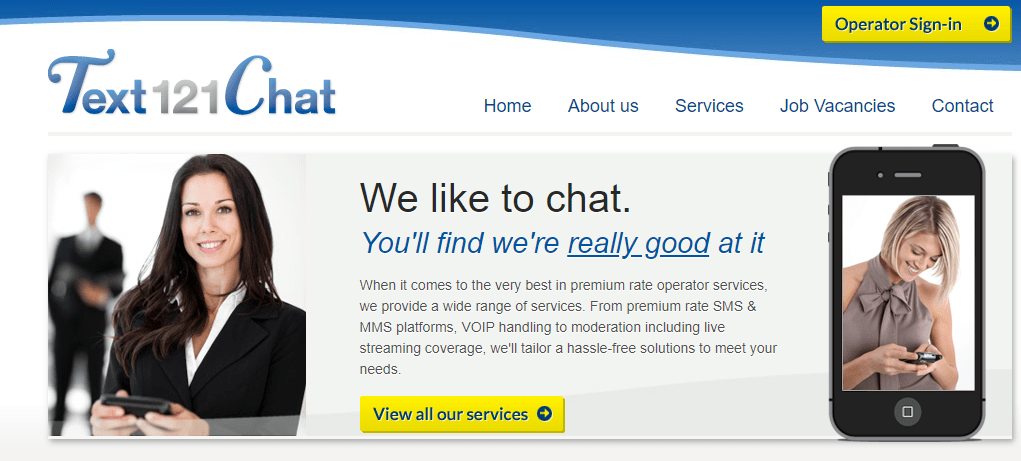 Models need to complete a minimum of 1000 texts or 4800 PSO minutes, or else they can be terminated from the company. Payments are monthly and based on meeting the minimum requirements. When you join this company, you'll be trained in both texting and phone services to lengthen the time users stay with you and get paid for sexting.
13. TalkToMe – Best site for sexting work
TalkToMe is purely a sexting and phone sex platform that offers good prices to the models on their platform. Users can find hundreds of models on TalkToMe, from where they can select and choose the model they want to flirt with.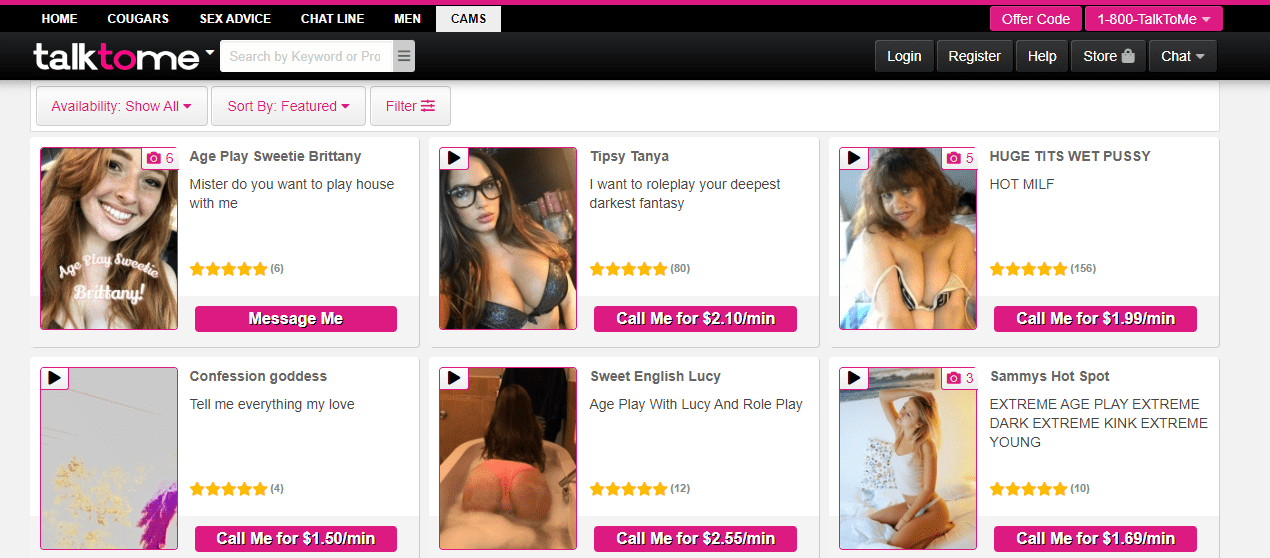 Chats on TalkToMe are sold as packages of 5 minutes, 10 minutes, etc. Models can set the charges for per minute sexting or can opt for these bundle packages. For sexting, models can set a price between $0 to $2 per minute or can set the bundle rates for users to buy. The commission for paid chats is 50%, and payouts are made every Wednesday on TalkToMe.
Some other notable mentions of websites to make money by sexting are:
14. LipService
15. AdultChatJobs
Conclusion
So we have seen the list of best sites for sexting and phone sex. All these websites and platforms are great, but they do take a commission from the earnings of the models. If you're someone who wants to make more money through sexting or wants to create a platform that is fair for the models, then we have the perfect solution for you, xChat. xChat is a readymade solution that lets you create your own sexting business in a few hours. You get the 100% source code which means you have total control over your website.
Using xChat models on your platform can sell content like images and videos, can get tips on their profile, and enjoy the vast features of the chat platform that includes emojis. What's more, is that you also get 20 active models listed so that you can kickstart your business as soon as possible. With individual dashboards for admin, users, and models, handling a website of your own has never been easier.
With this, we come to an end to our article about the whole sexting and phone sex business. As you must have realized by now, sexting is not only profitable but also is pretty easy work for some good passive income. We hope we have answered all your questions regarding how to get paid for sexting and how to make money by sexting.