-

9

mins read
There has been a buzz going around for some time now regarding a platform known as OnlyFans. We're almost sure that most people in the world would have heard of this social media platform. But people still have some questions like What is OnlyFans? How does OnlyFans work? Today, we will dive deep into this craze known as OnlyFans and see why OnlyFans clone scripts are so much in demand.
What is OnlyFans?
OnlyFans is a social media platform that was launched in 2016 in London by British entrepreneur Timothy Stokely. It was created with the idea to help creators monetize their content by posting content behind a paywall that users can pay to access. OnlyFans is basically a subscription-based platform where content creators build a fanbase and sell content in many ways to millions of users around the world.

This social media platform has risen leaps and bounds in recent years, especially since the pandemic struck. With people confined to their homes, creators on OnlyFans capitalized on this opportunity and made big money by selling their content to the world that was looking to consume every content coming its way. Sex workers benefited the most, while other creators, like fitness trainers, also made a fortune selling content and promoting their OnlyFans. 
Creators on OnlyFans usually sell photos and videos that are locked behind a paywall. Users can pay a monthly fee to subscribe to the creator they want and access their content. OnlyFans provides many other ways for creators to make money, which makes it a very popular site for creators. The popularity of the platform can be gauged by taking a look at OnlyFans statistics and facts.
OnlyFans Statistics & Facts
Here are some OnlyFans statistics and facts that will blow your mind for sure. These numbers are not just intimidating but also show how popular OnlyFans has grown over the years since it launched back in 2016.
OnlyFans hosts over

188 million registered users

from all over the world. Compared to having over 8 million registered users in July 2019, OnlyFans had taken a huge leap in terms of popularity, thanks to the pandemic when content started selling as hotcakes.

The number of creators also has grown exponentially on OnlyFans, with

over 2.16 million creators

. This is a huge rise in comparison to having over 70,000 creators on its platform in July 2019. All thanks to the global pandemic, creators had more time and a willing audience to sell their content.

Creators have earned

over $3.9 Billion in earnings on OnlyFans

in the year 2021, which is an increase of 115% over the last year. Since its launch in 2016, OnlyFans has paid over $8 Billion to creators on its platform.

OnlyFans gets around

40 million monthly website visits

from users all around the world, making it the most popular content platform. Recently, OnlyFans surpassed Patreon as the top-earning content platform in the world.

The average earnings of creators on OnlyFans is $151 per month. Although the top earners on OnlyFans make millions of dollars, the average creator's earnings are low, considering the number of creators on OnlyFans.

33% of the revenue generated on OnlyFans comes from the top 1% of creators on the platform. If you take the top 10% of the creators, then they bring almost 73% of the revenue for OnlyFans.

A lesser-known fact about OnlyFans is that

75% of the business is owned by Leonid Radvinsky

, who is also the founder of the popular cam site MyFreeCams.

According to multiple sources, OnlyFans gets around

500,000 new users and around 7000 to 8000 new creators on its platform every day

.

OnlyFans had declared to ban adult content on its platform in August 2021, which led to a major backlash from sex workers from around the world. Soon OnlyFans had to recall the ban.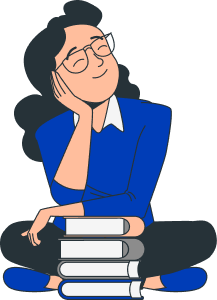 Learn how to generate $100K in 6 months by using your own OnlyFans clone with the help of xFans.
Who uses OnlyFans?
OnlyFans is a platform that welcomes creators of all types to sell content on its platform. Be it a man or woman, everyone is selling content on OnlyFans and making money. So if you had a question like can guys make money on OnlyFans, then the answer is yes. Every minute there is a creator somewhere in the world signing up on OnlyFans in the hope of striking it big and making good money.
The majority of creators on OnlyFans are adult creators who sell anything ranging from selling nudes to selling used panties to their fans. As OnlyFans allowed any type of content, it soon became a hub for sex workers and models to sell adult content on the platform. The popularity of OnlyFans can be credited to the hordes of adult sex workers who form the backbone of the platform. Creators can also choose to sell adult content without showing their face on OnlyFans.
But this doesn't mean other creators don't have a chance of making money on OnlyFans. There are many other creators from different fields, like writers, musicians, fitness enthusiasts, photographers, chefs, travel bloggers, and many such creators who are making good money by selling their content on OnlyFans.
Here are some of the top earners on OnlyFans in recent times:
Blac Chyna – Model, TV star, and Socialite

Bella Thorne – Actress, Model, Singer, and Writer

Cardi B – Rapper and Songwriter

Tyga – Rapper

Mia Khalifa – Pornstar
How does OnlyFans Make Money?
After seeing all the earnings made by creators on OnlyFans, one will wonder how does OnlyFans make money in between all this. Well, as a platform that facilitates money making by providing multiple ways for creators to earn money, it is bound to take a cut in the earnings of the creators.
OnlyFans takes a 20% commission from the earnings of all creators on its platform. It uses the commission for the maintenance of the platform, the support provided to creators, and the general upkeep of the platform. This 20% commission is applicable on all types of earnings on the platform and is one of the lowest commission rates among all content-sharing platforms.
The Business Model of OnlyFans
As we said before, OnlyFans does provide many ways for creators to monetize their content and make money on its platform. The business model of OnlyFans revolves around the subscription model with multiple other ways to make money on the platform. So before you start asking how does OnlyFans subscription works and how much money you can make on OnlyFans, let's take a look at all the monetization ways that OnlyFans provides its creators.
Subscriptions
Subscriptions are the bread and butter for creators on OnlyFans. In this model, users pay a monthly subscription fee to access the content of their favorite creator on OnlyFans. The subscriptions can be set by creators in the range of $4.99 to $49.99 for a month.
Creators can offer subscriptions on a monthly basis or can even offer bundles of subscriptions to users on the platform. Bundled subscription means that creators offer 3 months, 6 months, or 12 months of subscription at a discounted rate as compared to a monthly subscription. It is a good way provided by OnlyFans to lure users into buying subscription bundles from creators.
Here's an example of how subscription bundles look: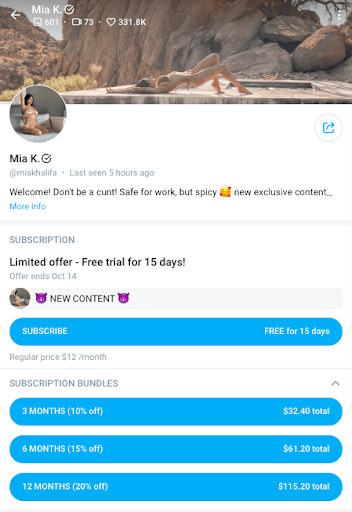 OnlyFans also lets creators keep their profile as a free subscription too. This is actually very helpful for new content creators who don't have a huge social media following and are very new to this content creation platform. Creators can publish their teaser content under a free subscription profile and create another paid subscription profile for users to access exclusive content. This works great for new creators who share limited content on their free profile and build a fan base slowly, and then guide them to their paid profile.
Paid Posts
Paid posts are when creators put individual content like a picture or a video behind a paywall, and users need to pay a one-time price to unlock the content. Creators can sell locked content separate from their subscriptions and make good money on OnlyFans. Content like selling booty pictures or selling boob pictures can be put behind a paywall and sold for good money on OnlyFans.
This monetization way is especially helpful for creators who are new and have started a free subscription profile to improve their fan following. Such creators can make some money by selling locked content that is exclusive through their free subscription profile. This monetization method helps new creators grow while also helping them to make some money on OnlyFans, making it another effective way of monetization on OnlyFans.
Private Chats
Creators on OnlyFans have a wonderful opportunity to do private one-on-one chats with users, which not only helps them in making money but is also a great way to interact with the fans to add that personal touch to their conversations.
There are multiple ways in which a creator can make money through private chats. Creators can send locked content to all their subscribers and fans to make some extra income. They can also take custom requests from users, which is an added opportunity to make good money. Users can even donate tips to creators through private chats, which makes it totally worth investing their time in chats.
Private chats work best for established creators on the platform, who can interact with their fans on a personal level and make good money by sharing content and taking custom requests. If the users are happy, then creators are sure to get a lot of tips through private one-on-one chats, making it a great monetization method on OnlyFans.
Tips
Tips are a major contributor to the earnings of creators on OnlyFans. It is an essential tool for users to express their gratitude towards their favorite creators by tipping them. Users can tip creators in multiple ways on OnlyFans.
Each creator profile has a tip button where users can directly tip the creator to their liking. The maximum single tip amount for new users is $100, while users active for more than 4 months on OnlyFans can give a single tip amount of $200. The maximum any user can spend on tips in a day is $500, which can be increased depending on the conduct of the user.
Creators can also receive tips from users on each content they post on OnlyFans. Users can also tip through private messages and during live streaming of their favorite creator. Creators can also set up tip fundraising where users pay tips for the creator to achieve their goal of any activity promised by them. With so many ways to receive tips, creators stand a chance of making good money through tips, even on free subscription profiles. Below is an example of what tip fundraising looks like: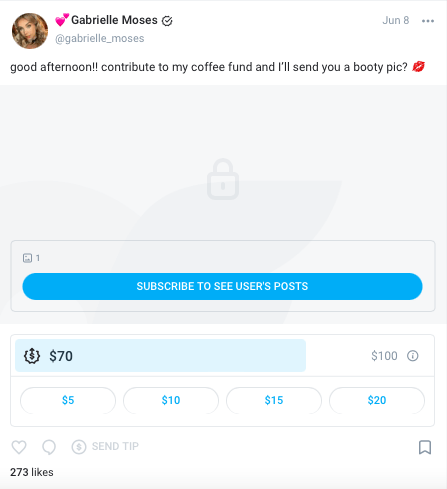 Selling Custom Merchandise
Another great thing about OnlyFans is that it lets creators sell physical custom products like t-shirts, selling sex toys, or even selling used panties to users who want to buy them. OnlyFans allows creators to link their Shopify profile to their OnlyFans profile for ease of selling custom merchandise to their fans.
Creators can find the Shopify option under the "edit profile" section on their profiles. Once the Shopify store is active on the creator's profile, they can sell anything they want to sell from their store. This monetization method works best for established creators who have a big fan following, as fans want to own personalized stuff of their favorite creators.
Live Streaming
OnlyFans recently introduced live streaming on its platform to help creators showcase their content in a better way. Live streaming also helps creators present their real side in front of their fans and interact with them in an exclusive way.
There are two ways in which creators can make money while live streaming on OnlyFans. Creators can receive tips during live shows and can even set tip goals to perform a promised act once the tip goal is reached. Users tend to tip well during live shows as they can see the creator live and check their reactions.
Another way to make money by live streaming on OnlyFans is by keeping an entry fee for your show. This payment-gated stream can be published a few days before your live show so that users have enough time to purchase tickets for your show. Remember that the live show has to be special and exclusive if you plan to charge a fee for it. For example, a new song premiere by a musician can be put behind a paywall, and users will pay the charges to catch the song live.
xFans – The Best OnlyFans Clone Script
If you've been trying to understand what is OnlyFans so deeply, then there are high chances that you're an entrepreneur who wants to build a similar business like OnlyFans for profit. If we're right, then we have the perfect solution for you, xFans.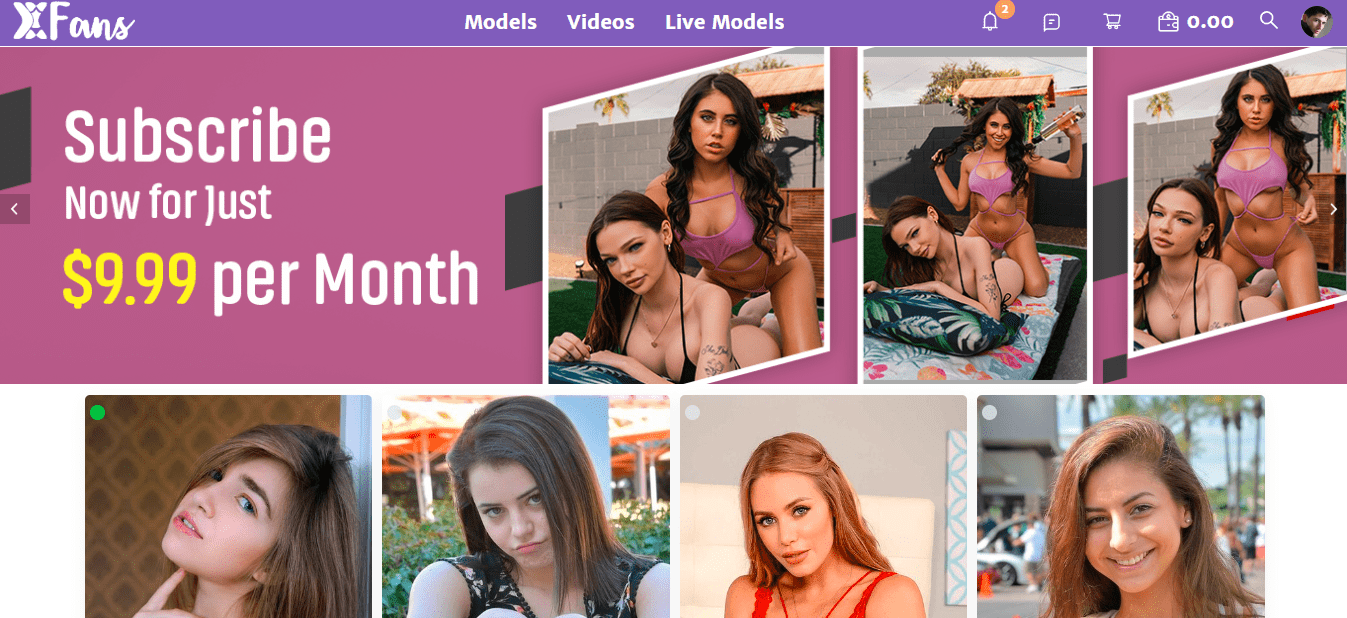 xFans is an OnlyFans clone script using which you can easily create your own platform, like OnlyFans, with your branding. With all the features provided by OnlyFans already integrated on xFans, you will be surprised to find many more extra features and monetization ways that can help your platform to compete or even outperform OnlyFans.
It is the most affordable and easy to install solution that you'll need to build your own fan subscription business. You get access to 100% of the source code, which means you can have total control and customize your platform as you like. xFans is designed and developed by veterans of the adult and tech industry, and they know exactly what a fan base platform needs. It is built on the latest MERN stack with a powerful REST API that makes xFans a robust solution to handle all the traffic coming to your platform.
So if you want to run a platform like OnlyFans with your branding and customization, then look no further than xFans. With revenue models like subscriptions, tips, an eCommerce store, premium content, private messaging, live streaming, and more, xFans is the most profitable OnlyFans clone script. Here are some features of xFans that will strengthen your decision to choose xFans as your OnlyFans clone script.
Monetization –

xFans provides multiple ways for models on your platform to monetize their content. It has everything from subscriptions and tips to live streaming and eCommerce. More ways of monetization mean more money coming into your pockets.

Individual dashboards

– Models on xFans get an individual dashboard through which they can customize their profile and sell content easily. The admin on xFans also has an individual dashboard that helps you to control and overlook your platform easily. Users also have an individual dashboard to check their spendings and data.

Affiliate marketing

– You can sign up on various popular affiliate programs and leverage the traffic coming to your website from affiliate banners placed on your platform.

Analytics tools

– xFans comes with robust analytics tools with the admin dashboard that helps you monitor the metrics of your platform and figure out how your platform is performing.

Mobile compatible

– xFans is 100% mobile compatible which means there is no lag in your website when users log in to your platform from their mobile devices. It responds to all types of screens, making it a universal platform.

Adult payment processor

– You get CCbill and Verotel integrated with xFans which are renowned and trusted payment processors to handle all transactions on your platform seamlessly.

Add-ons

– With xFans, you can be flexible to choose many add-ons to enhance your and the user's experience on your platform.

xFans add-ons

like featured creators, wheels of pleasure, payment gateways, currency conversion, creator watermark, etc., can be included easily.
Put xFans To The Test
See xFans in action with a free live demo and start your own OnlyFans like website today.
Conclusion
After looking at OnlyFans statistics, we're sure that you were very tempted to know and understand how does OnlyFans work and how does OnlyFans make money. Today, there are many OnlyFans alternatives that models can choose from to sell their content, that provide more or less similar features like OnlyFans.
We hope this detailed and thorough article has helped you figure out what OnlyFans is. Subscription-based platforms are a hit nowadays, especially after the pandemic, and if there is a best time to get into this money-minting business, then it is NOW!