-

7

mins read
With the advent of the internet and advanced technologies, it has become really easy for anyone to find ways to make money from the comfort of their homes. People are now empowered and have the freedom to express their creativity and sell products through the internet. One such adult business that has prospered recently is selling used underwear online.
Adult performers, pornstars, cam girls, and even college girls are selling their used panties online and making good money from it. One such platform that has aided the girls in selling their underwear online is OnlyFans. OnlyFans is a subscription website having thousands of users paying money to see content from all types of content creators, including adult content creators.
Although selling panties online is fairly common now, there are still many people out there who want to know how to sell panties on OnlyFans. This article is going to help you with such questions and consider other options to sell underwear online.
Can you sell panties on OnlyFans?
Before we get into the how's of selling panties on OnlyFans, let's clear the air. Yes, you can legally sell panties on OnlyFans without the fear of getting into any kind of trouble. It is not only used panties, but people sell anything and everything like boob pictures on OnlyFans and make a good deal of money from it.
There are no restrictions on selling adult stuff on OnlyFans. However, you might want to check in your local jurisdiction if there are any restrictions on selling panties or any other adult stuff in your country. Other than that, as a platform, OnlyFans allows you to sell any kind of adult stuff, including used panties.
How to sell used panties on OnlyFans?
Before we begin, it's better to make it clear that OnlyFans is not an eCommerce platform where you can directly put a price on products and sell them. OnlyFans is a subscription website where users pay a monthly subscription fee to access the content of their favorite content creator. So selling panties on OnlyFans isn't as direct as on eCommerce websites; instead, there are other steps to follow to sell used panties on OnlyFans.
1. Build your profile
Before you start selling panties on OnlyFans, you would need to create a profile for yourself on OnlyFans. The signup process is easy, and you can signup through your social logins or through your email. Remember that you have to be above 18 years of age to create a profile on OnlyFans.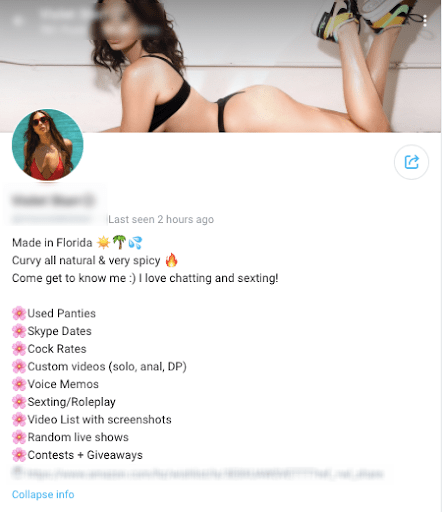 Once you have your profile created, then you need to fill in your bio. Your bio is what will tell the numerous users of OnlyFans about your content and your plan to sell worn panties on OnlyFans. A well-written bio helps in attracting new users to your profile and increases the chances of selling used panties on OnlyFans.
2. Post hi-res images with description
As your plan is to sell used panties on OnlyFans, you have to make sure to post high-quality images of your panties or you wearing them. Blurred out or generic photos won't lead you to make sales; you need to share good quality pictures with apt descriptions to sell used panties on OnlyFans.
People looking to buy used panties want to know the material of the panty, when did you wear the panty, how long have you worn it for, etc. They crave for the feeling, texture, and scent of the used panty which is why they want to know all such details.
You can use beautiful locations for your pictures, along with props to make your pictures more attractive. A well framed picture along with well-written seducing descriptions can help raise the sale numbers for used panties.
3. Promote your profile well
OnlyFans hosts thousands of creators on its platform and your profile might get lost in the crowd if you don't promote it well. To gain more subscribers and your photos to reach the masses, the promotion of your profile is very important. You can use various social media platforms to promote your content to the right audience.
Reddit is a great platform to find users to sell used panties on OnlyFans. You can promote your OnlyFans profile on multiple Reddit threads that pertain to selling worn underwear. Reddit also gives you the option to create your own subreddit to promote your content and profile on Reddit.
Models can also make use of platforms like Twitter and Instagram to promote your OnlyFans profile. You can use hashtags on such platforms to reach the right target audience and be visible to people looking for used panties. Post attractive pictures of yourself on these platforms and give the link to your OnlyFans profile for raunchier content.
Other platforms that you can use to promote your OnlyFans profile are TikTok, Discord, and Facebook. All these platforms have a huge audience base that can be helpful in gaining subscribers for your OnlyFans profile. The only thing to remember on all these platforms is that you have to mark OnlyFans profile as NSFW so that search algorithms can show it to the appropriate audience.
4. Be discreet in packing and shipping
Anybody who buys used panties from you would expect you to diligently pack and ship their package not only to preserve the scent of the panty but also to maintain their privacy in their neighborhood. As a panty seller, it is your responsibility to discreetly pack and ship the package.
Use zip lock or vacuum sealed bags to pack your used panties to preserve their smell and texture and protect them from any wear and tear during transport. Use bubble wrap to cover the bag and then put it inside a plain cardboard box to prevent anyone from knowing the content of the package.
While shipping the package, don't mention anything other than the address mentioned by the buyer. To safeguard your privacy, make sure to use a PO box rather than giving your address as the return address.
5. Use safe payment methods
When it comes to receiving payments, as OnlyFans is not an eCommerce platform, you have 2 options to receive payment from the buyer. The first option is to ask the buyer to tip the selling amount on your OnlyFans profile so that you can get it in your bank from the OnlyFans payout.
The other option is to share your preferred payment details with the buyer through DM and ask them to make the payment directly. You can use Venmo, Skill, Cash App, or direct bank transfers too to get the money in your account directly from the buyer.
How much can you make selling panties on OnlyFans?
The amount of money you can make by selling used panties on OnlyFans depends on your popularity and the number of buyers you get. The more buyers you find, the more your earnings will be. Usually, sellers sell used panties on OnlyFans for $30 to $40 for a pair.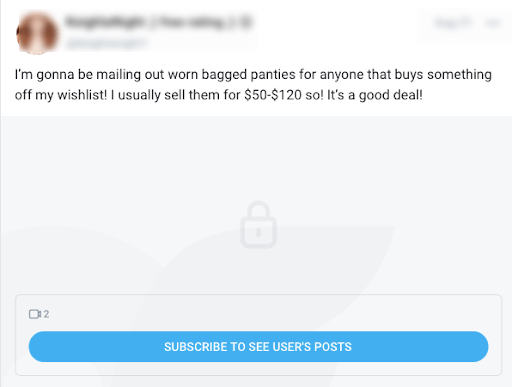 If you're popular and have a good fan following, then you can even think of selling panties on OnlyFans for more than $50 a pair. So if you're able to sell around 30 pairs of panties in a month, then you can easily make $1500 per month just by selling panties on OnlyFans. Some popular models like Tatiana Bee who have regular customers easily make $1500 to $5000 a month by selling used panties online.
Tips to make more money other than selling used panties on OnlyFans
OnlyFans is a platform that gives the creators complete freedom to sell anything they want on their platform. You can find creators from all spheres of life like painters, dancers, chefs, and musicians, all trying to sell their content and make money from it. Other than selling panties on OnlyFans, you can look at other ways too to make some easy money on OnlyFans.
1. Sell feet pics on OnlyFans
There are many people in the world who have a fetish for feet pictures. If you have beautiful feet, then you can look at selling feet pictures on OnlyFans and make a good amount of money through it. You can follow the same process as selling used panties on OnlyFans to sell feet pictures to the audience.
2. Sell butt pics on OnlyFans
Another popular venture you can take is to sell booty pictures on OnlyFans. There is a huge market for butt pics, and you can make good money by selling butt pics on OnlyFans. You can look for the right audience and publicize your profile for butt images and sell them.
3. Sell nudes on OnlyFans
If you're comfortable with sharing your nude images, then you can make a very good income through it. You can sell nudes with your face or can even sell nudes anonymously on OnlyFans. The market for nudes is bigger, and you can find many buyers for your nude images on OnlyFans.
Best Fan Sites To Sell Used Panties & Make Money (Other than OnlyFans)
When you're starting a business like selling panties on OnlyFans, then you'll face stiff competition as this platform has a huge audience base as well as creators. So to maximize your earnings by selling used underwear, you should look at selling panties on multiple platforms rather than only on OnlyFans. Here are some of the best fan sites to sell panties and make money.
1. LoyalFans
LoyalFans is a fan site like OnlyFans that provides a platform for content creators to sell their content and make money from it. Like OnlyFans, LoyalFans also gives 80% of the earnings to the creators while taking a 20% cut from it.  Although LoyalFans is another avenue for income like OnlyFans, it provides way more features and services as compared to OnlyFans.
LoyalFans offers features like live camming, live calling, paid messaging, shoutouts, subscriptions, PPV content, and many promotional features. Creators on LoyalFans are paid out twice a month when their minimum balance reaches $50. There is a lifetime 5% commission for creators who refer other creators to LoyalFans.
2. Fancentro
Another content platform that is very popular, Fancentro, has evolved over time to provide many good features other than just subscription services. Fancentro allows creators to sell subscriptions, social media subscriptions like Snapchat, and more. Creators have to pay a 25% commission to Fancentro from their earnings and receive the remaining 75% through payout.
Creators on Fancentro can sell individual content pieces like pictures or video clips. They can also make money by receiving tips from fans and also by making a fanclub where you can post and sell all types of content. Fancentro helps in promoting all social media accounts of creators on their platform, making it easy for users to recognize and connect with creators.
3. xModel by Adent.io 
If you're really serious about making money by selling your dirty underwear or by selling feet pictures to your fans, then you should consider building your own subscription website using easy and affordable solutions like xModel. Rather than giving a commission to subscription platforms from your hard-earned money, using xModel, you can be your own boss and earn a good income.
xModel comes with multiple monetization features that let you soar in your journey to make money. You get an integrated eCommerce store with adult payment gateways integrated, making it really easy for you to sell used panties or sell anything that you want. xModel is very easy to install and use, and you require no technical knowledge to operate it.
Here are some notable features of xModel:
Subscriptions

Live streaming

Premium content

Ecommerce 

Affiliate marketing

Token transactions
Conclusion
Selling used panties on OnlyFans is a great side hustle for people looking to make a quick buck. But if you really want to expand your earning opportunities, then you should plan to sell used panties on multiple platforms or even on your own website using xModel.
Selling dirty underwear is a good opportunity to earn a side income without putting in much effort. All you need is a fan following, and you can easily make good money by selling panties on various platforms.