-

13

mins read
Are you looking to build a website like OnlyFans? Do you want to know how to start a website like OnlyFans? Well, this in-depth OnlyFans clone site guide is all you are ever going to need!
ONLYFANS. The name definitely rings a bell to all creators who want to connect with their fans and make some money. And users who'd want to connect with their favorite creators personally.
But lately, entrepreneurs are increasingly interested in OnlyFans. Amazed at what an organized creator subscription platform can do, they are out to create an OnlyFans clone website. Looks like they aren't very different from you!
Anyways, in this guide, you'll learn how to start a website like OnlyFans along with all the other important stuff you've to know!
We'll start off by knowing more about OnlyFans as a platform. It's only fair that you know more about OnlyFans and how it works as this will help you get a clear picture of how your OnlyFans clone website should be.
What is OnlyFans?
OnlyFans was founded in the year 2016 by Timothy Stokely, a British entrepreneur. It is simply a subscription-based social media platform that allows creators of all niches to showcase and monetize their skills to users across the globe.
The platform, since its launch, has been in the limelight for various reasons and it's only during the time of pandemic OnlyFans started growing enormously. In fact, that's the period when the creator industry witnessed peak engagement and growth.
"As of now, OnlyFans has more than 170 million users on the platform and 1.5 million content creators."
OnlyFans is suitable for all kinds of creators but is predominantly dominated by adult niche workers. You can find fitness trainers, chefs, artists, singers and more. Put in a phrase, you name a skill, and you can find relevant creators on OnlyFans.
Guess what? You can make money on OnlyFans as a guy too! That's how diverse OnlyFans is!
How Does OnlyFans Work?
In layman's terms, OnlyFans acts as a medium between creators and fans.
It gives creators a platform to showcase their skills and monetize them. Creators can sell their photos & videos on OnlyFans by creating membership subscription tiers.
Users can access the content by purchasing the subscription. For every sale that happens, OnlyFans takes a 20% commission on the earnings. Subscription membership is one of the many ways a creator can earn on OnlyFans. Similarly, there are other monetization options on OnlyFans as well.
That's basically how OnlyFans works.
OnlyFans Business Model – Why Is OnlyFans So Successful?
There are three reasons why OnlyFans is so successful. We've listed them out for you here.
1. A Place for Fans to Find Unique Content
OnlyFans isn't your normal Instagram or Facebook feed where creators share little to nothing about their personal life (or the hot content
). It's an exclusive platform where you can take a sneak peek into exclusive stuff that you cannot see out in the ordinary.
The urge to consume exclusive content is the key factor that drives OnlyFans and makes it so successful.
2. Both Free & Paid Content
It's not just paid content on OnlyFans. Creators have the option to showcase content for free as well. This will drive the fans to see what's beyond free, paving the way to more subscriptions.
3. Multiple Monetization Options
We saw about the subscription membership option earlier. Other monetization options available on OnlyFans are,
Paid Posts –

Creators can earn more beyond subscriptions by locking specific content. Users have to pay a set amount to view the content.
Live Streaming –

Conduct exclusive live streams and monetize them by setting a price. The price can be as low as $5.
From eCommerce Store Setup –

OnlyFans comes with a built-in eCommerce store setup that allows creators to sell their merchandise.

Customer Tipping –

Yes. Customers can tip their favorite creators from their profiles, stories, live stream and more.
Also, OnlyFans charges only a 20% commission which is fair when compared to the list of features a creator gets. All these monetization options are the reason why OnlyFans creators make good money.
So, the above-mentioned are the reasons why OnlyFans is so successful. Now that we've covered the what and how, let's answer the why.
Why Make a Site Similar to OnlyFans?
You might have all the regular reasons stacked up but let's dig in some data, shall we?
Let's begin with a Google Trends screenshot.

Like we said, OnlyFans really hit off during the pandemic and it is to grow more in the future days!
Here are more convincing statistics on why you need to create a site like OnlyFans.
According to HubSpot

, a massive 40% of 25-35 year old and 30% of 18-24 year old people consider themselves as creators.

ConvertKit

says that 46.7% of creators are full-time creators and they leverage at least 3-4 channels for engaging the audience.

OnlyFans has more than 170 million creators and 1.5 million users on the platform.

According to Stokely

, OnlyFans adds close to 500,000 users per day and pays $200 million a month to its creators.
The content creator industry is a billion-dollar gem that's hiding in plain sight. OnlyFans has become saturated with both users and creators and the competition is high. And that's when alternative platforms like Fansly come in and turn out to be successful.
Also, last year in August OnlyFans banned adult content on their platform (which was revoked later due to huge backlash). This created a sense of uncertainty among adult creators.
To put it clearly, there's incredible opportunity and there are millions of creators looking forward to trying out new creator platforms. And that's why you need to create a website like OnlyFans.
Now that we're on the same page, let's look at how to create a website like OnlyFans.
Things You Need to Look Before You Make a Website Like OnlyFans
Before you start to build a website like OnlyFans, there are two main things you should take care of!
1. Nature of Your OnlyFans Clone Website
Now, this might sound a bit puzzling but you've really got to put deep thoughts here!
OnlyFans has hundreds of categories on the platform and covers almost all niches. It's a huge player that has deep pockets!
But for you, the best idea would be to stick to one category and specialize in that. For example, JustForFans, one of the competitors of OnlyFans specializes in guy content.
Similarly, you've also got to specialize in one area and go strong on it. Dig into micro niches to find out what works best and choose that as your niche – make sure that there's enough engagement but not heavy competition.
Some of the best adult niches that work on OnlyFans are,
MILF

Role play

Intimacy

BBC

Fetish

and more.
You can find out how popular a chosen category is by seeing the engagement on those kinds of profiles and content. You can also use Google Trends to see the popularity of the term and its performance over time.
That's the first thing you need to take care of. The second thing is deciding on the features of your OnlyFans clone site.
2. What Are the Core Must-Have Features of an OnlyFans Like Marketplace?
When you build a website like OnlyFans, you have got to be careful that you don't miss out on the features. Because what OnlyFans offers as a platform is one of the main reasons why it's so popular and successful today.
That said, here are some of the must-have features for your OnlyFans website. We've split them into three categories to help you get a better understanding.
Important Features for Creators
Creators should be able to make the best out of your OnlyFans clone site. Here are the features your OnlyFans like website should have for creators.
Media Management –

Seamless photo & video uploading to create new posts.

Subscription Management –

Manage membership subscriptions like pricing, who can subscribe, block specific users and more.

Multiple Monetization Options –

Live streaming, private 1-1 chat with customers, merchandise selling & more.

Dedicated Dashboard –

A place for creators where they can view all their earnings, followers and other important analytics.

Apart from this, creators should also be able to raise payout requests and manage their inventory.
Important Features for Platform Users
Your users are going to be the key reason for your platform's success. And it's important that you make sure that their experience on the platform is smooth as well. Here are the most important features for your platform users.
Subscriptions –

The option to subscribe to favorite creators and view their content.

Engage With Models –

Chat with models, engage with PPV content and do more.

Seamless Searching –

Browse and find favorite content and specific creators on the platform.

Easy Payments –

Hassle-free and multiple payment options for purchases.
Also, there has to be a dedicated user dashboard that lets them see their subscription details.
Important Features for the Admin
The admin role is the most important one. In this case, YOU. So, here are the features that need to be in place for your OnlyFans clone site.
Admin Dashboard –

One dashboard that does all. Manage subscriptions and pricing, block users & creators from using the platform, delete user accounts and more.

Managing Creator Payout Requests –

Approve or deny creator requests manually.

Platform Settings –

Options to customize the platform – the appearance, font styling, theme and more.

Managing Commission Percentage –

Manage overall commission percentage on the platform or for specific users.

Asset Management –

Manage all videos & photos on the platform and remove any media that violates the website policy.
Put in a phrase, as an admin, you should be able to do anything and everything on the platform. Making sure that the above-mentioned features are in place is a priority when you create a website like OnlyFans.
So, those are two things you need to look into before you start to build a website like OnlyFans. That said, it's time we look at how to make a website like OnlyFans.
Ways to Create a Website Like OnlyFans
There's no one way to create a website like OnlyFans. You get options and we've listed & explained both of them for you here.
So, there are two ways to build a website like OnlyFans.
Building an OnlyFans Website Template from Scratch

Building a Site Using OnlyFans Clone Script
Here's how you can create a site like OnlyFans using the first method.
1. Building an OnlyFans Website Template from Scratch
The title itself clearly tells you how this method is going to be. In this method, you will have to create a website like OnlyFans from scratch. And that means, there's going to be a lot of time, money and effort that'll be consumed.
Here are the steps involved when you build an Onlyfans clone site from scratch.
Design and Development
This is the phase where your OnlyFans clone site will be developed from scratch. The process includes,
Hiring a design and development team – mostly third-party agencies.

Finalizing the design visuals of the platform.

Deciding on the tech stack your platform is going to be built on.

Deciding on and developing features for the platform – multiple dashboards, payment gateway integrations, chat feature, subscription tiers, etc. Put in a phrase, everything on OnlyFans.

Taking care of the back-end and front-end development process.
Once all the features are designed & deployed, you enter the next phase.
2. Testing and Deployment
This is the most important phase when it comes to building a website like OnlyFans.
Once the development is done, there should be extensive testing. Make sure all the features work seamlessly and there are no glitches on the platform. Because the last thing you want is creators and users bad-mouthing your platform due to technical issues.
Once all the testing is done, then comes the deployment phase – purchasing a domain, hosting it on a server and making your website live.
Note: If it's an adult platform, you have to make sure that the hosting supports adult websites.
On a high level, this might seem like a walk in the park, but we've listed the cost, time and cons below.
That's the first method to build a website like OnlyFans. Let's look at the second one.
2. Building an OnlyFans Site Using OnlyFans Clone Script
Here, like the title says, you'll create a website like OnlyFans using an OnlyFans clone script.
OnlyFans clone script is nothing but readymade software that is pre-built with all the features of OnlyFans. Simply said, it's more like a plug-and-play approach. With a few tweaks here and there, your OnlyFans clone site will be live with ease.
 👉One such OnlyFans clone script is xFans.
What is xFans?
xFans is an OnlyFans clone script that lets you build your own OnlyFans like marketplace on the go. The script is whitelabel, highly customizable and comes loaded with abundant features. The best part about xFans is, it is SEO optimized and mobile-responsive as well.
Why Use xFans to Build a Website Like OnlyFans?
xFans is one of the best OnlyFans clone scripts out there.
Reason? To begin with, we'd say xFans comes loaded with features making it super easy for one to create a site like OnlyFans. Speaking of the same, here's a quick overview of the features of the OnlyFans clone script xFans.
Model subscriptions

Live streaming and PPV shows

Built-in eCommerce store setup

Wallets for platform users

Affiliate marketing option for affiliates

Customer tipping & premium content sales

100% mobile responsive script

Model commission management

In-depth analytics dashboard

Built-in payment gateways – CCBill and Verotel
Sounds great, doesn't it? Apparently, xFans has more features than we listed above! Using xFans is the best way to build a site like OnlyFans as you will save huge money and time since everything you want is already in place. You just have to make a few customizations before your OnlyFans like site goes live.
You don't have to take our word for it! Here are a couple of client testimonials that tell you the same!
#1 Customer Testimonial

That's a happy client for choosing xFans and Adent.io. The highlights are being helpful, quick support and fast deployment!
#2 Customer Testimonial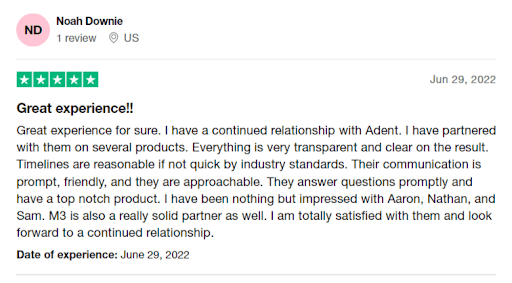 That's another happy client. Noah has been trying out multiple products of Adent and is happy with the results, especially the transparency part!
#3 Customer Testimonial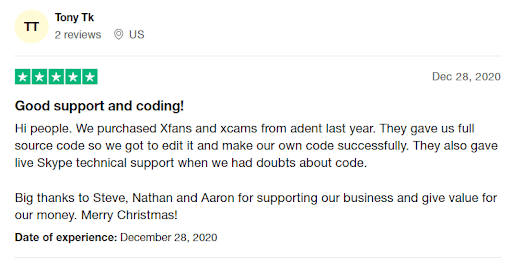 This client has purchased both xFans and xCams. The testimonial talks about xFans being white-label and the quality of the script and the support we offered.
That's not all. We have over 100+ 5-star reviews on Trustpilot! That's one hundred reasons why you should choose xFans to build a website like OnlyFans!
Now that it is decided, let's see how much it costs to build a site like OnlyFans.
How Much Does it Cost to Build a Website Like OnlyFans?
Well, it depends on the approach you choose to go ahead with.
If you're planning to build a website like OnlyFans from scratch, it's going to cost somewhere around $20,000 – $30,000 and takes a couple of months.
But if you choose to go ahead with an OnlyFans clone script, it'll cost you only $1500 – $3000 including all the customization and it takes only a couple of weeks.
Building a website like Onlyfans using a clone script is 10x cheaper than building it from scratch!
Looking at it, the best way to make an OnlyFans clone site is using OF clone script xFans. If you still have second thoughts, this quick comparison table will tell you what you need to hear.
Building from Scratch vs. Using OnlyFans Clone Script xFans
| | |
| --- | --- |
| Building from Scratch | Using OnlyFans Clone Script xFans |
| Costs around $20,000 – $30,000. | Costs only $1500 – $3000. |
| Development and deployment time takes from 1 – 4 months. | Development and deployment will take only a couple of weeks. |
| Have to build all the features from scratch. | All essential features come pre-built. Plug and play approach. |
| No support from third-party agencies once development is done. | Standard support for all customizations and queries. |
| Partnering with unknown developers. | Partnering with Adent.io, a leading solutions provider with clients like 4my.fans and more. |
There! You get it, right? Now, let's look at how to create a website like OnlyFans using xFans.
Steps to Build a Website Like OnlyFans Using xFans
To make things easy for you, we've split the process into five easy steps.
Step 1 – Purchase xFans White Label Script
Head to the product page of xFans and complete the purchase. Like the image says, by purchasing xFans, you get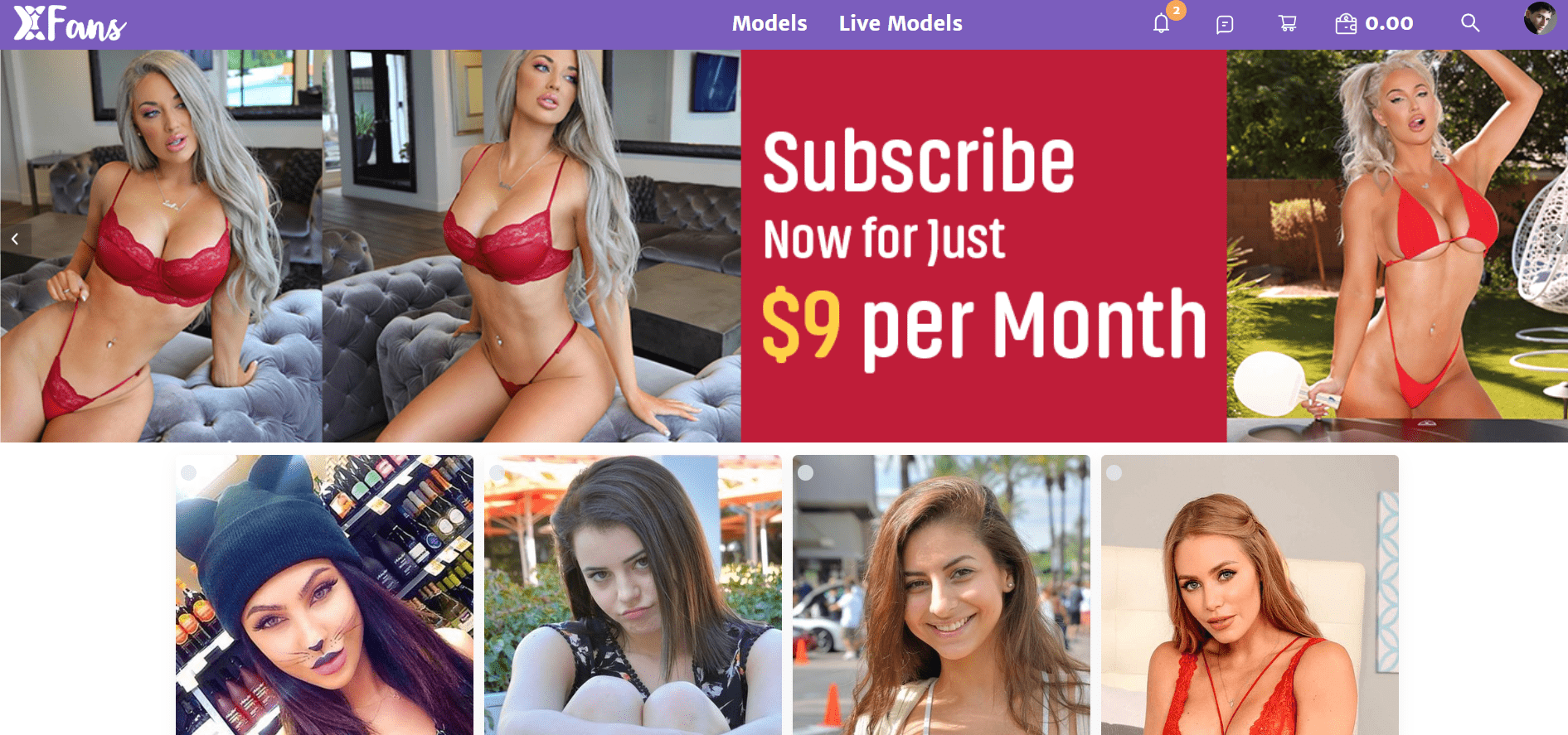 Lifetime license for the script

Access to complete code

Free installation services and

6 months of free support and product upgrades
You also get a limited-time flat 25% off when you pay via crypto coins. The checkout process is quite easy as well. You add xFans to the cart, add some details and you're all good to go.
Step 2 – Choose a Hosting Provider
After purchasing xFans, the next step is to choose a hosting provider for your OnlyFans like site. You don't have to go out looking for hosting services like Hostgator or DigitalOcean.
When you purchase xFans, you also get hosting services along with a 50% discount for the first month. Hosting services are provided by M3Server and the best part is, it is a dedicated adult hosting platform.
Remember when you were told that you need to be sure that your hosting provider allows adult content? With M3Server, you don't have to worry about this.
Step 3 – Choose a Domain Name
This is one of the most important steps when you create a website like OnlyFans. Your domain name is what's going to stay in the mind of your creators, users and other potential visitors of your website. So, make sure that the name is easy to remember, attention-grabbing and easy to type as well.
For example, let's take OnlyFans, LoyalFans and JustForFans. All these three domain names make it clear what the platform is about. They are easy to remember and have clean spelling. Come up with a similar kind of name that resembles the nature of your website.
With xFans, you also get one-year free domain access. Just choose the name and it's yours.
Tools like Namecheckr can help you check the availability of domain names and social profile names.
Step 4 – Customization & Development
Since xFans come built-in with features, there's not going to be a lot of development work. The customization work is all about the look and feel of the website and any additional features you might want to add to the platform.
Speaking of customization, Adent.io offers several add-ons that make your website even more sophisticated, user-friendly and powerful. It should be noted that these add-ons come at an extra cost.
Some of the most common add-ons for xFans are,
Additional Payment Gateways

Dark/Light Modes

Wheel of Fortune

Stories & Snapchat Subscription

Jumio – ID Verification
There are a lot of other integrations as well. You can check them out all here.
Having such sort of add-ons makes the work easy for you and saves development and costs to a great extent.
The support team from xFans will take care of all the process right from the first step till your website is launched.
After all the customizations and add-ons, your OnlyFans marketplace will be ready to use.
Step 5: Setting Up the Basics
When you reach this step, your website would have been completed and made live. What's left is for you to take care of the basic settings.
This includes,
Setting up payment gateways.

Making final changes to the appearance of your website.

Adding social media handles to the footer.

Adding content and privacy policy and other related works.
So, that's how you build a website like OnlyFans using xFans.
Now, this might look like a walk in the park because IT DEFINITELY IS. 
Since xFans comes pre-loaded with features and the support team of xFans sticks around to help you out, you never really have to do much work or hire third-party agencies.
It's all done with ease. Now that you know how to start a website like OnlyFans (and since you've come till here), we thought you should be knowing this too.
How to Market & Promote Your OnlyFans Clone Site?
Getting your website ready is only the first half of the journey. Marketing and promoting your OnlyFans clone is what's going to bring traffic and revenue to your site.
Here are a couple of quick ways to market and promote your OnlyFans site. We are just giving a quick overview here. We'll let you know when we come up with an in-depth article!
1. Widen Your Social Presence
Be present on all possible social media platforms – Facebook, Instagram, Twitter and other social platforms you deem relevant.
This not only improves your credibility in the social space but also drives creator and user traffic seamlessly. The more eyeballs you're able to get, the better it is for your website.
2. Run Paid Ad Campaigns
Yes. Spend some money and run ad campaigns in the early stages. Once you get enough sign-ups, word-of-mouth marketing will do the job.
Here is an example of Fansly running a paid ad campaign.

You can also run similar ads to increase footfall on your website.
The best places to run ads would be Google Ads and porn sites (if your site is adult niche). Else, find relevant category sites and sign-up for display ads.
3. Influencer Campaigns
When an influencer promotes your business, the reach is going to be massive when compared to other methods.
Reach out to a couple of niche influences and collaborate with them for your website promotion. This might be a bit costly depending on the influencers you are reaching out to but the results and going to be good!
4. Create Referral Programs
What's better than a lucrative affiliate program?
Offer generous rewards to platform creators and users when they refer someone to the platform. Also, offer rewards to the referral as well!
This is a huge motivating factor leading to a massive number of referrals happening for your platform.
Those are some of the ways you can market and promote your OnlyFans clone site. Let us know if you have any ideas in the comments section. We'll add them to the article!
Conclusion
Dani Daniels. Bella Thorne, Cardi B. You can find all popular stars on OnlyFans all due to this reason – the popularity of OnlyFans and the user base it has. But that was years ago!
Today, there are similar platforms like OnlyFans that are entering the space and proving to be good competition.
If you'd ask us, this is the right time for you to create a website like OnlyFans. The best part is, you now know how to create an app like OnlyFans! 
All that's left is for you to go ahead, purchase xFans and start building your dream project!