-

7

mins read
In our previous article about the best places for promoting OnlyFans, we told our readers that we'd come up with an article that tells how to promote OnlyFans secretly. And this is us keeping our word!
There are a lot of ways to promote Onlyfans. But how to secretly promote OnlyFans, that's a whole new topic. And we assume you're here because you want to promote OnlyFans anonymously.
Well, it's just not you but a lot of people want to know how to promote OnlyFans without family knowing and staying anonymous on OnlyFans. And this article is everything you need to stay under the radar and make money on OF simultaneously – how to advertise OnlyFans anonymously, where to promote OnlyFans anonymously and more.
So, let's get started.
P.S. If you haven't read our ways to promote OnlyFans article, you should as it helps you know how to market yourself on OnlyFans.
Can You Really Promote OnlyFans Anonymously?
Yes. You can promote OnlyFans anonymously.
Now, you might not be sure whether staying anonymous and promoting OnlyFans is possible. It's only fair to think so at this point given the large digital footprint.
But let's assure you. Promoting OnlyFans anonymously is possible. To put it even better, you can make money on OnlyFans without showing your face!
Here is a real-time example of an anonymous user on OnlyFans.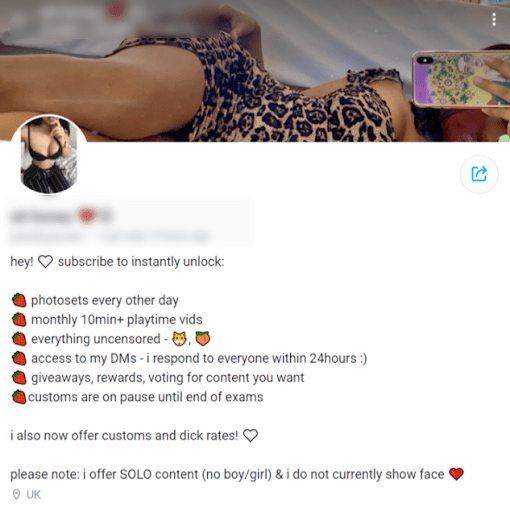 The user was currently active when we checked the profile, has 98k+ likes (it's over 100 now) and has nearly close to 1000 photos. This means that the user has found ways to make money on OnlyFans by being anonymous, which is working out for them.
Similarly, there are a lot of anonymous OnlyFans creators out there. Now that we've cleared the air about staying anonymous on OnlyFans, let's look at how to promote OnlyFans secretly.
How to Secretly Promote OnlyFans in 10 Best Ways
In this section, we'll take you through the 10 best ways to promote your OnlyFans secretly. Using these methods, you can promote your OnlyFans without your family knowing and stay anonymous.
1. Create a New Email Address
Everything starts with your email. When signing up for OnlyFans, you have to enter an email address.
Entering your personal address would somehow reveal your identity in the long run. The possibilities are minimal but since you have chosen to stay anonymous and promote OnlyFans secretly, it's best that you create a separate email address for all your OnlyFans-related activities.
If you think Gmail is not secure enough or you're worried about data being collected (or having to give a recovery email/phone number) you can switch to email providers like Proton Mail. It's an encrypted email service based out of Switzerland.
The idea here is to create a new email address and only use it for your OF account. And not for any of your personal/professional conversations.
2. Use Fake Names & Bio
Now that we've sorted the email part, the next one is your profile name. It's going to be fake obviously. But at the same time, make sure it's easy to remember.
The OnlyFans profile we saw above, Oh Honey, it isn't that difficult to remember especially when you see what you like. And as for the bio, make sure not to reveal anything personal about you.
Tell what kind of a creator you are and what you offer to the audience – panties, nude pics, PPV content. This is all right. But do not reveal information like your name, what you do (study/profession), or where you stay. When you become popular people start connecting the dots and in due course of time, your cover will be blown.
Here's an OnlyFans profile of an anonymous user with a fake name and bio details with only what's needed.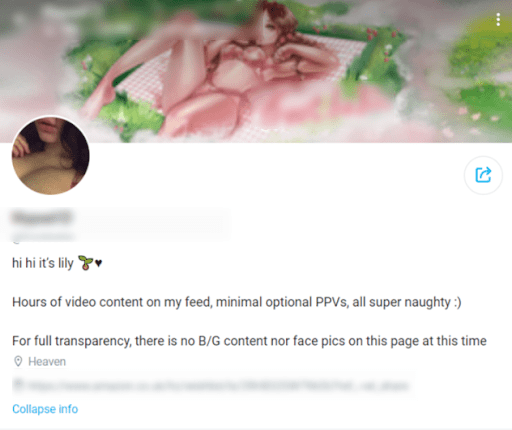 We definitely know the name isn't real. And as for the bio, the information is limited but precisely what's needed. And take a look at the location, it's Heaven. The user has done a great job to stay anonymous on OnlyFans.
You can also come up with a profile like this before you start to promote OnlyFans secretly. To tally with the anonymity, ensure you have a creative profile name, a great profile & cover photo, and a captivating bio.
3. Use Social Media Platforms to Secretly Promote OnlyFans
Anonymous or known, social media platforms are one of the best places to promote your OnlyFans. Social platforms like Twitter, Reddit and Snapchat are the best places to promote OnlyFans anonymously.
Use the same email address you used to create your OnlyFans account for your social media accounts. As for the profile picture, cover photo and bio, use the same approach you followed for your OnlyFans.
Remember that these social profiles are only to promote your OnlyFans content – videos & photos, PPV content and more. Make sure your profile appearance and content strategy are planned accordingly.
Here's a partially anonymous Reddit profile of an OnlyFans creator.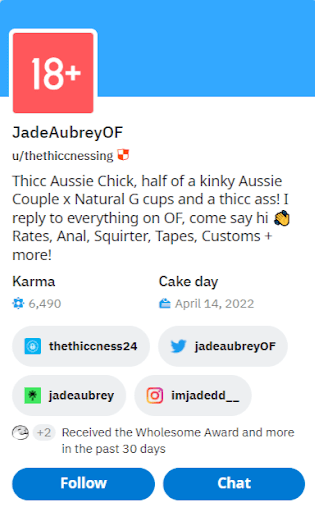 The profile bio is crafted in such a way that the traffic is redirected to OnlyFans. This is the same approach you should be following.
Tease your audience with all the great content and redirect them to OnlyFans to get exclusives.
4. Leverage Influencer Marketing
Influencer marketing is another great way under the "how to secretly promote OnlyFans" topic.
Influencers have become more like personal recommendations in today's world. Businesses & creators of all sizes at some point have used influencer marketing to grow their reach. You can also consider collaborating with influencers and arranging for shoutouts to secretly promote your OnlyFans.
Also, influencer marketing is the answer to the question of how to market yourself on OnlyFans. Your profile reaches a new set of audiences and your follower count will grow significantly.
Make sure to clear it with influencers that they should not be revealing any of your personal information. In fact, go ahead and give the collaterals yourself. This makes the overall process easier.
5. Use Third Party API & Tools Like FansMetric and OfAutoFollower
While it's important that you know the ways on how to promote OnlyFans secretly, it's equally important that you know how to maximize your followers and understand your social performance data.
Tools like FansMetric and OfAutoFollowers can help you boost your promotion and save hours of manual effort.
FansMetric allows you to get a clear picture and in-depth insights into your fanbase.
You can also understand how your fans are resonating with your content – right from when they are engaging with your content and what content gets more engagement, you can view it all. Based on this, you can promote your content and get maximum engagement. Another alternative for FansMetric is Fanstats.
As for OfAutoFollowers, it helps you increase your OnlyFans follower count automatically. This is an auto-follow bot that will send follow requests to fans automatically. You can also send mass messages to your followers and promote OnlyFans while staying anonymous the whole time.
Make use of such tools to get maximum engagement and followers for your OnlyFans profile.
6. Don't Forget About Your Location
This is one of the things you need to take care of when you advertise OnlyFans anonymously. Though it's a small detail, when you overlook it, your anonymity will be blown.
Take care of your profile location when you promote OnlyFans anonymously. The profile we saw above, Lilypad, has the location of Heaven – that's a fake. OnlyFans has an option that allows creators to reveal their actual location. You can choose not to and maintain your anonymity.
Similarly, when you post on your social media profiles, make sure to switch off your location. Small details like this are what reveal the big picture!
7. Disable Contact Syncing
Contact syncing needs no introduction – the benefits you get out of it are just brilliant. But since you're secretly promoting OnlyFans, you have to give them up.
Enabling contact sync can help your contacts reach your social media posts even though you try to maintain anonymity. And since your social media accounts are directly linked to your OnlyFans account, the most sensible thing to do here would be to disable contact syncing. Because the last thing you'd want to happen when you promote OnlyFans anonymously is your family & friends looking at your posts on social media.
8. Built-in Geo-Blocking Feature from OnlyFans
This is another trick you need to take care of when you secretly promote your OnlyFans. This built-in feature from OnlyFans makes sure that you promote OnlyFans anonymously without family knowing.
The geo-blocking feature from OnlyFans restricts your content from being visible to users from specific countries.
All you need to do is head to your OnlyFans profile. Click the Settings tab, click security and under IP and Geo-Blocking, select the countries you want to block your content from being visible. Because you never know who is on OnlyFans – could be someone you know!
Here's how you block countries using geo-location blocking.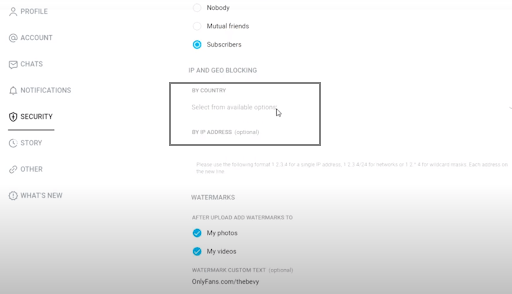 Settings > Security > IP and Geo-Blocking > Enter Countries
With this enabled, you can secretly promote your OnlyFans without your family knowing.
9. Be Aware of Your Background
Remember where we told you the smallest details could reveal the big picture? Your background details are one of your biggest enemies to your anonymity.
Sometimes, you could reveal a name board of a store with the address, or it could be your work/study identity card or a simple wall portrait photo revealing your face. And you'll never notice it until it's too late.
So, when you are secretly promoting your OnlyFans, be mindful of your surroundings. Make sure all your photos and videos are carefully vetted before you post them online.
10. Create Two OnlyFans Accounts
This is one of the most underrated techniques when it comes to promoting OnlyFans secretly. Here, you create two OnlyFans accounts where one account, you completely use it for promotional purposes and the other one, you use to monetize your exclusive content.
It's more like luring and engaging your audience with all the free stuff and then asking them to pay for the exclusives.
Creating two OnlyFans accounts means double the work. If you have the time to put in the effort and manage two OnlyFans accounts plus the social media accounts, you should definitely consider this approach because it's worth every bit.
So, that's how you promote OnlyFans secretly and gain followers anonymously. If you've reached here, it means you sure are deeply interested. There are a lot of other OnlyFans alternatives you should consider as well. The better the online presence, the greater the chances of making money as a guy/girl/trans.
Speaking of OnlyFans alternatives, we thought you should know this. xModel is a subscription-based fansite script. It is best suited for porn stars, cam girls and internet models who look forward to sell their content from their own websites.
The Bottomline
Staying anonymous on OnlyFans isn't going to be that difficult provided you follow all the tips & tricks we mentioned above to promote OnlyFans secretly. And here's the most important thing – make sure you never reveal your identity to anyone in person. Because word travels quickly and all your efforts might go in vain!
Now that you know how to secretly promote OnlyFans, why wait? Start creating some sensation by staying anonymous!
FAQs About How to Promote OnlyFans Secretly
1. Can you promote OnlyFans anonymously?
Yes, you can absolutely promote OnlyFans anonymously. By following simple tricks like hiding your location, disabling contact syncing and leveraging influencer marketing, you can secretly promote OnlyFans.
2. Where can I promote OnlyFans privately?
You can promote OnlyFans privately on popular social media platforms like Reddit and Twitter. Also, consider creating profiles on Pornhub and cam sites anonymously and promote your OnlyFans.
3. How to get followers on OnlyFans without social media?
If you do not want to promote your OnlyFans on social media, you can consider using Pornhub and popular adult cam sites like Chaturbate, BongaCams, CamSoda and more. This way, you can gain followers on your OnlyFans.