-

11

mins read
Selling adult content online is the new way to make money on the internet for the adult content creating millennials today. With plenty of websites acting as great marketplaces for today's pornstars and adult content creators to sell their adult content, everyone wants to have a bite at the cherry.
And if you are one of those newbies, who want to know how to sell adult content or where to sell adult content, then you are at the right place to find your answers. We, in this article, will help you identify 10 of the best websites to sell adult content online. Among these 10 websites, we will also talk about how to start an adult entertainment website and sell adult content online.
Type of adult content to sell
There are several types of adult content on the internet today, and depending on your expertise and what you are good at, you can choose any of the following types of adult content.
Photos
Sexy nude photos or images of yours are one of the most effortless adult content you can share with your audience on the internet. You can simply click a nude photo of yours and post it on an adult content-selling website to start earning money through it.
Nude photos, photos of your wearing lingerie, lewd images, semi revealing pictures of yours are some of the ways you can click yourself before posting it on the relevant websites.
Selling nude photos is a great way to earn money on adult content selling platforms, and you can get good money for it.
Videos
Adult videos are a hot cake in the adult industry today. Viewers pay a good amount of money to watch good adult videos on different websites.
Pornographic videos involving two or more individuals, solo videos of you masturbating, and roleplay in front of the camera are some types of videos you can post on different websites to make money.
Customized content
Customized adult content is a great way to earn money on adult content hosting and selling websites. You can demand more than your regular subscription charges and pay per view content.
As this is something requested by your buyers, you can negotiate the price with the buyers and easily earn more than your standard fees.
Homemade porn
Among the adult content that sells the most, homemade porn is one of the most liked categories in the porn industry. Simple to make using cameras that are at home, homemade porn can be shot and performed by anyone within their home easily.
Homemade porn is one of the most searched adult content types on many different porn sites, and you can also post your creation in this category.
It costs you less money to shoot your video or photos, and people also know what to expect from homemade porn. But make sure that you post quality content even though you shoot your scenes on mobile or handy cameras that you have.
Live cam shows
One of the upcoming and most liked adult content types in the porn industry is live cam shows. Performers come live in front of the camera and perform their acts to entertain their viewers and are known as webcam models.
Since the webcam models will be interacting with the audience live, audiences love live cam shows from adult performers. Along with subscription fees, audiences also pay tips during the live show to show their love towards the webcam models, which helps the webcam models to make more money than the usual adult content creators.
This way, creators can earn some extra money by doing live cam shows.
How much can you make on selling adult content?
Selling adult content is a handy business today. As you will be controlling the content, you post and share on the internet, and you can easily make good money by selling adult content on the internet.
As an adult content seller, you can easily make around $500 to $800 per month on average. This is not a fixed figure; you can easily make more than the average if you are consistent and share quality content.
Prominent adult content creators on different platforms earn more than $50,000 per month through the fanbase they have created for themselves.
How to sell adult content online?
With plenty of websites and platforms at your bay, selling adult content online today is a simple task. All you have to do is choose the right website and a niche for yourself before you dive into the adult content-selling business.
The market is enormous, and there is a massive audience that will pay a good amount of money for quality content. Create a profile for yourself on an appropriate website of your choice, provided you are over 18, and post your adult content in which you are good at.
After this, you can easily start selling adult content and start earning money through it.
10 Best websites to sell adult content 
As we know, the internet is filled with too many adult content-selling websites today. And with too many options, choosing the best sites to sell adult content becomes quite challenging.
Here we will list the 10 best websites to sell adult content online that you can choose from to sell your adult content.
1. xModel
xModel is a white label script that allows you to create an adult fansite website similar to that of OnlyFans, Fansly, and many more.  The script has all of the features found on OnlyFans and Fansly and is completely customizable.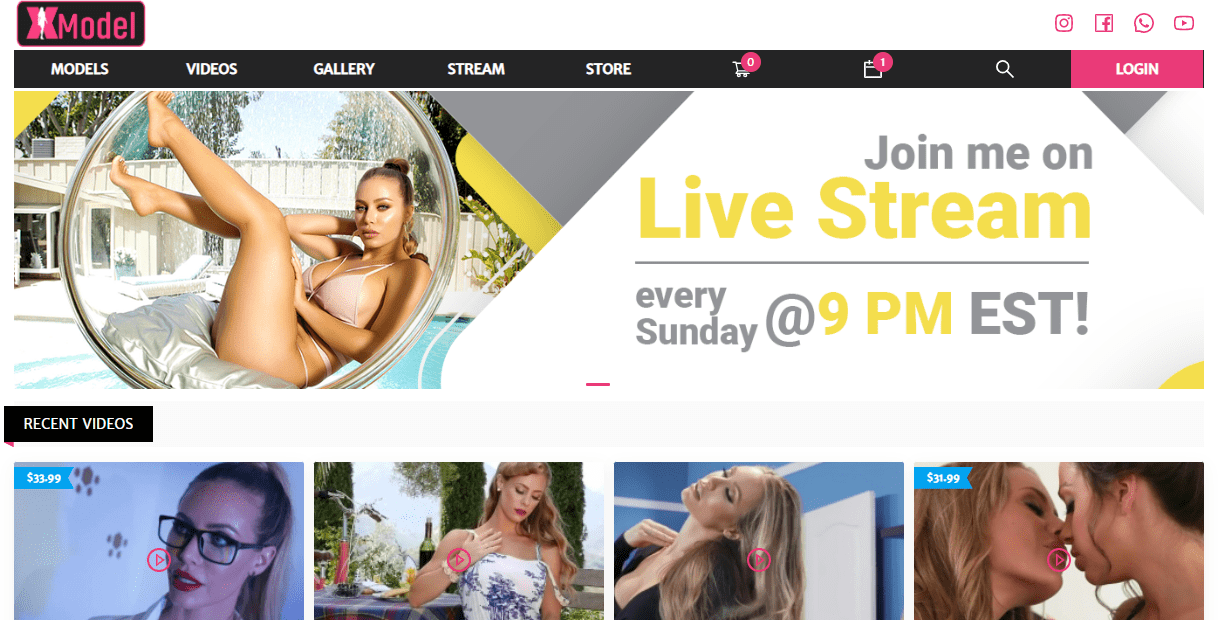 The best thing about xModel is that you have to pay a one-time fee to own the entire script, and after that, you don't have to pay any charges in terms of commission or service fees like many other websites.
Using xModel, you can start an adult website that functions almost similarly to some other adult websites.
Since it is a customizable platform used to develop your website, you can design the appearance of the website and how it looks like. Also, you will be the sole owner of the website and can control what type of adult content goes and what does not on the platform.
Some of the notable features of xModel are:
Subscription:

You can charge users on a recurring basis for subscriptions in exchange for providing them with exclusive content.

Premium content:

xModel provides a provision for creators to sell premium content or video on demand on pay-per-view content on the website built using it.

Live streaming:

Performers can do live cam shows on the website built using xModel.

eCommerce:

The website built using xModel has an integrated online store to sell physical and digital products online.

Affiliate marketing:

By putting affiliate banners on your platform, you can earn money by selecting the best affiliate programs.
2. Fansly
Fansly is a subscription-based fan site platform where creators can sell their content. Fansly is used by a large majority of adult content creators to sell their content, but many other types of creators, such as musicians and fitness experts, also sell their content on the platform.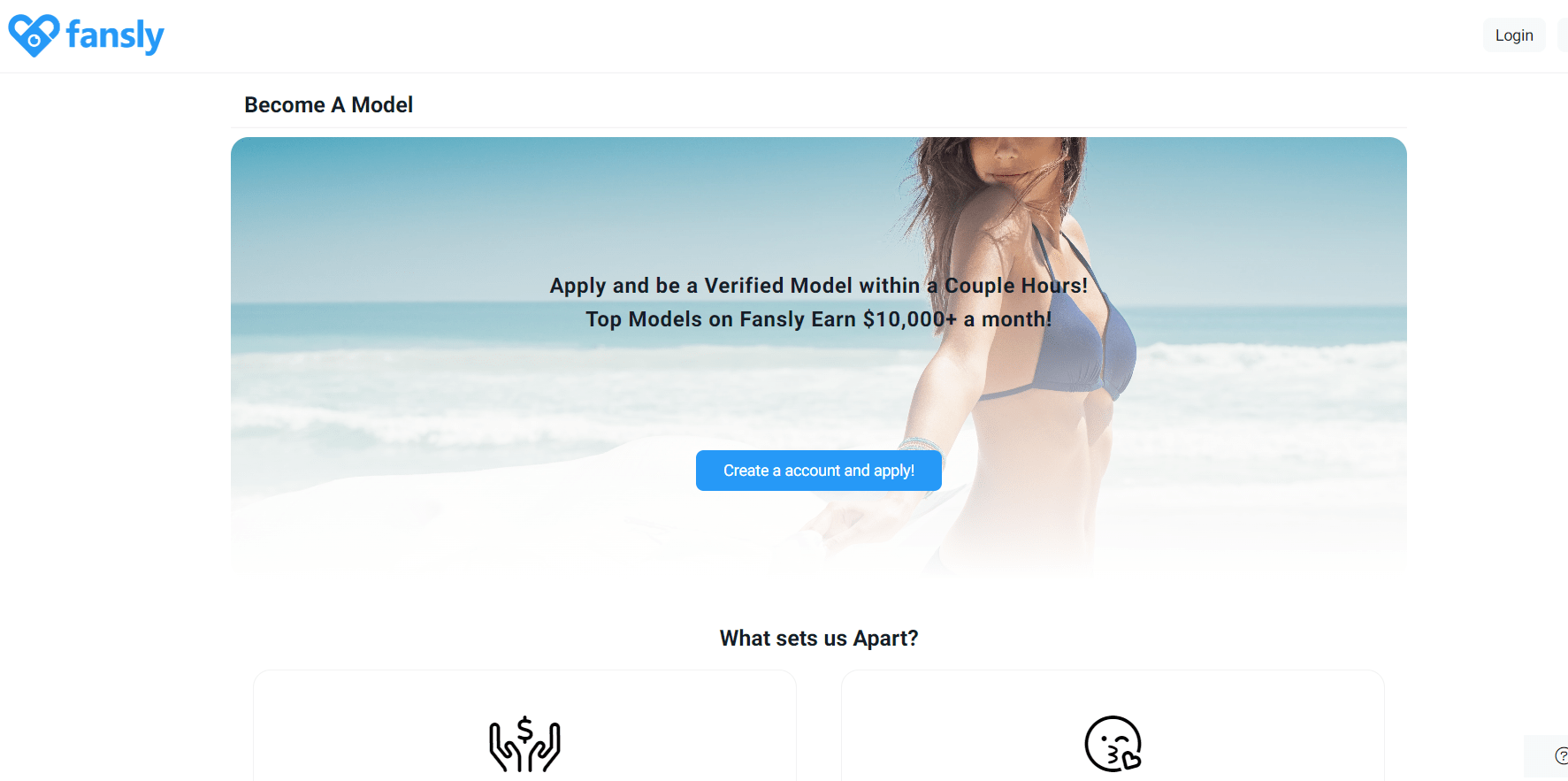 From selling boob pics to used panties, you can use Fansly to sell any type of adult content that is legal.
Fansly deducts 20% of all creators' earnings from their platform. Creators can choose their subscription prices and begin offering their subscribers content. The main selling point for producers of adult content on Fansly is their platform's ability to sell both video and image content.
Through their profile, creators can even sell pay-per-view videos and images in addition to subscriptions for some exclusive content. On Fansly, creators can also get tips that increase their overall platform income.
Fansly is user-friendly and has a straightforward process when compared to many other adult subscription platforms. Fansly's website offers many more features for both creators and users.
Creators on Fansly make around $1000 to $1500 per month by selling adult content on the internet. You can also make more money on Fansly if you are more regular and have made a name for yourself on the platform.
With these many features, Fansly definitely should be among the 10 best sites to sell adult content online.
3. OnlyFans
OnlyFans, a social media platform with a subscription-based model that was introduced in 2016, allows users to sell and buy original content. Users will upload NSFW videos and photos to their accounts, which are paywalled when used as an adult website. An individual must pay a monthly subscription fee that ranges from $4.99 to $49.99 in order to access the content.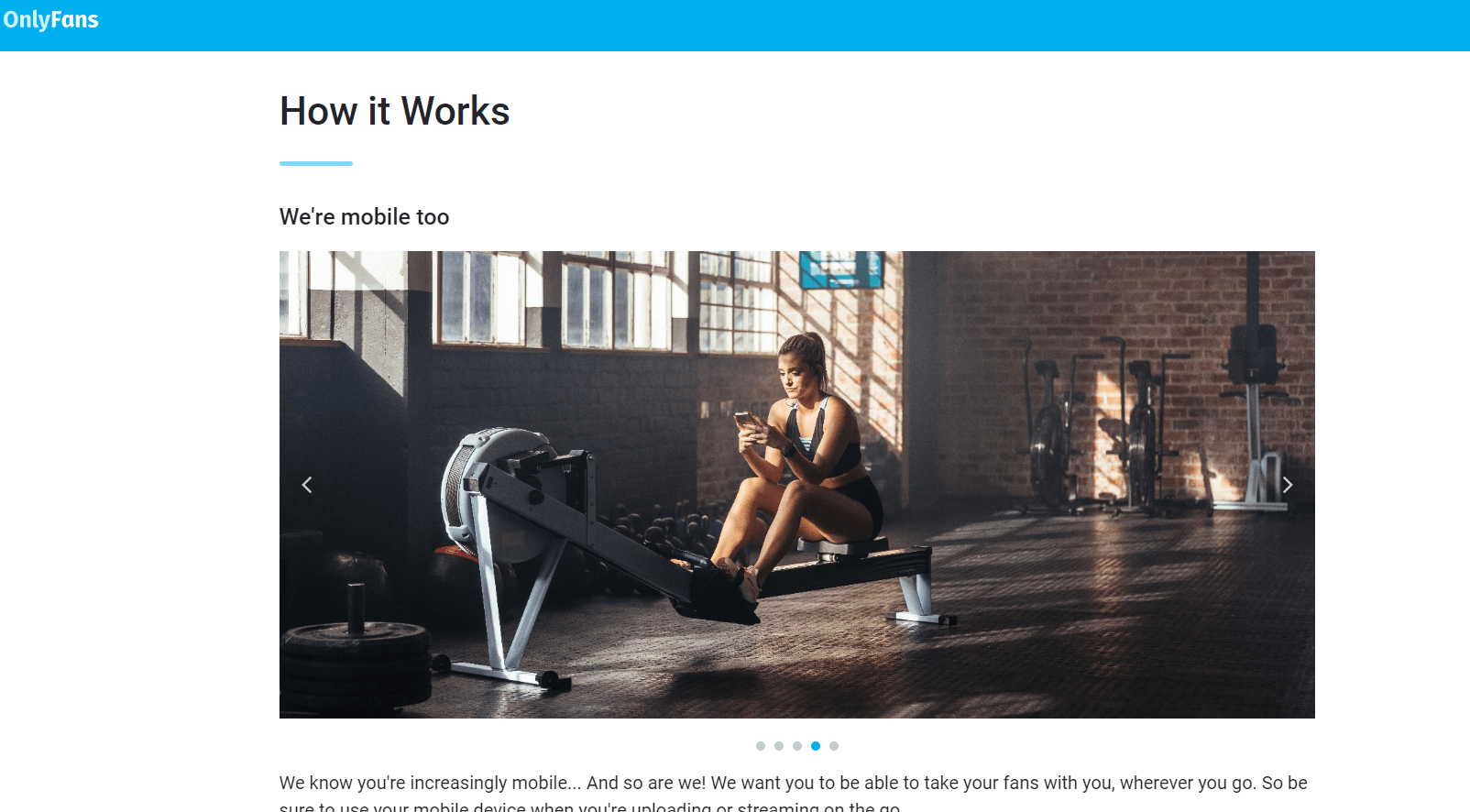 It was initially launched as a platform to connect creators with their fans. However, the leniency it offered to post any sort of content as long as it is legal made it a great place for adult content creators to sell adult content on it.
OnlyFans also charges 20% of a creator's total earnings as its commission for using its services. The commission is fixed and will not change depending on your earnings or other factors.
Once you make a name for yourself on the platform, you can easily earn thousands of dollars on OnlyFans. On average, many of the current creators on OnlyFans make around $600 to $1000 per month through their adult content.
4. Fanvue
Fanvue is a relatively new addition to the options available to content creators. Similarly to other adult content sharing websites, it is aimed at all creators, not just those who post adult content. If you're a chef, author, or fitness guru looking to use the subscription-payment model, Fanvue is just what you're looking for.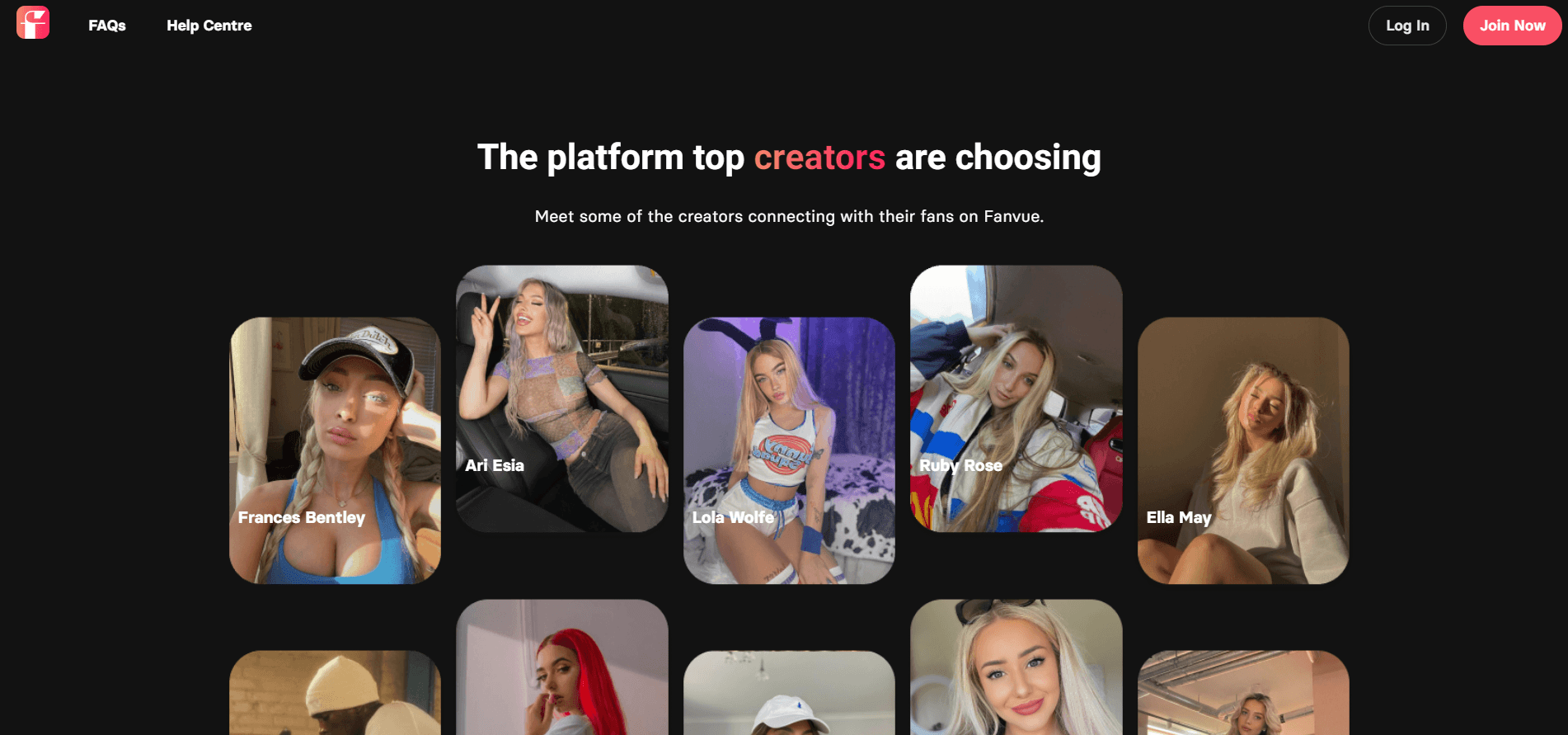 Fanvue is an entirely legitimate website where you can earn real money by monetizing your exclusive content. Fanvue has proven to be the best adult content hosting website on the market. There isn't a single complaint or review about Fanvue's payment scam.
It is a website that promises to be slick, attractive, and simple to use. Creators will have no trouble finding the information and settings they require, and users will have it much easier as well, with a new discoverability feature in 2022 resembling Instagram's similar options for finding new profiles, making it very intuitive.
On average, creators on Fanvue earn around $700 to $1200 per month by posting adult content on the platform. Users on Fanvue use the platform to sell butt pics and rate dick pics, among the many things that you can do on Fanvue.
5. Extra Lunch Money
Extra Lunch Money, also known as ELM for short, is an online adult marketplace that was established in 2011.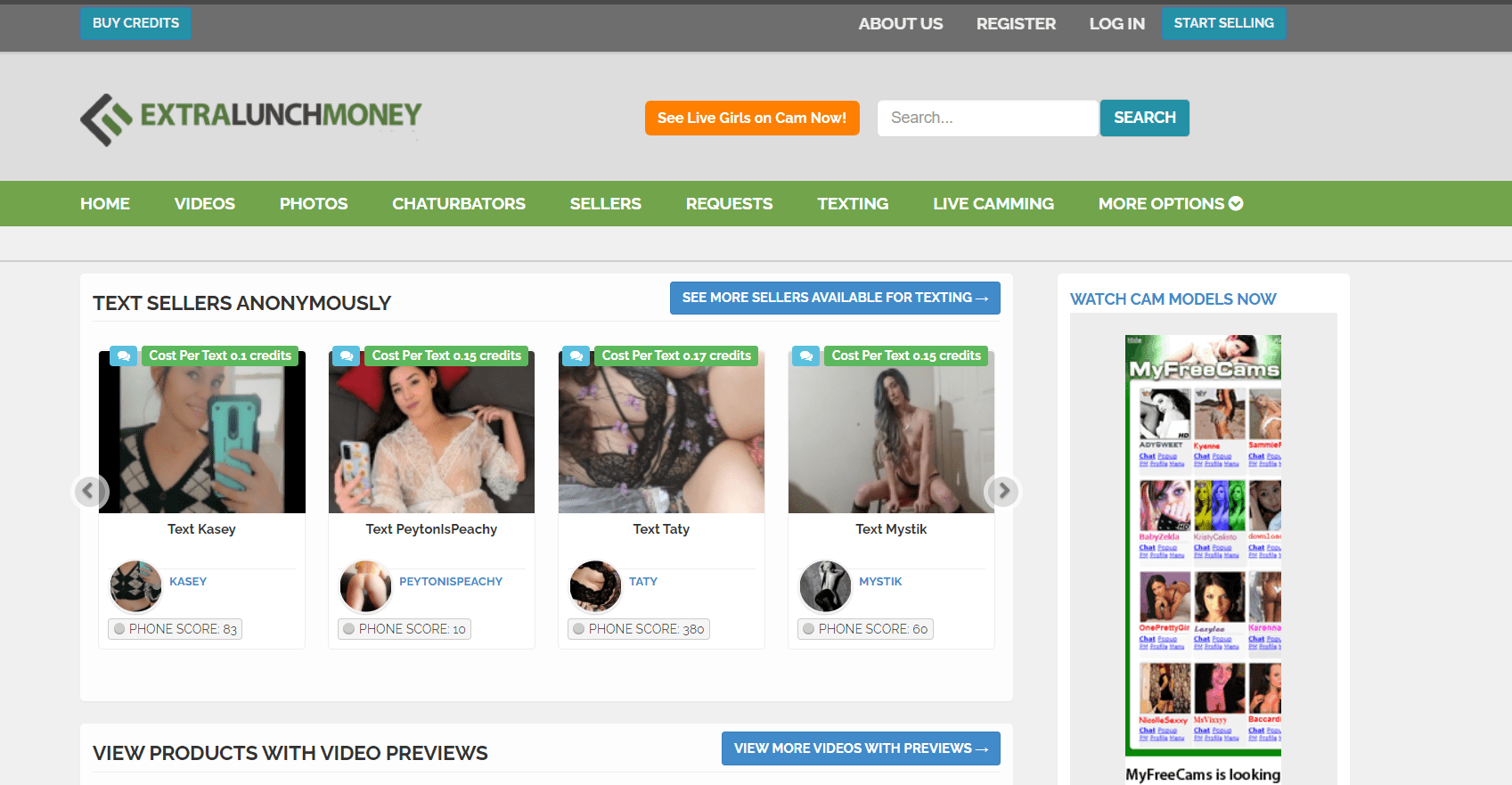 The fact that this website advertises itself as a marketplace to sell and buy adult content, sets it apart from the competition. Many people refer to it as the Fiverr of adult content due to its ease of use.
In order to be hired by users, models can post promotions and services that they are willing to provide. Viewers are also free to request custom content on the platform from their favorite creators.
Ordering customized jerk-off videos or paying a girl to pose in a sexy way while wearing your team's jersey isn't available on free video sites, which is possible on ELM, making it a great place for adult content creators and buyers.
Unlike many regular adult contents hosting platforms, ELM works on ELM credits. One credit on the Extra Lunch Money website is worth between $0.94 and $1.50.  Each adult content has a unique price on ELM, with some falling into the affordable range and others costing more (but more exclusive).
6. ManyVids
ManyVids is a video hosting and live streaming platform where users can monetize their adult content. It was founded in 2014 and is based in Montreal, Canada.

ManyVids accepts all types of content producers, including those who produce work-safe content and adult-themed images and videos. Although there are restrictions on posting any unlawful content, other than that, you can post and share almost anything.
Unlike the major video sharing websites, ManyVids only allows content that has been approved by the creators and is protected by their full copyright. You can find many different adult niches on the platform to choose from to host and share your adult content.
The platform is well known in the adult industry for its role in developing a service that appeals to fans of amateur adult content while safeguarding the performers and offering a secure marketplace for them to sell their creations.
On ManyVids, creators can earn money by selling custom videos, memberships, VIP Fanclubs, tips, fundraising, and contests. For memberships, you can charge anywhere between $5 to $200, whereas you can charge a custom video for the highest price of $999.
ManyVids can be your best answer when asked where to sell adult content online if in doubt.
7. Chaturbate
Chaturbate is a website that combines the art of chat and masturbation, as the name implies. Thousands of amateur performers stream adult content to an online audience from their bedrooms or home studios on this adult streaming platform.

Thousands of amateur models broadcast sexual and nudity-based content on the website using webcams. Some models perform independently, while others perform in pairs or groups and stream shows.
You won't find a better variety of channels on any other site, with a whopping 350,000+ models registered and 5000+ models performing live at any given time.
The freemium business model used by Chaturbate is the secret to its dominance in the market, meaning you can watch fully explicit live sex shows without even creating an account on the website.
A typical private show on Chaturbate costs between $0.50 and $7 per minute, with the majority of models charging between $2.50 and $4 per minute.
8. LoyalFans
LoyalFans is an open fan club platform that enables both artists and content producers to turn their pastimes and skills into a dynamic business. To put it another way, you can develop a following that will pay for the content you have to offer, whatever it might be.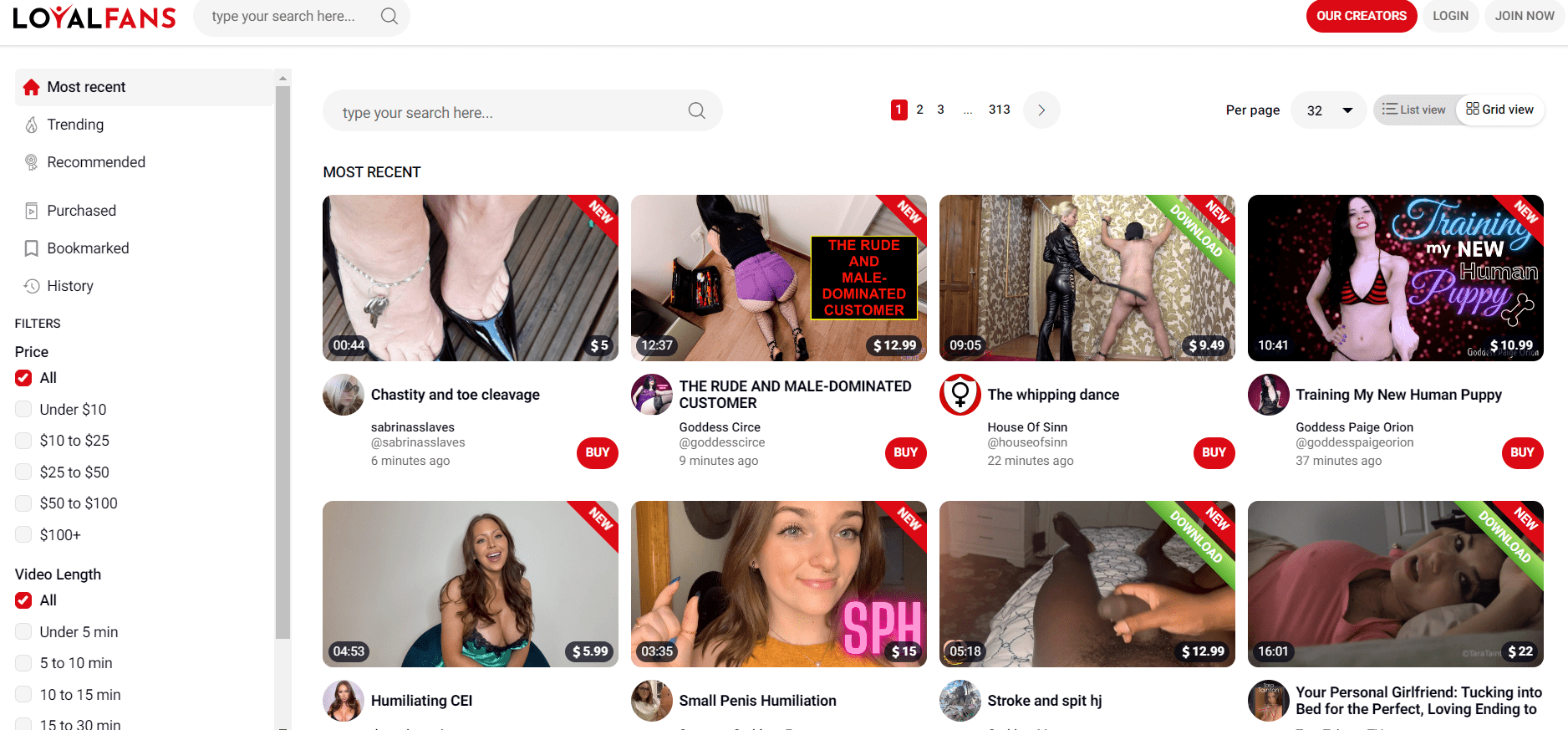 Although the site is not advertised as an adult tool, it is obvious that it has attracted much attention from the adult industry. The services and business model also conveniently fit the bill for adult uses.
LoyalFans charges 20% of your total revenue earned on the platform as its service fee. You can withdraw the remaining 80% from your LoaylFans account into your personal one.
The minimum payout on LoyalFans is $50, and you can request a payout in two windows. One is from the 1st to the 15th, and the other is from the 16th to the last day of the month.
9. Okfans
Okfans is an American content hosting platform that allows creators to share content with their fans and subscribers for a subscription fee.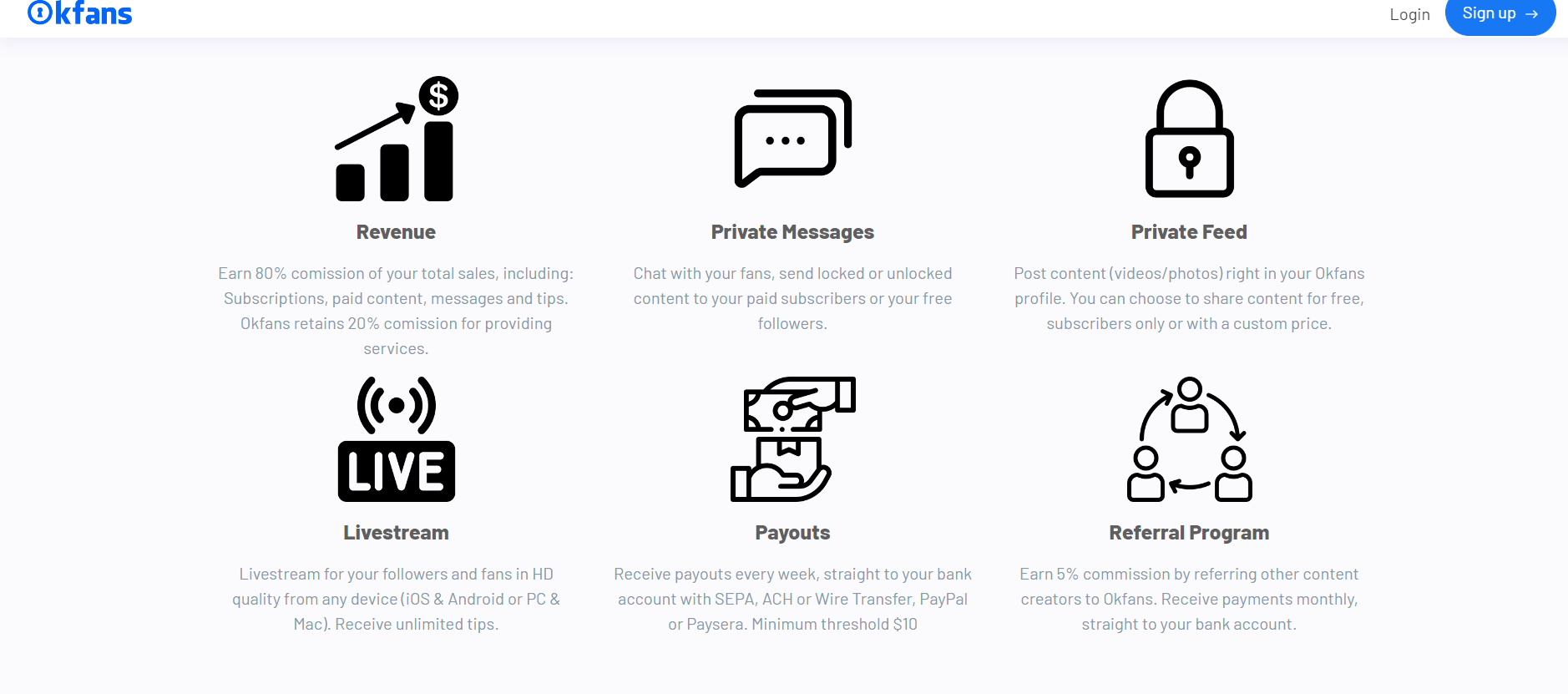 Fans pay a monthly membership fee for the right to access content via the website, and content creators share their exclusive content with them. Exclusive content sellers keep 80% of their profits; the platform keeps 20% as commission.
By logging into their personal accounts, content creators can then access and withdraw the money they have made on the platform.
Although it is not solely a platform for explicit adult content, the website's lack of censorship will appeal to those who produce adult content because they can monetize their work in a secure area that is only accessible to paying fans. 
Content on the platform cannot be easily stolen as there is an extra added layer of security to protect the content on Okfans.
10. JustFor.Fans
JustFor.Fans describes itself as an "adult blogging platform and marketplace." The site works similarly to many other adult content hosting platforms, but its main draw is purchasing monthly subscriptions to adult models' feeds and keeping track of their photos, videos, and other content.
Both performers and subscribers can create an account and use JustFor.Fans for free. Models receive up to 85% of their payments in payouts, so there is at least a 15% commission on all the earnings by the creator.
JustFor.Fans has a significant advantage over other similar platforms when it comes to creators. The site's performer dashboard includes a business directory for connecting with other adult industry members, a scheduled post tab, subscription stats, and geo-blocking options.
Keep following me option on the platform also allows users to stay in touch with their fans if their Twitter account goes down. Through NextGen, the service even provides affordable healthcare for sex workers.
How to make money selling adult content?
Under the current scenario, with plenty of websites to sell your adult content, making money is relatively easy. As you will be your own boss and will be in control of sharing or posting your content, you can earn a good amount of money by selling adult content.
But with the competition being high, you need to stick to some things to make yourself stand out and make good money while selling adult content.
Here is a list of things you should follow to succeed in the adult content creation industry.
Be consistent:

Make sure you post your adult content regularly on the website you choose to earn good money while selling adult content. 

Promote your profile on social media:

Along with posting content on different websites, you should also promote your profile on various social media channels of your choice. As social media platforms have millions of users, you stand a chance to gain new users for your profile and make more money in the process.

Choose the right niche:

websites that sell adult content have too many niches within themselves to post your adult content. Select one that suits you the best to stand out and earn good money.

Post unique content:

With too many creators and performers flooding the industry, it will be challenging to make money if you don't post something special. Make sure your content differs from what others are selling to make good money while selling adult content. You can

choose a fetish

that you are good at and post it under your profile to be successful.
Conclusion
Adult content selling is not the way it was before. With plenty of websites and marketplaces at bay, creators might find it overwhelming to choose the right one that suits their needs.
We have listed 10 of the best websites to sell adult content online. And all the websites have their own uniqueness about themselves. You can pick any one of these depending on your need and start posting your adult content.
Almost all the platforms allow nearly similar types of adult content to post on them, except for one or two. In addition, if you are not interested in opting in to an already established adult entertainment website, you can always create your own membership site using xModel.
So whichever you choose to be your site to sell adult content all will bring you similar success.