-

5

mins read

Looking forward to know how much to charge for nudes? Well, you've landed at the right place. In this article, we've explained everything about selling your nudes online – how much to sell nudes for, the factors that influence the price of naked pictures and more. Let's get started then!
The creator industry, especially the adult niche, has seen a massive uprise in the last couple of years. Models of both genders have started to utilize various cam sites (Chaturbate, BongaCams, Stripchat) and subscription-based platforms (OnlyFans, Fansly, etc) to sell nudes online and engage audience via sex chat, live performances, pre-made videos and more.
Models, for a long time now, have been selling nude images online and making revenue. Out of the multiple ways to earn in the adult industry, this is one of the easiest ways to make revenue. Because all you have to do is, take a couple of naked pic snaps, sell them personally to your followers and start making money.💰
So, like we said already, we'll start off with the factors that decide the price for your explicit photos and then discuss how much to sell nudes for.
Before knowing how much you should charge your nude pics, it is important that you know how to sell your nudes. 
Factors that Decide the Price of Your Nude Images
There are a couple of factors that influence the price of your naked pictures. Here they are,
1. Your Age Plays a Key Role
Age matters very much! The craze for young hot ch*cks is evergreen and if you're aged somewhere between 20 – 26, chances are high you could make lots of money. 
That doesn't mean you cannot sell nudes if you are above 30. There's a separate fanbase for MILF as well! 
Hard to believe? Would you say no to personalized nude pics of Natasha Nice or Cherie DeVille? No, right!
However, if you are aged between 20 – 25, you can enjoy the luxury of pricing your nude images as per your wish. $5. Or $50. It's your choice.
2. Your Physical Assets
Your physical assets also play a major role when it comes to selling your nudes!
If you possess a great set of (‿ˠ‿) and a nice pair of ( • )( • ), you can sell your nude images for a higher price. Because porn lovers would go BONKERS over these assets. And if you're a male model, a big 🍆 and a muscular physique should do the job.
Almost all porn tube sites have a separate category for Big Tits, Big Ass and Huge Dick. So, if you're someone with these assets, you can charge a premium price for selling boob pics, your tushy and nude pics.
At the end of the day, your attractiveness plays a key role when it comes to selling nude pictures.
3. Your Follower Base
When you ask the question how much should I sell my nudes for, you should also ask the question, how much of a follower base do you have. 
When you have a huge follower base, you can charge your naked pictures at higher pricing. Your follower base gives you credibility and acts as social proof, allowing you to set your nude pics a higher price.
How Much Do People Charge for Nudes?
In order to answer this question, we thought it'd be best to pull out data from the internet and showcase it to you.
Here in this tweet, a majority of adult creators have responded by saying they sell multiple explicit photos for $20 – $40.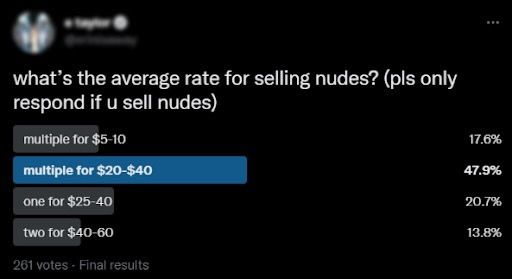 Here's a user from Quora sharing thoughts about how much to charge for nudes,

Here are a couple of threads from Reddit where creators have discussed how much to sell nudes for, 


Here's a model from OnlyFans who has listed how much she charges for nude pics,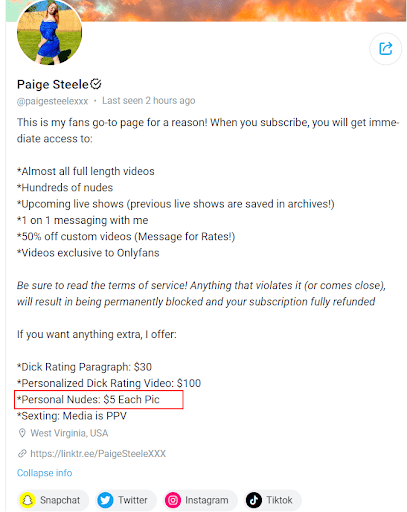 We also came across sources and models who charge their nude pics around $30 to $50. And celebrities might charge above $100 for their exclusive naked pictures, especially if it is a custom request. 
So, now you have an idea as to how much do people charge for nudes. Let's discuss how much to sell nudes for.
How Much Should You Sell Your Nude Photos For?
So, here's how much you should be selling your nude pictures for! 
Nude Picture Selling Price Chart for Newbies
This pricing is suitable if you're just starting out as an adult creator with no prior experience or fan following,
Specific Body Parts –

$5

Full Nude Pics –

$5 – $10

Custom Requests –

$10 – $15
Nude Picture Selling Price Chart for Experienced
This pricing is suitable if you have been an adult creator for some time and you have knowledge of the industry and a decent following, 
Specific Body Parts –

$10 – $15

Full Nude Pics –

$20 – $30

Custom Requests –

$35 – $50
Nude Picture Selling Price Chart for Celebrities
If you're the glory pornstar and you have appeared in a few porn films + you have a large audience base, then this is for you, 
Specific Body Parts –

$50+

Full Nude Pics –

$70 – $100

Custom Requests –

$100 and higher
And that's how much you should be selling your nude pictures for. Once when you start building your presence on multiple platforms as an adult creator, you can slowly start increasing the price of your explicit photos. 
Also, most of these prices are influenced by the factors we mentioned above (age, physical assets and follower base). If you feel confident about yourself and work out your attractiveness and physical assets, you can set a higher price for your nudes (even if you are just starting). 
People will be super curious to find out why the high price and if you meet their expectations, you can easily start making more revenue selling nudes online. 
"Remember that selling 10 naked pictures for $5 and one naked picture for $50 accounts for the same revenue! It's your call!"
Note: The pricing suggested above is solely based on our research and expertise. You can set prices for naked pictures and sell them online according to your wish. But the above-mentioned is what works best! 😉
Quick Tips for Selling Your Nudes Online
Since you're here, we thought you might want to hear this as well. Here are a couple of tips that will help you sell nude images online like a PRO!
1. Sell bulk nude picture collections to the audience for a set price. The bundle could be a collection of your specific physical assets or a couple of 100% naked pictures in different poses.
2. The best places to sell nudes online are 
3. Make sure to use a good quality camera and lighting equipment while clicking nude snaps. Pictures with the best quality are known to attract attention, repeat purchases and loyal audiences.
4. Try experimenting with different angles and take a lot of pictures to make sure the results are top-notch. Make use of a tripod when taking full nudes.
5. Build an online presence by signing up for multiple adult creator platforms. Be active on social media to drive traffic to your creator platforms.
So, those are a couple of tips to sell nude photos online.
Conclusion
Selling nudes online is a great way to make quick revenue. You can sell your nudes from $5 and can go up to $150 (and higher). There's always a demand for great attractive models and ravishing physical assets. If you're someone with both of these gifts, with consistency and a bit of marketing, you can easily sell your nudes online. 
Now that you know how much to sell nudes for, the platform to sell nudes online and a couple of super cool tips as well, it's time you get started!
FAQs Related to Selling Nudes Online
1. How much do nudes cost?
A single nude picture can cost somewhere from $5 – $10. However, it can be higher based on the model. 
2. How much should I charge for nudes?
You can charge between $50 – $20 for nude images. Custom requests can be charged higher. As you grow your following and popularity, you can further increase the price. 
3. What is the best place to sell nudes?
You can sell naked pictures on platforms like OnlyFans, BentBox, or even create your own site using xModel by Adent.