-

11

mins read
If you have questions like what is Chaturbate and how does Chaturbate work, then you, my friend, have come to the right place. There has been a huge rise in adult webcam businesses in recent years, and now everyone wants to get a piece of starting a webcam business of their own.
In this article, not only will you get to know everything about Chaturbate, but you will also get insights into starting a webcam business like Chaturbate of your own. So sit back and read on to know what's Chaturbate and how Chaturbate works.
What is Chaturbate?
Chaturbate is one of the most popular and biggest live cam websites that has popularized the adult cam business. Chaturbate's name comes from chat and masturbate, which is exactly what happens on the platform. Models of different ethnicities perform sexual acts on webcams while chatting and talking with thousands of viewers around the world.
Launched in February 2011, Chaturbate now boasts of being the biggest cam platform with a diverse model and user base from around the world. It is the most followed cam site on Twitter, with 649,400 followers. It has 450+ models online that are ready to perform at any given point in time. Chaturbate is still growing and makes for a great platform to make money as a webcam model.
So to sum it up, Chaturbate is a token-based adult webcam platform for viewing sexually explicit performances by cam models. It provides a customizable platform for the models giving them more options to make money from other than just camming. Now that you have an understanding of what's Chaturbate, let's go and explore how does Chaturbate work and how you can use Chaturbate.
How does Chaturbate work?
Chaturbate works on a token-based currency that users can buy as packages on the Chaturbate platform. Using these tokens, users can ask any model on the platform to perform shows for them.
The shows on Chaturbate are divided into two groups, namely the public shows and private shows. Public shows are free, where viewers have to pay tips to the models for her to perform on cam. Models can set up goals like 100 tokens to show their tits, 500 tokens to strip naked, and so on. As the viewers spend tokens on the public show, once the target is reached, then the model performs the promised act.
Private shows are charged on a per-minute basis where it's just one user with the model. The charges for private shows can vary between $2.20 to $4.30 per minute. Private shows are where the models earn the bulk of their earnings from. Private shows can last for hours, depending on how much the user wants to spend. Chaturbate takes 40-50% of all earnings made by models on their platform.
Other than the shows, Chaturbate allows models to sell pictures and videos to make some extra cash from the platform. Models can also make use of tip-controlled interactive vibrators to earn extra money. Models can also sell physical products on Chaturbate, like used lingerie, sell sex toys, etc.
From a user perspective, it is very simple. Users will buy tokens using real money on the Chaturbate platform. Then the user scrolls through the numerous public rooms and enters one of them. Here the user can spend tokens to help achieve the target set by the model to perform an act. If the user wants a more intimate experience, then they can go for a private show where they get all the attention. Users can ask the model to do anything they want in private shows. These shows are charged per minute, so the expenses can go higher for the user but the private and intimate experience.
How to use Chaturbate?
As a user, first, you have to register on Chaturbate. Registration is completely free and allows you to watch most of the free cam shows. You need to be above 18 years to be able to register on Chaturbate. Once your registration is successfully completed, then after login, you'll be able to see multiple chat rooms on the screen.
Public Chat Rooms
The public chat rooms are divided into 5 categories, namely Female cams, Male cams, Transgender, Couples, and Featured. The categories are self-explanatory, and depending on your choice, you can enter any category and choose your chat room. The featured category is where the homepage cams are displayed and where usually the maximum traffic goes.
Once you enter any public chat room, you'll be able to see the video of the model at the center and a sidebar for room chats. Here you can talk with other users and also with the broadcaster. Usually, in public chat rooms, the model sets a tips target which, when achieved, the model performs a promised act. As the tips keep coming, the model keeps performing more and more acts.
Private Chat Rooms
Next comes the premium chat rooms, which are basically private chat rooms. Here the experience is more intimate and personal as you'll be the only one for whom the model performs. These premium chats are charged on a per-minute basis and can be an expensive affair. But the results are great as you can ask the model to fulfill all your fantasies.
Some models use tip-controlled vibrators where the intensity of the vibrator is dependent on how much you're paying as tips. Each model has an individual profile on which they publish their images and videos for sale. Even when the model is offline, you can still go to their profiles and buy stuff like photos and videos, and if they sell used panties, too. You can follow your favorite models and get notified whenever they come online to perform too.
Transactions
For any transactions on the Chaturbate profile, you will need to buy tokens. Tokens are the currency that is used on Chaturbate. You can buy token packages on the Chaturbate platform and then use them to spend on cam shows, tips, buying, etc.
Chaturbate recently launched the Chaturbate PRO subscription, which provides some added features. The cost of the Chaturbate PRO subscription is $19.95 per month, and you get features like an Ads-free interface, custom chat font and color options, private messaging, anonymous tipping, and room image animation, along with 200 free tokens worth $20.99. It's essentially a token package with added benefits which makes it quite worthy.
Chaturbate Token Value
The value of the currency of Chaturbate, i.e., tokens, varies depending on if you're a viewer or a broadcaster. For viewers, the value of tokens can vary from $10.99 to $7.99 per 100 tokens. The final price depends on the number of tokens a viewer buys at once.
Token value for viewers
100 tokens: $10.99

200 tokens: $20.99 ( 5% bonus )

400 tokens: $39.99 ( 10% bonus )

550 tokens: $49.99 (21% bonus )
You can get an even bigger discount if you purchase your tokens via wire, check, or money order for an amount over $159.99 which will be credited at $0.08 per token. For example, a $350.00 purchase would net you 4,375 tokens. The higher the amount spent, the more discount you get to buy tokens on Chaturbate.
Viewers can pay using:
Credit / Debit card

Paysafecard

Sofort

Epoch

Paypal

Wire Transfer

Cryptocurrencies
Token value for broadcasters
The value of tokens for broadcasters, i.e., the models, is different than for viewers. Chaturbate pays $5 to the models for every 100 tokens earned. Models can withdraw their earnings if their token value reaches $50.
20 tokens: $1

100 tokens: $5

500 tokens: $25

1000 tokens: $50

10000 tokens: $500
What makes Chaturbate so popular?
Chaturbate was the first cam site that bridged the gap between users and adult entertainment. It's not just for the users; adult performers get a great opportunity to make good money through adult camming. Traditional porn was limited and had a lot of competition. Camming opened up a lot of opportunities for many models to earn a good income.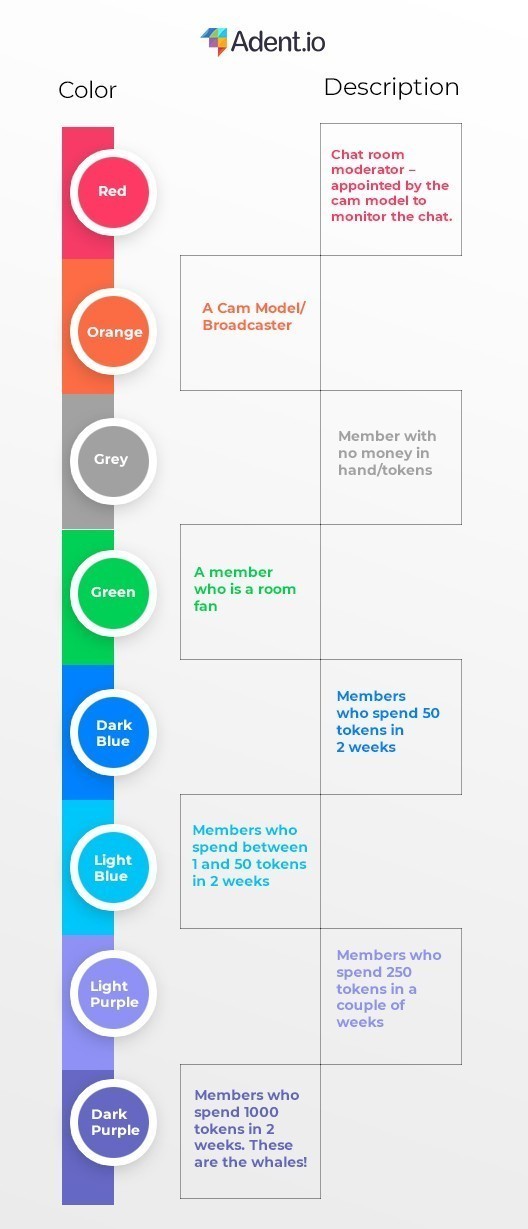 On top of that, the Chaturbate platform was simple and easy, which made it easier for the models to adapt. The platform provides a lot of features that help the models in making extra money. An example is the Chaturbate color coding system.
Chaturbate tags all users on their platform with different color codes. These color codes depend on how many tokens the user has, how often they spend on the platform, how much they tip, as well as their site activities. This helps the models to know and anticipate which user can pay good money and which user is here for a free show. 
Here are the color codes Chaturbate uses.
| | |
| --- | --- |
| Color | Description |
| Red | Chat room moderator –  appointed by the cam model to monitor the chat. |
| Orange | A Cam Model/Broadcaster |
| Grey | Member with no money in hand/tokens |
| Green | A member who is a room fan |
| Dark Blue | Members who spend 50 tokens in 2 weeks |
| Light Blue | Members who spend between 1 and 50 tokens in 2 weeks |
| Light Purple | Members who spend 250 tokens in a couple of weeks |
| Dark Purple | Members who spend 1000 tokens in 2 weeks. These are the whales! |
How to get started and be successful on Chaturbate?
Getting started on Chaturbate as a cam model is simple and straightforward. Here is a step-by-step guide on how to get going on Chaturbate and be successful.
Step 1: The first thing you need to do is to create your account on Chaturbate as a cam model. Account creation on Chaturbate is free, and you'll need to add basic details like username, password, date of birth, and gender.
Step 2: The next step is to upload your ID for age verification along with a picture of yourself holding your government-issued ID. Your ID should contain details like date of birth, photo, ID number, name, and expiration date of the ID.
Step 3: Now, you'll need to customize your profile and provide details about yourself so that viewers can connect with you. You can upload your pictures, list out the services you can provide on the webcam, upload your tip menu, your show times, and much more. Make your profile interesting so that you get more viewers.
Step 4: Start performing. Once your account verification is done and you receive the go ahead from the Chaturbate team, you can start your shows and start earning cam girl salary by doing live shows on Chaturbate.
How to make money on Chaturbate as a cam model?
It all comes down to this. Making money is the ultimate goal for the models as well as the site owner. Chaturbate provides many ways through which, as a model, you can earn good money. You will obviously earn in tokens on the Chaturbate platform, and then after taking the commission, Chaturbate will pay you the dues. Here are a few ways in which you can make money on Chaturbate.
Check out the best high-paying webcam model sites to work.
Public shows tip goals
On the public shows on Chaturbate, you can set goals for the users. For example, you can set a goal of 100 tokens to show your boobs, 500 tokens for getting nude on camera, 1000 tokens for masturbating on camera, and so on. This is a great way to engage with the audience and entice them to spend more tokens to watch you do sexual acts.
Private shows
Private shows are the goldmine of the Chaturbate platform. Here the user is charged tokens on a per-minute basis. So the longer you can keep your audience hooked to your private show, the more tokens you stand to earn.
Sell nude pictures and videos
Chaturbate provides the options for models to sell private stuff through their profiles. As every model has a separate page on the Chaturbate platform, models can upload their nude pictures and sexy videos for sale. Users come to the model's profile and buy nudes by paying tokens. This is a great way to make some extra cash on the platform.
Referral and Affiliate programs
Chaturbate runs referral programs through which models can make extra money by referring a new model to the platform. The more successful referrals you make, the more you earn on the platform.
You can also join affiliate programs by linking your camming site with affiliate links. This is a great way to earn passive income for both you and the affiliate sites.
Check out the top 10 adult webcam affiliate programs.
Tips to make more money on Chaturbate
There are about 450+ models online at any time in the day on Chaturbate, which means there's stiff competition to get more viewers to your chat room. The more viewers you have, the more chances of getting tipped and making money. Here is a quick guide on how to increase your follower count on Chaturbate.
Snapchat account
You'll definitely need to have a Snapchat account to stand a chance of competing to get more followers on your Chaturbate profile. Snapchat is the easiest tool where you can get the right audience for your shows. Users like to personally connect with models and know about their daily life. Snapchat is the perfect medium to show a glimpse of your daily routine. The snaps you share on Snapchat will help you build a good following.
Sell nudes on Snapchat
You can have 2 accounts on Snapchat, one for non-adult daily updates for your followers and the second one to sell nudes on Snapchat. You can share sexy selfies on your non-adult profile and guide your audience to your Chaturbate profile through the link. Meanwhile, you can also sell your nudes online through your private profile too.
Snapchat & Twitter takeover
Many big Snapchat accounts like Xhamster, Pornhub, and Porntube allow models to take over their profiles for a brief period where you'll get the audience you need. Create your detailed Twitter profile and send these accounts a request for a brief takeover. Make sure your profile is complete and sexy and you have a decent following. This comes in extremely handy in finding those paying webcam regulars. Now, whenever you start a live cam show, you can Snapchat to your regulars that you will be live for their entertainment.
Popular bots & apps on Chaturbate
If there is something that really sets Chaturbate apart from other cam sites is that it allows the usage of automated bots and apps to make life easier. There are thousands of bots and apps that you can use in your chat room to automate tedious tasks and to make it more enticing for the viewers.
Starting from automated answers from your side to a room with say 1000 viewers, to being able to display the token leaderboard every now and then to build a sense of competition among the viewers, these bots and apps make the life of the model very easy and smooth. Even for the viewers, it's attractive and keeps them busy and interactive. Here are a few apps and bots that work great for a model profile.
Ohmibod Chaturbate App

– One of the most popular apps on the platform, Ohmibod is a vibration tool that is controlled through the tips you get on Chaturbate. This app makes for a good time for the cam girl and cam watcher alike.

Crazy Ticket

– Using the Crazy Ticket app, a model can sell tickets to hidden cam shows. Models set the pricing for each ticket and make money from the sales.

Ultrabot

– This app is basically your robot manager to look over your chat room. It provides you with leaderboard updates, can ban users who are free mongers, send reminders to viewers to tip for particular sexual acts, and much more.

Token Keno

– This is a lottery game where models can set up a board and put prizes under different numbers.

All In One Bot

– As the name suggests, this bot can do many things for you, like silence spammers, king tipper feature, block certain words, silence users, set your tip menu, the leaderboard, and more.

Roll The Dice

– In this app, models can set the cost per roll, set a minimum number of rolls before the unique dice is rolled, set multiple rolls, etc. 

Auto Tip Thank You

– Sometimes, the cam rooms get too busy, and models don't get time to say thank you to the tippers. This bot helps in sending a personalized thank you note to every tipper on your behalf.
How to start a webcam site like Chaturbate using xCams?
If you don't want to get into the hassles of building a webcam site like Chaturbate from scratch, then using a ready-made turnkey script like xCams makes sense for you. Not only does it save you a lot of time, but it also saves the huge investment you need to build a website from scratch.
xCams is designed to imitate popular cam sites like Chaturbate. The setup is basically just like plug and play, and with slight customizations as per your brand, your own cam site can be up and running within a few days. It has all the features that you would need to run a successful live sex cam business.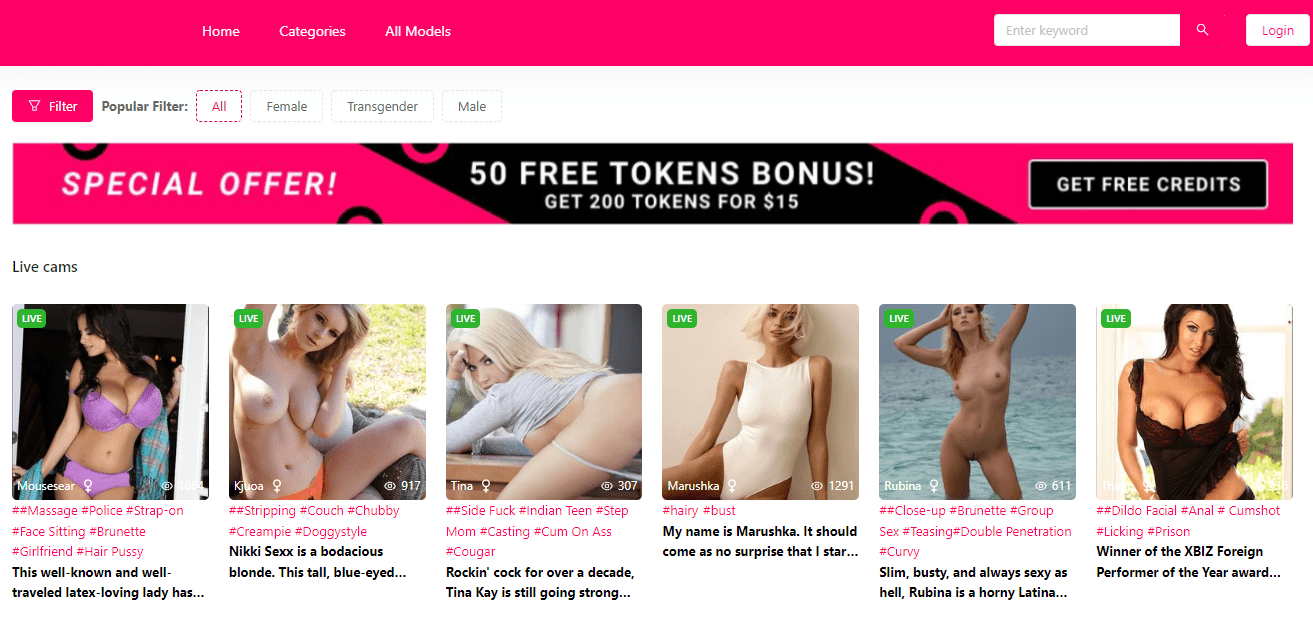 xCams is the quickest way to start your own cam site venture. With low investment and getting your website ready within days, xCams is the most affordable, easy, and quick solution you can get. Let's go through some of the features of xCams in brief.
Fast & Affordable

–

Using xCams, your website can be ready in a few days with your branding as a customization. All this at just $699.
In-built streaming – Unlike the OBS software, which is difficult to configure and provides okay video quality, xCams comes with in-built streaming direct to the user's device.
Token system – The integrated token system on xCams helps users, as well as models, to keep track of their spending and earning on the website.
Individual dashboards – xCams provides interface dashboards for users, models, and studios separately. There is also a separate dashboard for admin, which is really helpful for managing your cam site.
Tech stack –

xCams is powered by top-tier technologies like MERN stack, Niginx, and Ant Media that provide you with a clean and easy-to-navigate database structure. You get features like Optimized Queries for a super-fast website, a well-documented and clean code base for customization, SEO-optimized URLs, and

SEO

-friendly web page content.

Affiliations – You get an integrated cam aggregator with xCams using which you can affiliate with other big cam sites like Chaturbate and showcase their models on your cam site.
User friendly – The registration process is simple, unlike other cam sites. Users fill out a short form and are registered on your cam site without any hassles.
Add-ons – You can improve your website experience by integrating multiple

add-ons

to your webcam site using xCams.
Conclusion
Chaturbate has been the market leader in cam sites since it was introduced back in 2011. And even now, Chaturbate remains popular and keeps minting money for the models. So if, as an entrepreneur, you want to enter this goldmine, then this is the right time. With readymade scripts like xCams available at your fingertips, building and running a profitable cam site has never been easier. Start your cam site today with the help of xCams. Let us know in the comments below in case you have any queries; we will gladly try and help you. Ciao!
1. Do you have to pay for Chaturbate?
No, Chaturbate is a free platform where you can register for free and explore the cam site. You can even watch the live streams, but to make the model perform sexual acts, you'll need to pay.
2. Is Chaturbate actually live?
Yes, all the streams on Chaturbate are live streams. You can find live models on Chaturbate waiting to perform for you.
3. How much does Chaturbate take?
Chaturbate takes 40% to 50% of the earnings made by webcam models on its platform.
4. Is Chaturbate free?
Yes, Chaturbate is absolutely free to join and watch live streams. You will have to pay in Chaturbate tokens if you want a private show and want the models to perform for you.