-

7

mins read
So, you're thinking to sell dick pics online and make some cash. Let's start with something motivating, shall we?

There! Someone has sold their dick pic to one of their friends and made $300! If you say that's because a friend bought it, here's another screenshot.

Here's a random person offering $300 to buy a celebrity's dick pic. Well, you're no T*m H*ll*nd but if you have got a sellable dick, you can definitely make one-third of the mentioned figure!
Well, that's enough motivation. In this article, we will tell you how to sell dick pics online and other important information like websites to sell dick pics, tips related to selling dick pics online and more.
So, sit tight then. Let's dive in and read how to make money selling dick pics! Who knows, you could become a male porn star down the lane as well!
Is It Legal to Sell Dick Pics Online?
This question has got to be answered. And we're making it super clear for you here.
"Selling dick pics online is completely legal."
However, if you send the photos of your dick to private DMs without consent (known as cyber flashing), it is considered a serious crime.
Today, there are lots of websites that allow you to make money selling dick pics legally. Just make sure you don't post your dick pics on websites that don't allow nudity or reach out privately to sell dick pics.
Apart from this, you're all cool to sell your dick pics online. That said, we'll now look where to sell dick pics.
How to Sell Dick Pics Online – Best Sites for Selling Dick Pics
"Where can I sell my dick pics?" This question would have popped up in your mind when you got to know that selling dick pics is completely legal. And here, we'll be exactly looking at this – the best websites to sell dick pics.
1. xModel – Most Recommended Site to Sell Dick Pics
The first one on our list is xModel. Like you think, xModel isn't a website to sell your dick pics but an adult site script that lets you create your website to sell dick pics & videos.
One of the best benefits of having your own website to sell dick pics is you have full control and get to keep 100% of your earnings – no commission payouts.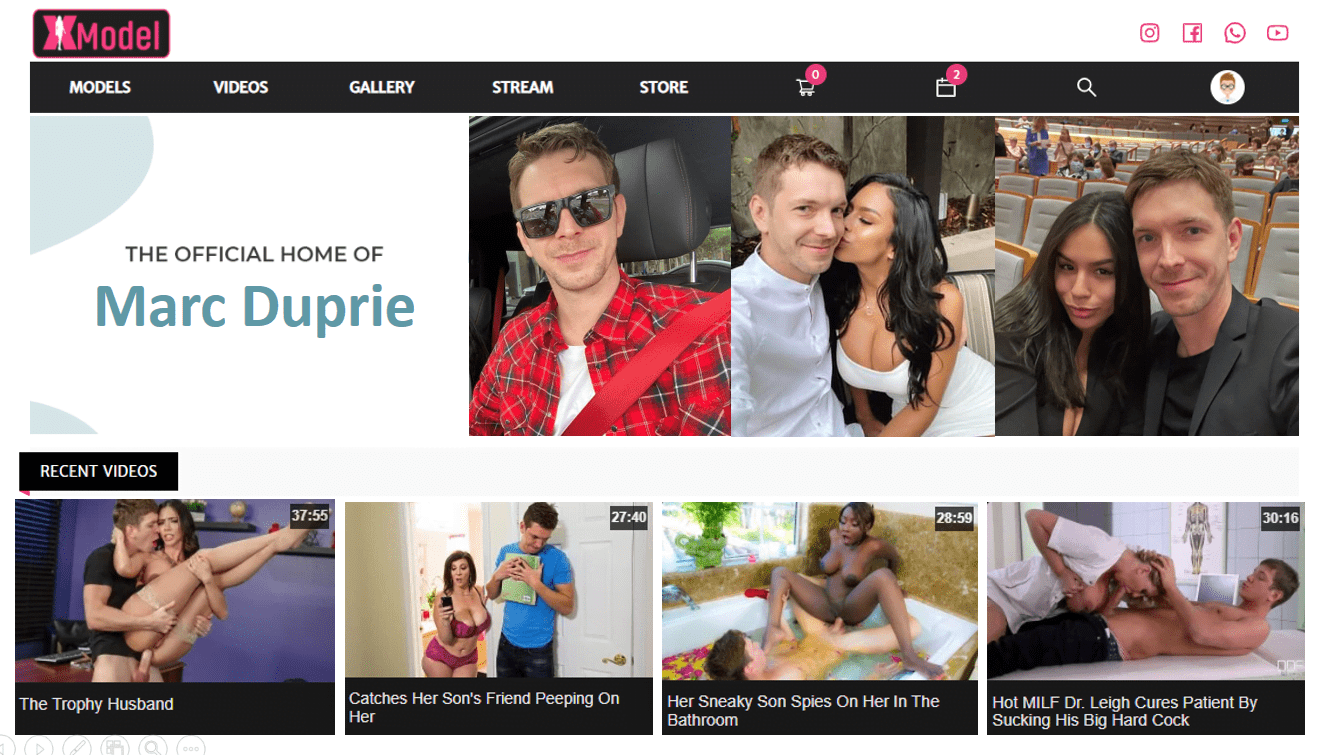 xModel adult site script allows you to sell dick pics and sell nudes online along with a variety of other features. Some of the key features of the xModel site script are,
Subscription-based Memberships:

Create multiple membership plans to sell exclusive content like dick pics to your fans. Only people who subscribe to membership packages will be able to access your photos.
Live Streaming:

Engage with your audience on a higher level using the seamless live streaming option. Flash your dick in-real time to your follower base.
Integrated eCommerce:

Sell your dick pics, merchandise, and brand goodies to your follower base using the built-in eCommerce store.

Custom Tokens:

Use custom tokens for your brand within your website. Custom tokens can be used to purchase merchandise on your website, PPV purchases and more.
The website can be customized to your wish and you own the script 100% – no commission percentage or monthly fees.
With xModel, you can do more than just sell dick pics & videos.
2. OnlyFans – Best Site to Sell Dick Pics Online
The title says it all. Next to having your website to sell dick pics, OnlyFans is the best site to sell your dick pics.
OnlyFans is the most popular social subscription platform that is used by the majority of adult creators. In fact, the platform has more than 1 million content creators and 50 million registered users.
Some of the key features of OnlyFans are mentioned below,
Subscription-membership plans

Options to sell merchandise

1-1 Private chat options and tips

Support videos and photos

Well-established brand name and authority in the space
Using OnlyFans to sell dick pics means you have to pay a flat 20% commission for the revenue you make.
You can know more about OnlyFans in this article – What Is OnlyFans and How Does It Work?
Let's look at the next website to sell your dick pics.
3. LoyalFans – Another Alternative to Sell Your Dick Pics
If in some ways you think OnlyFans isn't your platform, you might then consider LoyalFans.
The platform comes with the tagline "Fans Subscription Site for Content Creators" and like OnlyFans, the platform supports all kinds of creators – adult creators, artists, musicians and more.
The platform is kind of new (was started only in 2020) and has already gained attention amidst the adult creator community. Like OnlyFans and xModel, the LoyalFans also has multiple ways to make money – live streaming, video chat, video & photo sharing, etc.
There's a flat 20% commission structure in place and there's also a great referral bonus structure within the platform.
4. Fanvue – Ideal Site to Make Money Selling Dick Pics
The platform is relatively new but has gained much-needed traction already. Though the platform supports all kinds of creators, the majority of the platform is occupied by adult creators.
Some of the ways to make money on the platform are subscription-based memberships, user tips, private messaging, etc. An additional unique revenue method Fanvue has is the option for creators to sell individual clips. Both subscribers and non-subscribers have to pay to watch this video. But there's no restriction on the number of times they can watch!
Also, Fanvue is super easy-to-use and navigate throughout. Like OnlyFans and LoyalFans, Fanvue also charges 20% of your revenue.
So, those are some of the websites to sell dick pics. Apart from this, you can also consider sites like AVN Stars and IsMyGuy to sell your dick pics.
How to Make Money By Selling Dick Pics?
On a high level, this is the process.
Step 1: Sign up for any of the above websites we've mentioned (though xModel is highly recommended) and create a profile – make sure your profile and bio are super attractive. You can look at male webcam models' profiles on OnlyFans to get an idea of how a good profile should be.
Step 2: Clear the basics – age verification, payment setup, subscription-membership tier planning and more.
Step 3: Start engaging on the platform to drive followers and audience – post your dick pics, go live streaming with the audience, and engage with them on private messages to earn extra money.
That's a quick overview of how to sell dick pics online. But the underlying process is extensive. Understanding how to market yourself, how to leverage social media platforms to drive more traffic to your dick pics, and the equipment you should be using needs some research to be done.
But luckily for you, we have this article article,
The articles above will equip you with everything you need to sell dick pics online.
Another part of selling dick pics is knowing how to take dick pics. That's what we'll be looking into now.
Selling Dick Pics Online – Tips & Tricks
Just because you have a dick doesn't mean you can start selling it and make money. There are millions of other male webcam models trying to sell dick pics online and make money.
In this section, we'll be telling you tips that'll help you take dick pics like a PRO and make money using them.
1. Picture Lighting Matters. A LOT
What's the point of seeing a dick pic that's dark and gloomy. It sure won't arouse people and there's no point in clicking one such pic.
When taking pics of your dick, make sure there is sufficient lighting. And most importantly, DO NOT TAKE YOUR DICK PICS IN BATHROOM. This is a huge turnoff and no one wants to see your dick near the loo!
2. Play With Different Angles
Don't look at your dick just as a pogo stick standing straight. You need to play with different angles to make your dick picks more enticing.
Take photos of your dick from the side angle, try one by holding your dick, try exposing a bit of your abs with the dick and more.
Some audiences might love when you expose your abs along with your dick. Details and addition matter a lot when it comes to selling dick pics.
3. Groom Your Dick
By saying grooming, we are telling you to trim down your pubic hair and maintain it. Because,
It'll show your dick in its full glory – maximum visibility and length

No one wants to pay for a non-groomed dick
Do this often if you're constantly selling dick pics.
4. Tease Your Audience
This is more of a marketing gimmick. Instead of revealing your dick pic, you can start posting covered pictures of your dick on the public wall.
Say, for example, you can come up with a short clip of you touching and playing with your dick covered in boxers. Or you can take a snap of your rock-hard dick in boxers and post it.
This will lead to more audience asking for dick pics via DM – SALES!
5. Make Your Dick Look Bigger With References
This is a common trick that most male webcam models do. You can compare your dick alongside soda cans, speakers, remotes or anything to let people know how lengthy and thick your dick is.
The idea here is to entice the audience and make them purchase your dick pics.
So, those are some of the tips that will help you sell dick pics online like a PRO!
Moving on to the next section.
How to Sell Your Dick Pics Online Anonymously?
The last thing you need to is the picture of your dick being circulated on social media and getting mocked.
Most male cam models and adult creators prefer to sell their dick pics anonymously so that no part of their future gets messed up because of this.
So, here are a couple of things you should do stay anonymous and sell your dick pics online,
DO NOT EVER show your face

Make sure not to include any objects that could reveal your location (

ID cards, personal identity revealing documents, location identity

).

Do not reveal any personal information like your studies or location in your BIO.
Following the above religiously and not revealing personal information in DMs can help you stay anonymous while being an adult creator.
That said, we're heading to the final part of the read.
Conclusion
Selling dick pics is an art! Just like selling nudes and selling
pics, selling dick pics can also help you make money.
You don't need to have a T*m H*ll*and dick to make $300. All you need to do is, market yourself properly, follow the tips & tricks we mentioned above and choose the right platform to sell your dick pics online.
And the rest will automatically fall in place! Now that you know how to sell dick pics, all that's left is for you to get started!
So, start selling your dick pics online using xModel!
Feel free to reach out to us in the comments if you have any questions!
FAQs Related to Selling Dick Pics Online
1. Are you allowed to sell dick pics?
Yes. Selling dick pics is completely legal. But make sure that you only send pics with complete consent.
2. How much can you sell a dick pic for?
You can sell your dick pics for somewhere between $10 – $50 if you are just starting. However, if you have a huge follower base and you are popular, you can increase the prices.
3. Where to safely sell dick pics?
There are a lot of websites available today to safely sell dick pics. You can consider websites like OnlyFans, xModel, LoyalFans and more.