-

19

mins read
If you're looking for the best OnlyFans alternatives, let's just say you're in for a treat!
There was a time when OnlyFans was the go-to option for creators, especially for creators in the adult niche. But the rapid growth of the creator industry has paved way for several OnlyFans competitors.
Today, there are sites similar to OnlyFans that offer creators more in terms of monetization methods, revenue, usability, etc. And as a creator, it's only wise that you establish your presence on multiple websites like OnlyFans.
"Building a presence on different sites like OnlyFans gives you a better opportunity to increase your revenue and fan following."
Anyways, it's clear that you are looking for an alternative to OnlyFans. Whether it's for online presence, more revenue, or a better fan following, we've listed 20+ OnlyFans alternatives for you!
But before we start looking at the alternative to OnlyFans, here's something more for you. 
4 Reasons to Look for an OnlyFans Alternative
Here are some more reasons why you should look for other sites like OnlyFans.
1. OnlyFans Has a Huge Number of Creators
Introduced in the year 2016, OnlyFans started garnering huge attention back then. And now, OnlyFans has become saturated with over 1.5 million creators. This makes it difficult for you to compete, grow your following and drive any revenue out of it.
2. OnlyFans Banned Porn Earlier
In August 2021, OnlyFans announced that it'd be banning sexually explicit content on the platform (which took it to fame in the first place).
This decision received a lot of backlash from the platform creators and OnlyFans was forced to revoke the decision later. This makes OnlyFans unpredictable and raises questions when you think of it as a long-term revenue mode. 
Think about your efforts, your fan following, and most importantly, your revenue stream when such a decision suddenly comes. Better to look for an alternative to OnlyFans, right?
3. Caters to All Kinds of Niches
OnlyFans isn't an adult-specific platform. You can find all niche creators here – cooking, music professionals, drawing, etc. 
If you are an adult creator, chances of revenue and popularity are high when you choose an adult-specific platform. Because the platform audience would be super specific giving you more opportunities to earn revenue and fan following.
If you're a creator of other niches, with the number of creators on the OF platform, the competition is going to be tough.
4. Celebrities Draw Attention & REVENUE
Remember when Bella Thorne made more than $2 million on OnlyFans in a week? Imagine if a couple of more celebrities make an appearance on OnlyFans! The limelight will forever be transferred to them.
These are some reasons why you should be looking for an alternative to OnlyFans. Now that we've covered the basics, let's look at the best alternatives to OnlyFans.
20+ Sites Like OnlyFans to Make Money
Before we start looking at platforms like OnlyFans in-depth, here's a quick table that tells you about the nature of the platforms we're about to look at.
| | |
| --- | --- |
| Nature of the Platform | Creator Platform Name |
| Best Platform to Build Sites like OnlyFans to Make Money | xFans, xModel |
| Best Adult-Niche Supporting OnlyFans Creator Platforms | Fansly, FanCentro, ManyVids, iFans, Fanvue, LoyalFans, LoverFans, Faphouse, PocketStars, UnlockedXX, 4MyFans |
| OnlyFans Alternatives that Doesn't Allow Adult Content | BrandArmy, Patreon, Fanfix |
| Voice-based Adult Creator Platform | Voiyal |
| Platforms With Lower Commission Percentage | Unlockd, Patreon, BrandArmy |
| Exclusive Adult Creator Platform for Men | IsMyGuy |
| Exclusive Adult Creator Platform for Women | IsMyGirl |
| Ideal OnlyFans Alternative for LGBTQ Community | JustForFans |
Done reading? Let's start looking at them in-depth.
1. xFans – Best OnlyFans Alternative Fanclub Marketplace 
The first on our list of OnlyFans alternatives is xFans.
xFans is a fan club marketplace script that allows you to create your own website like OnlyFans, ManyVids and more.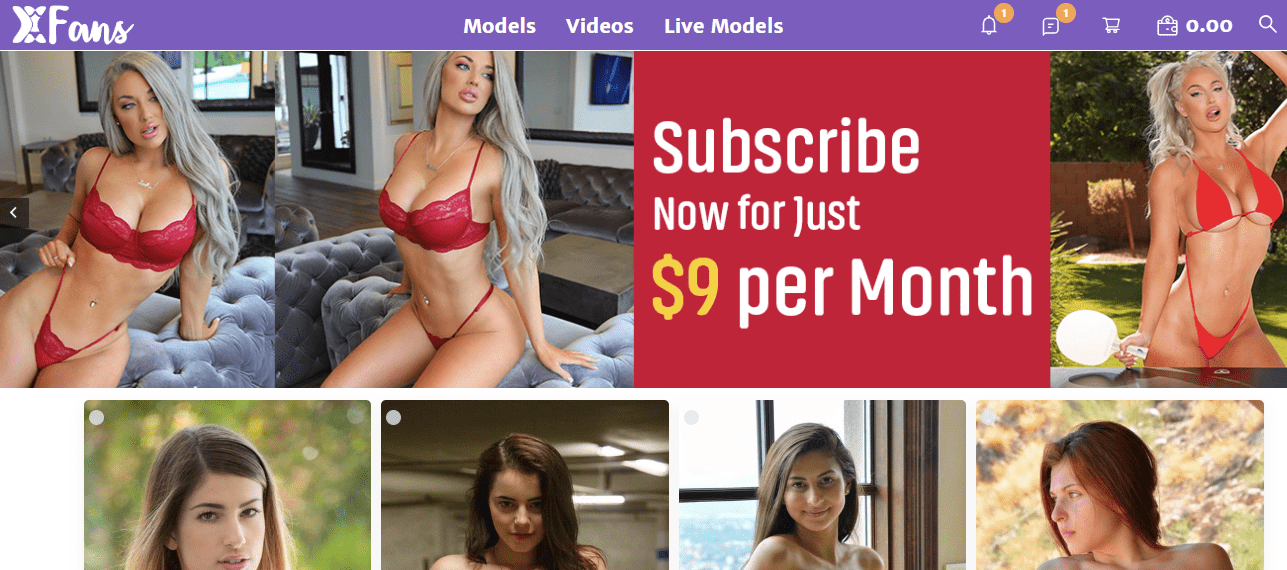 With xFans, you can create the perfect fan club marketplace and allow thousands of creators to monetize their skills. You can manage model earnings and commissions on the platform by setting it on autopilot. 
The script is 100% white-label and customizable allowing you to completely tweak it to your business needs.
Also, xFans comes with power-packed features like
Live streaming options

Ready to scale eCommerce store setup

SEO-optimized script which facilitates better search engine visibility

Built-in adult payment processors like CCBill and Verotel

100% mobile responsive design

Sophisticated backend allowing you to completely control/modify the website with a few clicks and more
xFans Monetization Methods
Models on the platform can make money via the following methods,
Model subscriptions like OnlyFans

Premium content sales for extra revenue

Options to sell digital and physical goods via the eCommerce store

Private and group live shows to customers

The audience can tip models 
Apart from this, you can also sign up with affiliate partners and put up ad banners on the site. 
Commission Percentage
xFans is a one-time purchase and you don't have to pay any commission once the purchase is done. You can manage your platform models and set a commission on their earnings. 
Verdict
xFans is the perfect solution to create a new OnlyFans competitor website. The platform has all the features needed for models to make huge revenue and grow their fan following. While you on the other hand can be running a platform like OnlyFans and make a six-figure revenue. 
2. xModel – Best Individual Site for Models & Creators
The difference between xFans and xModel is that xFans allows you to create a fan club marketplace site like OnlyFans and allows you to manage it. But with xModel, you can be a model yourself and create an OnlyFans similar site for yourself. 
xModel is a white-label script that allows you to create membership websites like OnlyFans.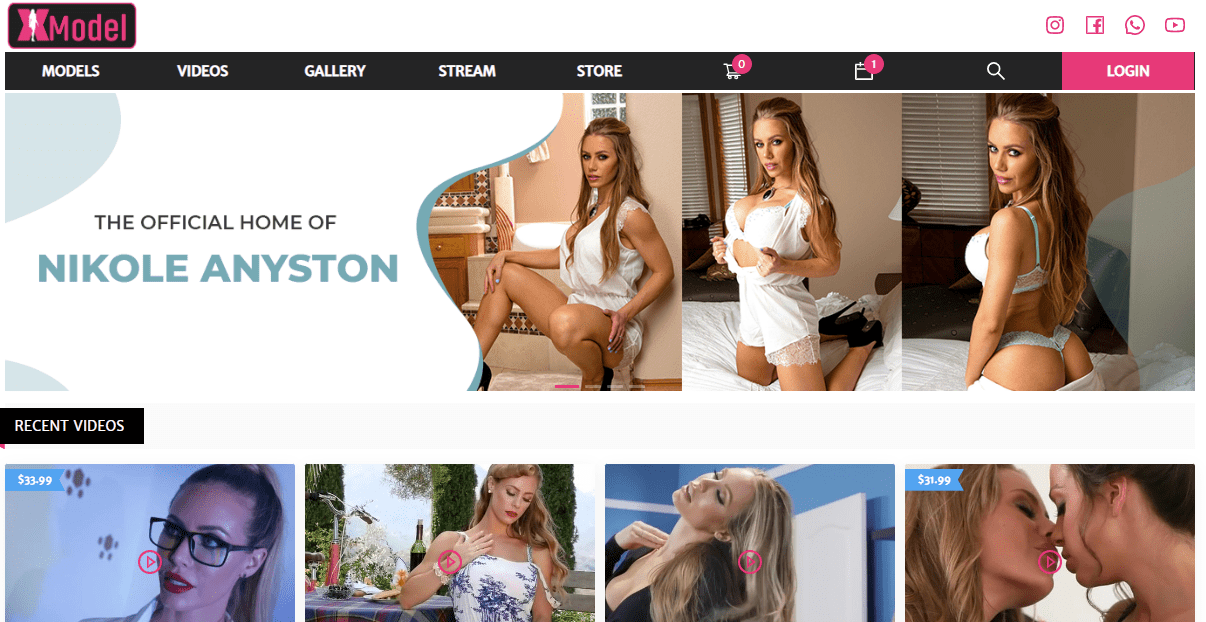 The platform is best suited for models, creators, porn stars, cam girls, male models and more. Simply said, anyone who is looking forward to making money by being a model can use xModel. Like xFans, the platform is white label, 100% customizable and comes with premium features. 
Some highlights of xModel are,
Live streaming abilities

Built-in eCommerce store setup

Custom token options within your website environment

Mobile responsive & SEO-optimized website

Adult payment gateways like CCBill, etc
xModel Monetization Methods
As a model, you can use xModel and easily make more than $10,000. You can make money selling nudes, go live streaming, set up subscriptions and more. Here are some of the ways you can make money with xModel, 
Subscription membership plans

Paid live streams

Premium content where users have to pay extra to view content (PPV)

Option to sell digital & physical merchandise with a built-in eCommerce store

CPC commission by placing affiliate ads. 
Commission Percentage
Like xFans, xModel also is a one-time purchase script. You completely own the platform and have to pay no commission on your earnings. You get to keep 100% of your earnings. 
Verdict
xModel is one of the best alternatives to OnlyFans as the script lets you create your own site like OnlyFans to make money. xModel is best suited for models of all kinds (fetish, feet, gay, etc) & rising porn stars who look forward to building their brand & identity. You get to keep all their earnings and have complete control over your website. 
3. Fansly – Next Best OnlyFans Alternative
Fansly, owned by Select Media LLC was established in May 2021 and they advertise themselves as better than OnlyFans. The platform has more than 2 million content creators to date and is welcoming around 4000+ new users every hour.

Fansly is similar to OnlyFans in most parts. The platform allows you to sell photos and videos, create subscription plans and make money.
One thing that makes Fansly stand apart from OnlyFans is that users get to subscribe to your profile to view free content which in the case of OnlyFans is not possible.
Models can also tease the audience by covering their latest photos & videos with emojis. This lures the audience into going for the subscription option to view uncensored content. 
Fansly Monetization Methods
The platform, like OnlyFans, allows you to make money by 
Setting up subscription memberships

Private messages with the exchange of photos & videos 

Customer tipping

Good referral program with a 1% commission from new user spending for 90 days
Fansly Commission Percentage
It's similar to OnlyFans here. Fansly charges a 20% commission on your earnings. The minimum payout threshold is $100 and will be transferred to your bank in 3 days. 
The payouts are offered via Bank Transfer (ACH/SEPA), Skrill, and Paxum.
Verdict
When it comes to Fansly vs OnlyFans, Fansly is an ideal alternative to OnlyFans if you want to get away from the OF buzz but still want the same functionality, look & feel. 
The platform is almost similar to OnlyFans with just a few additions like free content without subscriptions and emojis on photos & videos.
4. Unlockd – OnlyFans Competitor With Low Commission Percentage
Unlockd is an OnlyFans competitor that recently came into the picture during 2020! The platform has more than 80k creators and 2 million active fans. Unlockd also claims a 167 million payout!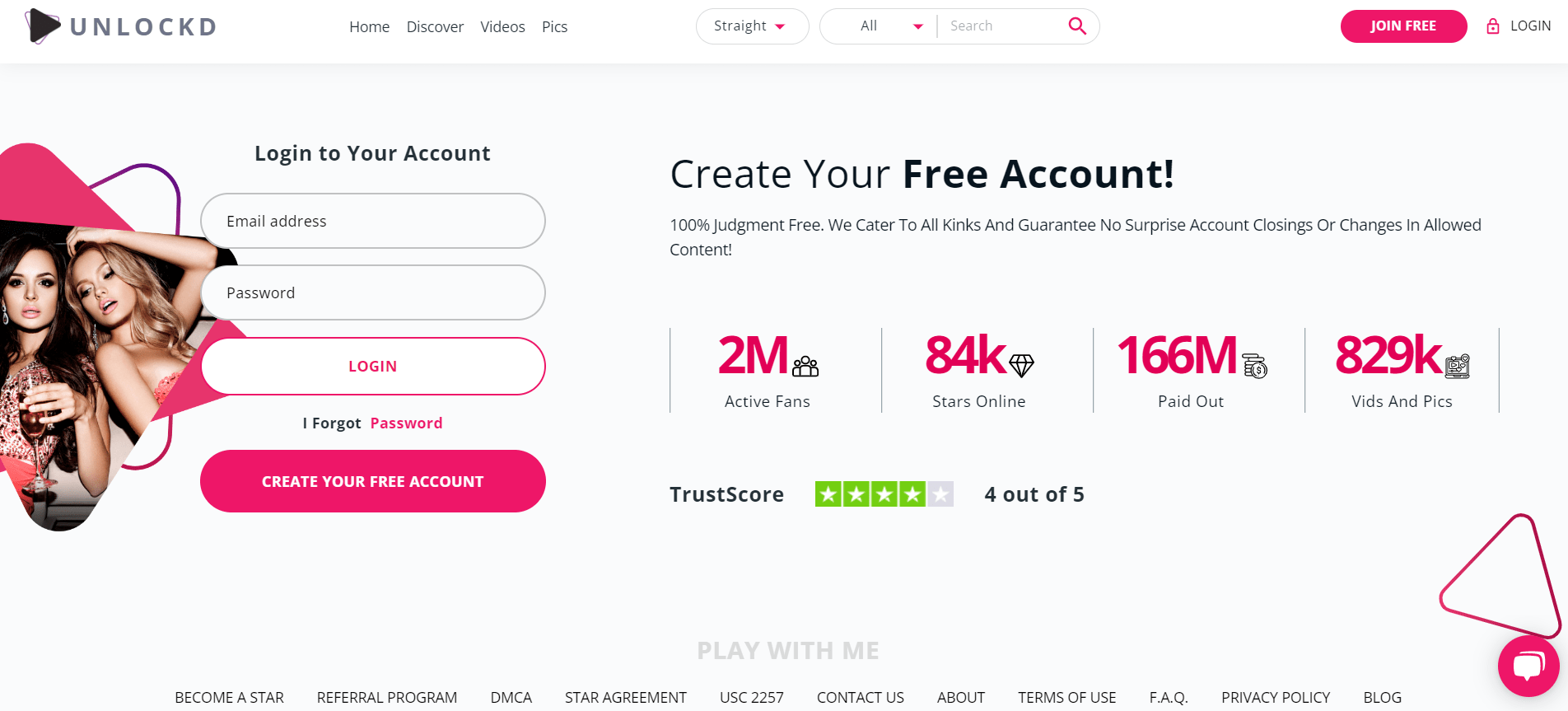 Unlockd Overview
This is also a similar platform to OnlyFans but there's a noticeable difference on the design part. Like OnlyFans, Unlockd is also a creator platform that allows models to set up subscription tiers and make revenue by posting digital media. 
Unlockd operates with this as its core – providing a great experience to creators and giving them a better share of what creators earn. The platform has a couple of unique features like copyright protection, geo-blocking, updates over email and more.
Unlockd Monetization Methods
Unlockd allows creators to make money via the following monetization methods. 
1-1 live streaming with fans

Options to sell premium videos for extra money

Customizable subscription options 

Customer tipping option

Options to sell media over Private Snapchat
Unlockd Commission Percentage
This is one of the USPs of Unlockd. Creators are charged only a 15% commission of their earnings. And the latest option introduced by Unlockd is, that you can get paid in cryptocurrency. 
Verdict
Unlockd is an ideal alternative to OnlyFans if you think OnlyFans is charging you more and you want a platform that's a bit less competitive. 
5. FanCentro – Great Customer Support & Data Migration Assistance
The platform comes with a bold headline, "Uncensored Social Network". Found in the year 2017 (just one year after OnlyFans), FanCentro is considered to be one of the leading platforms in the adult industry.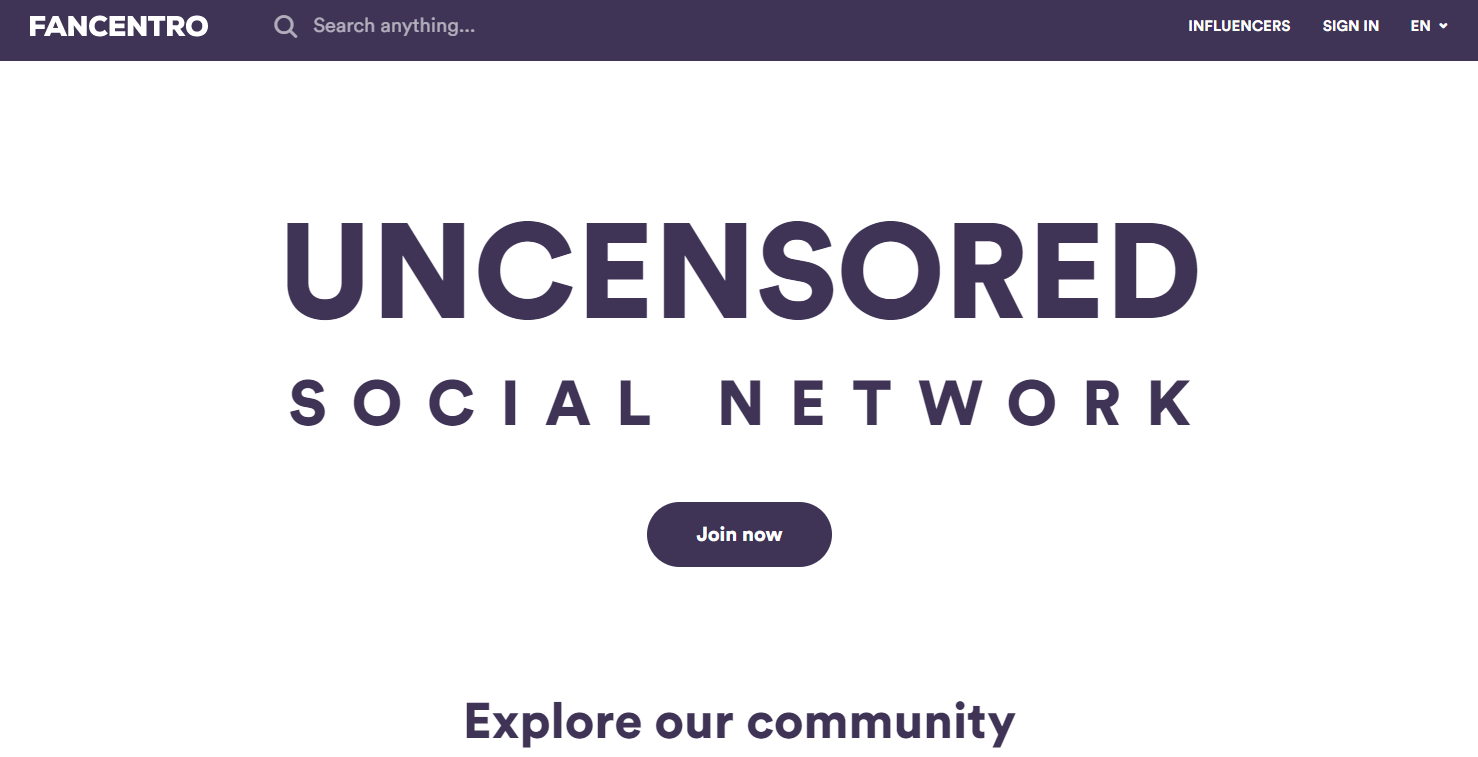 This is also one of the similar platforms to OnlyFans (most of them in the article are) where creators are allowed to monetize their skills behind a subscription system.
One thing that's better with FanCentro when compared to OnlyFans is that FanCentro allows you to utilize the platform to the fullest. The platform lets you discover new profiles with ease, charge different prices for subscription packages, have control over what discount you offer, add short-interval promotions to drive new customers and more.
FanCentro is also well known for the way it offers support to creators and here's the best part – FanCentro's team will help you migrate your content on OnlyFans to the platform if you're planning to switch. Cool, right?
FanCentro Monetization Methods
Fancentro allows creators to earn money by 
Setting up subscription membership tiers 

Pay-per-message basis

Selling individual digital media

Referral method – 10% of Fancentro's share on every referred influencer

Sending locked/unlocked content to fans via DMs
FanCentro Commission Percentage
Like OnlyFans, Fancentro charges a 20% commission on everything you make. The payouts are every Tuesday and the minimum payout threshold is $50. 
Verdict
FanCentro was started a year after OnlyFans and the platform has become popular over the days. We could easily say that FanCentro is one of the best OnlyFans alternatives considering the fact its extra features we discussed above. 
If you're worried that OnlyFans might someday ban adult content, it's a good idea to start exploring FanCentro.
6. iFans – OnlyFans Alternative With Great Referral System
Every platform we're looking at from the top are adult creator platforms that are some of the best alternatives to OnlyFans. And iFans is also one such site like OnlyFans you should be considering.
iFans was started on the 30th of November, 2020. The platform is almost similar to OnlyFans – allows creators to monetize their content by selling digital merchandise along with a few other extra features. 
Some of the key features that make iFans one of the best alternatives to OnlyFans are, 
You can tag other creators from the platform in your posts and private messages. This way, you can easily make revenue from their new subscriptions as well.

Live streaming is a whole new level when it comes to iFans – you can stream to a specific set of audiences or even a separate individual. 

The referral system is great with iFans – you can simply tag a creator on your post and start earning 40% of the subscription fee. Easy revenue on the go. 
iFans Monetization Method
iFans allows creators to earn by, 
Selling photos & videos on the platform

Live streaming options

Pay-per-message earnings

Great referral earnings option
iFans Commission Percentage
Like OnlyFans, iFans also charges a standard 20% commission on creator earnings. The minimum payout is $20 and your payout requests can be raised whenever you see fit.
Verdict
iFans is one of the ideal sites like OnlyFans to make money. You should consider choosing iFans if you love its referral system where you can easily make money while you sleep. Leaving this, iFans is very closely similar to OnlyFans with the extra features we saw above. 
7. Fanvue – OnlyFans Alternative With Low Commission Percentage
Fanvue came into existence during the first pandemic lockdown – March 2020. Found by William Monange and YouTuber Joel Morris, Fanvue is a website like OnlyFans that allows all sorts of creators to monetize their skills. They even came up with a quote that says, "Empowering all creators to earn, share and connect with their fans."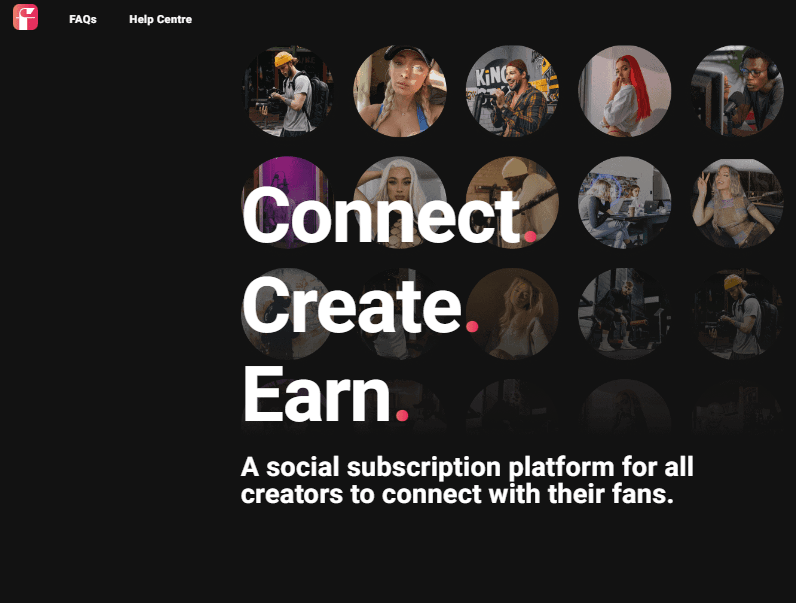 Fanvue Overview
Fanvue, a UK-based creator site was introduced in the period when the creator platform rise was at its peak. Similar to OnlyFans, Fanvue caters to creators from all niches. In 2021, Fanvue raised $1 million in funding and has more than 220000 creators on board. 
One of the things that make Fanvue the best alternative to OnlyFans is their approach. Fanvue gives high priority to making the platform experience a smooth one for both the creators and fans.
Fanvue Monetization Method
The platform lets creators earn by, 
Audience subscription

Tips

Paid posts

Pay-per-view messages and 

Photos & videos they sell across the platform. 
Fanvue Commission Percentage
The 20% commission has become standard across the content creator industry and Fanvue is no exception to this. However, there's a discount Fanvue is offering currently. If you sign up this year as a creator, you get to keep 85% of your earnings with the commission percentage being only 15% 
The best part is that payouts on Fanvue are instant and the minimum payout threshold is only $20 which is way less when compared to some other platforms. 
Verdict
Fanvue is again one of the best alternatives to OnlyFans. The platform offers everything OnlyFans has to offer with a much better user experience. Plus, you get to keep 85% of your earnings when you sign up, making it a sweet deal for you! 
8. ManyVids – Old OnlyFans Competitor With Multiple Monetization Options
ManyVids needs no introduction. The Canadian based adult creator company was co-founded by Bella French, a former adult content creator in 2014. ManyVisa is one of the oldest OnlyFans competitors and the platform has more than 8 million unique visitors every month and 119000+ active stars.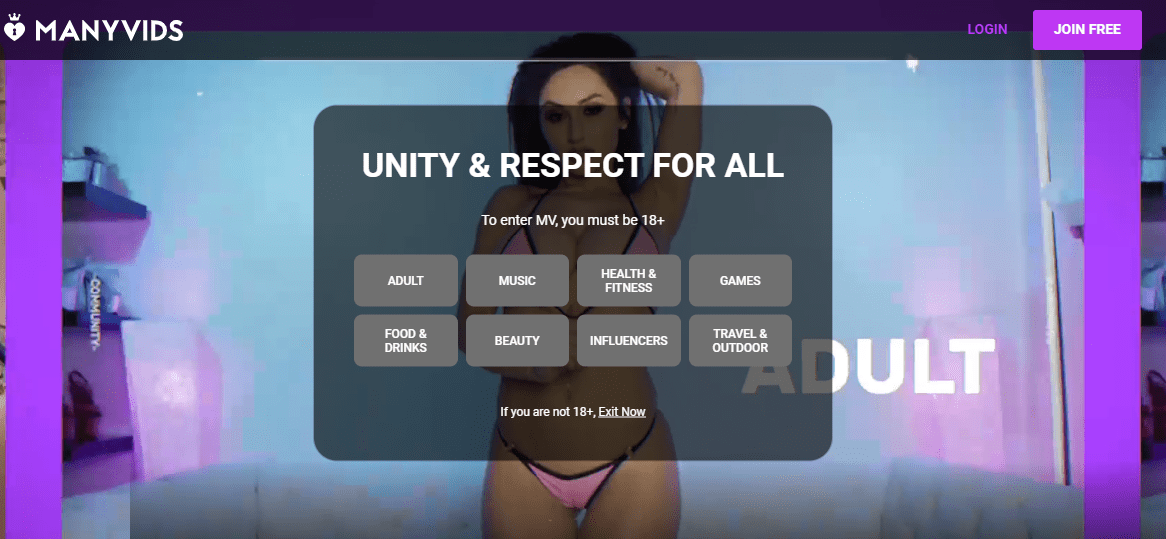 When compared to OnlyFans, ManyVids can be easily considered as one of the best OnlyFans alternatives. And the reason is the multiple monetization methods ManyVids come with! We can even say ManyVids beats OnlyFans by a mile!
Some of the exclusive features of ManyVids include,
A premium membership option that is above normal subscription tiers – options to make more revenue

Options to sell one-time videos apart from subscriptions

New platform users are shown videos of creators which helps increase discoverability and subscription
It's these additions that make ManyVids one of the best OnlyFans alternatives.
ManyVids Monetization Methods
Here's how you can use ManyVids to make money as a creator, 
Subscription memberships

Premium membership subscription

One-time video selling

Photos and video selling via subscription

Pay-per-view messages

Text & Video chat
ManyVids Commission Percentage
The standard commission percentage across ManyVids is 20%. But when you sell one-time videos, there's a 40% commission percentage. 
Verdict
ManyVids is easily one of the best OnlyFans alternatives around. With the multiple monetization options in place, you consider switching from OnlyFans to ManyVids without second thoughts.
9. JustForFans – Best Platform for LGBTQ Creators
Another great OnlyFans alternative that's niche-oriented! JustforFans was started by Dominic Ford, a popular gay start that made JFF establish itself as a platform popular for the LGBTQ community.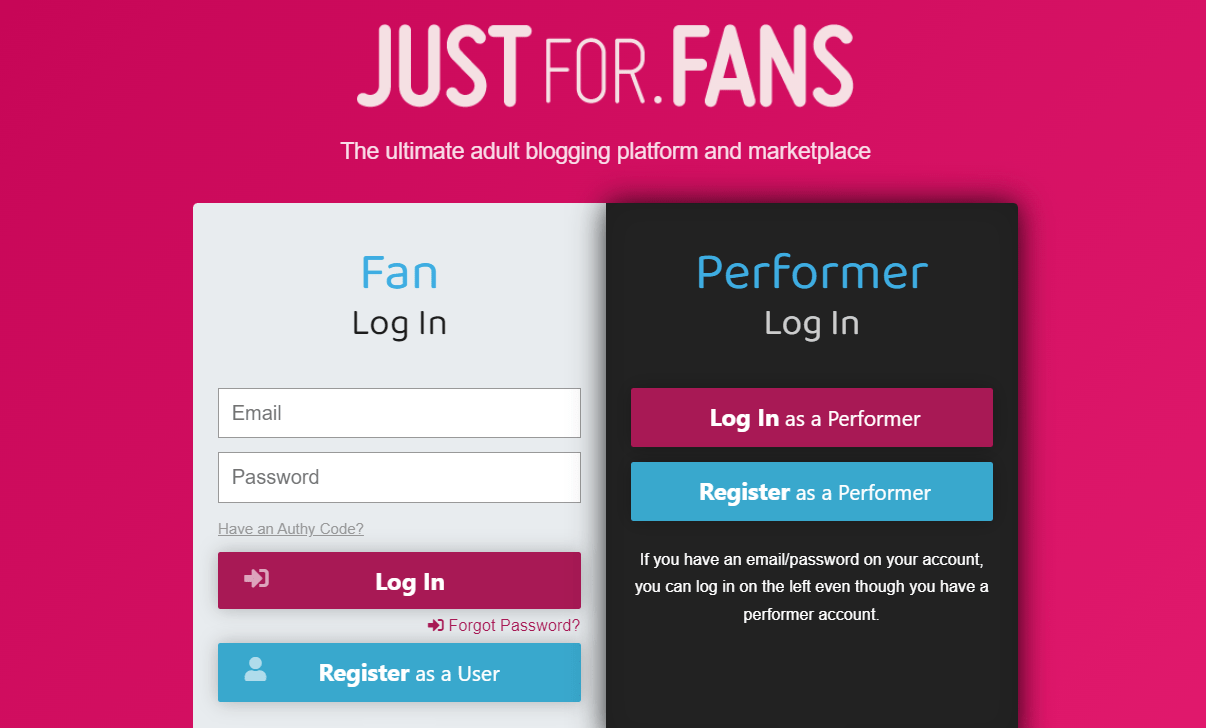 The platform is very similar to OnlyFans in terms of how it works. JustForFans allows all kinds of categories and if you're from the adult, niche, then consider JFF as a jackpot for you!
Some other features that make JFF a better alternative to OnlyFans are its gender filter options. JFF also provides its sex workers health insurance. And there are antipiracy features on the platform as well. JFF makes sure that adult workers get the 
JustForFans Monetization Methods
Monthly subscriptions

Tips from customers

One-time video selling option

Live performance
JustForFans Commission Percentage
This is the only part that OnlyFans beats JustforFans. JFF charges a 30% commission allowing you to keep only 70% of your earnings. Also, the minimum payout threshold is $50 whereas it's only $20 on OnlyFans. 
Payouts are made via Wire Transfer, IBAN/SWIFT and cryptocurrencies. 
Verdict
JustforFans is easily an OnlyFans alternative! Because the platform gives higher priority to adult creators and it's an ideal place for LGBTQ community people. Plus, OnlyFans is highly competitive. But with JFF, that's not the case – you'll be able to sell your content and become popular provided you are consistent with your efforts.
10. LoyalFans – OnlyFans Alternative With a Personalization Touch
LoyalFans, before gaining this name was formerly known as NexoCams. The platform was founded by people who are experienced in the adult creator industry.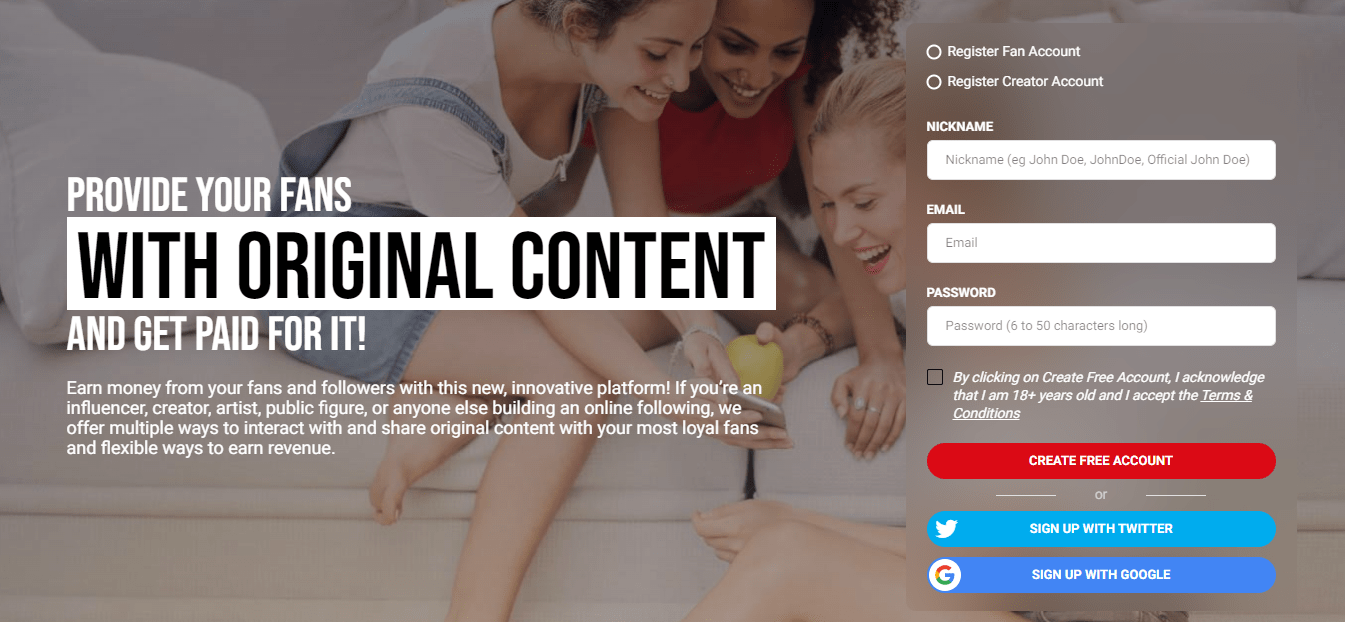 The platform is quite similar to OnlyFans! Creators get to pay for digital content on their platform by creating subscription plans. 
LoyalFans makes it super easy for fans to come across random profiles. In fact, the homepage itself has several profiles which makes it easy for you to get some new fans.
The platform allows one to find profiles using the built-in search tool. This helps you gain a fresh set of audience with ease. Also, LoyalFans, allows you to personalize your profile by adding widgets and mentioning your interests. 
This helps you find the essential connection between you and your creators and even paves the way for new subscriptions.
LoyalFans Monetization Methods
Here are the revenue earning methods for creators on the platform, 
Live streaming

Earnings via messages

Video chat

Video & photo sharing

Membership subscriptions
LoyalFans Commission Percentage
Like most platforms we see on our article, the commission is a standard 20% across all your earnings. And the minimum threshold is $50. 
Verdict
If you're looking to establish a personalized touch with the audience and go for a platform that's a bit less competitive than OnlyFans, LoyalFans has got to be your choice. To get an even better understanding why LoyalFans is a better choice, read this article – LoyalFans vs OnlyFans! 
11. IsMyGuy – Best Guys Only Alternative to OnlyFans
This alternative we're looking at here is a bit different. Like the title says, IsMyGuy is a dedicated site for male models who look forward to making money by being adult creators.
The platform is best-suited for gay individuals and hot girls who look for company. And for male models, this is an ideal opportunity. Since the audience is very targeted, they have higher chances of discovery and the revenue potential is also high.
IsMyGuy's working structure is similar to OnlyFans. Uploading content behind a subscription paywall, earning revenue – the usual routine.
IsMyGuy Monetization Methods
Male creators on the platform can make money using the following methods. 
Monthly subscriptions

Live streaming option

1-1 live streaming earning

Customer tipping options 

Referral options
IsMyGuy Commission Percentage
The commission percentage on IsMyGuy is 20%. Payouts are twice a month and the minimum threshold is $50. 
Verdict
If you're a male model who wants to get away from the OnlyFans buzz and have higher chances of discovery, IsMyGuy is the platform you should go for.
12. Fanfix – Adult-free OnlyFans Competitor
Fanfix is a comparatively new OnlyFans competitor that was launched by Cameron Dallas in August 2021. Though the platform was recently launched, it has already garnered traction and has a chunk of creators. 
Fanfix comes with the tagline create, connect and earn. And here's what Co-CEO Harry Gestetner has to say about Fanfix, 
"Fanfix allows creators to earn while doing what they love. We shift the power away from the large social media conglomerates and put it back in the hands of the creator."
The platform hosts all sorts of creators – chefs, gamers, and fitness trainers. The best part is, Fanfix allows you to engage with your audience by conducting giveaways and more. Also, Fanfix is one of the platform that has apps like OnlyFans. 
NOTE: FANFIX DOES NOT ALLOW NUDITY/SEXUAL CONTENT
To become a creator on Fanfix, you need at least 10,000 followers across all your social platforms. 
Fanfix Monetization Method
Here are the revenue methods available on Fanfix, 
Sell photos and videos

Give audience early access to new releases

Conduct giveaways to engage with the audience

Subscription membership plans

Tip-to-DM prices
Fanfix Commission Percentage
It's the industry standard here as well – 20%. 
Verdict
It's common for people to frown when they hear the name OnlyFans. If you think the same and want to stay away from a sexually explicit platform, Fanfix is an ideal option for you to consider!
13. Patreon – Oldest, Adult-free OnlyFans Competitor
Let's just say Patreon is one of the pioneers in the creator industry platform. Patreon was founded in the year 2013 and has over 200,000 creators and 3 million active supporters on the platform.
The platform is of international standard and works with USD and its main currency. 
Though Patreon allows certain types of NSFW content, the platform does not allow explicit content. Apart from this, Patreon supports all sorts of creators like musicians, photographers, chefs, fitness enthusiasts and more.
Patreon Monetization Methods
The oldest OnlyFans competitor has the following monetization methods, 
Early access

Group chats

Merchandise selling

Live streaming

Patron-only shows

Public shout-out
Patreon Commission Percentage
The platform has different tiers and is charged accordingly. You get additional features for every tier you go above. 
Bronze – $5

Silver – $10

Gold – $25
And above this, they charge the standard processing fees. So, at the end, you should be expecting a commission percentage of around 15% – 20%.
Verdict
Patreon was in existence way before OnlyFans came into the picture. The platform has a good name among the creator community and is quite popular as well. Since Patreon stays away from adult content recognition, if you're a creator belonging to other niches, Patreon is a very good alternative to OnlyFans for you.
14. Loverfans – Similar Site Like OnlyFans
LoverFans comes with the tagline "Uncensored Fan Network for Naughty Influencers" and has more than 30k creators with over 100k videos & photos. This platform is adult-niche oriented and you can upload all your sexual content!
The platform comes with unique features like monthly special bonuses for creators, contests to earn extra cash and personalized support with a dedicated account manager. That's pretty much the overview – let's look at how you can make money with Loverfans. 
Loverfans Monetization Methods
With Loverfans, it's the normal stuff like other creator platforms. 
Fan subscriptions

Options to sell physical items in store

Pay-per-view sales – videos & photos

Live broadcasting
Loverfans Commission Percentage
Loverfans charges users a flat 20% of every sale you make. Also, you are not charged for returns that your customers make. 
Verdict
Loverfans is one of the sites like OnlyFans that offer the same set of functionalities and a little bit more. If for some reason you don't like all the above-mentioned platforms, then maybe you should consider going for Loverfans. 
15. IsMyGirl – Best Girls Only Alternative to OnlyFans
Remember where we talked about IsMyGuys? This is one such website that's dedicated to female models. In fact, IsMyGuys was launched by IsMyGirls two years after its launch. The platform has more than 30,000 models, five million users and is quite active!
If you have a considerable following base on Twitter and other social platforms, you can easily divert the followers to IsMyGirl and start making revenue as the platform has multiple monetization methods when compared to OnlyFans. 
IsMyGirl Monetization Methods
Accept custom video requests

Subscription membership plans

Customer tips

Sell merchandise online

One-on-one messages for a free

Live streaming

Great referral system – a 5% cut of whatever your referral takes in
IsMyGirl Commission Percentage
It's again the same 20% industry standard here.
Verdict
IsMyGirl is a better OnlyFans alternative without a doubt. The platform helps you build your following and earn money with ease, thanks to the multiple monetization ways. Plus, the platform is only for girls, which makes it a win-win. 
16. BrandArmy – OnlyFans Competitor With Account Growth Management
This is another great site like OnlyFans to make money. BrandArmy was launched on March 12, 2021. The platform's USP is that BrandArmy allows creators to have complete control over their audience, finance and most importantly, what they create and how they manage their data.
The platform lets the audience get in touch with their favorite creators on a deeper level. Another point that makes the platform a great alternative to OnlyFans is that BrandArmy takes care of your account growth – engagement strategy & brand partnerships so that you can concentrate on your growth alone! 
With OnlyFans, there's a cap on how much a user can charge for subscriptions. But with BrandArmy, you can charge up to $999 per month for subscriptions. It should also be noted that BA doesn't allow nude or pornographic content on the platform. 
BrandArmy Monetization Methods
Freemium & paid subscription

Paywalled DMs & feed posts

Customer tipping via profile, DMs, posts & live stream

Pay-to-chat

Options to sell tickets for live stream
BrandArmy Commission Percentage
There are two models that BrandArmy offers, 
Managed Account –

35% commission

Non-Managed Account –

15% commission
Verdict
BrandArmy is one of the new platforms that is gaining traction consistently. There are a couple of additional features that look quite interesting. With the Managed Account, growth is for sure. Trying and establishing your presence could help you be popular one day since the platform is only in its nascent stage of growth. 
17. Voiyal – Audio-Only Adult OnlyFans Alternative
This platform is quite a new initiative and is already welcomed by a huge number of creators. Voiyal follows the audio-only approach and goes around the propaganda "Video is just audio with light."
The platform mainly revolves around creators who want to post their audios. In fact, Voiyal is sponsored by AVN, YNOTCam and XBIZ. 
Voiyal Monetization Methods
The platform allows you to monetize your audio clips and you get paid accordingly. The platform has its own currency called "drop" wherein 1 drop equals 1 minute. 
Voiyal Commission Percentage
The platform gives you a payout of $60 when you have earned 100 drops. 
Verdict
Though Voiyal isn't a direct alternative to OnlyFans, it's kind of a new approach. So, if you're someone who doesn't want to expose your identity/body assets but still wants to share horny stuff and make revenue, Voiyal is something you should be considering. 
18. 4MyFans – New Alternative to OnlyFans 
4MyFans is one of the recently launched adult creator platforms. The platform is similar to OnlyFans and allows you to register yourself as a creator and make money. The platform is relatively new and is onboarding creators as you read.
4MyFans Monetization Methods 
The platform allows you to earn via multiple monetization methods including subscription methods, selling photos & videos and more.
4MyFans Commission Percentage
The platform charges a flat 20% across all your earnings. 
Verdict
Like we already said, the platform is relatively new. This allows you to establish your presence and build your fan following gradually and make consistent revenue down the lane.
19. PocketStars – Another OnlyFans Alternative
PocketStars is another adult creator platform that permits adult content. The platform is similar to OnlyFans and comes with the same set of functions (a tad less maybe).
The platform is relatively new when compared to most of the platforms on the read. What makes PocketStars stand out is they give you a set of promotional graphics to use on your profile. And then there's the feature wall where creators who have posted 50+ content will appear randomly. This changes every day – free visibility.
PocketStars Monetization Methods
Subscriptions

Tips from customers

PPV purchases

Temporary payouts & incentives via competitions
PocketStars Commission Percentage
The platform charges a 20% commission and the payout usually takes 1-2 business days to process.
Verdict
PocketStars is the lesser-known platform when compared to all OnlyFans alternatives we saw above. But if your idea is to establish a presence on multiple platforms, you may want to add PocketStars to your list. 
20. Faphouse – Adult Creator Duo Studio Platform
Faphouse is a sophisticated creator content platform. The platform has separate sub websites for studio production and affiliate program whereas the main page is a huge content library of adult content! 
Faphouse boasts an approximate 2,000,000 daily visitors on the website and has multiple features. 
The platform allows creators to sign up, upload their videos and monetize using a lot of other options. The best part about Faphouse is that you can easily add another person to your studio profile. This helps improve the chances of your revenue. 
Faphouse Monetization Methods
Private message earning options

Sell photos & videos

Customer tippings

Subscription membership – a maximum price of $34.99 per month

Unique view share program – get paid for every view
Faphouse Commission Percentage
The platform charges users a set amount but we were able to collect more specific information on it. Payouts are processed via Paxum, Sepa, Swift, ACH/Direct Payments and Cryptocurrency. 
Verdict
Faphouse looks clean, organized and comes with plenty of options. Due to the huge traffic the website receives, making revenue isn't going to be a problem on Faphouse. The platform has multiple monetization methods plus there's a great affiliate program as well! 
You should definitely try Faphouse if you're looking to switch from OnlyFans. 
21. UnlockedXX – Sites like OnlyFans to Make Money
This is another site like OnlyFans to make money. There's not a lot of information on when UnlockedXX was found or whom it was found by. But we were able to pull out the monetization methods and other similar information for you.
UnlcokedXX charges fans $1 to use the platform on a monthly basis. They can connect with their favorite creators and view their content. 
UnlockedXX Monetization Methods
Membership subscriptions

Pay-per-view

Customer tips

Personalized messages & videos

One-time photos & videos
UnlockedXX Commission Percentage
Like all other platforms, UnlockedXX also takes a commission percentage of your earnings. But the exact percentage is not specific. 
Verdict
UnlockedXX is a platform that supports adult content but it's best that you have this as the last option. Because the platform isn't that popular and might take a huge deal of effort to make revenue. 
So, those are the 20+ sites like OnlyFans to make money. Better said, the OnlyFans alternatives! We do know that they are a lot of options. To make it easy for you, we've come up with a couple of factors you should look at when choosing an OnlyFans alternative.
What Should You Look for When Choosing an OnlyFans Alternative?
Here are five important factors you should be considering!
Target Audience –

Know if the OnlyFans alternative you're going for has a relevant audience. For example, though Patreon allows certain NSFW content, the target audience for the niche will be very less. Here platforms like ManyVids, Fansly, JustforFans would be a better choice. 

Monetization Methods –

Check out the revenue making methods on the platform. This is quite important as it directly influences your revenue. 

Platform Ease and Usability –

How easy is the platform to use? It's equally important that it's easy for you to use as well as for the audience. No one wants to surf on a platform that's hard to use. 

Commission Percentage & Payout Frequency –

20% is an industry standard today. But some websites that charge both above & below. Check if it's worth giving the percentage and then take a call. Also, look out for the payout frequency. Though some platforms do not display this, it's important that you check this with the support team.

Platform Safety & Piracy Features –

Make sure your hard work doesn't go in vain. Check how robust the platform's security is by looking at user reviews and then choose one! 
Above are the five factors you should be looking into when choosing an alternative to OnlyFans! To make it even easier for you, we'll tell you which platform you should be choosing! 
Conclusion
Well, the answer depends on what your preferences are! If you're looking for a mainstream platform that gives priority to other niche creators except for adult, there are Fanfix, Patreon, BrandArmy and other options for you. 
If you want to go all-in on adult content, you have ManyVids, JustforFans and more. 
But if you want to create your own identity and take complete control of your earning and growth potential, you can create your own sites like OnlyFans using xModel and xFans. 
The perks of creating your own OnlyFans alternative site with a white-label script are, 
Zero commission

Unlimited growth potential and earning options

Complete control over earnings

Ready-to-use script deployable in a short time

Highly customizable to showcase your brand identity
End of the day, it's what you prefer and what you think is best for you. You can probably start with one of the OnlyFans alternative options, build your fanbase around it and then start your own website. Or if you already have a fan following and you're looking for other options, then you can probably create your own OnlyFans alternative site! 
Now that you have abundant options on your hand, it's time you switch from OnlyFans and grow your fan following & revenue 10x!