-

8

mins read
Since the internet became a household thing, numerous ways have popped up to make money online. The digital world is so advanced now that people are finding new ways to make money every day. And if you're a sexually confident and open-minded human being, then you can find many kinky ways to make money online too.
Both men and women can make use of these ways and get paid for fetishes. You don't have to look extra special to sell and get paid for kinks online as there is a market for every shape, size, color, age, and look. So whether you're a 40 year old man wanting to make money by selling feet images or a 30 year old woman looking to make some extra cash by selling nudes, there is a market and audience for everyone.
People around the world are making anywhere from $2000 to $20000 by selling various kinky stuff online. You also can easily get paid for fetishes that you're comfortable with. There are numerous opportunities by which you can get paid for kinks, only if you are open to exploring new horizons. This article will help you with kinky ideas of fetishes that pay through which you can easily get paid for fetishes and make a good side income.
1. Sell feet pic online
One of the most common fetishes that people around the world have is to get hold of beautiful pictures of feet. The market for feet pictures is big and you can find a lot of buyers for your feet pictures. These buyers can be someone from a foot modeling agency or someone who gets sexually aroused by beautiful feet images. You can easily get paid for fetish of feet pictures and make money from it.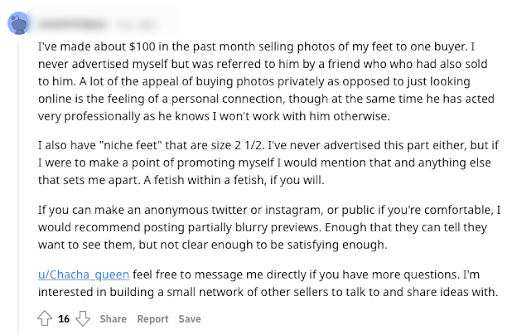 Regular models who sell feet pictures online make, on average, $15 for every feet picture they sell. Feet pictures are sold in the adult market for as low as $2 to as high as $100 for each feet picture. When you're starting out with selling feet pictures online, it is always advisable to start from the bottom up and slowly increase the prices as you gain more popularity and customers.
There are quite a few fetish websites to make money where you can sell feet pictures. Sites like FeetFinder and FunWithFeet are exclusive platforms to sell feet pictures online. You can also use social media platforms such as Instagram to sell feet pictures to the right people. Even membership platforms like OnlyFans allow you to sell feet pictures to your followers.
2. Sell used underwear online
Another specific fetish that many people have is buying used underwear from women. Men also can sell their underwear for money, but the market is really small compared to women selling their used panties. The buyers get sexually high from the feel, touch, and smell of the used panties and can pay really good money to get their hands on your used panties.
Selling panties online can be done anonymously also, as you don't need to show your face or reveal your identity while selling. This makes selling undies online an easy and profitable side hustle for many women. Usually used panties can go from $30 to $50 range while custom used thongs can be charged at $100 or above, depending on the custom request.
There are many fetish websites that pay well for used panties. Sites like Snifffr, PantyDeal, Scented Pansy, etc., are exclusive platforms to sell used underwear. You can also promote and find customers on social media platforms like Instagram and Twitter. Subscription websites like OnlyFans and Fansly also make a good option to sell used thongs online.
3. Become a fetish model
The best part about becoming a fetish model is that you get to choose to do something that you enjoy doing. There are many options for fetishes that pay well, so it's totally up to you which fetish you choose to make money from fetishes. When you're choosing a fetish to make money, remember to choose something that you have an interest in and enjoy doing, or else it becomes a monotonous job where you might lose interest.
As a fetish model, you have various options; you can choose to become a findom fetish model if you like power and domination or you can choose to become a tattoo fetish model if tattoos are your thing. Fetish modeling can involve clothing fetish (like leather, corsetry, latex), fetish toys or devices(like whips, ropes, chastity devices), or body fetish modeling where models show specific body parts like a foot fetish model. Hourly rates for fetish models can easily go up to $100 to $150, while day-long shoots can get models $1000 per shoot.
To be a successful fetish model, you need to know where to sell and market yourself. There are many fetish sites to make money from, like social media platforms. Platforms like Instagram, Reddit, Twitter, etc., are great platforms to find the right audience for your fetish content. You need to market yourself well in order to get paid for fetish photos.
4. Sell used men's underwear online
This one is for all the men out there who would want to get paid for fetishes. Although the market is small, selling mens used underwear is still a good side hustle for men to make some extra cash. As the market for selling mens underwear isn't huge, not many men do it or in fact even know about such a business. Thus, the demand for used mens boxers is big making it a well-paying business.
Usually, you can sell used mens underwear for $15 to $50. These prices can vary depending on custom requests from your customers. As and when your popularity and customer base increase, you can hike the prices to sell used mens underwear. If any custom request needs a lot of work and time, then you can charge them accordingly after discussing it with the buyer.
Selling used mens underwear is one of the best kinky ways to make money for men. And to fulfill this fetish, there are many fetish websites that pay well. Sites like HunksJunk, MaleThingsWorn, Pants2Order, etc., are exclusive fetish sites to make money by selling used mens underwear online. You can also use social media platforms like Instagram and Twitter to promote and market yourself.
5. Sell butt pics online
Another great fetish that pays well, selling butt pictures online, is very regular now. Some people have an extreme fetish for well rounded and smooth ass pictures for which they can pay a good amount of money. The competition is tough as many women like to sell pictures of their beautiful butts for some extra cash as it's easy and well rewarding.
Models usually charge anything between $5 to $20 for booty pictures to their customers. The charges also depend upon the quality of the picture, if you're showing your butt hole or not, and how popular you are. Depending on these factors and custom requests, you can increase your prices and make more than $1000 a month by selling butt pics online.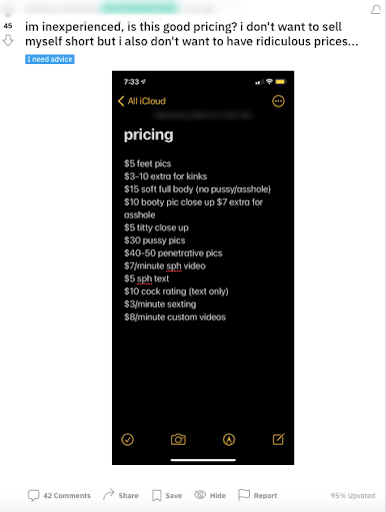 There are many platforms available that let you sell butt pics online. You can sell booty images on platforms like Chaturbate, OnlyFans, Reddit, and every other platform on which adult content is allowed.
6. Sell nudes online
Selling nudes is one of the most popular fetishes in the world. Models, pornstars, and even college-going girls sell nudes online to make some extra cash. The competition for selling nudes is fierce, and you need to market yourself well to be able to find regular customers and get paid for kinks.
The range of prices for selling nudes online varies a lot. Some people sell nudes for $5 per picture, while more popular models can charge anything between $25 to $50. Celebrities also sometimes sell nudes for fun, and they charge anything above $100 per picture. So depending on your fan base and popularity you can set the appropriate price for selling nudes online.
Selling nudes is a popular fetish and there are many platforms where you can get paid for fetish content. A few of the popular platforms to sell nudes are ExtraLunchMoney, BentBox, and IWantClips. Other than these platforms, you can also sell nudes on OnlyFans, Chaturbate, ManyVids, and more such content platforms.
7. Sell dick pics online
Here's another money making way for men. There are many people out there both men and women who want to get hold of some nice hard dick images. Once you find the right audience, then selling dick pics can become a profitable side hustle. Male models sell their dick pictures for anything ranging from $5 to $20. You can increase the prices for custom requests like a cum shot picture. You can easily make money from fetishes like selling dick pics on platforms like OnlyFans, LoyalFans, Fanvue, and more such platforms.
8. Rate dick pics
Rating dick pictures is also one of the kinky ways to make money online. There are many men looking for some praise for their dick pictures and they pay well to models for doing so. Models can rate dick pics as text, an image of themselves with the text, or even a video of them reviewing the dick picture. Depending on the customization, models can charge anything between $10 to $50 to rate dick pictures. Models promote their dick rating services on platforms like Instagram, Twitter, Snapchat, etc.
9. Review sex toys
If you're good with words, then this fetish can be good for you. As a sex toy reviewer, you write blogs and make videos reviewing the latest sex toys in the market. Sex toy companies pay you well to say good words about their sex toys. Popular reviewers can make around $5000 in a year by just reviewing sex toys for various companies. Sex toy companies run lucrative affiliate programs which can be availed by your blog site for the review of sex toys and even selling sex toys on your website.
10. Sell porn clips online
If you're someone who is comfortable with recording their sexual adventures, then this is one of the best fetishes that pay well. You can sell your homemade porn clips on various fetish websites to make money. Porn is very popular in the world and homemade porn clips are in high demand due to their natural flow. Both men and women can sell homemade porn clips and make money from fetishes of people. Porn clips can be sold for anything between $10 to $500, depending on your popularity and demand for your clips. There are many fetish websites that pay well for homemade porn clips like ExtraLunchMoney, BentBox, BongaCams, OnlyFans, and many more such platforms.
11. Sell boob pics online
Another great way to get paid for fetish photos is selling boob pictures online. It is one of the most common and popular ways to get paid for kinks. All you have to do is take good pictures of your boobs and sell them online. Models and even college girls sell boob pictures online ranging from $5 per picture to $50 or even $100 per image depending on their popularity and fan following. You can sell boob pictures on many fetish sites that pay well, like IsMyGirl, Erotifix, OnlyFans, and more such content websites.
12. Sexting
Sexting is a great way to make some extra money for both men and women. There are many lonely people out there looking for an intimate conversation with the opposite or same sex. Sexting pays you well and also doesn't take much time or effort from your side making it one of the best kinky ways to make money.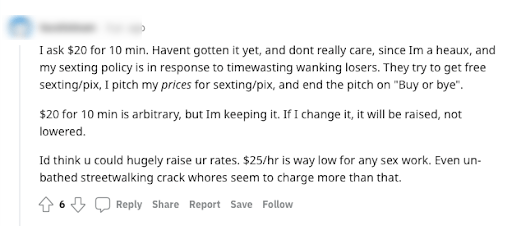 The usual market rate for sexting services is $2 to $3 for a minute of sexting, but you can also sell sexting services in bundles like $20 for 15 minutes of sexting and so on. Depending on custom requests like adding pictures and video clips, you can charge more for such services. You can find many fetish websites that pay for sexting services like Arousr, ChatRecruit, Phrendly, and so on.
13. Phone sex operator
If you're someone who likes to talk and flirt on the phone, then this side hustle is perfect for you to make some extra cash. Many introverts in the world are looking for someone to talk to and have a flirty discussion. There are many phone companies that facilitate phone calling for customers and pay you well for your phone sex operator services.
Websites like SkyPrivate, NiteFlirt, and IWantPhone are some popular fetish websites to make money. New phone sex operators can make anything between $0.50 to $1.99 per minute, while experienced operators can make anything above $2.99 per minute.
14. Virtual girlfriend
The world is full of people who are lonely and introverts looking to make connections online. Women can provide a virtual girlfriend experience to such men and make good money out of this side hustle. Giving an online girlfriend experience takes time and effort, so you can charge accordingly for your services. You can start with $30 for an hour and increase it depending on your client. Any model can publish about the online girlfriend services on various platforms like OnlyFans, MyGirlFund, and even use Skype for their services.
15. Sugar baby
A sugar baby is someone who provides an affectionate and intimate relationship with wealthy men or women. This can be done online or in person depending on your comfort level. It is a high-paying job as it requires a lot of time and effort to maintain it. You can hop on to various dating sites or specific dating platforms like SugarDaddyMeet to find a sugar daddy for yourself. Models easily make $3000 per month as a sugar baby, along with the various gifts they get from their partners.
16. Camming
Webcamming is a popular way for both men and women to get paid for kinks. It requires you to perform live shows on a webcam to an online audience who pay to watch you strip and perform other sexual activities. Camming is a profitable opportunity for men and women who want to make money masturbating in front of a webcam. Models on webcam sites can make $40 to $50 per hour on average doing live shows for 4 to 5 hours in a day. There are many cam sites that pay well, like Chaturbate, BongaCams, LiveJasmin, etc., making camming one of the best sexual ways to make money.
Conclusion
So here is our list of ways to get paid for fetishes. Every day there is a new fetish coming up in the world, leading to more opportunities for people to make money from fetishes. Compared to earlier, fetishes are no longer a taboo subject, and more people are opening up about having one or the other fetish. Seeing the rise in fetishes, it is a good idea to build your own website and get paid for fetishes.
One such ready-made script to build your own fetish website is xModel. xModel provides you with multiple monetization ways like subscriptions, live camming, selling premium content, and an integrated eCommerce store where you can sell nudes, boob pictures, butt images, or any fetish content that you want and get paid for fetishes. xModel is easy to use, affordable, and a wholesome solution for your adult services.