-

5

mins read
The adult industry has grown manifolds over the years and continues to be a money-minting machine for many models and pornstars around the world. The options provided by the adult industry to make money are plenty, and one of those is selling booty pics online.
It was not long ago when platforms like OnlyFans came into the picture and changed the whole creator economy for adult content creators. Such platforms gave the freedom to adult creators to sell their content freely and make good money from it. Today, we have many such platforms that cater to adult creators to sell nudes, sell boob pictures, and sell butt pics.
Believe it or not but selling booty pics online is a great source to make money for models. There is a huge audience set waiting for you to sell ass pictures. But there is stiff competition for this too. So you need to stand out from others to be successful in selling booty pics online. This article will help you figure out what you need to do to be successful in selling ass images to the audience.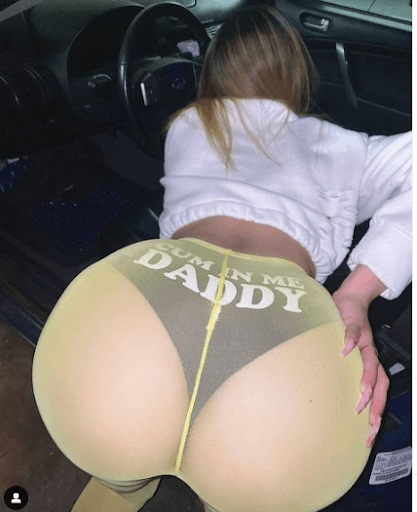 How to click attractive butt pictures?
In order to succeed as a butt model, it is very important to take good pictures of your ass. If your content is good, then only you will find buyers for your butt images. Here are a few tricks to click awesome butt pictures that will leave the audience drooling.
Good lighting
The most important thing to keep in mind while clicking your butt pictures is to have ample lighting falling on your ass. A shiny ass that is well-lit is a killer combo to sell your booty pics like hot cakes.
Invest in decent lighting equipment like ring lights if most of your shoot is indoors. However, there is nothing better than natural lighting to enhance your pictures to god-level though. Mix up your content with indoor and outdoor shoots to maximize your chances of making good money by selling booty pics.
Use lubricants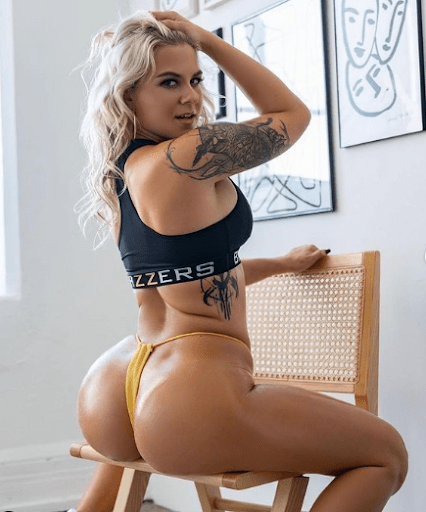 There is no better sight in this world than a booty that is shiny and well lubricated. You can use a little body oil or lubricant to bring that shine on your ass. Trust us that your ass pictures will be in high demand if you manage to click well-oiled booty pictures.
Shoot in exotic locations
Clicking ass pictures on your bed or in your house can get monotonous for the viewers. Instead, go out and click as many pictures as possible on your holidays at exotic locations.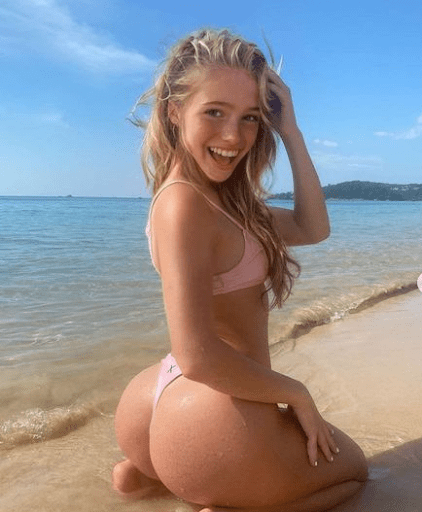 PRO TIP – You can click thousands of images on the beach, in the jungle, on your hikes, and keep them stored with you to be used in the coming days.
Food and other props
Using props in your ass pictures is another great idea to sell booty pics. You can use whipped cream and show your butt like a cream bun or maybe put a Santa's hat on your butt to give the Christmasy feel to the viewers. Experiment and see what your viewers would like to see. You never know, you just might accidentally invent a new fetish.
Best poses to sell butt pics
The next important aspect of successfully selling booty pics is the pose you give in the picture. It is obvious that your ass has to be the center of attraction in your images. Here are a few poses that are recommended to bring out the best pictures of your butt.
In your face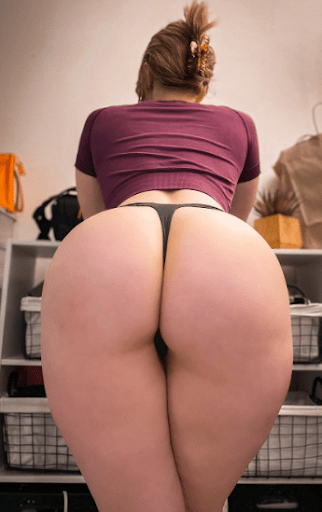 There is no better pose for your butt pics than thrusting your butt at the camera. This pose shows the curves of your ass beautifully and makes it very inviting for the viewer. Paired with sexy lingerie, the 'in your face' pose can enhance your chances of you making good money selling butt pics.
Crossed legs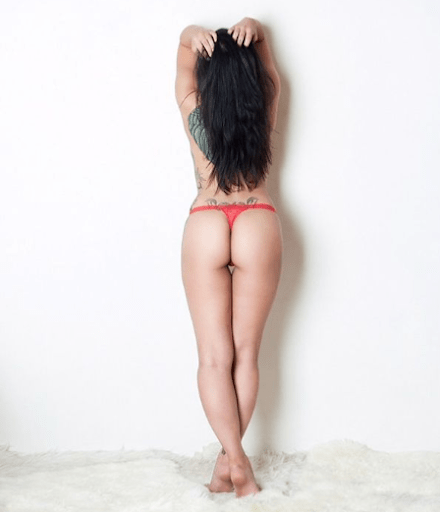 Keep your legs crossed while standing and take a picture from behind. This 'crossed legs' pose makes your whole figure look like an hourglass that many people are fans of. Try out variations to get the best out of your butt pics.
Sitting down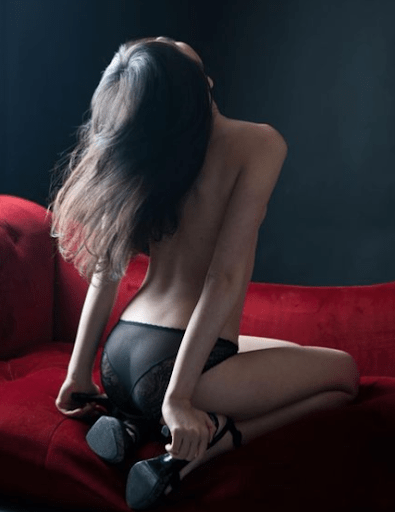 The sitting down pose is great for models who have comparatively flatter butts. Sit down on your bed or a sofa and click a photo at an angle from behind with your butt slightly angled away from the camera. This pose enhances your curves and makes even flatter butts look curvalicious. 
Side pose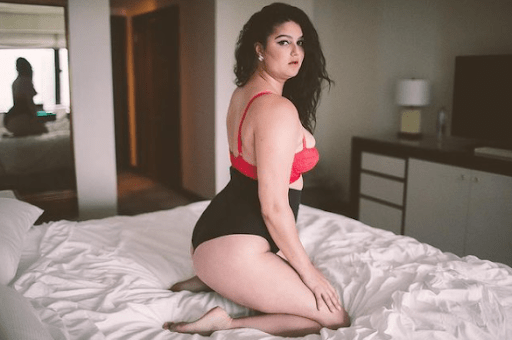 Your booty will always look rounder when you take a picture from the side. Try to vary your leg positions to get different poses, and you can get a good set of images to sell. Try to pop out your ass while clicking pictures to make your ass stand out even more.
How much money can you make by selling booty pics?
Making money by selling booty pics is easy if done in the right way. Although it cannot be your only source of income for your day-to-day life, it sure can provide for your extra expenditure and luxuries.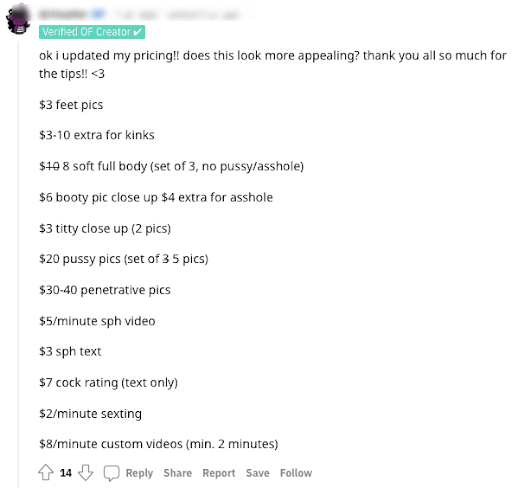 Let's say you charge $10 for every booty pic you sell and add another $5 if you show your asshole in the picture. If you're able to sell 50 such pictures in a month, then you can easily make $750 every month just by selling booty pics online. Other than booty pics, if you sell nudes and boob pictures too, then you can easily make anything above $1000 every month by charging for your photos.
Tips for selling booty pics
When you venture out to sell butt pics online, success won't come easy and quick. You will have to work hard to gain users who are willing to buy your pictures on a regular basis. Here are a few tips using which you can sell booty pics.
Use multiple platforms to sell
You cannot explore just one adult platform to sell butt pics and expect to make good money from it. To expand your audience and have more chances to sell your pics, you'll need to sell on various adult platforms at the same time. Platforms like Chaturbate, Reddit, etc., get good traffic and can help you sell more.
Promote on social media platforms
When you want to reach a larger audience base, then nothing better than various social media platforms. Social media platforms like Instagram, Snapchat, and Twitter have a large number of audiences whom you can target to buy your pictures. You can post teasing pictures on such platforms and then direct users to the platform where you sell your booty pics.
Interact with potential buyers
One golden rule when you want to sell booty pics is to be nice and interactive with your potential buyers. Use various social media platforms to engage the audience in conversations and when they send private messages to you, then be nice and try to sell them your pictures.
Click high-quality pictures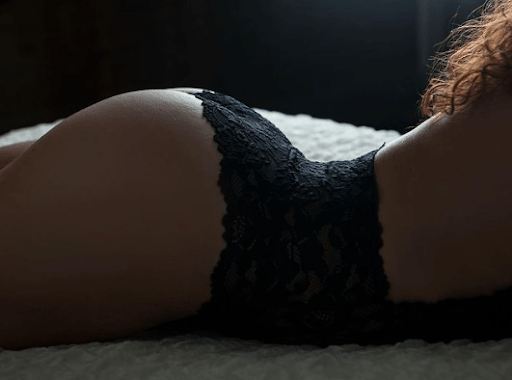 Even if you cannot afford a professional photographer for your pictures, you can still click great images with your smartphone with the help of your friends or a tripod. Take pictures in various angles and settings and process them to look like high-quality images.
Send personal notes or gifts for buyers
If you want your buyers to come back for more, then adding a personalized note or an audio clip of you being erotic can be a great incentive for your buyers. Doing this makes your buyer feel connected, and they keep buying booty pics from you.
Conclusion
Selling booty pics can be an exceptional side hustle for many girls who want to make some extra income by basically not doing much. If you can follow the tips and tricks mentioned in this article, then soon you can see yourself doing well and earning money by selling your ass pictures. All you need is a little bit of dedication and creativity in your pictures, and then you will see the cash flowing in.
If you want complete freedom to sell booty pics then you can opt for a readymade solution like xModel. It is affordable, easy to install, and provides you multiple monetization methods. xModel is great for cam models, pornstars, and adult content creators. Check out the xModel features and demo today!