-

17

mins read
Wondering how to make homemade porn and sell it online for some extra money? In this article, we're sharing a complete guide to selling homemade porn and the best places to sell them for a profit! 
Making a living through amateur porn is becoming increasingly popular. It is so profitable to make and sell homemade porn that even established porn stars have started to venture into this domain. There's a good reason for this – here, you earn money for yourself instead of working for someone else.
Whether you've got an idea for uploading porn videos – or you have one already up and running – and want to make $15,000+ a month sharing quality homemade porn online, you've come to the right place.
That said, let's get started. 
Why Should You Sell Homemade Porn? 
Selling homemade porn can be a lucrative side hustle for anyone who wishes to make $ online. In fact, if you're serious about selling your amateur porn, you should definitely try to sell it right away!
Here's why it's worth it.
Low Investment Cost
Filming your porn and selling it online costs you almost nothing. It is not necessary to have high-end gadgets, as most of them are made on smartphones nowadays. 
On most adult platforms, using a creator/model program, you can sell your homemade porn for free. And some sites, like All Things Worn, charge a monthly fee but zero commission percentage to sell home porn on their platform. 
Anyone Can Make 
The best thing about selling homemade porn online is that anyone can make it. It doesn't matter whether they are in their 50s, oversized, pot-bellied, or have an average appearance. What matters is; how much you can entertain your audience with your lovemaking skills. 
Reach Millions of Customers
According to Pornhub Insights 2022, the #1 searched porn category of the year is "reality", in other words, real amateur porn. In the United States, the porn niche has grown by +310% and +179% worldwide last year.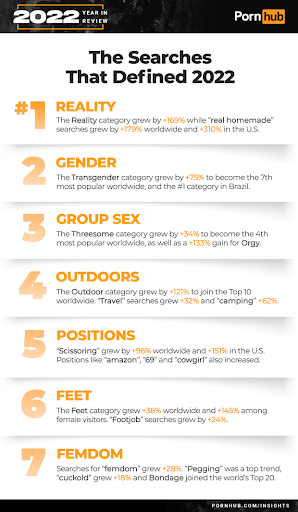 This clearly indicates that millions of users (on Pornhub alone) are eager to experience this type of pornography. Even by grabbing 0.1% attention from these users, you can earn tens of thousands every month. 
Multi-Channel Sales
One of the advantages of selling homemade porn online is the ability to tap into multiple sales channels. For instance, let's say you created a 10-minute porn video. Instead of limiting yourself to a single platform, you can distribute and sell it across multiple platforms simultaneously.
In addition, you can sell a video to as many customers as you want – as long as the content is fresh and high-quality, people will purchase it.
What You Need to Know Before Selling Homemade Porn 
Now, before we get into the nitty-gritty of how to sell porn and where you can sell them safely and securely, let's talk about a few essential things you should know before selling your porn online.
1. Legal age
To sell homemade porn online, you should be legally aged. In general, the legal age to sell your sex tapes online is 18 and older. But make sure to check your region or country's pornography laws. 
For example, in the United States, it is illegal to distribute porn if you're under 18. In other words, it is illegal to give your customers the impression that you are 20 when you're not even 18 years old.
Moreover, if both you and your customer are under the age of 20 and within 5 years of each other's age, you will have to participate in an educational program, according to the Cyberbullying Research Center. And as of U.S.C. 1470, it is illegal to distribute pornography to minors under 18 knowingly. 
So before you start filming your porn, understand your regional laws about pornography thoroughly. 
2. Consent
Homemade or amateur porn usually has two or more performers. So it is essential that you know what 'consent' actually means. For example, in the United States, the legal age at which a person can consent to any type of sexual activity is between 16 to 18. This means a sexual act can not be lawfully consented to by anyone younger than the consenting age.
Let's say you and your partner are in your 20s. Does this mean you don't need consent? No, sexual activity between you and your partner requires consent every time. Additionally, ensure that your partner gives you permission to record and sell the video. If they don't allow it, but you record and sell it, it's illegal.
3. Your Boundaries
It is essential that you need to know where your boundary is when you are working in this industry. You have to stay firm on your line because perverse and creepy clients will try and convince you to do something you're uncomfortable with. 
For example, if someone asks you to reveal your face and you prefer to keep it hidden, say NO from the outset. And if they keep pestering you, block their contact right away.
4. Your Customers
If you want to sell homemade porn successfully, you must know who your customers are. Most of your customers are going to be either male or non-binary people. 
They are simple-minded individuals who like to enjoy categorizing porn into different study folders. So don't be scared to sell your videos into that stereotype. Are you a BDSM? Part of a sex toys club? Do it; you have tons of customers waiting for you online. 
5. Risk & Responsibility
Once you upload your porn online, it stays online forever. As a result, you should be prepared to face any form of criticism, whether it comes from strangers online or from family members.  
You should also regularly get tested to know your STI status. Even if you trust your partner 100%, you need to get your test results at least every two weeks. Additionally, make use of different types of protections. Always carry a condom, glove, birth control pill, and dental dam. 
Pro Tip: If you don't already have a huge following, don't expect to make massive money right away. It's an oversaturated market, especially since COVID. The vast majority of full-service sex workers are now selling porn online. So it can be highly competitive. Be prepared with your marketing strategy when you start building your following.
Essential Requirements to Sell Homemade Porn 
So, what do you really require to make homemade porn and sell it successfully online? It really comes down to these seven things.
1. A Creative Idea
Yes, you heard it right. You need to be a little creative with your content to stand out from the crowd. If you're clueless about creating an amazing idea for your porn video, start by looking at people who sell them online.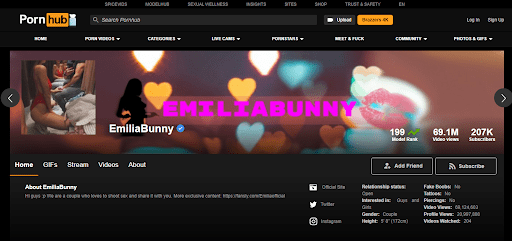 For example, take a look at EmilaBunny. She has uploaded more than 100 videos on Pornhub and has over 207 subscribers. Whenever she performs stripteases, she gives an extremely hot warm-up for 5-8 minutes and doesn't show off her ass or boobs until the end of the video.
By doing this, her audience has to watch her other videos to feast upon her body and enjoy her amazing performance. Like this, find a creative idea that fits your performance so that you can pull a massive audience. Moreover, this also helps you build a loyal fan base and your brand. 
2. Camera/Smartphone
To make high-quality video content, you will need a video camera. But what kind of camera is the best? You don't need a super expensive camera, to begin with. Instead, you could get going with a webcam or your smartphone.
Remember, your camera or smartphone must be able to shoot HD 720p footage. We recommend using your smartphone if you don't have a camera. It can film videos in HD 720p and 1080p and cost you nothing. 
3. Good Lighting
You'll have noticed most reality porn videos are shot indoors nowadays. It sets your audience in a vibrant mood and allows them to enjoy every detail of your porn video. 
For instance, you can use smart light bulbs. It can provide you with a variety of lighting styles. Also, you may need a ring light if you're doing POV porn. Using it, you can easily alter the shadow on your face and film in a clearer, more detailed style.
4. Microphone
Besides video quality, audio quality is crucial to your success. Because even if your video is bad, users will tolerate it if your audio is good enough. Getting an external microphone is the cheapest way to get good audio quality. 
If you're using a smartphone or a camera to shoot your porn video, we suggest you get a shotgun microphone with a mount. It is easy to set, portable, used outdoors, and can record voice-overs. 
5. Sex Toys & Lingeries 
If you want to make money by selling adult content, you need to invest in buying sexy lingeries and sex toys. An attractive bra or panty can create an unquenchable anticipation and thrill among your audience while watching your porn. So use a matching set of lingeries (three or more) that fits the theme of the video. 
With regard to sex toys, it goes without saying everyone enjoys watching you explore your body with 8-inch dildos and classic vibrators. So ensure to add sex toys to your shopping list. 
6. PC/Laptop
Though you use a smartphone to film your video, you need a PC or Laptop to upload it. In addition to editing your video, you need to save a backup too. So a computer or a laptop is a must. 
Moreover, if you're going to film a porn video in 1080p or more, you need to have a PC with 16 GB RAM and a 4GB graphics card. 
7. Video Editing Software
The reason why you edit your video is to make it watchable. If you somehow manage to record your entire porn video in one take, then you don't need to edit. But this only happens in rare cases, so prepare yourself with good video editing software.
Here are some of the best video editing software for your consideration:
Now that you know what you need before making homemade porn, let's move right into selling it.
How to Sell Homemade Porn?
There are surely things you can do will make your porn video highlight more than others and make it sell like hotcakes. Keeping that in mind, we've prepared an action plan that you can follow right away:
Step 1: Choose Your Niche 
The first step in making your homemade porn is deciding exactly what kind of porn videos you want to sell. This means you must find the niche you want to perform in and the audience/customers you want to reach. 
We've witnessed successful adult creators start in a wide range of porn niches like… 
Amateur blowjob

Amateur threesome

Amateur couples

Femdom 

Incest

Amateur lesbians

Amateur anal
…as well as lots of micro niches that combined or performed in the leeways between them.
If you have a porn niche in mind that you want to pursue, then test it right away. If you want to determine whether your niche is profitable, upload free content on Pornhub, Chaturbate, or OnlyFans and measure the response through likes, views, comments, and impressions.
In addition, to see if there's any demand for your niche, try looking into popular porn and cam sites like xHamster, and LiveJasmin. Also, you can test the demand on social media platforms like Reddit and Twitter. 
Step 2: Plan Your Content 
Choosing your porn niche is only the first step. Before you begin selling your porn on the internet, you need to figure out who your audience is and what content they are looking for. 
The following questions can help you better understand your audience/customers:
What common porn content does your audience share?

Think about demographics, interests, trends, etc.

What does this audience expect to get from watching your porn videos?

Think about if it's strip teasing, role-playing, using sex toys, etc.

Is there something you can offer your porn niche audience that no one else is offering?

Make this your unique selling point for your content.
By answering these questions, you will gain a better understanding of how to sell porn, as well as who you should market your content to and allow you to get some interesting topic ideas.
After you understand your audience's needs, you can begin planning your videos. For instance, when creating your porn video, keep it between 10 to 20 minutes so that it is easy to make the video into a series of 4-5 parts.
Step 3: Film Your Homemade Porn
If you have enough skill to produce and shoot your own video, you can seamlessly create your own homemade porn. 
On the other hand, if you have the budget, you can hire a professional videographer to film your porn video. 
While filming your porn video, think about your viewers and deliberate on elements like:
What country/region will the audience be watching this porn video?

Does the content of my video have a competitive edge?

What can I provide to improve their viewing experience?
For example, if you're from a Non-English speaking country, but your audience is mostly from the US, you can add subtitles to enhance the viewing experience and help your audience understand what you're talking about in the video.
Step 4: Edit and Keep the Best Bits
Editing your porn video helps your audience to connect with the content. If all you need to do is trim your video – the start and end of your clip – it can be done easily. If you're using your smartphone to edit, you can do it using any video editing app, like Kinemaster, InShot, Canva, etc. 
If you're filming with a camera, you can use the video editing software that comes with Windows 11 or Mac's iMovie. 
Remember to keep your best shots, and don't forget to add a watermark on your video.
Step 5: Pick a Platform To Sell Your Homemade Porn 
You need a solid platform with creator-friendly features to sell your content. That platform should be a place where you can upload, share and sell homemade porn to a larger audience. And our recommendation is to choose an online provider who specializes in selling porn content. 
Though popular sites like PornHub, Chaturbate and OnlyFans are great and have a massive audience base, you need a specialized platform – one that specializes in hosting and selling porn videos and has little competition.  
If you want to know the best sites to sell homemade porn online, keep reading. We've pulled together the top 6 places to sell porn that matches all your needs. 
Step 6: Find the Right Payment Structure
After choosing a platform, it's time to start thinking about how to monetize your porn video and sell it online. This is an essential step towards learning how to sell homemade porn.
There are four revenue strategies you can use: 
Membership: This revenue model gives your customers/subscribers full access to your content library on a monthly or yearly recurring fee, like OnlyFans, Fansly, ManyVids and LiveJasmin.
Pay-Per-View: A transactional video-on-demand revenue model is used here. Your customers make a one-time payment to get access to specific content, like when buying a video on adult VOD sites and cam sites. 
Custom Request: Using this revenue model, you're allowing your subscribers to request custom-made content. It is important that you include a brief outline of what you can offer on custom content in your bio so that your customers can easily decide what they can request. 
Advertisement: The most obvious way of making money from your porn video is through ad revenue. You will receive a commission from the platform based on impressions generated by the ads that run on your video. Pornhub is a great example of this. 
You should select your payment structure based on the content you have and the audience you have. 
Step 7: Upload Your Homemade Porn 
When you have created enough content for selling, upload it on the platform of your choice. The uploading process will be quick and as easy as possible. All you have to do is "drag and drop" content. 
Remember to check the acceptable video formats and sizes of the platforms before uploading your videos. For example, on OnlyFans, video sizes are limited to 3GB, and acceptable formats include MP4, MOV, AVI, and MPEG4. 
On LiveJasmin, the max file size should be less than 2GB, and they accept AVI, MPEG, MPG, MOV, FLV, F4V, MP4, and MKV video formats. Pornhub, on the other hand, allows you to upload videos up to 50GB in size and accepts AVI, WMV, MP4, MPG and MOV formats.
In case you're uploading a 1080p or UHD video, make sure you have a high-speed internet connection in your place; otherwise, the uploading process may take hours to complete.  
Pro Tip: Never give out content before payment on a custom request. There are scammers who will try to convince you otherwise, but no seller will ever send you content before you pay.
Where to Sell Homemade Porn
From tube sites to cam sites, there are so many best places to sell homemade porn out there today, and we have selected a top few for your consideration. 
1. OnlyFans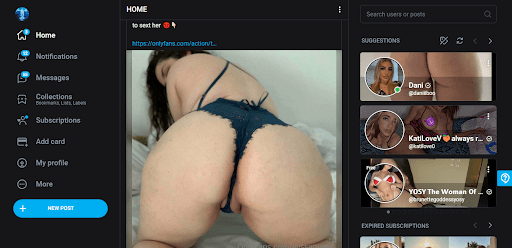 OnlyFans is the most popular subscription-based social media platform, with over 3 million creators selling their exclusive content. OnlyFans has helped porn stars, escorts, webcam models, and amateur teens make hundreds of thousands and millions of dollars in a span of a few years. Now OnlyFans has become synonymous with adult content and sex work. 
OnlyFans Payouts:
Creators can price their monthly subscription fee, which ranges between $4.99 to $49.99.

You can have 80% of what you make on OnlyFans, and the remaining 20% goes to the platform.

A total of five monetization models are offered to generate maximum revenue.

You can cash out manually or automatically by requesting payouts on a monthly, weekly, or daily basis.

OnlyFans offers 5 payout methods for creators: Paxum, direct bank transfer, Skrill, ePayment, and international transfers, with minimum withdrawals ranging from $20 to $500. 
2. Chaturbate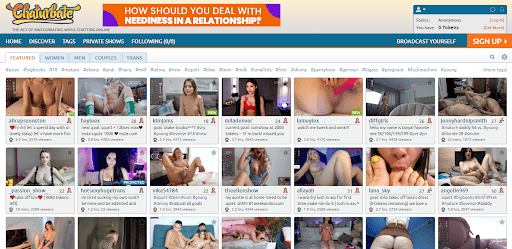 Chaturbate is one of the most famous and popular live cam websites that has popularized the adult cam industry. The Chaturbate platform is exactly what the name implies, combining chat and masturbation. It is a token-based webcam site that allows users to watch, interact and have a one-on-one chat with cam models.
Chaturbate Payouts:
Chaturbate takes 40-50% of the earning from its creators. And the creators can withdraw their earnings once their token value reaches $50. 

Daily payouts are only available to creators between Monday and Friday before 1:00 AM MST.

Chaturbate offers 8 payout methods for creators: Wire Transfer or Direct Deposit (USA only)Skrill, Paxum, CosmoPayment, ePayService, Bitcoin, or Check by mail. 
3. ManyVids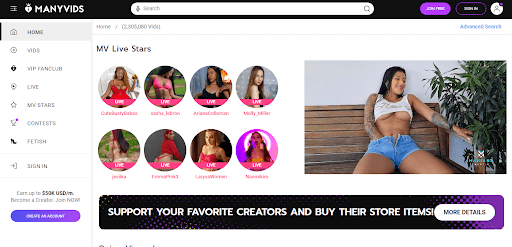 ManyVids is one of the successful OnlyFans alternative websites out there today. Compared to OnlyFans, this platform offers multiple revenue channels for its creators. One of the most money-spinning features of its services is 'Custom Vids', where users can request a custom video from their favorite models. 
If you're looking to sell homemade porn on a website like OnlyFans, then you can consider ManyVids without second thoughts.
ManyVids Payouts:
The platform has a commission cut of 20% for most of its revenue models. However, they take up to 40% of your revenue when one of your porn videos gets sold. 

Once you have met ManyVids minimum payout requirement, payments are automatically processed on the 1st and 16th of each month.

Payout methods of ManyVids: Yoursafe, Paxum, Cosmopayment and direct deposit.  
4. Amateur Community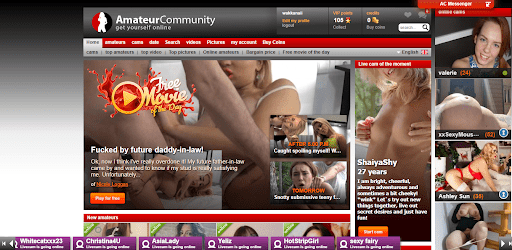 AmateurCommunity is a platform dedicated to amateur pornography. You can easily upload your porn and start selling your content. The creator profile of AmateurCommunity is well-designed, with all the information that your audience needs to know. Users can also give a friend request to models, like Facebook and Instagram.
AmateurCommunity Payouts:
You can set the price for your content and get 30% of your earnings. 

Payout requests can be made twice a week. But you require a minimum amount of $50 to request a payout.

The payout options available on the platform are wire transfer and Paxum. 
5. Pornhub Premium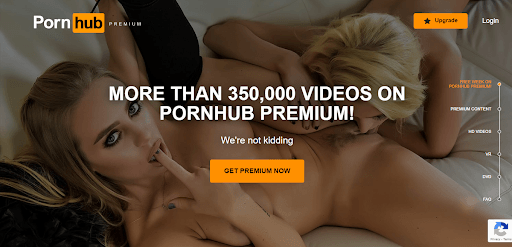 Pornhub is the biggest pornographic website in the world, with over 3 billion users visiting the site every month. The Pornhub we know is a free version, while Pornhub Premium is a paid version. With the paid version, you can earn $40 – $45 for every 1000 views, compared to $0.69 on the free version. 
So join the Pornhub model program and start to make money on Pornhub. 
Pornhub Premium Payouts:
As a creator/model, you can keep 65% of the video sales amount. And you can keep 80% of your earnings when you receive a tip from a fan.

Adding your paid videos to Pornhub Premium gets you a cut on their monthly subscription view share rate.

Withdrawals are processed each month during the first week, with a minimum of $100.

Pornhub Premium offers two types of payout methods: Check and Paxum. 
6. Extra Lunch Money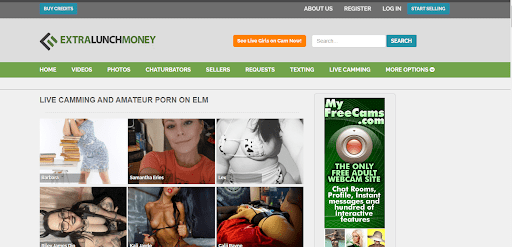 ExtraLunchMoney is a well-known online marketplace that sells custom-made adult content. Many people who are interested in buying amateur porn turn to this platform. No matter what type of content you make on an amateur porn niche, it sells here – BDSM, vanilla, unusual fetishes, anal, lesbian, you name it. 
The flexibility of Extra Lunch Money is amazing and lets you make money with everything you have.
Extra Lunch Money Payouts:
Sellers at ELM are paid once

a week, between Tuesday and Wednesday. 

The minimum amount of credit required to request a payout is 40 credits, i.e., $24. 

On ELM, you'll be getting 60% of your earnings. But after two verified sales, you will begin to get 65%.

Payout methods available on ELM for U.S. sellers are Direct ACH deposit and check by mail. For sellers outside the U.SThey get paid through Paxum.
Other Best Sites to Sell Homemade Porn
The more options, the more the opportunity. So we've pulled together another 10 best places where you can sell homemade porn online. 
Platform

Monthly

Traffic 

Payout

Percentage

Payout Methods

Stripchat

687.5M

50-60%

Bank wire transfer, Paxum, Epayservice, Bitcoin, Ethereum, and Cosmopayment. 

Clips4Sale

21M

60%

Bank wire transfer and check.

LiveJasmin

269.4M

30-80%

Paxum, Webmoney, Check, 

Bank wire transfer, Credit Card and Epayservice.

CamSoda

25.4M

50-55%

Paxum, check, wire transfer and direct ACH deposit. 

Fansly

28.5M

80%

Paxum, Skrill and Cryptocurrency

iWantClips

3M

60-80%

Paxum, Check, 

Bank wire transfer and ACH deposit.

FanCentro

2M

75%

SEPA, Paxum, bank wire transfer, check, and ACH deposit.

BongaCams

181.3M

60%

Paxum, Webmoney, ACH deposit, Check, Bank wire transfer, Epayservice, Bitcoin, and Ethereum. 

MyDirtyHobby

4.5M

25-50%

Paxum, bank wire transfer and check. 

ModelCentro

109.7K

75%

Paxum, wire transfer, check, and direct ACH deposit.
How to Start Your Own Website to Sell Your Homemade Porn?
You may think creating your own website to sell homemade porn is very complicated and costly, right? Well, it doesn't have to be. Firstly, there are two ways you can create your own adult website: building from scratch and using a white-label solution.
The former is very time-consuming, expensive, and requires basic coding knowledge on your part. You need to pay $20k – $30k to build, and it takes a couple of months of time. Also, the cost may go up depending on the location you engage the website builder. 
But the latter is completely opposite. It can take just 3-5 days and a couple of thousand dollars to build your own website using a white-label solution. And one such white-label solution is xModel by Adent.io.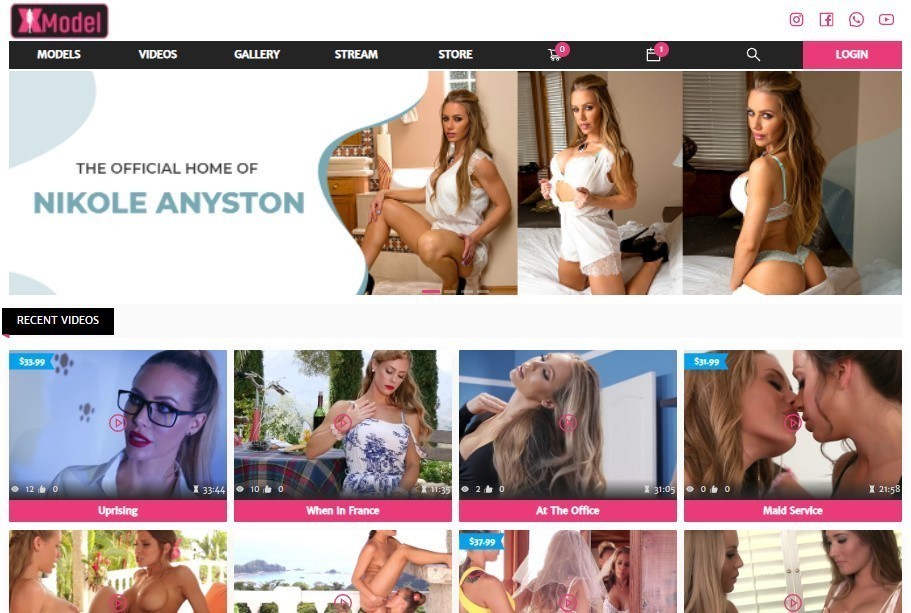 xModel is a white-label solution for adult models like you to start your own website to sell homemade porn. It has so many amazing features, highly customizable, SEO optimized and mobile-friendly. You'll leverage multiple revenue streams like subscription, pay-per-view, live streaming, tips and more.
In case you have multiple amateur models and want to run as a studio business, xMember by Adent.io helps you build the best adult membership website like Brazzers and Naughty America. With advanced membership management, streaming technology and AES 256 bits encryption, you'll get a safe, secure, futuristic membership platform. So check it out!
How Much Money Can You Make Selling Homemade Porn? 
Earning of your homemade porn may vary greatly depending upon a number of factors, such as payout commission percentage, website traffic, demographics, video views, and volume of sales made by your porn video.  
For instance, a creator can earn an average of $5k to $7k per month by selling homemade porn online on multiple sites. But if they sell the content on their own fan site, they can make even more money without sharing any commission. 
Let's look at JadeKink to find out how much one can make selling porn on their own fan site.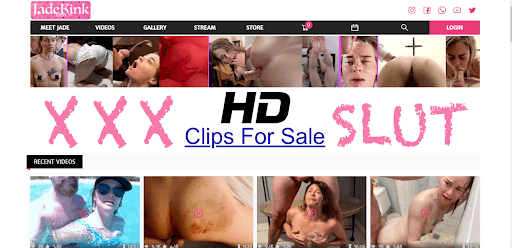 JadeKink is an adult content creator who started selling homemade porn on free-tube sites in 2021. 
After building up a following, she launched her own adult site to sell her content and began earning money through memberships and pay-per-view content. At present, she is making more than $21,000 per month.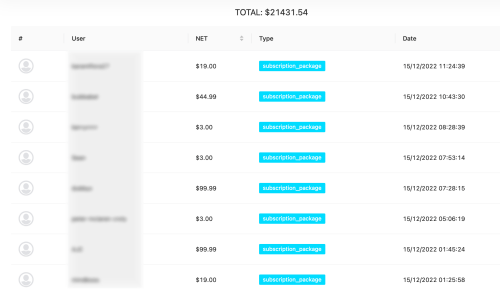 However, she makes this income after she has built her own website since she does not have to pay commissions and keeps every penny she makes. So if you are looking to make more than $100k per year by selling your homemade porn, we highly recommend you build your own fan site. How to do it? Let's look into it in the section below. 
Top 5 Tips for Making High-Quality Homemade Porn
1. Keep it Simple: Don't over-complicate your performance with highly-polished backgrounds and fancy sex toys. It will take out the 'reality' of your reality porn and make it harder for the audience to connect.
2. Performance, Not Just Physique: Yes, people like to know what your dick/boob size is, but it's really not what hooks them in. Throughout your video, you should focus on how creatively you can perform. You can use different sex positions or show real and raw emotions to your viewers.
3. Tell a story: Make sure to craft your content into a story. If you're doing incest porn, add some light drama with funny and cheezy dialogues. By doing so, you can engage your viewers and make your porn video more interesting to them.
4. Avoid Cliché and Generic Plots: People watch homemade porn because they are tired of generic porn plots like ' I caught my sister masturbating', or 'Stepmom stuck under the table'. These plots scream "fake" from everywhere. Therefore, they will never return if you use the same on your content.
So try avoiding it.
5. Offer What They Are Looking For: Once you make your handmade porn available online, you can get feedback from your audience. Find the most popular video and what sells the best. Get creative on those niches and put your own unique spin on them!
Tips on How to Sell Homemade Porn
Add title and descriptions:

Write engaging and informative descriptions for your videos. Optimize visibility and searchability with relevant keywords. Add appropriate metadata like tags, categories, and thumbnails to enhance the discoverability of your videos.

Market your videos:

Promote your videos through various marketing channels to reach your target audience. Leverage social media platforms, like Twitter and Reddit, to encourage your followers to share and spread the word about your videos.

Engage with your customers:

Respond promptly to customer inquiries or feedback to build a good relationship with your audience. Address any technical issues or concerns they may have and provide excellent customer service.

Analyze and refine:

 Monitor the performance of your videos using the analytics tools provided by the platform. Analyze data such as sales, views, engagement, and customer feedback. Use this information to refine your content and marketing strategies for better results.

Be consistent:

Truly believe that your content is the best. Be passionate about your work, and don't give up easily. 
Wrapping Up
There you go, our full guide on how to sell homemade porn online. 
Now you'll be able to reach the audience you want to reach, sell the porn video you want to sell, and make the money you deserve to make.
If you want to start selling homemade porn online today – without paying a commission, xModel by Adent.io is a great place to start your journey — and we'll help you build your own adult website in the best way possible. 
The pornography world is so much fun. Everyone is so creative and passionate! Jump in and get started! 
FAQs on How to Sell Homemade Porn 
1. Can I make homemade porn without showing my face?
Yes, you can make and sell homemade porn without showing your face. Using a mask can be one way to do this, or you can leave out your face and focus only on your body while filming. 
2. How much money do I need to make homemade porn?
If you need to film your homemade porn in a professional way, you need to invest at least 500-600 dollars for the camera and other accessories. But if you don't have enough money, worry not; you can easily film and upload your homemade videos through your smartphone. 
3. What are the best websites or networks for selling homemade porn?
Here are some of the best networks and websites that sell homemade porn clips: OnlyFans, Chaturbate, ManyVids, LiveJasmin, Extra Lunch Money and more.