-

10

mins read
Gone are the days when sex mostly meant something personal between just a man and a woman. With the world getting more accepting and embracing various sexual practices, more and more fetishes and niches are coming up. People are more open now about their sexual preferences and their hidden desires and fetishes, thus fueling the market for fetish models.
The adult industry now is not just about straight couple porn but a lot more. The demand for fetish-specific content is on the rise, and it gives a fabulous opportunity for anyone to become a fetish model and earn good money by selling fetish content. Fetishes can be of any type; you can make money by becoming a foot fetish model or can even make money by selling used panties online.
With so many fetishes and options available, the time is right to become a fetish model and make money from it. If you're someone who wants to get paid for fetishes, then you've come to the right place. In this article, we'll discuss how to become a fetish model and share tips and tricks on how to make money as a fetish model. So, let's dig in.
What is fetish modeling?
Fetish modeling, in simple words, is modeling for a particular fetish and selling those fetish products to make money. You can sell fetish photos & videos on digital media or in print, and you can even do public performances to promote fetish products.
As a fetish model, you can be selling clothes, toys, electronic devices, or any product and service related to that particular fetish. Anything kink-related like BDSM toys, bondage accessories, cosplay products, etc., can be sold as a fetish model. If there is a kink, then there is a fetish market behind it for sure.
Fetish modeling doesn't necessarily mean nudity or flesh show. The more niche-specific the fetish is, the fewer the chances of skin show. For example, a podophile will be just interested in your feet pics. The fetish industry has more focus on the fetish than on sex and nudity. But yes, there is nudity and hardcore stuff, too, depending on which fetish you're modeling for.
Different types of fetish modeling
The market for fetish modeling is huge, and there are a lot of options to make money from a fetish. Pick out any fetish, and you'll find a dedicated audience base looking for content of that fetish. Fetishes can be of various types; some involve additional accessories, while some fetishes can be only a body type or part. Here's a broad categorization of fetishes.
1. Body parts fetish model
Most parts of a human body can be considered a separate fetish. Some people have a nose fetish, while some might be interested in pictures of your feet. Body parts fetish is the most common type of fetish that you'll find.
A few of the common body part fetishes include feet fetish, boob fetish, navel fetish, and anal fetish.
2. Sex accessories fetish model
Accessories play a major role in sexual activities nowadays. People use and fantasize about various types of sex accessories that stimulate and enhance pleasure. Some accessories, although painful, bring immense pleasure to the human body and have a strong fetish following. For example, a BDSM fetish involves many accessories like ropes, handcuffs, etc., that cause pain but bring pleasure to some at the same time.
Some of the common sex accessories fetishes involve bondage toys, butt plugs, dildos, vibrators, etc.
3. Clothing fetish model
There is a separate fanbase for people who get aroused by specific pieces of clothing on a model. Clothing fetish can be as simple as a clown costume to as uncomfortable as wedgies. Corsets are also a prime example of cloth fetish where models fit themselves in tight corsets to please their audience.
A few of the common cloth fetishes are corset fetish, latex fetish, clown costumes, wedgies, etc.
4. Body art fetish model
Body art like piercing is a category of fetishes where the audience likes to see models with body art. Nose ring piercing, navel piercing, or even clitoris piercing all have a fanbase who spend money to buy pictures of body art fetish models.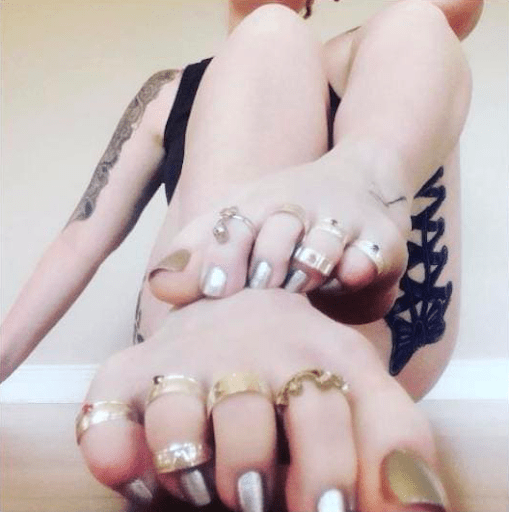 Some of the popular body art fetishes include body tattoos, piercing on various parts, and body painting.
High-selling fetish niches
The fetish market has grown so much over the years that any fetish, no matter how peculiar, still finds a set of audiences looking for that fetish. Some fetishes are very popular and common and have a huge fan following behind them, which makes it easier for fetish models to sell related content. Here are some of the highest-selling fetishes that make money.
Feet Fetish
One of the most searched fetish categories, feet fetish, is where models sell pictures of their feet. Feet fetish gets a search volume of 54.8K from around the world, which tells how popular this fetish is.
Foot fetish models don't have to get into nudity as their audience is interested only in their feet pictures. The audience can be people who have feet fetish and also footwear companies who look for models to promote their footwear. There is a huge demand for this popular fetish niche, and it makes for a safe way for models to earn money without revealing their faces.
Femdom
Femdom or female domination is a fetish where the female partner dominates the sexual relationship. It is part of the larger niche that is BDSM, where the female partner takes charge in the sexual acts that revolve around pain, power, and humiliation.
There are a few variations to femdom fetish, too, like gentle femdom where the submissive partner is nurtured a bit. Femdom is a less explored niche with immense potential and has a search volume of 4.3K from around the world.
Balloon
A rather unusual fetish but popular Balloon fetish is when people get aroused in the presence of balloons. It has a global search volume of 6K, which tells us the popularity of Balloon fetish. People like to see girls playing with balloons, using them in their sexual acts, and even masturbating with balloons is something that turns on this niche audience. Popping balloons is another way that gets people sexually aroused.
BDSM
BDSM is a broad niche fetish that means Bondage, Dominance, Sadism, and Masochism. It is one of the most popular fetishes that people know of. BDSM involves deriving sexual pleasure from showing power and inflicting pain and humiliation on your partner.
This fetish involves a lot of sex toys and accessories that intensify the whole act. BDSM involves mild to wild fantasies of partners taking dominant or a submissive role, getting tied up or tying up others, and a bit of sadomasochism. It is a fetish that gives pain but also provides intense stimulation.
Findom
Very similar to Femdom, in Findom, the dominating partner receives monetary benefits from the submissive one when a partner is dominated financially and provides money and gifts to their partner with no expectation of anything in return.
People who have the Findom fetish are aroused when dominated and humiliated by others in exchange for money or gifts. It is one of those niches that many people don't know about, but it gets a search volume of 8.2K from around the world.
How to become a fetish model?
Being a fetish model has many advantages. Firstly, becoming a fetish model doesn't require any training or prerequisite. All you need is interest in the fetish you chose, and you stand a great chance to make money online as a fetish model.
Becoming a fetish model doesn't necessarily mean nudity or exposing yourself. You can become a fetish model without revealing your identity to the world, depending on the fetish you choose. There is good money to be made in the fetish market, and if done the right way, then fetish modeling can become your full-time career also.
The majority of the fetish models are females, but that doesn't mean there are no male fetish models in the market. Men can also try to become a male fetish model, but the opportunities are fewer, and so is the payment. To become a fetish model, you'll need to focus on a few things to get successful in fetish modeling.
1. Launch yourself on Social Media
Fetish modeling has competition, and to stand out and make a name for yourself, the audience first needs to know about you. There is nothing better than social media platforms to spread awareness about yourself as a fetish content creator. Use social media platforms like Instagram, TikTok, and Facebook, as your launch pad on your journey to become a fetish model.
Regularly post pictures and videos related to your fetish on various social media platforms to let the users get a taste of your content. Remember to use appropriate hashtags to show up on searches of people looking for a specific niche or fetish. It is very important to be regular on social media even after you get famous for maintaining a fanbase and making people remember you by your name.
2. Sell your fetish content
The next step on your journey of becoming a fetish model is selling your fetish content. Before you start clicking pictures, make sure you have all that you'll need to make those pictures worth the money spent by your fans. Get the required props, costumes, and accessories that you'll need for your shoot. Depending on the fetish you choose, assemble all the required things before you do a photoshoot.
To get photos that are worth the money your fans are ready to spend, you'll need a setup worthy of a professional shoot. This doesn't mean you'll have to spend a huge amount of money on camera and lighting equipment. For starters, you can make use of softboxes that are available at reasonable prices. Get 2 or 3 of these lights to give your shoot a Hollywood feel.
The other thing you'll need is to get a camera to shoot pictures and videos. Don't compromise and use your smartphone to take pictures. Get yourself a hi-resolution camera like a DSLR to take crisp and detailed pictures of your fetish. Getting a tripod is also a good idea to stabilize your camera to take crystal clear pictures.
3. Do live cam shows
Live cam shows are a great way to increase your audience base and give them a glimpse of your fetish content. Fetish content creators can perform live on webcams and interact with the audience while making good money from it. 
It is a great platform to increase your audience base and get them to buy your fetish content. You can even do private shows where you provide the audience with specific content and charge them on a per-minute basis.
How much money can you make as a fetish model?
The amount of money you can make as a fetish model solely depends on how you portray yourself as a fetish model and how good your content is to lure a fanbase to pay for it. There are some models who make tens of thousands of dollars every year through fetish modeling, but those models are limited.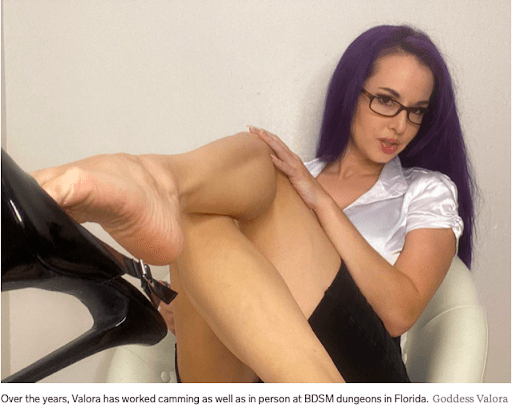 Hourly rates for fetish models can usually be around $100 to $150, but it can easily go upwards as you gain more experience and name in this business. Goddess Valora, a foot fetish model based out of Florida, made $115,000 in a year selling foot fetish pictures.
Other than the regular fetish modeling shoots, there will be many other opportunities and unaccounted shoots that will add up the earnings you make as a fetish model. 
But all of this will take time, and you need to put in the hard work to get to this level. According to Goddess Valora, "If it's quick cash, you're going to be disappointed, because it takes time to build your audience and client base. If you're serious about making a career out of it, it's worth it to seek out someone who can guide you and help you plot out your career."
Best websites to sell fetish photos & videos
Thanks to the boom in the creator economy, content creators have many options for selling their content. From niche-specific content platforms to general fan-based content platforms, there are many opportunities available for fetish content creators to sell their content and make money from them. Here are a few best fetish-selling websites for fetish content creators.
1. xModel by Adent.io – Most recommended site for fetish content creators
xModel can be your gateway to success in selling fetish content. If you want to make money online as a fetish model, then creating your own website is a great choice. xModel is a readymade script that lets you easily create your content platform without any need for technical knowledge. This platform is the best solution for porn stars, cam girls, and content creators to capitalize on their fanbase.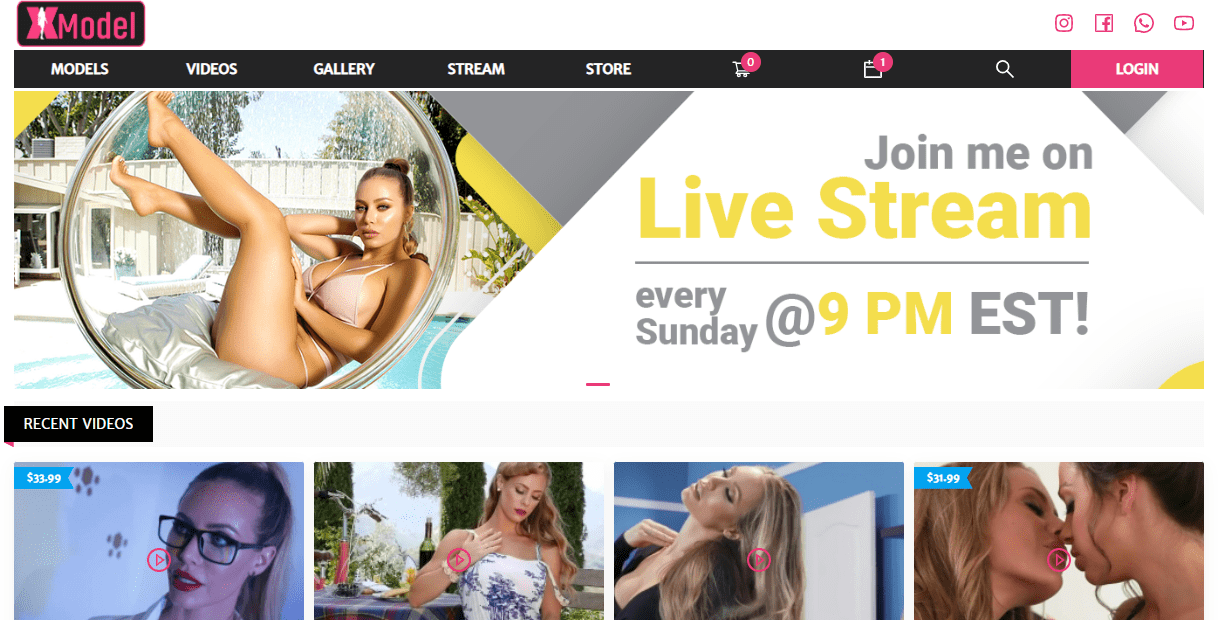 The best part about xModel is that it's affordable and easily customizable so that you can give your website a look and feel you want. You don't have to pay anyone any commission as you're your own boss and all your earnings will be only yours.
A few of the awesome in-built monetization features of xModel are
Subscription-based memberships

Live streaming

Integrated eCommerce

Convenient token transactions

Sell premium content
2. ManyVids – Best site for fetish models
ManyVids is a content platform that welcomes creators of all genders and sexual orientations. This platform lets creators sell pictures and videos, offer paid memberships, run an eCommerce store, set up campaigns, and sell sexting and phone services.
The best part about ManyVids is that there is no restriction on any type of content. You can set your own prices for subscriptions and premium content and sell it on ManyVids. You can earn 80% of the earnings you make on tips, subscriptions, and custom content, whereas you keep 60% of the rest of the sales.
3. Fansly – Best site for fetish modeling
Fansly is a membership-based fan platform where users pay to access the content of creators. It is one of the most popular content platforms and pays 80% of the earnings to the creators. Fetish content creators can make money through paid subscriptions, tips from fans, selling premium content, custom content, etc.
4. OnlyFans – Best site to become a fetish model
OnlyFans is the most popular content platform that boasts more than a billion registered users on its platform. Fetish content creators can sell subscriptions to their profile, where they can upload their fetish pictures and videos. Creators can also sell premium content separately and accept tips from their fans on OnlyFans. Fetish creators get to keep 80% of their earnings on the platform. You can even make good money on OnlyFans without showing your face.
Tips to make more money as fetish model
As they say, never put all your eggs in the same basket. On your journey to being a fetish model, you'll need to explore various other opportunities to stay afloat in your initial days as a fetish model. Success and money won't come overnight, so you need to keep hustling till you get successful. To help you with the hustle, here are a few tips to make more money as a fetish model.
Sell used panties
Not many people know this, but selling used panties can make you a good amount of money. There are many people who will pay good money to get hold of a woman's used panties. Selling used panties online is safe and also keeps your privacy intact, making it a great side hustle for a fetish model.
Sell feet pics
Selling feet pics is another side hustle that doesn't need you to show your face or reveal your identity. If you have beautiful feet, then selling feet pics is a great way to make some extra money as a fetish model. Feet fetish is pretty common, and you'll easily find buyers to sell your feet pics.
Sell boob pics
One of the most rewarding side hustle is to sell boob pics online. There is no shortage of buyers for some boob pictures. The shape and size of your boobs don't matter, as you'll find there are buyers for every pair of boobs.
Sell nudes online
If you're open to being nude on camera, then selling nudes online can be a great money-making opportunity for fetish models. Selling nudes online is an evergreen method as you'll easily find buyers. But remember, if it was that easy, then everyone would have made money from it; you need to put effort and creativity into your pictures to sell nudes online.
Conclusion
To be able to be successful as a fetish model, it is very important to choose a niche that you enjoy doing. If you enjoy the pain and torture of the BDSM niche, then only you'll be able to succeed as a BDSM fetish model. 
So choose your niche after deliberating if you enjoy doing it or not. Once you have the niche, then you can refer to the steps in this article to build a successful career as a fetish model. Creators can check out the xModel live demo to understand how easy it is to build your own platform.