-

9

mins read
When you hear someone selling their underwear, you think they might be really desperate for some money to stoop so low as selling used underwear. The reasons can be many, short of rent or maybe for college fees; people do sell their underwear for some extra income and make ends meet. Thankfully, the stigma around selling used underwear has lessened, and people are more accepting of the fact that many people sell their used underwear for money.
Now when you think of selling used underwear, you might think it's usually women who sell used underwear to make money. Well, you cannot be more wrong because selling used mens underwear for profit is a thing now. Selling mens underwear is nothing new actually, but not many know about it. It is a lucrative business too for many upcoming gay pornstars because not many sell dirty mens underwear, which means that the competition is less.
We know you might be wondering if there actually is a market to sell used mens underwear online and who will buy it. You will be astonished to know that there are many men and a few women with a fetish for used mens underwear. Selling used mens underwear online is something that isn't very common, but with persistence and the right audience, models are making selling used mens underwear a profitable side hustle.
If you are someone who wants to make some extra bucks by selling their used boxers, then you've come to the right place. In this article, we will discuss the intricacies of selling mens underwear and find out how to sell used male boxers and underwear.
Is it legal to sell used mens underwear online?
Let's clear the air before we get deep into the mens used underwear market. Yes, it is absolutely legal to sell used mens underwear, just like it is legal to sell used panties. The only condition that is constant in all countries is that you should be a minimum of 18 years to sell used mens underwear online.
Other than this, different websites may have different guidelines which you will need to follow. So read the terms and conditions of websites that help you in selling used mens underwear and choose the website which suits you best. Also, check the local laws in your country before you start selling used mens underwear online to protect yourself from breaking any laws.
How to sell used mens underwear & boxers online?
The world right now is filled with opportunities to make some quick money. With businesses like selling nudes, selling feet pics, selling boob pics, etc., being the center of attraction, selling used mens underwear isn't heard of much.
Selling used mens underwear is a profitable side hustle as the demand for it is there, but not many men do it. Some are worried about their name getting tainted due to the nature of this side hustle, while others have no clue about the existence of such a market as selling mens underwear. For the people who have no clue about this business and want to understand how it works, read on.
Tips for men to sell used mens underwear online
1. Know your limitations and plan accordingly
Before you start your journey of selling used mens underwear online, sit back and chalk out a plan of what and how you want to do it. Are you even comfortable with men buying your used underwear, and to what extent do you want to push your luck in this venture? How much should you charge people for your used underwear, and to what level can you take custom requests from the audience?
You will need to ask yourself all such questions and have an affirmative answer to go ahead with selling used male boxers. You need to know what's your limit and if this venture is just a casual thing for you or if you are seriously looking to make it a side hustle. Once you have answers to all such questions, then you'll get more clarity and will be able to make an action plan for yourself.
2. Choose your platform
You can think as much as you want, but if you choose the wrong platform to sell used mens underwear, then your side hustle is as good as finished. The platform is the face of the seller, and if that platform is troublesome and has a bad reputation, then your chances of sales aren't very high.
Other than dedicated used underwear selling websites like Snifffr, you can also choose to sell used mens underwear on adult forums like Reddit. Do proper research and weigh the pros and cons of the platforms before deciding on the platform where you'll be selling used mens underwear for profit.
3. The right pricing and payment method
Although the market is lucrative and the competition is less, you still need to think straight when setting up a price to sell used mens boxers. If you think of making quick money by hiking up the prices, then you're wrong in your thinking.
The average price for a pair of used underwear is $15 to $50. These prices can differ if you get customized requests from buyers like cum-soaked underwear or gym-worn underwear. Depending on the request, you can set up prices accordingly.
4. Be precise in information
Selling used underwear is usually a thing that women do, and it is not very common to find men selling their used underwear. That's why it is very important to be clear and precise about who you are and what you're trying to sell to the audience.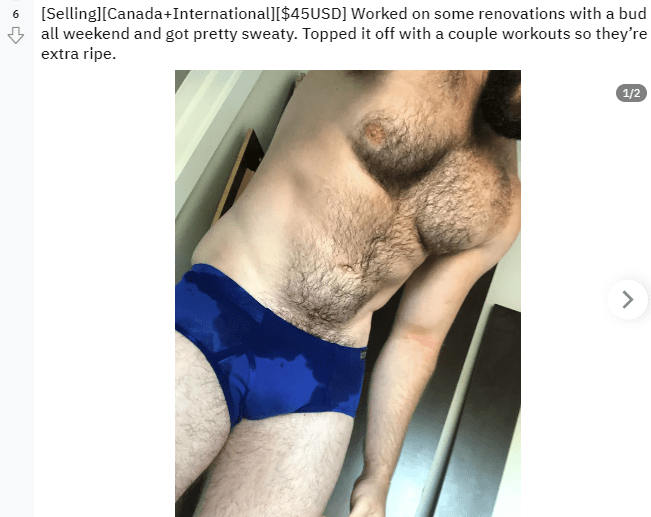 Your bio should be crystal clear so that people know that you ain't any panty seller. While marketing your profile and products, remember to add clickable links to your shop so that it's easier for interested buyers to directly go and buy mens used underwear.
5. Take high quality pictures
The whole point of taking pictures is to give a virtual feel of whatever you're trying to sell to the audience. Invest in some good equipment and take high quality pictures of the underwear you're trying to sell.
Bring some spice into the photographs for it to appeal more to the buyers. Use some props, take pictures at different locations, give sexy poses while wearing them, and do anything possible to make your pictures different and appealing to the crowd.
6. Be open to customized requests
When you're selling used mens boxers, you'll be getting different kinds of requests from buyers. Some might ask you to wear your underwear for 3 days and work out before sending it, while others might ask you to cum in your underwear and then send it to them. You might even get a request to send your dick pic along with the underwear.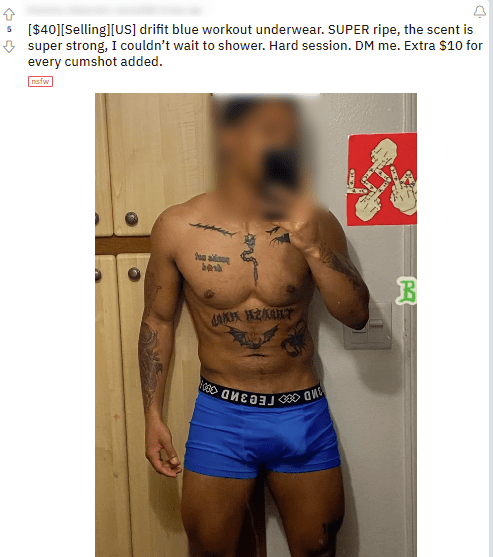 Doing these little extra things not only gets you more money but also portrays you as an experimental guy and become your loyal customers. There might be some really weird requests too from buyers that you might not be comfortable with; you can politely deny them for anything that doesn't sail your boat.
7. Interact with your audience
Interaction plays a very important role in establishing you as a preferred seller of used mens underwear. You need to make sure to comment on various platforms so that people know your name and what you do. Just general interaction through likes, comments, etc., can help you build a good rapport among the audience.
8. Stick to your promises
Being consistent and a reliable seller helps in getting customers back to you to buy more used underwear. Not only recurring customers but due to your commitment to delivering the product as the buyer wants to make them spread the word about you in their circle leading to more sales for you.
9. Encourage customers to review
Whenever you make a sale, remember to follow up with the buyer and check if they're happy with the product they received. If they're not, then ask them what went wrong and what was their expectation and try to rectify it on your next sale.
If they're happy with the product, then you can ask them to write reviews on your profile which will give a boost to your selling used mens underwear online business. Either way, taking feedback from customers after the sale makes them believe that you do care about them and the business.
Best websites to sell used mens underwear online
To sell used mens boxers and underwear successfully, you need a platform or a website to find customers. Although the options to sell used panties for females are a lot, when it comes to selling used mens underwear, the options are limited. Here are a few websites on which you can sell dirty mens underwear.
1. Hunksjunk.com
Hunsjunk is a one-stop shop for everything men can sell. Right from selling used mens underwear, you can sell sweaty t-shirts, dirty socks, smelly jock cups, and more on Hunksjunk. This platform works on a bidding model where the seller lists their product on the website, and then buyers bid for the item or directly go to the 'buy now' option. Shipping and payments are directly handled between the seller and buyer.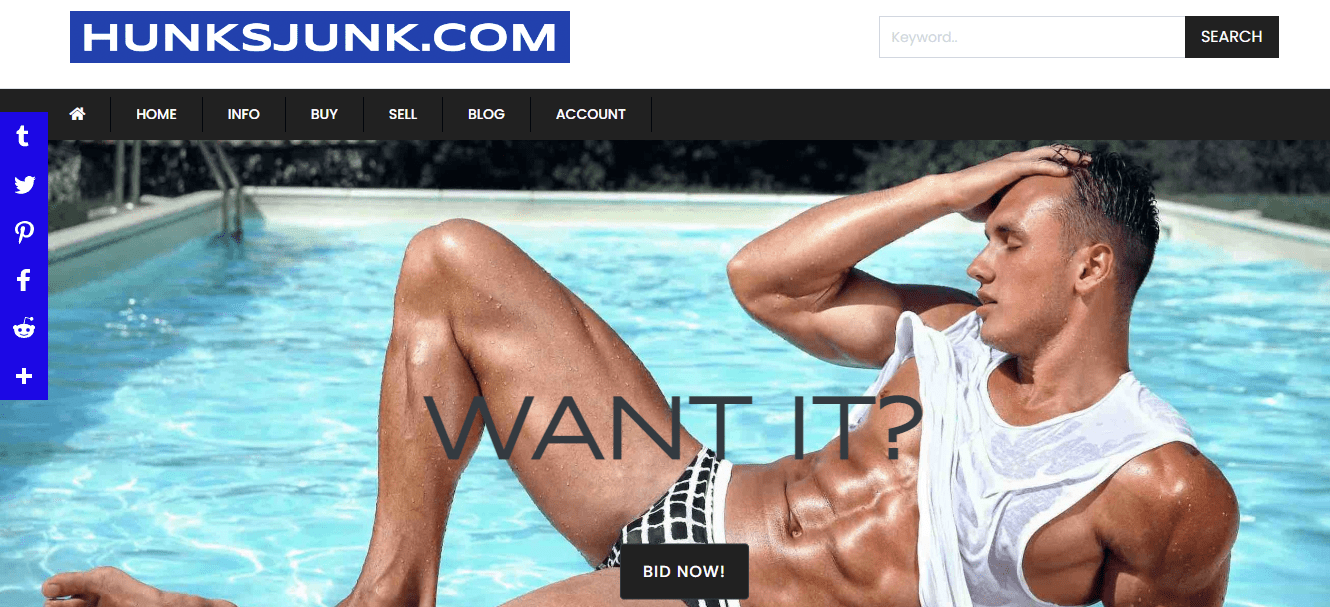 The best part about Hunksjunk is they don't charge anything from sellers for their listings. However, you can get an upgraded profile by paying $15 and get access to posting videos and multiple images and get featured on their homepage.
2. Malethingsworn.com
Another exclusive eCommerce store for all things men, MTW or malethingsworn is one of the simplest websites around to sell used mens underwear and boxers. Not only your own used mens underwear, but you can sell your used socks, used shoes, used clothing, and almost anything used by men. The process is simple; sellers list their products, and buyers contact the seller directly and discuss the pricing and shipping options.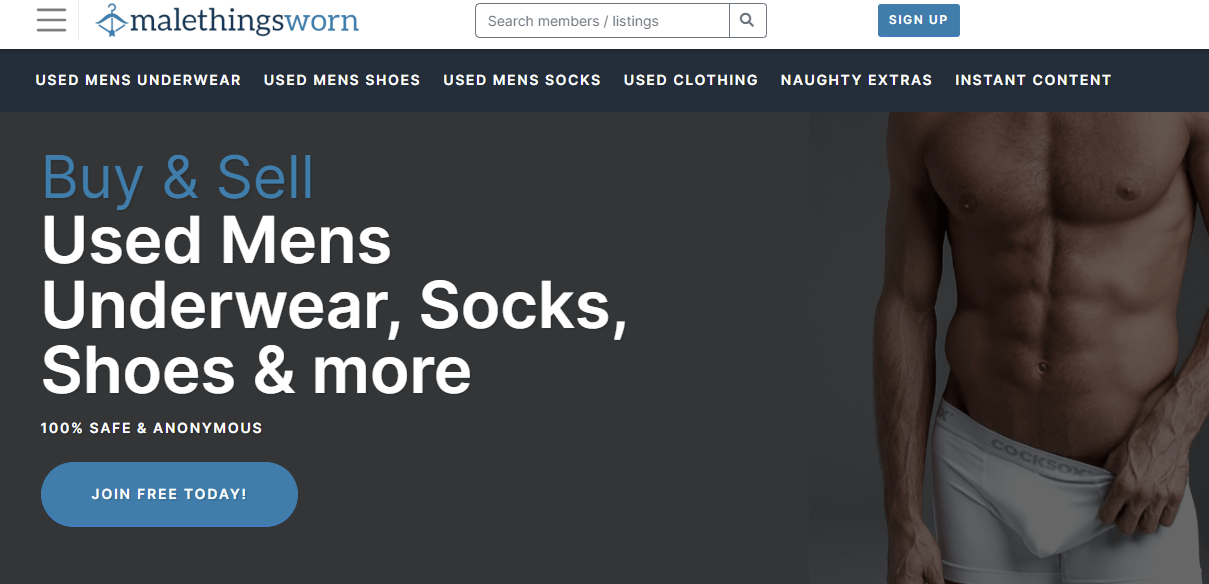 Malethingsworn doesn't charge any commission on the sales made by the seller. Sellers can opt for a free profile where they can list a limited number of products on the website or can choose to go for the premium package. The premium package costs $14.99 for a month and gives many options like unlimited listings, etc.
3. Pants2order.net
Pants2order was started by a young Englishman who earlier used to sell used mens underwear on eBay. Seeing the demand, he thought of creating his own brand to sell his own used mens boxers. Today there are more male models on his platform who sell their used underwear on Pants2order.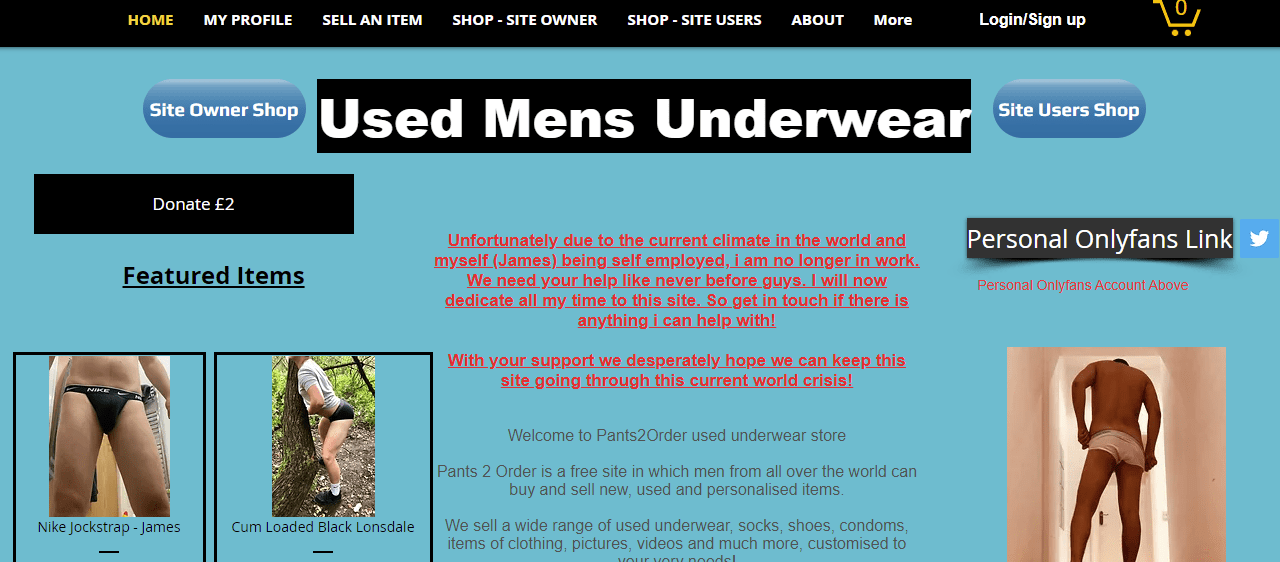 The website takes a 20% cut on the listing price of products by all sellers, so sellers can include that margin in their listing price on Pants2order. Buyers don't need to worry about packing and shipping as it's taken care of by Pants2order.
Selling your used mens underwear online made easy using xModel
When you want to sell dirty mens underwear to make a profit, then you have 2 ways to go about it. Either you can sell on the limited platforms available to sell mens used underwear by following their rules, or you can choose to build your own website and be your own boss. Although creating your own website isn't an easy job, thanks to some readymade solutions like xModel, creating your own platform is very easy and affordable now.
Using xModel, you can create your own membership website and easily sell used mens underwear and boxers. You can even hire other male models who are interested in selling used mens undergarments and together make good money from it.
xModel is a turnkey script that is affordable, easy to install, and requires no technical knowledge to use and maintain. Loaded with various monetization features, xModel becomes your one-stop solution to sell used mens underwear online and many other things. A few notable features of xModel are mentioned below.
Integrated eCommerce store

Subscription-based memberships

In-built live streaming

Mobile responsive & SEO optimized

In-built adult-friendly payment processors

Centralized dashboard for easy management
How to market & promote used mens underwear online?
Let's say you're ready with your products to make a profit by selling used mens underwear online and have the right platform with you to list your products. But what's the use of setting up everything when the audience has no idea about your website or your products? That's why marketing and promotion of your business are as important as setting it up.
Spreading the word about your selling used mens underwear hustle is important, and you have many ways in which you can do that and achieve desired results. Let's take a look at some of the tried methods to market and promote your selling used mens boxers business.
1. Reddit
One of the best platforms to market and promote anything adult in nature, Reddit helps you reach the right audience. Reddit is an adult forum that hosts users from all over the world having fetishes of all kinds. If you need anything adult, you can find it on Reddit.
Reddit has many threads dealing with selling used mens underwear where you can promote your products and platform. You can simply share your link and interact with people to gain the trust of your audience. You can even create your own subreddit and market your hustle there.
2. Snapchat
One of the most popular apps nowadays, Snapchat can help you reach out to your target audience as it hosts thousands of users on its platform. You can promote your business on Snapchat by sharing your profile link or your product photos.
The main aim of using Snapchat should be to build a following by posting general information about yourself and what you do. You'll soon find your target audience reaching out to you.
3. Instagram
You can also make use of social media platforms like Instagram, which hosts a huge number of users. Although not completely adult friendly, Instagram helps you in building a following by using pictures, videos, and hashtags. Remember to use specific hashtags like #usedmensunderwear or #usedmensboxers to reach the right target audience.
4. Subscription websites
Another great way to promote your business is to join various subscription websites like OnlyFans or Camming sites like Chaturbate. All such websites have an adult audience, and there are great chances of you finding buyers here. You can sell many other things like butt pics, nudes, etc., or can even give a try to camming to make some extra money.
How to safely pack and ship male underwear?
Now that you're all set to run a successful business selling used mens underwear for profit don't forget about the packing and shipping part of your business. The whole essence of selling used mens underwear online and people buying it is the smell and texture of your underpants. You need to be careful to preserve the smell of your cum, sweat, etc., as the buyer is looking for that only. Here are a few points to help you pack and ship your product better.
Let the underwear dry out before you pack it.

Use a ziplock bag to pack your used mens underwear and boxer.

Make use of padded envelopes for discreet packing.

Don't mention anything about the underwear on your packing or shipping slip.

Never disclose your return address instead use a PO box for returns.

Send out a picture of you wearing the underwear to add a personal touch to the package.
Conclusion
If you have had questions such as how to sell used boxers or if there is an audience that will buy mens used underwear, then we hope we have answered all such questions in this article. Selling used mens underwear online can be a great side hustle for men who want to make some extra money without having to do much.
All you need is a set of dirty boxers and underwear and a platform to sell them to buyers looking for such products. And talking of platforms, what better than owning a platform of your own that makes you the boss like xModel.