-

19

mins read
FeetFinder Reviews. That's what you're here for!
For some time now, you've been thinking about selling feet pics online (or you might have had prior experience) and you might have come across FeetFinder, a feet pic selling platform. You're intrigued and want to know more – what is FeetFinder, how it works, whether it is legit or not, etc! Well, that's great!
When it comes to body fetishes, feet fetish accounts for 50% of all fetishes. Foot jobs, foot foreplay, foot adornment, and selling feet pics have become common today. It's this set of people who'd love to pay what foot models like you offer! And platforms like FeetFinder give you everything you need to make your foot model venture super profitable. Lucky you!
Anyways, let's cut to the chase.
What Will You Get from this FeetFinder Review Article?
In this in-depth FeetFinder review article, we have covered everything you need that'll help you decide whether you should choose FeetFinder to sell your feet pics and make money. Right from how to get started with FeetFinder to how to make money on FeetFinder and everything in between, it's all here.
We've also included detailed screenshots of the platform and real-time FeetFinder reviews to help you get a detailed understanding.
Now that you know what you'll get out of this article, let's get started!
What Is FeetFinder? – Overview of the Website
FeetFinder is an online marketplace that allows individual foot models to sell feet pictures, videos and make money online. The platform was founded in the year and 2019 and has over 1 million users.
The founder of the platform is Patrick Nielson and FeetFinder comes under FLRT Inc, based out of Carson City, Nevada. There are 4 million+ monthly visitors.

FeetFinder can be accessed by users across the globe but as for creators, the platform currently accepts and verifies creators only from Europe, the USA, Canada and Australia.
There are hundreds of categories available on the platform that allows creators to choose their favorite niche and post content accordingly. That's the quick overview of the platform and we believe this answers the question, "What is FeetFinder?"
How Does FeetFinder Work?
Let's look at this from two perspectives – creators and users.
How Does FeetFinder Work for Creators?
The platform works very similarly to other popular creator platforms like OnlyFans, Feetpics.com, Patreon, Etsy and more. Creators need to create an account on the platform, fill in the basic information, pay the subscription fee and get started.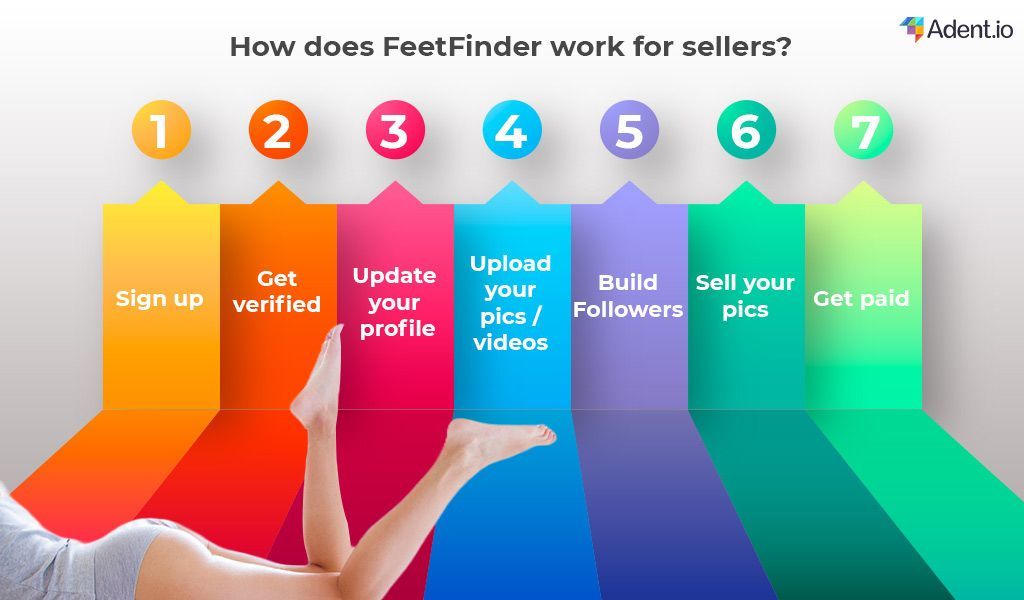 They need to choose categories that work best for them and create their inventory by consistently uploading photos and videos.
How Does FeetFinder Work for Buyers?
There ain't much difference here. Buyers, to use the platform, have to sign up first. Once done, they can simply search for sellers, look at the feed and start purchasing their favorite pictures. If buyers have custom requirements, they can simply message the seller and get what they need.
Buyers don't have to pay any platform usage charge.
So, that's the high-level overview of how FeetFinder works for creators and buyers. It's the usual with minimal options and there's nothing to be concerned about. The platform is clean and offers a delightful experience for both creators and buyers.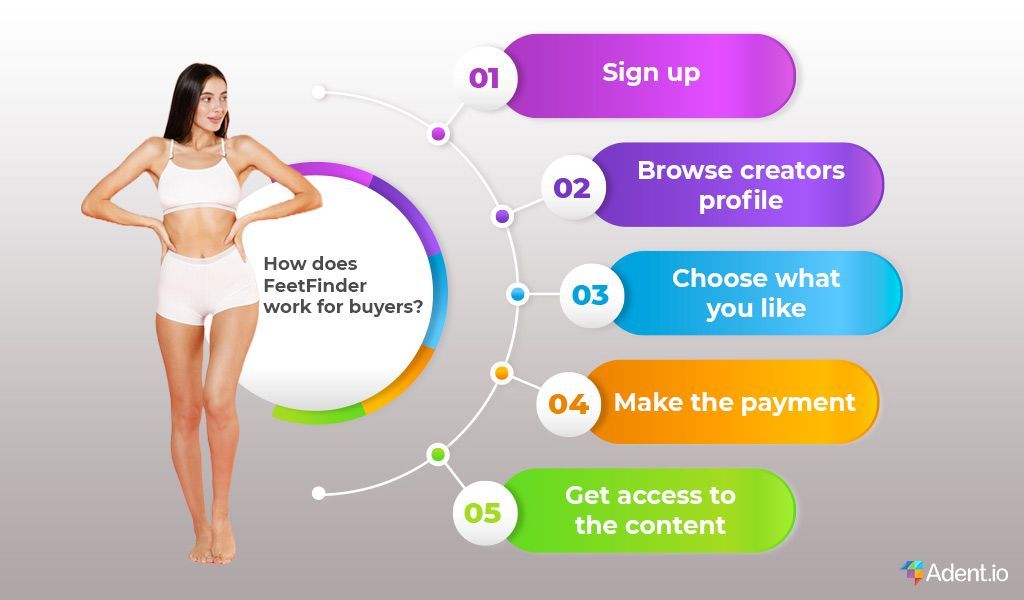 Before we move on to see how to get started with FeetFinder, let's answer the two most anticipated questions.
Is FeetFinder Legit?
Yes! FeetFinder is a 100% legit feet pic selling platform. With over 1 million users, the platform is functioning pretty well for its three-year existence.
There's a separate sub-heading where we discuss how safe is FeetFinder and its authenticity with respect to several factors. But here, we'll just give you a glimpse.
If there's one thing that stands as a feather on the cap of FeetFinder, it's the massive number of reviews it has on Trustpilot.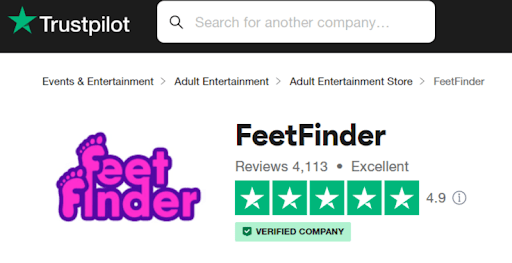 There are over 4000+ reviews on the platform with an average score of 4.9.
You might think that all good is never good. The platform has its fair share of bad reviews as well.
All you need to know now is, FeetFinder is a legit platform.
Can You Really Make Money on FeetFinder?
Yes. FeetFinder is one of the best feet pic selling platforms that allows you to make money. The platform has more than 1 million users and lots of categories for you to choose and sell feet pics and the average earnings on FeetFinder is easily a couple of hundred dollars for beginners.
How to Get Started With FeetFinder?
In this section, we'll be looking at how as a creator, you should get started on FeetFinder.
1. FeetFinder Signup Process
When you visit the website, you can sign up from the navigation menu above or the CTA button

"Sell Feet Pics"

in the above-the-fold section.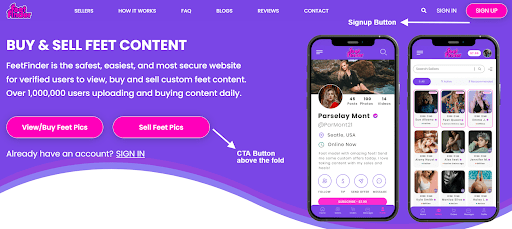 You can choose either of the ways to sign up. When you click Sign Up, the following popup appears.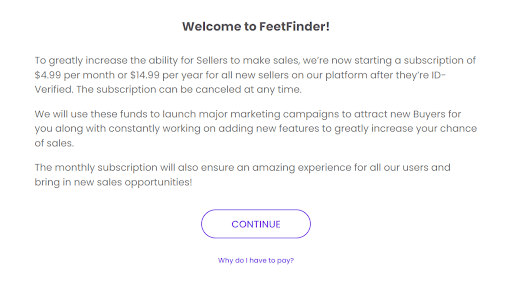 Click the

"Sell feet pics"

CTA button to proceed.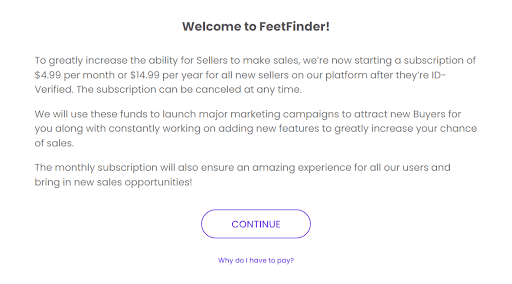 You'll get a notice like this that explains about FeetFinder's subscription pricing which will be used for marketing and developing new features on the platform. Click

"Continue"

to proceed.
2. ID Verification
This is one of the most important processes while signing up for FeetFinder. In an attempt to keep the platform safe from fake users, FeetFinder takes ID verification seriously.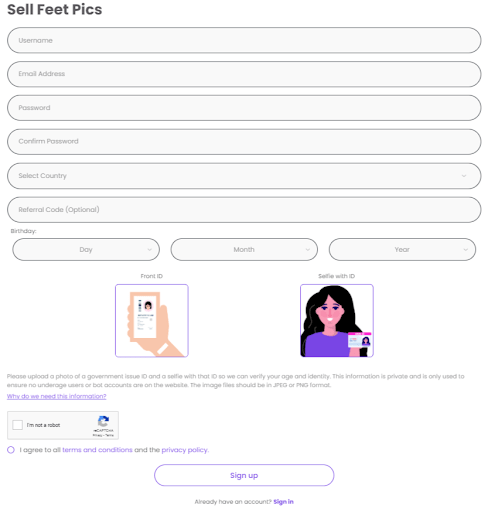 This is what the signup page looks like (for buyers, it's the same except for the document uploading process). Along with the basic information, you should,
Submit a government ID

that shows you are 18+

Take a selfie by holding the same ID card

along with you (

as shown in the image

)
Note: It is mandatory that you are aged above 18 and you are only from Europe, the USA, Canada and Australia.
3. Profile Updation
Once done, you'll be asked to fill up a few credentials (which include declaring your email address) to complete the account creation process.
Once the team checks your ID verification assets, you'll be able to create an account on FeetFinder.
You can again log in using the same credential and start updating your profile – display picture, bio and more.
Here's what a typical seller's profile on FeetFinder looks like,
Source: FeetFinder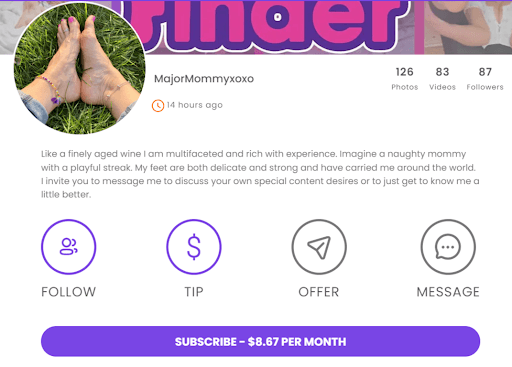 4. Pay the Subscription Price
Though FeetFinder was free to use in the beginning, the platform has now made it mandatory for sellers to pay for subscriptions.
The subscription pricing costs
$4.99 per month or $14.99 per year

The

FeetFinder Premium Plan

starts from $14.99 per month or $29.99 per year
We'll see the advantages of the FeetFinder Premium plan as we go ahead.
5. Uploading Content
Once you have completed all the above-mentioned points, it's time you start uploading pictures of your feet.
To get started with FeetFinder and complete your profile creation process, you need to upload a minimum of five pictures.
Post that, you have to consistently start uploading pics & videos to start making money on the platform.
So, that's how to get started with FeetFinder. Now, let's look at the platform.
FeetFinder Platform Overview – A Quick Walkthrough
We already saw how the signup process is. Let's look at the dashboard and other features on the platform now.
FeetFinder Homepage
FeetFinder has a clean layout and solves the purpose of being a dedicated feet-selling pic site. The homepage lists a huge number of seller profiles under different categories giving buyers the urge to sign up for the platform and start buying feet pics & videos.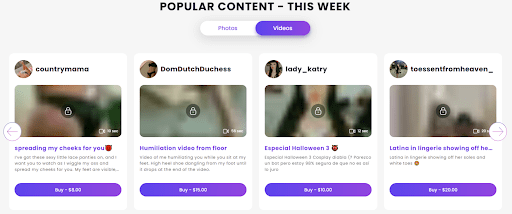 The categories that one can see on the homepage are,
Active Sellers

Popular Content this Week

Popular Categories

Free Gallery
FeetFinder Dashboard Options
The platform offers plenty of options for sellers & buyers. We've listed most of the options available on the platform here.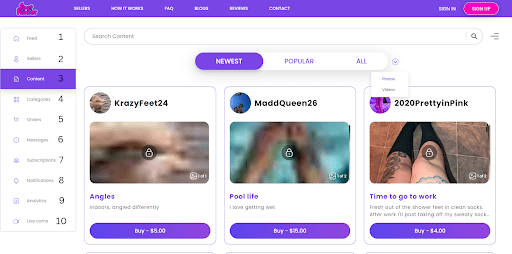 We've annotated the image to help you keep up while we explain it all below.
Feed
This is where all content from the subscription model shows up, not to mention featured models and popular content.
Sellers
Anyone interested in buying foot pics can search for sellers here. Users can toggle between "Active Users" and "All Users" or even search for specific sellers. There are also a lot of other filtering options to search for sellers like
Location

Age

Subscription Price

Experience

Foot Size

Gender

Race

Categories
Content
The Content tab shows a wide range of content and can be toggled between photos & videos. Also, the same filters we just saw above apply here in this section.
Categories
The popular feet pic & video selling platform has over 100+ categories (high heels, nail polish, pedicure, tattoo, showing face, pedicure, etc). They've listed them all on their website in alphabetical order. Sellers can choose their favorite categories and start building content around them.
Orders
Buyers & sellers can view all their purchase orders and custom-received orders here.
Messages
All conversations will be visible on this tab. The platform allows two-way communication – buyers can reach out to sellers to place orders and sellers can promote their content to buyers.
Subscriptions
All subscriptions can be managed from this tab.
Notifications
Buyers & feet models can view all platform notifications here.
Analytics
We've reached out to the FeetFinder team to identify what kind of analytics will be available here. We'll update them here once we hear back!
Live Cam
Guess what? FeetFinderLive is a live cam dedicated adult site for the feet fetish audience. The platform has some steamy categories like Wet & Messy, Bondage & Discipline, Rubber/Latex/PVC and more. This is more like other cam sites and you can easily make money as a webcam model! 
So, that's pretty much everything you need to know about the dashboard and the features that come with the platform! Now, to the next part.
How to Make Money On FeetFinder?
Before we tell you how to make money on FeetFinder, we've got to tell you this – CONSISTENCY is the key to making money!
With that said, FeetFinder is a fairly easy-to-use platform. Since you already know how to sign up on FeetFinder as a model, all you have to do is, choose categories that work for you and start uploading feet pictures and videos on the platform consistently. Following the best practices will help you compete with fellow models and earn more followers on the go.
You can,
Sell feet pics & videos

Directly message customers and promote your content
As for the promotions, FeetFinder will make your profile featured and showcase your content to the audience.
In this "how to make money on FeetFinder" section, we'll be taking you through the most commonly asked questions and topics like tips for making money on FeetFinder, how much does the average person make on FeetFinder, can you really make money on FeetFinder and more.
We'll start with the tips first.
Tips for Making More Money On FeetFinder
We've come up with a couple of tips for making money on FeetFinder here. For best results, follow them religiously!
1. Adding Detailed Descriptions to Photos & Videos
This is one of the best tips for making money on FeetFinder. Since the platform mainly revolves around searches and buyers discovering you, adding descriptions to your photos and videos will help increase the visibility of your profile and your gallery on the platform.
Make sure to add keywords in your description and that it's relevant to what you're uploading as well. If you're uploading your feet with sand, let the name be "feet in the sand".
2. Upload High-Quality Photos & Videos Every Time
This has become quite standard now! Almost all foot models have access to good camera equipment today. So, high-quality photos & videos are available everywhere.
Image Source: Closeup Models Agency
If you're not sticking to this unsaid rule, you're not going to make it as a great feet model. And making money on FeetFinder, don't even think about it!
Any good quality phone should get the job done! Make sure to use lighting kits to make the photos & videos look more professional. Even better if you hire professionals to get the job done! You never know when you might get a call from a foot modeling agency!
3. Use Social Media Accounts for Promotion
Remember the proverb, "Do not put all your eggs in one basket"?
Driving eyeballs to your FeetFinder account from various sources is important because you cannot rely on the audience on the platform. They are just one source of traffic but there are a lot of audiences crazy over feet pics who are not aware that you have a profile on FeetFinder. And to lure these people into buying your feet pics, social media promotion is mandatory!
Make use of platforms like 
Instagram

Reddit

Twitter and

Facebook
Forums like Reddit have separate communities where you can engage with feet lovers, promote your feet pics along with your FeetFinder profile and make money.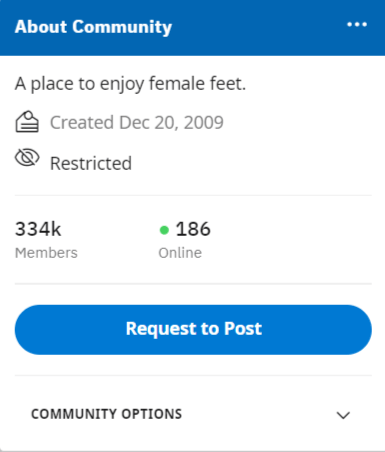 Promoting your feet pics on social media is one of the most underrated tips for making money on FeetFinder. When you manage to consistently promote your feet pics, you'd be surprised by how much money you can make as a feet model!
4. Choose Categories that Work Well
FeetFinder has a huge number of categories! And no matter which category you choose, there's going to be competition.
But there's a way around this and here's what it is!
You need to identify and

choose a category that is popular, but not very popular.

Do a quick keyword research using

Keywords Everywhere

and check for the search volume.

Make sure that the category you choose has a significant audience base.

Choose a couple of more categories like this on FeetFinder and make them your specialty.

Check for fellow competitors in the category

you choose and see how their content is being resonated.
When you target categories that have comparatively lesser competition but good audience engagement, it can help you become one of the top sellers in the category.
5. Don't Go Overboard With Pricing
As a beginner, you must gather followers first. And to grow followers, you need high-quality photos & videos set at low prices.
The logic is simple – people wouldn't mind buying a feet pic album for $10-$20. But when the price goes beyond $50 and $100, people would double-think and might back off!
So, during the early stages of being a feet model on FeetFinder, go light on pricing. Once you increase your followers significantly, then you can slowly start increasing the pricing.
6. Consider Upgrading to FeetFinder Premium
FeetFinder has made it mandatory that all its sellers should pay a price to use the platform. So, we suggest that you go with the premium subscription option.
The FeetFinder base version costs you $14.99 per year whereas the FeetFinder Premium Plan costs $29.99 per year.
It's just a matter of $15 which you can easily recover by selling a couple of feet pics and videos. So, why do you have to miss the premium features?
Those are some of the important tips for making money on FeetFinder.
Speaking of FeetFinder premium, you might wonder if it is worth the money. Let's answer that now.
Is FeetFinder Premium Worth It?
Here's what you get from FeetFinder's premium plan.
Increased uploading capacity –

FeetFinder's basic version allows you to upload only a maximum of 5 pictures in an album. But with the Premium Membership, you can upload 15 photos in an album. And you will also be able to upload videos for up to 10 minutes, allowing you to showcase your content and stand out.

Option to communicate with buyers –

Premium Membership allows you to directly communicate with buyers. You can directly promote content with buyers and even receive customer orders from them.

Customization options –

Link your social profiles with your FeetFinder account with Premium Membership. You can customize your profile the way you want and stand out from the competition.

Marketing edge –

FeetFinder makes it easy for you when it comes to marketing. They promote profiles on the featured sections driving more eyeballs. Buyers who signup for the platform will be shown your profile and content. Make the best out of it by customizing your profile and adding descriptions to the content.

Premium customer support –

Get premium help when you need it the most with FeetFinder Premium. You also get a couple of visual tips that'll help you successfully sell feet pics and earn money.
There's also auto protection of content feature in FeetFinder Premium which we'll look at when we talk about the safety of FeetFinder.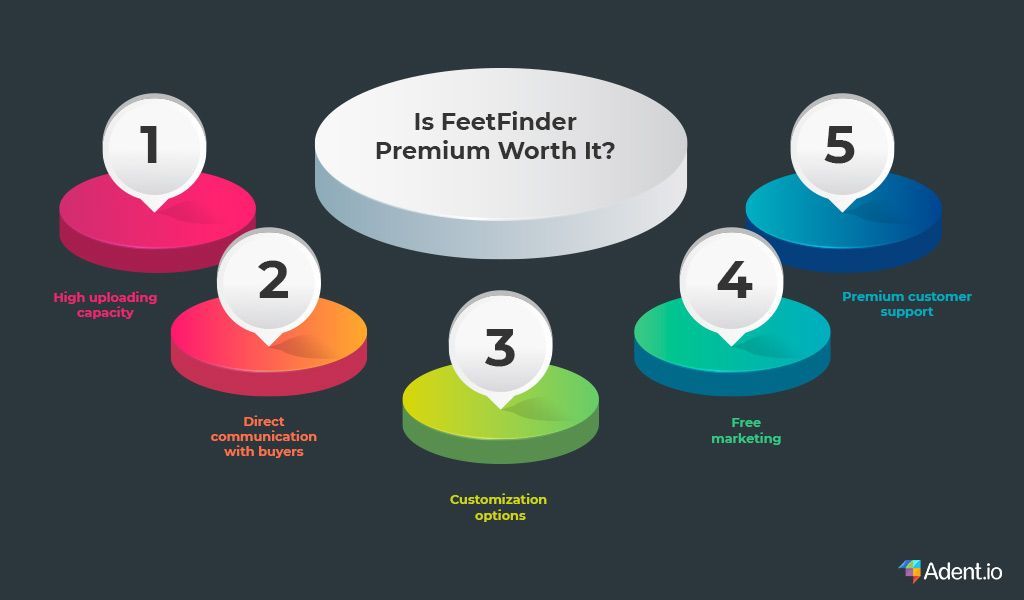 So, the answer for the question, "Is FeetFinder Premium Worth It", is YES!
How Much Should You Charge Your Feet Pics for on FeetFinder?
As a beginner on the platform, you can charge your feet pics from $1 to $5.
But as your popularity increases and there's more demand for your content, you can increase the pricing. It just makes sense. No one would want to pay you a premium price if you aren't popular.
As per FeetFinder, there are foot models who have earned over $30K on the platform. The average selling price of feet pics on the platform is $20 – $22 whereas, for videos, the figure is between $15 and $19.
This "how much should I charge for feet pics guide" can help you understand more about pricing.
How Much Can You Make on FeetFinder?
This is one of the most important parts of our FeetFinder review article!
As an individual who is looking forward to entering FeetFinder, it's important that you know how much money you can make on FeetFinder and the average income.
Well, the answer to this question depends on,
How consistent you are on the platform

Whether you follow the tips for making money on FeetFinder

Whether you have opted for FeetFinder premium

The number of followers you have

How strong are your social promotion activities
But, here's a quick calculation to help you understand how much money you can make on FeetFinder (assuming you are a beginner).
Let's say you charge $4 for a feet pic and $5 for a video. You sell five pics and seven videos a week. That gives you $55 a week. Fast forward a month, and it is $220 (remember that there's a commission detection).
This is just a basic calculation. With the above factors, your earnings will significantly increase.
FeetFinder Average Income
As a feet pic seller, you can make an average of $20 – $80 per week on FeetFinder.
Commissions & Referral Program of FeetFinder
So, like most of the creator platforms out there, FeetFinder also has a commission system and a referral program in place.
FeetFinder Commission Percentage
FeetFinder charges its sellers a 20% commission for every sale they make. Say if you make $100 out of a sale, FeetFinder takes $20 out of it. FeetFinder has also stated that the commission cuts are invested into the platform again to make it better.
The good news is, FeetFinder conducts cash giveaways every week. An active seller who also interacts with FeetFinder on social handles gets the giveaway.
FeetFinder Referral Program
Do you know someone who is planning on selling feet pics? Get them on board today because FeetFinder's referral program is just great!
FeetFinder allows you to consistently earn 10% of your referral's earnings. To make it clear, say if you refer John to the platform, you earn 10% of John's every sale. And it doesn't come out of John's pocket. FeetFinder bears the amount.
Plus, you get a unique referral link that you can use to promote around.
How Does FeetFinder Pay Out?
FeetFinder has two main payment gateways – Segpay and Paxum. All transactions with sellers take place only through these two payment gateways.
Also, there's a minimum payout threshold of $30. All transactions are secure and if anything goes out of the way, one can reach out to FeetFinder's support team.
And that's everything you need to know about FeetFinder and financials. We've covered,
How to make make money on FeetFinder

Tips for making money on FeetFinder

How much should you charge for your feet pics

How much does the average person make on FeetFinder

FeetFinder commission and referral program and

The payment gateway methods
Now that we're done there, it's time we talked about what's good on FeetFinder and what's not!
The Pros & Cons of FeetFinder
The pros of FeetFinder are higher than the cons. So, if there are a few empty boxes on the table, do not mind it!
Pros

Cons

14-Day Trial Period –

The platform offers sellers a brief trial period which allows them to use the platform and see if they have to go forward. Though they should opt for a subscription in the beginning, sellers get a refund if they choose not to continue.

ID Verification –

The platform requires sellers to take a selfie along with the ID proof which some might find uncomfortable. But the purpose here is to make the platform free of fake users & bots and give users the best experience.

No Hidden Charges –

FeetFinder charges sellers only what they mention. There are no additional charges incurred.

Accept Uses Only From the West –

As of now, the platform accepts sellers only from the USA, Canada, UK and Australia.

Marketing Promotions –

FeetFinder Premium Membership takes care of the marketing for you.

No Dedicated App –

There's no dedicated Android or iOS app for now. Maybe in the future?

Continuous Innovation –

The platform is at its early stages of growth. With the budget that it's collecting from sellers, one can expect the platform to release more features down the lane.

No Free Seller Plan –

FeetFinder clearly stated the reason behind and $29.99 is something you can make by selling a couple of feet pics.

Massive Trustpilot Reviews –

The platform has gained over 4000 reviews on Trustpilot with an

average rating of 4.9.
 
Great Support –

The platform offers premium and useful support to both sellers and buyers.

 
Safe & Secure –

FeetFinder boasts of its security as they are

PCI Compliant and have SiteLock Security.
 
Like we said, the pros are greater than the cons. And the cons aren't really cons here! Most of them will change in the future, we believe!
Now, to the most important part!
Is FeetFinder Legitimate and Safe?
Well, from everything we saw above, FeetFinder is definitely a legit site. The real question is how safe is FeetFinder and is FeetFinder reliable. Anyways, we've pulled out a couple of points to help you understand that FeetFinder is a safe and legit platform.
FeetFinder Reviews – Seller Reviews
Most of FeetFinder reviews are on Trustpilot and here are a couple of them.
FeetFinder Seller Reviews – #1
The review just came in three days ago when we were drafting this blog and it seems quite legit. Apparently, the seller is a former stripper and finds FeetFinder as a safe platform!
FeetFinder Seller Reviews – #2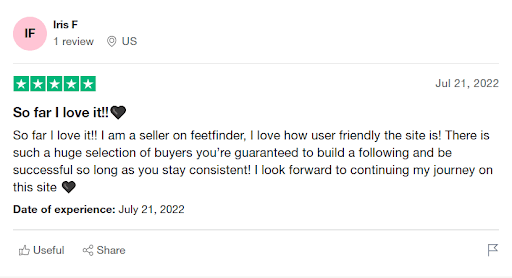 Here's a review that's a couple of months old. Seems the user is pretty satisfied with the platform experience.
FeetFinder Seller Reviews – #3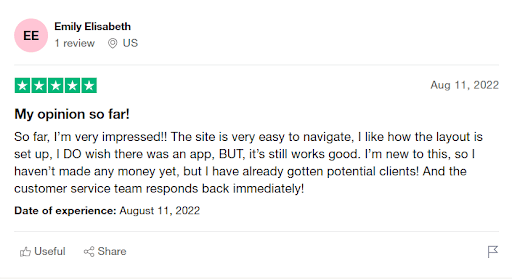 The user wishes that there was a dedicated app but is still satisfied with how the platform works!
These answer the question of how safe is FeetFinder.
FeetFinder Customer Support
The platform provides one of the best customer support in the niche. You can reach out to the support team using the email address [email protected] and also reach out to them via their social handles.
The responses are quick and they help customers with what they want! You don't have to take our word for it! Here's a FeetFinder review that says the same!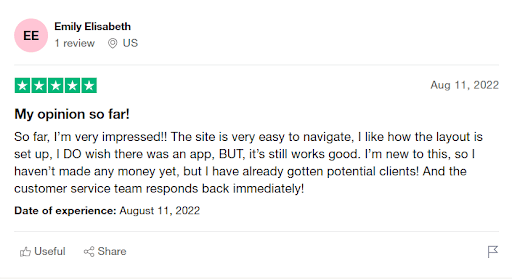 There's also a dedicated FAQ section on the platform that helps with the common queries you have.
In a phrase, the support is excellent! Another point that tells us FeetFinder is safe is, it allows you to delete your profile. Yes. You hear that right!
You can delete your profile if you've decided you're not going to sell feet pics anymore! Here's how you can do it.
How to Delete FeetFinder Account?
Say, you're not going to sell feet pics anymore, FeetFinder allows you to delete your profile! Yes.
You can simply click on the FeetFinder logo once you login. And then click "Delete Account".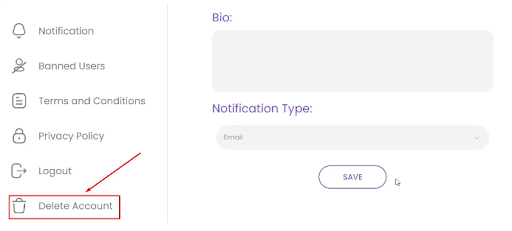 All your data will be removed and your FeetFinder account will be deleted.
Security Implementations by FeetFinder
FeetFinder has made sure that the platform is a safe place for both feet sellers and buyers.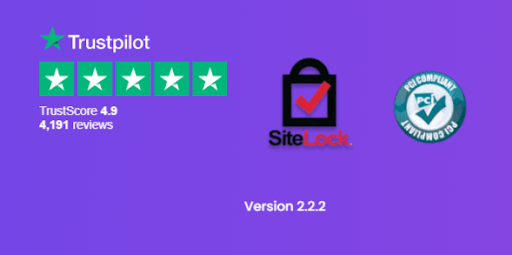 The platform comes with
SiteLock protection –

an online cloud-based security tool that scans websites for vulnerabilities – security risks & malware

PCI Compliance –

prevents security breaches and payment card data theft
Also, there's an Auto Protection of Content feature that blurs your content when you send it for buyers. Only when the buyer pays you the agreed amount, the photo will be unblurred.
This offers safety for sellers – helps them get the money they deserve.
Is FeetFinder Suitable for Me?
This could be the last question on your mind. Well, if you're someone who has an interest in selling feet pictures, you should definitely consider FeetFinder.
The audience base is great and there are adequate features for you to sell feet pics. Since this is a platform that is dedicated to selling feet pictures, the audience niche is very targeted.
The earning potential is also good. So, yes. If you want to sell feet pics, you can definitely give FeetFinder a try!
Best Alternatives to FeetFinder
Remember where we told you to promote your feet pics on social media platforms. This is also kind of similar to that. When you've decided to become a foot fetish model, it's best that you build your online presence across different platforms.
Here are a couple of best alternatives to FeetFinder.
1. xModel by Adent.io
xModel is a white-label fansite software that allows you to create your own feet selling platform  like FeetFinder. xModel comes built-in with advanced and powerful features like,
Subscription membership model for users

Live streaming feature

eCommerce store

Pre-existing payment gateway options and more.
The platform is 100% customizable, SEO-optimized and highly responsive.
2. OnlyFans
The platform is famous and well-known to all niche creators. If you're looking for a platform that's popular and has a name to it, then you can choose to go with OnlyFans.
But remember that the competition is high and the commission percentage is the same 20%. So, making money on OnlyFans can be hard but rewarding! You definitely get a lot of additional features when compared to FeetFinder at least for now – subscription membership tiers, eCommerce store setup, direct DM options and more.
3. Foap
Turn your feet pics into money using Foap.
Foap is an app that's available on Google Play and App Store that allows you to upload your photos and showcase it to the globe. The app has an average of 4.5 rating on App store and allows you to easily sell feet pics by creating a profile.
To sell feet pics on Foap, you have got to,
Download Foap mobile app

Create an account using your Facebook ID

Start uploading feet pictures with relevant tags, keywords and description

Also, you should be signing a model release form at the time you upload your feet pics
After all this is done, you can upload and sell as much as you want to. Foap charges a 50% commission on your earnings.
4. Whisper
Like Foap, Whisper is also an app that allows you to sell feet pics. If you're looking to sell feet pics anonymously, then Whisper social networking app is the best place you have to head for!
Whisper allows individuals to post confessions on the platform anonymously – it could be stories, photos, videos!
The best thing about Whisper is, you have a dedicated iOS and Android app. But on the other hand, your prospect customer cannot message you directly – conversations will happen only on comments. Once the conversation gets going, you can then share contact information for further steps.
There is no mandatory fee that you have to pay to use Whisper!
5. Craigslist
Wondering how an online directory can help you sell feet pics? Well, it does. Craigslist was found in the year 1995 and is an ideal place to sell feet pics. The platform simply allows you to run ads on feet pics – for FREE. This makes it one of the best places to sell feet pics.
The "How" is quite simple.
Visit Craigslist webpage and choose the city you are from.

Select

"post to classifieds"

you see on the left side of the screen

Select the category from the listed options. 

Select the sub-category that's closely relevant to what you are about to sell.

Fill up the basic ad details like title, description and reply address and then make your ad live.
You can easily edit, delete and repost ads on Craigslist and it's absolutely free to use. You should definitely try this one out!
6. Patreon
The popular social media subscription founded in 2023 is another great place to sell feet pics. Patreon has over 250,000 creators on the platform across all niches and more than 6 million Patrons.
Patreon comes with features that allow you to create unlimited membership tiers, special offer promotion options, in-depth analytics & insights and more. Put short, Patreon offers you everything you need to sell feet pics like a PRO.
The commission percentage starts from 5% to 12% and depends on the plan you choose to use the platform – Lite, Pro or Premium.
7. Twitter
Twitter is also a great place to sell your feet pics. All you have to do is, create a Twitter account and start posting your feet pics along with hashtags and descriptions.
You can create similar posts and sell your feet pics on Twitter. When you get enquiries to purchase, you can engage with them on DMs and redirect them to the place where they can buy the pic.
8. Reddit
We saved one of the best alternatives to FeetFinder for the last and it's none other than Reddit. The social platform has all kinds of topics discussed and feet fetish is one of the most common topics.
You can sell feet pics on Reddit under dedicated subreddits for the same.
Feetpics is one of Reddit's common foot fetish communities and has over 450k followers. You can leverage this platform for your visibility & growth and start selling feet pics. The process is similar to Twitter. You have got to promote your feet pics, get popular and the sale conversations will automatically happen.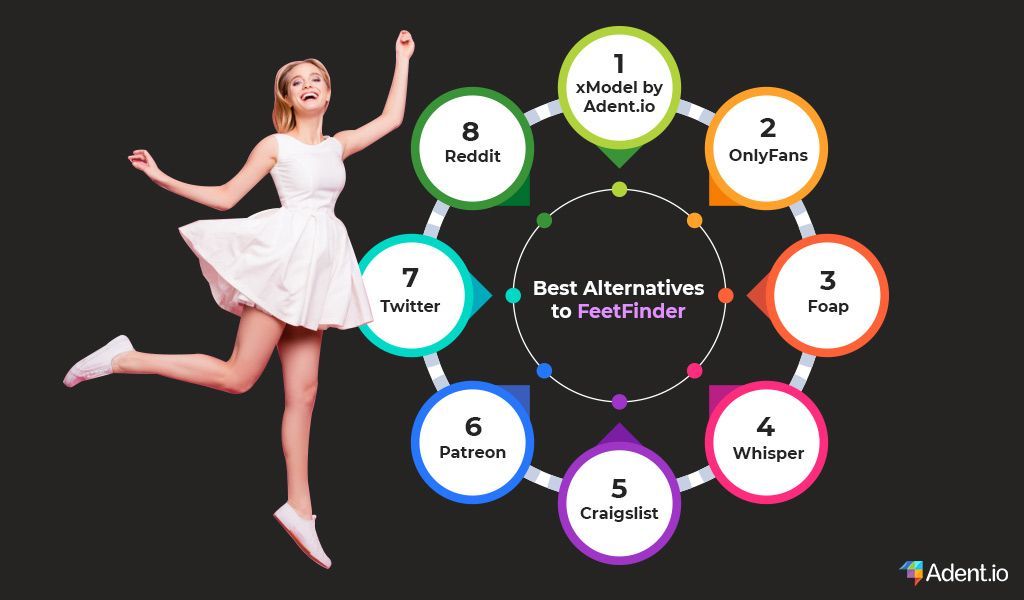 You can look at more best feet selling websites here.
Okay, we've been looking at FeetFinder for so long. It's time we look at some models in it.
FeetFinder Top Earners
The platform has a great number of models who make good money by selling feet pics. Here, we've listed some of FeetFinder's top earners.
Cutie Mary

Xyxo

TheOwesomeCollageGirlToes

FeetBaby405
FeetFinder has come up with a separate video that says what these top models do on the platform! Watch it here!
On an average, a model on FeetFinder with consistent effort, can easily make $1000 a month.
We do know you still have a couple of questions about FeetFinder. We've picked the most common ones and answered them for you here!
Is Feetfinder a Scam?
No. FeetFinder is not a scam! The platform was founded in 2019, has over a million active users and 4000+ reviews on Trustpilot and verified social media channels.
There's no reason for one to think that FeetFinder is a scam.
Is FeetFinder Reliable?
Yes. FeetFinder is a reliable platform. They have more than 4000 reviews on Trustpilot with an average rating of 4.9. Also, their social media handles are verified and have more than 100k users.
How Long Does it Take to Get Verified on FeetFinder?
Most cases, the verification process only takes a day or less. But in very rare instances it can go longer. Make sure to upload quality pictures and authentic ID proof to get the verification process completed at the earliest.
Why Does FeetFinder Need My Social Security Number?
FeetFinder is very cautious about preventing fake users on the platform. To ensure this, the platform needs personal details like Social Security Number and more.
This helps both the buyers and sellers have a safe experience within the platform.
Is FeetFinder Free?
No. FeetFinder is not free. Creators have to pay a subscription fee to use FeetFinder. There are two subscription plans available on FeetFinder – the base version and the premium version.
The base version costs $14.99 per year whereas the premium version costs $29.99 per year. Speaking of memberships, here's the next question.
How to Cancel FeetFinder Membership?
FeetFinder allows you to cancel your premium membership and switch back to the normal package with a click of a button.
You can head to your profile and cancel your membership. However, you should remember that the amount you have paid will not be refunded.
So, those are some of the common questions about FeetFinder you might want to know. That said, we're coming to an end!
FeetFinder Review – Final Verdict
So, the final verdict on FeetFinder is, YES! FeetFinder is a safe and legit platform that you can choose to sell your feet pics and videos.
All questions you have in mind asking is FeetFinder worth it, is FeetFinder reliable, is FeetFinder legit and can you really make money on FeetFinder, put them to rest. Because we have it all answered!
FeetFinder has,
Good security implementations – SiteLock and PCI Compliant

4000+ reviews on Trustpilot

Verified social media profiles with 100k+ followers

Account deleting option
All these make FeetFinder a safe, legit and ideal platform to sell feet pics!
And that's our final verdict! So, why wait? Go ahead and be one of the many people who earn great selling feet pics now!
FeetFinder Reviews FAQs
1. How much do people make on FeetFinder?
An average person, on FeetFinder, can make around $20-$80 per week.
2. How safe is FeetFinder?
FeetFinder has SiteLock protection and is PCI Compliant. You can reach out to their support team via email and social handles also if needed. The platform ensures that individuals aged above can only use the platform and ID verified sellers to avoid fake users on the platform.
3. Can guys make money on FeetFinder?
FeetFinder supports all kinds of gender. So, yes. Guys can make money on FeetFinder like girls and trans.
4.

Is FeetFinder Illegal?
No, FeetFinder is not an illegal platform. There are over 4000+ reviews on Trustpilot and the platform has security implementations like Sitelock Protection and is PCI Compliant. Also, it has verified social media channels and the payout process via Paxum and Segpay.