-

8

mins read
The adult industry has risen exponentially in the recent few years, and one of the main reasons for that is the variety of adult entertainment it offers. As the world advanced, people's mindsets also expanded, and now people are more vocal about their needs and fetishes. 
One such fetish that has become quite popular is foot fetish. It has opened up new revenue options for the adult industry. Foot modeling has become a legit thing, and we have many enthusiasts asking how to become a foot fetish model.
What is foot fetish modeling?
Just like you have models walking down the ramp and selling their modeling pictures, foot fetish models sell their foot pictures to people with a foot fetish. It is a very common fetish nowadays as people have become quite open to their desires and support the rise of foot fetish modeling.
Models take pictures of their feet in various setups and sell them at good prices. The buyers are mostly men who have a foot fetish which means they get turned on by seeing foot pictures of mostly women. This niche market is for foot fetish modeling, but you can also find scouts on the lookout for beautiful feet to promote various footwear products and brands.
Foot fetish modeling has various types. There is a separate market for manly feet, while another type is for large feet. Some people find barefoot pictures irresistible, while others would want a specific type of footwear to be worn. In this huge foot fetish modeling market, there is something for everyone.
How much do foot fetish models make?
The money you'll make as a foot model will solely depend on the efforts you put into this work and how many followers you are able to garner. The more the number of fans you have willing to buy your foot pictures, the more money you stand to make.
Foot fetish salary earned by feet models depends on factors such as the platform you choose to sell your feet pics, the number of followers you have, and the quality of feet pics you post under your profile.
A Canadian woman named Jessica Gould revealed how she made more than $90000 in a year by selling pictures of her feet on the popular social media platform Instagram. As per popular foot model Ellen Sirot, top models can earn $1000 per day for Television commercials and between $500 to $2000 per hour by foot modeling.
On average, a foot fetish model can make $5 to $500 by selling foot pictures online, depending on their client base and popularity. The more popular you are, the better price you can demand for your foot pictures. If you're able to sell 50 to 100 foot pictures, then you can easily make $3000 to $5000 every month.
And if you post feet pics under different niches or categories, then you stand a chance to earn more than the numbers mentioned above. For example, outdoor feet pics, feet pics with ornaments, toenail painted feet pics, etc., can get you around $20 to $50 per single foot pic
Foot fetish modeling can be one of the many gigs you can do. You can even sell used panties online to make some extra income. Camming is another option you can explore that will pay you well after you become foot fetish model. A foot fetish model named Goddess Valora made over $115,000 in a year by being a foot fetish model along with camming and shooting clips.
Few people even ask if it is only women who can sell foot pictures and how to become a male foot model. Men also can sell foot pictures online and make from it. Although it's a little difficult for them compared to women, a man named Jason Stromm proves that it's possible for men to become male foot fetish model. He makes $4000 every month by selling his foot pictures.
Here is your answer to how much foot fetish models make on the internet by selling foot pics. And if you are wondering whether you will make money or not by selling feet pics, then you can stop worrying and dip your feet in this lucrative side hustle to make good money.
Foot fetish salary for custom feet pics
Along with your regular feet pics, if you accept custom requests from your buyers, you can then sell them at a hefty price. For instance, some buyers want to see your feets soaked in sweat or oil, or mud, while others want you to send a picture of your feet crushing flowers. Of course, you can charge a price more than average for these kinds of requests.
Usually, custom feet pics are charged around $30 to $75 per pic and are always negotiable with your buyers. Accepting custom feet pic requests is a great way to increase your earnings on the feet pic selling platform. But always remember to accept only those requests that are doable and convenient to you. Don't accept requests that cause discomfort and are wrongful
How to become a foot fetish model?
You have very pretty feet and are always getting compliments for your feet. Your friends jokingly even ask you to become a foot fetish model. But have you ever really thought of how to become a foot fetish model.
To become a foot fetish model, you have to prepare yourself physically and mentally to get returns for the efforts you put into foot modeling. Let me tell you a few important foot model requirements to follow to have a successful career as a foot fetish model.
1. Pamper your legs & feet
If you're trying to become a successful foot fetish model, then your feet and legs become the most important thing you'll need to take care of. You should be looking at regular pedicures for your feet to keep them healthy. Dead skin should be removed before every photo shoot, and your nails should be well-trimmed and shaped. 
Moisturize your feet regularly to keep them glowing and smooth. You should put every effort possible in making your feet look attractive to the buyers. Always be cautious to avoid any injuries to your feet. Some top models even avoid wearing high heels to protect their feet from any accidental injuries. You can take up light jogging to keep your feet healthy and attractive.
2. Use quality equipment for photoshoots
The success of your foot fetish modeling career will depend on the quality of pictures you take of your feet. If you're serious about foot fetish modeling, then taking normal pictures from your mobile phone won't do. You will need to have quality pictures taken using good-quality equipment.
You can hire a professional photographer to take pictures of your feet and build a portfolio to start your career. Later on, you can invest in a good camera and quality light setup to click pictures yourself at home. Even slight editing of your feet pictures can infuse new life in them and help you attract more buyers for your feet pictures.
3. Practice and Consistency are key
No one becomes a foot fetish model in a day or two. It needs regular practice and experience in taking attractive pictures of your feet. Follow other popular models and learn how they take pictures of their feet. Try to imitate their poses and practice them till you get good at it.
You have to be regular in sharing pictures on various platforms to increase your chances of finding buyers for your feet pictures. Share regular updates and always try to keep up with demands made by buyers.
4. Get creative in your feet pictures
Plain bland pictures that just capture your feet at point-blank look the same and won't entice users to buy them. Practice taking pictures of your feet and legs with different props and in different settings. Make use of different props to fill up excitement in your feet pictures.
To make your pictures more fun and attractive, use different light and location settings. A picture of your feet at the beach has got more chances of selling than a regular feet picture. Infuse some fresh ideas in your pictures to get more sales.
5. Promote aggressively
Promotion of your feet pictures play a major role in deciding your success as a foot fetish model. If your pictures aren't reaching the right audiences, then how will you make money from them. Make social media pages for your foot modeling and upload regular pictures there to promote your work. You can even create your own website to garner more audience for your feet pictures.
Best websites to become a foot fetish model
Here are a few websites to help you to sell feet pics online.
xModel by Adent.io – Most Recommended to Become a Foot Fetish Model
Rather than depending on other websites to earn money and pay them a commission, you can always start with your own website. Starting your website isn't a difficult task anymore as readymade scripts like xModel by adent.io have made it extremely easy and affordable.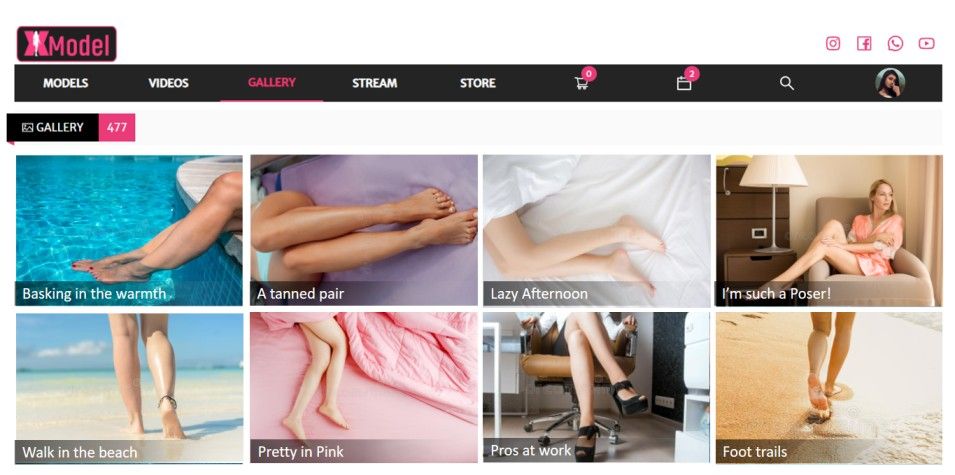 xModel provides you with a robust platform that you can set up easily in a few hours. It has an in-built eCommerce store where you can sell your foot pictures. There are many other monetization methods like subscriptions, paid live streaming, affiliate marketing, and more.
Some premium features offered by xModel are
Multi-tier subscriptions

Live streaming

eCommerce store

Custom token payments

Adult payment support

Mobile responsive
Etsy – Best Earning Site to Become a Foot Fetish Model
Etsy is a similar platform to eBay that lets you sell any goods you want. It is one of the unique marketplaces where you can find content or product of any kind. The issue with selling feet pictures on Etsy is that it isn't exclusively a feet picture marketplace, which means it might take some time to find the right buyer for your pictures.
Etsy charges a flat $0.20 as a listing fee for any product you list on their site. Along with that, there is a 6.5% transaction fee plus delivery and packing charges on every item you sell on Etsy.
FeetFinder – Best Place to Become a

Foot Fetish Model
FeetFinder is an exclusive marketplace where you can sell only foot pictures. It gets a lot of audience from the foot fetish community as well as brands looking for foot fetish models.
To become a premium seller, you have to buy a subscription of $2.99/month or $24.99 per year to be able to get privileges on FeetFinder. Other than this, FeetFinder charges a 20% commission on every sale you make.
Feetify – Trusted Marketplace to be a Foot Fetish Model
Feetify is the go to place for someone wondering how to be a foot fetish model and how to sell feet pics online.
Feetify has over 205,000 active users worldwide and is one of the top websites for buying and selling foot photos. Sellers like yourself can post and sell feet pictures on the platform, and buyers can search a variety of categories and niches to find exactly what they need.
One significant advantage of using this platform as a seller is that you get to keep 100% of your revenue, whereas most other sites keep a 20% or higher commission. Feetify is also the only platform that rewards sellers and models for consistently uploading high-quality content. The website awards cash prizes ranging from $10 to $100 for newcomers to $10,000 or more for more experienced models who are the most active and post the best photos or videos.
Foap – Best App to Become a

Foot Fetish Model
Foap is a popular image selling marketplace where many brands and people buy images of all types. You can even sell feet pictures on Foap but cannot attach your price tag. Foap has fixed rates, and they do all the promotions for your pictures.
Foap is a little on the expensive side as it charges a 50% commission on every sale made through its website.
Stock photo sites – Easiest Way to Become a

Foot Fetish Model
You can make use of various stock photo sites to sell pictures of your feet and make money from it. Sites like Shutterstock, Alamy, iStock Photo, Unsplash, etc., are great platforms to sell your feet pictures. Many brands and businesses look at these stock image websites to buy pictures or look for models for their brands.
Final words
We hope we have been able to help you understand how to become a foot fetish model and how much do foot models make. Foot fetish modeling is a legit career option for many, and it is very easy to start with too. All you need is beautiful feet and the right audience to buy your feet pictures. Happy feeting!
FAQs Related to becoming a foot fetish model
1. How much do foot models get paid?
Depending on how many feet pictures you're able to sell, foot models can make anything from $500 to $5000 by selling feet pictures.
2. How can I sell my foot pictures anonymously?
You can sell foot pictures anonymously by not revealing any personal information online like your real name, address, face, etc. Use a separate email address to sell foot pictures anonymously.
3. How much does the average person make selling feet pics?
An average person can make anything between $400 to $1000 every month by selling 20 to 50 foot pictures at $20 a piece.
4. Can you sell feet pics if you have tattoos?
Yes, you can sell feet pics if you have tattoos. Tattoos are an added piece of art that might enhance your pictures.