-

7

mins read
The internet is a vast world of its own, and people are using this technology to the fullest. Users on the internet nowadays can sell almost anything and everything to make good money from it. Some of the ways followed might seem weird to many, like being a foot fetish model, but the truth is that the internet enables and provides users with multiple platforms to sell almost anything. One such money-making is to do a dick rating.
Yes, you heard it right. Women are making good money from rating cocks online and flourishing in this side hustle to make extra income. Although dick rating does sound weird to many, it is a very profitable side venture to make money. To do a dick rating, you don't need to invest too much time or money, but the returns are great. Many men in the world want their dicks rated by beautiful women, which makes doing dick ratings a profitable side-hustle for women.
Now the question arises, how to do a dick rating? Well, in this article, we will discuss what exactly is a dick rating and how to do a dick rating that will earn you more money. So let's begin.
What is a dick rating?
A dick rating is when a woman tells a man what she thinks of his cock. The ratings are based on many characteristics that we will discuss later in this article. Usually, the ratings are done on a scale of 1 to 10 plus a critique that can be positive feedback or criticism depending on the needs of the customer.
Dick pic rating is a reasonably new niche that is catching up fast with other profitable ventures like selling dick pics online and selling nudes online. Women are generally flooded with dick pics in their inbox, whether they like it or not. So why not monetize it by rating cocks? Once you start rating cock pictures in your inbox, you will either deter those unsolicited pictures or start making money for your ratings. It's a win-win in either case.
Why do men need to have their dick rated?
Men have always been fierce competitors in every field, and cocks are no different. Porn is everywhere now and the first image anyone sees on porn usually is a big thick dick that can fuck for hours and get women to scream. This leads to many men feeling insecure about their dicks and questioning themselves if they can satisfy women.
Men don't openly talk about their dicks with friends like women talk about their bodies with friends. They don't get any reassurance anywhere that their dick is fine. So to get an unbiased review from sex workers online reassures them about their dicks and gives them the boost to feel normal, whatever normal means.
"I suppose it does offer guys some confidence in themselves since porn is so overwhelmingly flooded with ridiculously enormous dicks that it can be hard to discern whether you are in fact normal."

      –  Eevie Bellini a.k.a. "The Banana Butcher"
The expectations to live up to are humongous in nature, especially when it comes to their cocks for men. So to get reassurance and feel good about their cocks, many men prefer to get it rated by women online. Other than this, there are some fetishes like small penis humiliation(SPH) that gives sexual high to some men when their cocks are humiliated and mocked by women online. So to gain such pleasure, many men seek out ratings for their dicks to fulfill their fetish.
Factors to consider for dick rating
When a man is ready to pay to get his dick rated, then it's very important for you to understand what kind of cock rating he is actually looking for. Some men would like honest reviews about their dick, while some others want you to criticize their cock. Here are a few factors that you should consider while rating cocks.
Size
Men are obsessed with the size of their dicks. It's a big ego booster for them when a woman praises the size of their dick. You can rate cock pics based on their size, from tiny to a monster. Length and girth of the dick, size and shape of the balls, etc., can be considered while rating a dick based on its size.
General appearance
Another factor that helps you to do a dick pic rating is its general appearance. You can rate the dick based on how meaty it looks, how many veins are visible, the curve of the dick, etc. Just like men judge your boobs when you sell boob pictures online, the general appearance of the dick matters in a dick rating.
Grooming and hygiene
Grooming is a factor that cannot be overlooked while you're rating a dick. How well the pubes are groomed, is the cock clean, etc., can be the factors on which you can base your cock rating.
Photo quality
Many women who provide dick rating services take the picture quality into consideration while rating a cock. A good quality picture with good lighting and angle can fetch a better rating than pictures taken on the toilet.
Ways to rate dicks
As much as rating dicks is important, the delivery of your rating is also important. The money you make from rating dicks depends on the medium you choose to deliver the rating. Here are the general options in which you can rate dicks.
Text review
You can rate cock pictures of customers over text messages giving them detailed reviews of their dick. Usually, a text rating is done over 2 to 3 paragraphs consisting of deep insight into what you liked in their dick and what could be better.
Image review
You can give out an expressive image of yourself along with the text. The picture should contain your expression on seeing their dick. This is an added option of charging more for a dick pic rating.
Voice review
If you have a seductive voice, then reading out your text dick rating over a voice file is a great way to make some extra money. A voice review is more personal, as the customer can hear how you feel about their cock.
Video review
This is the highest-paying type of dick rating that you can do. A short 2-3 minute video of your expression on seeing their dick is a huge ego booster for men. You can narrate your rating over the video along with your expressions, making it a sensual experience for the customer.
How to do a dick rating?
As we told earlier in the article, different customers request different types of dick ratings depending on their liking. You should always check with the buyer first about what type of dick rating they want to hear. If they like your style of dick ratings, then they'll regularly come to you, and you'll be making similar money as you would selling feet pictures online. Here are the major rating types that buyers look out for in their dick rating.
Honest feedback
Most men just want an opinion from an experienced sex worker who has seen many dicks in their life. They are just trying to convince themselves that they fit in the regular and normal man list. All they need is for you to give them honest feedback about what you feel about their dick.
Dick appreciation
When men are paying to get their dicks rated, then they can demand anything they want. Many men need the ego boost of having a great dick and pay money to hear only good things about their dick. You will need to worship and praise their dick and shower them with words telling how their dick is the best you've ever seen.
Dick humiliation
Some men live with a fetish known as the small penis humiliation, where they get a sexual high from women humiliating their dick. For this type of rating, you will be the dominatrix and tell the buyer how disgusting, small, and ugly his dick is. The buyer gets aroused with humiliation, and you need to make sure you inflict as much humiliation on their dicks as possible.
Dick pic critique
This type of rating is done for those buyers who want to take constructive criticism and make their dick pics better. You can give them feedback and tips on how to take better pictures of their dick and how they can maintain their dicks in a better way.
How much to charge for a dick rating?
Dick pic rating is a comparatively easy job as it only needs you to be good with words and be creative to put forward your dick ratings. To do a dick rating, you need to pen down a few sentences about the customer's dick as per their preference. If you're asked to do a video dick rating, then a 2 to 3 minute video in your lingerie is good enough to make good money.
The usual market rate for doing dick ratings is $5 to $30, depending on your experience and popularity as a dick rating model. Models who do dick ratings usually charge $5 to $10 for text dick ratings, $15 to $20 for picture and voice dick ratings, and $25 to $30 for a 2 minute video dick rating. You can vary the rates as per your expertise and stand a chance to earn good money by doing dick ratings online.
If you want to stay anonymous while doing dick ratings, then you can explicitly mention on your bio that you prefer doing text dick ratings only. You can still do video and picture dick rating by hiding your face in the video or picture you send to the buyer.
Best websites to do Dick rating
Now that you know how to do a dick rating, the next question that comes to mind is where you can promote your dick rating services. Luckily for you, there are many adult platforms that let you promote your dick rating services along with making money on nudes, making them a profitable platform. In the mix are readymade scripts, too, using which you can build your own website to promote your dick rating services. Let's take a look at some of the most popular options.
1. xModel by Adent.io
One of the best ready-made scripts to build your own adult membership site, xModel provides many other monetization features that help boost your overall income. xModel is easy to install, affordable to the pocket, and gives you a scalable website to grow in the future. It is a great platform for porn stars, cam girls, and internet models to capitalize on their fanbase and make good money through it.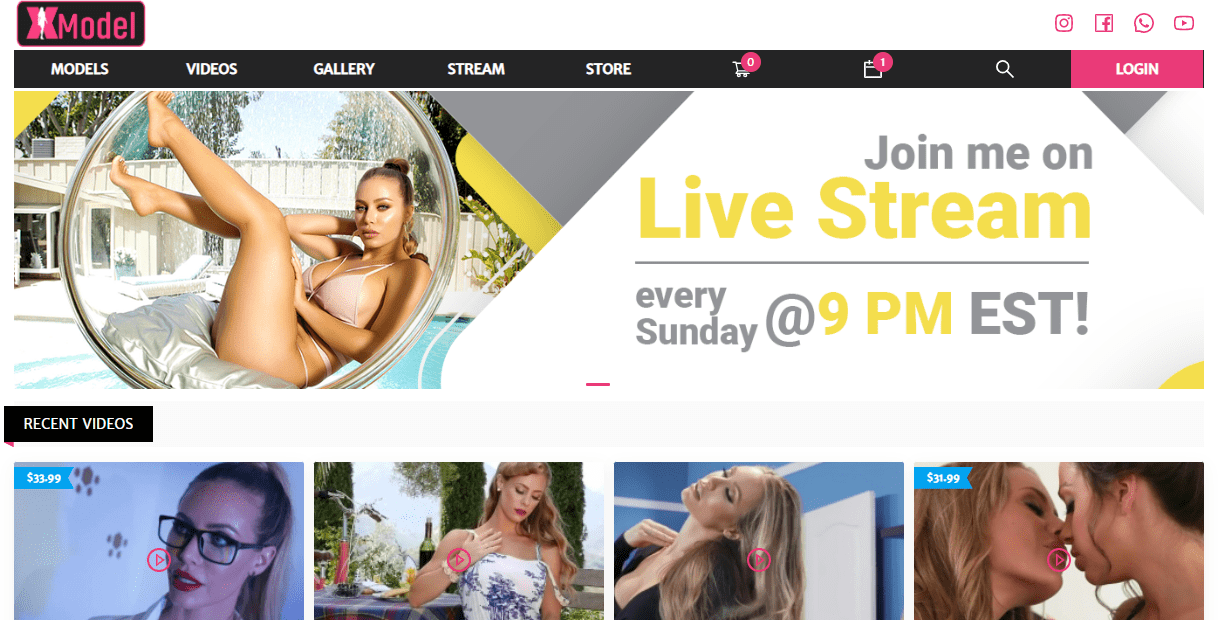 Here are some of the awesome features you get with xModel:
Subscription-based memberships

Live-streaming

Tokens for easy transactions

Integrated eCommerce store

Premium content

Mobile responsive

Reliable integrated adult payment processor

Advanced CMS panel
xModel lets you build your own dick rating website in no time, and the best part is that you don't have to pay any commission to the website owner as you're your own boss. Other than dick ratings, you can do so much more with xModel that will propel your career and earnings through the sky.
2. LoyalFans
One of the most successful adult content platforms, LoyalFans, provides creators with multiple opportunities to grow and make money on their platform. It charges a 20% commission on the earnings made by creators on its platform and pays creators twice a month once the minimum earning reaches $50.

Other than dick ratings, fetish models can make money through subscriptions, live streaming, selling pictures and video clips, tips from fans, referral programs, voice messages, and custom requests through direct messages.
3. Reddit
Reddit is one of the best adult forums that allows users to also promote their services. Users on Reddit promote anything, from selling used panties to doing dick ratings. Reddit boasts of a huge adult audience base that makes it a perfect platform to promote your dick rating services.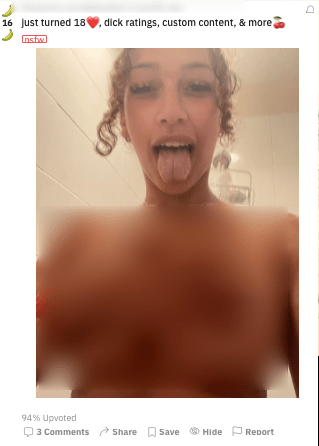 Join already created subreddits like r/ratemycock, or you can create your own subreddit on the platform and find buyers for dick ratings. Almost every adult content creator uses Reddit to promote their services, as Reddit's audience is the right target audience for adult products and services.
Conclusion
The adult industry has been growing manifolds and presents numerous new opportunities for models to make money. Dick ratings are one of the latest trends that are catching up and provide a great money-making opportunity for models. Hope this article helped you in answering questions like how to do a dick rating and earn money. There is a lot of scope in this market, and you should capitalize on it before it's too late.