-

5

mins read
Are you someone who has heard about LoyalFans but has questions like is LoyalFans safe or is LoyalFans legit? Then you have come to the right place as in this article, we will decode the content platform LoyalFans vs OnlyFans and see how it fares as a popular content selling platform.
The creator economy has picked up in recent years, and many content platforms have sprung up to the aid of millions of content creators around the world. One of them is LoyalFans which has gained popularity in a short time. But with popularity comes doubts, as many people wonder is LoyalFans safe or is LoyalFans a scam.
To start with, let us say that LoyalFans is a completely safe and legit site and is not a scam site. LoyalFans is a great alternative site to OnlyFans as it provides more features than other platforms and helps creators perform better on its platform. Let's dive in and see how LoyalFans is as a content platform and what makes it a safe and legit site.
Is LoyalFans legit?
LoyalFans is very much a legit site, just like multiple other content platforms. Based out of the UK, LoyalFans is run by adult industry pioneers with more than 30 years of experience in the adult industry. Launched in 2020, LoyalFans is already one of the most popular OnlyFans alternative sites around.
LoyalFans is a subscription platform that is specifically designed for adult content creators. Creators from around the world have earned millions of money by selling their content on LoyalFans, making it a perfectly legit site.
Is LoyalFans safe for adult creators to make money?
There is no doubt in our minds that LoyalFans is a safe site for adult creators to make money. We don't say this based on just hearing things; we say this because of all the features on LoyalFans that aim to provide a safe and secure platform for creators to sell their content.
How safe is LoyalFans in terms of security and privacy?
LoyalFans has created a platform for content creators that has top-notch security firewalls to prevent scammers and hackers from easily stealing content from your profile. Creators can rest assured that their accounts are managed by upgraded LoyalFans security that makes it a safe platform for creators as well as users visiting the platform.
How safe is LoyalFans in terms of payments?
Many people have doubts regarding if they'll get paid in time or will LoyalFans scam them. Well, let us tell you that numerous creators from around the world are using LoyalFans and getting paid regularly for the earnings they make on the platform.
LoyalFans payouts are done twice a month, and payments are usually received by creators within 7 days of payout. The platform provides multiple payout methods like ACH, wire transfer, Paxum, and SEPA, through which creators are making thousands of dollars as earnings. There have been no reports of LoyalFans scamming creators on any review websites, making LoyalFans a trusted platform.
How is the support offered by LoyalFans?
If there is one thing that makes LoyalFans stand out from other sites like OnlyFans is the support they offer to creators and users on its platform. The support team of LoyalFans listens, responds, and does its best to meet every creator's needs. They take feedback seriously and work on introducing new features to make life easier for creators and users alike.
If a creator cannot find the answer they are looking for on the vast faq section, then they can contact the support team, who act fast and resolve issues in a timely manner. The support team of LoyalFans can be reached through a direct phone number, email, or by filling out a form with your query on their live support.
Review of LoyalFans
According to various trusted websites, there has been no scam or fraud recorded against LoyalFans since its inception. You can go and check on Reddit what creators have to say about LoyalFans review. Creators who are actually working on LoyalFans and making money say that it's one of the best platforms to work on due to the features it provides. Take a look at a creator review of LoyalFans on Reddit.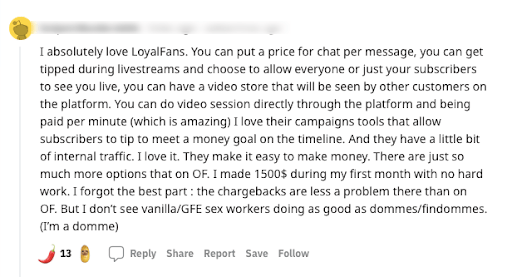 You can find similar positive LoyalFans reviews on all websites where creators mostly speak good about LoyalFans as mentioned below by a creator on TrustPilot.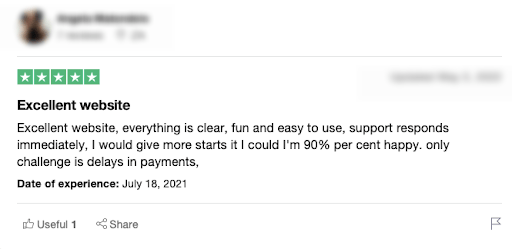 LoyalFans monetization features
LoyalFans provides many monetization methods as compared to other sites like OnlyFans and Fansly. Creators around the world have made money on LoyalFans through various methods, making LoyalFans safe and legit.
Subscriptions
This is the primary mode to make money on LoyalFans. Users subscribe to their favorite creators by paying a monthly fee to access their content. Creators are free to set their own subscription rates on LoyalFans.
Live camming
Creators on LoyalFans can do live streaming and make money from it. LoyalFans was earlier known as NexoCams, and they have continued with the live cam feature. Creators earn tips through live camming and can set tip goals to perform tasks when the goal is met.
PPV content
Other than subscriptions, creators can sell individual locked content to every one of LoyalFans. PPV content is available to buy to all users on the platform, subscribers and non-subscribers alike.
Paid messaging
Creators on LoyalFans can sell locked content through direct messages to all their followers. They can broadcast content to everyone and make money through whoever pays to unlock the content.
What makes LoyalFans different?
Although there are many content platform options available for creators, there are some features that make LoyalFans different from the rest. These features are implemented to enhance the experience of creators and users and keep LoyalFans safe and secure.
Geo-blocking
To improve the privacy of the platform, LoyalFans provides the geo-blocking feature to creators on its platform. Creators can block specific countries, locations, states, and even zip codes using this feature. It is especially helpful for creators who don't want their family and friends to know about their adult content.
Shoutouts
Shoutouts is a new feature that has become popular among both creators and users. Users can request a shoutout which the creator can accept or decline depending on their comfort level of doing that content. It is like a custom video request where users ask creators for things like a nude birthday wish, etc.
Promotional features
Creators on LoyalFans also get promotional features like placing a LoyalFans widget on any other website where you want to promote your profile. It is a great way to funnel traffic to a creator's profile. Another feature is the auto tweeting tool that automatically sends promotional tweets on your behalf, bringing traffic to your profile.
Conclusion
LoyalFans is one of the most popular content platforms today, and you should have no doubts about the legitimacy of the platform. LoyalFans is safe and a legit platform for creators to sell their content and make money from it. We hope we have cleared all those rumors of LoyalFans scam and is LoyalFans real kind of doubts.
If you want to start a membership site of your own, then look no further than xModel. xModel is a readymade adult script that lets you build your own content platform within a few hours. You can sell subscriptions, custom content, PPV, get tips, do live streaming, and much more using xModel. It's a perfect solution for models, cam girls, and pornstars to kick-start their careers. Check out the demo today!
If you're an entrepreneur who wants to create an adult marketplace like OnlyFans, then we have the perfect solution for you. xFans is a readymade adult script using which you can create your own fan club site like OnlyFans. With multiple monetization methods for creators like memberships, tips, private shows, eCommerce store, tips, and premium content sales, xFans takes you on a profitable journey to compete with the bigwigs. Explore the demo of xFans to find out what it can do for you.