-

6

mins read
When the creator economy came into being around a decade ago, there were only a few platforms where creators could publish their content. Platforms like YouTube were the forerunner in the content world but had limited features. Gradually with the advancements in technology and software, more and more platforms came into existence.
Although YouTube is still a great content sharing platform, it is limited to SFW content. With the adult industry making waves and knocking on doors of the creator economy, the demand for NSFW content sharing platforms took the front seat. This was the reason for the emergence of platforms like OnlyFans and Fansly.
Fansly, OnlyFans, and such platforms came as a blessing for the adult industry, with thousands of adult content creators jumping on this opportunity. We saw adult creators flourishing on such platforms and making good money by selling their content. Some of the models made a big name on such platforms and went on to earn millions of dollars by selling their content.
Fansly overview
Among all the adult content platforms, one name that has stood out firmly vs. OnlyFans is Fansly. After the success of OnlyFans, they decided to ban adult content on their platform and keep it as an SFW content platform. This led to a major backlash, and the adult content creators on OnlyFans started looking for greener pastures.
Although OnlyFans backtracked their decision, it was too late as many had already moved to other platforms. Fansly reaped the benefits and saw over 4000 new registrations on its platform every hour. Since then, Fansly has been one of the most popular hubs for adult content creators.
Fansly is a subscription-based content platform where creators sell their content. Users subscribe to their favorite creators by paying the subscription charges and accessing their content. Creators can sell images, videos, physical products, and much more on Fansly and make money from it. Fansly charges a 20% commission on the earnings of the creators, which is the general standard in the market.
Here are the multiple monetization ways available on Fansly:
Subscription tiers

PPV content

Tips

Paid messages

Referrals
Fansly Subscription Tiers
Compared to other content platforms where the subscriptions are usually single-tiered, Fansly gives the option to its creators to set up multiple tiers of subscription. Creators can choose these tiers according to the content they'll provide in each tier and set up a price for each tier. These tiers help creators in maximizing their reach and increase the number of subscribers. 
The subscription charges any creator can set for their subscription tiers lie in the range of $5 to $499.99. Subscription tiers are basically multiple accounts of the same creator. Depending on the content shared on each tier, the prices vary. Creators can create 4 subscription tiers for their Fansly content.
Let's briefly take a look at how creators usually make the subscription tiers work on Fansly.
First is the free account that creators can use to just interact with their fans and share their daily life SFW pictures.

Next comes the basic subscription tier, which has the lowest subscription fee, and creators use this tier to build curiosity in their fans' minds by posting glimpses of their NSFW content.

The third tier can be the premium tier, where creators share their original NSFW content like nudes, videos, clips, etc. The subscription fee for the premium tier is higher than the basic tier.

The last tier on Fansly can be used for a specific niche content where the subscription charges can be kept high depending on the niche chosen. All these tiers need to be connected to your primary account for the users to choose which tier they want to subscribe to.
This is how creators usually set up multiple tiers on Fansly. Many creators opt to keep just 1 free and 1 paid tier for their content on Fansly, while many others segregate their content into multiple tiers and sell different types of content on each.
How much do Fansly adult creators make?
Now let's take a look at real-life experiences of successful models on Fansly and find out how much money models make on Fansly.
Amouranth – Fansly Earnings
Kaitlyn Siragusa or popularly known as Amouranth is one of the biggest names in the content creation industry and rakes in a lot of money by selling her content on various platforms like OnlyFans, Twitch, Fansly, and Patreon. Amidst multiple bans on streaming platforms and getting her profile demonetized on some platforms, Amouranth still managed to make over $1 million monthly!
As per her interview, Amouranth makes $189,000 on Patreon, over $1 million on OnlyFans, $17,000 on Fansly(recently started), $10,000-25,000 on Instagram, and $5,000-15,000 on Twitter, taking her overall earning by selling content to over $1.4 million every month. She sees immense potential in Fansly and says Fansly is gonna be a priority for her to make money.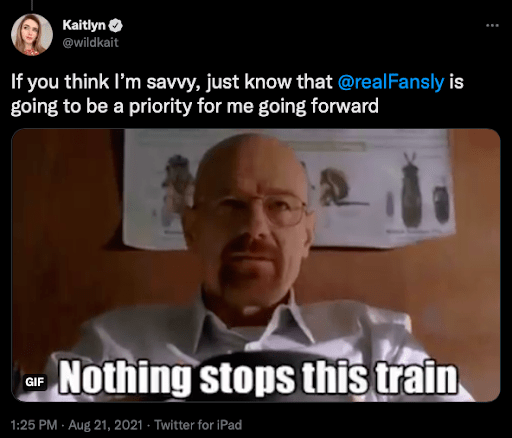 Alana – Fansly Earnings
Alana is just 18 years old and already making good money selling content on Fansly. She opened her Fansly account as soon as she turned 18 and finished school. Today she makes more than £1000 every week by selling raunchy pictures on Fansly.
From Inverclyde, Alana has even made £7,000 in a month, for which she thanks her subscribers for supporting her content. She joined TikTok in 2020 and, since then, has gained more than 140,000 followers. Alana feels her fans have always been supportive of her content which encourages her to put more effort into making money.
"​​I like that I can have my own hours and that was one of the biggest appealing factors to me. But that doesn't necessarily mean it's an easy job. There's a lot more that goes into it that people don't see".
Lana Michaels – Fansly Earnings
From being a teacher to swapping professions to becoming a financial dominatrix on Fansly, Lana Michaels has come a long way in her new unorthodox career. After joining Fansly and experimenting with different types of content, she discovered that financial domination is her niche.
She formed her niche club named Losers Club, and since then, she has earned up to £100k every year by being worshiped by her followers on Fansly. Losers club is Lana's idea that helps men better some aspects of their lives while fulfilling their sexual fantasies. She has over 5000 followers on Fansly and subscribers who pay £80 for a basic subscription.
"I love the freedom of this job, the creativity and chance to be different everyday."
Jess & Mike – Fansly Earnings
Parents of 2 lovely kids, Jess and Mike, are based out of the UK and easily make more than $50,000 every month by selling their bedroom videos on Fansly and OnlyFans. With over 8000 followers on Fansly and a whopping 900,000 on OnlyFans.
What their followers love the most about them is the chemistry between them. Being married for 5 years, their videos are shot with real love rather than made-up studio shoots making them very popular with their fans.
"We've made £150 [$197] just for a video of us tickling each other."
Pro tips from Fansly models
There is a huge potential to make money on Fansly, as we saw. All you have to do is create good content that viewers would like to see. Here are a few tips shared by successful models of the adult content creation industry to get successful and make money on Fansly.
Promote well
Only creating good content isn't useful unless you're promoting it well. Top models in the industry use various platforms to promote their Fansly and OnlyFans profiles. Use social media platforms like Instagram and Twitter to promote your profile as these platforms have the maximum audience. Models should also promote their content on Reddit, either by posting on multiple available subreddits or creating their own subreddit.
Use tips menu
Most successful models have a nicely made tip menu where they mention the charges of the services they offer. Doesn't matter if you sell only fetish content or sell only nudes; making a tip menu helps users understand the variety you can provide. Here's an example.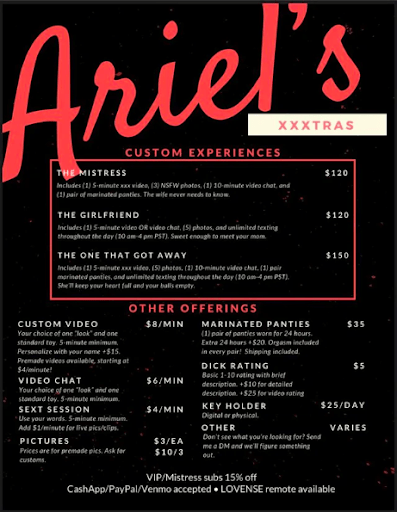 Post regularly and be patient
Success and money don't come overnight. Ask any model, and they'll tell you that patience and being regular on Fansly is the key to success. Never let your viewers wait for your content, be regular in your postings and live streams. Keep patience, and success will follow soon.
Stick to a niche
Publishing content of all genres all over the place isn't exactly a great technique, as told by successful models. You need to find a niche for yourself that you actually enjoy doing and then stick to that niche. Soon you'll have loyal followers who want that specific niche content, and you'll make a name for yourself.
Be flexible for custom requests
As an adult model, you can get requests of all types. Some might be very weird and gross, while others might be odd and out of your comfort zone. But remember, custom requests pay the best as you can charge any amount that you find feasible for custom requests. So unless it is an absolute no-no for you, you should try and accommodate as many custom requests as possible.
Don't be embarrassed, be confident
For creators who are new in the adult industry, it sometimes gets intimidating, and they get too cautious or embarrassed to post their content. Well, as all successful models will tell you, don't be embarrassed, be confident instead. Confidence is every model's best friend. If your content doesn't show that, then your followers will see right through it.
Conclusion
As we saw, Fansly is a great platform for adult content creators to sell their content and make good money from it. We have many real-life examples of successful models who have started with nothing and are now making millions. Fansly is a creator friendly platform that powers the creators with multiple features and promotions to boost their careers.
If you want to stay away from content platforms that take a cut in your earnings and make a brand for yourself, then look no further than xModel. It's a readymade turnkey script that helps you build your own membership platform. xModel is easy to install, affordable to the pocket, and the best solution for porn stars, cam girls, and internet models to capitalize on their fan base via their own website.