-

15

mins read
OnlyFans is one platform that most people in the world would have heard of. Its popularity lies in the fact that it is the largest content selling platform in the world, with a staggering 2 million plus creators selling their content. OnlyFans claims to pay more than $200 million a month to creators on its platform, making it an extremely lucrative platform.
While most of the creators on sites like OnlyFans are adult content creators, the platform also hosts creators of any other category, too, like chefs, fitness trainers, fashion models, etc. Due to the popularity of OnlyFans, creators from all spheres come to the platform to make money. 
Although most adult creators are females, OnlyFans is a great platform for male content creators too. Many models make money on OnlyFans as a male, giving them enough exposure to sell their content. This article will help all the male models out there to understand how to make money on OnlyFans as a guy.
Can a Guy Make Money on OnlyFans?
The straightforward answer to this question is, Yes, guys can also make money on OnlyFans. Although most creators on OnlyFans are females, guys, too, have a demand and stand a good chance to make money on OnlyFans as a guy. But money will only come after you put in the hard work and dedication to promote and sell your content, as explained by an OnlyFans model in the image below.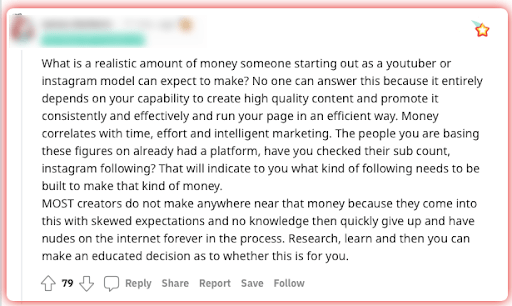 In this article, we will be discussing various ways to make money on OnlyFans as a guy and will also provide tips on how to start making money on OnlyFans as a guy in the coming sections.
How can guys earn money on OnlyFans?
OnlyFans provides many ways for everyone to make money on its platform. Be it a guy or a girl, everyone is welcome to share content on OnlyFans and make money from it. There are 5 ways in which guys can earn money on OnlyFans, we'll discuss them briefly below.
1. Sell subscriptions for money
Male models on OnlyFans can ask their fans to subscribe to their profiles to get access to exclusive content posted by them. Subscription prices can be set by male content creators on OnlyFans with a minimum price of $4.99 to a maximum of $49.99. It is advisable for male models to start with low subscription charges or even free subscriptions till they gain some fans on their profile.
2. Get tips from fans
Tips are one of the major income providers for all models on OnlyFans. Male content creators can ask for tips during their interactions with users on the platform. The maximum single tip amount new users can give is $100, and $ 200 for old users who have been on the platform for more than 4 months. The maximum tip any user can give in a day is $500, so make sure to utilize your charm to the max.
3. Sell premium content
Selling content is one of the ways male models can make money on OnlyFans. This premium content is different and exclusive from the content you share on your subscription profile. You can set a price for premium content and sell it separately on your profile by locking the content. Once the user pays a one-time fee, then they can access the premium content.
4. Invest time in paid messaging
Another way of making money on OnlyFans is by sending locked content to all your fans and subscribers in their inboxes. This locked content can be opened only after paying the price associated with it. Male models can broadcast locked content to all their followers at the same time and get paid for every time a user unlocks the content.
5. Do live-streaming shows
A popular way of making money on OnlyFans is through live-streaming shows. You can use the "Go Live" feature on OnlyFans and stream live to your fans. You can make money either from tips given by users or you can put your live show behind a paywall and users can pay the fee to join your live stream.
More ways to make money on OnlyFans as a guy
Other than the aforementioned monetization ways, there are a few other ways through which you can boost your income on OnlyFans.
1. Make 2 accounts
Many creators on OnlyFans have 2 accounts for the purpose of promotion. One is a free account, and the other is a paid account where they sell content. Male models should also create a free account where they should share teasers of their content and try to lure users to their main profile. A free account is a great way to start on OnlyFans, as you'll get visibility and traffic through your free account.
2. Promote on social media
Social media platforms like Instagram, TikTok, Snapchat, etc., are great platforms for male content creators to promote their OnlyFans profile. You can use such social media channels to share snippets of your content with your followers on social media networks. There are great chances for your social media followers to convert into OnlyFans subscribers.
3. Join OnlyFans communities
Join online forums like Reddit and Gfy and promote your content there. Reddit has multiple subreddits specifically for OnlyFans, where male content creators can promote their content and even sell nudes on Reddit. Male models can even create their own subreddit and promote their OnlyFans content and profile on it.
4. Collaborate with other models
Collaboration is always a profitable idea for any content creator to expand their audience base. Male models can collaborate with female models of OnlyFans and share content together. This way, you can also capitalize on the female model's followers and vice versa.
5. Reply to Direct Messages
Direct messages are one of the easiest ways to make money on OnlyFans. Always keep an eye on your inbox and reply to users whenever they send a message to you. Users love to interact with their favorite creators and tip them well through messages. Approximately one-third of the overall income for creators comes from tips in direct messages.
6. Build your own website
Many male models prefer to build their own websites to sell products to their audience with their own branding. You can provide discounts on subscriptions, special offers, etc., on your OnlyFans profile to your audience who sign up on your website. Building a website can be a big task, but there are many readymade solutions available, like xModel, that help you build your websites within hours. We will discuss more on this later in the article.
How much can a guy make on OnlyFans?
Male creators on OnlyFans who upload pictures and videos on a regular basis, on average, make $80-$100 per month. This does sound very low, but this is what you'll get when you don't put any effort into marketing and promoting your OnlyFans profile. Promotion of your profile plays a big role in how much can a guy make on OnlyFans. Top male content creators on OnlyFans claim to make $100,000 per month due to their marketing and promotional strategies. Check out the Reddit comment below to see how profitable OnlyFans is for guys.

If, for example, a male content creator sells his subscription at $10 and gets 50 regular subscribers, then his income from subscriptions will be $500 every month. Assuming he makes $500 in tips and another $500 by selling locked content through direct messages, the overall income of this male model comes to be $1500 in a month, which is quite a good sum of money. But remember, you need to put in the hard work and effort to be able to make it big on OnlyFans.
How much do guys make on OnlyFans?
With the right promotion and marketing of their profile, established male models make quite a good sum of money from their OnlyFans page. For example, Billy Procida is a male model on OnlyFans who joined the platform in 2020 and made more than $1000 in only his first month. Most of his income came through private messages from fans, and soon he rose up to the top 7.5% of creators on OnlyFans.
Billy is not the six-pack tanned guy you would expect to be making so much money on OnlyFans. In fact, he was a pot-bellied man with eating disorders. But that doesn't come in the way of him making money on OnlyFans. According to him, "To have all these people throwing money out my body has been so affirming. I can't rationally think of myself as not sexy anymore because this body just paid September rent."
Another example is Sgt. Miles, a 39-year-old Army veteran with tattoos all over his body, says, "If you're doing something that I think you're masturbating to, you've got to pay for it." He ranks in the top 5.8% of creators on OnlyFans and makes a good $8000 to $20000 a month by selling his content on OnlyFans. According to him, OnlyFans isn't all about selling nudes to users but building a conversation with them and making them feel special, which helps a male model to actually make good money on OnlyFans.
Pro tips on how to make money on OnlyFans as a guy
As we saw, OnlyFans is a great platform for male models to make money too, but they need to put in the hard work and converse with their users to build a good reputation among the audience. Other than the usual content that everyone sells on OnlyFans, a male model can do a few extra things to make more money on the platform. Here are some tips to earn more money on OnlyFans as a guy.
1. Sell dick pictures
Male models on OnlyFans can sell dick pictures to make good money. Remember to mention that you sell dick pictures in your bio on OnlyFans.
2. Sell nudes
There is good demand for nude pictures of models. Even male nude pictures are quite popular amongst the audience making selling nudes a profitable side hustle.
3. Sell male stripper services
As a male model, you can try to become a male stripper to make some extra income. Sell your male stripping services on OnlyFans to men and women who are interested in a classy strip show.
4. Become a fetish model
Male content creators can opt to become a fetish model to make extra money on OnlyFans. Remember to choose a fetish that you're interested in. The fetish audience is limited but very loyal to the creators, and they pay fetish models well.
5. Sell used male underwear
Another great way to make money on OnlyFans is to sell used male underwear. There are many fetish lovers who collect used underwear. If you can market yourself well, then male models might find regular buyers for their used male underwear.
6. Sell dick/pussy rating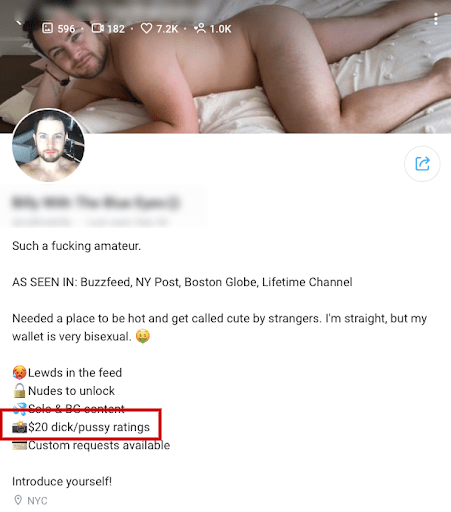 Male content creators can also sell dick rating services on OnlyFans. If you can find the right audience, then male models too can make good money by rating dicks and pussies, as seen in the image below.
Conclusion
OnlyFans is a platform that welcomes content creators of all types and gender. Be it a man or woman trying to sell adult content, or a fitness trainer selling fitness courses, OnlyFans provides a robust platform for everyone. But the pain point on sites like OnlyFans is the commission they cut from the earnings made by models on its platform. In such a scenario, the only option left for models is to build their own platform, like OnlyFans, and earn 100%.
xModel is such a readymade adult script using which creators can build their own subscription website like OnlyFans within a few hours. It is affordable, easy to use, and provides multiple monetization methods for models to maximize their earnings. Models can make money through subscriptions, do live-streaming, sell premium content, sell physical products from the eCommerce store, and much more on xModel.
If you're a content creator who wants to build a career in content creation, then there is no better solution than xModel. With an adult payment gateway pre-installed on xModel, payments on xModel are easy and convenient, leaving you to focus only on your content creation. Whether you are a male or a female model, xModel helps you scale your career to newer heights. Check out the xModel demo today.