-

11

mins read
OnlyFans is one platform that most people in the world would have heard of. Its popularity lies in the fact that it is the largest content selling platform in the world, with a staggering 2 million plus creators selling their content. OnlyFans claims to pay more than $200 million a month to creators on its platform, making it an extremely lucrative platform.
While most of the creators on sites like OnlyFans are adult content creators, the platform also hosts creators of any other category, too, like chefs, fitness trainers, fashion models, etc. Due to the popularity of OnlyFans, creators from all spheres come to the platform to make money. 
Although most adult creators are females, OnlyFans is a great platform for male content creators too. Many models make money on OnlyFans as a male, giving them enough exposure to sell their content. This article will help all the male models out there to understand how to make money on OnlyFans as a guy.
Can a Guy Make Money on OnlyFans?
Do guys make money on OnlyFans is the one common question asked every time when a guy wants to start an OnlyFans account.
The straightforward answer to this question is, Yes, guys can also make money on OnlyFans. Although most creators on OnlyFans are females, guys, too, have a demand and stand a good chance to make money on OnlyFans as a guy. But money will only come after you put in the hard work and dedication to promote and sell your content, as explained by an OnlyFans model in the image below.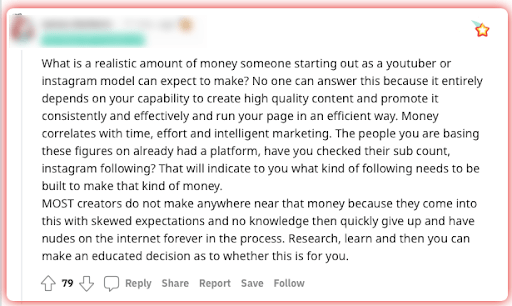 In this article, we will be discussing various ways to make money on OnlyFans as a guy and will also provide tips on how to start making money on OnlyFans as a guy in the coming sections.
How to start an OnlyFans as a guy?
Starting an OnlyFans as a guy is no different from creating an OnlyFans as a regular female adult creator.
However, there are certain things that you need to know and consider before you start OnlyFans as a guy and sell your adult content on OnlyFans for money.
1. Be of legal age
The first and foremost box you need to check is the age column when you think of how to start an OnlyFans as a guy years to use their platform. According to OnlyFans, their users must be of above 18 years, so you must be over 18 or of legal age according to your country of residence to start OnlyFans as a male.
2. Create an account as a male creator
If you are of legal age, then there are hardly any restrictions on starting an OnlyFans as a guy. Next, you need to create an OnlyFans account under your name to sell your adult content.
While creating your account, you need to give your real name and email address, a government-approved ID, and your banking details to complete a small verification.
Remember, all these details you share during your account creation will not be shared by OnlyFans anywhere on the platform; this is just for account creation and verification purposes.
Once your account is created, then you can start posting your content under a stage name so that you can remain anonymous on OnlyFans, if you worry about someone recognizing you on the platform.
3. Write a good OnlyFans bio
Writing a good bio about yourself is one of the vital things you need to take care of while starting an OnlyFans account as a guy.
OnlyFans bio is a brief description of you and the type of content you will post on the platform. So keep it short yet detailed to give your audience a clear picture of what to expect from you.
4. Choose the right niche
After creating your account, you have to focus on finding the right niche to post your adult content on OnlyFans. With many guys starting OnlyFans these days, it becomes difficult for newcomers to penetrate the market and create a customer base for themselves.
Therefore, if you choose the right niche, you will have more subscribers when you start OnlyFans as a guy.
We will talk about the niches, type of content and what to post as a male on OnlyFans in the coming sections.
5. Understand your audience
Once you zeroed in on your niche, the next thing you must focus on is your audience. So even though your audience will know what to expect from you depending on your niche and your description, there will still be some expectations from your audience, which you need to fulfill to remain successful in the long run.
Therefore cater to the needs of your audience and satisfy their demands by understanding their expectation to earn more subscribers and money as a male performer on OnlyFans.
OnlyFans content ideas for guys
Now that you have some idea about how to start an OnlyFans as a guy, let us look at some of the content ideas for guys on OnlyFans to help them create and sell adult content on OnlyFans.
1. Gay content videos
Gays make the maximum viewer base of male adult performers on OnlyFans. Therefore the guys on OnlyFans can make Gay sex videos, that is, men on men sex, to be successful as guy OnlyFans content creators.
You can shoot regular couple sex videos, threesomes, foursomes, or orgies as long as you are comfortable doing it. Gay sex videos has its own set of fans, and you can maximize your viewers and earnings by exploiting their interest.
2. Heterosexual / Female performers videos
Even though the majority of viewers are gays, for a male OnlyFans adult content creator, there is a certain portion of female audiences who like to watch hot guys on OnlyFans.
And those female audiences love hot guys engaging in sexual activities with their female counterparts. So men on OnlyFans can collaborate with some of the female adult performers on OnlyFans to increase their popularity and earn more money in the process.
3. Feet pics and videos
We all know the high demand for female feet pics on OnlyFans, but only a few are aware of the market for male feet pics on OnlyFans. Some people crave for good male feet videos and pics on OnlyFans, and you can satisfy their needs by posting your feet pics and feet videos on OnlyFans while making good money through it.
4. Cosplay
Cosplay is one genre that any pornstar, male or female alike, can ace. And if you are short of ideas to post content while starting OnlyFans as a guy, then cosplay can be your option.
Dress up as famous sexy characters that many love from a book, movies, sports, or real-life professions and perform raunchy acts to gain more and more subscribers.
Doctors, police officers, Batman, Superman, etc., are some popular cosplay you can do as a male OnlyFans creator.
5. Strip tease
When you start OnlyFans as a guy, strip tease can be your thing if you are trying to get comfortable with the platform and get used to raunchy acts on OnlyFans.
As it involves you being fully clothed before you take them off seductively, you can use this approach to gradually get comfortable being naked in front of the camera for your future content.
Additionally, many female viewers like hot guys stripping in front of the camera seductively and will pay good money to watch this type of content..
6. Workout videos
One of the most underrated content ideas for male content creators on OnlyFans is workout videos. There are plenty of viewers on OnlyFans, especially gays and female audiences, who like guys working out.
As a guy on OnlyFans, you can post your workout video either from a gym or at home, and your sweating body can earn you subscribers and more money on OnlyFans.
Best Body Types to Start OnlyFans as Guys
Starting OnlyFans as a guy is for everyone and anyone interested. But there are certain body types that garner more interest from the viewer base on OnlyFans. That does not mean you will have no audience on the platform if you don't fit into any of these body types. There are always audiences for everything, so you don't have to worry if you don't fit into any of these body types.
However, you are in luck with getting more audiences if you fall into any of these most-liked male body types on OnlyFans.
Twinks
Young and slim guys with submissive natures are some people's choice on OnlyFans, and they pay a good amount of money to watch them perform.
Guys under this category are usually lean and slim and are of very young age. Anyone between 18 – 24 years of age and with a slender build fits this category very well to post their content.
Bear
These are the opposite of twinks. People who are bulky and heavily built fall under this category. They are rugged looking with lots of hair on their body and possess a commanding nature in their looks.
People above 30 years and with solid muscles fall under this category.
Chubby
People who are healthy and carry some extra weight on their body fall under this category. All those who are a bit fat and fail to fall under the bear category come within the chubby class, and if you qualify for all these characteristics, you can post your content under this category.
Daddy
This is the male equivalent of the MILF category for women. As the name itself suggests, this category is for people who are elderly and are of above 40 years of age.
So, if you are above 40 years old and looking to start an OnlyFans as a guy, then this category fits you.
How much can you make on OnlyFans as a Guy?
Male creators on OnlyFans who upload pictures and videos on a regular basis, on average, make $80-$100 per month. This does sound very low, but this is what you'll get when you don't put any effort into marketing and promoting your OnlyFans profile. Promotion of your profile plays a big role in how much can a guy make on OnlyFans. Top male content creators on OnlyFans claim to make $100,000 per month due to their marketing and promotional strategies. Check out the Reddit comment below to see how profitable OnlyFans is for guys.

If, for example, a male content creator sells his subscription at $10 and gets 50 regular subscribers, then his income from subscriptions will be $500 every month. Assuming he makes $500 in tips and another $500 by selling locked content through direct messages, the overall income of this male model comes to be $1500 in a month, which is quite a good sum of money. But remember, you need to put in the hard work and effort to be able to make it big on OnlyFans.
Examples of OnlyFans top male earners
With the right promotion and marketing of their profile, established male models make quite a good sum of money from their OnlyFans page. For example, Billy Procida is a male model on OnlyFans who joined the platform in 2020 and made more than $1000 in only his first month. Most of his income came through private messages from fans, and soon he rose up to the top 7.5% of creators on OnlyFans.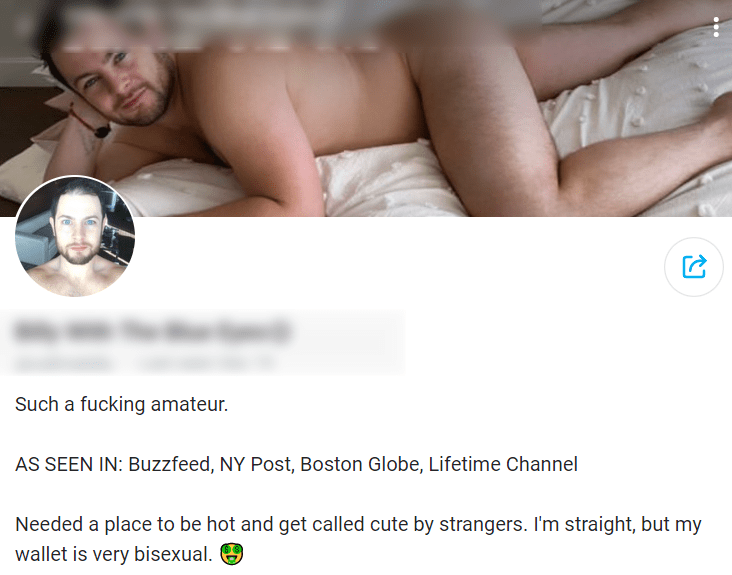 Billy is not the six-pack tanned guy you would expect to be making so much money on OnlyFans. In fact, he was a pot-bellied man with eating disorders. But that doesn't come in the way of him making money on OnlyFans. According to him, "To have all these people throwing money out my body has been so affirming. I can't rationally think of myself as not sexy anymore because this body just paid September rent."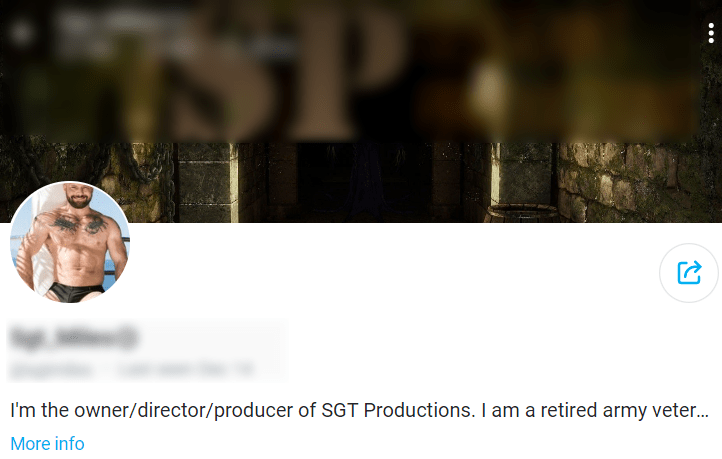 Another example is Sgt. Miles, a 39-year-old Army veteran with tattoos all over his body, says, "If you're doing something that I think you're masturbating to, you've got to pay for it." He ranks in the top 5.8% of creators on OnlyFans and makes a good $8000 to $20000 a month by selling his content on OnlyFans. According to him, OnlyFans isn't all about selling nudes to users but building a conversation with them and making them feel special, which helps a male model to actually make good money on OnlyFans.
How to make money on OnlyFans as a guy?
OnlyFans provides many ways for everyone to make money on its platform. Be it a guy or a girl, everyone is welcome to share content on OnlyFans and make money from it. There are 5 ways in which guys can earn money on OnlyFans, we'll discuss them briefly below.
1. Sell subscriptions for money
Male models on OnlyFans can ask their fans to subscribe to their profiles to get access to exclusive content posted by them. Subscription prices can be set by male content creators on OnlyFans with a minimum price of $4.99 to a maximum of $49.99. It is advisable for male models to start with low subscription charges or even free subscriptions till they gain some fans on their profile.
2. Get tips from fans
Tips are one of the major income providers for all models on OnlyFans. Male content creators can ask for tips during their interactions with users on the platform. The maximum single tip amount new users can give is $100, and $ 200 for old users who have been on the platform for more than 4 months. The maximum tip any user can give in a day is $500, so make sure to utilize your charm to the max.
3. Sell premium content
Selling content is one of the ways male models can make money on OnlyFans. This premium content is different and exclusive from the content you share on your subscription profile. You can set a price for premium content and sell it separately on your profile by locking the content. Once the user pays a one-time fee, then they can access the premium content.
4. Invest time in paid messaging
Another way of making money on OnlyFans is by sending locked content to all your fans and subscribers in their inboxes. This locked content can be opened only after paying the price associated with it. Male models can broadcast locked content to all their followers at the same time and get paid for every time a user unlocks the content.
5. Do live-streaming shows
A popular way of making money on OnlyFans is through live-streaming shows. You can use the "Go Live" feature on OnlyFans and stream live to your fans. You can make money either from tips given by users or you can put your live show behind a paywall and users can pay the fee to join your live stream.
More ways to make money on OnlyFans as a guy
Other than the aforementioned monetization ways, there are a few other ways through which you can boost your income on OnlyFans.
1. Make 2 accounts
Many creators on OnlyFans have 2 accounts for the purpose of promotion. One is a free account, and the other is a paid account where they sell content. Male models should also create a free account where they should share teasers of their content and try to lure users to their main profile. A free account is a great way to start on OnlyFans, as you'll get visibility and traffic through your free account.
2. Promote on social media
Social media platforms like Instagram, TikTok, Snapchat, etc., are great platforms for male content creators to promote their OnlyFans profile. You can use such social media channels to share snippets of your content with your followers on social media networks. There are great chances for your social media followers to convert into OnlyFans subscribers.
3. Join OnlyFans communities
Join online forums like Reddit and Gfy and promote your content there. Reddit has multiple subreddits specifically for OnlyFans, where male content creators can promote their content and even sell nudes on Reddit. Male models can even create their own subreddit and promote their OnlyFans content and profile on it.
4. Collaborate with other models
Collaboration is always a profitable idea for any content creator to expand their audience base. Male models can collaborate with female models of OnlyFans and share content together. This way, you can also capitalize on the female model's followers and vice versa.
5. Reply to Direct Messages
Direct messages are one of the easiest ways to make money on OnlyFans. Always keep an eye on your inbox and reply to users whenever they send a message to you. Users love to interact with their favorite creators and tip them well through messages. Approximately one-third of the overall income for creators comes from tips in direct messages.
6. Build your own website
Many male models prefer to build their own websites to sell products to their audience with their own branding. You can provide discounts on subscriptions, special offers, etc., on your OnlyFans profile to your audience who sign up on your website. Building a website can be a big task, but there are many readymade solutions available, like xModel, that help you build your websites within hours. We will discuss more on this later in the article.
Pro tips on how to start an OnlyFans as a male creator
As we saw, OnlyFans is a great platform for male models to make money too, but they need to put in the hard work and converse with their users to build a good reputation among the audience. Other than the usual content that everyone sells on OnlyFans, a male model can do a few extra things to make more money on the platform. Here are some tips on how to start OnlyFans as a male creator.
1. Sell dick pictures
Male models on OnlyFans can sell dick pictures to make good money. Remember to mention that you sell dick pictures in your bio on OnlyFans.
2. Sell nudes
There is good demand for nude pictures of models. Even male nude pictures are quite popular amongst the audience making selling nudes a profitable side hustle.
3. Sell male stripper services
As a male model, you can try to become a male stripper to make some extra income. Sell your male stripping services on OnlyFans to men and women who are interested in a classy strip show.
4. Become a fetish model
Male content creators can opt to become a fetish model to make extra money on OnlyFans. Remember to choose a fetish that you're interested in. The fetish audience is limited but very loyal to the creators, and they pay fetish models well.
5. Sell used male underwear
Another great way to make money on OnlyFans is to sell used male underwear. There are many fetish lovers who collect used underwear. If you can market yourself well, then male models might find regular buyers for their used male underwear.
6. Sell dick/pussy rating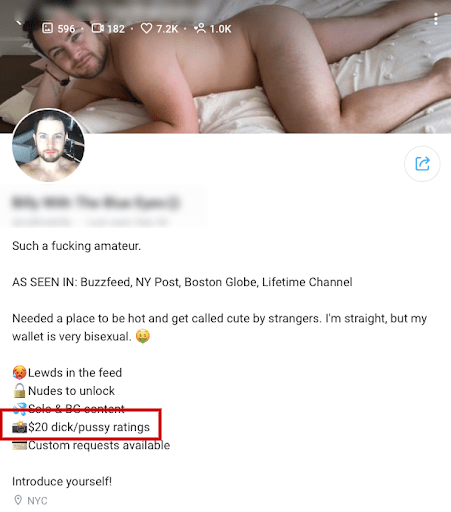 Male content creators can also sell dick rating services on OnlyFans. If you can find the right audience, then male models too can make good money by rating dicks and pussies, as seen in the image below.
Conclusion
OnlyFans is a platform that welcomes content creators of all types and gender. Be it a man or woman trying to sell adult content, or a fitness trainer selling fitness courses, OnlyFans provides a robust platform for everyone. But the pain point on sites like OnlyFans is the commission they cut from the earnings made by models on its platform. In such a scenario, the only option left for models is to build their own platform, like OnlyFans, and earn 100%.
xModel is such a readymade adult script using which creators can build their own subscription website like OnlyFans within a few hours. It is affordable, easy to use, and provides multiple monetization methods for models to maximize their earnings. Models can make money through subscriptions, do live-streaming, sell premium content, sell physical products from the eCommerce store, and much more on xModel.
If you're a content creator who wants to build a career in content creation, then there is no better solution than xModel. With an adult payment gateway pre-installed on xModel, payments on xModel are easy and convenient, leaving you to focus only on your content creation. Whether you are a male or a female model, xModel helps you scale your career to newer heights. Check out the xModel demo today.