-

7

mins read
With the number of new content platforms emerging every day, the race for the best platform for adult creators is getting heated up. A few years back, there were only a handful of content platforms for adult creators like OnlyFans. But today, there are a plethora of alternatives to even build sites like OnlyFans for adult creators to sell their content and make money.
One such platform that is popular among adult creators is ManyVids. ManyVids is quickly catching up as one of the best alternatives to OnlyFans to sell adult content. Although very similar to OnlyFans, ManyVids does provide some key differences that make it a great option to consider selling adult content. This article will help you decode the differences between ManyVids vs OnlyFans and help you choose the best one for you.
What is ManyVids?
ManyVids is a content-sharing platform that is dominated by adult content creators, but creators from all fields can make use of it to sell their content. Originally ManyVids was just an NSFW platform for models to sell their videos, but soon it evolved into a fan page platform. Now, creators on ManyVids get a lot of options to monetize their content and boost their earnings as much as possible.
ManyVids was launched in 2014 and is a seasoned adult content platform with a bigger focus on content with a one-time payment. Creators can sell photos like selling feet pics online, videos, and even physical items like selling used panties on ManyVids. All types of content are allowed on ManyVids till it doesn't breach the platform's guidelines.
With over 10 million visits every month, ManyVids ranks among the top 400 adult sites in the world. The diversity offered in terms of models on the platform and the audience from around the world makes ManyVids a very popular platform, especially for adult content. The major focus of ManyVids is to build an adult community where fans can easily interact with their favorite stars by providing various features like MV Social, which is the community for ManyVids.
What is OnlyFans?
OnlyFans needs no introduction as such, owing to its popularity since its launch in 2016. It is one of the most popular content-sharing platforms that are open to adult creators as well as other creators. Creators on OnlyFans can sell any content they want till the time it doesn't violate their rules.
The fan club subscription platform receives over 130+ million visits every month, which easily tells how popular OnlyFans is among creators and users alike. It ranks in the top 10 adult sites in the world, making it a well-known platform for selling adult content.
But back in 2021, OnlyFans announced that it'd be banning adult content from its platform, which led to a major backlash from creators around the world. Although they retracted their statement, the damage was done, and creators started looking for greener pastures in other content-sharing platforms. This lapse in judgment by OnlyFans gave an opening to other sites like OnlyFans to be in the race for the best platform for adult creators. The below image tells exactly what went wrong with OnlyFans.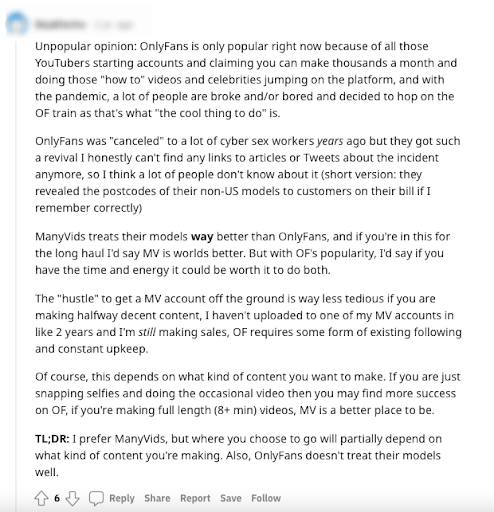 What makes ManyVids better than OnlyFans?
When we start comparing two giants in the field of content platforms, it's natural for the competition to be fierce. There are some categories in which ManyVids fares better than OnlyFans and a few other categories where OnlyFans edges ahead of ManyVids. In this section, we will see in which areas ManyVids is better.
Monetization methods: ManyVids vs OnlyFans
The primary mode of income for creators on OnlyFans is through subscriptions, where users pay a monthly fee to access the content of their favorite content creator. Other ways in which creators on OnlyFans can monetize their content are through selling custom content, taking tips from users, selling paid messaging services, and getting a commission for referring other creators to the platform.
On the other hand, ManyVids provides a plethora of monetization ways for the creators to make money from the platform. Other than the usual MV Crush subscriptions where users can access all content of a creator by paying a monthly recurring fee, creators can sell images and video clips, get tips from users, do private shows for users willing to pay more, curate custom content on request of users, and also through phone sex where creators can earn on a per-minute billing rate.
Another great way of making money on ManyVids is through the contests held on the platform for all the webcam models. #WinningWednesday is a weekly contest for models with lucrative prizes. ManyVids also hosts multiple other annual contests like MV star of the year, where creators stand a chance of winning big money.
Other than all this, creators on ManyVids can make money through referrals, premium Snapchat sales, and by selling physical products like selling used panties. With so many options to make money on ManyVids, the platform does gain an edge over sites like OnlyFans.
Verification: OnlyFans vs ManyVids
For new creators joining a content platform, the verification process on ManyVids is very smooth and easy. Creators must be above 18 years old and should have a valid government-issued ID to become a creator on ManyVids. You will need to submit a photo of yourself holding your ID and a note mentioning the date of the photo and your ManyVids username. Usually, it takes just 1 day to get verified on ManyVids and create your account. But if you run into any trouble, then the ManyVids support team is available to help you out.
The same cannot be said for OnlyFans, as the verification process is a tedious process where chances of rejections are high. You can expect to get a reply from OnlyFans within 72 hours telling whether your profile has been approved or not. If you're rejected for any reason, you'll need to correct the mistakes and resubmit again and wait for 1 to 3 days to hear from them again. For new creators, this process can be overwhelming, and they might give up before they create an account on OnlyFans.
Features: ManyVids vs OnlyFans
Although OnlyFans has been around for a long time in the content platform market, it lacks in upgrading its platform to keep up with the technological advancements. Most of the things on OnlyFans need to be done manually except scheduling posts and messages, which makes life harder for the creators. There are some features on OnlyFans, like geo-blocking and adding a watermark on your content which is helpful for creators, but they still lack in features as compared to other new content platforms in the market.
ManyVids, on the other hand, has many great features that help in the betterment of the experience for the creators. Contests are something great on ManyVids that OnlyFans lacks for creators to compete and make some extra money. Another great feature on ManyVids is the automated custom video requests where creators can set the per-minute rate and include additional charges for custom videos. Users can directly order a custom video easily without needing to involve the creator. Also, it's a known fact that ManyVids is a much better platform for fetish models to sell their fetish content or niche-based content, not only us but users like in the image below also say the same.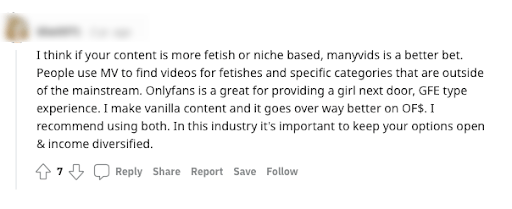 Meanwhile, users on OnlyFans have to message the creator with their request, then discuss the price, and so on. OnlyFans lacks in the features part as the platform still needs to embrace technology to automate services and make it an easier experience for both creators and users.
Support: OnlyFans vs ManyVids
Support is one area where OnlyFans is criticized the most. The only way creators can contact the support team of OnlyFans for any issues is through emails, and the response times for the same are very slow. Creators usually are left to figure out the issues and solutions by taking help from fellow creators or from online adult forums like Reddit.
ManyVids, meanwhile, can be reached through email and a web form, and the queries are resolved much quicker than on OnlyFans. Its knowledgeable MV support team is available 365 days 24/7 and answers queries personally to solve them. Above all this, ManyVids has a vast faq section where most of the queries can be resolved by looking at the support documents making it smooth and easier for creators and users alike.
Where does OnlyFans perform better than ManyVids?
OnlyFans is still very popular among creators around the world, and there must be valid reasons behind its popularity. There are a few factors that still make OnlyFans desirable for millions of creators. In comparison to ManyVids, here are a few categories in which OnlyFans holds the edge over ManyVids.
Payouts rates: OnlyFans vs ManyVids
OnlyFans charges a flat 20% commission on the earnings made by creators on its platform from subscriptions, tips, paid messages, etc. The commission covers the expense of the platform on support, payment processing, hosting charges, referral payments, and maintenance of the platform.
ManyVids has different payout charges for different categories. For VIP club subscriptions, tips, and custom videos, ManyVids takes a 20% commission. While on services like video sales on MV Stars, memberships, Pay to open items in inbox, and MV Flyer, for which ManyVids charges a 40% commission. It is understood that ManyVids has so many different monetization methods that they charge different commissions for different methods, but due to its higher payout rate, OnlyFans wins this round over ManyVids.
Referral: ManyVids vs OnlyFans
When it comes to referrals, OnlyFans provides slightly better benefits for creators who refer other creators to its platform. Creators on OnlyFans can earn 5% of the earnings made by their referred creator for a period of 1 year. The maximum amount you can get as a referral is $50,000 on the referred creators' first $1 million earned.
ManyVids, on the other hand, also gives a 5% referral bonus on the earnings of the referred creator. But here's the catch, they only give referral bonuses on selective transactions like earnings made by video sales. What's not included in the MV Revshare are tokens earned, tributes, fund me tips, custom video requests, booking fees for photo or video shoots, and contests. OnlyFans gains a slight edge due to its offering of referral bonuses across all services.
Payout frequency: OnlyFans vs ManyVids
Creators of OnlyFans can claim their earnings by setting the automatic recurring payments to monthly, weekly, or even daily(not available for all payment methods). The minimum withdrawal on OnlyFans depends on the payment method chosen by the creator. Most payment methods have a $20 minimum threshold to withdraw payments.
Payouts on ManyVids happen only twice every month, on the 1st and the 16th of the month. The minimum balance needed to withdraw money from the platform is $50, and most payments are settled within 2-7 business days. The frequency of payouts is better on OnlyFans as compared to ManyVids, giving it an edge.
ManyVids vs OnlyFans – Which is best for adult creators?
ManyVids vs OnlyFans is a fierce battle between 2 of the oldest content platforms. Both platforms have their share of followers who swear by them. But if we had to choose between OnlyFans vs ManyVids, then our vote would go to ManyVids simply because of its versatility and user-friendliness. ManyVids slightly gains over OnlyFans in the support it provides, the number of monetization methods it provides to creators, and better features.
Conclusion
It is a great time to be alive for numerous content creators around the world simply due to the numerous options available in front of them. Be it OnlyFans vs ManyVids or any other alternative sites to OnlyFans like Fansly; creators are spoiled with options today. If you're someone who wants to start their own platform like OnlyFans and not share their earning percentage with any platform, then we have the perfect solution for you in the name of xFans.
xFans provides you with a readymade adult script using which you can build your own adult fanbase marketplace like OnlyFans and ManyVids. You can set up your website within a few hours and start earning revenue instantly. xFans is a scalable script which means you can grow your website as your business grows in the future. It is affordable, easy on the pocket, and provides multiple monetization ways to make money. You have 100% control over your website and also the earnings you make through this OnlyFans clone script.
For models looking to start a robust membership business, then they should check out the xModel readymade script. Using xModel, you can build your own membership platform and earn money through live streaming, subscriptions, tips, etc. Become your own boss and check out the xModel demo today to choose the best for yourself.