-

7

mins read

The porn industry is huge, undoubtedly huge! There are more than 25 million porn websites today and 500+ categories, making the porn world an approximate $97 billion industry.
Today, porn websites receive more traffic than platforms like Netflix, Twitter and Zoom combined. And as every day passes by, there are new porn websites and new pornstars (both male & female) joining the industry.
And since you are reading this specific article, it is clearly evident that you want to enter the industry as a gay pornstar. And the question "how to become a gay pornstar/how to get into gay porn industry" has been constantly running on your mind for some time now.
Your mind could be like,
"I wanna be a gay pornstar!!!"
Well, let's get it out then – this article is everything you need to become a gay pornstar. Who knows? You could be the next Johnny Sins or Xander Corvus (in a gayish way of course).
So, before we get started, let's quickly discuss how the porn business works.
How Does the Porn Business Work?
"The porn business works in mysterious ways!" Okay, that was meant for some humor – but honestly, understanding how the porn business works is easy.
Though there are millions of porn websites today, most of them offer free content to audiences. Popular websites like Pornhub, Spankbang and more offer free content to the audiences.
But you might ask how do they make money?
Well, looking beyond free, there are premium options like HD video, 4K videos, downloadable videos, sex toys, affiliate ads and more. These are some of the ways through which porn websites make money. Porn studios, on the other hand, hire pornstars, create their own films and make money from their audience base.
Know more about how to start a porn business here.
Apart from this, there's the immensely popular cam industry. A webcam industry is nothing but models performing live on camera, engaging audiences and earning money through tips and premium content.
Popular webcam sites like Chaturbate, BongaCams receive more than 3,000,000 monthly visitors, the live sex cam industry generates more than 1 billion in revenue a year and models make an average of around $4000 – $5000 per month. The websites take a percentage of the model's earnings and allow them to keep the rest.
Know more about how to start an adult webcam business here.
So, that's the quick overview of how the porn business works. Let's move to the main part of the article.
What are the Requirements to Become a Gay Porn Star?
Before we look at how to become a gay pornstar, we must talk about the requirements you need to have to become a successful gay pornstar – this could help you make sure that you have what it takes to become a gay porn star.
1. A Big Dick🍆
A big dick not only fascinates women but also men!
To become a successful gay pornstar, one of the primary requirements you need to have is a huge dick. Most of the popular gay pornstars have a huge dick when compared to others, making them stand out amidst the crowd.
2. A Sexy, Big Booty🍑
Like a big dick, a big sexy booty can also make a huge difference in the gay porn industry. If you do not have a sexy, big booty, make sure you do the needed workout to make your booty stand out.
Since the gay porn niche is less competitive when compared to other niches, you can easily crack it provided you meet the basic requirements.
3. A Gorgeous & Attractive Face🧑🏻
It's not just about the dick and booty. A good share of credit goes to your face as well! If you have good genes and a naturally beautiful-looking face, then you can easily become a popular gay pornstar in a short period.
However, if you have a really huge dick, ordinary looks are not going to be an issue!
4. Physically Aesthetic & Built💪🏽
To become a gay pornstar, you must have an aesthetically pleasing and muscular body. Head out to popular gay porn sites and you'll know – most gay pornstars make sure they are toned and physically fit.
5. You Should Be Ready to Explore😎
If you want to become a gay pornstar, you should be ready to have the exploring kind of attitude – you should be ready to explore roleplay, you should be badass (at times), you should be expressive and much more.
Try observing and learning from other industry porn stars – should be very much helpful to you!
Now that we are done with the basics, let's move to the part where we talk about how to become a gay pornstar.
How to Become a Gay Pornstar In 3 Simple Steps?
With these steps mentioned, you can easily become a gay porn star. That said, let's jump into the steps!
1. Fully Realise What You're Getting Into
The first step to become a gay porn star is fully realizing what you're getting into. Getting into the porn industry means you could lose out on a lot of things dear in your life (most of the time, it doesn't have to be so but in rare cases, YES).
So, when you have decided to become a gay porn star, carefully analyze what it could mean to your personal and professional life. Because once you're into it, there's no turning back!
2. Assessing and Getting Yourself Ready
This is the next step that you should be looking into – assessing yourself and getting ready. Remember the requirements we were mentioning, create a checklist and start working on the same. Work towards having a nice booty and a muscular physique so that they can complement the overall you.
Clearly identify what your comfort zone is and what kind of porn activities you will perform. Talk to other porn stars in the industry, identify what's necessary and groom yourself accordingly.
3. Dipping Your Toes Into the Industry
Earlier, becoming a gay pornstar was a bit difficult but today, there are plenty of ways that can help you become one!
The Old Traditional Way
Like the old ways, you can reach out to popular gay pornstars or even to gay pornstars who have just started. You can tell them about yourself and check out if there are any openings to become a gay porn star.
You can also sign up for auditions by reaching out to popular porn studios that look for gay casts. Send emails, appear in person, do your best and you might eventually see yourself as a working gay pornstar.
The New Modern Way
If you find the above method hard (which is inevitable), you can initially start by doing this. You can create a profile on popular sites like OnlyFans and start growing yourself. Create videos & photos, sell merchandise and do a lot more with these websites. What happens is, that you not only get popular but you can also make a chunk of revenue.
Down the lane, you'll be popular and make consistent revenue. You can create your own adult membership website and make over 100k per year! You'll have a loyal audience following now and your name will be known in the industry.
Now, you can easily reach out to porn studios and make your entry as a gay pornstar (or you can run your own porn website and still make good money – we'll talk about this in detail at the end of the read).
If everything works out well, you can possibly see yourself like this,
So, that's how you can become a gay pornstar in three simple steps. It's time we look at other details that could be of use to you.
How Much Do Gay Pornstars Make?
That's a question you need to know the answer to.
The brutal truth is, that gay porn stars make less when compared to their female counterparts. Gay porn stars who are new to the industry, make an average of $500 – $600 per scene. And popular gay porn stars make somewhere between $2000 – $3000 per scene.
Recently, popular pornstar Joey Mills stated that newcomers should demand a minimum of $1000 for performing in a scene.
But, like we said, there are always ways to make more money as a gay pornstar like creating a profile on websites like OnlyFans, Fansly and Fanfix. You can earn money by doing both simultaneously!
Quick Tips for Your First Real Porn Scene
Since you're still here, we thought you might want a quick set of tips for your first real porn scene (and once this is done, we'll take you through how to create your own online gay webcam site).
So, here are a couple of quick tips for your first real porn scene,
Groom yourself well for your first real porn scene – trim/shave, do manicure & pedicure, and anything else personal.
Talk to your partner and feel comfortable before entering the scene to avoid any awkwardness or discomfort.
Masturbate yourself before the scene if needed to maintain your erection – or you can ask for advice from experts on the set.
If it's a role play, make sure to remember the scripts well and choose costumes accordingly.
Do not hesitate to get into the role and enjoy it to the maximum while performing.
We'll come up with an in-depth article about this sometime soon. That said, we'll head out to the last part of the article.
How to Start Your Gay Porn Career Using xModel?
xModel is a fansite script that allows content creators, pornstars, and models to create their own website where they can sell digital content, physical products, conduct live stream sessions and do more.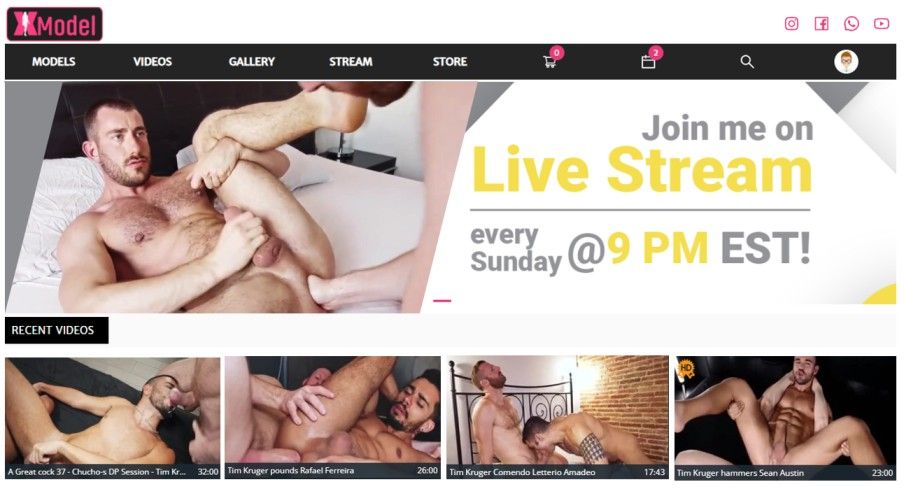 xModel platform has various monetization options and allows you to,
Create subscription membership plans
Conduct live streaming sessions
Sell merchandise via the built-in eCommerce feature
Create custom tokens within the platform
Earn with the help of affiliate ads and do more.
The platform is completely white label – you can do a couple of customization, add your name and make your online webcam website live.
Final Few Words
So, that's everything you need to know about how to become a gay porn actor.
We've covered the industry specifics, requirements to become a gay porn star, steps on how to become a gay porn star and even a solution to help you start your own adult cam website business.
All that's left for you is to take the necessary steps and enter the limelight to become one of the most famous gay porn stars around!
FAQs Related to Becoming a Gay Pornstar
1. How can I get a job in the gay porn industry?
Venturing into the gay porn industry takes time and patience. You can reach out to popular porn studios and appear for auditions to get a job in the gay porn industry. You can also grow and create your own audience base first by performing on popular websites like LiveJasmin, BongaCams, Chaturbate and then reach to out to porn studios to improve your chances of being selected.
2. How much do gay porn actors get paid?
Gay pornstars who are new to the industry, on average make around $500 – $600 per scene. Pornstars who are famous make around $2000 – $3000 per scene. However, you can make more than by creating your own webcam site.
3. Is becoming a pornstar legal?
Becoming a pornstar is completely legal in most parts of the world. You just have to check for the minimum age requirements and restrictions in particular regions of the world.