-

6

mins read
10 to 15 years back, who would have thought that creating content would be a legit career option? Cut short to today, content is ruling the field with millions of content creators around the world. Creating content is a real money maker nowadays, and many are choosing to go this way to express their talent and make money from it.
Due to the boom in the creator economy, tons of content platforms have popped up, aiding creators to share and earn from their content. Among such content platforms, today we will discuss the 2 most popular content platforms, i.e., LoyalFans vs OnlyFans. OnlyFans is one of the most popular content platforms, especially among adult content creators, and it is leading the way in the race of content sharing platforms. LoyalFans, on the other hand, is a comparatively new platform but nonetheless very popular among adult content creators who want to sell nudes for money or want to make money by selling feet pictures.
Creators are always in a dilemma when it comes to choosing a content platform. Questions like OnlyFans vs LoyalFans, which is the best, which is a better OnlyFans alternative, keep popping up. To answer such questions and finally decide which is a better platform between LoyalFans vs OnlyFans, keep reading this article to settle the debate once and for all.
What is OnlyFans?
OnlyFans is a subscription platform where users buy membership plans of their favorite creators to gain access to their content. Although OnlyFans is mainly dominated by adult content creators, you can find creators from other fields, too, like sports, fitness, music, etc., trying to make money through the platform.
OnlyFans has over 100 million users on their platform and more than 2 million creators who sell anything on OnlyFans, like selling used panties. Being one of the most popular platforms, OnlyFans created quite a stir when they decided to ban adult content on their platform. Although they went back on their decision, this announcement left many adult content creators looking for safer platforms to sell their adult content. Once such OnlyFans alternative came out to be LoyalFans.
What is LoyalFans?
LoyalFans is another subscription-based platform that is specifically for adult content creators. Earlier known as NexoCams, LoyalFans also give access to the exclusive adult content of creators by charging users for subscriptions. LoyalFans, like OnlyFans, also runs on the subscription model, which is the bread and butter for content creators.
LoyalFans allows all types of content on their platform, including selling nudes, selling butt pics, fetish modeling images, etc., which provides more ways for creators to make money on the platform. Other than subscriptions, LoyalFans has many other monetization features, which makes it a perfect platform for adult content creators to sell and monetize their content. Creators on LoyalFans can make money from paid messaging, single picture or picture sets, individual video clips, voice notes, tips, and much more.
  Find out the best tips to sell nudes online
What are the main differences between LoyalFans and OnlyFans?
Now that you have an understanding of these 2 platforms, i.e., OnlyFans vs LoyalFans, let us compare them based on various features and monetization options available on them.
OnlyFans vs LoyalFans: Payout rates
OnlyFans charges a 20% commission on the earnings made by creators on their platform. This means that any creator takes home 80% of the earnings they make by selling various content on OnlyFans, while the platform keeps 20% as a fee for their services. It is one of the best payout rates given by creator platforms around the world.
LoyalFans is at par with OnlyFans when it comes to payout rates. Creators on LoyalFans get an 80% share as the payout of the earnings they make on the platform, while 20% is kept with LoyalFans as a fee for their services. This round is a draw as both OnlyFans and LoyalFans provide the same payout rates, which are among the highest in the industry.
LoyalFans vs OnlyFans: Monetization features
Other than subscriptions, creators on OnlyFans can make money through selling custom content, referral programs, tips from fans, and paid messaging. On the other hand, creators on LoyalFans can make money through subscriptions, live streaming, individual or set of pictures, selling video clips, tips from fans, referral programs, voice messages, and custom requests through direct messages.
As you can see, LoyalFans provides much more monetization methods as compared to OnlyFans. The variety of monetization on LoyalFans makes it a better platform for adult creators wanting to maximize their earnings. So this round goes to LoyalFans.
OnlyFans vs LoyalFans: Payout frequency
When choosing a content platform, creators are most concerned about how frequently they can get their payouts. OnlyFans allows creators to request for payout anytime they want. The only condition is that creators should have a minimum of $20 in their account to request a payout. This means that creators can withdraw money every day if they meet the minimum criteria. Creators can also set automatic payout requests for weekly, bi-weekly, or monthly.
LoyalFans, on the other hand, allows creators to request payouts twice a month. They also have a minimum payout criteria of $50 in their account before requesting a payout.  Creators can claim their earnings from the 1st to the 15th and the 16th to the 30th of the month if they reach the minimum payout balance of $50. OnlyFans wins the payout frequency round due to the freedom to creators to request a payout anytime they want.
LoyalFans vs OnlyFans: Referral program
Referrals are a way of earning passive income for the creators. Whenever any creator on OnlyFans refers another creator to the platform, then the creator gets a 5% commission on all the earnings made by the new creator for 1 year. There is also a limit of a maximum of $50,000 that you can earn from 1 referral over the year.
LoyalFans provides a better referral program where the creators get a 5% commission for every referral for a lifetime. There are also no limits on how much you can earn from each referral, so a creator can earn good passive income by referring other creators to LoyalFans. Also, LoyalFans has something known as customer revenue share, where anytime a user visits your profile first and then goes on to other creator profiles, then you earn a share of whatever money the user spends on other creators.
LoyalFans wins the referral program round, hands down, as it provides a better earning program where creators can earn passive income for life.
OnlyFans vs LoyalFans: Creator growth
OnlyFans has a huge user base, and creators usually find it hard to get discovered as their profiles do not have any discoverability feature. If a creator wants to make money on OnlyFans being anonymous, then it gets more difficult for them. Unless creators get traffic to their page, their profiles won't be noticed by the users.
However, LoyalFans provides a top creator button along with a top model and new model lists. These features help creators to get featured on the homepage and get noticed by the users visiting the platform, thus helping them make more money.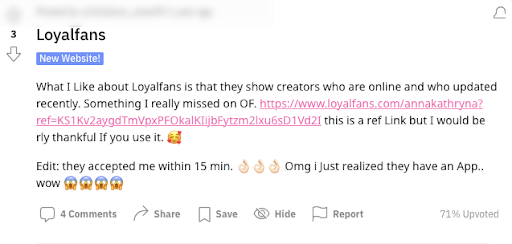 LoyalFans vs OnlyFans: Tips
Earlier, users on OnlyFans could tip any amount of money to the creators they liked. But now OnlyFans has put a cap on the amount of tips, and it is now $100 for new users and $200 maximum for users after spending 4 months on OnlyFans.
Meanwhile, there is no such restriction on tips on LoyalFans. Users can tip any amount they want to their favorite creators, and this works in favor of the creators to make money from the platform.
Which is the best – LoyalFans vs OnlyFans
So we have seen how both the platforms LoyalFans vs OnlyFans fared when pitted against each other. And it is no surprise that LoyalFans comes out on top as a deserving winner in this battle of content platforms.
LoyalFans not only gains the edge in providing better features like discoverability and geoblocking for the creators but also presents better money making opportunities for the creators. Creators can even earn better passive income from the referral program offered by LoyalFans as compared to OnlyFans, which has a limited time period for referrals.
Even though OnlyFans has been a top favorite as a content platform for some years, it won't be long before LoyalFans takes over as the new king of content platforms. Combined with a variety of features for the betterment of creators and multiple monetization ways, LoyalFans comes out as the winner in this battle of OnlyFans vs LoyalFans.
Conclusion
Content is currently ruling the industry and is here to stay. No one ever thought that the creator economy would be so huge, but here we are, where the creator economy is on a constant rise and shows no signs of slowing down. With multiple options available for content platforms like Fansly, Fanvue, etc., and new features being developed every day, the content creators are in for a great time.
The only problem with content platforms is that they charge a commission that goes out of the creator's earnings and doesn't let them maximize their earnings. To avoid this, creators can look at building their own content platform using readymade scripts like xModel. Gone are those days when building a website was difficult; now, with the availability of solutions like xModel, it is not only easy but affordable to build your own content platform.
xModel comes with a plethora of monetization features that can be customized as per your liking. You get full control of your platform and don't have to share your earnings with anyone. So if you're a content creator who wants to maximize your earnings, then xModel is the perfect solution for you.
Another great choice for people wanting to start their OnlyFans clone adult membership marketplace is xFans. Multiple models can get their own dashboards and manage their profiles well by selling subscriptions, live streaming, PPV content, receiving tips, private messaging, and more. Other than this, there is a separate admin dashboard for your convenience to easily manage the platform. Models can avail of the eCommerce integration on xFans to sell physical and digital products too.
Whether you choose xModel or xFans as your readymade script option, you can be sure of setting up a world-class adult marketplace at very affordable prices. To know more, you can contact the team of Adent.
Check out this video from Lilith Astaroth about her experience of LoyalFans, and she feels it is much better than OnlyFans.