-

9

mins read
Adult webcam models have all the fun they say, all you need to do is be yourself in front of a webcam and money will start pouring in. But the truth couldn't be further from it, becoming an adult webcam model is no piece of cake, the working hours aren't easy, and keeping yourself in the game among thousands of other such models isn't a walk in the park either. Just like all other professions, becoming a successful adult webcam model requires grit, hard work and a whole lot of dedication. But the great part is, you get to be your own boss, can make a lot of money if you work hard, and can become something of an internet icon. So if that's really what you want, here's what you need to know!
[bs_notification type="warning" dismissible="false"]Download the Free eBook: Ultimate Guide on Making money as a Cam girl – FREE DOWNLOAD.[/bs_notification]
The Setup
First and foremost, you have to set up your working area and make sure you've got the right equipment to start broadcasting video on the internet. As you can imagine, a computer with an internet connection and a webcam are the barest minimums. However, just picking up the cheapest available isn't going to do you any favors, so it's definitely a good idea to invest in a fast computer (you don't need to get something out of this world, but something on the quicker side will help!), a high speed internet connection (think 25 Mbps or above) and an HD webcam. This will allow you to broadcast now standard full HD video without any hiccups, so that in the middle of an intense performance, there's no stuttering to take away from the experience.
The equipment is just half of the story, the other half is your environment, or more simply, where you'll be broadcasting from. It's got to be a reflection of you and your online persona, without giving away anything about your true identity and location. Speaking of which, don't use your real name anywhere, you don't want unwanted attention from random internet denizens or your mother to accidently discover what you're doing. The room from where you broadcast should be well lit (not bright, just well lit), spacious (so that you can move around and perform freely) and of course, completely private.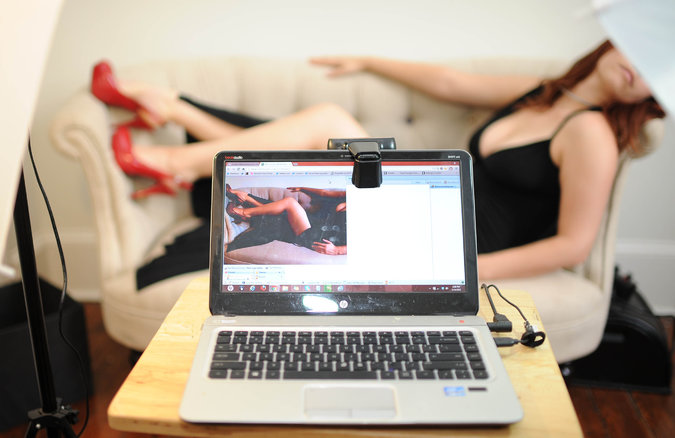 Also, you want more subscribers and followers? We'd recommend picking up a bunch of sex toys, props, costumes and a couple pairs of lingerie. Variety will not only set you apart, but taking requests for roleplays or something similar will easily earn you brownie points with your viewers. After all, who doesn't love a sexy nurse?
Finally, you need to do some proper research to decide which camming network you want to become a part of. There are a lot of networks out there, some better than the other, with different payout methods. What you have to do is thoroughly research what each network offers, weigh in the pros and cons of each and then decide where you want to perform. One important thing to keep in mind is that not all quick cash sort of payout methods are actually worth the work you put in, so think long term, not short term.
The Performance
Now that you've set up the stage, it's time to get into the performance. We've said it before and we'll say it again, variety is one of the biggest draws in this industry, and the more you innovate, the better chances you have of making it big. Of course, you can draw the line where you want, but the same ol' same ol' isn't going to bring in any moolah.
Another oft overlooked point is that as a performer, friendly, easy to connect and plain old nice performers are much more alluring than those who don't attempt to communicate. Think about it, your favorite actors get only sexier when you find out they're totally someone you could hang out with. The whole idea of someone you haven't met in person but love watching, being an everyman is an instant turn on.
[bs_notification type="warning" dismissible="false"]Download the Free eBook: Ultimate Guide on Making money as a Cam girl – FREE DOWNLOAD[/bs_notification]
The Moneymaking
So after all this is done, how do you actually make money? Contrary to popular belief, adult webcam models don't just turn into millionaires overnight, it takes a while to get established, recognized and popular. Working 21-30 hours in a week can net you anything from 5000$ to a 12000$, and if that's not worth it, we don't know what is! The secrets to making money aren't overly complicated, but here's an overview of what you need to do to rake in the cash:
Be Part of a Great Camming Network
Choosing the right camming network can pretty much make or break your income. You may be a great performer, but if the network is picking up most of the profits with the alleged promise that you'll be swimming in money later, you're on the wrong track. Pick a camming network that has reasonable terms and conditions, and do what you do best. Slowly but steadily, your network and followers will increase, so will your views, and by extension, your payouts.
Sell Skype shows
Think of a strip club, sitting with everyone else watching a stripper perform is obviously awesome, but getting a private lapdance is even better. This is basically the principle on which private Skype shows work. Once you've been noticed, or have caught the fancy of a particular patron, you can easily set up a private Skype show for him or her, for which they're going to pay extra. Since there's no middlemen like a camming network coming in between, you get to keep all the cash, and probably gain some great word of mouth publicity. It's a win-win! Just make sure you set up a special payment gateway in advance, so you don't get scammed.
Sell Adult Content
Being on camera will definitely get you money, but selling content will make you money even when you're off camera. If you're able to set up a page or if you're able to find a network that allows you to upload content to sell, not only do your previous performances come in handy, but newly recorded exclusive content will draw in your loyal fans and followers. That way you make money even while not working, it's a great second stream of income.
Want more?
[bs_notification type="warning" dismissible="false"]Download the Free eBook: Ultimate Guide on Making money as a Cam girl – FREE DOWNLOAD[/bs_notification]
We've only scratched the surface of making money as an adult webcam model. There's so much more you can do, there's so much more you need to take care of before actually performing, so if you're really interested, check out our Ultimate Guide to Making Money as a Cam Girl, which has tips, secrets, marketing ideas and much more for you to make money!