-

12

mins read
Yes, it sounds crazy and unbelievable, but it's true. You can make a great deal of money by selling your used panties online. I would have laughed it off, too, hearing you can sell used panties online and make money from it, until I saw people doing this as a side hustle and earning well.
Many people out there pay good money for this fetish of obtaining used panties and underwear from total strangers. Countries like the USA, Canada, and Australia have a high demand for used panties, and you can earn over $500 per month with this side business. Just like you can earn good money by selling non-nude adult fetish videos.
The best part about this business is that you don't even have to be related to the adult industry to sell your panties online. You can anonymously start this side hustle and earn good money without anyone getting to know you. So if you're someone interested in knowing how to sell used panties online and where to sell used panties, then read on as we take you through the details of this rewarding side hustle.
Why sell used panties online?
Why not? Selling used panties online can be a great side hustle that requires minimal investment and keeps your privacy intact. You can earn a good amount of money by selling dirty panties online, which can boost your financial status and help you buy things you usually couldn't afford.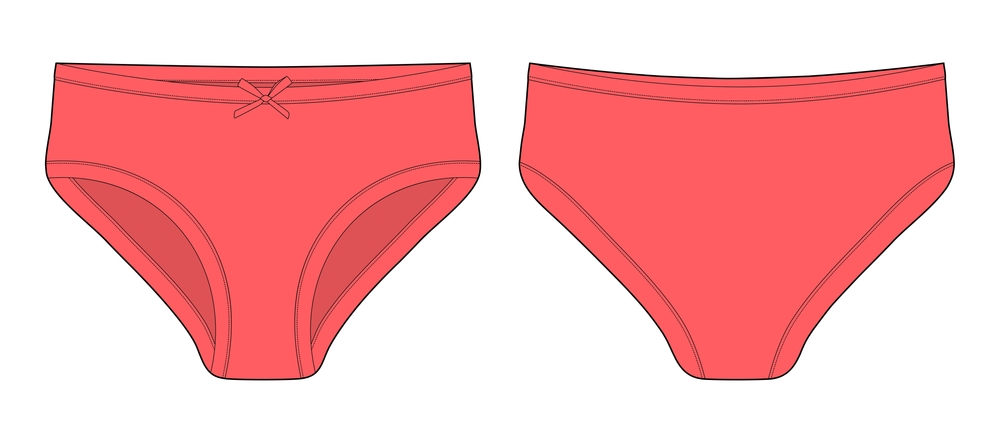 Selling panties online is very easy and requires no technical knowledge or too much effort. It's as easy as it gets. You can work on a bio for yourself, click some pictures of the panties you're wearing and wait for someone to buy them. Selling panties is fun, too, as you explore various types of panties that you never thought of wearing.
Another benefit of selling your used panties online is that it boosts your sexual confidence imagining people paying up money to get your used panties for their pleasure. You get to talk to many buyers, flirt with them, and boost your sexual desires without compromising privacy.
Why would people buy used panties?
Many men out there have sexual fantasies pertaining to smelling used panties. Some might love to wear your used panties, while some prefer to sniff them to get sexually aroused.
This kink or fetish of smelling used panties isn't uncommon, and many men are ready to pay high amounts to get hold of a woman's used panties. Some men even prefer to have the panties as dirty as possible, bringing out a brain response that triggers their sexual arousal.
What other than panties can you sell?
Men crave to get the sensual and intimate smell of women's private parts. Used panties are the most popular item that men desire. But this fetish can also be expanded to other items like bras, socks, underwear, stockings, and pretty much everything that can give the intimate smell of a woman.
You can sell digital products, too, like your sensual photos and videos to customers who would like to buy. Putting a face to the used panties gives such a high to men's desire that they'll be ready to pay any amount you ask.
How much money can you make selling underwear?
Some women have been successful in earning over $60,000 by selling their dirty panties online, while another woman makes $1500 every month by selling used panties online. So that shows that there is an earning potential by selling dirty underwear online.
An average seller on Sofia Gray sells around 8 pairs of dirty underwear every month. The average price for used panties can be somewhere around $30 to $50, which means if you can sell 8 pairs of panties in a month, you can easily make somewhere around $240 to $400 every month of added income.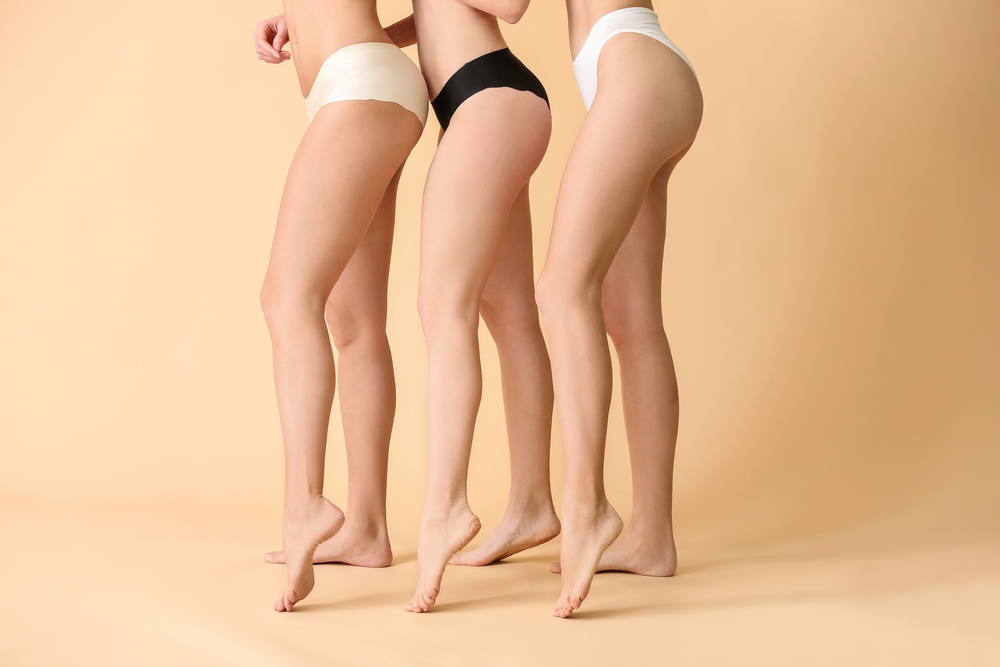 If you manage to make a name for yourself and have a following, then with more sales, you'll earn anything above $1000 a month. You can also take custom requests from customers for the duration of wearing the panty and set higher prices for them. 
A woman sold a pair of  panties she wore for 3 weeks for $5000 on Sofia Gray. That is the amount of money you can make out from selling panties online. The earnings you make by selling used panties will depend on the price you set, the frequency of sales you make, and your stock availability.
Is selling underwear legal?
The straight answer to this question is Yes. Just like any other legitimate business, selling used underwear online is legal in countries like the USA, UK, Canada, and Australia. But depending on the country you live in, rules might vary. It is advised to check in your country or state to find out if you can run into any trouble selling used panties.
Also, always put up a disclaimer on your product that it's a used item so that users are aware of it and there are no repercussions for any fraud claims. Another thing to make sure of is that you're not selling your used panties to any underaged person. If you're found doing so, you'll be liable for prosecution.
How safe is it to sell panties online?
One of the best parts of this business, other than being easy to start with, is the anonymity attached to it. Neither do you need to show your face or meet anyone in person to deliver the package. 
You'll be shipping your order to the buyers, which would need a return address on the package. Never give your home or communication address in the package. Instead this can be resolved by renting a PO box at the local post office.
Once you have the return address issue sorted out, your privacy and safety will be of no concern, and you can easily start selling your used panties online.
Best websites to sell used panties online
Once you know how to sell used panties online, then next, you'll need to know where to sell used panties online. Here are a few websites that can help you sell used lingerie online.
1. Sell used panties on Snifffr
Snifffr is a site that is exclusively meant for women to sell their used panties and other stuff. Snifffr has a user-friendly interface that helps sellers to list their products so that potential buyers can find them easily.
This platform provides a chat feature where deals are made on the spot between sellers and buyers. This means that if you're online for longer periods, then making sales on Snifffr becomes easier. Buyers and sellers can take advantage of the new activity page feature and connect with each other as soon as they join the platform.
There is a girl of the day feature, too, which helps the featured seller to gain more traffic, although there's a lot of competition for this. Sellers have to pay a membership fee of $5.95 for the first month, which increases to $9 from the next month onwards, which is automatically charged on credit cards.
2. Sell used panties on Pantydeal
Pantydeal is one of the biggest selling platforms out there and boasts of 1,000,000 registered buyers and sellers on their platform, which is growing each day. This platform allows only women sellers, and around 20000 women join every month, making the competition tough.
With the huge number of sellers on the platform, Pantydeal attracts a lot of traffic which means more chances for the sellers to make a sale. It works like a classified ads directory where sellers have to create ads for their products to sell.
The verification process of Pantydeal is detailed and requires sellers to verify their phone numbers and identity. The registration is free of charge, but you need to pay $19 every month to chat with buyers and place your ads, making it one of the most expensive sites around.
3. Sell used panties on Panty.com
Panty.com is one of the most productive sites exclusive to women sellers. Sellers can chat with buyers on this platform, making it easier for the sellers to convince prospective buyers to buy their products. Sellers can even send the first message to initiate a conversation with buyers.
This platform runs various contests which is a great source for the sellers to make some more money. The best part about Panty.com is that you can sell various other stuff than panties, like socks, bras, pictures, videos, etc., which gives a boost to the earning potential of sellers.
The drawback of Panty.com is that it doesn't have an in-built payment system, which means sellers have to figure out how to accept payments. To be able to interact with buyers, sellers need to buy the premium subscription, which comes at $14.99 per month.
4. Sell used panties on Scented Pansy
Scented Pansy sells not only panties but a huge list of items including weird things like spit and piss of women. This platform provides various options to the sellers to sell anything they would like which might attract an audience.
It uses a coin structure like Sofia Gray, where premium sellers receive 10 coins every month that can be used to boost their postings on the platform. Sellers have to pay $9 per month for the premium tag that opens up all features of the platform for them.
5. Sell used panties on Etsy
Etsy is one of the best websites to sell your used underwear as it attracts a lot of traffic. A quick search on Etsy for used underwear reveals how popular and rewarding this site is for sellers. Etsy is one of the preferred sites for many models with the question of where to sell used panties.
You'll need to create your shop on Etsy to get started with the platform. You will have to verify on Etsy with your real name and SIN details for tax purposes before you can start listing your products.
Etsy charges a listing fee of $0.20 for every product that you list for sale on their website or app. After you've made the sale, Etsy takes a 5% commission on the sale price of the product you sold.
6. Sell used panties on Sofia Gray
Sofia Gray is one of the most popular websites to sell used underwear. It attracts a lot of traffic and has thousands of potential buyers on its website, which means you get a large audience waiting to grasp your used panties. Sofia Gray allows all genders to sell used lingerie, making it one of the few that allow this.
Sofia Gray doesn't charge any commission on the sales you make. Instead, it charges you to set up your shop on its website. You have full liberty of how much information you want to reveal and how much price you want to set for your products. You can also sell photos, videos, and much more on this platform. 
You can pay $15.99 for a month to try out Sofia Gray and see if it works out for you. They also provide a six-month package at $21.99 and a yearly package at $35.99 with no automatic recurring charges.
7. Sell used panties on Craigslist
Another platform that gives good returns for selling panties online is Craigslist. But if you want to remain anonymous, Craigslist is not for you as it doesn't have any safety net or guarantee.
It's free to sell panties on Craigslist, but you will need to deliver the product in person or through shipping. The major concern of selling underwear on this platform is that buyers might file a chargeback claim on their card or PayPal.
8. Sell used panties on Reddit
Reddit is a free forum that allows users to post any adult content. You will need to find the used panties subreddit and post your product for buyers to see. As this forum is very popular and receives a lot of traffic, the subreddit gets jam-packed with sellers' posts. If you need to stay on top of the thread, then you need to pay money to pin your post.
Be careful while posting on other subreddits, as you'll get banned if your post isn't related to the subreddit. To be on top of this platform, it's recommended to publish one post every day on the relevant subreddit to stay afloat.
How to sell used panties online from your own website?
Now that you know  how to sell used panties online, over time, if you manage to build a strong customer base for selling your used panties, then you can look at the option of creating your own website to sell panties and other stuff. Having your own website comes with multiple advantages like you don't pay a commission, you have full rights to the products and design of the website, it's flexible, and many more.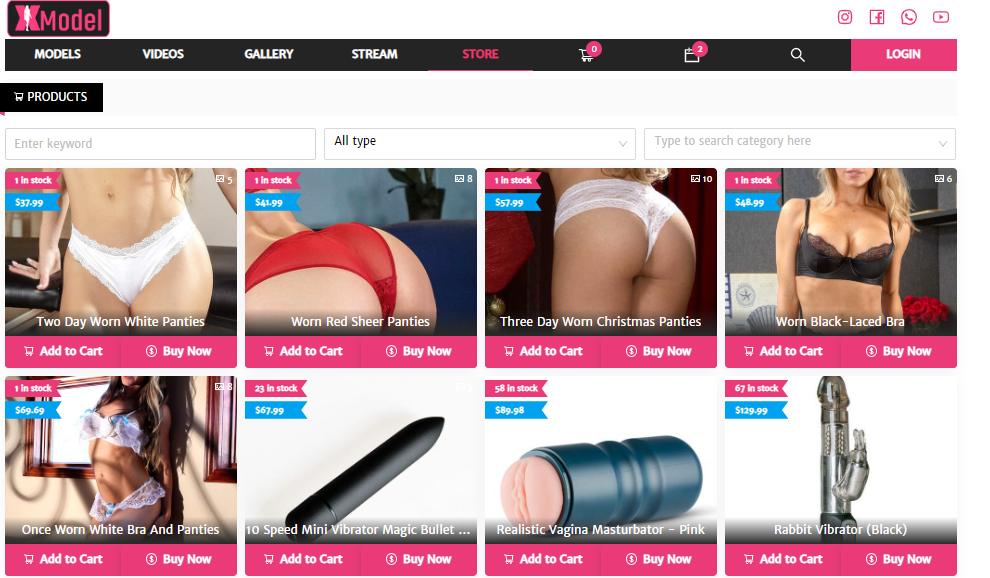 Building a website is no easy job and requires technical knowledge. You will need a domain and hosting provider, developers, payment processors, and many more things to be able to create your website. You can skip all this technical work and choose a turnkey solution like xModel that empowers you with everything you need to create your website to sell panties online.
xModel is a turnkey solution for models to start their own membership website. With multiple monetization options, using xModel, you can grow your website from only selling panties to many other monetization methods. You can host other models on your website and run a successful business without having to pay any commission to anyone. Here are a few revenue streams that you can explore with xModel.
Subscriptions

– Users on your website will be able to subscribe to any model to gain access to their content.

Live Streaming

– Sellers can do live streaming and interact with potential buyers while charging for the stream.

Premium content

– Models can lock premium content and sell it separately at additional charges.

eCommerce store

– Sell physical and digital products through the integrated eCommerce store. You can sell much more than only used panties.

Affiliate marketing

– Make some extra money through CPC commissions by publishing affiliate ads on your website.
xModel gives you the power to control everything through easy admin dashboards, using which you can do many things, including changing the look and feel of your website. Become your own boss and keep all the earnings you make for yourself.
What are the different scents for used panties?
Every man who has a fetish for sniffing used panties has a favorite scent that they look out for. There are many types of scents that emanate from a woman's intimate areas. As a newcomer to this business, you might not know all of them. Let's take a look at the different scents for used panties.

Everyday wear scent
This is the most common scent of used panties. You can get this smell by wearing your panties like you regularly wear. The more days that you wear, the more powerful the scent becomes.
Sex scent
This type of scent is achieved while wearing your panties during sex. Some men find it irresistible to imagine you having sex while wearing the panties you sold to them. If you can ejaculate in them, then even better.
Stuffed scent
This is a particular kink where you stuff your panties in your mouth, vagina, or ass. Stuffed panties have a very strong scent that can make some men go nuts.
Masturbation scent
As the name suggests, this scent is achieved when you masturbate wearing panties. If you can squirt in your panties, that will give a more strong smell which many men like to sniff.
Workout scent
The panties you wear while working out are soaked with sweat and give a very strong scent to your vagina. This scent is a common kink as it emanates a very strong scent that some men love.
Piss scent
This is a pretty common kink known as watersports. Some men like to buy your panties soaked in your piss. Pee on your panty and let it dry before you ship it to the buyer.
Menstruation scent
Some men have this fetish of smelling panties worn during periods. It has a particular scent to it that you can get once a month. Check with the buyer if they want blood on the panty or just the strong smell you get while on periods.
Where to buy panties for your use?
If your panty-selling side hustle kicks off well, then it might get an expensive affair if you have to give away your good panties to buyers. For this reason, you need to know from where you can source affordable panties in bulk for selling purposes. 
Although you would be looking for cheap deals on panties, make sure that these panties are comfortable too, as you would be wearing them for selling purposes. Neither should the panties be really cheap and torn, as the buyers would not like that. 
Considering all this, the best way is to buy your panties in bulk from good stores that offer discounts on bulk purchases. Here is a list of affordable places to buy panties from.
Amazon

Target

Victoria's secret

Pink

Third Love

Aerie

Walmart
Successful tips on selling used panties online
There is a lot of competition in the market to sell used panties online. You will need to put in the effort and hard work to get noticed and make a name for yourself. Here are a few tips to help you succeed in selling used panties online.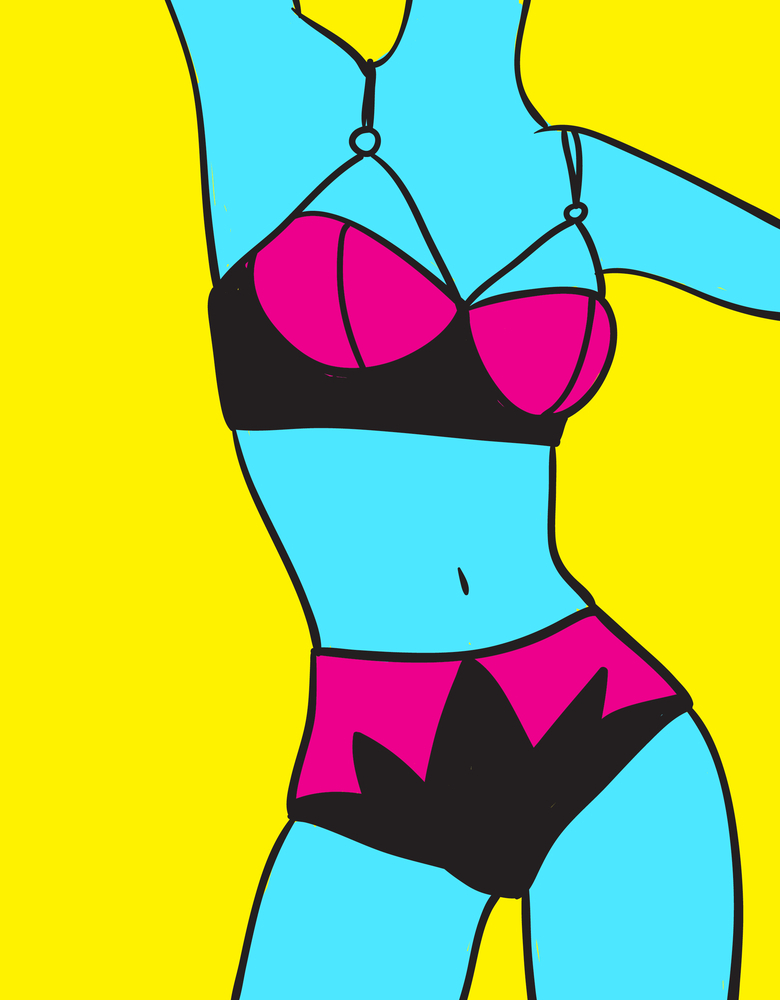 Be unique
With a lot of competition to sell panties, you will need to stand out from the crowd to get successful. Everyone is selling the daily use panties, and if you also plan to sell that, then there are chances that your listing will get lost in the sea of panties.
You can try to pick a niche for yourself which makes you and your used panties unique. For example, if you can squirt in your panties while masturbating, then it can make for a good niche and help you gain loyal buyers.
Use quality photos
You don't need to show your face in the product photos, but that wouldn't mean that you can compromise on the quality of the pictures. Bright, clear, and well-taken pictures are welcomed by the buyers.
Try different poses and get sexier pictures taken while wearing the panty you want to sell. Make the photos so good that the users can feel them.
List the product details
Just posting a picture of you wearing the panty won't do. Give out details like what's the material of the panty, how long have you been wearing them, what were you doing wearing those particular panties, etc.
Details would help users imagine what they'll be getting, and this makes selling your panties easier.
Flirt with buyers
You're selling a sexual product, which means getting a little flirty with prospective buyers can help your cause of selling your panties. Be nice to everyone, and send out some saucy signals to coax users to know about your product. Even cam girls have to flirt with viewers to get tips. Make your buyers horny to help you increase your sales.
Sell on different platforms
Don't put all your eggs in the same basket. Try out different platforms to increase your chances of making sales. Once you have published on all platforms, then you'll be clear on which platform works for you and where you're not getting any leads. Keep trying various platforms till you find your rhythm.
Guidelines for packing and shipping your used panties
It is very important to pack your panties correctly to preserve their scent and texture till it reaches the buyer. Here are a few guidelines for packing and shipping your used panty.
Allow it to dry before packing it.

Use a ziplock bag to seal your panty to preserve the scent.

Spray your perfume on the outside for a personal touch.

Wait for orders and wear the panty as per the buyer's need.

Use padded envelopes for discreet shipping.

Never give your return address.

Use a PO box for return addresses.

Add a personalized note or a

nude picture of you

wearing the panty with the package.
Conclusion
Selling used panties online is a great side hustle to make some extra money. But remember that there's a lot of competition out there, and you need to be on the top of your game to get noticed and make sales. We hope we have been able to answer your questions about how to sell used panties online and where to sell used panties.
Once you make a name for yourself, you can try to get your own website using xModel to increase your sales and also have more models on your website for a flourishing business. Men are horny, and selling them used panties is an easy job if done right. Wishing you all the success in your panty-selling venture.
Frequently Asked Questions
1. How do I sell my used panties online?
You can sell your used panties online on many websites like Pantydeal, Panty.com, Etsy, Snifffr, Craigslist, and many more. You can also build your own website using xModel to sell your used panties online.
2. How to price my used panties?
Depending on the buying price, you can set the price for your used panty anywhere between $30 to $50. If you can make 8 sales a month, then your earnings would be between $240 to $400.
3. Is it legal to sell used underwear?
Yes, it is legal to sell used underwear in countries like the US, Canada, the UK, and Australia. You may need to check the rules and regulations in your country before selling used panties online.
4. What other than panties can I sell?
You can sell any intimate item like bras, socks, sportswear, anything that will catch the attention of men.