-

9

mins read
Wondering how to start OnlyFans without a following? Well, here's a little secret for you – almost all OnlyFans creators start off without followers. And from there, they work their ass off and grow on OnlyFans as a creator.
But most creators, just before starting off, have this fear lurking in the form of a question – how to make money on OnlyFans without a following. And that's fair, considering that you're new here, the heavy competition around and your thoughts on how you're going to overcome them.
So, that's exactly what we'll be helping you out with today – the steps on how to start an OnlyFans without followers and a couple of essential tips & tricks to make money while you're at it. Believe us, we have a lot of resources just for you!
To start with, let's answer a realistic question.
Can You Make Money on OnlyFans Without a Following?
We know this has been on your mind. But, the real question you should be asking is, how do you build your OnlyFans following and how much you can make on OnlyFans?
On average, an OnlyFans creator who has a bare minimum of 10-15 followers, makes around $150 to $200 per month. But If you start out well, get the hang of being an OnlyFans creator and be consistent, you can make a lot more money than other OnlyFans creators.
So, to answer the question, NO. You cannot make money on OnlyFans without a following but, with a clear mindset and plan, you will be 100% successful on OnlyFans right from the moment you start off (even without followers).
Now that there's a solid foundation and we've got the facts straight, let's look at the steps to starting an OnlyFans without a following.
How to Start OnlyFans Without a Following in 5 Steps?
So, here we are finally, the steps on how to start an OnlyFans without followers. The steps we are about to mention are suitable for all kinds of creators, especially the adult niche.
Even if you're a guy looking to make money on OnlyFans or a model trying to sell your panties on OnlyFans, the steps below are going to help you get started without a following.
Step 1: Find a Niche to Start Your OnlyFans Without Followers
This part is all about what your OnlyFans account is going to be. What kind of content creator you are and what you are going to post on your profile to make money?
We all know that OnlyFans is a universal social subscription platform that supports all kinds of creators. But if there's one thing the platform is very well known for, it is the adult niche. All top porn stars like Dani Daniels, Mia Malkova, etc have a profile on OnlyFans. And yes, there's Bella Thorne too!
Not that other types of creators don't have a chance on OnlyFans but if you're an adult creator, you have an edge.
Here's where the tricky part comes in. If you're famous, you don't have to be specific about your niche. But since you're starting an OnlyFans without following, you have to be specific about your niche.
Here are some of the most popular adult niches on OnlyFans,
Some other popular non-adult niches are sports, music and food.
You can choose two or three niches that are closely relevant and go forward. This can increase your followers to a great extent. For example, you can be an adult model who sells boobs pics and feet pictures.
Here's a wolf cosplay image of Mia Malkova who is popular for other adult stuff too.
Choosing a niche is one of the most important steps when you are starting an OnlyFans without following. Make sure your niche is popular but at the same is not very competitive.
Important Note: To start an account on OnlyFans, you must be aged above 18 years.
Step 2: Invest in a Starter Kit
Simply take a stroll through a couple of OnlyFans profiles. You can immediately notice the good-quality photos and stabilized close-to-professional videos. This is what their followers pay for – all the good stuff.
Though porn is available for free all over the internet, people are more interested in personalized, great-quality stuff.
Here's what you need to have in a starter kit.
Ring lights for studio setup – costs between $20 and $50

Professional DSLRs for photoshoots and videos – much cheaper than a top-end iPhone

Tripods, video editing software and mics

Fancy costumes and other niche-relevant products
Products we've mentioned should cost you only a couple of hundred dollars but gives you a great edge when you're starting an OnlyFans without following.
Step 3: Create a Good Bio for Your OnlyFans Account
A good OnlyFans bio will create a great first impression among your audience. If you're looking to grow your followers on OnlyFans, an attractive bio is very important.
Here are some of the factors you should remember while crafting a bio,
A part of your profile name should include your niche

Your profile description should clearly state what you offer along with the price

Links to your social platforms

An attractive profile bio that reveals your personality

Your wishlist and any other information you'd like to add
Only if your profile is attractive, you'll be able to grow your followers on OnlyFans. Be a bit spicy, luring and don't forget to make use of emojis.
Here's the OnlyFans bio of Cherrie DeVille, a MILF pornstar.
The profile clearly states the availability, and what kind of content is offered along with the wishlist.
Your profile should also contain similar information. If you're looking to promote your OnlyFans secretly, make sure not to reveal your face and location while you post content. In fact, a lot of people make money on OnlyFans anonymously, without showing their faces.
As of now, you've chosen a niche, invested in a startup kit and updated your bio. The next step is to come up with a content plan.
Step 4: Create Minimum Content to Get Started
Before you create content for your OnlyFans account, you'll need to know what kind of content your audience will love. For this, you need to closely observe your fellow creators.
Find out what they post and which content resonates with the followers best. Observe their body language, the costumes used and other minute details of importance. These can help you get a basic idea of what type of content works and what does not.
Once figured out, create a minimum set of content to engage with the audience on OnlyFans.
4-7 videos to promote your OnlyFans profile 

A couple of photos, more like an exclusive album to sell to your fans via private DMs

Some pictures to tease your audience and drive footfalls
This should enable you to get started and engage the audience. As time passes by, based on the number of hours you can spend on OnlyFans, post content consistently. Also, creativity is very important. The wolf cosplay from Mia Malkova, that's the kind of content the audiences love.
Step 5: Follow New OnlyFans Accounts to Grow Your Followers
This one is a simple hack that'll help you to grow your followers on OnlyFans. We thought it might be useful to you since you're starting an OnlyFans without following.
Like you, there are many other creators who start on OnlyFans without followers and it's all they and you want – a good follower base.
So, here's how it works.
Find similar OnlyFans accounts and start following them

You'll get a follow back gladly from these accounts

A week or two later, you can unfollow those accounts hoping they wouldn't notice you unfollowed them.
Over a period of time, this simple hack can help increase your OnlyFans followers. So, that's how you get started on OnlyFans without followers.
Since you're all the way here, here's a little bonus content.
Start Your Own OnlyFans-like Website
Yes. You heard that right. Down the lane, once you have a good following base, it's essential to have your own brand and online presence. You cannot be completely reliant on a single source of income. And that's why you need to create a website like OnlyFans.
The process isn't complicated when you use white-label adult membership website scripts. xModel is one such white-label script that allows you to create your own membership subscription websites.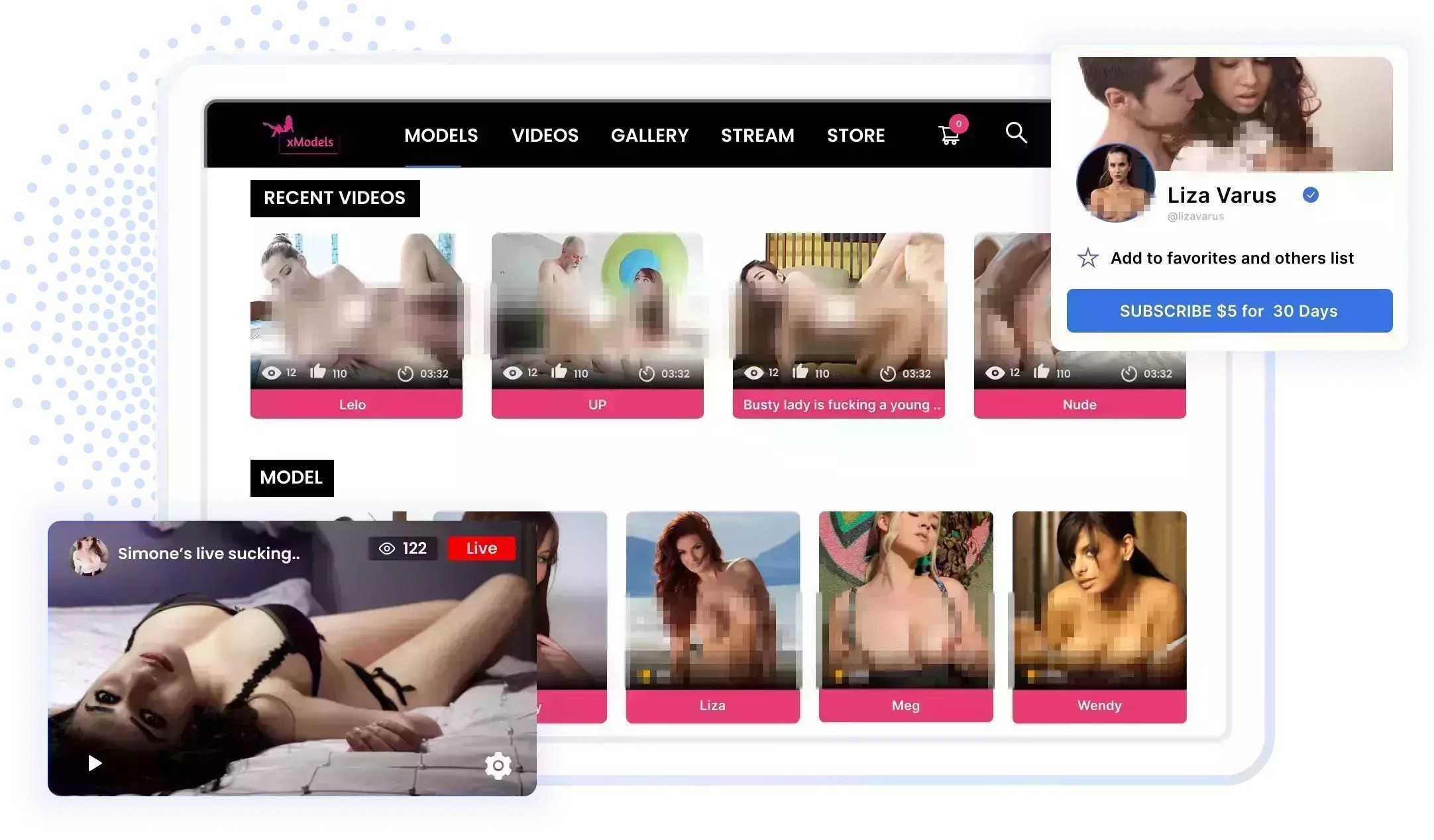 xModel comes with power-packed features like live streaming, subscription membership options, built-in eCommerce store setup and more. The installation process is easy and you get 100% ownership of the source code and your earrings.
So, whatever we saw above is the answer to the question of how to start OnlyFans without a following. Your niche is chosen, you have invested in a starter kit and you have minimum content to get started on OnlyFans. Posting content consistently will make your profile more discoverable and your follower count will start increasing slowly.
But there's something more you need to know – how to make money on OnlyFans without a following. And that's what we're going to look at now.
Tips On How to Make Money On OnlyFans Without a Following
Though it's not possible to make money on OnlyFans without a following, knowing the tips and tricks to make money on OnlyFans will help you gradually monetize your increasing follower base.
In this section, we'll be looking at the different tips & tricks to make maximum money out of your growing follower base.
1. Different Monetization Methods of OnlyFans
Before discussing tips, we thought a quick brush-up on the monetization methods of OnlyFans would help you.
So, here are the different ways with which you can make money on OnlyFans,
Subscription memberships

Pay-per-view content via direct messages

Customer tipping

Selling digital and physical goods

Live streaming with the audience
These are the most popular ways to make money on OnlyFans. That said, we'll move on to the tips section.
2. Play With Subscriptions. Offer a Free Trial
The most common subscription rate on OnlyFans is $4.99. But, a greater hack would be to offer a free trial to the audience.
The idea here is to increase your OnlyFans followers and then monetize them using the above-mentioned monetization methods. Who wouldn't want to subscribe to an account for free?
Engagement is the key here. Make sure not to disappoint your followers after offering them a free subscription. Constantly engage them with photos, videos and live streams. This can help build your revenue stream and increase loyal following.
Once you have a good following base, you can put up a price for subscriptions.
3. Start Low on Your Pricing
Remember what we talked about selling content in a pay-per-view method? This is where most of the models make their earnings apart from subscriptions.
You get to set prices for your exclusive photos and videos. Starting out low for these exclusive media will make your followers come back for more. This, in a way, is repeat revenue for you.
You can slowly increase your pricing after gaining a significant number of followers.
4. Collaborate With Other Popular OnlyFans Creators
This is one of the most underrated techniques when it comes to making money on OnlyFans without a following.
Like we said, you are not the only one who has started out on OnlyFans without a following.
Let's assume one of your fellow creators after consistent effort has a couple of hundred followers. The same goes for you.
When you both collaborate and work on a video or appear on a live stream, you'll be discovered by the audience of the other creators and vice versa.
If you put up a good show, you'll have your follower number increased. So, make sure to find relevant OnlyFans creators who are ready to collaborate. Simply hit them up with a message. You never know when it'll work out!
5. Make Dedicated Social Accounts for Your OnlyFans Profile
Just creating your OnlyFans account and posting content on it isn't enough. You have to promote them on social media platforms. And the best way to do this is to have exclusive accounts created just to promote your OnlyFans content.
Even if you are not getting any followers from the OF platform, you can drive traffic from social platforms and then convert them into your followers.
Some of the best places to promote OnlyFans content would be Instagram, Twitter, Snapchat and Tumblr. Also, leverage TikTok to the maximum because you can easily promote your OnlyFans videos on TikTok.
Use popular all-in-one link software like Linktree to gather all the links of your social media handles in one place. Promote them on your Instagram handle.
6. Do Not Forget to Promote Your OnlyFans Content on Reddit
We could have mentioned this in the earlier point. But to help you understand its importance, we have added it as a separate point.
Reddit is one of the best social media platforms to promote your OnlyFans, especially if you are an adult creator. Reddit has a lot of dedicated SubReddits (forums) for adult content.
There are SubReddits for feet pics, nude selfies, cosplay, boob pics and more. Put short, there are SubReddits for almost all niches. And these SubReddits have a great following. Promoting your OnlyFans content on these forums will definitely help increase your OnlyFans followers and revenue.
Here are some SubReddits where you can promote your OnlyFans content,
So, don't miss out on this!
7. Consistency is the Key
This might not sound like a tip but a huge part of whether you're going to be successful on OnlyFans and make revenue depends on how consistent you are.
You should set aside a dedicated few hours every day to manage your OnlyFans account – to create new content, promote the same on different platforms and engage with DMs and new followers.
Only when you are consistent enough, you'll be able to witness any results. So, make sure to hit your OnlyFans profile consistently on a daily basis.
Now, answering one more realistic question for you.
How Long Does It Take to Be Successful When You Start Onlyfans Without a Following?
Like we already said, it all depends on how consistent you are. But looking at a timeline, with continuous effort and a bit of creativity, you can easily start making $1000 per month.
Set goals for yourself and proceed. $250 in the third month. $500 in the fourth month. And finally, $1000 in the sixth month. Once you get the momentum, there's no stopping you!
All this is easily achievable when you have the interest and discipline to be consistent.
That said, we are wrapping this up! And here's the last thing – a video on how to make money on OnlyFans without a following from popular model June.
Conclusion
So, you now know how to start an OnlyFans without followers and how to make money on OnlyFans without a following.
This is not the case with OnlyFans alone. Even if you are choosing potential OnlyFans alternatives, these are steps to go forward with. It all comes down to your niche, your creativity and your consistency! 
That said, followers or no followers, go become the next hot profile on OnlyFans now!