-

7

mins read
If you have been keeping up with the latest internet trends, you are likely familiar with the massively popular website, Reddit. However, you may not be aware of the potential marketing opportunities it offers to your OnlyFans account. 
With over 1.6 billion monthly active users and almost 8 billion pageviews every month, Reddit is a highly active online community that can be leveraged for your effective OnlyFans promotional campaigns.
It is important to note that the Reddit community has its own set of established and unspoken rules. In this article, we will provide you with some insightful tips on how to promote OnlyFans on Reddit so that you can easily navigate this platform and use it for your marketing campaigns.
How Reddit Works?
Reddit is a thriving web-based platform that has become a popular hub for online communities. It provides users with a space to create and join various communities, post content, vote on links, and share comments. 
Essentially, it is a social news site that empowers both the OnlyFans creators and users to engage in discussions and share content on a wide range of topics. 
If you're an OnlyFans creator who wants to take your OnlyFans content to the next level through Reddit promotion, you need to earn karma by contributing valuable content, reviews and links that are up-voted by other members of the community. 
Conversely, if you try to spam Reddit with irrelevant content or do spam promotion, you can expect to be down-voted by other users. 
Furthermore, Reddit has implemented certain restrictions on the frequency of content posting to ensure that users don't abuse the platform. 
Things To Know Before You Promote OnlyFans on Reddit
Before we get into how to promote OnlyFans on Reddit, there are a few terms and etiquette that you should be aware of. Let's take a look at them in detail.
1. Joining Reddit
Signing up for Reddit is a quick and straightforward process. All you need to do is create a username and password, and you can start posting and commenting right away. 
Unlike other platforms, Reddit doesn't require any email or phone number confirmation, which means you can get started in no time.
2. Subreddits
Subreddits are like microcosms of communities, each dedicated to a specific topic or area of interest. With over a million subreddits to choose from, there's something for everyone. 
You have the freedom to create your own subreddits for OnlyFans promotion, each with its unique set of moderators, rules, and designs. Whether you're creating hardcore, petite, or MILF OnlyFans content, there's a subreddit out there waiting for you to explore.
3. Karma
Reddit's karma system is a major draw for many users, but it can be confusing to understand. Essentially, karma is a type of internet point that you receive when other users upvote your comments or submissions. 
There are two types of karma on Reddit: link karma and comment karma. Link karma, also known as submission karma, is earned by creating new threads, while comment karma is earned by making comments on existing threads.
By understanding how these forms of karma work, you can better navigate and promote OnlyFans on the Reddit community.
4. Shadowban
A shadowban is a type of ban that is not easily noticeable, allowing you to continue posting on Reddit but secretly hiding your posts and comments from everyone except yourself. 
Moderators will automatically send your content to the spam list without any indication that you have been shadowbanned. 
You may not even realize that you have been shadowbanned for a while, as there are no visible signs of it. So don't blatantly promote your OnlyFans on popular subreddits if you want to survive on Reddit.
5. Upvotes and Downvotes
Getting upvotes and downvotes on your post or comment means that others are voting for or against it. The more upvotes you receive, the more visible your content becomes to other users. Posts with thousands of upvotes are featured on the first page of Reddit or subreddits related to the topic. 
Reddit and its users typically frown upon users who use the platform solely for self-promotion. If you promote your OnlyFans page on Reddit, similar to how you would on Twitter, you run the risk of being banned. 
But don't worry, we'll explain how you can promote your OnlyFans page on Reddit in the following section.
10 Best Ways To Promote OnlyFans on Reddit
Reddit is one of the best places to promote OnlyFans because you can get your brand known and loved by your audience, but it might take some time. 
Though the platform protects its users from ads, with the right attitude, you can still make your way and promote OnlyFans on Reddit and grab the attention of users.
Here are 10 ways that will help you promote your OnlyFans on Reddit.
1. Find Subreddits in Your Niche
When it comes to how to promote OnlyFans on Reddit, it is important to choose the right subreddits to post in. The more participants a subreddit has, the greater the potential for attracting visitors to your content. 
However, it's not just about the number of participants – you also want to make sure that the subreddit is as closely related to the type of your niche or content as possible.
For instance, say you're starting an OnlyFans as a guy; it's a good idea to explore subreddits like r/OnlyfansGuy101 and r/OnlyfansGuyPorn. 
These subreddits are tailored to male OnlyFans content creators and enthusiasts of the platform, making them an ideal place to showcase your content and engage with your target audience. 
By choosing the right subreddits, you can maximize your chances of reaching potential customers and driving traffic to your OnlyFans page.
2. Make Sure You Comment on Other Posts
One effective Reddit promotional strategy for your OnlyFans is to engage in discussions and forums that are relevant to your niche. 
By doing so, you can establish yourself as a knowledgeable and trustworthy source of information and subtly promote your OnlyFans by including links where appropriate. 
For example, let's take a look at the picture above. A newbie OF creator raised a question on how much one can make on OnlyFans. Then, two verified OF creators answered the question without any means of self-promotion. 
But, this method also helps them increase curiosity among the users and make them check their OnlyFans profile. Though the probability of converting them into customers is less, this can help you promote your OnlyFans without spending a dime.
Also, when answering any questions, remember to use keywords that are relevant to your niche in your comments, as this will increase the likelihood of your content being discovered by search engines. 
However, keep in mind that some subreddits require users to have a certain level of karma in order to post links, and in some cases, it's even forbidden to comment or post using accounts with low karma scores. 
So, be sure to build up your karma by contributing to the community in other ways before attempting to promote OnlyFans on Reddit through links.
3. Get Karma from Reddit
If you want to increase your karma on Reddit, there are a few steps you can take. First and foremost, it is important to start generating upvotes. 
To achieve this, consider sharing interesting and engaging content such as your NSFW photos, funny pictures or jokes, memes, and other pieces of information that can capture your audience's attention.
Another option is to submit a request for increasing karma in a dedicated subreddit called r/FreeKarma4You, which is specifically designed for users to ask for a little karma boost. 
However, it is important to avoid simply begging for karma. Instead, try to provide a visually appealing photo alongside your request, such as a bikini shot, a beautiful strip tease, or an adorable cosplay. This will increase the likelihood of receiving upvotes.
Lastly, commenting on posts in the r/AskReddit subreddit is another effective way to gain karma quickly. By adding your insights, opinions, and thoughts about either how OnlyFans works or how to make money on OnlyFans to existing threads, you will increase your visibility and potentially receive more upvotes. 
4. Get in Touch With Administrators
If you're keen on promoting OnlyFans on Reddit, seeking permission from the relevant subreddit admins is essential. It is crucial to keep in mind that the community is not receptive to aggressive or intrusive advertising. 
Therefore, it's essential to craft an effective pitch that resonates with the audience. One way to do that is by highlighting a common problem about OnlyFans creators that you can solve or by sharing a compelling case study on your OnlyFans income. 
Your message should add value to the conversation and encourage the audience to engage with your content.
5. Get Your Link Posted by the Admins
It is a known fact that links shared by admins are perceived as more trustworthy and tend to receive more attention on subreddits. 
If you are looking to sell nudes on OnlyFans and want to do promotion via Reddit, it might be worth reaching out to the admin of a relevant subreddit and asking them to post your link. 
However, it is important to ensure that your link adds value to the community and is not considered spam.
By taking this extra step, you not only increase the visibility of your link but also establish a positive relationship with the subreddit admin and their community.
6. Open a Few Accounts
To enhance the visibility of your OnlyFans brand and content, it's recommended to create multiple Reddit accounts. 
By setting up a distinct subreddit for your own OnlyFans, you can engage in discussions with other users and promote your content effectively. 
It's important to bear in mind that Reddit monitors the activity of users closely and may impose restrictions if they detect any suspicious promotional behavior.
7. Keep Your Text Free of Hyperlinks
When you're discussing OnlyFans with other content creators on Reddit, it's important to share your OnlyFans profile without including a direct link to it. 
This means using the username name alone rather than the full URL, such as "bellathorne" instead of "onlyfans.com/bellathorne". By doing so, you can make it appear as if you're simply mentioning your username rather than trying to promote it. 
This can help you avoid drawing unwanted attention from administrators while still allowing those who are genuinely interested to find your blog on their own.
8. Check Relevant Subreddits Every Day
Reddit is a dynamic platform that fosters great user engagement. Due to this, new posts are published at a rapid pace. 
So, if you want to succeed in promoting OnlyFans on Reddit, it's recommended to regularly search for articles or posts related to your niche or area of expertise and provide constructive feedback. 
Not only can this help you increase your karma, but it's also a great way to promote your OnlyFans and establish yourself as an active member of the community. By engaging with the content and users on Reddit, you can create valuable connections and drive traffic to your OnlyFans account.
9. Post in Multiple Languages
Expanding your language skills or utilizing translation tools like Google Translate can greatly increase your ability to connect with a diverse OnlyFans community on Reddit.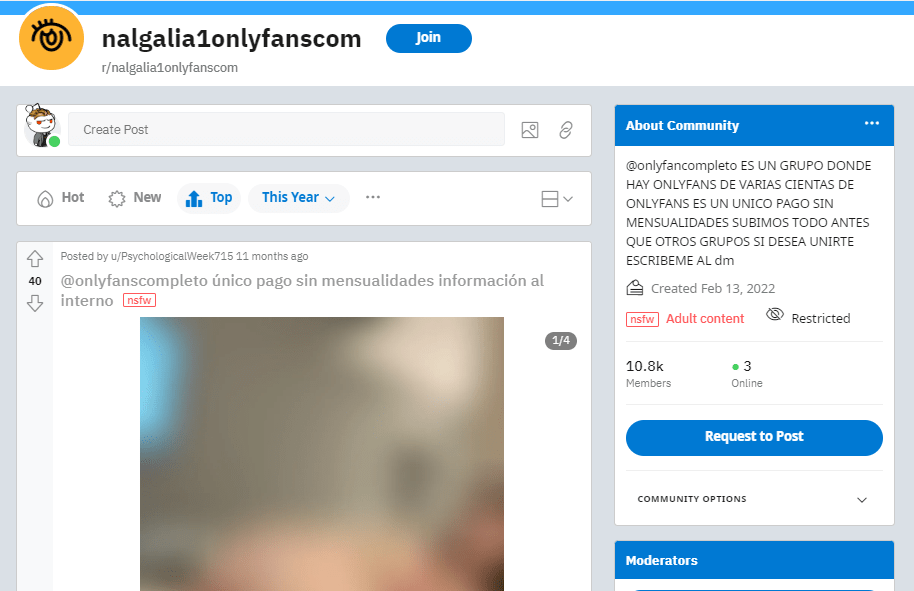 With the platform accessible in over 70 languages, it's important to recognize that your potential customers or audience may not solely exist within the English-speaking community. Don't miss out on the opportunity to expand your reach and connect with individuals from all around the world.
10. Verify Your Account in the NSFW Subreddits
Getting verified on NSFW (Not Safe For Work) subreddits can be beneficial for various reasons. While not all subreddits require verification, it is recommended for adult content creators.
Verification confirms that you are the person in the videos and photos you post on your Reddit account, making you look more legitimate and trustworthy to users. This can be especially important if you sell boob pics or butt pics on OnlyFans.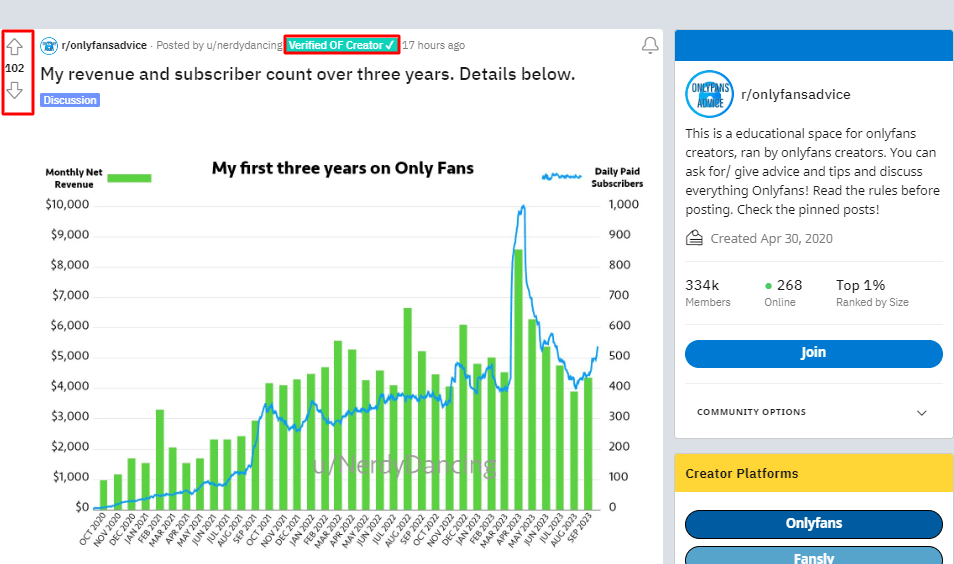 Furthermore, verified users are less likely to have their posts rejected or downvoted, as they have already established their authenticity. This can lead to higher engagement and visibility for your content.
Conclusion
By now, you must have gathered knowledge about how to promote OnlyFans on Reddit in the most effective way. If you've reached this far, it means you're very keen on making money by selling your pictures and videos online.
Even though there are plenty of OnlyFans alternatives available, if you really want to make more money without giving away your hard-earned profits, you need to create your own fansite. 
Speaking of fansite, creating a subscription-based fan website to sell your content is easy with a ready-made fansite script like xModel from Adent.io.
Whether you're an OnlyFans creator, cam model or a pornstar, you can use xModel to build your own fansite and make money with content on the go. It has multiple revenue streams, an in-built token system, revenue reports and many more – all the while you keep every dollar you make!