-

12

mins read
OnlyFans is the most popular adult content creation and selling marketplace today.  With millions of creators creating different types of OnlyFans content and monetizing through it, OnlyFans has become a popular mode of income for many.
The increase in the number of creators and users on OnlyFans has made it difficult for a few newcomers to establish themselves in the industry, with many of them looking for OnlyFans content ideas to create content.
In this article, we will look at some OnlyFans ideas to create quality and engaging content that will capture subscribers' interest and help creators earn more money.
Things You Need to Know Before Shooting Your Content
Before we speak about content ideas for OnlyFans, let us look at some of the critical things that you need to take care of to produce great OnlyFans content.
Especially for beginners, who are just starting their OnlyFans without any followers, these tips will come in handy to increase your subscriber base.
Camera
If you want to create content of a high caliber, your smartphone might not be sufficient. Instead, you're going to need a digital camera that does the job if you want high-quality pictures and videos.
The hardest part of the process is searching and settling for the camera that best suits your needs. You must identify a camera with the capacity to capture high-quality images and videos.
There are cameras with various resolutions for sale on the market. The actual price is what follows. Depending on your budget, you can pick a camera with good resolution and quality to serve your need.
Lighting
No matter what time of day it is, you cannot record a quality OnlyFans video without proper lighting. Perhaps all that is needed is a tiny bit of illumination for something that is a little in the shadows.
When producing content, lighting is essential, and you can choose any type of lighting arrangement that best suits your shooting as long as it is not your desk light.
A complete lighting set can be used for the majority of studio-style shots, but when you're on location, there isn't really time to run off and set that up; you can use something as minimal but effective as ring lights.
Ring lights are the most commonly used shooting lights these days, as it focuses soles on the video objects giving enough illumination to record quality scenes.
The majority of ring lights have a white light, but some also have lights that are different shades of the same color. Regardless of whether you're taking a photo or a video, the lighting needs to be white and bright enough to improve the quality of your images.
Tripod
An item of equipment called a tripod keeps your camera steady while you're filming. In shooting static videos, it is helpful. It also enables a smoother transition when panning between various angles.
When creating your content, you'll also need a tripod that is simple to set up, use, and can stand up straight. A good, sturdy tripod with various height adjustments, swivels, and other features will help you whether you're taking pictures or videos.
Using a tripod, you can worry less about the camera position and angles and concentrate more on your OnlyFans content.
Your creative OnlyFans ideas can only get better by using tripods in your OnlyFans shoot, as it will allow you to focus more on the content and less on the setting.
Microphone
A microphone is one of the less talked about equipment while shooting OnlyFans videos. Sounds are as important as lights in adult content; only a quality microphone can do the job effectively.
Most digital cameras come with an inbuilt microphone to capture the sounds. However, it is advisable to buy a good microphone under your budget as the capability of these inbuilt microphones is limited.
A good microphone will catch your scene's sounds effectively and amplify your scene's quality significantly.
Props and costumes
There are many niches when you think about OnlyFans video ideas. And while shooting videos in some of those niches, it is better to use props and costumes to engage your subscribers.
Using costumes of superheroes, fictional characters, and real-world jobs in cosplay scenes can raise the interest of viewers who are into that kind of stuff and help you be successful on OnlyFans.
Also, using props like leashes, handcuffs, or sex toys in your scenes is a great idea for OnlyFans content, as these props find their place in kinky videos, and many subscribers are big fans of such content.
8 Creative Content Ideas For OnlyFans
As a beginner, few might have doubts about what to post and when to post on OnlyFans to attract more subscribers. So we will answer both those questions, as we will discuss some of the creative OnlyFans ideas that guarantee increased viewership and monetization on the platform.
1. Behind the scenes content
This is one of the most creative OnlyFans video ideas that is being used by many to post content. Behind the scenes, as the name itself suggests, it is the making video of your OnlyFans video or photo shoots.
As creators, you will have fun when you are recording your videos and photos for OnlyFans. Capture those funny moments behind the camera in another set of cameras and post them as behind the scene under your profile to attract viewers.
Behind the scenes is the trending ideas for OnlyFans nowadays, and you can easily capitalize on them to monetize on the platform.
2. Personalized content for subscribers
One of the well-known strategies to make money on OnlyFans is creating personalized content for your subscribers.
It can be custom content that your subscribers specifically ask you to do, or it can also be generic content with a personal twist of yours to keep it different from the rest.
Whatever it is, your personal touch adds extra value to the content and helps you establish yourself as a prolific creator on the platform and earn more money through your OnlyFans content.
3. Themed content (holidays, events, etc.)
Themed content is another OnlyFans post idea that many use to create their adult content on the platform.
You can dress up for various occasions depending on the event or holidays or as some characters from movies or books and post content with those costumes.
Christmas, Halloween, Easter, etc., are some of the occasions or holidays that you can choose to dress up accordingly to produce your OnlyFans content.
You can also dress up as superheroes or fictional characters from movies and books to perform your act in front of the camera as your OnlyFans content idea.
4. Exclusive content not available on other platforms
People come to OnlyFans expecting to see the quality and exclusive content that are unavailable on other platforms.
And if you fail to provide them with that, then you might start losing your subscribers and popularity as an OnlyFans creator.
Create exclusive content for your subscribers and share it just on OnlyFans so that your subscribers will have to pay the money set on the content,
If done correctly, exclusive content can be a great answer to how much can you make on OnlyFans through your content.
5. Collaborations with other OnlyFans creators
Another way to attract more subscribers and money is by collaborating with fellow OnlyFans creators, which has two benefits.
Number one, you and the person collaborating can come up with a cool new creative OnlyFans idea and create your content around it. Number two, once you post the content, then you stand a chance to distribute your subscribers among yourselves.
As you and your fellow creator both post content on your profiles, subscribers from each of your profiles may become interested in both of you and subscribe to both.
So, it is always better to collaborate with fellow OnlyFans creators to produce content if you are short on OnlyFans content ideas.
6. Q&A sessions with subscribers
Q&A sessions with your subscribers are a brilliant way to know what your subscribers want from you and do the same to keep them pleased.
Subscribers can give great OnlyFans page ideas that can help you raise your numbers in terms of viewers and money.
Once in a while, set aside some time to have a chat with your subscribers. This will make your subscribers feel valued and help them open up about your content and you as a creator.
7. Live streaming events
Live streaming is a great idea for OnlyFans content that will help you earn a bit more money through tips. With few viewers liking the idea of watching their favorite creators coming live in front of the camera, you, as a creator, can earn good money.
Live streaming is a good OnlyFans idea for girls as most of the subscribers like to watch girls on camera live and spend good tip money on them compared to guy OnlyFans performers.
The best thing about live streaming is that, along with subscription charges, it also gets you tip money to boost your income on OnlyFans.
8. Content featuring user-generated ideas
These are the OnlyFans content ideas generated through the Q&A sessions with your users or your subscribers' requests. These are commonly grouped as custom content and can help you earn more money on OnlyFans.
When you are having difficulty finding good ideas for OnlyFans content or to try something different than the regular, you can request your subscribers for OnlyFans ideas that can help you come up with quality content.
Since the users ask for it, the chances of them liking it and paying for it will be very high.
5 Best OnlyFans Niche to Make Your Content
The porn industry today has many more categories or niches than it had in the earlier days. With the evolution of technologies, adult creators have come up with niches that are more captivating and entertaining to the subscribers.
Among the many porn niches, we will discuss 5 of the best OnlyFans niche that you can follow to create your OnlyFans content.
JOI
JOI, or Jerk Off Instructions, is one of the newest porn categories many follow to attract their viewers.
It is the most suited OnlyFans idea for girls, and many on OnlyFans are following to earn big money. JOI involves performers instructing their subscribers on how to masturbate while performing a sensual act in front of the camera.
Depending on your choice, it can be a solo act or done with fellow performers. Usually, in  JOI, performers control how the viewers masturbate and guide them through while sensually performing for the camera.
Threesome
Another popular porn category that has many numbers of viewers is a threesome which involves three people indulging in the sexual act, and it is tempting for many.
Female – Female – Male, Male – Male – Female, 3 X Female, and 3 X Male are ways to perform a threesome act for OnlyFans. It is an excellent OnlyFans video idea, and there is every bit of a chance of reaching a high number of subscribers through this content.
Romance
Romance is one of the evergreen porn niches and has a massive fanbase of its own, and it is no different on OnlyFans. It can be a great OnlyFans content idea for beginners as it is simple and easy to perform.
It is a regular one-on-one sexual act that is done sensually. Popular among female audiences, romance can help you get subscribers if you are just stepping into OnlyFans.
Milf
Another OnlyFans idea for women, milf is a category for mature women with big boobs and butts. Young boys make up the significant fanbase of this category, and if you belong to an age group of 30 – 50, you can post content under this category.
Even guys starting OnlyFans can collaborate with mature female adult performers on Onlyfans to produce milf content and post it on the platform.
As viewers like the content of young guys and mature ladies together, this can be a nice OnlyFans content idea for guys also to post their content.
Lesbian
Lesbian is an OnlyFans idea for girls only and is the most popular niche on OnlyFans. Not just OnlyFans but also on several other platforms, lesbian videos rake up interest from the viewers.
This niche involves two or more girls indulging themselves in the sexual act. Since it involves only girls, men can't use this niche to produce content, unfortunately.
Tips for Creating Engaging Content
Not just having ideas for OnlyFans content is enough to produce quality content on the platform. However, there are certain tricks and tips that you must follow to create quality and engaging content for your audience.
We shall discuss some tips you can follow to create engaging content for your viewers.
1. Knowing your audience and their interests
Understanding your audience is a primary thing to consider before someone even thinks of being successful on OnlyFans. As fans are vital for any creator, one needs to know their interests as time progresses.
Hosting time-to-time Q&A sessions with your subscribers to understand what they expect from you, hear their demands, and take custom requests is one of the best techniques to keep your audience engaged with your OnlyFans profile.
This will also help you connect with your audience and produce content they like, which will help you earn more money on OnlyFans.
2. Quality over quantity
Of course, it is a valid point to produce more content under your profile on OnlyFans to earn more money. However, you should also note that your content must be of good quality.
Therefore, instead of producing 10 pieces of content that are of low quality, you should concentrate on creating 5 quality content on your profile.
This will make your profile more reputable, and people will return for more as they trust the quality of your content.
As OnlyFans is a vast platform with many creators, losing a subscriber due to the quality of your content would be bad for your earnings. So always focus on producing quality content over quantity, as people always search for excellent content on OnlyFans.
3. Experimenting with different content types
Even though it is advised by many to stick to a niche and produce their content under it, which is a valid point, there is no harm in trying some new content types to increase your customer base.
Content creation is a creative space, and people always come up with new things. If you are comfortable, you can always experiment with some new creative OnlyFans idea that is gaining much popularity on the platform to attract and gain new subscribers.
Experimenting with different content types will show your flexibility to your subscribers and keep them on their toes with expectations.
4. Consistency in content creation
Another important thing you need to focus on as a creator is consistency with your content-making and posting. It is as important as looking for different OnlyFans content ideas to make your content.
Because if you fail to post your content on OnlyFans at regular intervals, people will start looking at different places, as there are no shortages of creators and content on OnlyFans.
Your inconsistency might lead you to lose your subscribers and money. To avoid this, be consistent in posting quality content under your profile on the platform to keep your subscribers engaged with you.
5. Encouraging subscriber feedback
You must listen to your subscribers if you want to make it big on OnlyFans. Be it positive or negative reviews, you must always be open to valuable feedback from your subscribers.
Since your subscribers are the ones who will be funding all your content majorly, listening to them is critical for your success on the platform. It will help you as a creator to understand where you are going wrong and what measures you have to take to be a better creator.
Always keep your eyes and ears open to your subscribers when they talk about your content, and who knows, you might even get the best content idea for your OnlyFans profile through them as well.
Promoting your OnlyFans content
Now that you have a good idea about OnlyFans' post ideas let us look at different ways to promote them to attract more and more subscribers.
Promoting your OnlyFans profile is as important as creating quality content. Use different means and media to promote your content and OnlyFans page to increase your value in the adult content creation space.
1. Creating a social media presence
Social media promotion is the best way to attract new subscribers to your OnlyFans profile. As billions of people use social media, you can easily target them through it to lure interested adult content viewers to your content.
The best part of social media is that you can promote your OnlyFans secretly, as none of the social media platforms compel you to reveal your real information to the real world while sharing or promoting anything.
Remember to go through the guidelines of the social media you would be using to promote your OnlyFans, as some of them have strict regulations against nude and illicit content, and you don't want to fall into trouble by breaking those rules.
2. Collaborating with other creators
Collaborating with fellow OnlyFans creators helps you increase your exposure to new subscribers within the OnlyFans community.
As your fellow creator would be posting the content you are in on their profile and different social media platforms, their subscribers might feel interested in your content and start subscribing to you for your content.
3. Cross-promoting with other platforms
Along with promoting your OnlyFans content on social media, you can also promote your content on different platforms you might be using, just like the creators in the image below.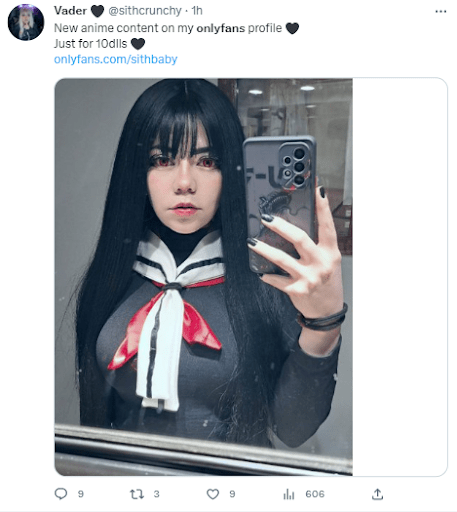 Another way of promoting your OnlyFans cross-platform is creating a link tree and sharing that link tree across different platforms. Since the link tree does not specify what it includes, you can promote your OnlyFans even on platforms where you have restrictions.

You can create an account on some OnlyFans alternatives and promote your OnlyFans content to divert or attract subscribers from those platforms to OnlyFans.
Along with those platforms, you can promote your content on websites like Pornhub or some other porn tube sites, which are often considered the best places to promote OnlyFans online.
4. Utilizing paid advertising
If you are a beginner struggling to gain subscribers organically, you can always rely on paid advertising to get subscribers.
You have to pay them a certain amount of money depending on the number of subscribers you want to gain or for how long you want to have the paid promotion running.
Many third-party websites offer this service for a price. All creators have to do is go into those websites and make the desired payment, and the websites will start promoting the creator's profile.
For example, as an upcoming OnlyFans creator, you can log in to SEO Bounty, a paid advertising agency for OnlyFans, and pay them the desired money. After that, they will start promoting your OnlyFans profile on Twitter and various other social media platforms.
Alternatively, you can sign up on OnlyFinder and Fans Metrics to list your OnlyFans profile so that it becomes visible on those websites when someone searches for the niches or categories you post your content.
If you have enough budget, then you can rely on paid advertising to gain subscribers quickly.
5. Creating a referral program for subscribers
This is a unique OnlyFans account idea to gain new subscribers. By creating a referral program where the referrers gain some benefit, you can convince your subscribers to promote your OnlyFans account among their circle.
For example, you can run a program where you give 5% off on the subscription charges if a subscriber refers someone to your profile.
This will motivate your current subscribers to promote your profile on social media and other places to help you gain new subscribers.
Conclusion
OnlyFans is a massive sea of adult content creators, and it is difficult to make a name for yourself with less engaging OnlyFans content ideas. Always watch for some creative OnlyFans ideas for your content to keep your users engaged with your profile.
And if you don't want to use OnlyFans because of the commission you have to pay or any other reason, you can always build a paid membership website like OnlyFans using xModel by Adent.io
xModel is a customizable white-label script that lets you create your own fans site, and sell content through it, plus you don't have to pay any commission on your earnings as you do on OnlyFans.
The best thing about xModel is that you can create a website that best suits both content creators as well as cam models.