-

6

mins read
For more than two decades after the internet's birth, adult content creators have had a hard time selling their X-rated pics and clips online. But it all became easier when a company came forward with a resolve to reshape creator-fan connections, particularly for adult creators. 
OnlyFans, a content subscription platform based in London, is dedicated to achieving that mission. OnlyFans is not just a content subscription platform but a community that helps content creators earn revenue for their work. 
At the same time, OnlyFans is doing business profitably and generating billions every year. 
How did OnlyFans become so successful?

What is OnlyFans' business model? 

How does OnlyFans make money? 

What type of business is OnlyFans? 
Stay tuned to the end of the article to find out more.
What is OnlyFans?
OnlyFans is a content marketplace founded by Tim Stokely in November 2016. It's been more than six years since OnlyFans was started, and during the course, OnlyFans came up with many new initiatives and ideas to help creators and fans to connect more intuitively. 
On one side, OnlyFans helps creators sell their exclusive pictures and videos and earn a living; on the other, it allows users or 'fans' to leverage one-of-a-kind content. This fact has led to the massive growth of OnlyFans. Regarding the creator demographic, the platform is dominated by adult creators and sex workers who usually sell pornographic content. But it also hosts creators in various fields like music, health, fitness, and more. 
In 2022, OnlyFans generated $2.5 billion in net revenue, double what it generated in 2021, which was $1.2 billion. The reason for such massive success in a short period is due to the professional and amateur adult content creators of OnlyFans. Their presence has boosted traffic and generated billions of dollars for the platform.
Who Uses OnlyFans?
Today, creators have a wide variety of options to monetize their content. Whether they are professional or an amateur creator, they can effectively sell their content and services via online platforms. At this point, OnlyFans is very handy because it is inclusive to all creators and offers multiple revenue streams at a relatively small commission percentage. 
A wide range of people can use OnlyFans: artists, creators, coaches, fitness trainers, racers, hikers, chefs, dancers, and many others. In addition, the platform has many influencers, famous singers, and Hollywood celebrities.
For example, TikTok influencer Tara Lynn set up an OnlyFans account where she sells sexually explicit content. In a podcast interview, she claimed that she was making $100,000 to $150,000 a month.
American model and socialite Blac Chyna, who rose to fame after appearing in Kanye West's music video, launched her OnlyFans page in 2020. As of today, she earns $20 million a month selling her feet and NSFW pictures on OnlyFans
Maddie Wright, a former footballer, joined OnlyFans after being sacked by the club, and in a twist of fate, her popularity soared on the platform, and she now sells custom xxx pics and clips for 600,000 euros a year.
With insights into OnlyFans' business model and revenue generation strategies, let's also go through who actually can use the platform, how it makes money, and how to create a website like OnlyFans.
OnlyFans Business Model
OnlyFans can be seen as a simple content subscription website based on the adult marketplace. It allows creators to sell pictures and videos, earning revenue from the commission. Even after having a simple business model, OnlyFans has implemented pragmatic and innovative business strategies to stand out.
We have pulled 5 business models that made OnlyFans successful as a content subscription platform. Let's dive into it!
Subscription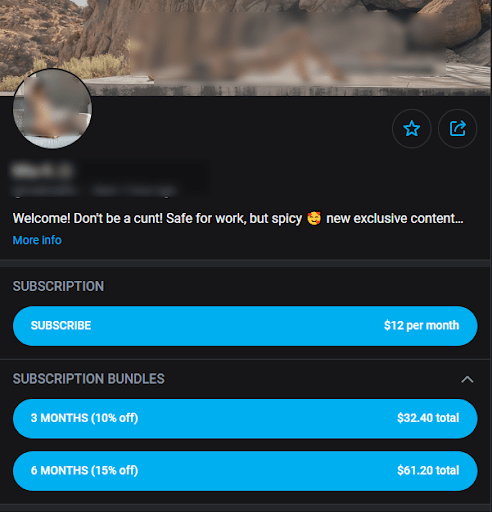 Having a simple and sophisticated subscription model is what makes the OnlyFans business model a success. On the platform, creators can price their monthly subscriptions between $4.99 and $49.99. As the maximum price for a subscription is around fifty dollars per month, fans would see it as affordable. 
Free Content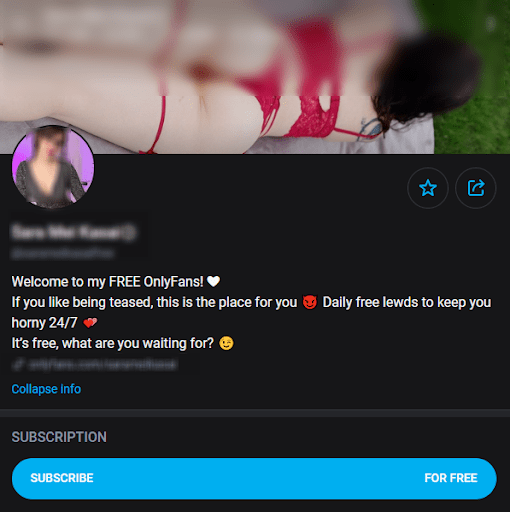 Besides subscribed content, OnlyFans offers and encourages creators to give out free content. Sometimes, people just want to browse the website, and they don't necessarily subscribe to it. With this in mind, OnlyFans provides free access to some content to help users get a better understanding of what the platform has to offer.
Tips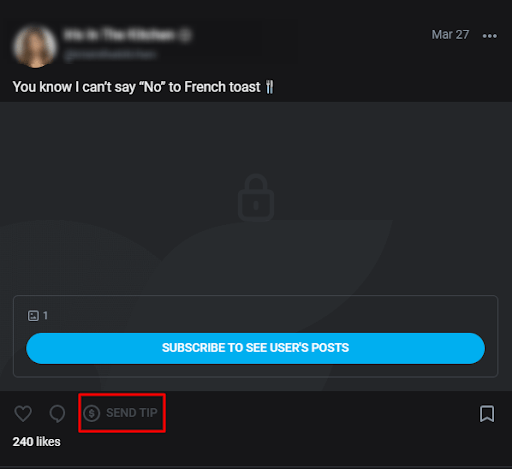 Apart from tipping on live streams and private chats, OnlyFans has made it possible for fans to tip on every content they like. As a result, the creators are also motivated to produce engaging content to earn through tips apart from subscriptions. This OnlyFans business model creates a win-win situation for the platform and creators alike. 
Fan Interactions
Creating more opportunities for creators to interact with their fans is essential to platforms that do content subscription services. In OnlyFans, creators can seamlessly connect with their fans through one-on-one chats, private shows, polls, and much more. Every fan interaction is designed as a bankable model that benefits fans, creators, and the company as a whole.
Live Streaming
The concept of live-streaming in OnlyFans is to bridge fans to their favorite creators on a personal level. During the live stream, fans can communicate with the creators through comments and also can tip them to show their support. 
OnlyFans has tons of talented creators with outgoing personalities who can motivate and comfort fans. Thus, live-streaming has become one of the most well-paying business models for the company.
Now we better understand the business models that made OnlyFans the world's #1 content subscription platform. So the next part is knowing how OnlyFans get paid. 
OFTV
OnlyFans launched its own SFW streaming website and app, OFTV, in 2021. The streaming platform offers exclusive content produced by famous influencers for free and can be accessed from mobile devices, web browsers, and smart TVs.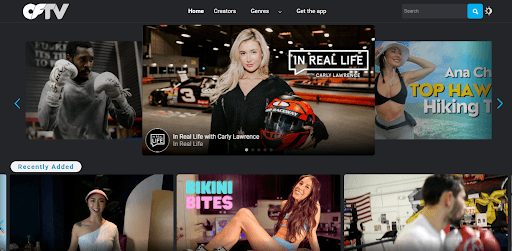 OFTV hosted a reality TV show within a year of its launch and signed many famous celebrities. Furthermore, OFTV also streamed a reality fashion show featuring Rebecca Minkoff, an industry leader in luxury bags and accessories. 
Even though OFTV does not generate revenue because it provides free content, it helps to redirect traffic to OnlyFans.
How OnlyFans Make Money?
With insane revenue growth at a CAGR of 174.3%, OnlyFans is racking up billions of dollars annually. But how exactly does OnlyFans Make Money? The company generates most of its income through commissions charged to its creators.
OnlyFans has a fixed commission structure. In every user transaction, the platform takes a 20% cut, and the creators receive 80%; this way OnlyFans makes recurring revenue. In addition, the platform also charges a one-time payment of $0.10 when a user adds their payment card to the website. 
Apart from the monthly subscription revenue model, OnlyFans also earns from the creator's paid private messages and tips. These are user-engaging revenue models that help connect creators and their fans. The creator can set the price of private messages and tips, which starts at $5. 
Paid-per-view is yet another lucrative way OnlyFans make money. To view PPV content, fans must pay an exclusive price set by the creator. Besides, OnlyFans has its own e-commerce website, where it sells clothes, home items, and accessories such as bags, hats, socks, and shoes.
How to Create a Website like OnlyFans?
In order to build a content subscription website like OnlyFans, we have outlined 6 steps. Let's look through all of them.
1. Determine Your Business Model
The first step to creating an OnlyFans clone is to determine your business model. Whether it's a subscription model or a simple user profile station, decide how you want them to be. Moreover, your business model should enhance user experience that edges over other content subscription platforms.
2. Choose a Domain Name
The essential part of creating a website is to choose a domain name that resonates with your business. While choosing your fansite domain name, keep it short, avoid abbreviations, and focus on your niche. 
For example, many OnlyFans alternatives end their domain names with 'fans,' like LoyalFans and LoverFans. Using 'fans' in domain names helps users understand your platform quickly and is niche relevant. 
3. Get an Adult Hosting Service
To enhance the website's performance and security, it's recommended to choose a dedicated hosting provider. As a fansite, you will deal with massive adult content, so choose a hosting service that will support the same. 
Regarding whom you have to choose, you've listed out some of the best adult-friendly hosting services on the market:
4. Build Your Site using xFans by Adent.io
Creating a website like OnlyFans from scratch costs you a lot. On average, you have to spend around $20,000 to $30,000 and 2-4 months of time to build the website using developers, and it may vary depending on your location. So how to create a site like OnlyFans cost-effectively?
Well, you can create a website like OnlyFans for just $1499 using Adent.io's xFans– a highly scalable and profitable OnlyFans clone script. Also, Adent is partnering with M3Server, an adult-friendly hosting provider, so you can get a 50% discount on your first month of hosting.
xFans comes with impressive features and multiple revenue streams. You will get a monthly/yearly subscription model, private chat, live-streaming, an in-built analytical tool, and many more. Moreover, xFans is fully customizable, seamlessly built with robust tech stacks, and secure end-to-end. 
5. Set Your Payment Gateway
Your OnlyFans clone site mostly deals with pornographic content. So it is necessary to have a payment gateway that is compatible with an adult website. If you purchase xFans, you get an in-built adult payment gateway like CCbill and Verotel. 
All you have to do is to create a merchant account on CCbill and Verotel and add the details on the admin dashboard. Once it's done, you're set to go live.
6. Launch Your OnlyFans Clone Site
To ensure that your website is free of errors and faults, you must go through it page by page before launching. When you're done, then kick start your pre-launch marketing strategy.
Your first stop should be social media. Create extensive exposure for your fansite among your target audience. Collaborate with adult content creators and influencers. It will help you earn the trust and credibility of the users. 
Besides, you can also publish a press release on adult news networks, such as XBIZ and AVN, to create a buzz among your target audience. After completing your pre-launch marketing campaign, you can finally launch your website.
Final Few Words
OnlyFans has created a safe environment for creators from all walks of life, and after it succeeded, many entrepreneurs began their own adult content marketplaces. 
There's no denying that the OnlyFans business model is valuable and highly profitable at the same time. So if you're thinking about creating a website like OnlyFans, then we suggest you do it asap. 
Save time and effort in creating your own adult marketplace platform by purchasing the xFans script and jumpstarting your business