-

16

mins read
So, if you are reading this "Fansly vs OnlyFans" blog, then it is pretty clear that you are a content creator looking for the best adult creator platform around. 
Recently, there's been a huge buzz about Fansly, the new subscription-based social media site. Earlier, when a person thinks of a creator social media platform, especially the one that allows adult content, the first name that pops on to our mind is OnlyFans. But it seems Fansly is changing that! 
As every day passes by, Fansly is witnessing an increase in both creators and subscribers on the platform and questions like,
Is Fansly the best OnlyFans alternative?

OnlyFans or Fansly?

Is Fansly better than OnlyFans are being asked around.
You're also probably here with a similar kind of question. Well, this article is all you're going to need. We've explained in-depth here about Fansly and OnlyFans – what the platform is, how it works, differences, earning potential, etc. 
Before we get started with the Fansly vs OnlyFans duel, let's cover the basics first. 
What Is Fansly? Or What's Fansly?
We know both mean the same. But it's just that we love humor so much!
Anyways, let's get back on track. 
Fansly is the new adult social media subscription that's capturing the attention of creators all around the world. Owned by Select Media LLC (Baltimore-based company) and CY Media LTD (Cyprus), Fansly is increasingly becoming popular and getting new sign-ups as you read this. 

In fact, Fansly reported that they are witnessing massive new sign-ups of 4000 an hour. One main reason for the recent uproar of Fansly is when OnlyFans announced that they won't be accepting or publishing explicit content on their platform anymore. 
This led the popular social media subscription platform to face a huge backlash and that's when Fansly came into the picture. 
Fansly is exactly similar to OnlyFans. Even the layout looks the same but the only thing that differentiates Fansly is that it has a couple of more features than OnlyFans. Fansly follows a tiered membership with different price stacks and fans must pay content creators to view their content. 
Creators can choose to keep their profile free for fans or charge a subscription for their content. As we said, it's pretty much everything like OnlyFans. 
Fansly now has an approximate 17,000+ daily unique visitors and the web value rate is somewhere around 1,059,172 USD. 
So, that's the basic overview of Fansly. You now know how does Fansly work. Let's look at the next section in our Fansly vs OnlyFans blog. 
What Is OnlyFans?
OnlyFans needs no introduction but still, here's one. 
OnlyFans is a popular social media subscription platform that was started in the year 2016 by Tim Stokely. The platform supports all kinds and categories of creators which is one of the reasons why OnlyFans become so popular. 

Another reason for the boom of OnlyFans is the pandemic – a lot of creators signed up on the OnlyFans platform during the pandemic to make a living and in the year 2020, OnlyFans generated more than $2 billion in revenue. 
OnlyFans allows fans to subscribe to their favorite creators to view their exclusive content. And creators can earn from each new subscription and other ways the platform allows them to make money. 
So, that's pretty much the overview about OnlyFans. Now let's head to the part where we compare the two best adult subscription-based platforms.
Fansly Vs.Onlyfans: Everything You Need to Know
This is where we'll be talking about Fansly vs OnlyFans by taking a look at the earning capability, features, the safe to use factor and more.
But before that, let's look at the major differences between the two adult subscription platforms. 
Fansly vs OnlyFans: Differences Between the Two Adult Subscription-based Platforms
Here are the main differences between Fansly and OnlyFans, 
Fansly allows creators to have a free or paid subscription to share content with their fans. On the other hand, as a fan, a creator can subscribe to free or paid accounts of content creators they love. 
Though the look and feel of Fansly is very similar to that of OnlyFans, this minor difference can mean a lot to both the fans ad the creators. Fansly allows the users to search for a creator within the platform.
Also, Fansly provides a unique way that helps creators to a great extent to grow subscribers when compared to OnlyFans. Fans on Fansly can follow the content of creators before choosing whether or not to subscribe. This allows creators to be discovered more on the platform. 
Fansly allows creators to come up with a wide variety of subscription tiers which OnlyFans doesn't. Creators have the option to allow fans to follow their content for free, use emojis to hide parts of the media for free followers and do more with Fansly. 
The only thing that's a concern with Fansly is that it allows platform users to pay only using a credit card. 
So, those are the major differences between Fansly and OnlyFans. Now, let's look at the earning methods.
Fansly vs OnlyFans – Ways to Earn Money
When it comes to ways to make money, both OnlyFans and Fansly are similar. Creators get to create subscriptions and sell different kinds of media to the users. Some of the most common earning methods on the platforms are, 
Subscription packages

Live Stream

Messaging

Selling private content – video & photos

Fan tips 
What makes Fansly stand out here is its feature where they allow creators to come up with different subscription tiers, giving variety to users, increasing the chances of a subscription.
OnlyFans Vs Fansly – How Much Can You Earn
This is another point of debate when it comes to Fansly vs OnlyFans.
Both OnlyFans and Fansly adult-subscription platfroms have similar features and earning ways. The platforms take a cut from what the creators make.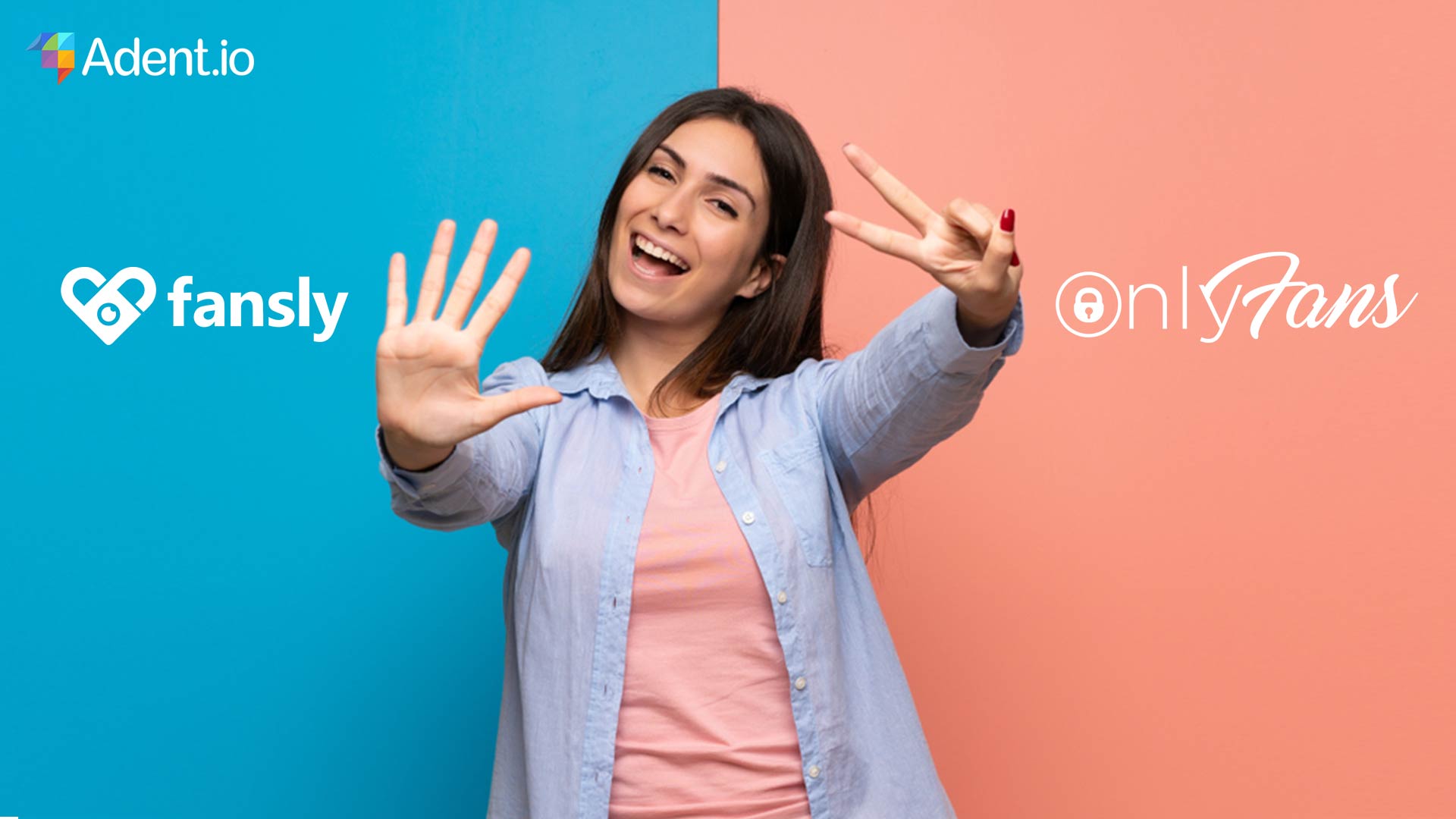 What percentage does OnlyFans take?
OnlyFans takes 20% as commission from whatever the creators make. Say if you are cashing out $100, OnlyFans takes $20 as commission and you get the remaining $80. 
Staying anonymous on OnlyFans
What percentage does Fansly take?
Like OnlyFans, Fansly also takes a 20% commission cut making the platforms identical in this. 
But Fansly has a couple of features that make it slightly better than OnlyFans.
But here's the thing – OnlyFans is already popular and has a name to it. It doesn't need any introduction and it has a huge creator and audience base. So, most of the creators would naturally incline to choose OnlyFans for their creator profile. 
Fansly, on the other hand, has gained the momentum it needs, especially when OnlyFans announced the ban for adult content (though it was revoked later). The platform already has a significant number of users and if they do things right, down the lane, Fansly can also give users a huge earning potential. 
But for the moment, creators have more earning potential on OnlyFans. But if you're a person who has a huge fan following, Fansly or OnlyFans, it really doesn't matter, right? Your fans follow you wherever you go!
Fansly vs OnlyFans – What's the Payout Frequency
This is where Fansly aces. The payout frequency is one of the most important factors and creators would want to cash in the money they've earned as soon as possible. And Fansly provides creators just that. 
OnlyFans Payout Frequency
The popular adult subscription platform provides users payouts every week. Say if you earn an amount on the 15th of some month, you'll get the amount credited to your bank account on the 22nd of the same month. 
Earlier, OnlyFans used to process payouts only after 21 days, but now they have reduced the payout frequency way less. 
The minimum threshold for requesting a payout is $20. 
Fansly Payout Frequency
Fansly has one of the quickest payout processing times. The payouts will be processed within 1-2 business days. Yes. You heard that right – it's 1-2 business days. 
Like OnlyFans, the minimum payout threshold is $20. 
Here, Fansly is clearly the winner. 
Which One is Safer and Easier to Use: Fansly or Onlyfans?
Although we've said that Fansly and OnlyFans look pretty similar, a lot of users, especially on Reddit, say that Fansly is easier to use than OnlyFans.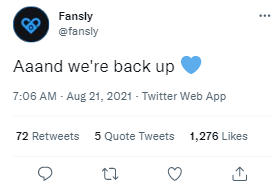 This could be due to the factor that Fansly allows users to search for creators within the website and the interface is a bit better than OnlyFans.
As for the question of which is safe, both Fansly and OnlyFans have the necessary safety measure for both users and creators. 
Both platforms offer geo-blocking features and the contents have the platform's watermark in order to prevent copying or spreading. 
Fansly, going a step ahead protects creators from chargebacks.
Which One is Better: Fansly or Onlyfans?
There, we've come to the verdict part for Fansly vs OnlyFans. Here are the key takeaways from the article, 
Both OnlyFans and Fansly are similar adult-subscription platforms. But Fansly has a slight leading edge where it gives creators the option to come up with multiple subscription tiers. And fans on the other hand can enjoy the interface with easy search options. 

Fansly has features where creators can censor certain parts of their image with emojis to provide to free followers. And when they subscribe, the image automatically goes off. Fans can also follow a creator's content for free before they choose whether to subscribe or not. 

Fansly has quick processing times than OnlyFans. Though it's only a couple of days in between, it could make all the difference for a creator. 

Fansly is a very new and flexible platform which means they can introduce new features and make the platform sophisticated by trying a lot of new things which is something OnlyFans cannot do. 
Sure OnlyFans has a big name and a huge audience base. But going for Fansly now is like signing up as a creator on OnlyFans before it boomed. With Fansly having all the potential to become one of the biggest competitors of OnlyFans, it is definitely worth giving Fansly a shot! 
Since you're all the way here, we thought you might want to hear this as well! 
How to Create a Website Like Fansly Using xFans?
Becoming a creator on a popular social media subscription and trying to earn is all good. But what if you could create the next OnlyFans or Fansly? 
Think of everything you could do with your own adult-social media subscription platform on your hands – 100% freedom, no commission cuts, your models and the freedom to scale your business as you want to. 
So, how do you do all this – by using xFans, an OnlyFans and Fansly clone.
xFans is a ready-to-use whitelabel script that allows you to build websites like OnlyFans and Fansly on the go. With xFans, you can create your own adult social media subscription platform and earn as much as you want.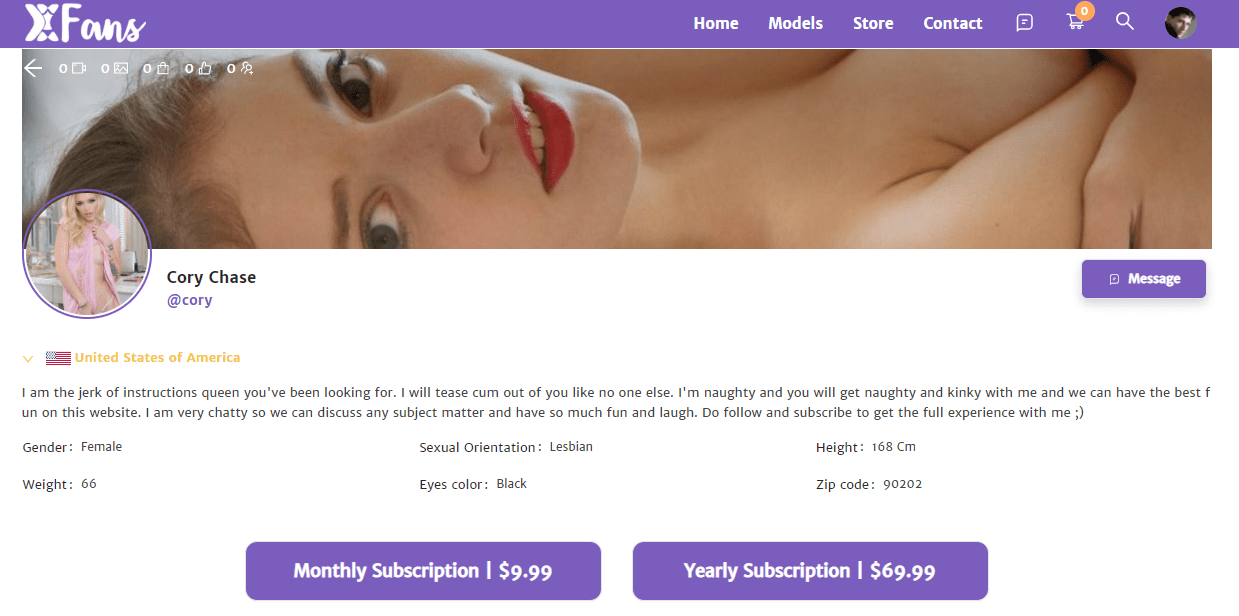 The platform has all the features you need to run a social media subscription platform like Fansly. All you have to do is, come up with a brand name, make a few customizations and you're good to go. 
You can manage a number of creators, be a creator yourself, and do more using xFans. Here's a quick overview of the features of xFans, 
Admin Dashboard – Seamlessly manage all creator accounts from one single admin dashboard. Every creator gets a dashboard of their own. Admins have full control over creator accounts.
Built-in eCommerce Store – You and the platform creators can showcase and sell their merchandise from within the platform. 
Robust Tech – xFans is built with robust tech and coding languages like NextJS, ReactJS, CSS, MongoDB and more, making the platform agile, clean and powerful.
In-depth Analytics – xFans shows you in-depth performance analytics of yourself and the creators onboard. 
Mentioned above are some of the features of xFans. 
You can know more about xFans and how it helps you build a website like Fansly here.
That said, we'll head to the final part of this Fansly vs OnlyFans read. 
Final Few Words
So far, we've covered, 
What Is Fansly Website?

What is OnlyFans?

Fansly vs OnlyFans – Major Differences Between the Platforms

Fansly or OnlyFans – Which One Is the Best?

How to Create a Website Like Fansly?
Also, if you're looking for other alternatives for OnlyFans, you should read this article – OnlyFans alternatives for creators.
So, you pretty much know everything you need to know when it comes to Fansly and OnlyFans. You have also come across an option to come up with a website like Fansly using a powerful adult subscription script.
It's your call – OnlyFans. Or Fansly. Or a platform that you own!
Frequently Asked Questions
1. What is Fansly website?
Fansly is an adult social media subscription platform that allows creators to share their content with fans based on a subscription. Fansly is more like OnlyFans, with a couple of additional features when compared to OnlyFans.
2. How does Fansly work?
Fansly works on both a free and subscription basis. Content creators can come up with different subscription tiers and sell content to their fans.
3. What percentage does Fansly take?
Fansly takes a 20% commission with every earning the creators make.
4. Is Fansly safe to use?
Fansly has several safety features like geo-blocking, protection from customer chargebacks, watermarking on content to prevent copyright infringement and more.