-

11

mins read
Who in the world would sell used socks online to make money? Here's an even better question – why would someone spend money to buy dirty and worn socks? This would have been the mindset a couple of years ago. But that's not the case anymore.
Today, you can see individuals selling used socks online on various platforms. In fact, people sell many things these days – used panties, feet pictures, hand pictures and whatnot. Put simply, "fetishism" has reached new heights and purchasing used socks is one of them.
So, we thought, why not come up with an article on how to sell used socks? People looking forward to selling worn socks like you might find it helpful.
In this blog, we have discussed everything you need to know about selling used socks online – the why, where and how!
So, let's not wait and see how you can sell used socks .🧦
Selling "Used Socks" Online? What Does That Mean?
To clarify things, used socks are nothing but your worn, dirty, smelly and sweaty socks.
This specific fetish is where customers like to purchase socks with the characteristics mentioned above by paying for them.
As a seller, you must wear your socks for as long as possible and make them dirty and sweaty. Go for gym sessions, outdoor walks or whatever works.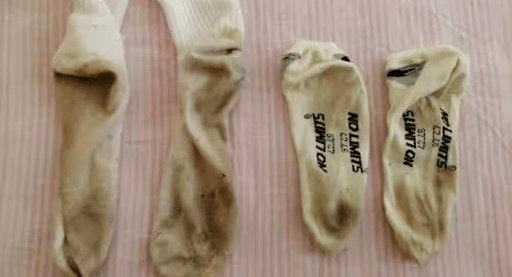 Sometimes, customers come up with their own requirements – fulfilling them can help you make some extra money. And when we say socks, it also includes knee highs, foot warmers, leg warmers and fishnet stockings.
Mr.D – The Mystery Dirty Sock Shopper
You might have this looming thought – will people purchase used dirty socks? Here's a real-time example for you.
There's this businessman living in Hull, United Kingdom, who goes by the name Mr. D. Aged 33, Mr. D has a fetish for feet and dirty socks and spends nearly $250 every month on purchasing used socks.
He revealed that he purchases a couple of dirty socks for around $50 and will pay even more special people and celebrities.
Like Mr. D, many other people are willing to purchase used socks for a fair price and beyond.
So, if you are looking to sell used socks, you should be looking for people like Mr. D. But you don't have to search for them. They'll just be in plain sight and you just have to appear before them!
Everything You Should Know Before Selling Used Socks Online
Whether it is about selling worn socks or selling used panties online, you must do your groundwork beforehand. And that's what this section is all about. We have covered everything you need to know before you start selling your dirty socks online.
1. Is It Legal to Sell Your Dirty Socks Online?
There have been many searches around this – how safe is it to sell used socks online? Are you following the rules? And more. Selling dirty socks might seem quite out of the norm, and it's common to have such questions.
Well, the answer is, it is completely legal to sell used socks online. But since it's a kind of fetish and fetishes are mostly linked with the adult niche, you should be 18 years old to sell your dirty socks. Also, in countries like Saudi Arabia, UAE and more, fetishes are not entertained and allowed.
To be 100% sure and safe, check with the local jurisdiction laws about selling used clothing online.
2. Why Selling Used Socks Online Is a Great Idea to Make Money?
For one, there are a lot of Mr. Ds out there! Jokes apart, selling used socks online is definitely a great way to make money!
When selling used socks online, there's not a lot of manual effort involved, unlike individuals who sell homemade porn, where a lot of acting and editing are involved. But here, you just have to wear socks, continue with your daily activities, and sell them off once it gets dirty.
If you could sell a pair of used socks for $20-$30, selling 5-6 pairs monthly makes it a decent side hustle. There are a lot of platforms out there to sell used socks flocked with customers.
Once you are famous, you'll start getting custom requests and you can increase the pricing, all leading to one single statement – selling used socks online is a great way to make money.
3. How Much Should You Charge for Your Worn Socks?
This is one part you should plan carefully. You're not the only individual looking to sell used socks. Though the trend is in its early phase, it's quickly catching up and many people are offering to sell used socks.
To go head-on with other used sock sellers and thrive, you must put up a competitive price and be creative. To do this effectively, conduct a quick competitor search on how much other used socks sellers charge.
We have pulled out a couple of listings from Etsy to give you an idea.

Here, you can see that people selling worn socks from $10 – $25. There's another listing below.
Both the above listings are from the same seller, but the pricing is dynamic. You can also follow the same technique but with a solid reason.
For example, you can sell a two-day used socks for $15 and a three-day used workout socks for $20-$25. Find ways to increase the pricing and mention the same clearly in the descriptions.
So, the takeaway from here is
You can sell your dirty socks online somewhere between $10-$30.

Custom requests can be charged more based on the requirements – you enjoy the luxury of slapping the price here.

Offer different pricing models with valid reasons to lure purchasers.
4. Understanding How to Price Your Used Socks
You know how much you should charge for your used pair of socks, but understanding the math behind it is very important. To arrive at the final numbers, there are some calculations you must do.
The primary purpose is to ensure you have a good profit margin after all the expenses.
So, when you sell used socks, there are five things you should take into consideration,
The purchase cost of the socks

Shipping costs

The transaction fee charged by the payment platform

Platform listing fee/commission percentage

Other miscellaneous spending, if any
When you sum up the spending, you'll get a figure. This is the basic spend and it could be as low as $5 or even go up to $12, depending on the type of socks and platform you opt to sell used socks. Every dollar earned above this are your profits.
Selling used socks for $20 is still a good profit if you keep the expenses low. While pricing your socks, remember to put up a competitive price, but at the same time, make sure you have a good profit margin.
5. How Much Money Can You Make Selling Used Socks Online?
Now that's a good question.
The answer to the question as to how much money you can make by selling socks depends on a lot of factors like
Demand

Geographic location

Type of socks used

Platform you choose to sell used socks 

Pricing of your dirty socks
Though there's not a fixed figure here, to be realistic, you can easily make a couple of hundred dollars when you start selling used socks online.
Initially, we'd suggest that you keep your expectations low. Once you have gained a good fan following and a couple of loyal customers, you can expect to make consistent recurring revenue every month!
Real-Life Example: Billy-Joe, a 25-year-old male from Chelsea, sells his dirty socks somewhere between £10 and £30. On average, he sells between 6 to 12 pairs weekly, making an astonishing £1,600 a month. And yes, that's right – men can also make money by selling used socks online.
That's the potential of this specific niche!
So, that's pretty much everything you need to know about selling used socks online. So the next question is, where do you sell them?
Where to Sell Used Socks?
On a scale of 1-10, we'd rate this 9. Which platform you choose to sell used socks can make or break your "smelly socks" venture. In this section, we've listed some of the best platforms you should consider to sell your dirty socks.
1. All Things Worn
Like the name says, All Things Worn is one of the best online marketplaces to sell fetish items – used socks, used panties, used hosiery, used clothing and more.
The platform has earned quite a name and is popular among fetish buyers and sellers. Though you can start to sell your dirty socks on ATW for free, to enjoy the platform's premium features like reaching out to buyers, sending messages and listing unlimited items, you need to buy a premium seller package – $14.99 per month.
As for the payments, AllThingsWork has its own mode of payment called KinkCoins, allowing you to communicate less with the buyer and maintain your anonymity.
If you're trying to sell used socks or any used items, you should check out AllThingsWorn.
2. OnlyFans
We've all heard about OnlyFans being a suitable place for selling digital content but selling used items on OF is not different. There are a lot of creators who sell used socks and also sell used panties on OnlyFans, apart from other fetish items.
The process is quite easy – you create a profile, upload your media and when a buyer DMs you, you make a sale.
OnlyFans charges a 20% commission on every sale you make, but considering the massive features and the audience base the platform has, 20% is something you should not be worried about.
That said, let's look at the next best places to sell your dirty socks.
3. Snifffr
There couldn't be a more suitable name for a fetish website! Snifffr lets you buy and sell used socks, just like AllThingsWorn and OnlyFans.
The best part about Snifffr is the platform doesn't charge you a commission on your sale. But if you want to reach out to more audiences, drive sales and enjoy premium features like live chats and messaging, you must pay a set fee.
Snifffr charges $12.95 per month for the premium membership.
If you're serious about selling socks online, you should give the premium membership a go.
4. Sofia Gray
Another ideal place to sell used socks! Sofia Gray, like all the other websites we've been seeing till now, allows users to sell used clothing on the platform.
Sofia Gray says that you get to keep 100% of your earnings, but there's a monthly listing fee that you should pay – $14.97 per month.
The best part about Sofia Gray is you have your own store setup where you can list and sell anything you want, not just socks but also sell sex toys!
The platform is clean, easy to use and has a thriving audience base. So, make sure to check it out!
5. Etsy
The online marketplace that's known for unique handicrafts, decors, plus used clothing, especially panties and smelly socks.
Remember we already pulled out a few dirty socks listing for you in the early sections of the read?
Selling used socks online with Etsy is simple. You just have to create an account, upload media, create listings and close the deal whenever a buyer shows interest!
When you make a sale on Etsy, a transaction fee of 6.5% of the price you display for each listing and the amount you charge for delivery and gift wrapping should be borne by you.
The platform has a large audience and you'll end up selling a decent pair of worn socks without a doubt.
6. eBay
eBay needs no introduction at all! You can almost sell anything on the platform and used socks are no exception.
You cannot find a lot of used sock sellers on eBay and the same goes for buyers as well. You can use eBay as a last resort to sell your dirty socks if the options mentioned above don't work out.
eBay charges a transaction fee for each sale you make. There's a massive audience number, so creating a couple of listings would do you no harm.
7. Reddit
Reddit has communities for almost all topics worldwide. Here are a couple of used socks communities on Reddit.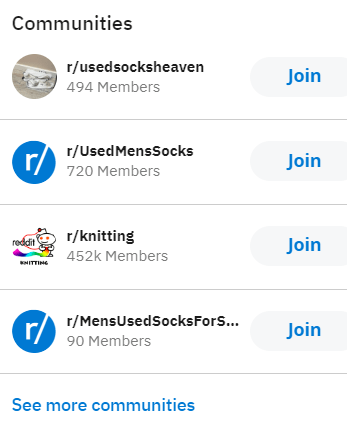 All you have to do is, join the communities, read the guidelines and start posting & promoting your used socks. Interested buyers will DM and you can negotiate the price and close the deal.
It's a walk in the park! And there are no commission charges here!
8. Instagram
Just like Reddit, you can sell used socks with Instagram, and people already do it effectively.
Create a profile and start uploading your used socks pictures & videos with proper hashtags to increase visibility – #usedsocks has over 20,000 posts!
Interested people will automatically ping you, which you can convert to a sale. 
9. Twitter
Twitter is all go when it comes to adult content and fetishes! As you do on Instagram, you can create a profile to promote and sell your dirty socks. The benefit here is you can go all sultry and sexy to make a sale.
Here's a profile that sells dirty socks on Twitter.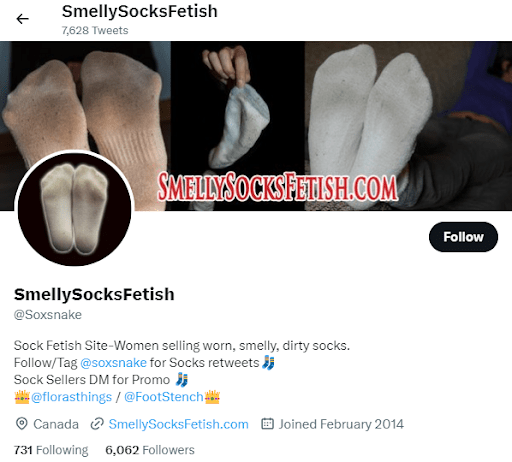 It's more like a hub for dirty sock sellers. The number of followers are decent – chances are all of them of dirty sock buyers!😉
All we are saying is Twitter is also an ideal place for selling worn socks – create a profile, promote, converse on DM and close the sale!
For sales you make on Twitter, Instagram and Reddit, you can use PayPal to receive the money.
So, those are answers to the question of where to sell used socks.
10. Selling Used Socks Online With Your Own Website
Apart from the above options, selling used socks with your own website is one of the best and most sustainable ways!
The reasons are you
Get complete control over your business

Don't have to adhere to any platform guidelines

Don't have to pay any commission percentage
Just think how much money you'd lose if you paid a 20% commission for selling 1000 pair of socks for $30!🤔
Plus, when you have your own website, you'll become your own brand, opening up new opportunities!
That said, let's see how you can do this.
How to Create Your Own Website to Sell Used Socks?
Now there are two ways to create a website.
Building it from scratch

Using white-label scripts
For selling socks online, you must build a website with features like eCommerce store setup, customer engagement (DMs, live chat, etc), payment gateways and more. Doing all this from scratch consumes a massive time, effort and money.
But on the other hand, when you use white-label scripts, you can quickly launch your online sock-selling store. One such white-label script is xModel by Adent.io.
What is xModel? Why Choose xModel to Create Your Fansite?
xModel is an adult membership site script that lets you create your own website to sell used socks to your fans without paying any commission.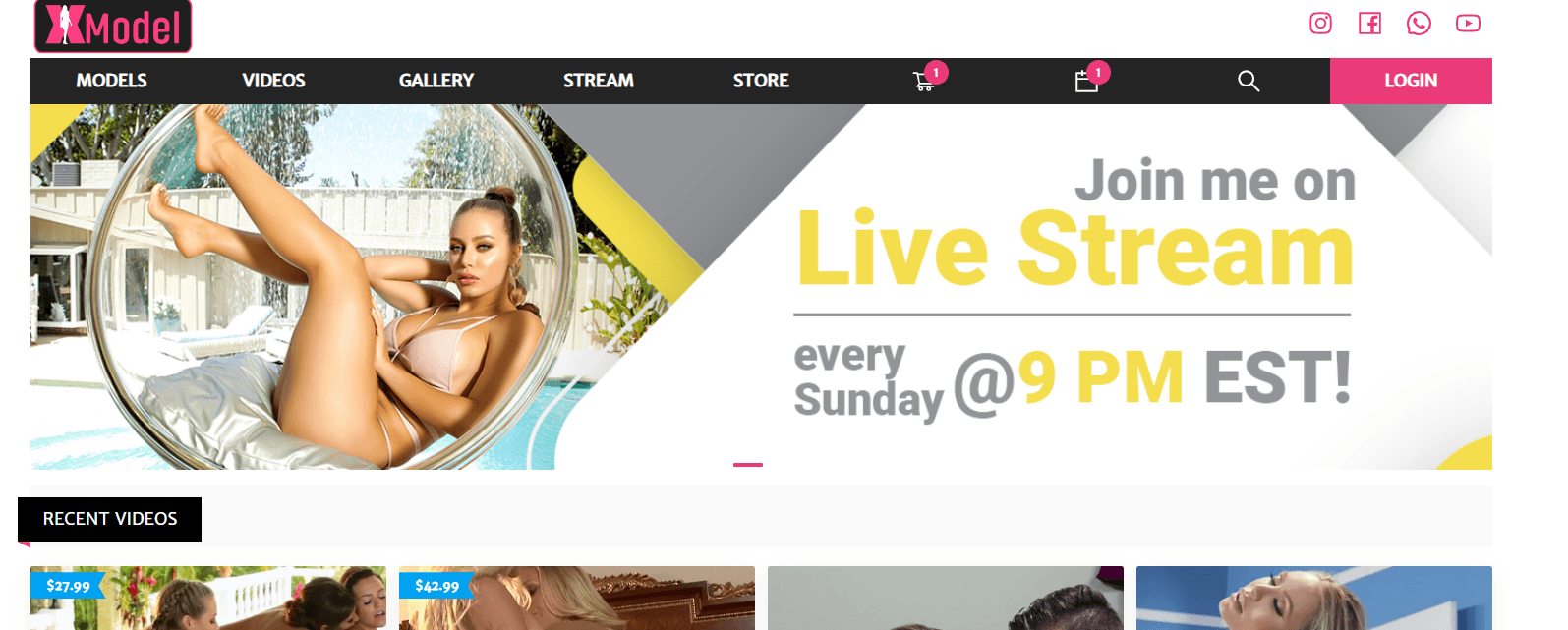 Some of the highlight features of the platform are,
Subscription membership option

eCommerce store setup

Custom token option like KinkCoins

Built-in payment gateways

Highly customizable white-label script
You own 100% of your earnings and there are no commission charges. These are some reasons why xModel is loved by porn stars, fetish sellers, adult content creators and models. And, of course, why you should be choosing xModel to sell your dirty socks.
The setup process is quite simple. Purchase xModel script, a domain and hosting services. Install the script on your server, do the necessary customization and you're all set to sell your dirty socks on your own website.
Now, let's look at some tips to sell used socks online like a PRO!
Tips On How to Sell Used Socks Online
Knowing the basics of selling used socks online is all good. But to stand out from the crowd, you need to be smart. And that's what these tips are for!
1. Try to Be Extra Creative
All the used socks images we saw above, there's one thing that's lacking – creativity. Most people with a dirty sock fetish will probably be into foot fetish too!
So, why not expose your feet and calves in beautiful angles? Even better if you reveal your face!
We aren't saying the existing way isn't performing well. But if there's an opportunity that'll boost your sales, why not try? Also, use good cameras to click pictures!
2. Be Clear With Descriptions
This is a goldmine trick often ignored. When you are selling worn socks, make sure to give a very clear description of the product.
Material of the socks

What did you use them for (activities)

How many days have you used them?

What is the pricing?
Mentioning details like this will give clear-cut information to buyers and stop doom scrolls. You have no idea how clear descriptions like this contribute to sales numbers!
3. Promote Actively On Social Media
Make sure not to miss out on social media promotions. Actively promote what you sell on all social platforms – be sassy, and include offers and clear pictures!
Have a look at this picture (actually, the comments)!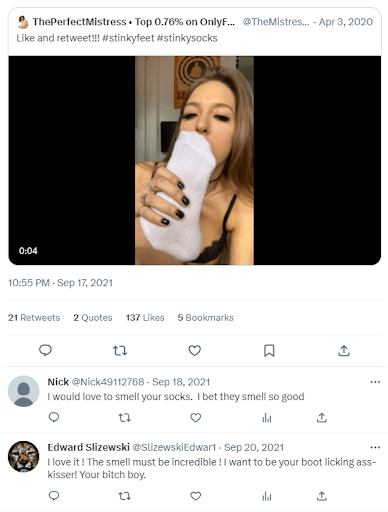 There are a lot of needy people who are not being reached out to. And all these people could be your customers! Promoting on social media also increases your presence as a used sock seller.
Important: Browse for related high-volume hashtags and add them to all your posts.
4. Buy Socks in Bundles
We saw a post from Billy-Joe selling three pairs of socks, all of the same kind. Instead of purchasing socks in a pair of twos or threes, we suggest you buy wholesale. You can afford them relatively cheap with this approach and can reduce your initial expenses.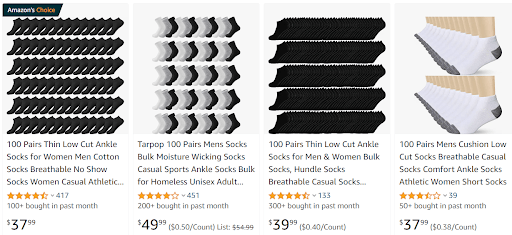 Amazon.com is one place you can head to. Just make sure to look into the reviews before placing an order.
5. Tips Stay Anonymous & Safe While Selling Worn Socks
It's pretty simple! Here's what you have to do.
Do not reveal your name/address or any other personal information to customers

Do not expose your face if you want to stay anonymous

Use a fake name on your profiles

Use online transaction platforms like PayPal
This should pretty much help you stay anonymous.
6. Packaging Matters
Used and dirty socks are all about the smell. If it's missing, then there's no use with it for the buyer.
Pack the socks in high-quality vacuum seal packages to preserve the smell and satisfy buyers. It preserves the smell for a long time and is useful during international shipping, helping you gain loyal customers and increase repeat purchases – your own Mr.D.
Apart from this, create profiles in at least three or four platforms focusing on only one or two. The remaining are to increase your presence and for occasional orders.
So, those are some of the tips that'll help you master the art of selling used socks online!
What Other Fetishes Can Help You Make More Money?
Well, used socks aren't the only fetish people have! Here are more ways to make money by leveraging people's fetishes.
These are some fetishes that people love out there. Just remember not to do anything you're not comfortable with!
Final Thoughts on Selling Used Socks 
From "Can you sell used socks?" to "Tips to sell used socks", we've come a long way! 
In this article, we have covered where to sell used socks, things you need to know beforehand, a couple of PRO Tips, the most important part – how to sell used socks with your own website using xModel by Adent.io  and more.
Though there is significant competition out there, with good creativity and proper consistency, you can easily sell your dirty socks and make some good money! If Billy-Joe and others could do it, why not you?
Now go purchase a sock bundle already!🧦