-

9

mins read
As tens of millions of people watch porn online for free daily, have you ever thought about how porn sites make money?
People are always intrigued about unknowns, and sex tops the bill. Fortunately, we can satisfy our curiosity about the opposite gender and sex by quickly accessing porn sites. About 28,000 people in the U.S. are watching porn at this moment through popular porn sites like Pornhub, XVideos, Redtube, and many more. You can also earn money by starting your own porn site, but we'll get into that later.
To get a good perspective on porn sites, let's compare Pornhub, the largest porn site in the world, with Youtube:
It would take

17,810 years

of continuous watching to cover all the videos on Youtube and

6,976 years

to watch all the porn on Pornhub. 

In 2021, Youtube generated an annual revenue of

$29.24 billion

. But, in the same year, Pornhub made an earth-shattering

$92 billion

. 

Regarding content creators, Youtube takes up to

30% of membership commission

and donations, but Pornhub creators get

80% commission

from their video sales. 
So making money through Pornhub is more profitable than becoming a newbie YouTuber. However, this still doesn't explain how porn companies make money.
Stay with the article until the end to discover the secrets behind this billion-dollar industry.
1. Monetization through Ad Networks
Advertising is the source of any business that involves streaming. Porn sites make money through advertisements by signing up on the best adult ad networks like JuicyAds, TrafficStars, Adsterra, etc.
Here's the list of three main types of ads that help porn sites make money.
Pop-up Ads
If you're familiar with visiting porn sites, you'd know how annoying pop-up ads can be. In general, pop-up ads appear during video playback or when the video is paused.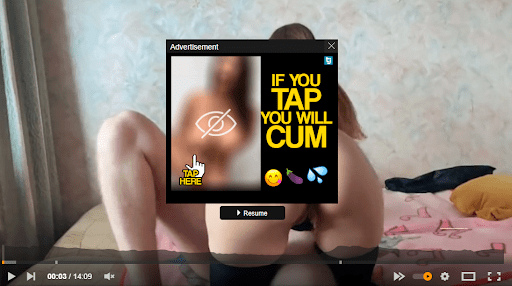 Pop-up ads come in several types: infographics, interactive content, animations, and many more.
Ads running on pop-ups are mainly redirected to cam and adult game sites. Pop-up ads generate revenue from businesses who want to promote their products, do a better promo for content, and subscribe to their membership.
Video Ads 
Several types of video-ad models are being used by porn sites, like skippable, non-skippable, in-video, and bumper ads. Porn businesses that want to build brand awareness to promote their channel, content, or themselves opt for video ads. 
As you know, video ads are always in demand and a bit pricey compared to others. So you can expect a porn site with a good amount of traffic earns much better with video ads. 
Banner Ads 
At the time of product launch, there's no better way to promote a product than placing them on the front page of a website, which gets millions of visits per day. 
Porn sites like XVideos and XNXX, which run cost-free content, benefit from this model from smaller adult companies that need to expand their exposure. 

Banner ads are the most effective and performative because of their visual appeal, as it has the highest probability of generating leads, and porn companies make more money from them. 
2. Affiliate Marketing
Affiliate marketing is the best option to generate revenue when you're just about to start a porn business. Businesses spending on affiliate marketing crossed over $8.2 billion in 2022 in the U.S., and it will continue to grow in the upcoming years. Earning in affiliate marketing is simple, particularly for adult sites.
Affiliate marketing is the primary method used for a long time by free porn sites to make money. But, as there are several ways to do that, we've pulled the most effective ones for you.
Cam Affiliate
Live cam sites are doing well online. After all, it offers users that no porn can give, a solace that can take away loneliness and depression. 
By joining the cam affiliate program from the big fish like Chaturbate and Stripchat, porn sites earn passive income through referrals and commissions every time a person spends money from their sites. 
Do you know porn tube sites are making $5000 per month by joining the best webcam affiliate programs? Creating new sales and redirecting traffic is all it takes to earn $5k with little effort.
Dating Site Affiliate
One-night stands and casual hook-ups are already generalized in our society, and dating sites with keen business insight, like Uberhorny, Fling.com, and Alt.com, have made separate platforms for dating and hooking up with models. 
As most viewers are horny while watching a porn site, directing them to these dating sites to release some steam will help them and the company. And as a middleman, porn sites would earn a commission for every successful booking. So it's a three-way happy ending. 
Sexting Affiliate
It's yet another way porn sites make money. Here, you sign up for an affiliate program in a sexting platform, like 321Sexchat, Shagle, and LuckyCrush, and can earn a specific commission for every order. 
Sexting affiliates can be more profitable because users see sexting as less risky, quite addictive, and not time-consuming. So the probability of clicking the ads is higher.
Sexual Wellness Products
People have realized sex is more than just intercourse. To make every intimate moment pleasurable and, at the same time, body-safe, Goodvibe, Dame, Maude, and a lot more sexual wellness companies are tirelessly working to build sex-positive products. 
One of the sexual wellness products is ED medication, and you can often find them on free porn sites. They join the affiliate program from nearby sexual wellness stores or big corporations and earn a commission for every order.
Adult Paysite Affiliates
It's one of the traditional revenue models widely used by all-time businesses. Porn sites with good traffic promote adult paysite that sells or streams exclusive content for a certain amount or subscription. With every subscription, your porn site generates, you can earn a commission out of it. Typical examples are; Adultforce, Gammastats, Bangbros, etc. 
Porn Game Affiliates
As hentai became the world's most-watched porn genre, developers built easy-to-play online games with erotic themes. Porn games sites like Booty Calls, Cunt Wars, and Nutaku are on the mission of creating a unique experience for users and letting them have fun with their favorite hentai characters. Like the affiliates mentioned above, it works similarly on the commission-based models. 
VR Porn Affiliates
VR porn is the ultimate fantasy of users who want to ascend the two-dimensional barrier. As it creates the natural world around us with characters and kinks beyond one's expectations, the VR porn market has secured a considerable fan base with big players like VirtualRealPorn, Virtual Taboo, and VRBangers. You can earn considerably based on how many leads your porn site makes.
Phone Sex Affiliates
Nowadays, business models in porn sites have multiplied into several niches and can generate income individually with the same resource. Phone sex and sexting are the same niches but with different services. 
In sexting, you can only chat, but in phone sex, you can talk with the model. Affiliating with phone sex providers like Arousr, TalkToMe, and NiteFlirt is another way to earn passive income if you have good traffic on your porn site. 
Escort Affiliates
At last, we've reached the final revenue generator utilizing affiliating marketing, Escort affiliates. It'd look boring without a girl, whether at parties or casual hangouts. So escort sites like BedPage, Eros Guide, and Slixa offer different in-call and out-call service models. 
The commission you earn will depend on how many leads or referrals your porn site generates for these escort sites. 
3. Subscription-based Model 
There is no better way to make money on porn sites than collect membership fees from your users by offering entertaining & exclusive content. 
When adult sites were confident enough about the quality of their platform, they would start to charge from their viewers. As a result, membership subscription has become a norm, particularly for porn sites with more traffic.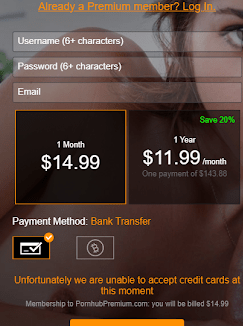 The followings are two primarily used subscription-based models:
Monthly Subscription
By subscribing to the porn site monthly, you would receive certain privileges. For example, in the case of Pornhub, the monthly subscription costs $14.99, and after paying, you'd get an improved video library, support for VR, an ad-free experience, and many more. 
Free porn websites can't make money because they don't possess the original content, so studios, porn production channels, and popular porn sites can only use this model. 
Yearly Subscription
The privileges of the yearly subscription model are no different than a monthly subscription model. Although you get the same, you'd be charged a little less. By subscribing for a year to Pornhub, you'll be charged $143.88 with $11.99 per month, compared to a $14.99 monthly subscription.
The yearly subscription model is one of the eye-catching marketing strategies of porn sites because it lets users choose to subscribe for a year rather than a month to save some dollars, generating more revenue. 
Freemium subscription
It's a classic marketing strategy adopted by start-ups and some established companies. Providing some basic features at no cost allows users to get to know their services better and charge them for advanced features. Luckily, most mainstream free porn sites like XVideos, XNXX, and Redtube make money through this business model. 
4. PPV Content
Porn sites are utilizing the pay-per-view revenue model through two different methods. One, the user has to pay to get a membership to enter your website and can also be charged for certain exclusive content for a specific price. Porn companies like Brazzers and Reality Kings use this revenue model. 
Two, anyone can enter your adult site, but to get access to the content, they have to pay. AEBN, GASM, and HotMovies are using this revenue model. 

At present, there are two subsets in PPV content by which porn sites make money, they are:
HD or 4K Videos
Adults and teens alike prefer to watch high-quality content with high definition. Because from the user's point-of-view, every detail matters.
So to get access to 4K, 8K, or VR porn from porn production companies like Brazzers, Girlsway, Mommy's Girl, and many more, you have to pay. But, as technology develops, this revenue model will generate even more dollars. 
Exclusive Content
Suppose a porn website or a porn production company wants to charge its users using an exclusive content revenue model. In that case, they should have a particular reputation or popular models with a larger fanbase. Also, the content should be owned and copyrighted by them. 
Here users are paying porn websites to watch their favorite models, which helps them create a stronger relationship with their audience. So it can't be used by everyone unless they get a hold of porn stars like Mia Khalifa, Julia Ann, and Johnny Sins. 
5. Sell DVD Videos 
DVDs peaked in 2005, with global sales reaching $16.3 billion and more than 60% of American households having at least one DVD. Though today's DVD market looks bleach, it doesn't stop porn sites from selling them. 

As you know, people love to collect what they love, and porn content with their favorite porn stars is one of them. So exclusive porn sites allow users to download their content online and sell hardcore DVDs, because why not!
6. Sell Physical Products
As the subscription model will not help most free porn sites, they indeed opt for another easy way to generate income: selling physical products such as sex toys, erotic literature, kinks, adult games, etc.

Adult products have a larger market, and if your porn site becomes reputable, you can also sell your line of merchandise. 
7. Data Collection and Selling 
With billions visiting porn sites yearly, it is no wonder porn companies and free porn sites make income from selling the collected data. 
One of the user-engaging features of porn sites is the comment section. And if you are a frequent porn watcher, you should've known that you can't comment without signing up to the porn site, you can't comment. 
To make money on porn sites, free porn sites, and porn companies use this business model to collect data, like names, email, locations, etc., and sell them to third parties who need to know your audience.
8. Adult Consulting 
If you're planning to start a porn site to earn passive income but have some doubts, where do you find a relevant expert with whom you can be comfortable talking about your business? A porn site.
Yes, you heard it right. Today's reputable porn companies offer a dedicated page for adult consulting on their website where you can book an appointment to interact online with people who have substantial experience with porn. This commission-based revenue model is another way to generate income for porn companies and free porn sites. 
9. Sell Hardlinks
When your porn site generates traffic, models who want to sell homemade porn or cam sites that are desperately searching for a way to increase their brand awareness approach your porn site.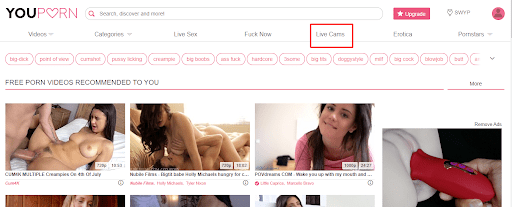 The picture below is taken from one of the famous porn sites, YouPorn. The tabs at the front of the website help users to navigate and search for their favorite models or porn. YouPorn has placed a hard link in the LiveCams menu that directs you to another site. 
To generate traffic for a third-party porn site, this revenue model is widely used across porn platforms and free porn sites.
10. Sell Ad Zone
Whether it's the homepage or channel profile, you often see some ads tagging with you wherever you go. This is because porn sites often allow third-party websites to run their ads in a particular volume of space for a certain period. By leasing out some space in their websites as 'Ad Zone,' they generate revenue 24/7.  With the help of zone statistics, porn sites know where they get more clicks and impressions daily. So the revenue they generate also varies according to the position of the ad spaces.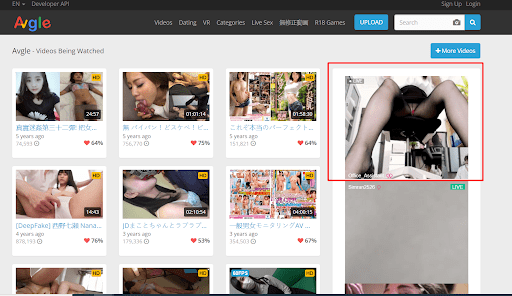 Adult businesses also opt for sitewide ads, renting the entire porn site Ad zone for a third party to promote. In adult businesses, sitewide ads are popular since they appeal more visually than other advertising models.
11. Monetize Using Channels
When your porn site gets enough traffic, porn studios or models create channels on your website to increase traffic. 

It works like this; if a porn membership site wants to place its official links to redirect traffic to its website, it must be a subscription member of your porn tube site. The larger your traffic, the higher the chances of monetizing your channels.
12. Promote Adult VOD Sites
Whatever you see on XVideos and xHamster is just the tip of the iceberg. When curiosity with a certain amount of horniness kicks in, users search for the whole video without any jumps and cuts. 
Adult VOD sites like AdultTime and HotMovies own the most extensive library of porn and let you search for your desired content. Promoting adult VOD sites on your porn sites can earn you an adequate commission when your users pay to buy their videos.
13. Promote Premium Porn Pics Site
Not everyone has a fetish for video porn; some prefer naked pics. Porn sites dedicated to offering premium porn pics keep rising in numbers after OnlyFans made a massive wave in 2019. 
At present, almost all the free porn sites have separate galleries with thousands of nose-bleeding pics. By promoting with a glimpse of pics from premium porn picture sites like MetArt, and Femjoy, free porn pic and porn tube sites make a profit. 
Final Few Words
Porn sites offer many ways for anyone to earn passive income, and anyone with a site that is flexible to watch porn and some knowledge about the adult market can do so. But here's the thing, does starting a porn site cost a lot? 
No. You can start your porn site as a passive side hustle and earn 10,000 USD per month by purchasing ready-made scripts like xStreamer by Adent.io. It's a porn tube script that allows you to make porn tube sites like Pornhub and XVideos. 
xStreamer can sustain massive traffic, runs seamlessly, has multiple monetized channels, and gives your audience a memorable browsing experience that makes them come again and again to your porn site. 
Cheers to your porn site!