-

10

mins read
If you're considering starting a lingerie business but don't know how to begin, don't worry – you're not alone. When you first thought about turning your small business idea into a real, scalable venture, you probably had no idea where to start. Like many others, you might have turned to search engines for help with questions like "How to start a lingerie line?"
While there are a lot of articles about selling sex toys online, there are a few about starting a lingerie line business. The few that existed either discouraged people from trying or were too generic. That's why we're providing a detailed guide on how to get started, how much money you'll need to invest, and how much money you can expect to make.
Now that said, let's get started.
Why Start a Lingerie Line Online?
According to Imarc, the lingerie market has grown significantly, with a size of US$78.7 billion in 2022. Experts predict that the market will continue to grow and reach US$119.4 billion by 2028, with a growth rate (CAGR) of 7% expected during 2023-2028.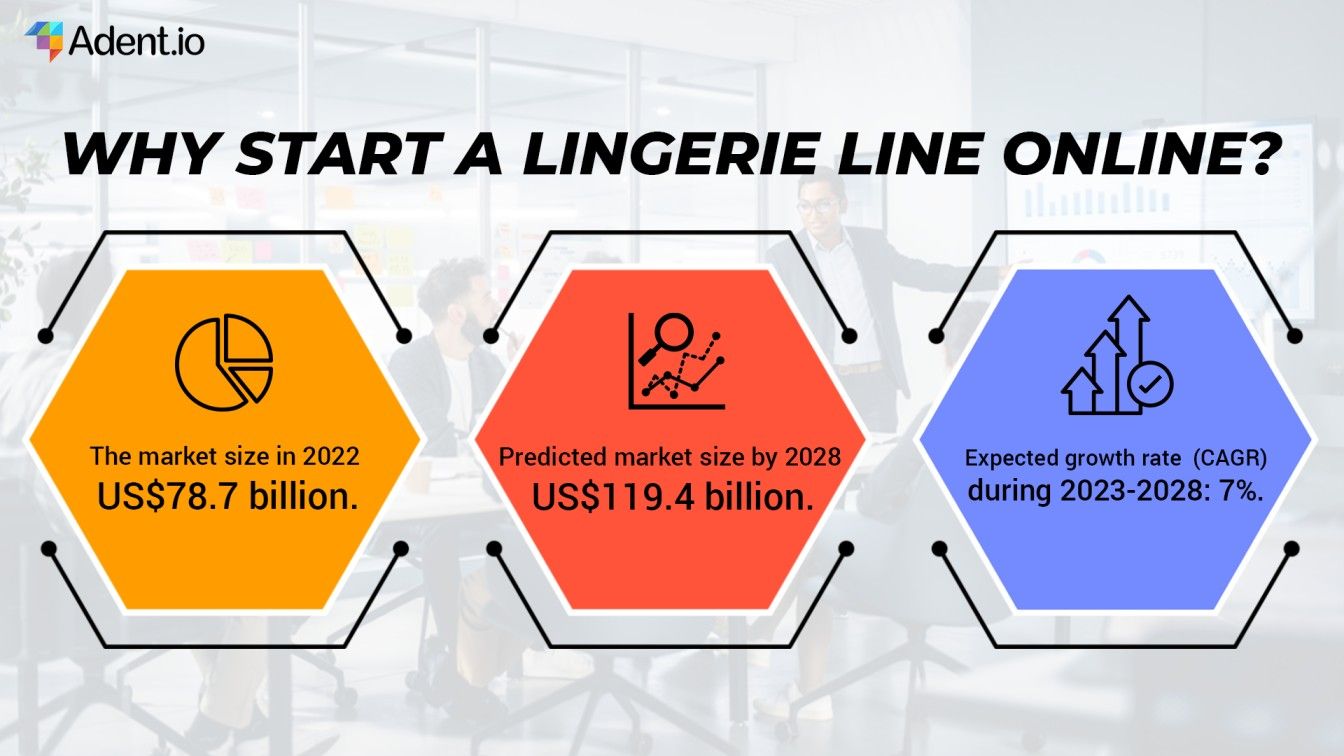 The market for seamless corsets, stockings, and basque sets is growing due to a rising preference for lingerie products among men. Lingerie manufacturers collaborating with supermarkets and distributors to improve their product offerings are also contributing to market growth.
Apart from the relatively high market trend, there are multiple reasons why starting a lingerie business online can be a good idea.
Low startup costs: Starting a lingerie business online requires a lower initial investment compared to a physical store. This makes it a viable option for aspiring entrepreneurs who have limited funds.
Adaptable and convenient: Having an online business means you can sell products anytime and anywhere, providing both you and your customers with flexibility and convenience.
Extensive reach: Running a business online can broaden your reach to customers globally, expanding your market and boosting your sales potential.
Easy to manage and scale: Managing and scaling your lingerie line business online is much easier compared to traditional ones, allowing for quick and efficient growth for your clothing business.
As you have now seen why it is profitable to start a lingerie line online, let's go on to the main point – how to start a lingerie business.
8 Steps to Start a Profitable Lingerie Business
Starting a lingerie line is a fulfilling experience, but it can also be challenging and complicated. To assist you in navigating the process, we have created a simple guide that outlines the ten most crucial steps you need to take.
1. Find a Niche for Your Own Lingerie Line 
To effectively design, produce, or dropship lingerie, it's crucial to have a clear understanding of your target market. This involves conducting research to gain insights into their buying habits, preferences, and needs. 
By doing so, you can identify gaps and opportunities in the market and create products that will appeal to your target audience. To increase the likelihood of success for your lingerie line business, it's beneficial to conduct market research prior to designing and producing your products. This allows you to make more informed decisions.
To find your right niche, you start by….
Determining your target audience
To effectively market your clothing, first identify your target audience based on factors such as age, gender, location, interests, or income level. 
Conduct surveys and interviews with potential customers to gather information about their clothing preferences and purchasing habits. Online surveys, in-person interviews, and focus groups are all useful methods for gathering this information.
Examining the market trends
Stay up-to-date with industry trends and developments by using tools like Exploding Topics, and Semrush. This can help you identify market opportunities and challenges and ultimately create products that align with current consumer demands.
Keeping an eye on your competitors
To stand out from competitors and avoid common mistakes, it's important to closely monitor their products, pricing, marketing, and distribution strategies. Keep a watchful eye on what they're doing and use it to differentiate your own products.
2. Choose a Business Model
The first and foremost consideration when launching a lingerie line is determining the most suitable business model to adopt. You can start your own lingerie line using three types of business models. 
Manufacturing lingeries
If you're someone who wants to create a lingerie brand Victoria's Secret, then it's best to manufacture your own lingerie line. 
To begin, there are a few options available for creating your own lingerie business. You could consider working with a print-on-demand company to produce your designs, collaborate with a wholesale lingerie brand, or partner with a manufacturer to design your own line.
When it comes to producing successful lingeries, you need to consider two things: fabrics and performance. For lingerie to fit well, the fabric must be seamless and stretchy but able to return to its original shape. It's important for the lingerie to be balanced and proportionate to the wearer. Additionally, fabrics should maintain their shape and color.
Source lingeries from wholesale brands
If you're seeking a greater challenge and a higher potential for profit margins, consider directly contacting lingerie manufacturers. You may be pleasantly surprised by how inexpensive it is to produce a $25 teddy. The lingerie industry boasts some of the most lucrative profit margins available.
Every season, factories produce numerous designs that you can choose from to fill your store. The advantage of sourcing your products from a wholesaler is that you don't have to worry about the design or manufacturing process. Instead, you can simply select the items you like and purchase them from the supplier.
Dropshipping lingeries
By using a dropshipping business model, you won't have to store inventory or fulfill orders yourself. Instead, you team up with a manufacturer or wholesaler who has the necessary inventory and capabilities for fulfillment. 
This approach is simple to establish and manage, and it offers the added benefit of being able to provide a diverse selection of products to your customers.
When a customer makes a purchase on your website, you will send the order details to the dropshipping supplier, who will then ship the item directly to the customer on your behalf.
ProTip: If you're a new entrepreneur, dropshipping might be the least risky business model for you. You don't need to invest in inventory or warehousing, which means you won't lose money on unused stock. However, the profit margins are typically smaller, so there is a tradeoff to consider.
3. Make a Business Plan
For any enterprise, having a business plan is crucial, including for an online fashion business. Essentially, it's a written description of your business goals, strategies, and plans of action.
Crafting a top-notch business plan can be a game-changer! It's your chance to showcase your vision and strategies to potential investors, partners, and customers. It also serves as a roadmap for the growth and development of your lingerie line business.
Start by writing an executive summary of your lingerie business. It should include your vision and mission statement, a brief description of the products you're going to sell, and an extensive summary of your financial projections. 
Then sketch down your marketing analysis with up-to-date information. Next, note down how you are different from your competitors. Use those points as your USPs. Lastly, write all the production and distribution channels of your business. 
4. Set a Price
Setting the right prices for your lingerie products is a critical aspect of achieving success for your business. It's essential to find a balance between profitability and providing competitive and appealing prices to your customers.
To determine a fair and viable price range for your business, it's important to research your market and competitors. When considering how to start a lingerie line and how much to charge for your bras and crochets, a general guideline is to add at least 40% to the catalog price.
When determining the unit price for your product, consider the purchase price and shipping costs, if applicable. Suppose you purchase 50 bras for $1250, which means you spent $25 per bra. To make a profit, you should aim to sell each bra for $35. If the bras are of high quality, retail customers may be willing to pay $5-$10 more for a better fit and softer material.
5. Pick a Business Name
When starting a lingerie business, it's crucial to choose a unique and memorable business name that reflects your brand's identity. 
Avoid using a name that is too narrow, such as "Mia's Corsets," as it may limit your ability to expand your product offerings as your brand evolves. Remember that your business name is the first thing people will see, so take the time to choose wisely.
Here are a few things you can keep in mind while choosing a name for your lingerie business:
When choosing a name for your brand, it's important to consider how well it reflects your identity, values, and mission. The name should also effectively communicate the unique qualities of your brand that set it apart from others in your industry.

It's best to steer clear of complex words or phrases that may be difficult to pronounce or recall.

To optimize your business's success, it is recommended to avoid utilizing frequently used words that are already prevalent among other companies in your field.

Before finalizing a business name, it's important to check if it's available for use, its trademark status, and whether the domain is available to avoid any possible legal complications.
6. Register Your Business
If you are serious about starting a lingerie line business, it's important to register it as either a sole proprietorship or an LLC. Registering as an LLC can provide your business with more tax advantages and allow you to purchase lingerie at cost using your EIN instead of your personal SSN. Whether this new venture will be a side hustle or a full-time endeavor, registering your business is a crucial step.
If you're based in the US, registering your business with the state can cost between $40 to $100. It's important also to understand the legal requirements for small businesses in your state and ensure that everything is in compliance. 
If setting up your business is too time-consuming, you can opt to pay for an LLC service to handle it for you. Investing in this service can save you time and allow you to focus on the creative aspects of your business.
7. Obtain Business License and Permits
It is crucial to obtain a business license when starting a lingerie line. This legal document allows you to operate your business within the boundaries of the law.
To operate your business legally, you may be required to obtain additional permits and licenses based on your location and business activities. This could include licenses for selling products, using specific materials or operating in certain locations. 
It's important to comply with all relevant regulations and laws, including taxes, labor, and health and safety, to avoid any fines, penalties, or legal complications.
8. Set up Your Online Store
Your lingerie inventory is now ready for sale, but to truly differentiate yourself from your competitors, it's imperative that you create your own eCommerce website. 
While selling on third-party platforms like Amazon and eBay may seem like an easy option, using a turnkey solution to launch your own online store is the smarter choice. Not only does it require no prior experience, but it can also greatly benefit your business in the long run. 
If you want to sell your lingerie products through an online store, consider using xMarketplace by Adent.io. It's a user-friendly e-commerce website script that doesn't require any coding skills. Furthermore, xMarketplace lets you add more than 20,000 adult products to your online store.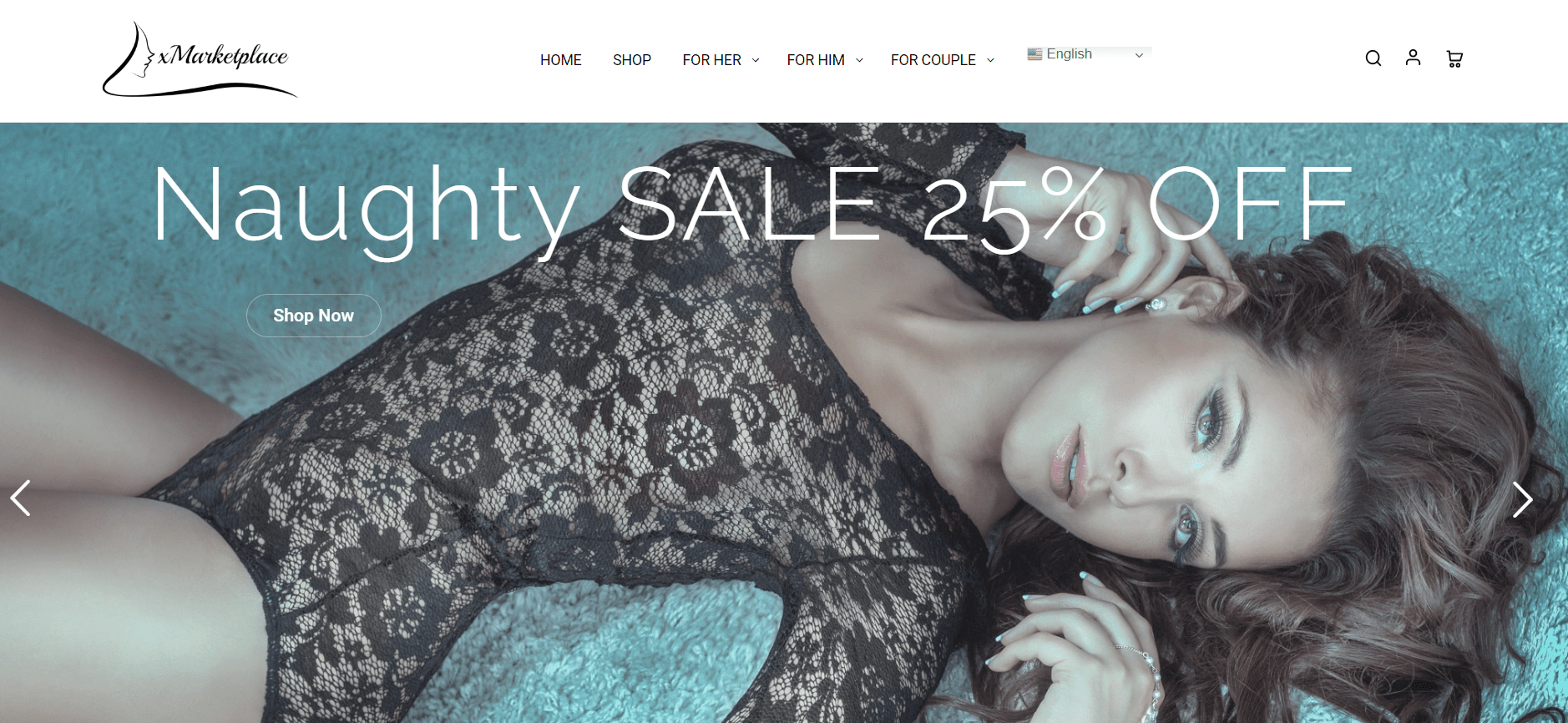 With xMarketplace, you have complete control over your website design, including colors, fonts, buttons, and product images. Further, the admin dashboard makes it easy to manage every element of your website. 
You can also manage your products, inventory, and shipping all in one place through the dashboard. Plus, xMarketplace includes a secure adult payment processor, CCBill, to handle all of your transactions.
Here's the infographic on steps to start a profitable lingerie business:

That's it! These are the important steps on how to start lingerie business. Now let's look into the startup you require to start a lingerie business. 
How Much Would It Cost to Start a Lingerie Business?
There's nothing wrong with starting a business on a shoestring budget, lingerie is a viable option with very little money, and you can turn a profit quickly once you get your start.
So what is the startup cost of the lingerie line? This totally depends on the scale of your business. To make progress in your business, you must consider your nature of business and your desired speed. If you're a beginner and starting an all-batch lingerie business, you must keep in mind that to meet a minimum order quantity, you need at least $1,000 as a startup cost. 
But if you want to manufacture your own lingerie line, then you need to have at least $35,000 – $40,000. Note that the prices may vary depending on your location and the amount of units you are willing to produce. 
How to Sell Lingerie Online

1. Decide your Goals
Before selling lingerie online, it is important to identify the niche and understand your sales goals. The lingerie market is oversaturated, and in order to succeed, it is crucial to have a clear understanding of your objectives.
Establishing business objectives is an absolutely vital aspect of attaining triumph, regardless of the seemingly fundamental nature of the concept. 
Carefully formulated business objectives exert a considerable impact on shaping daily operations and decisions, ultimately enabling all members of the organization, from high-ranking executives to novice employees, to apprehend and prioritize the company's goals.
2. Design Your Lingerie & Choose a Quality Dropshipper
It can be difficult to sell lingerie products if the quality is not good. To attract customers, it is important to pay close attention to the lingerie products you want to dropship and to do that, find reliable websites like Printful to ensure the artwork on your products is of high quality.
Additionally, when dropshipping lingerie, you need to meet quality standards, and it can be tricky to determine which lingerie is high quality. One strategy for dropshipping is to order a few samples from your suppliers to test them out. This allows you to determine if the design or material is not to your liking.
3. Market Your Business
After setting up the website, it's essential to implement an effective marketing strategy like social media marketing. The best approach is to post content on multiple social media platforms regularly.
You can promote your lingerie designs through TikTok and Instagram, especially if you target teenagers, and include related hashtags along with social media comments, stories, and live broadcasts to engage potential customers. Also, make sure to include a link in your bio to your online store.
In addition to social media marketing, you can also promote your lingerie line by doing SEO marketing for your website, as it drives traffic to your online store organically. 
To improve the visibility of important pages' organic search, it's essential to use internal linking. Google crawls websites using links and assigns equity to each page based on the number of internal links that point to it. 
And implementing metatags is very crucial for SEO. They help Google understand the page's purpose, and a well-written title is often the most visible part of a search result. And last but not least, to promote your lingerie line via SEO, you need to create useful and quality content. 
The content should answer some of the important questions of your target audience. When crafting content, it's important to keep in mind the searcher's intent in order to create content that's not only relevant but valuable to your audience. This approach will help you appeal to your targeted audience by providing them with content that's tailored to their needs.
4. Build Reviews & Grow Your Brand
The last on how to start a lingerie line is growing your brand by building reviews and delivering high-quality products to your customers. 
Asking customers to review your lingerie products online is crucial for selling them. Social proof plays a significant role in this aspect, and customers want to ensure they are getting their money's worth when buying online. Hearing from actual customers is important in making their decision.
The next step is growing your brand. Your brand is essential for your growing business. The right branding can establish your business as a trustworthy leader in your space and help you communicate effectively with your target audience. It also aligns with your marketing efforts. Note that a brand tells your story.
How Much You Can Make From a Lingerie Business?
To answer the question above, it is crucial to consider multiple significant factors. The frequency of orders and the use of top-notch machinery are among these factors. By optimizing these factors, it is definitely possible to produce lingerie and earn a substantial amount ranging from $80,000 to $100,000. 
Let's say you spend $200 on 100 pants and make $400 in profit. And it takes you two hours to make them. If you're a dropshipper, you will have zero production costs. You won't find a job that pays this much money for working only 2-4 hours a day, and if you get orders like this every day, you'll earn $10,000/month and $100,000/ year.
Conclusion
Now that you've read through this article, you'll know exactly how to start a lingerie business online and create your own store using a turnkey solution like xMarketplace by Adent.io. Keep in mind that designing and selling lingerie online in this niche can be quite challenging, so be sure to use the tips we've shared.
If you've any queries related to how to start your own lingerie line or where to sell lingeries online, please let us know in the comments.