-

6

mins read
The online world has sparked numerous innovations, and various industries are taking advantage of new opportunities. Despite significant growth in mainstream sectors, it's the adult entertainment industry that continues to flourish in the background. This discussion highlights one of the key driving forces behind the premium adult entertainment brands, Reality Kings and Brazzers, and its distinctive and complex business model.
If you are eager to learn how these adult industry giants achieved their success and desire to start a porn business utilizing a similar business model, then look no further than this article. It is the perfect starting point for you. 
Intro to Reality Kings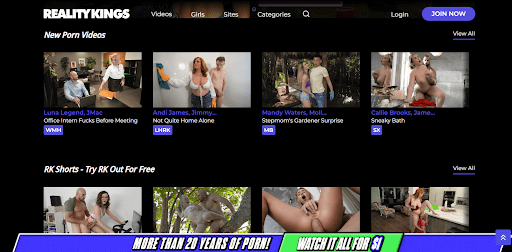 Launched in 2006, Reality Kings has been a popular adult membership site specifically for its hardcore porn and flash porn deals. Headquartered in Miami, US, Reality Kings receives more than 4.1 million unique monthly visitors to its website. 
Reality Kings has been in existence for a considerable period, and as a result, there is a wide range of high-quality materials available for exploration. Although the scenes are based on real-life themes, the team puts a lot of effort into producing them. 
Additionally, esteemed directors, popular pornstars, as well as new adult models collaborate to create the raunchy content that the website is famous for, all filmed on the beautiful beaches of Miami.
It is clear that Reality Kings, being a huge network, has a vast collection of more than 9921 video content available for streaming up to 1080p. Most of these scenes come with filmstrip navigation, allowing you to skip to your favorite parts easily. 
Additionally, each video comes with a matching photo gallery, although the quality and quantity of these galleries vary by site. While some galleries are professionally shot, many consist of quality video caps.
All the content on the site is exclusive, and each video offers unique themes and models that you won't find anywhere else.
How Does Reality Kings Work: The Business Model
1. Reality King's Customer Segments
Reality Kings offers a variety of content for its members to choose from, including black, MILF, Lesbian, Teen 18+ and more. Their collection is suitable for anyone who enjoys adult entertainment. While they have content from teens 18+ to Asians, Reality Kings focuses on promoting MILF content and Latina videos to appeal to most of its user base. Additionally, Reality Kings provides a user-friendly experience for customers to set up their accounts.
2. Reality King's Customer Relationships
Self-Setup is Easy
In order to promote user-friendliness, they provide an exceptional customer experience. In designing the website, the developers made sure to include elements and themes that promote easy navigation and enable good visibility.
Exceptional Customer Experience
Reality Kings offers customer service through its website portal and email inquiries. Users also have the option to reach a representative directly.
Social media
To attract new customers and increase sign-ups, promotions and deals are advertised through social media channels such as Twitter, TikTok, and Reddit. Additionally, social media is used to keep Reality Kings users informed and updated on the latest platform news. This approach is similar to major advertising campaigns aimed at driving customer engagement.
3.  Reality Kings Cost Structure
Major purchasing rights to adult sites 

Cost of producing movies

Cost for

adult affiliate program

and referrals 

Cost of maintaining a subscription

Infrastructure in data centers and streaming content cost

Shipping costs for DVDs and mail-related items

 Distribution of employee salary (customer service, developers, etc.)
Reality Kings Revenue Model
1. Subscription Video-On-Demand
Reality Kings is one of the leading providers of membership-based adult content, operating under a Subscription Video on Demand (SVOD) model. Members pay a monthly fee for unlimited access to a vast library of media, available anytime. Reality Kings' primary source of revenue comes from these subscriptions.
Unlike Pornhub, Reality Kings does not offer free content. All members must pay for the content they wish to access. However, users benefit from the convenience of ad-free viewing, making it a win-win situation.
2. Pricing Model
Reality Kings offers a range of subscription options, all of which are based on a recurring revenue model. There are four different membership plans available – 7 days, 30 days, 6 months, and 12 months. The basic 7-day full-access membership costs $1.00 per week, while the 30-day membership is priced at $29.99.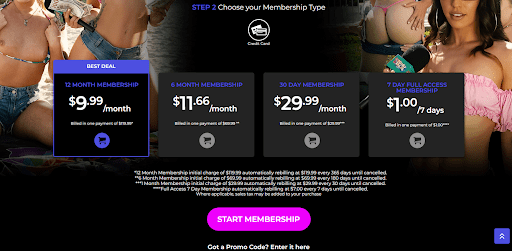 If you choose the 6-month plan, you will be charged $11.66 per month, and the 12-month plan costs $9.99 per month. It's worth noting that each membership can only be used on one device at a time.
3. Reality Kings Official Store
Besides video streaming services, Reality Kings also runs its own store. There, they sell DVDs, sex toys, merchandise, accessories and more. If you decide to opt-in for Reality Kings DVD service, you should be aware that their exclusive content DVDs are fairly pricey, with prices ranging from $27.99 to $32.99 per DVD.
Now that we've learned Reality King's business model and how it makes money, let's move on to Brazzers. 
Intro to Brazzers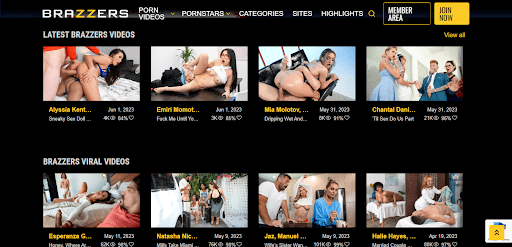 Brazzers has been a leading producer of high-quality hardcore adult content since its establishment by Montreal investors in 2005. The brand's focus on natural storylines and showcasing some of the amazing pornstars in the industry, with big assets and curves, has made it a popular choice among fans. Despite criticism, the Brazzers remain one of the most enduring brands in the industry. It has a solid fan base that continues to support its productions.
It has over 19.1 million unique users visiting the site every month. Brazzers offers a wide range of reality videos featuring top-notch adult celebrities and a delightful blend of humor and hardcore action. 
With over 10,190 videos already available, including 6,000 in 1080p and 4K quality, the site adds one or two new clips every day. Alongside each video, you can find high-resolution images that you can download individually or as zip files if you have access to the downloads. 
When you visit Brazzers, the experience is consistent across all devices. You can browse all the sites available and enjoy multiple sorting options, tags, basic search, and advanced filtering. Additionally, you can rate and comment on content and add videos to your favorites and custom playlists.
The site also offers a large player with a full-screen mode, smooth playback, and a buffer of one to three seconds. Enjoy a fantastic viewing experience with video quality ranging from 480p to 4K
How Does Brazzers Work: The Business Model
Brazzers offers a variety of content categories, all of which fall into one of two types. Each type of content is monetized using different techniques, resulting in a distinctive approach to streaming on Brazzers. 
1. Content via Licensing Deals
Similar to other premium adult video streaming platforms, Brazzers obtains third-party content through licensing agreements with content owners or production studios. These agreements enable Brazzers to stream the content legally on its platform in exchange for a fee. 
The process of acquiring third-party content for streaming platforms involves intricate negotiations and contracts to secure the rights to the content. The terms of these agreements can differ greatly and may involve elements such as exclusivity, geography, length of the license, and other conditions.
2. Content Created by Brazzers Studios
Did you know that Brazzers Studios produces exclusive television shows and movies that can only be found on Brazzers? These shows, called Brazzers Original Series, feature top adult talents, such as well-known pornstars and directors. Some of the most popular Brazzers Original Series include "Hot and Mean," "Brazzers Goes Black", "SMiLF", and "Queen of Thrones".
Just like Reality Kings, Brazzers Studios has already been producing movies and shows globally under the Brazzers Studios tag for a long time. These movies are then promoted and streamed on the platform, allowing for revenue to be earned through various monetization options.
Brazzers Revenue Model
1. Subscription Video-On-Demand of Brazzers (SVOD)
The Brazzers' business model centers around subscriptions. Users pay a fee to access the diverse range of adult series, movies, and other video content offered by the service. Brazzers also provides an exclusive subscription to its users, unlike other adult video streaming services.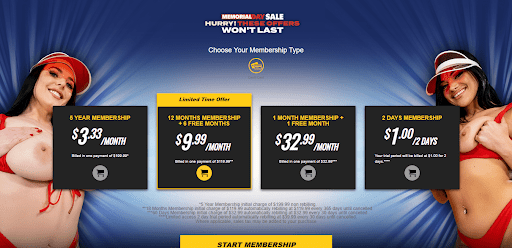 The platform enables users to access a plethora of movies from multiple porn niches that different production companies produce. The subscription prices remain consistent regardless of the region you are located in. 
Brazzers membership prices are tiered, with the cost of a 2-day membership starting at US $1.00/2 days, a 1-month membership costing $32.99 with an additional 1 month free, and a 12-month membership costs you $9.99/month, but you will also get 6 additional free months of membership. Furthermore, the platform offers a 5-year membership plan at $3.33/month. 
2. Brazzers DVD Rentals
Brazzers generates revenue not only through subscriptions but also by allowing customers to purchase or rent individual TV shows and movies for a one-time fee. These purchases can be made from various adult marketplaces online. Even certain home-production movies and third-party content can be sold as DVDs, adding to Brazzer's sources of revenue. 
However, in some cases, this may be a contractual obligation with the third party. As a leading premium video production company, Brazzers DVDs can be expensive. In general, DVDs start at $29.99, and they get more expensive from there.
3. Brazzers Store
Brazzers operates an ecommerce store that offers a variety of merchandise for both men and women, along with miscellaneous accessories. Their product line includes swimsuits, bikinis, joggers, shorts, T-shirts, hoodies, and more. Moreover, they also sell accessories such as hats, socks, keychains, and purses.
As a benefit to its members, Brazzers provides discounts on merchandise and other products available for purchase. Simply put, the merch and accessories not only generate additional revenue but also serve as a powerful tool for expanding their brand reach.
How to Create a Website Like Reality Kings & Brazzers?
The porn paysite industry has experienced massive growth in the past decade, with platforms like Reality Kings and Brazzers claiming only a small portion of the market share. This presents an opportunity for anyone who is interested and has taken the necessary steps to make millions of dollars in this industry potentially.
So are you interested in starting your own porn production business? 
If yes, we have the right solution for you. If you're wondering whether to hire a tech team to develop a site like Brazzers, then prepare yourself to spend thousands of dollars. But, if you're looking for a cost-effective way, then we recommend using an adult membership site script.
xMember by Adent.io is one such adult video streaming and CMS script that helps you build a site like Reality Kings and Brazzers. The xMember platform boasts a user-friendly and contemporary interface complemented by a powerful and reliable backend system. 
Furthermore, you will get multiple revenue streams, integrated e-commerce, an in-built payment processor, multiple video formats, and many more. So check it out!