-

6

mins read
Formerly known as Manwin, MindGeek is the parent company of both Reality Kings and Brazzers. The company holds almost every popular pornographic brand you might have heard about. To name a few, Pornhub, RedTube, YouPorn, Brazzers, Digital Playground, Men.com, WhyNotBi.com, Reality Kings, and Sean Cody.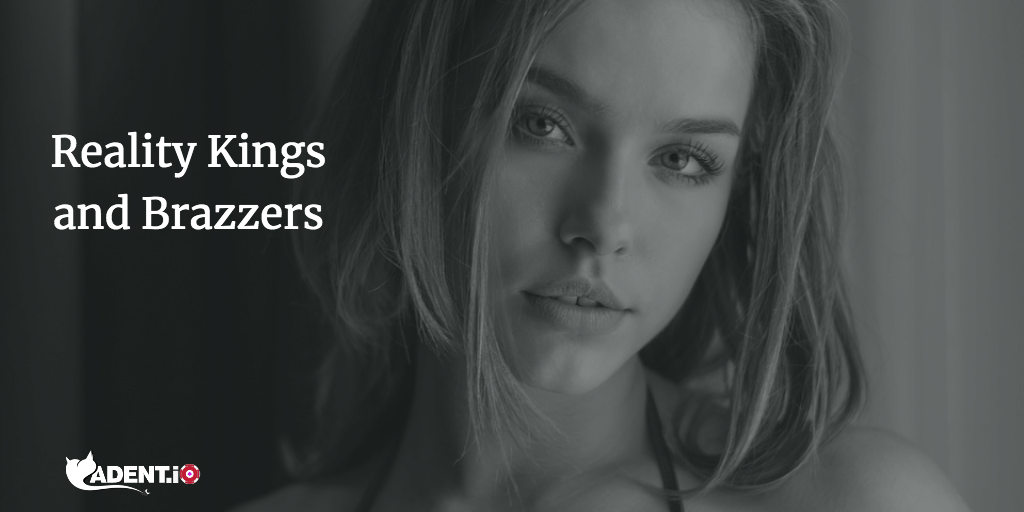 RealityKings and Brazzers are two of MindGeek's most popular holdings, which are primarily adult film production companies that also work as premium adult film video streaming platforms. Hence, to be clear, both are porn production studios, not porn streaming platforms. They use subscription-based revenue generation to sell their content through their porn membership website, RealityKings.com and Brazzers.com respectively.
If you are interested in how these two became giants in the industry and the ways you can adopt to start a porn business in a similar kind of business model, this article will help you to get started. Let's began with our analysis.
Brazzers- "The World's Best HD Porn Site!"
Brazzers is a porn production company headquartered in Montreal, Canada. Founded in 2005, and later merged with a corporate holding called Mansef, it went through a series of evolution, controversies, and acquisitions to become a part of the giant pornographic network what we call today as MindGeek. Currently, the CEO is Feras Antoon.
The business model of Brazzers
Brazzers' business model is as simple as any video production company can have. It produces its own content under its brand and sells the same through its official membership site. It hires performers and produces its own original content. Over a span of almost 15 years now, they have featured thousands of performers from all genders. However, the brand mainly boasts of its ease to find male performers; it's more like a niche for them.
Content on Brazzers:
Their catalogue ranges from scenes, short videos, long videos, and original films, to original porn web series. The major USP of Brazzers' business model is the diversity and the freshness of the content they offer to their users. They don't depend on their legacy catalogue and release new videos every day. Roughly, they add seven hours of fresh content in a week. It's their strategy to avoid boredom and intrigue users to continue with their premium memberships.
Apart from in-house productions, it also features HD quality content from its network of many other niche porn websites and production houses. The website offers multiple ways to search and browse porn in the way you like the most. Apart from a powerful Search by, you can browse content based on porn stars, Fetishes, categories, or content from other sites in their network.

The revenue model of Brazzers:
How Brazzers makes money? As a brand, it uses two primary channels to generate revenue from its overall business:
1. Subscription-based video on demand (SVOD)
Brazzers operates with the most simple business model that any video production company can adopt to make money–The premium Subscription model. Also called as Subscription-based Video-on-demand (SVOD), their revenue model allows them to make money by selling multiple premium plans to the users.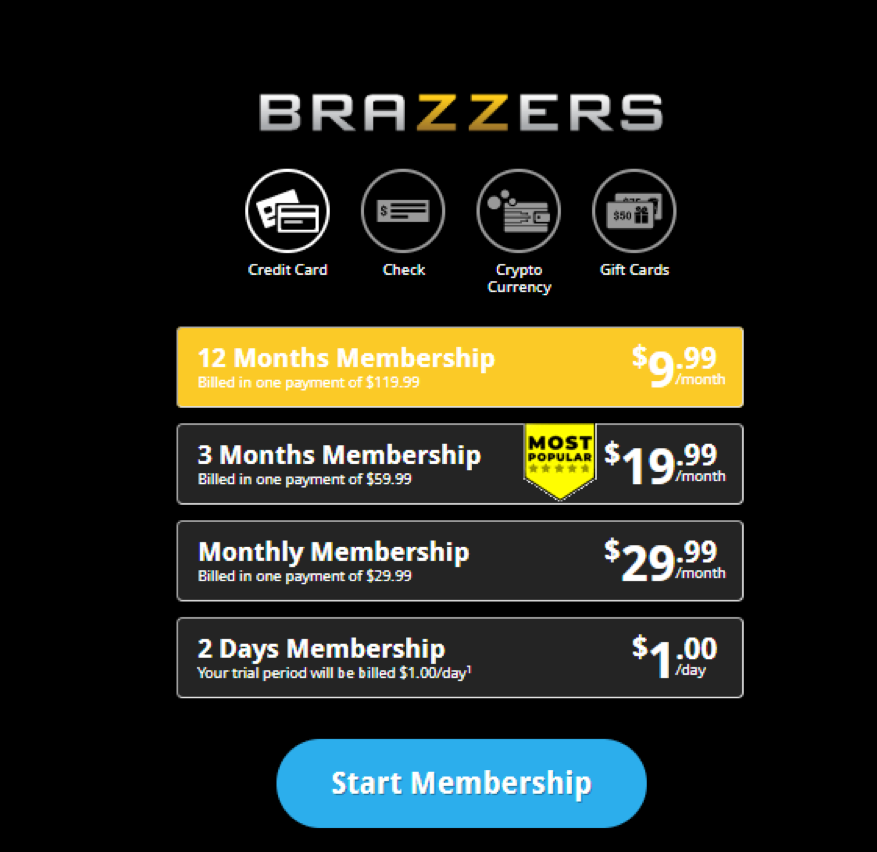 Only the users with a premium subscription can access the content on their website. In return, premium users get unlimited access to the massive library of their HD quality porn videos and originals. You might wonder, every scene is available on Pornhub free of cost, then why would anyone want to pay.
The answer is HD quality and full videos. Since Pornhub is a part of the same network, it's clear that MindGeek would not simply ruin its revenue. Free videos on tube sites are not available with HD quality, and most of the time, they are just the cut-scenes, not even the full versions. Besides that, the original web series from the studio are available on the original website under premium subscriptions.
So yes, anyone with a taste for HD porn, original porn web series, and access to over 34 niche premium websites, would easily subscribe to flexible plans of Brazzers. They offer plans starting from daily billing to yearly subscriptions. Brazzers is also a part of Adultforce's adult affiliate marketing network. It pays affiliate commissions to the people who can refer others to subscribe to their premium membership plans.
2. The Brazzers Store –Mainstream E-Commerce
Over the years, Brazzers has emerged as a giant brand. Though its primary business and revenue source is all about producing and selling porn, the company's popularity as a popular porn membership website has helped it get into the merchandising business as well.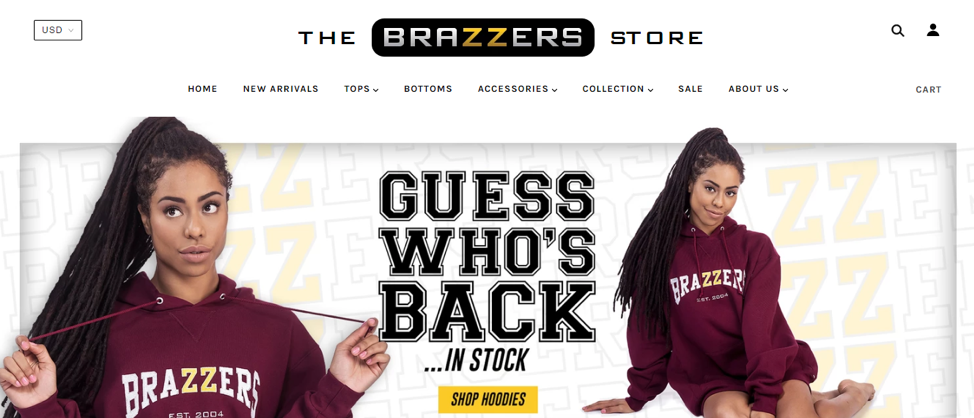 The brand runs a separate e-commerce store under the domain name 'thebrazzersstore.com', which features branded merchandise and accessories. Surprisingly, none of the stuff they sell is NSFW; everything is mainstream. You can find branded hoodies, beanbags, tops, tanks, bottoms, hats, bags, car accessories, and a lot more.
Payment Gateways and solutions used by Brazzers:
Brazzers uses ProBiller Online Payment Gateway to facilitate payment on its porn membership site. The payment gateway supports PCI-DSS compliant payment processors such as Netbilling, Safecharge, and Epoch. Besides, the site also supports cryptocurrency payments.
As per the non-NSFW eCommerce store is concerned, the company uses mainstream payment solutions such as Amex, Google Pay, Discover, PayPal, and Shopify Pay etc. to sell its merchandise.
RealityKings – "King of Porn!"
RealityKings is one of the original production houses started after internet porn became a thing. Its internet-exclusive porn has been in the scene for long enough to establish itself as a brand in the industry. Founded in 2000, almost 20 years ago in Florida, it too is a part of MindGeek corporate holding. The current Alexa global site ranking for the website is 10,633.
The business model of RealityKings
RealityKings' business model is nearly the same as its sister company Brazzers. It relies on both home production and content from sister sites to supply the content. They are one of the biggest porn production houses in the adult entertainment industry. The porn membership website has gone through a series of evolution parallel to the evolution of video streaming web technologies. In fact, you can still find archived videos in 720 x 480 pixels before the dawn of HD video streaming.
Content on RealityKings:
RealityKings features content from its in-house production as well as from a network of over 45 other premium niche sites. Some of its sites are there for over 10 years now with more than 6400 videos. Apart from popular mainstream categories and porn fetishes, the linked sites like MILF Hunter, Mike in Brazil, Big Naturals, and Euro Sex Parties offer niched content from various categories.
Similar to Brazzers, the RealityKings website offers multiple ways to search and browse porn based on different fetishes, categories, sites, and porn stars. The brand has featured the stars like Tanner Mays, Tanya James, Melissa Lauren, and Priya Rai.

The revenue model of RealityKings:
RealityKings relies on subscription-based video on demand (SVOD) model to generate revenue. The USP of the membership is the unlimited access to over 45 sites and original content from a single subscription. The plans start from daily, monthly, and 3 months to yearly basis.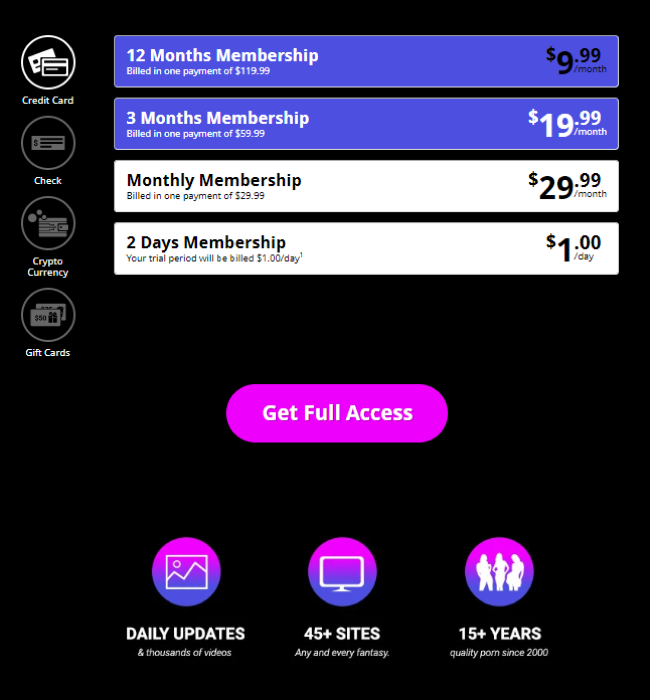 Apart from a premium membership subscription, RealityKings also charges an extra fee if you want to download a video. Unlike Brazzers, it does not allow unlimited downloads in the membership packages. You need to pay-per-download even if you have a membership subscription.

RealityKings too uses Adultforce's affiliate marketing network to manage its affiliate programs. The website makes a decent location to find quality porn and one-stop destination to access multiple porn sites with a single pass. Except, you cannot download without paying extra.
Payment Gateways and solutions used by RealityKings:
RealityKings uses ProBiller Payment Gateway to accept credit card payment. Same as Brazzers, the payment gateway supports multiple PCI-DSS compliant payment processors like Netbilling, Safecharge, and Epoch. Besides, the site also supports cryptocurrency payments, checks, and gift cards from BestBuy, Walmart and others.
How different are RealityKings and Brazzers from each other?
To be honest, there is hardly a difference between the porn business model of the two membership-based adult content giants. It's just that they were individual brands before the parent company acquired them. With an already popular brand image and respective fan following of the two, offering them as separate services gave the company better opportunities. After all, MindGeek owns more than 160 domain names and a popular adult Ad network -TrafficJunky under its umbrella:
Both belong to the same network- MindGeek,

Both are premium porn membership websites,

Both operate on the SVOD model to make money,

Both feature in-house content and videos from sister sites,

Both offer access to sister sites using a single membership plan,

Both offer multiple ways to browse porn based on fetishes and categories, and

Both offer multiple membership plans with altered access durations and prices.
The only major difference between the two is the way they use their brand image to sell merchandise. While Brazzers features its own Shopify store to sell official merchandise, RealityKings does not sell its merchandises in-house. You can find some limited merchandise on the third-party store, which might be paying a royalty to the brand. Nonetheless, the merchandise business of Brazzers is more popular than RealityKings.
Start porn business websites like Brazzers or RealityKings
If you find the business models of these two brands intriguing, and thinking about how to start a porn Production Company like them, you would need to cover two major steps in your quest:
Step-1: Register your porn production company, hire your models and porn actors, and start producing films, scenes, and web series.
Step-2: Use our xMember adult membership script to set up your website and start uploading your content to sell membership plans.
If you already run a porn production company, and have been uploading content on third-party sites to make money, you will find xMember a perfect solution to claim all your revenue from your own websites like Brazzers or RealityKings. This script is a MEAN stack-based, self-hosted adult membership website builder, which you can use to set up your website without coding it from scratch. It comes with ready-made features and website design similar to powerful adult membership sites. Besides, you can use several ready-made modules to add additional features without coding. However, if you still feel you need some unique features other than the provided ones, you can always customize the source code.
Here is a screenshot from the official webpage that explains some features of the xMember script: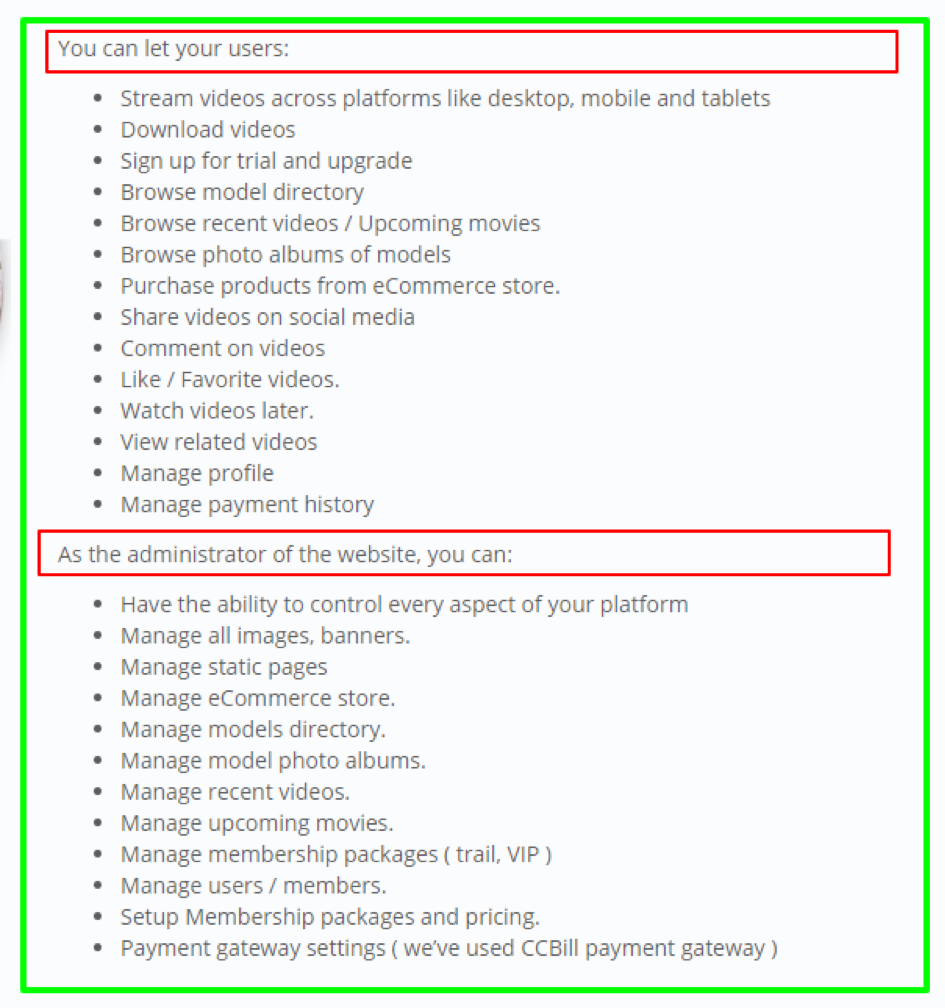 The best part about this script is its inbuilt eCommerce store. Similar to 'thebrazzersstore', you can use the integrated eCommerce store to sell official merchandises or adult products such as sex toys. Since it works on MEAN stack, it's lightning-fast, and it can handle millions of users at a time, depending on how fast is your adult web hosting server. Moreover, with a Scalable Architecture, Amazon S3 Integration, built-in high-risk Payment Gateway, and automatic Video conversion, you can't get a better solution to start a porn business faster than xMember can do. You should check out the script's live demo to learn more.
Recommended articles:
Join our FREE VIP Facebook Group to know more money making ways from adult sites.