-

8

mins read
Whether you're new to findom and trying to find a paypig to worship you and obey your orders, or you're just looking for a slave to spoil you and pay for your expenses, then you're in the right place. 
Paypigs are submissive people (generally men) who are exploited financially for their sexual fulfillment. Since many paypigs are rich men, it can be a way to have fun while earning a little extra cash to spice up your life.
With a little determination, knowledge of where to look, and an understanding of what appeals to a paypig, you can easily find the perfect match. So, if you're ready to learn how to find a paypig and become a findom quickly and efficiently, stick around until the end of this article.
Who Are Paypigs and What Do They Do?
Paypigs are individuals who engage in a specific type of financial domination, where they willingly provide financial support to dominant partners or findommes. 
While the term may sound peculiar at first, understanding who paypigs are and what they do sheds light on the dynamics of power and desire in the digital realm.
Paypigs, often referred to as "financial slaves," are individuals who derive pleasure from giving their hard-earned money to dominant partners or fetish models. They willingly submit themselves to a power dynamic where their financial contributions serve as a means of expressing devotion and surrender. 
This exchange is typically facilitated through various online platforms such as social media, messaging apps, or specialized websites. The motivations behind becoming a paypig can vary greatly from person to person. 
For many paypigs, this fetish provides an avenue for exploring fantasies of submission and humiliation within a consensual setting. And they willingly enter into these relationships with full awareness of the power dynamics at play.
How to Find a PayPig Online?
You'll be glad to know that there are multiple ways to find a paypig, especially online. But to grab their attention, you need to work tirelessly on building your online presence. Luckily, there are a few strategies you can use to land your first paypig. Let's dive in!
1. Create Your Social Brand 
Let's start with the basics: setting up your online profile and building your social brand so that prospective paypigs with deep pockets can see what you can offer. 
Be sure to keep it honest and straightforward on all your social media- it's important that anyone considering being your paypig knows exactly who they're dealing with and what they're comfortable with before making any transactions. 
In your profile, be sure to include your age, body type, stats, hobbies, interests, and physical appearance, as well as any other important details that might be attractive to someone who is willing to be a paypig.
Also, ensure that you mention what type of fetish you're comfortable with. So it can be easy to communicate with your client and get paid for your fetish.
2. Make Use of Twitter
Among social media platforms, Twitter is the best place to find potential paypigs. As an adult-friendly platform, you can keep tweeting your interest in becoming a findom, along with your sexy images and short clips.
The first step to using Twitter to find a paypig is creating an attractive profile. From your profile picture to your banner, make sure everything is clear and precise and also visually appealing (and arousing!) to your clients.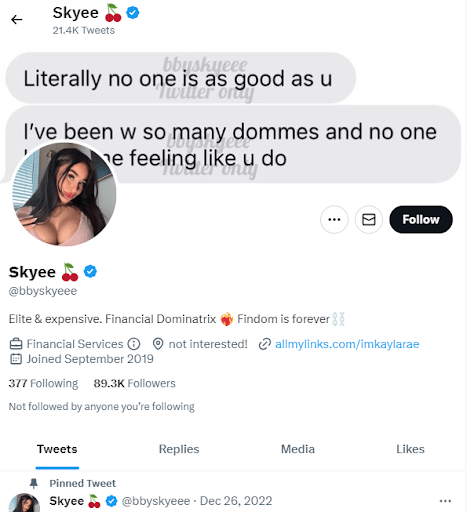 Take a glance at the Twitter profile above. You'll notice that Skyee, the model, has provided her experience, price, and social media links. Plus, she's got an eye-catching cleavage photo to boot!
3. Keep Your Search on Instagram, TikTok and Facebook Groups
Finding a paypig on Instagram and TikTok can be a bit challenging, as these platforms are not the most adult-friendly. However, there are still ways to find potential clients. 
One approach is to search for related fetishes, such as 'BDSM Models', and browse through the posts. You'll come across many posts by models or individuals who are interested in BDSM models. 
If you find someone who seems interested in your services, send them a DM and start building a connection. As you get to know them better, you can slowly work on showcasing your sexting skills and persuading them to become your client. 
Remember to keep your Instagram and TikTok profiles updated with engaging and spicy content to attract paypigs.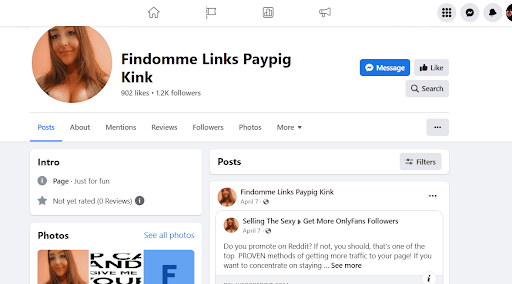 You can also search for a paypig on Facebook, as there are a lot of fetish-related community groups available there. Consider joining a private group rather than a public one, as it is likely to have more active members who are into findom and BDSM and may even include potential clients.
4. Be Active on Reddit
On Reddit, you'll find various communities where people discuss and connect with potential paypigs. These communities, like r/findom and r/PaypigsNeedingDommes, serve as platforms for individuals seeking these types of relationships to connect and explore their options.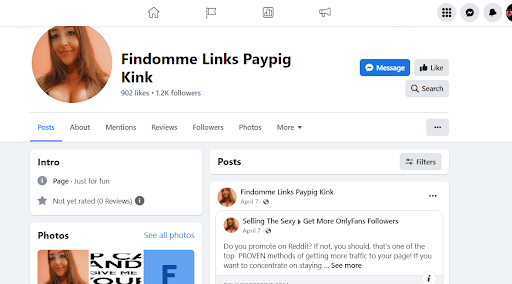 It's important to note that not all users who say they will become your paypig on Reddit are genuine or trustworthy. As with any online platform, it's crucial to exercise caution and do your research before engaging with someone. 
By following all four steps above, you can easily find a paypig who will pay you thousands of dollars a month. Now, let's move on to the next question – where to find a paypig?
Best Places To Find a PayPig Online
1. Ashley Madison
As a dating website, Ashley Madison is gaining popularity for pairing people looking for extra-marital fun, and is now catering to a wide range of people, including couples, singles, and those interested in fetishes like BDSM and findom.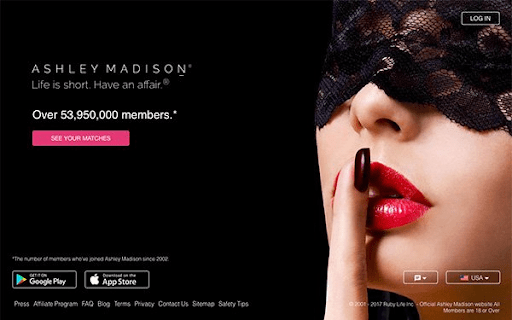 Considering that male members need to pay for their membership, many of them are paypigs who have money to burn, and this is great news for anyone interested in finding love.
Furthermore, the site places a huge emphasis on privacy, with all members being anonymous so that they can enjoy their fetish without getting caught, so more paypigs are using the site because of this.
2. Findom.com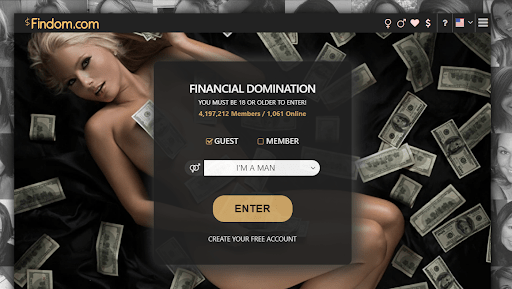 Looking for a vibrant community of Findommes and rich paypigs? Look no further than Findom.com! This site offers an exciting way for paypigs to show their appreciation to their mistresses through tokens, which can be purchased and then transferred as tributes or gifts. 
And the best part? Users can withdraw these tokens for cash, with only a small commission taken by the site.
But that's not all – Findom.com offers three unique payment options, including the gift/tribute, the tithe, and a 10% share of the paypig's income. While the last option requires a trusting relationship between friends, it can lead to a truly rewarding experience. 
3. SugarDaddyMeet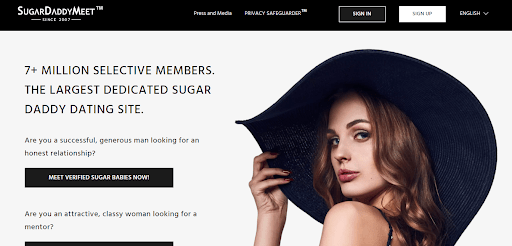 SugarDaddyMeet is an online platform that connects sugar daddies and sugar babies. If you're not familiar with these terms, a sugar daddy is typically an older, wealthy individual who enjoys spoiling their partner with gifts and financial support. 
On the other hand, a sugar baby is someone who seeks companionship and financial assistance from their sugar daddy.
In addition to providing discreet sugar daddy & sugar baby relationships, the site also offers opportunities to build relationships with affluent individuals who are interested in roleplaying with BDSM, and a variety of wealthy and generous men have various sexual fetishes on the site.
The website uses advanced search algorithms to help you find a paypig with a perfect arrangement based on your preferences. You can filter by age range, location, interests, and more.
4. Secret Benefits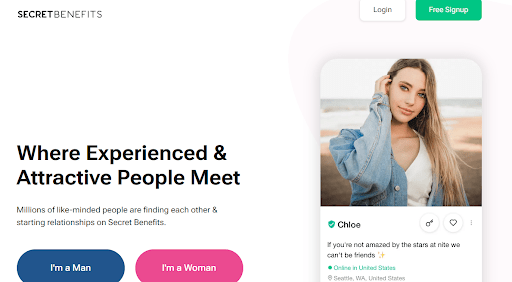 Secret Benefits is one the unique paypig websites that connects individuals who are seeking financial domination with those who enjoy being financially submissive. 
After creating an account, you can start searching for a potential paypig. Once you find someone, you can start chatting and getting to know each other better through Secret Benefits' secure messaging system. 
With SecretBenefits, rich and influential individuals can explore mutually beneficial relationships with paypigs and Findommes in an extremely discreet way.
It's important to note that Secret Benefits prioritizes safety and privacy. They have measures in place to verify profiles and ensure that all interactions are genuine. Plus, they provide tips and guidelines on how to find a paypig on their platform.
5. OnlyFans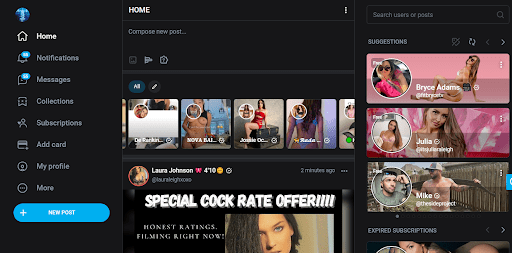 Most people join OnlyFans with one primary objective – to explore and enjoy the mind-blowing 18+ content that the platform has to offer. You'll find that everything on the site, from stunning photos to captivating videos, is locked behind a subscription or premium fee. 
Once you've subscribed, you'll have unlimited access to all the raunchiest clips and pics that OnlyFans has to offer. 
As a findom model, you'll have a blast finding a paypig on this platform. By mentioning your interest on your profile, you can expect clients to flood your private chats within a few days. 
Plus, you can make extra cash by selling used panties, sex toys and other items.
6. BDSMdatingonly
BDSMdatingonly is a unique platform designed specifically for individuals who are interested in exploring the world of BDSM relationships and connections. 
The website operates on a user-friendly interface that makes it easy for members to navigate and connect with others.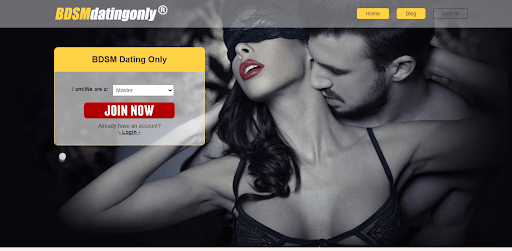 Upon signing up, users can create a profile that highlights their interests, preferences, and boundaries within the BDSM community. This information helps the site's algorithm match individuals with compatible partners who share similar desires.
The site offers various search filters to help narrow down your options based on location, age range, kinks, and more. You can also engage in private messaging or join chat rooms to connect with other members and explore shared interests.
Factors to Consider While Finding a PayPig 
For a positive and mutually beneficial arrangement, several factors must be considered before finding a paypig. Here are some key considerations:
1. Be Clear About Your Intentions
It is imperative to have a clear understanding of your motivations and objectives for pursuing a paypig relationship. It is recommended that you articulate whether your intention is to seek financial assistance, companionship, or a combination of the two. 
This level of clarity will facilitate your ability to connect with a potential paypig who shares your intentions.
2. Define Your Boundaries
It's important to set clear boundaries and expectations from the get-go. Take some time to think about what you're comfortable with in terms of time commitment, intimacy, communication, and other relationships. 
Be open and honest when communicating these boundaries with your paypigs to ensure that you're both on the same page. It's all about finding that perfect compatibility!
3. Prioritize Safety 
When it comes to going out with a paypig, it can feel a lot like dating. But with any kind of dating, there are always going to be bad apples out there. 
That's why it's important to use your best judgment, smarts, and street smarts to make sure you don't end up in any uncomfortable or dangerous situations. It's always a good idea to listen to your instincts and take advice from friends who have your back. 
Just remember, it's easy to spot the bad eggs as long as you don't let the money or gifts cloud your judgment. And when you do start meeting up in person, it's always a good idea to take some basic safety precautions. 
Let your friends know where you're headed and who you'll be with. Make sure they know when you plan on returning. 
4. Know What You Want
In the case of seeking financial support from a paypig, it is important to carefully consider factors such as your desired level of involvement in intimacy, time commitment, and lifestyle preferences.
It is worth noting that paypigs come from diverse backgrounds and possess varying levels of wealth, physical attractiveness, and personality traits. 
Some may be more generous than others, while some may have specific expectations in return for their support. Taking the time to clarify one's own preferences and objectives can streamline the process and increase the likelihood of a successful outcome.
5. Verify Their Financial Stability 
It is of utmost importance to conduct a thorough assessment of the financial stability and capability of your paypig before relying on their promised financial contributions. This proactive approach can prevent potential conflicts and payment disputes in the future. 
Conclusion
So, these are some strategies for finding a paypig who can assist you in securing your future. With the right tools, you can achieve a more prosperous existence and live the life you desire. 
A safe and reliable platform that connects you with genuine and trustworthy paypigs is critical in this process. And xModel by Adent.io is an excellent solution for generating revenue from a paypig by creating your own findom website. 
This approach affords you complete control over your income and provides an exceptional user experience. By creating a first-rate findom website, you can attract a paypig who is eager to provide substantial amounts of money, allowing you to live a contented life.
1. Is having paypig legal?
Only paypigs who provide financial assistance in exchange for companionship or sexual favors are legal. In the absence of an exchange of favors, the paypigs may be considered a financial sponsor and subject to different laws.
2. How much money can I make from a paypig?
Assuming your paypig is 40 and makes $250,000 a year, and you are 25, you can expect to make around $2500 – $3000 a month. 
3. Do I need to have sex with my paypig?
Sugar daddy and paypig are two entirely different things. With paypig, you may or may not require a sexual relationship with your client. However, fully immersing yourself in the roleplay is 100% essential.