-

13

mins read
Are you looking to become a findom? Do you want to know how to get into findom and make money? If yes, read this ultimate guide to become a findom goddess and dominate your subs on the go!
The term "Financial Domination" wasn't very popular until late 2020. During the pandemic, many creators were looking for ways to make money and becoming a findom was one of them!
Though earning money by being a findomme existed earlier, it was only after the pandemic that it shot up high. Who doesn't want their bills paid by others, especially when they are willing to do it?
Getting to the point. We assume you also want to become a findom and make some money online. You might have heard about all the findommes around making a couple grand every month and thought, "Why not try?"
If we're on the same page, this is the place for you. Here, we've covered how to become a findom, realistic expectations on how much you can make as a findomme, the different ways to earn money, a couple of valuable tips and safety rules to follow when you become a findom. In a phrase, "Everything you're going to need!"
That said, let's look at the basics!
What Is a Financial Dominatrix?
In simple terms, financial dominatrix/domination is when an individual (generally called submissive/pay pigs) gives control of their financials to a superior person (dominatrix/domme) in exchange for fulfilling their desires.

Who Is a Financial Dominatrix?
A Financial Dominatrix is a person who drains money from an individual in exchange for fulfilling their desires and sexual pleasures. They taunt, tease, insult and arouse the individual and get paid for the same. 
Some of the standard terms used for superiors are,
Findomme

Money Mistress

(Master if it's a male)

Cash Mistress 

Domme

Princess

Goddess
Who Is a Finsub?
Finsubs are individuals who take pleasure in being dominated by findommes. They like to please their mistress/master by allowing them to take control of their finances and ultimately be submissive to them.
This act of being submissive and controlled arouses them. Some other common names used for finsubs are,
Paypigs

Human ATMs

Financial Submissive

Worker Bee

Findom Addict

Sugar Daddy

(an elder person who pays for the finances)

Losers

Goons
Now that you know what findom is, let's look at what financial submissives expect from you.
What Do PayPigs Expect From You as a Findomme?
This cannot be a simple, one-liner answer. So let's put this into perspective for you.
So, a person who is a findom addict is generally someone who can lavishly spend. They have money in excess and are high-profile people (in most cases), which means their daily routine includes making important decisions and running a tight ship.
They'll be so tired of making decisions that they just want someone to take control of them. Remember The Wolf of Wall Street, where Leo's tutor jacks off now and then to relieve the pressure? This is similar to that.
Submissives want to relieve their pressure by allowing a findomme to control them. Here's what will happen between a findomme and a submissive,
The findomme takes control of their wallet and drains money

Order the sub to send money whenever they want

Get gifts and e-gift cards when they want

Simply boss them around and make them feel they are controlled

The domme gives them sexual pleasures – talking dirty, sending nude pics and videos  and more

Make a living out of their money
In predominant cases, this happens between a findomme and a pay pig; insults and verbal abuses are part of the package – it comes without saying!
Sometimes, it can even go extreme! Here's an image where the famous Mistress Marley humiliates a paypig publicly.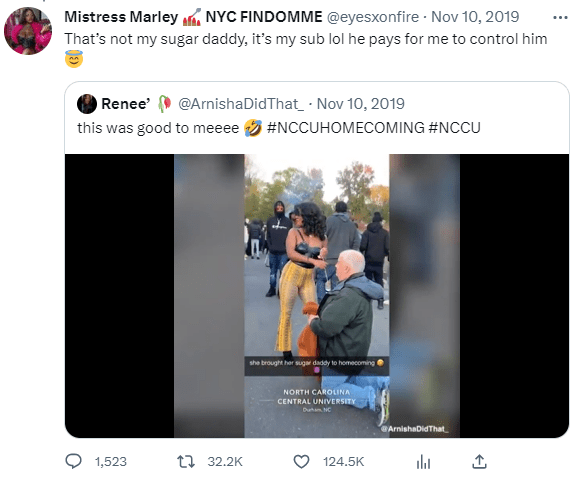 The expectations differ from one sub to another. So it's crucial that you clearly understand what a paypig wants before engaging with them.
How Much Money Can You Make When You Become a Findom?
Well, it all depends on how much of a findom goddess you are and how many subs you have. But on average, you can easily make $1000 out of a paypig when you become a findom. It can even go up to $10,000 monthly with little effort and consistency.
Your findom income depends on a lot of factors like,
How much you charge for pics, videos and live cam sessions

The number of subs you control

How rich and generous each of your pay pig is

The level of control, the charm and dominating factor
All these accounts for how much money you can earn when you become a findom. But the cool part is, you never know when a rich submissive will give you a huge amount.
Just to help you understand better, 
In 2014, an anonymous man gave Maitresse Madeline $33,500 for a 60-minute webcam session. 

Another findomme named Diamond Diva Princess made over $100,000 from a single paypig.

Diamond Diva also had another cash cow named

"Gift Puppet,"

who spent more than $30,000 in a single day on gifts, electronics and furniture.
Massive, right? It's like there's no limit on your findom earnings. You just have to be consistent, dominating and find the right pay pigs.
P.S. We believe the anonymous man is still out there!😉
The Different Ways to Earn Money in Findom
This is where we'll tell you how you can make money after becoming a findom. You can skip the ones that you do not want to do, but it is highly recommended that you master all the monetization methods.
1. Tips/Tributes
Customer tips are the most common way to make money when you become a findom.
If you're an adult webcam model, you probably know how difficult it is to get a tip unless a really horny guy/girl comes into the picture. But with findom, this isn't the case. 
Here, you demand what you want and your submissives pay the same to you without a question.
You can discuss the amount of money with your subs and get it weekly or monthly – do not forget to take payment in advance.
Apart from that, you can command your subs to pay you at regular intervals during chats or when they specifically ask something from you. Or, you can simply invite them to send money because you're in control now!
2. Subscription Memberships
This is more like a monthly subscription where your submissives pay monthly to view all your premium content. Consider these more like your fan pages.
Making it clear that you're a findomme will attract a lot of submissives to your page to view all your premium content and establish a relationship with you. You can easily create subscription memberships on the best findom sites like OnlyFans, ManyVids and more (we've listed a few more below).
Load your membership access with your findom adventures. Your paypigs will love it!
3. Sell Pictures & Videos
Currently, we've seen two ways to make money being a findomme. This is the third and most popular option – selling media.
Subs always like it when you're powerful. You can leverage this opportunity to flaunt yourself – reveal photos of yourself with money, lavish lifestyle or even sultry photoshoots. For subs who crave sexual content, go for nudes, orgasm videos and more.
Make sure to create an album to sell for good money, somewhere between $5-$10.
It's all about money and power. So make sure your content revolves around the same.
4. Custom Content
Most of the time, subs have their preferences. You might even end up with peculiar requests, but it's up to you whether you want to do it. But again, you can charge a premium price here.
If a pay pig has a custom content request, it's clear that they are attracted and totally into you. And since they are cash cows, why miss this opportunity?
The requests could be anywhere from uttering their name in a video to wearing special outfits and role-playing for them. You can charge anywhere from $50-$100. But if you're a findom goddess, don't hesitate to ask for even $1000!
5. Live Cam Shows
Let's just say that live cam shows are the best way to make money when you become a findom. In a live cam show, you and your submissive connect 1-on-1, engage them, and drain their money.
You can charge a minimum of $10 per minute for a live session. Make sure to receive payments in advance (at least a part of it).
Many models use cam sites for live cam shows separately, but we suggest you stick to one platform and leverage it for all the monetization methods.
6. Sexting
Sexting has been in existence for a very long time.
Most financial domination websites have the option to text with followers. You and your sub can chat on the platform, and while doing so, make sure you charge for sexting.
Restrain from asking very often – a 10-minute time interval and a $10 would be ideal to start with!
7. Creating Wishlists
Wishlists are nothing but sophisticated tributes. So instead of asking your subs repeatedly for tributes, you can simply create an Amazon wishlist, share it with them and demand from them.
But remember, if you want to stay anonymous with your sub, it's not a good idea because, at some point, you'll be identified. But if that's not a problem, wish lists are a great way to spice things up between you and your pay pig.
Here's a wishlist from a findomme model called GoddessMandy.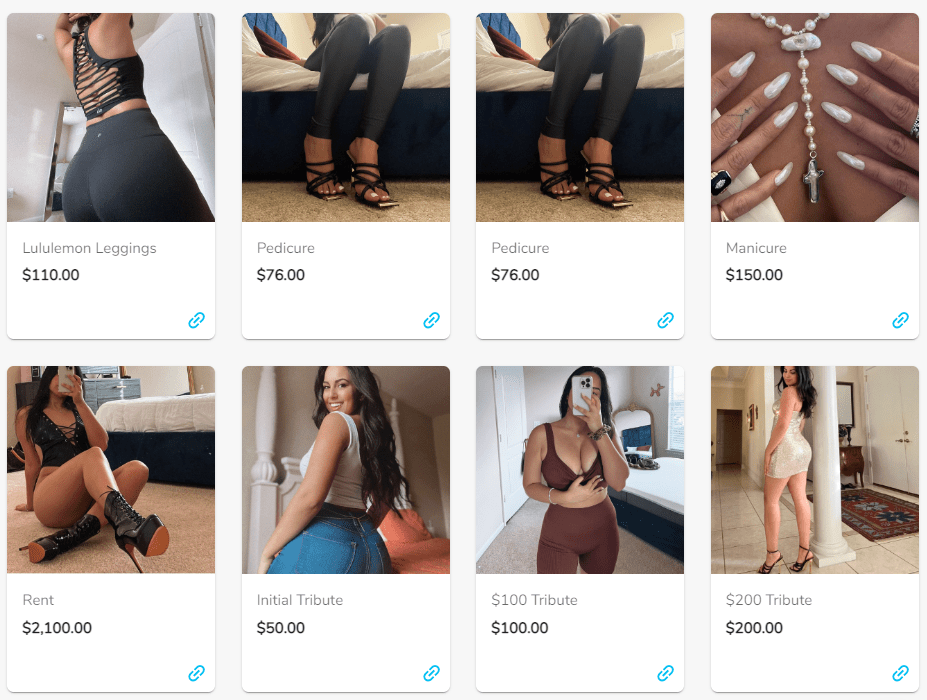 You can also create similar wishlists and ask your subs to pay for them.
So, those are popular ways to make money when you become a findom. You can also make money via phone chat, MP3 and consensual blackmail (where your sub reveals their secrets and you threaten them in exchange for money).
Now that we've covered the basics of how to be a financial dominatrix, let's see how you can become one.
How to Become a Findom?
What you're about to see is a step-by-step approach to how to become a findom. All you need to do is, sit back, go through the steps and reach out to us in the comment if you have any queries.
1. Doing the Research and Deciding On What You Want
First, you need to research the world of financial domination in-depth. Because this is a concept one doesn't come across in their day-to-day life. So, the possibility of you knowing about the world of findom is very less.
Before you get into action, make sure you have a complete understanding of the findom kink. Read many blogs, watch many expert YouTube videos on findom and surf through popular findom forums.
After that, it's time to decide what you're comfortable with in your findom venture and what you want. Though making money is the ultimate goal, doing what you're comfortable with is more important.
Ask questions to yourself like "Would you be comfortable selling nudes, abusing people verbally, insulting them, bossing and humiliating them around?"
If you're comfortable doing all this, then findom is totally for you! If you're not okay with selling nudes, you should at least be sexy and revealing! 
Because a lot of subs out there look out for sexual favors!
2. Investing In Equipment & Props
We've been talking a lot about photos, sexy 1-on-1 cam shows and sexual pleasures.
So, here's what you'll need to invest in.
Sex toys

Findom costumes

Good video recorders and cameras

Ring light for better studio effect during recording and photoshoots

Tripod for stable cam shows
Speaking about findom costumes, it's just the sexy costumes you wear for stripping and cam shows. But if you're not trying to be sexy, you can wear costumes or tees that enhance your personality as a findomme.
For example, costumes like these will make you more attractive to your subs.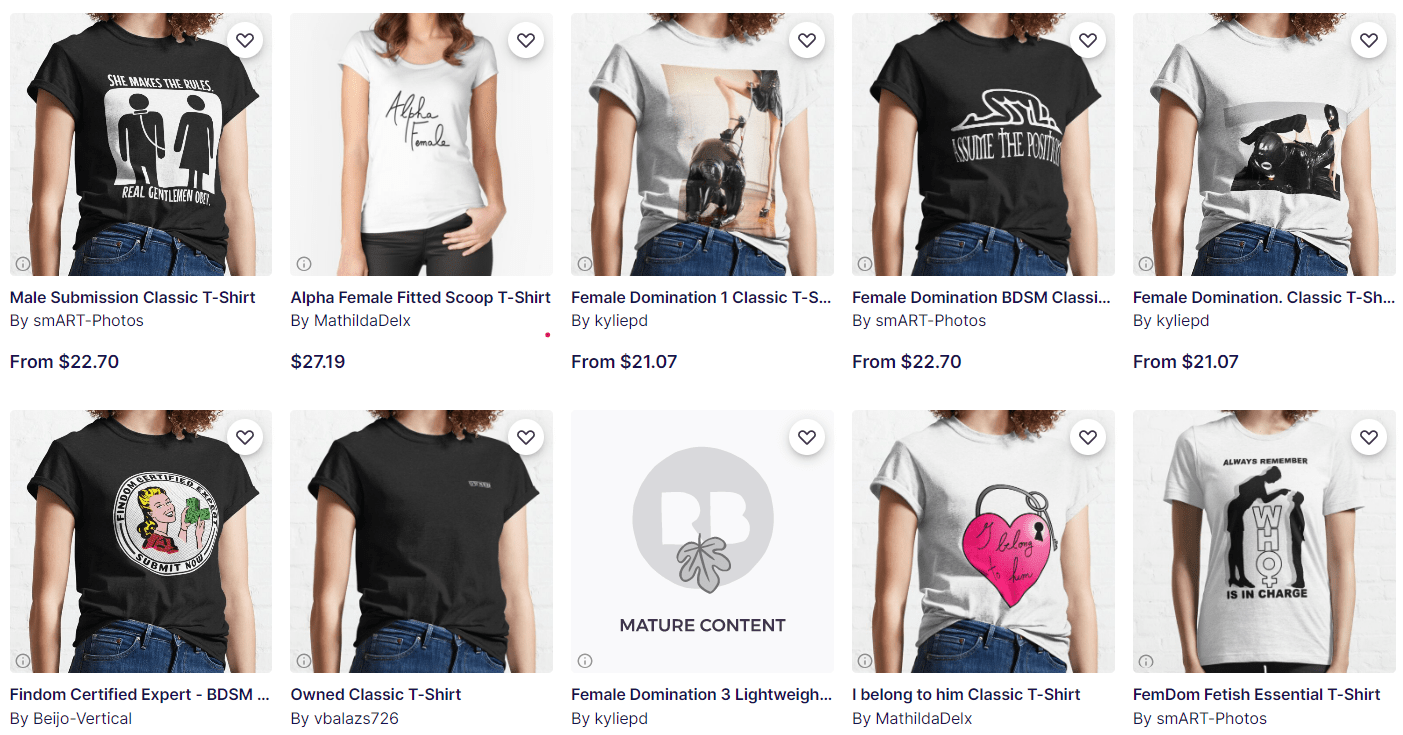 These kinds of slogans on your outfits will make you more attractive and dominating. You can find these costumes on Redbubble.
3. Finding the Best Financial Domination Sites
Let's say you're the best findomme a sub can get. But that's useless when you're not visible to them or unable to make good money.
At a point, you'll lose interest in findom and you'll give up. This can be easily fixed by signing up for the right platform. To make things easy for you, we've listed a couple of the best findom websites here.
Those are some of the widespread financial domination websites you should check out. A better option is creating your own website for financial domination.
The reason why it's a better option to have your own website is because you have complete control over your business and the best part is, you don't have to pay any commission and there's no one to compete around.
An ideal findom website should have features like live cam, pay-per-view selling, gallery, subscription memberships, built-in payment gateways and more. Building it from scratch will consume a lot of time, effort and money.
You can prefer going with readymade white-label scripts. xModel by Adent.io is an adult membership website script that comes power-packed with all the above-mentioned features.
xModel is white-label, which means you can customize it to any extent. Also, since it's only a one-time fee, there's no commission involved. You have 100% control over your earnings.
Now that you know the best findom sites out there, do your own research before signing up for them. We'll talk about how to get you in the limelight later.
4. Creating a Detailed, Clear-Cut Profile
Once you sign up for the platform, the next step is to create a profile. And read this phrase very carefully – it's your profile that usually makes a conversion!
When you craft your profile bio, clearly state
What you are into

What services you'll offer

Any findom rules your subs need to follow

Your social links, payment profiles

Anything else that's of importance
Coming up with such a profile will make real losers stay away and can save you a lot of time. It's more like a filter that saves you from people who are not willing to pay money or with different interests.
Here's a perfect example of how your profile should not be!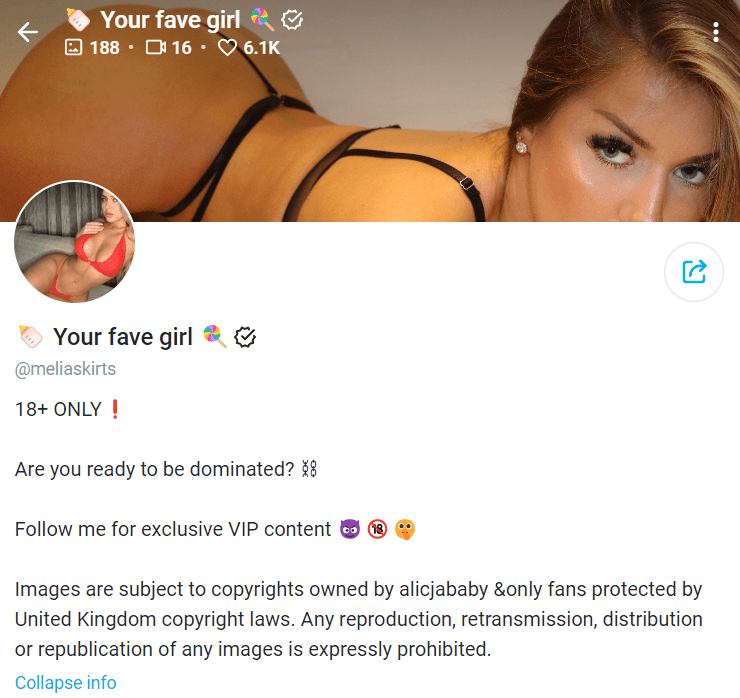 Not saying this profile didn't make it. She does 6000+ likes and a decent number of media. But the profile bio states almost nothing about what's offered.
"Are you ready to be dominated? ⛓" This makes it clear that she's a findomme, but it is not enough.
On the contrary, here's an excellent findom model profile from OnlyFans.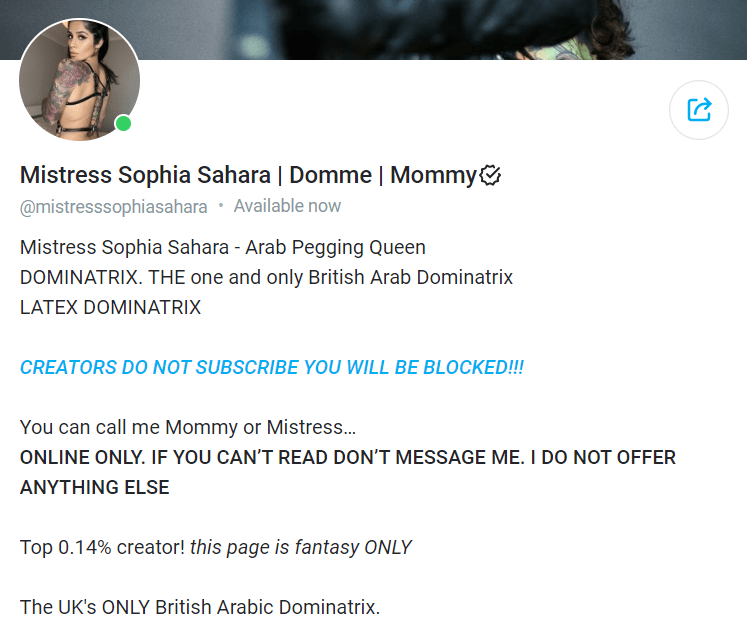 Sophia Sahara, in the first half of her profile, has clearly mentioned that,
She is a British Arab Financial Dominatrix

You can call her Mommy/Mistress

Similar niche creators will be blocked if followed

(not willing to reveal trade secrets

😉

)

She doesn't offer any other services other than what she has mentioned
And in the second half of the profile she has mentioned all the services she offers.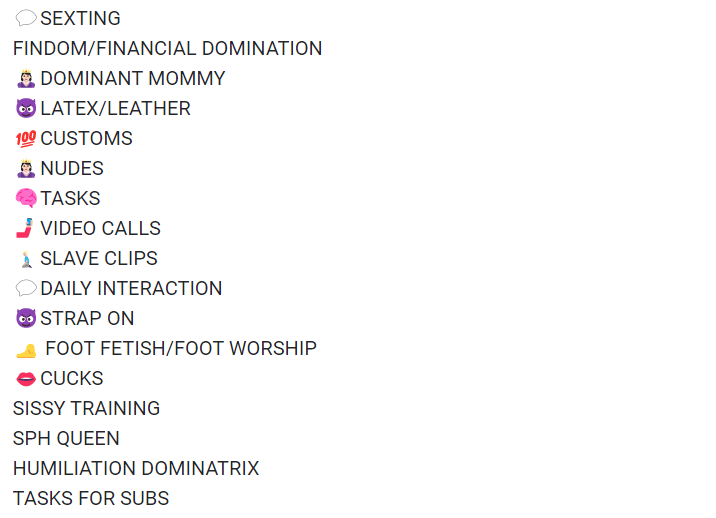 When you look into the services, it covers most of the findom niches making it one of the best findom profiles.
So, make sure your profile looks sort of like this – top-notch is the word.
5. Setting Up Payment Gateways
So far, you've done your research, invested in equipments, chosen the right platform and created a good profile. Now, the next step is to set up your payment gateways. You need to receive cash, right?
We've mentioned the best payment platforms to receive your findom earnings,
CashApp

(the most preferred choice)

Venmo

Verotel

Cryptocurrency – Bitcoin & Ethereum
If you think we missed out on PayPal, it is because the platform doesn't support adult transactions. Assume this scenario where a sub, after sending your payment via PayPal, reports the transaction as having a sexual nature, your account will be closed.
So, a big NO to PayPal and Amazon gift cards, too (if you don't want your personal information to be revealed).
By completing these five steps, you will officially become a findom. All that's left is for you to find paypigs, become the best findomme they've ever come across and drain them off their wallets.
That's precisely what we'll be looking at next.
Important Tips to Become a Findom Goddess
So, you are a findomme now. That's just one-half of the journey. Knowing how to thrive as a findomme is the crucial part. Getting discovered, having loyal subs pay for you, and maintaining consistency is all a part of becoming a successful findom!
1. Promoting Yourself on Social Media
Just creating an account on a findom website will not help you draw the attention of slaves. You need to advertise yourself and one of the best ways to do it is social media!
1. Twitter
This is one of the go-to platforms for publishing findom content as the platform is quite flexible on 18+ media.
You can find a lot of findom models on Twitter advertising their services. The goal here is to draw attention, showcase themselves a bit, convert them into a pay pig and make them avail their services.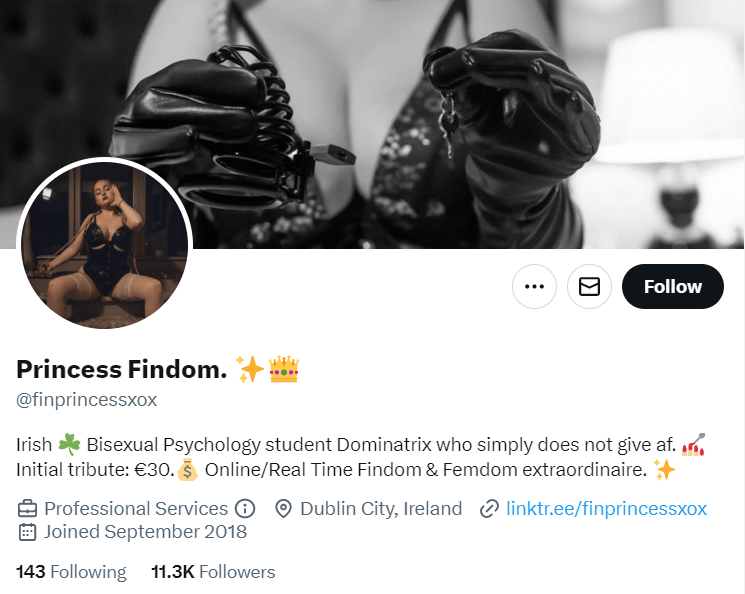 Continuously post tweets on Twitter and use the right hashtags to get attention. The above findomme has over 10k followers and she has been in the space only for four years!
2. Reddit
When discussing adult stuff promotion, Reddit must be noticed. The platform has a lot of findom communities within it where you can simply advertise yourself and capture attention.
Here is one such findom community on Reddit.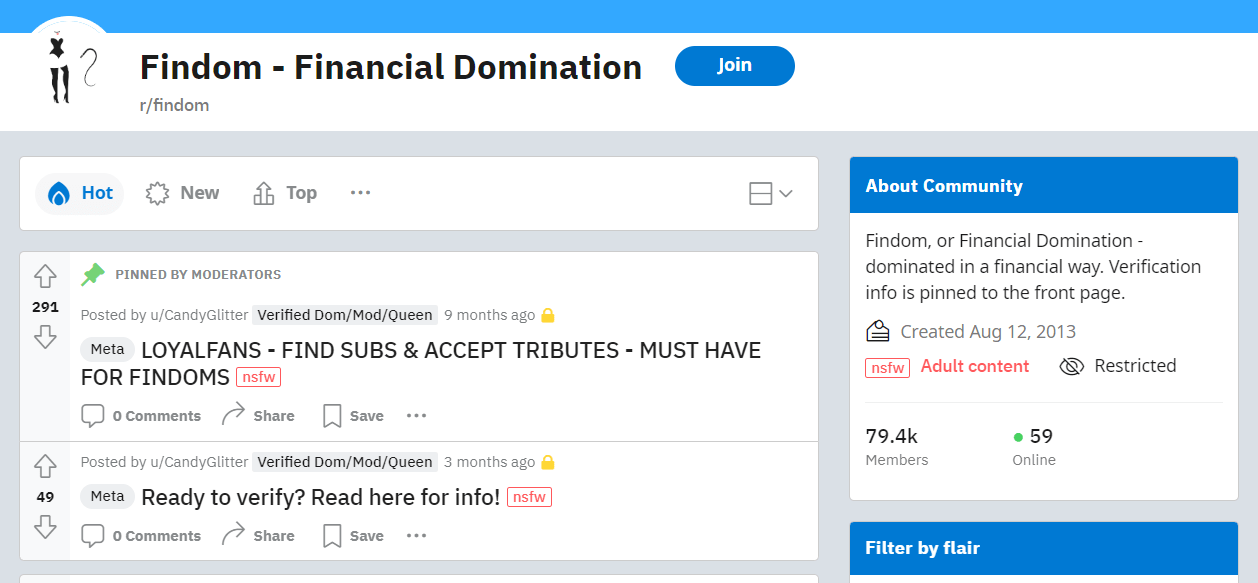 Just make sure to follow the community guidelines to avoid getting banned.
You can post your photos & videos to capture attention. Or even showcase your earnings to help subs know you're among the best findoms around.
3. Instagram
On Instagram, there's not much you can do if you're into nude content. But still, you can reveal sexy photos and let people know you are a financial dominatrix.
It's the same routine here – post your content, use proper hashtags, be consistent and wait for the subs to find you!
Those are the popular social platforms to promote yourself as a findomme. Remember, the more eyeballs you get, the better the army of paypigs you have!
2. Different Ways to Find PayPigs
A small correction here. You don't go out and find pay pigs. They find you!
In findom, it's all about power exchange. You are the person in charge here. And you need to act like one.
If you go out and reach out to subs, you'll look powerless! It doesn't work that way! All you have to do is, show yourself as dominant, powerful and wait for the magic to happen!
3. Have an Ideal Findom Name
Every findomme profile you come across (at least most of them) has a suffix or prefix. This immediately makes their profile stand out by adding more personality and character, enabling subs to find them easily.
If you think this might not make much difference, trust us, it'll become more of an identity for you down the lane!
Here are some words you can add before or after your name,
Goddess

Findom

Greedy

Domme

Alpha

Queen

King

Princess

Prince

Mistress
These are the popular names used in the findom world. You can check the example profiles we showed you in this blog. Matches, right?
4. Upholding the Much-Needed Attitude
Initially, it will be tough! You won't have any subs under you and getting discovered can be a problem for some time. But the only thing you'll have with you is your attitude.
Like we already said, findom is all about domination and power exchange. If you lose your attitude, you won't be that fascinating then. You need to be ruthless with your subs always.
So, no matter what, don't lose the findom swag!
5. Your Messaging Style
We talked about being ruthless, right? This is how it should be! We've picked out a couple of examples to help you understand better.
# Example 1 – Alpha Pedro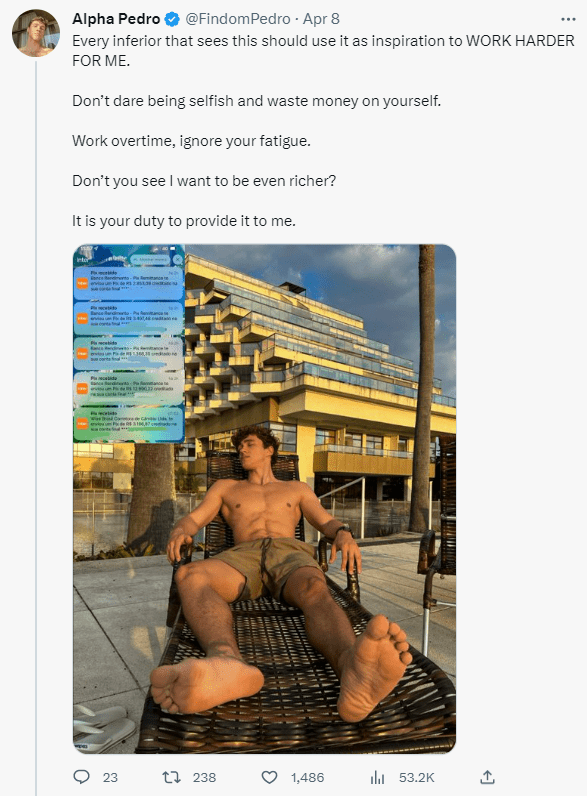 # Example 2 – Princess Findom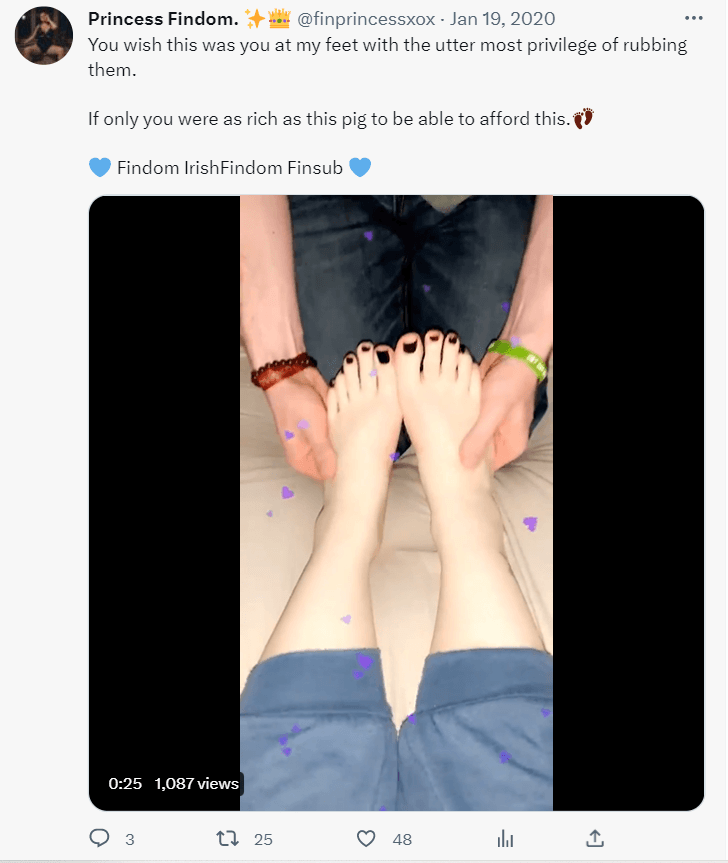 # Example 3 – Mistress C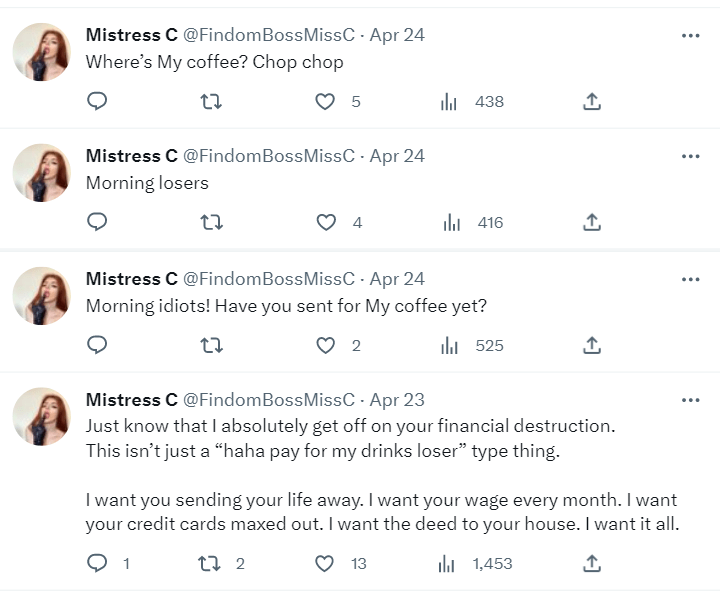 If you see all the tweets mentioned above, these findommes are simply dominating their subs around and being ruthless. This is exactly how you should be because this is such a turn-on for the losers!
Practice until you become ruthless like these findommes. Learn to humiliate your subs – anytime and every time.
6. Don't Waste Time On Passer-by
If you're a full-time findomme, then there's no harm in engaging with all the messages you get. But generally, it's not advisable to spend time with wanderers. 
One way to filter them out is by mentioning you need a tribute along with their first message. This can help determine who is really willing to be your human ATM and who is not!
With these tips, you will be on your way to become a findom goddess. But there are a few things you need to be careful about. And we'll be seeing this in the following section.
Findom Rules You Need to Follow to Be Safe
Staying out of trouble is essential when you become a findom. It's not a lot of work. You just need to know where not to dip your foot! We've done the job for you!
1. Never Meet Your Subs in Person
Though this isn't a mandatory rule, most would like to keep the dom-sub relationship online just to avoid trouble.
But there are instances where findommes meet their subs and punish or give them tasks. If you're into that and are sure about your safety, it's not an issue!
2. Don't Use Their Debit/Credit Cards Directly
Some subs love it when you totally take control of their financials – bank account credentials, debit and credit cards. Some even give complete access to their laptop and get aroused watching you drain their money.
But it's not worth it – you can quickly get into trouble for doing this and your findom venture will RIP before it even takes off! So, however the offer may be tempting, don't do it!
3. Never Poach Other Findomme's Customers
The world of findom can get quite bitchy very soon! And the last thing you want is another findomme fighting over a pay pig!
So, make it a rule that you never poach customers. Leaving comments on others' posts is okay as long as it is not promotional. If you don't want other findommes to know what you're up to, you can simply block them or put a message like Mistress Sophia did.
Those are some basic rules you need to be aware of when you become a findom! That said, we've reached the end of our "How to Become a Findom" guide.
Final Few Words
Being a findomme is the art of exercising power over others and dominating ruthlessly. There's no shying away or pity here. The more you are like this, the better your findom income will be.
Now that you know how to become a findom (and make more than $700 per paypig), the different ways to earn money, tips to become a findom goddess and even build your own fan site with a script called xModel, there's nothing for you to wait for!
Go become a findom! There are a lot of cash cows out there waiting for you to dominate, humiliate and drain their wallet!
Go FINDOM!✨