-

4

mins read
There is no doubt in the fact that sexting is a viable side hustle nowadays. But what people don't know or are confused about is how much to charge for sexting. In this article, we will see how you can set prices for sexting and what are the best ways to make more money through sexting.
Sexting basically means exchanging sexually explicit and steamy messages between two adults. The thing to remember is sexting should be between two consenting adults, or else it turns into harassment. In the old days, sexting used to mean sending raunchy text messages on our old phones. But now, with smartphones, sexting includes emojis, pictures, videos, voice notes, sending nudes, etc., making it an immersive experience for adults.
What started as a pastime between two horny adults soon turned into a viable side hustle for many out there, both males and females. Let's get into the details and see how much sexting costs and how much to charge for sexting. But before that, let's understand more about the sexting business.
Is sexting a profitable business?
Out of all the various ways to make money in the adult industry like selling boob pictures and selling butt pics online, sexting is the easiest way to make a quick buck. Sexting is a profitable business as there is quite a demand for it. Especially since the pandemic hit and people were confined to their houses and void of human connections, sexting became a preferred option for many.
Sexting usually has an audience of two types. First are the lonely people who have been looking to form some human connection in any way possible and are ready to pay money for sexting. Second are the fun loving people for whom sexting is another way of having fun and pleasure. Both types of people love to spend money on sexting and make this business profitable.
Factors that can affect making money through sexting
Sexting is one of the easiest ways to make some extra cash which is why many models ask how much should I charge for sexting. Like in every other business, there are some factors that can affect how much money you can make through sexting.
Personality
To have a successful sexting career, a model should have a strong personality. Traits like being eccentric and an extrovert personality are needed to be successful and make good money through sexting.
Your customers don't just need a robotic person behind the phone replying to their texts; they want a human connection and someone they can interact with. Most of the customers are lonely and introverts; they will need an extrovert personality to open up and share their feelings.
Communication skills
Sexting can be either very short or can go on for some time. In order to carry on the steamy conversations, the model needs to have great communication skills. As a sexting model, you should know how to kick start conversations, how to carry them through and lead the way, and when to finish off on a high.
Typing speed
Another important factor in sexting is the typing speed you have as a sexting model. No customer would want to wait for longer durations to receive a sext, especially when they're all heated up.
Customers can just opt for other sexting models who reply faster and quicker to their sexts. Typing faster shouldn't mean you make any sense in what you say. It has to be a combination of good speed with proper mistake free sexts.
Best pricing plans for sexting
Anyone who gets or wants to get into the sexting business has the first question of how much should I charge for sexting. Well, depending on how much time you'll spend on sexting, your prices can vary. Let's take a look at how to set prices for sexting services.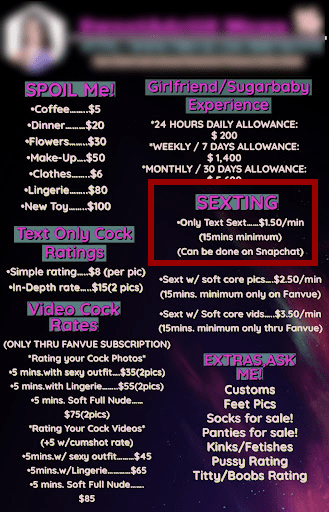 Not too high
If you charge exorbitantly high prices for your sexting services, then remember that customers would just move to another model who charges reasonable prices for sexting. Unless you're like Kim Kardashian selling nudes on Snapchat, try to compare your prices with the market rates and accordingly price your sexting services.
Not too low
Now you wouldn't want to starve yourself, too, right? If you try to beat the competition by reducing the prices for your sexting services, then sooner than later, you'll be doing a lot of work for almost free. And also, many customers might get a feeling that as your prices are low, your services might be bad.
Sell in bundle
A good way to increase your customer base and earn more through sexting is to sell your service in bundles. Rather than charging customers on a per minute or per text basis, you can sell out plans like $x for 15 minutes or $x for 30 minutes. This way, it sounds reasonable for the customer, and you also make more money through texting.
How much to charge for sexting?
Now comes the most important question of how much to charge for sexting services. Sexting is an easy way to make money, and that's why many models prefer this as a side hustle. But models still need to treat sexting seriously to be able to make some good money in this competition.
Sexting is time consuming and can take up a major part of your day. So don't undervalue your time and efforts, and set prices for sexting accordingly so that you can get money worth the effort. To start with, models can either choose to price sexting on a per-text or per-minute basis or can sell bundles or packages of 10, 15, 20, 30, and more minutes.
It is recommended not to start with the per-minute or per-message model till you make a name for yourself in the sexting business. Till then, bundles or packages should be the way to go. But if you start with the per-minute model, then the standard market price for sexting can be $2 to $3 per minute.
The price of bundles or packages can differ depending on if you show your face, if you share images, video clips, voice notes, or even use props. The standard market rates for just sexting vary from $10 to $20 for 15 minutes of plain texting. Whereas, if you include pictures and video clips along with sexting, then the price can vary from $30 to $40 for 15 minutes, $55 to $75 for 30 minutes, and $100 to $150 for 1 hour of sexting services.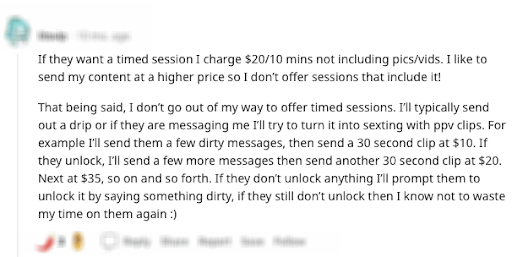 You can also offer the girlfriend or boyfriend experience in your sexting services which can last for the whole day. Models can charge customized high prices for this kind of experience as it needs a lot of time and effort from the models' side. As sexting is mostly a side hustle for models along with selling used panties, models can make good passive income through all this.
Conclusion
Sexting is a feasible and profitable option for models who can spend some time texting with strangers. It turns out to be a great side hustle for models to make some extra money without doing too much. There are many platforms and websites out there that provide sexting services, and models can join them to make money by sexting. But remember, these platforms take a commission out of the earnings made by the models.
If you want to maximize your earnings through sexting, then you should consider readymade solutions like xChat. Build your own sexting website using xChat and earn loads of passive income. xChat is easy to install, affordable, and loaded with chat features to explode your income through sexting. Individual dashboards for admin, model, and users makes it very convenient to manage.