-

9

mins read
It is no hidden fact that making and selling porn does pay you well. There are many websites where you can sell your homemade porn and make good money from it. One such website is Pornhub. Pornhub is one of the most popular and successful porn sites on this planet. With more than 4 million verified porn videos on the website, Pornhub is the largest of them all.
Pornhub gets over 2.4 billion unique visits every month, according to Similarweb, which tells you how popular the website is and how many users throng the website for their daily dose of porn. It has a premium version also other than the regular free porn content that's available on all porn sites. Pornhub premium provides high-quality content with no ads, and faster streaming and downloads, at a premium cost.
Not only does Pornhub provide a great variety of porn videos, but is also a great place for content creators to make money by uploading their content. Creators can even upload their homemade porn videos to make money on Pornhub. With Pornhub paying for homemade content, too, the question that many ask is how much does Pornhub pay for homemade content. Let's find out.
What is Homemade Porn?
Homemade porn is what happens in your bedroom and is recorded on a camera. Many people indulge in taping their sexual encounters with their partners but remember that it should always be consensual. There is a lot of demand for homemade porn videos as these videos are closer to reality than studio-shot porn.
Homemade porn can be shot for personal purposes as well as for monetization purposes. When you're shooting a homemade porn video to make money from it, then you need a more professional approach. Read this to know how to sell homemade porn.
You can make good money by selling your homemade porn on various tube sites like Pornhub. Pornhub provides multiple other ways too to make more money from your homemade porn production business. Let's see how to make money from homemade porn on Pornhub.
7 Ways to Make Money by Selling Homemade Porn on Pornhub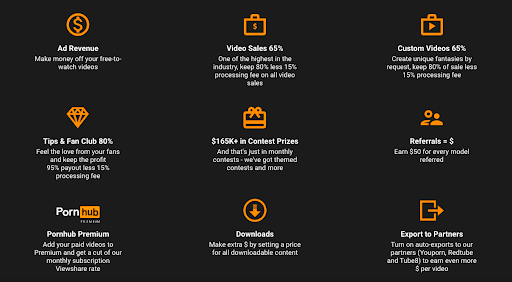 1. Free Pornhub Ad revenue
Ad revenue is the most common monetization method on Pornhub. Through this method, you can upload your homemade porn videos on Pornhub and keep them for free viewing. Pornhub runs many ads on its website, and every free video on its platform consists of multiple ads.
You'll earn a share of the revenue that's generated by your homemade porn video on Pornhub. The ad revenue depends on how your video performs and how many views and ratings your video gets. The better the views and ratings, the more is the share of revenue that you'll earn. The average RPM (rate per 1000 views) on Pornhub is $0.69.
2. Fanclub on Modelhub
Modelhub is a sister site of Pornhub that is dedicated to giving more control to individual creators and models. You can create a subscription-based fan club where users subscribe to your profile to get access to your exclusive content. You can sell videos, photos, and messages through your Modelhub profile.
As a creator, you can set the subscription price that you want to charge. It can be anything between $0.99 to $99 per month. If you're able to get a good fan following for your homemade porn, then you can earn and keep 80% of the subscription revenue, 65% of the video sales, and 80% of the tips you receive.
3. Pornhub premium
Pornhub Premium is the advanced version of the free Pornhub that people mostly use. Videos on Pornhub premium are of high quality and are ads-free. People like to see premium and exclusive content, making pornhub premium a great tool to make money as a creator.
Through the viewshare program, you can earn $45 per 1000 views on your homemade porn video as compared to $0.69 RPM on your free Pornhub videos. Users can also buy your homemade videos on Pornhub premium at a price that is set by you.
4. Custom videos
As a creator of Pornhub, you can take up custom video requests from users and sell them at a premium price. Once you build a fanbase for your homemade porn, your fans will start requesting you for a role enactment in your homemade videos or maybe a live cam show.
Check out these highest paying cam sites.
Although you can't do live camming on Pornhub, you can take your time and shoot these custom videos and sell them to your fans at a premium price. You get to keep 65%(80% minus 15% processing fee) of the revenue that you make by the sale of custom videos.
5. Tips
Pornhub provides a tipping button that helps you in getting tips from viewers. This tip button is placed on your profile as well as under the videos that you upload on Pornhub. Users can tip as much as they want, depending on how they like your homemade porn content. You can keep 80% of the revenue you make through tips on Pornhub.
6. Referrals
Referrals are also another way to make some extra money on Pornhub. If you refer anyone to join Pornhub's model payment program, then you stand a chance to earn $50 for every referral you make.
The person you refer should upload 2 verified videos on Pornhub, only after which you'll get your referral bonus. Share your referral code with your friends and ask them to sign up using your code to get the referral bonus.
7. Monthly prizes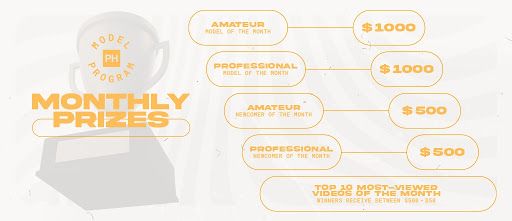 Pornhub hosts monthly awards and felicitates winning models with great cash rewards. Titles like amateur model of the month, amateur newcomer of the month, and such are up for grabs every month. If your homemade video comes in the top 10 videos of the month, then you can win $50-$500.
How Much Does Pornhub Pay For Homemade Videos?
Pornhub is a great platform to publish your homemade porn videos as it provides a large audience base. If you're good at what you do, it won't take much time for you to become popular on Pornhub and start making good money through your homemade porn videos.
Your success will solely depend on how your videos perform on Pornhub, and you'll get paid based on the views and the rating your videos get. Pornhub has an average RPM of $0.69 per 1000 views for free videos and $40 per 1000 views on Pornhub premium.
Based on these rates, if your homemade porn video is able to garner 1 million views in a month, then you can earn $690 only from ad revenues on Pornhub. This amount will be much higher if you opt for Pornhub premium. Adding to this would be the revenue that'll you'll generate from the various other methods mentioned above, which would make your overall earnings from Pornhub shoot up.
Yes, we know 1 million views sounds like a lot, but Pornhub isn't as saturated as YouTube, and if your homemade porn videos are good and you manage to get a good following, then you can easily achieve good revenues on Pornhub.
Conclusion
Pornhub offers a great chance for new creators to make money by selling homemade porn on their platform. But remember, don't put all your eggs in the same basket. Upload your homemade porn videos on other tube sites like XVideos, too, to increase the chances of you earning more.
You can also look at starting your own website using readymade solutions like xModel. xModel provides you with multiple monetization options and is extremely easy to install and use. You get to keep all the money you make, and you can also onboard other performers and earn a small commission from their earnings. Check out the Free Live Demo!